We have personally read every one of these books and they are amazing! Thought-provoking, touching, funny, there is something for everyone. If you are a reader you will love this list of the absolute best book club books.
*this post contains affiliate links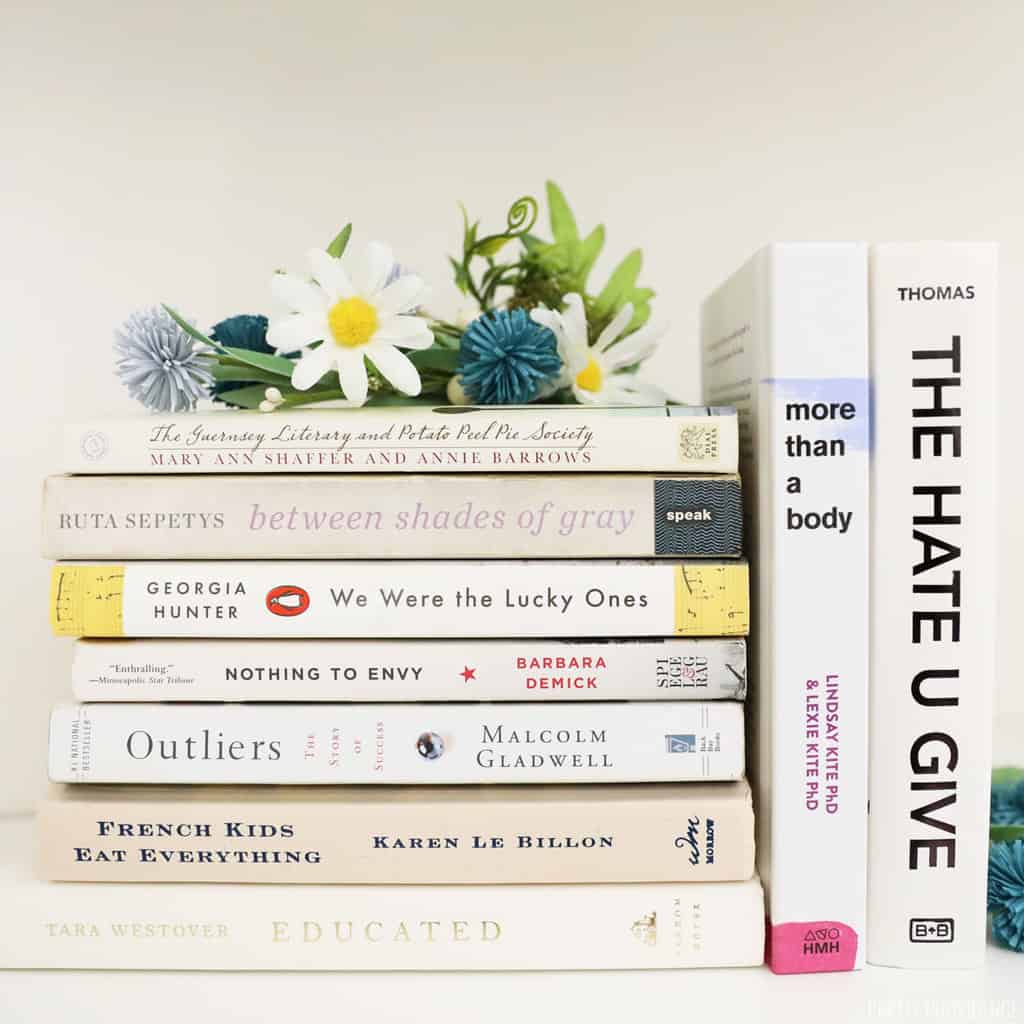 Hello friends! So we are SUPER EXCITED to talk to you today about one of our very things in the whole wide world.... books! Growing up we were always avid readers, but after we first had kids we became "too busy" to read. We went a couple of years not doing much reading at all. Then, we made a goal to read at least one book a month. It honestly has been life changing!
We now read more than ever, even though we now have six kids between us and run our own business! We watch less TV, waste less time, and are generally so much happier.
If you are trying to motivate your kids to read, check out our free printable reading chart.
The Best Book Club Books
Whether you've always loved reading or you're just trying to read more, a book club is a super fun way to read! We love getting together with our girlfriends to laugh and talk and grow together-- it is one of our favorite nights each month! The hardest part is choosing the book club books. But here goes, we're sharing all of our best book club book picks.
We have personally read every single one of these, so they are tried and tested! They are sorted into categories, and we'll tell you a little bit about why we loved each book without giving too much away. We also mix in some expert opinions along the way!
Disclaimer about content:
While we do love it when a book we read is PG, many of the books that we love and think are worth reading, are not squeaky clean. You'll need to do your own research as to whether a book is going to be clean enough for you.

Tools We Use When We Read and Listen to Books
While we love to hold books in our hand and turn the pages, in this current stage of life, we often turn to audiobooks! We both have subscriptions to Audible which we LOVE - there are so many great performances to be heard! We also use our local libraries to borrow digital books and audiobooks using the Libby app.
We both have different ways of tracking what books we've read. Jessica has a book log that she keeps in her library. Sarah uses Goodreads.
Best Fiction Books
World War 2 Books - Historical Fiction
World War 2 books are a popular genre for book club books. There are so many different experiences to read about. I am constantly amazed with how people in different parts of the world were affected by it. Many of these books are fiction, but based on true stories. We'll never stop learning!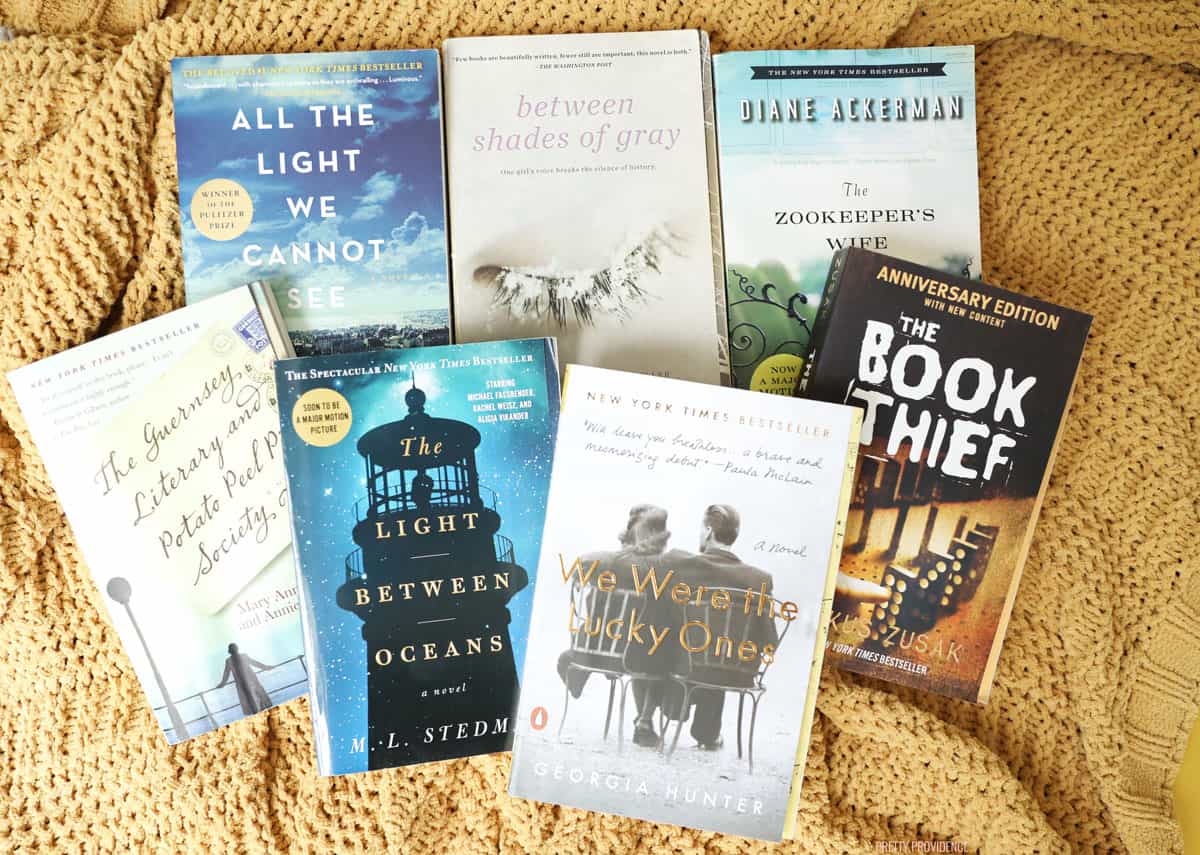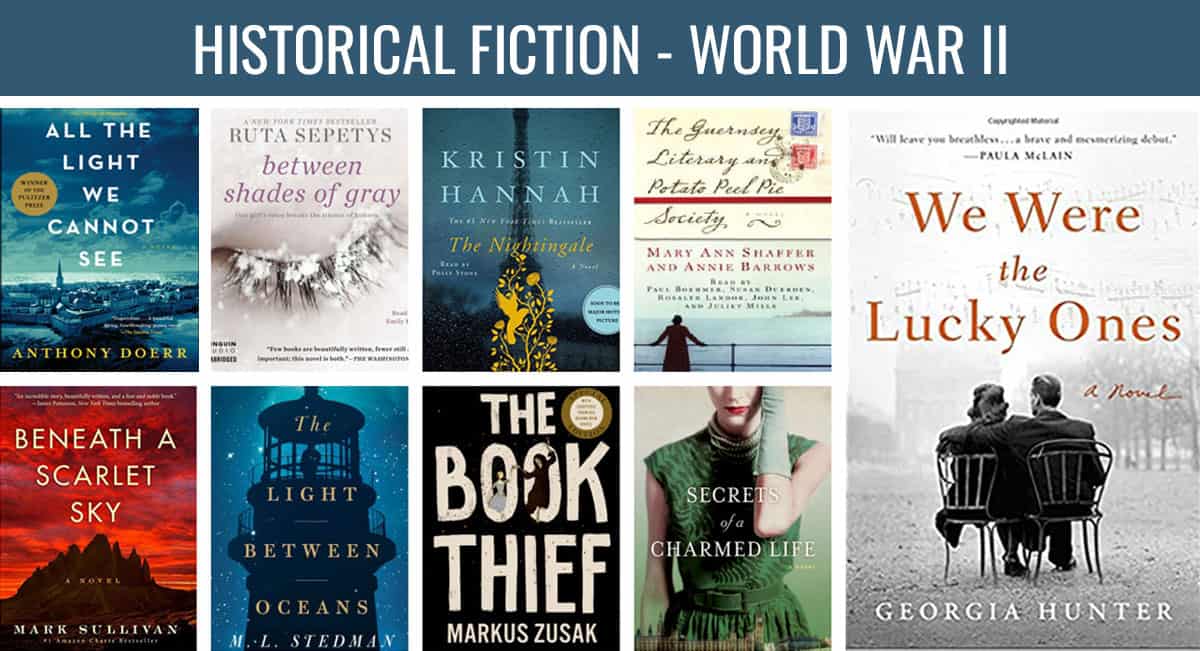 A French girl who is blind, and a German boy's paths collide in occupied France as both try to survive the devastation of World War II.
It has two protagonists, a young Parisian Marie-Laure who is blind, and Werner a brilliant orphan boy from Germany. I loved being able to see two, very different perspectives, and eventually to see them intertwine.
"Enthrallingly told, beautifully written...Every piece of back story reveals information that charges the emerging narrative with significance, until at last the puzzle-box of the plot slides open to reveal the treasure hidden inside."--Amanda Vaill, Washington Post.
A story of Lina, a 15 year old Lithuanian refugee during WWII.
She uses her talent as an artist to try to bring her family back together and maintain the will to survive. I had never read a WWII account from this perspective (someone under Stalin's reign) and was incredibly moved and enlightened about the plight of the little mentioned Baltic States during the war and its aftermath. One night when I was in the middle of this book my son woke up in the middle of the night and puked all over me. I was holding him in the shower covered in puke at 2 in the morning and all I could feel was an overwhelming gratitude. Grateful for my baby, for a warm shower, for a beautiful home to live in, warm clothes.
"Few books are beautifully written, fewer still are important; this novel is both."--The Washington Post
The Nightingale tells the story of two sisters in Nazi-occupied France.
The book is written by one of the sisters, and you aren't sure until the very end of the book which one it is. It is enchanting, beautifully written, and highly relatable (even though I've never lived through anything like it.) The two sisters' circumstances, personalities and reactions to the war are very different from each other and makes for a great discussion afterward.
This story is just delightful. A writer from London begins a correspondence with the members of a book club on the Isle of Guernsey, a small island in the British Channel, that had been occupied by Nazis during the war.
It is set during the aftermath of World War II, while Europe is trying to put everything back together. It mostly written in letters back and forth between characters. There is joy, there is grief, and there is romance! This one was made into a movie and it's pretty good - but not as good as the book (movies never are!)
This book was inspired by the true story of a Jewish family from Poland. The family becomes separated at the beginning of World War II, and are all pushed to different parts of the world in their struggle to survive, and hopefully, be reunited again.
Ooh, this was so good. I grew to love and care deeply for all of the characters! For me (Sarah) this book and The Nightingale tie for my favorite WWII Historical Fiction.
Based on a true story of a young Italian war hero, this book is not only riveting but enlightening as well. When Pino Lella becomes a personal driver for one of Hitler's highest ranking officials he is in the perfect position to spy for his country- risking everything.
You will not be able to stop turning these pages!
Ugh! This book. It will tear you in two and yet you still won't be able to put it down!
"The Light Between Oceans is a beautiful novel about isolation and courage in the face of enormous loss. It gets into your heart stealthily, until you stop hoping the characters will make different choices and find you can only watch, transfixed, as every conceivable choice becomes an impossible one. I couldn't look away from the page and then I couldn't see it, through tears. It's a stunning debut."—Maile Meloy
A beautiful and moving story of a young foster girl in Nazi Germany -- and the narrator of this book is Death.
The fact that the story is told from 'Death's' perspective artfully emphasizes the mortality of every character in the story - especially at such a devastating time in the world's history. A must read.
A story about two young sisters during the war, and how their lives are torn apart and put back together. As told by one of the sisters to a modern day journalist who is wanting a writing project about the war. While this is probably my least favorite of the books in this section, it was still worth reading, when you are done with the others.
Best Historical Fiction
The Vanishing half is about two African American twin sisters who are light enough to pass for white, and one of them decides to exactly that. The author seamlessly tells the story of both sisters and the way their life choices and circumstances pull them in different directions. I could not put it down.
"A story of absolute, universal timelessness — a story of what it means to simply be, to grow up and define oneself and reinvent, to negotiate a place in the world. It's also a deeply American story, rigorously engaged with a country's racist past and present, while interrogative of its foundational values, like choice and legacy. For any era, it's an accomplished, affecting novel. For this moment, it's piercing, subtly wending its way toward questions about who we are and who we want to be…." —Entertainment Weekly
I loved this book! During the day Jo is a ladies maid to a wealthy man in Atlanta, and at night she writes for the newspaper as "Dear Miss Sweetie" answering an advice column. She is funny and endearing, so it's no wonder when the column takes off, only nobody knows who's writing it. She decides to use the popular column to question a few of the powers that be and it takes her down a dangerous and unforgettable journey. Highly recommend.
"A joyful read . . . The Downstairs Girl, for all its serious and timely content, is a jolly good time." --NPR
The Giver of Stars By Jojo Moyes
If you are an avid reader you will love this book, because it demonstrates the power books have to save lives and bring people together. It is moving, gripping, fun, interesting, romantic, and inspiring all in turns.
"Based on a true story rooted in America's past, The Giver of Stars is unparalleled in its scope and epic in its storytelling. Funny, heartbreaking, enthralling, it is destined to become a modern classic--a richly rewarding novel of women's friendship, of true love, and of what happens when we reach beyond our grasp for the great beyond. " -Amazon
Young CeeCee has spent her life caring for her extremely mentally ill mother after her father abandoned them. When her mother has an ill fated accident CeeCee is whisked off to the countryside to live with a never before heard of Great Aunt. It is a story of laughter, sisterhood and healing.
Kristin Hannah says this book is, "packed full of Southern charm, strong women, wacky humor, and good old-fashioned heart." You are going to love it.
When my friend picked this book for book club I was not excited, but now I'm eating crow. I absolutely loved it! I laughed, I cried, I learned.
"The best writing transports readers to another time and place, so that when they reluctantly close the book, they are astonished to find themselves returned to their everyday lives. One Thousand White Women is such a book. Jim Fergus so skillfully envelops us in the heart and mind of his main character, May Dodd, that we weep when she mourns, we shake our fist at anyone who tries to sway her course, and our hearts pound when she is in danger." ―Colorado Springs Gazette.
Miscellaneous Fiction
A story about two dueling magicians whose platform to work their magical skill is the night circus. A well-woven story of magic, trickery and love with high stakes.
"Get ready to be won over. . . . Part love story, part fable, and a knockout debut. . . . So sparklingly alive, you'll swear the pages are breathing in your hands. . . . The Night Circus defies both genres and expectations." —The Boston Globe.
The Thirteenth Tale is a story for book lovers, through and through. It has mystery, intrigue, plot twists and turns and ties everything neatly together at the end, while still giving you plenty to think and talk about.
"Reclusive author Vida Winter, famous for her collection of twelve enchanting stories, has spent the past six decades penning a series of alternate lives for herself. Now old and ailing, she is ready to reveal the truth about her extraordinary existence and the violent and tragic past she has kept secret for so long. Calling on Margaret Lea, a young biographer troubled by her own painful history, Vida disinters the life she meant to bury for good. Margaret is mesmerized by the author's tale of gothic strangeness—featuring the beautiful and willful Isabelle, the feral twins Adeline and Emmeline, a ghost, a governess, a topiary garden and a devastating fire. Together, Margaret and Vida confront the ghosts that have haunted them while becoming, finally, transformed by the truth themselves."
I don't think anyone could read this book and argue that C.S. Lewis was not a genius. A definite masterwork in my opinion!
It is the story of a young devil, Wormwood, who is being coached by his uncle Screwtape on how to lead humans down to hell without them suspecting. Brilliantly told and incredibly thought provoking.
"The Screwtape Letters by C.S. Lewis is a classic masterpiece of religious satire that entertains readers with its sly and ironic portrayal of human life and foibles from the vantage point of Screwtape, a highly placed assistant to "Our Father Below." At once wildly comic, deadly serious, and strikingly original, C.S. Lewis's The Screwtape Letters is the most engaging account of temptation—and triumph over it—ever written."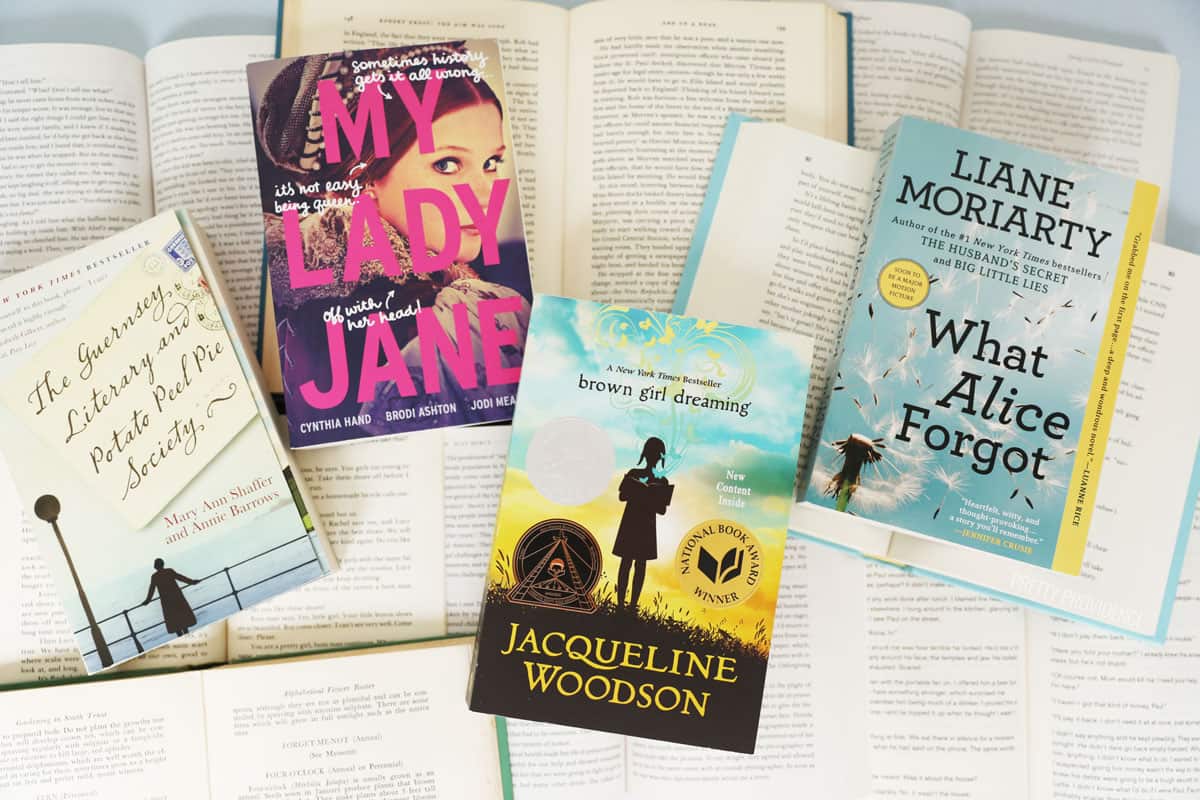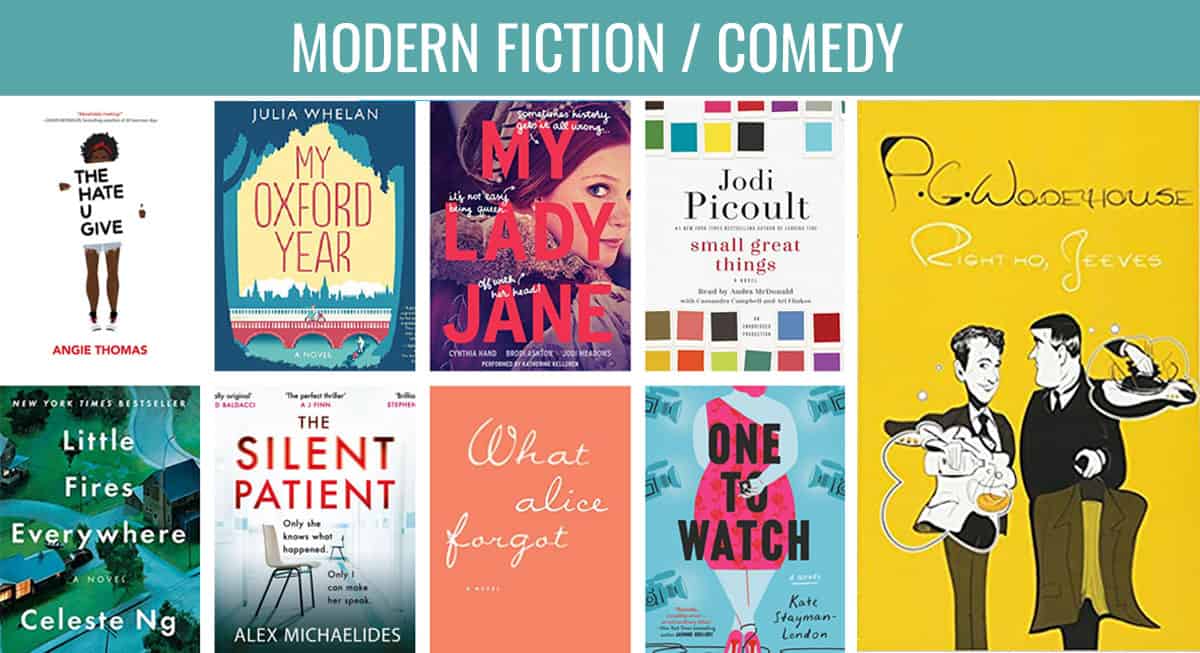 Best Modern Fiction
This is a heartbreaking story, it's fiction inspired by stories we see too often on the news. It provoked a lot of good conversation and thought.
"The story of Starr Carter, a 16-year-old who sees her childhood best friend fatally shot by a police officer, is compelling, thought-provoking, and conversation-enabling. One readers are sure to be talking about for a long time." -- Brightly
My Oxford Year is just all around a good love story. Sometimes we all need one of those right?!
Jodi Picoult does it again. While this dramatic story addresses important issues like racism, it is fast paced and impossible to put down. It is thought provoking and empathetic. You will love these characters and be biting your nails to see what happens next.
#1 NEW YORK TIMES BESTSELLER • With richly layered characters and a gripping moral dilemma that will lead readers to question everything they know about privilege, power, and race, Small Great Things is the stunning new page-turner from Jodi Picoult.
I just got this book for Christmas and read it start to finish in two days, I was so entranced with it. This will make you think twice before casting judgement on anyone else, and keep you from getting too closed-minded in your own perspectives.
"The Richardson family lives in the planned community of Shaker Heights, Ohio—a place of wealth, comfort, and stability—and they are a clan that embodies those traits. But when Mia, a single mother, and her fifteen year old daughter, Pearl, rent a house in the area, their very different lives will merge with those of the Richardson family and begin to contort the carefully laid lattice that supports their views. Once again, the plotting and pacing are nearly perfect, the characters believable and real. Ng is a master of family and societal dynamics, shifting perspectives, and the secrets that we try to protect." --Chris Schluep, Amazon Book Review
Ohhhhhh who needs a good murder mystery?
The Silent Patient is a shocking psychological thriller of a woman's act of violence against her husband—and of the therapist obsessed with uncovering her motive.
Alicia is a painter with a seemingly perfect life. Then one day she kills her husband and never utters another word. After she is placed in a secure forensic unit, Theo Faber a therapist becomes obsessed with getting Alicia to talk and unraveling the mystery of her husbands death. This one is definitely a page turner.
I can honestly say that reading this quick-moving fiction changed my life.
When Alice falls at the gym and hits her head, she forgets the last ten years of her life. She wakes up thinking she is 29, a happy newlywed, poor, and a dreamer. She wakes up to discover that she and her husband got everything they had ever dreamed about - but were somehow miserable.
As she works to puzzle out the pieces of her life, it becomes apparent to the reader how small decisions and actions can have a huge impact on the course of your life. We laughed, we cried, we rethought our lives! A winner in our book.
Best Funny Books
I loved this book so much, I kept reading passages of it out loud to my husband through tears of laughter.
You know how the name Jeeves is associated with the classic butler character? It all comes from P.G. Wodehouse and his series of Jeeves and Wooster books. Jeeves is actually a valet, not a butler, but he is smart, funny, and quick on his feet. This book is one of the funniest books EVER, and I'm not just saying that.
"I don't know if I've ever derived such an immediate sense of calm and well-being from any book as I did from Right Ho, Jeeves. It was like I was Pac-Man and the book was a power-up."
- Lev Grossman, Time Magazine
"A brilliantly funny writer―perhaps the most consistently funny the English language has yet produced."
- The Times [London]
THIS BOOK! If you love or watch the Bachelor series then this is a MUST READ. Bea is a plus sized fashion blogger who openly critiques the reality show "Main Squeeze" for only having unrealistic looking people on cast. She then gets cast as the first plus size lead. It draws attention to real and important issues while still being witty, fun, and fast paced.
NAMED ONE OF THE BEST BOOKS OF THE YEAR BY Time • NPR • Marie Claire • Mashable • "Divinely witty and engrossing . . . Grade: A"—Entertainment Weekly
My Lady Jane By Cynthia Hand, Brodi Ashton & Jodi Meadows
Not much is known about the real Lady Jane Grey, who was King Edward VI's successor for just nine days. Three witty authors decided to give Lady Jane a proper story, and it was smart, hilarious and just plain fun!
There is love, there is adventure, and it's silly - kind of in the camp of The Princess Bride. I laughed out loud throughout the whole book, and my book club unanimously gave it five stars!
The narrator is fantastic, so we highly recommend listening to this one.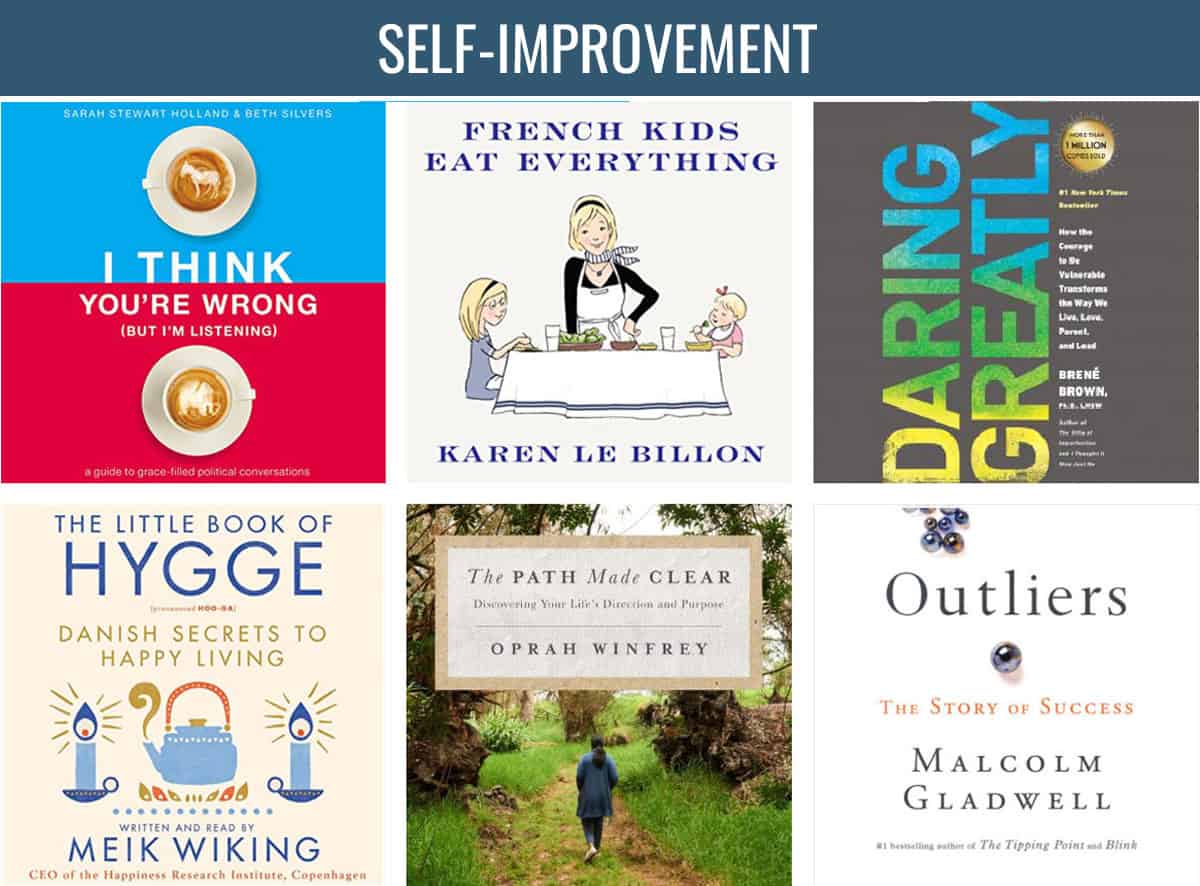 Best Self-Help Books
Okay, so I really wish I had read this book PRIOR to 2020. I wish we all had! But there's no sense in stressing about that now. I've read it, and now I'm asking you to do the same. (Especially if you live in the U.S. and you are eligible to vote.) When we know better, we do better.
Sarah Stewart Holland and Beth Silvers came together to have political conversations as friends with VERY different political views. They have mastered doing so with grace. In this book they share their ideas on how we can learn to do this too - and why it's so important to. They also have an amazing podcast called Pantsuit Politics that I highly recommend.
Daring Greatly is absolutely a must-read for any book club, or any person! I don't think I ever really knew myself completely until I read this book!
It will empower you to live a real, vulnerable and daring life, and help you to give grace and greater understanding to those around you-- especially those who matter most to you. HIGHLY recommend.
"What I find remarkable about this book is the unique combination of solid research and kitchen table story-telling. Brené becomes such a real person in the book that you can actually hear her voice asking, "Have you dared greatly today?" The invitation in this book is clear: We must be larger than anxiety, fear, and shame if we want to speak, act, and show up. The world needs this book and Brené's unique blend of warmth, humor and ass-kicking makes her the perfect person to inspire us to dare greatly." —Harriet Lerner, Ph.D.
Outliers By Malcolm Gladwell
I am a big fan of Malcolm Gladwell, and Outliers is both brilliant and entertaining!
He takes an in-depth look at the outliers - the most successful or most talented people in the world, and asks the question - what makes them different? It's science, self-help and entertainment all wrapped up in one book!
As with all of Gladwell's books (and his very popular podcasts) it will really make you think.
More Than a Body by Lindsay Kite PhD and Lexie Kite PhD
This book is life-changing for women! If you want to be free of body shame and body image issues, read this.
Lindsay and Lexie Kite, body image researchers (and twin sisters!) have spent the past fifteen years doing research on body image and everything related. This book is research-based, but it doesn't feel like you're reading a textbook. They give practical advice that goes beyond "body positivity" to help you develop body image resilience - all while cutting through the empty promises sold by media, advertisers, and the beauty and weight-loss industries.
This little book made a BIG impact for our happiness during one of the hardest years we've ever had! (Looking at you, 2020.)
The Danish people are consistently named the HAPPIEST people in the world. Meik Wiking, CEO of the Happiness Research Institute in Copenhagen, says it's because of hygge. Loosely translated, hygge - pronounced hoo-ga - is a sense of comfort, togetherness, and well-being. Read this book and create some of that hygge in your own life!
This short book is definitely worth a read or listen. A compilation and edit of many of the most important interviews Oprah's hosted, full of insight on how to find meaning in and make the most of your one precious life. Enlightened and spiritual, this book is just the uplift we need these days.
Everyone has a purpose. And, according to Oprah Winfrey, "Your real job in life is to figure out as soon as possible what that is, who you are meant to be, and begin to honor your calling in the best way possible."
Karen moved from North America to France with her husband and two young children, only to realize that the kids in France have drastically different eating habits. She shares what she learned from that experience through anecdotes and practical tips.
My kids still don't eat everything like French kids supposedly do. However, his book helped me rethink some of the parenting approaches and the food habits we have in our home. I loved discussing this book with friends after reading it! A must-read for anyone with young kids or those who are expecting to have them someday!
Best Non-Fiction Books
Non-fiction is a great genre for book club books. There is so much to learn. If you aren't in school, a book club is a great way to stretch your mind and read about topics, cultures or experiences that you wouldn't otherwise know about!
Memoirs
Nothing to Envy follows the lives of six North Korean citizens, sharing how each of them became disillusioned with their government as they realized that their country had betrayed them. It's heartbreaking, eye-opening and fascinating. I think about this book more than any other I've read in the past few years.
Another memoir of a North Korean defector that I couldn't get enough of. Hyeonseo Lee details her long, difficult and dangerous path to freedom. After she finally made it to safety, she risked her life again to help her family escape, leading them through China and Laos. She is now an activist and speaks out against the North Korean regime.
J.D. Vance came from culture of poverty in Appalachia - where gun violence was an acceptable way to settle arguments, and young parents put soda in their baby's bottles. He ultimately graduated from Yale Law School, something no one from his town could have thought possible for themselves.
He tells his own story of a childhood filled with trauma (his Grandmother who he calls 'Mamaw' being his ultimate protector) and explains so much about the plight of white, working class people in the midwest. This book helped me realize the huge differences in culture across the United States, and there is always power in understanding.
*This book has a lot of strong language.
Bryan Stevenson is an attorney and activist focusing on injustices in the United States judicial system. His book alternates between documenting his efforts to overturn the wrongful conviction of a man who was given the death penalty (despite having a clear alibi) and his work on other cases, including children who receive life sentences and other poor or marginalized clients.
This book was a quick listen. It was so fun for me to hear and learn about so many different American experiences in one book. The stories were beautiful, heartbreaking, funny, and everything in-between.
"In American Like Me, America Ferrera invites 31 of her friends, peers, and heroes to share their stories about life between cultures. We know them as actors, comedians, athletes, politicians, artists, and writers. However, they are also immigrants, children or grandchildren of immigrants, indigenous people, or people who otherwise grew up with deep and personal connections to more than one culture. Each of them struggled to establish a sense of self, find belonging, and feel seen. And they call themselves American enthusiastically, reluctantly, or not at all."
Educated By Tara Westover
Tara's story was painful, but I feel a sense of empowerment having read it. I have more understanding for those who are not offered opportunity, education and empowerment - privileges that are too often taken for granted.
Tara Westover was 17 the first time she ever set foot in a classroom. She had been raised by survivalists in rural Idaho, helping her mother stew herbs for holistic healing, and working in her father's salvage yard. Her parents, distrusting of pretty much everyone, forbid visits to the doctor- and she never had a birth certificate until she went to get one for herself so she could go to college.
I loved how even while sharing her most painful experiences with her family, she still mourned those relationships that were lost to her. It shows how deeply we are connected to our families of origin, even when it hurts.
Trevor Noah, now the host of The Daily Show, details his life - having been born in apartheid South Africa, where his birth to a white Swiss father and a black Xhosa mother was actually illegal.
He was kept mostly indoors for the first five years of his life, his mother having to take extreme measures to keep them both safe. It's a coming of age story, and really eye-opening firsthand account of what life during and after the apartheid was like for him and his family.
Being a comedian, Noah makes you laugh along the way and his brilliant narration makes this a great one to listen to.
Untamed By Glennon Doyle
One of my all time favorite non-fictions books. Untamed is a series of memoirs from Glennon's life, that are somehow so universally relatable and empowering for all women and mothers.
In her most revealing and powerful memoir yet, the activist, speaker, best-selling author, and "patron saint of female empowerment" (People) explores the joy and peace we discover when we stop striving to meet others' expectations and start trusting the voice deep within us. - Amazon
Essays & Poetry
This book was just beautifully written.
"Jacqueline Woodson, one of today's finest writers, tells the moving story of her childhood in mesmerizing verse.
Raised in South Carolina and New York, Woodson always felt halfway home in each place. In vivid poems, she shares what it was like to grow up as an African American in the 1960s and 1970s, living with the remnants of Jim Crow and her growing awareness of the Civil Rights movement. Touching and powerful, each poem is both accessible and emotionally charged, each line a glimpse into a child's soul as she searches for her place in the world."
Dr. Martin Luther King Jr. is celebrated, quoted and loved by so many people - but how many of us have listened to whole speeches, read his books, or truly know his work? I've been learning so much more about him this past year, and this book was an amazing deep-dive.
"This is a book of 23 selections from the speeches, sermons, and essays of Dr. Martin Luther King, Jr.—many never recorded during his lifetime. For the first time, teachers, students, and thoughtful listeners can hear dramatic interpretations of Dr. King's words. His words illustrate King's revolutionary vision, underscoring his identification with the poor, his unapologetic opposition to the Vietnam War, and his crusade against global imperialism."
True Crime
This story is mind-blowing - and it's completely true!
John Carreyrou of the New York Times takes you through the rise and fall of a multi-billion dollar biotech startup founded by Elizabeth Holmes. It was bananas, really a page-turner and we couldn't stop talking or thinking about it while we read this one. Just... trust us. Read this, then discuss.
We hope that you can use some of these for your upcoming book club book lists! We'd love to hear your thoughts if you read any of them!
xo,