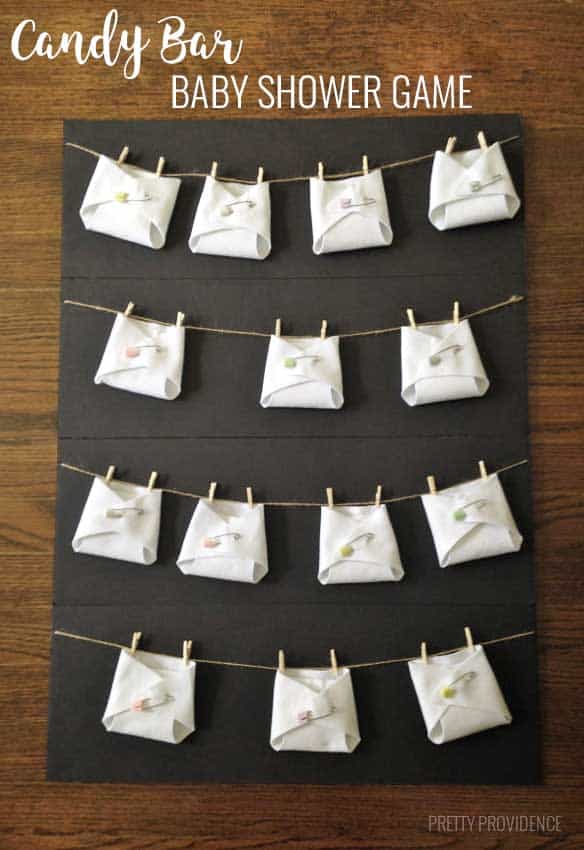 You guys, my sister-in-law threw me and the babe a super classy shower last month and I really wanted to share with you one of the cute games she put together. This 'candy bar in the diaper' baby shower game is not a new idea, but the way she did it was just too cute and quite a bit "cleaner" than when I've done it in the past so I thought I should show it off. I've played this game tons of times and it's always a hit! Here's what you need:
Diaper Game Kit
Black Foamboard
X-acto Knife
Twine
Tiny Clothespins
12 Different Fun Size Candy Bars
Clear Packing Tape
Notecards (optional)

First, cut your foam board into four even strips with an x-acto knife.
On the sides, cut a small slit in the foamboard and then cut your twine into the length you like plus two inches.
Put the twine across the foamboard and slip each end through the slit, then tie a knot behind it so it will stay. Repeat with all the foamboard slices.
Use mini clothespins to hang felt diapers, add a number sticker (from the kit) on the inside of each one.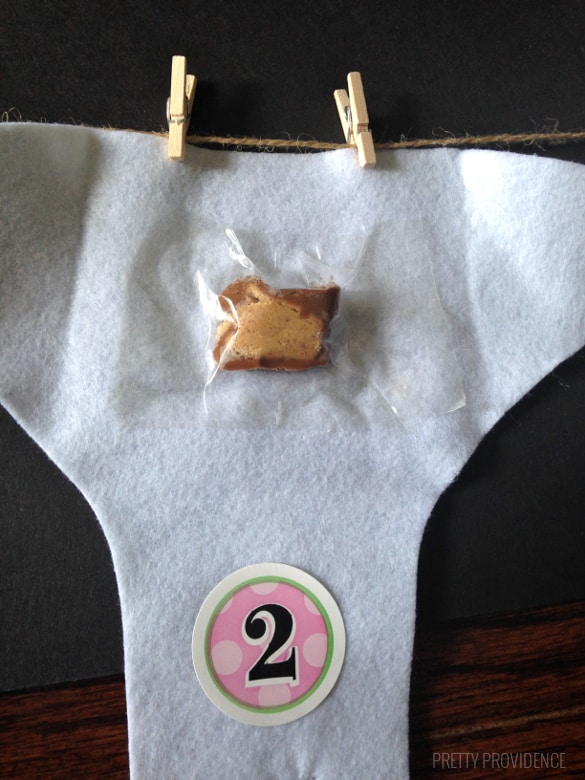 Put one piece of packing tape inside each felt diaper. Then cut a small slice of each candy bar and place a different one in each diaper, writing down which candy bar is in what number of diaper as you go. Then cover with another piece of packing tape so everything stays. This packing tape is totally optional but will keep things tidy and then you can reuse the felt diapers in the future if you want.
Once all that is done, close up the diapers and you're ready to play!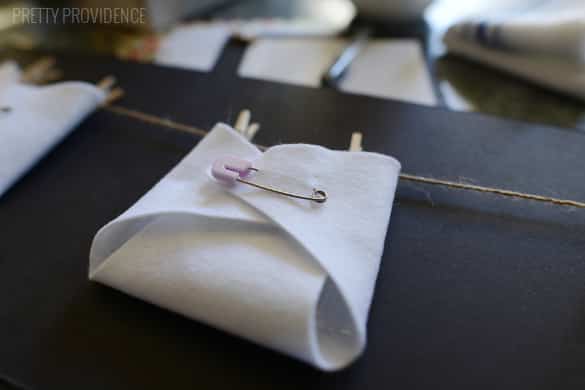 Photo Cred: Miranda (Shop and Twirl)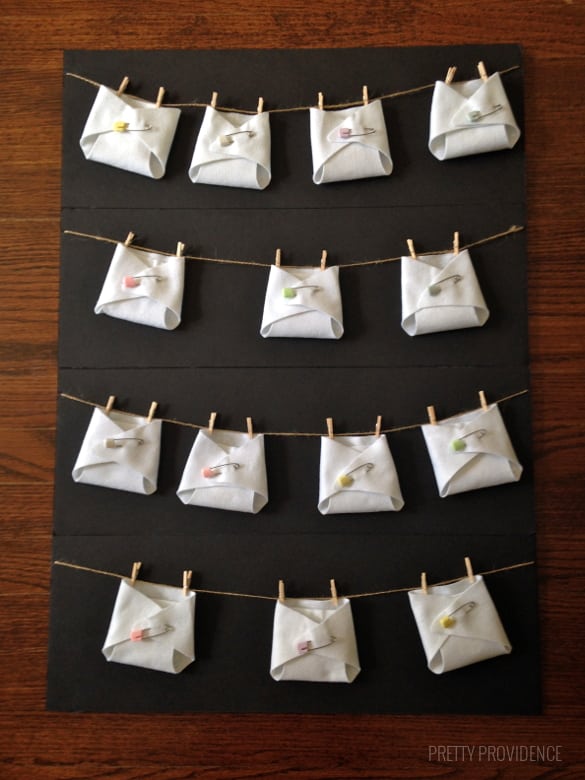 If you want, you can make cute matching notecards and glue a little clothespin on them like my SIL did.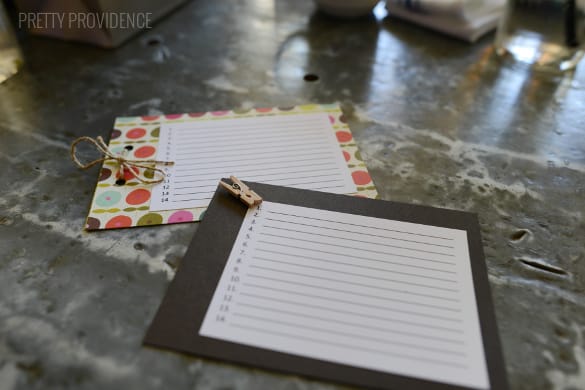 Photo Cred: Miranda (Shop and Twirl)

Isn't it just so cute? I bet you've never seen this game done in such a classy manner. We just passed the boards around the table and took turns with each one until we were all done! Below, I made my friends Channing and Lauren pose with one of the boards.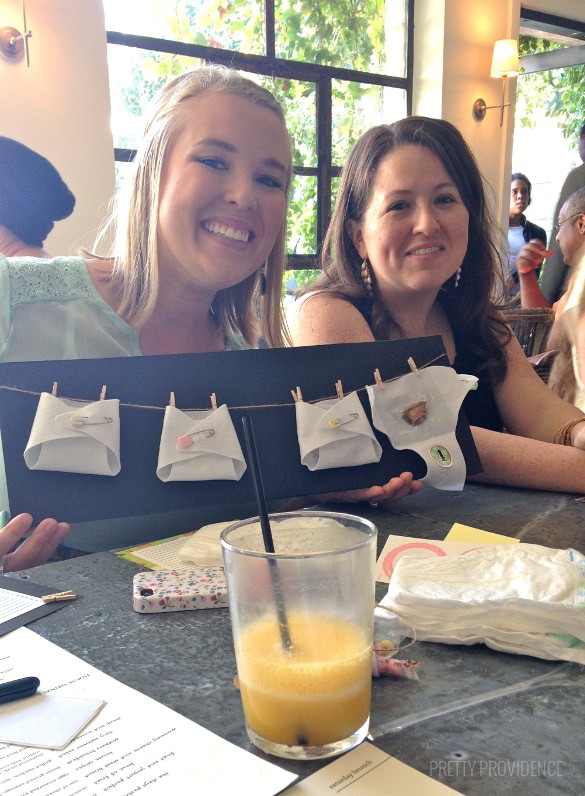 Another fun idea — she had this little bundle of Size 1 diapers with stickers and a pen in front of everyone's spot at the table. Everyone could write advice, something funny or encouraging, etc. on the stickers and stick them on the outside of the diapers and those are going to be fun for me to read during the first few weeks or months of sleep deprived diaper changing! Once again – I just thought this was too cute not to share.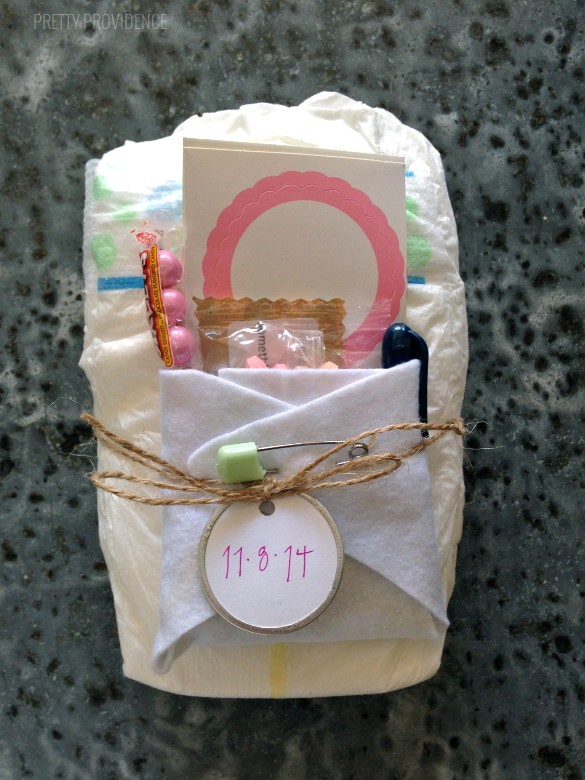 And now you need to see my ladies. I'm going to get personal here. I moved to Texas a year and a half ago and I was afraid. I am a person who needs girlfriends, and I had never been in a new place where I knew absolutely no one before. It was terrifying, but I went to a blog conference by myself mainly so I could just meet friends. A year later, and I am blessed to call all of these beautiful ladies my friends. They are the bomb and I'm so grateful for all of them. And we all color coordinated beautifully for this photo, wouldn't you say?! Happy accident.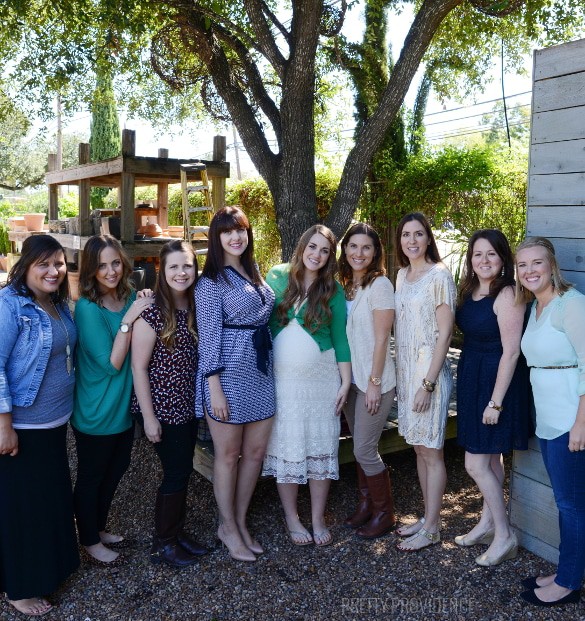 Photo cred: Miranda (Shop and Twirl)
They're also all bloggers (except my SIL) and you should check them out! From left to right:
Michelle – Moms Without Answers
Meg – Meg O. On the Go
Whitney – Love Letters & Lists
Miranda – Shop and Twirl
(Yours Truly)
Rachelle – Inner Loop Adventures
Jen (Sister-in-Law/BFF/Person who really brought you this post.)
Lauren – Eat Drink and Be Lauren
Channing – Moms Without Answers
If you like this, definitely check out Jessica's Candy Bar Matching Baby Shower Game (with Free Printables!) It's a totally different game but still involves candy bars because who doesn't love chocolate!?