Hey Pretty Providence readers! This is Lauren, visiting from Tastes Better From Scratch, and I'm excited to share a delicious Easter treat with you guys!
There are so many Easter ideas floating around Pinterest, and it's getting me really excited for one of my favorite holidays! I keep seeing little bird nest treats on Pinterest that look cute, but are made out of chow mein noodles…..WHAT? Does that make anyone else cringe? I liked the nest idea, but there's no way I was going to serve chow mein noodles for dessert…even if they were covered in chocolate! So, my brainstorming for a better idea led to these little beauties! These are basically German chocolate brownie bites, with cadbury eggs placed on top (because let's be honest, the addition of cadbury eggs makes any recipe a winner!) They still look like cute little bird's nests and they taste amazing!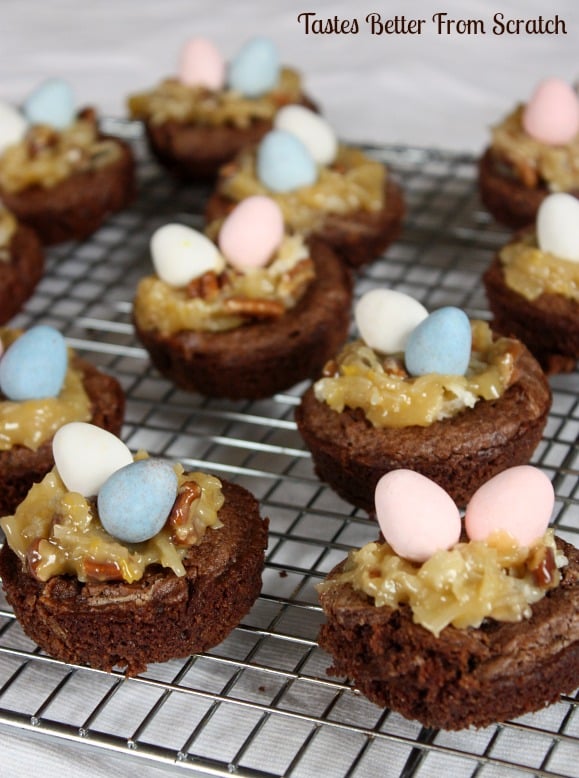 My favorite fudge-y brownie recipe is paired with the BEST coconut frosting recipe to make some adorable Bird's Nest Brownie Bites!
Bird's Nest Brownie Bites
Recipe by Lauren Allen (from Tastes Better From Scratch)
Print this recipe
Ingredients:
For the Brownies:
1 cup vegetable oil
2 cups sugar
2 tsp vanilla
4 eggs
1 cup all-purpose flour
2/3 cup cocoa powder
1/2 tsp baking powder
1/2 tsp salt
For the coconut frosting
1/2 cup brown sugar
1/2 cup sugar
1/2 cup butter
1 tsp vanilla
3/4 cup evaporated milk
1 cup Pecans
1 1/2 cup shredded coconut
1 package cadbury mini eggs
Directions:
In a medium saucepan, mix the first five ingredients together. Stir on medium heat until thickened.
Remove from heat and stir in nuts and coconut.
Preheat oven to 350 degrees F. Spray muffins tins generously with non-stick cooking spray.
In a bowl, add oil, sugar, and vanilla; mix well. Add eggs and mix again. Add flour, cocoa, baking powder, and salt to wet ingredients and mix well.
Pour batter into muffin tins, filling each only about 1/3 full. ( If you're using a mini muffin tin, you can fill each about 2/3 full). Bake for about 12 minutes, or until just set, taking care not to over bake them. Once cooled use a small knife to trace around each brownie bite to loosen it from the pan. Prepare coconut frosting.
For the coconut frosting: In a medium saucepan, mix the first five ingredients together. Stir constantly over medium heat until it comes to a slow boil. Cook, stirring constantly until it thickens – this will take about 10 minutes. Remove saucepan from heat and stir in coconut and pecans. Allow frosting to cool. Place a spoonful of cooled coconut frosting on each brownie bite. Add 2 cadbury mini eggs to each brownie bite nest. Enjoy!
*Recipe makes about 30 brownie bites from a regular muffin pan, or about 50 from a mini muffin pan.

If you like this recipe, you should swing Tastes Better From Scratch and try these,
Chocolate-Dipped Peeps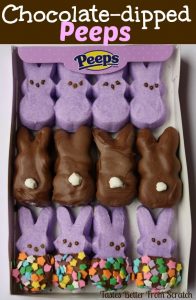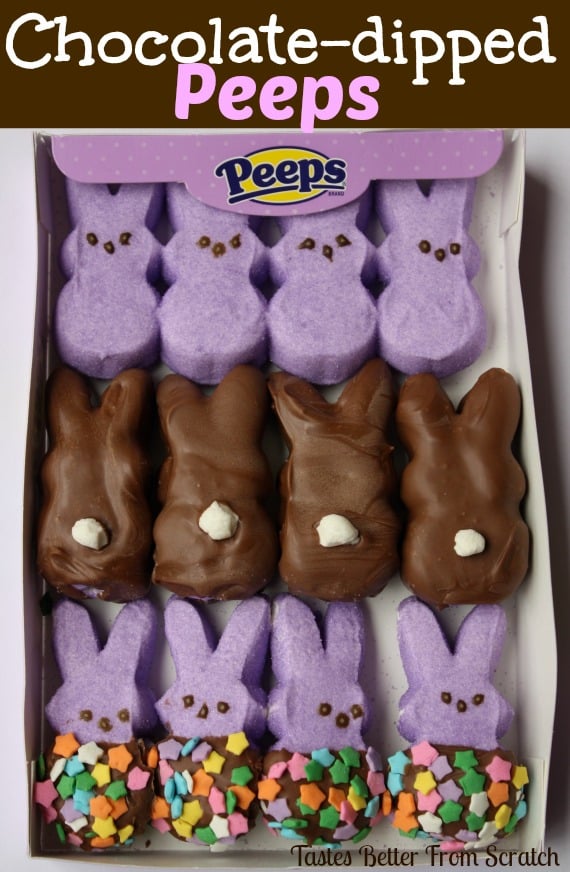 Or these, Reese's Peanut Butter Eggs (copycat)