Do you have a Car Emergency Kit and first aid kit? It was fun and easy to assemble these DIY kits and now we are never left in a lurch when we are out and about.
This post is sponsored by Cricut, but all ideas and opinions are 100% my own.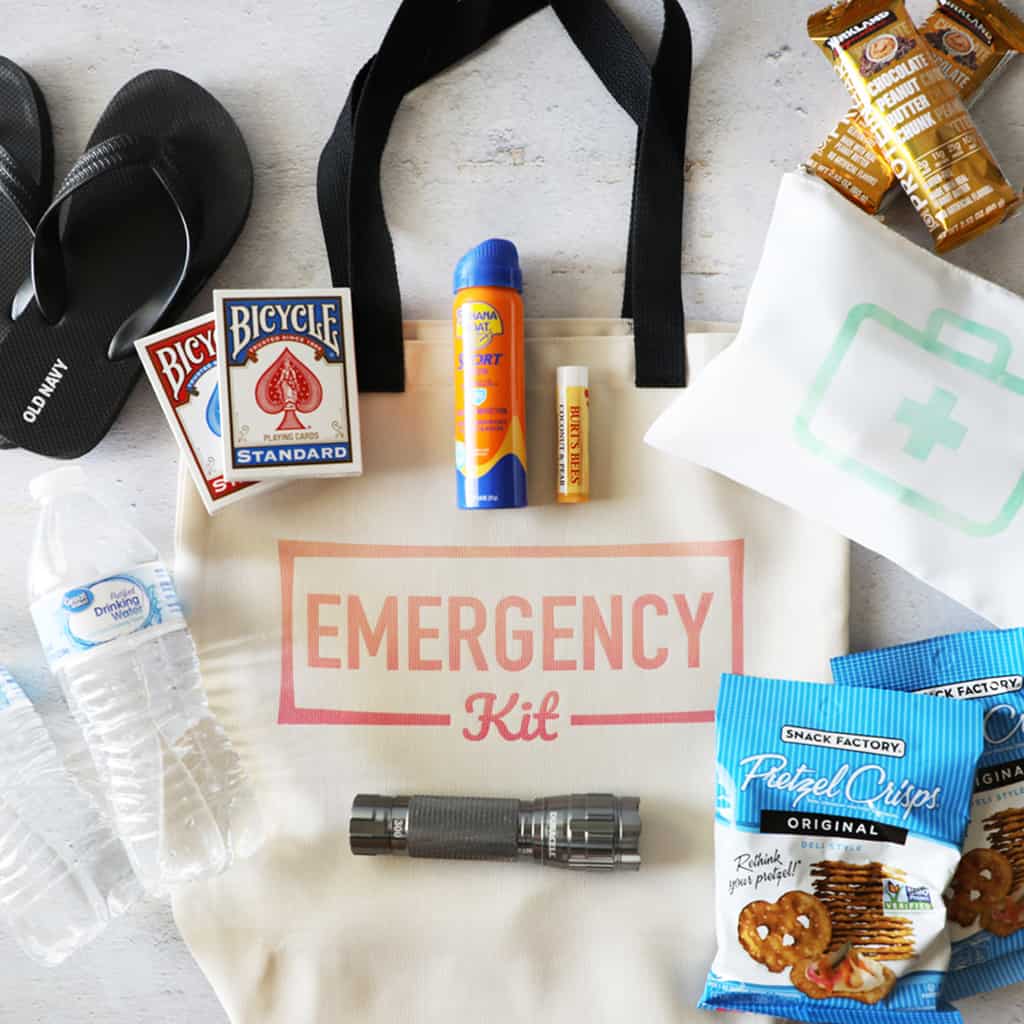 For years I have been saying that I need to get a car emergency kit and first aid kit. After saying this a dozen times and never doing it, I finally realized that most of the things we find ourself in need of when we are out and about are things I already have at home.
I decided I could easily make my own DIY first aid kit and emergency kit, and I even had Cricut Blanks I could use to store them in.
DIY First Aid Kit and Emergency Kit
Fun, easy and functional crafting at it's finest. You ready for all the details on how I whipped this kits together? First, let's make our bags, then I'll show you what I filled mine up with.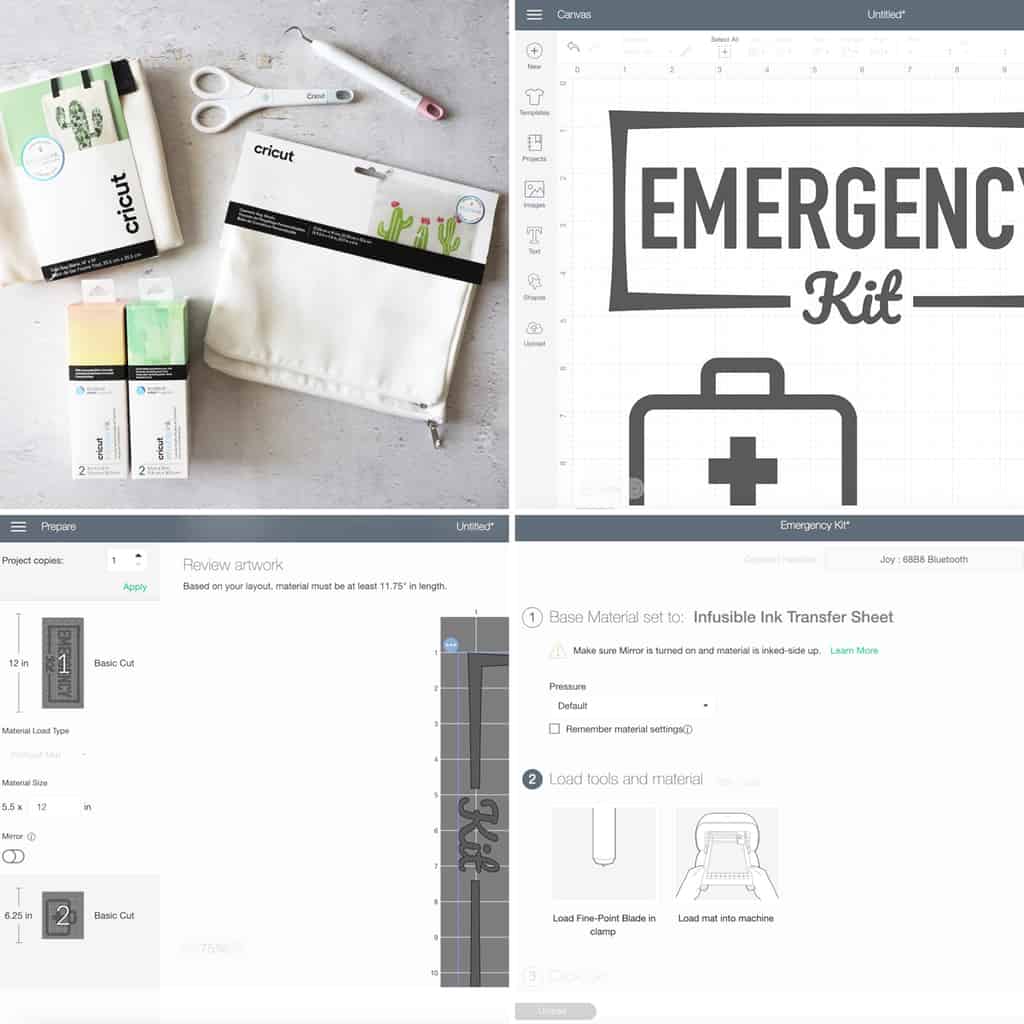 Top Left – Gather your supplies. I used a canvas tote blank and a makeup pouch blank, and two of my favorite transfer sheet colors.
Top Right – Find my design here in design space, or create your own.
Bottom Left – Click make it and review your artwork. Make sure that the material size is correct.
Bottom Right – Set your base material to "infusible ink transfer sheet." Apply your transfer sheet to your mat and load it into your machine. I used my Cricut Joy.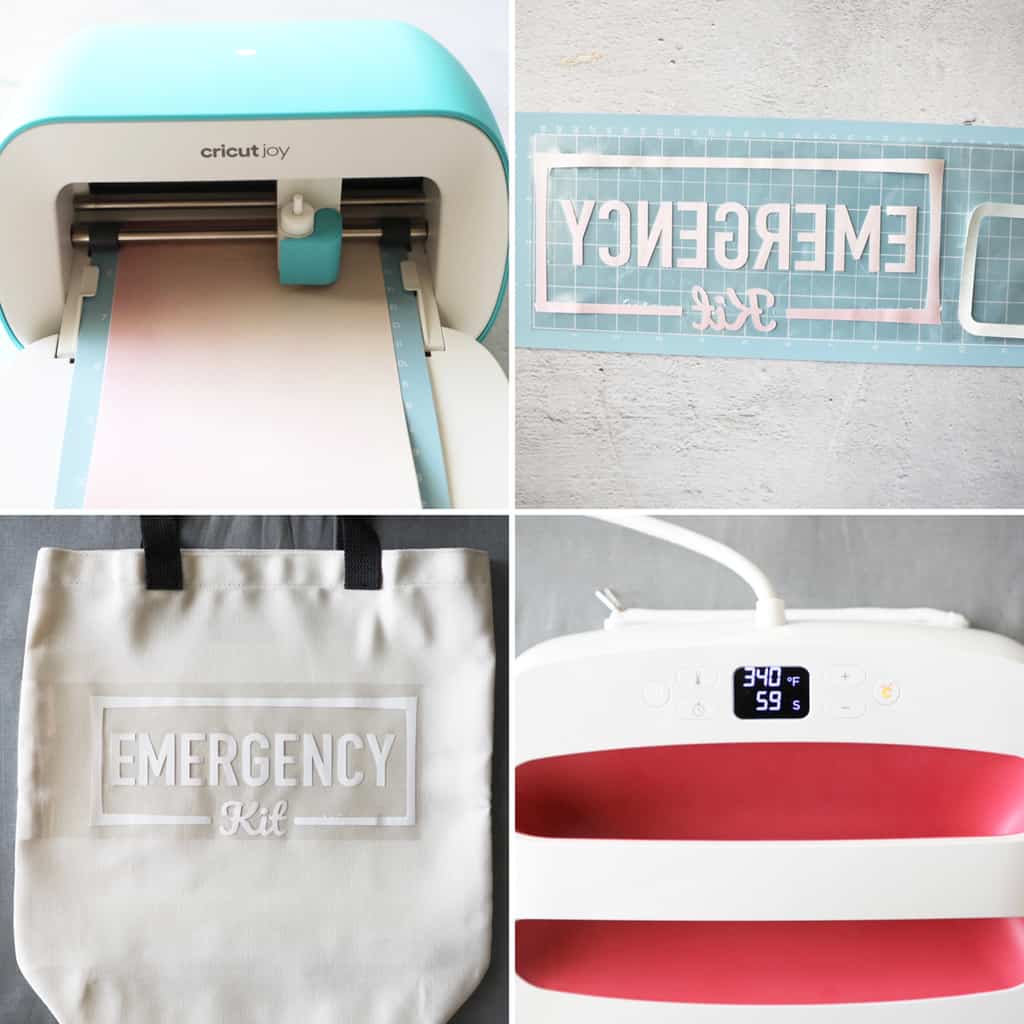 Top Left – Press go and let your machine cut your design.
Top Right – Carefully weed out the excess material.
Bottom Left – Place your first design on your bag where you'd like it to end up.
Bottom Right – Find your correct temperature setting here, and use your iron or Cricut Easypress to apply your design.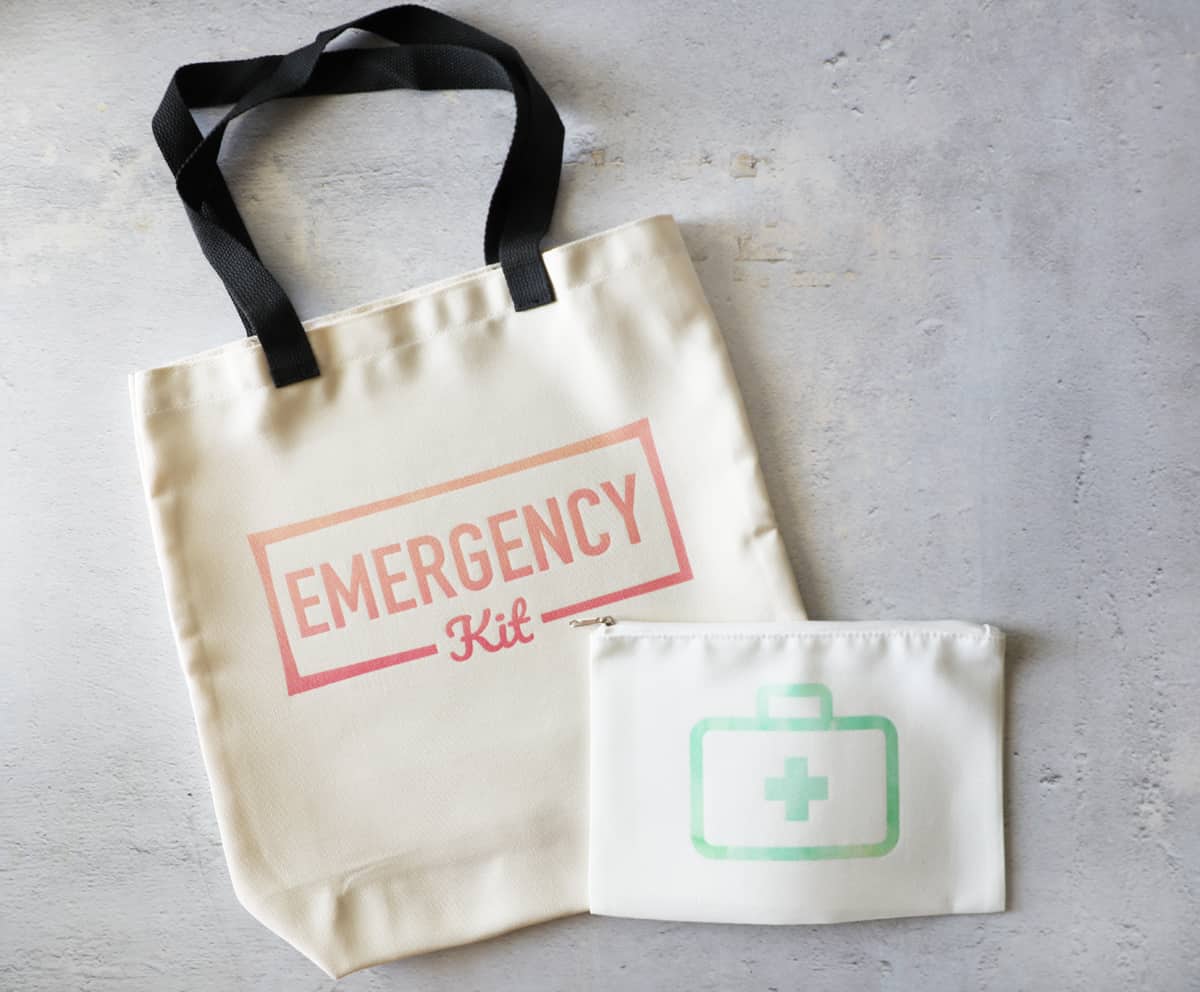 Repeat this process for your second bag.
Looking good so far. Now let's stuff these car emergency kits with all the important things we need to thrive on the road.
Car Emergency Kit
You can put anything you like in your DIY emergency kit, but here are the things I found myself most needing when we were out and about.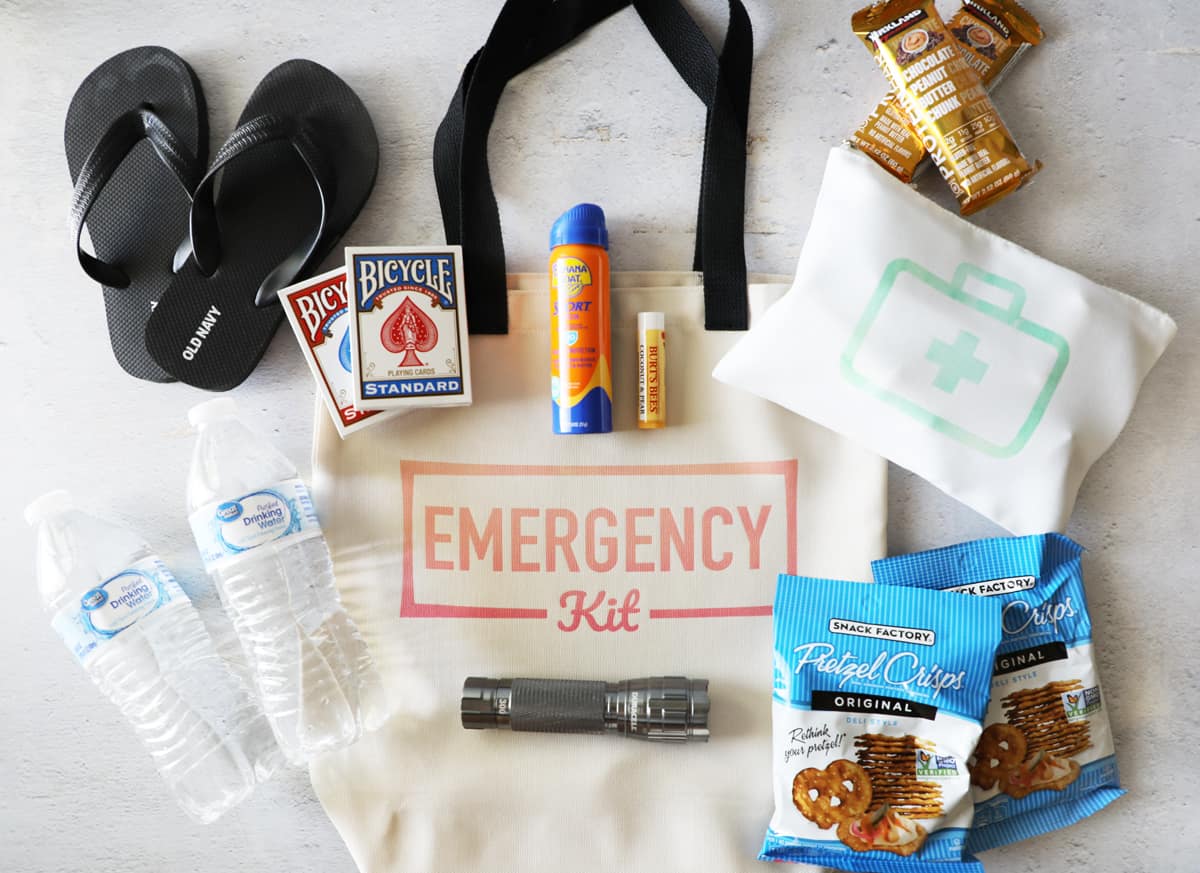 First Aid Pouch (more details below)
Snacks
Flashlight
Waters
Sunscreen
Flashlight
Playing Cards
Shoes
Chapstick
I wish the shoes were a joke, but you would not believe the number of times we got to our destination this summer and one of my children had forgotten footwear, haha. A pair of cheap flip-flops could save the day.
Car First Aid Kit
I raided my emergency stuff and medical cabinet and it was surprisingly easy to find the things I wanted to fill our little travel first aid kit! If you don't have a lot of medical supplies though, you can buy small kits really affordably.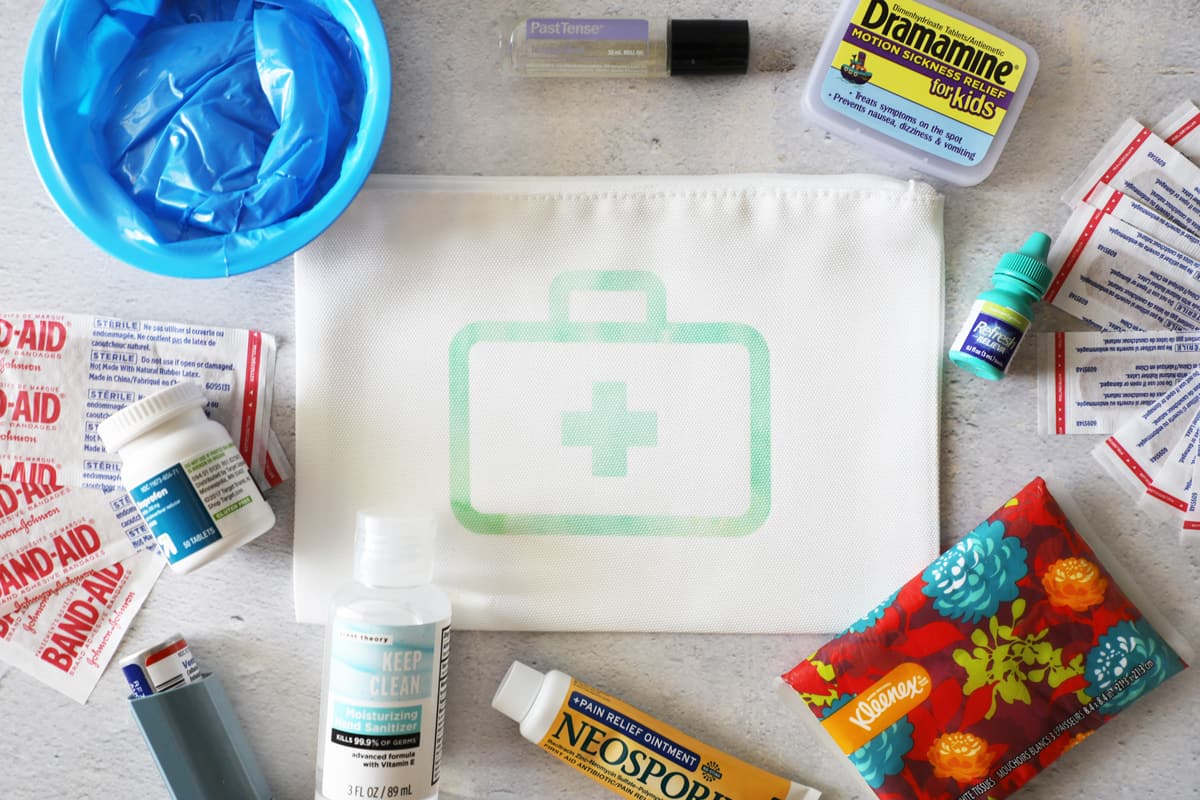 Here's a list of what I put in mine.
Bandaids
Neosporin
Hand Sanitizer
Tissues
An inhaler
Ibuprofen
A Barf Bag
Past Tense Oil Blend
Dramamine for Kids
Eyedrops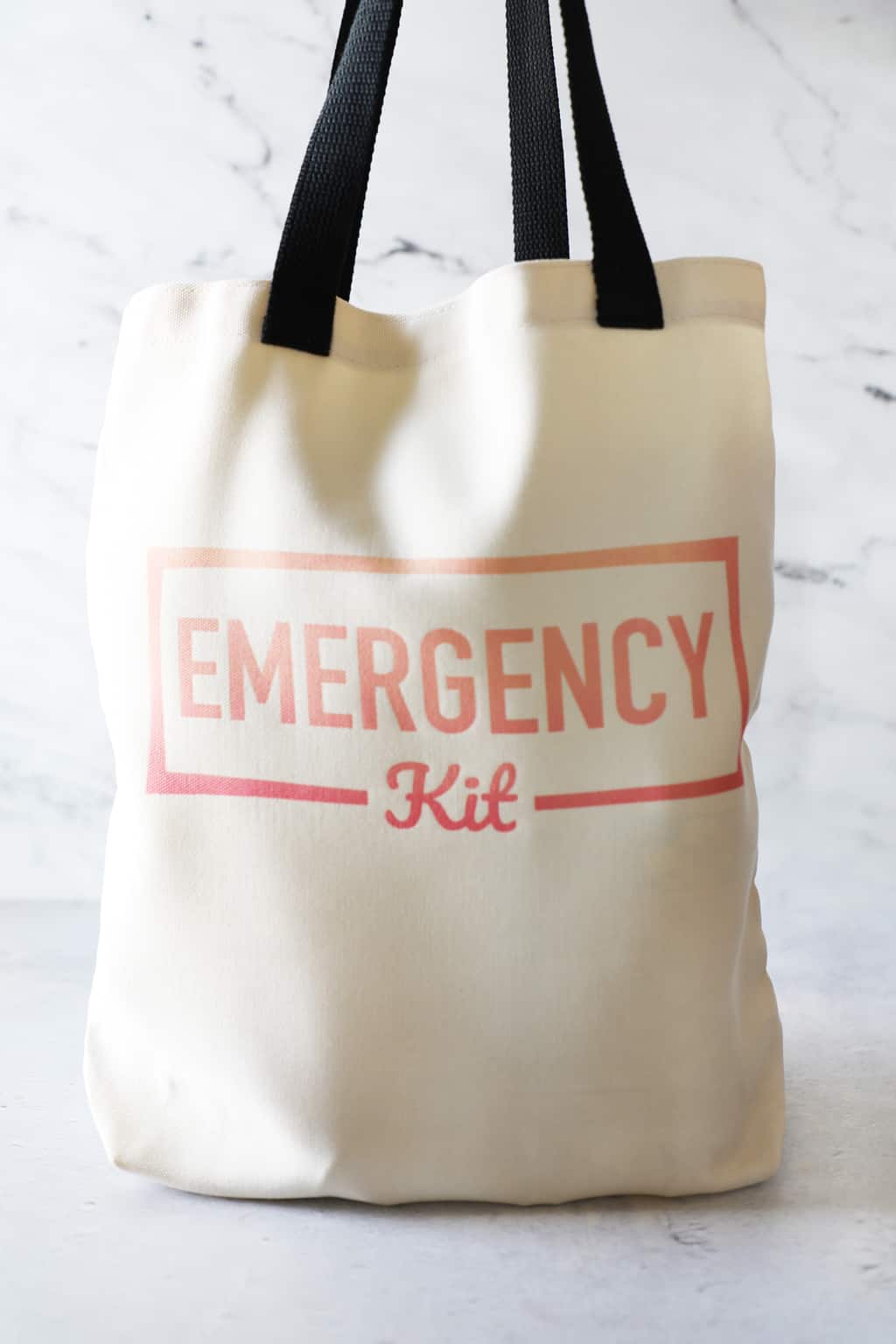 Well what do you think? Is there anything I missed that I should add?
xo,

If you liked this post you will also love our Homemade Liquid Laundry Detergent or our post on How to Make a Shirt using a Cricut machine.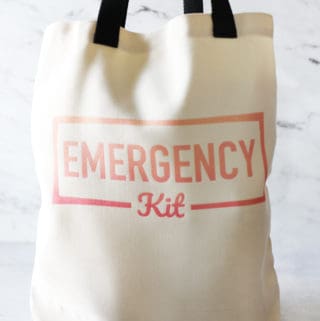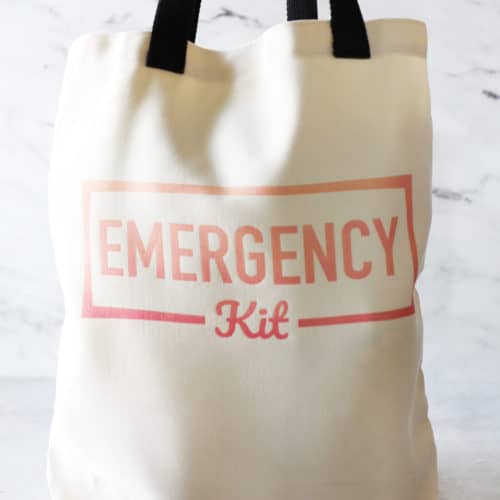 DIY Car Emergency and First Aid Kits
Do you have a Car Emergency Kit and first aid kit? It was fun and easy to assemble these DIY kits and now we are never left in a lurch when we are out and about. 
Print
Pin
Rate
Equipment
Cricut Machine

Iron or Easy Press
Materials
1

Scissors

Emergency & First Aid Supplies
Instructions
Gather your supplies. Open the design in Cricut Design Space or design your own! Click "Make it" and make sure your mat length is correctly set. Set your material, load your machine, and push go.

Allow your machine to cut your design. Weed the design, then place it on the appropriate spot on your canvas blank. Use the easypress to apply your design. Repeat process for first aid pouch.

Gather your emergency and first aid supplies and fill your pouch and bag!
Notes
Emergency Kit Supply Ideas:
First Aid Pouch (more details below) 
Snacks
Flashlight
Waters
Sunscreen
Flashlight
Playing Cards
Shoes
Chapstick
First Aid Kit Supply Ideas
Bandaids
Neosporin
Hand Sanitizer
Tissues
An inhaler
Ibuprofen
A Barf Bag
Past Tense Oil Blend
Dramamine for Kids
Eyedrops