I'd like to thank Cricut for sponsoring this post. We only share our 100% honest opinions, and all opinions are our own.
Have you found yourself in the aisles of a craft store staring at rolls and rolls of vinyl and wondered "What is the best iron on vinyl for Cricut projects?" I'm here to help!
I have always used the Cricut brand products because we have been lucky to work with them for years. I really like their machines and materials and have found them to be long-lasting. For example, I have labeled my daughters' water bottles for school with Premium Permanent Vinyl, put them in the dishwasher over and over for YEARS and the labels have not budged.
Now I've tested out the most common brands of vinyl and iron-on vinyl (aka HTV) to see how they stack up!
You might like this related post: Everything You Need to Know about Cricut Materials and what to use them for. We also have a Cricut page on our site so you can easily browse all of our Cricut projects!
*This post contains affiliate links.
Best Vinyl for Cricut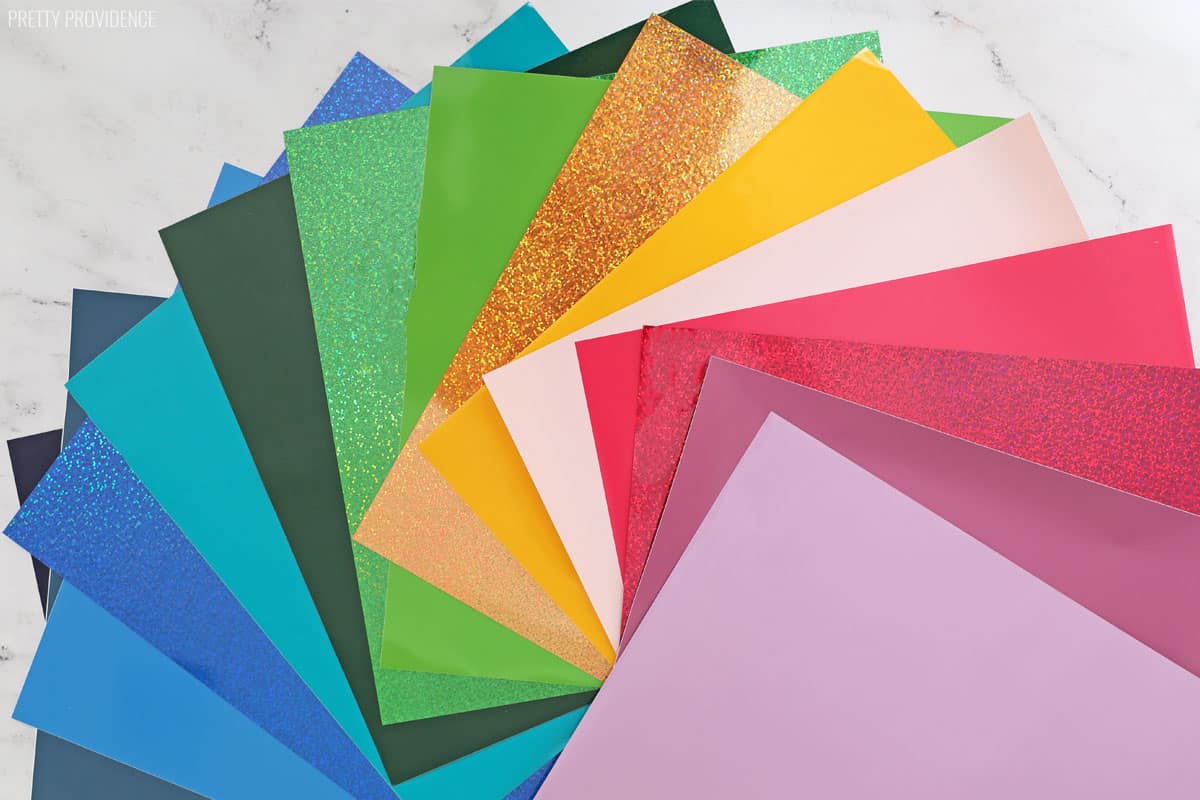 Cricut has a HUGE variety of materials available, and when it comes to vinyl and iron-on the possibilities are really endless. It is helpful to know that Cricut materials are designed to work flawlessly with your Cricut machine. They put all their materials through a rigorous testing process to ensure lasting results.
For both vinyl and iron-on projects, I am using my Cricut Maker 3, Cricut StandardGrip Mats, and weeding tools from the Cricut Basic Tool Set.
Criteria for Testing the Materials
How did I decide to rate the Cricut materials and the other brands?
Quality of cut through the material
Ease (or difficulty) to weed
Application
Is the material durable and long-lasting
For number four, I'm going to have to update this post in a few months. I did wash the shirts after applying the designs to see if there were any initial changes to note.
Cricut Iron On Vinyl: Rating Cricut Heat Transfer Vinyl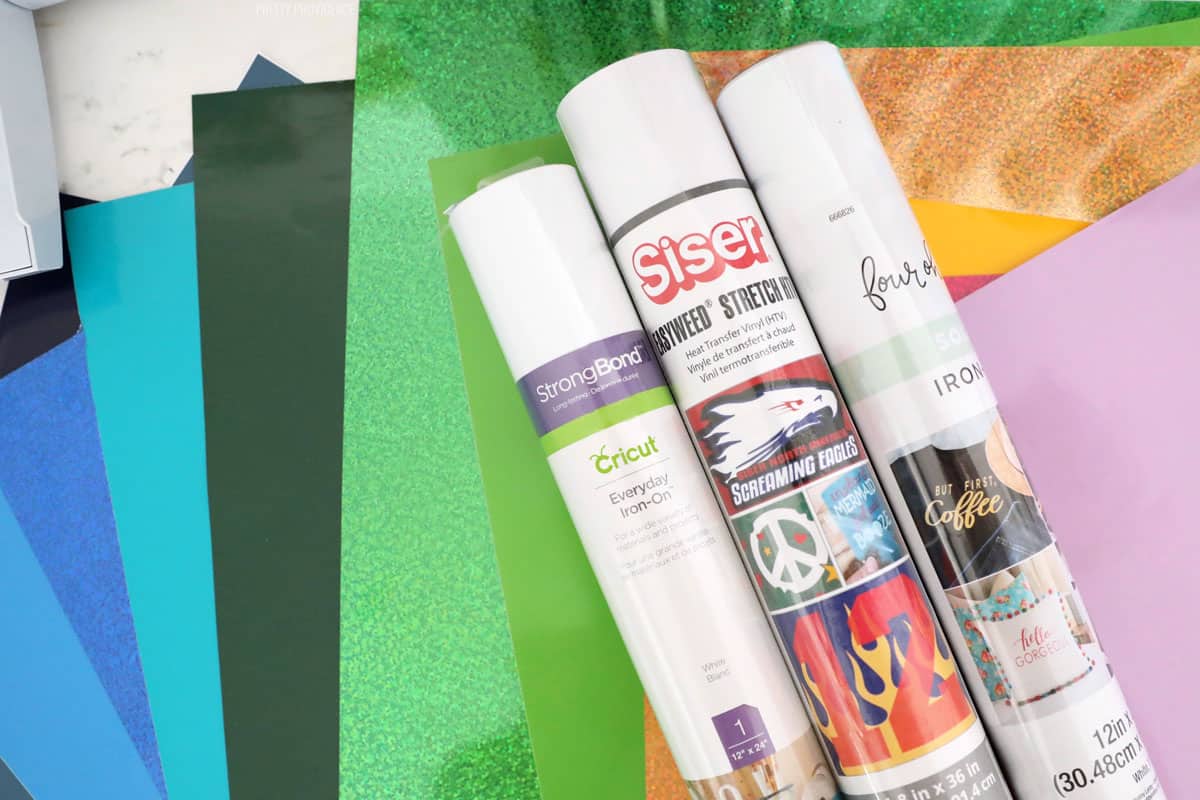 Iron on Vinyl vs Cricut Heat Transfer Vinyl
Iron-On is what it sounds like, it's a thin vinyl material that you apply to other materials with heat. HTV is the same, it is an acronym that stands for Heat Transfer Vinyl. Iron-On is my personal favorite material to play with. I love to make custom t-shirts, sweatshirts, hats, and tote bags for my friends and family.
What is the best iron-on vinyl for Cricut projects? I decided to test my tried-and-true Everyday Iron-On against the Siser EasyWeed HTV and another brand that I found called four oh five.
Cricut StrongBond Everyday Iron-On vs. Siser EasyWeed HTV vs. Four Oh Five Iron-On
I got three identical gray t-shirts and cut the same design with each of the white iron-on materials.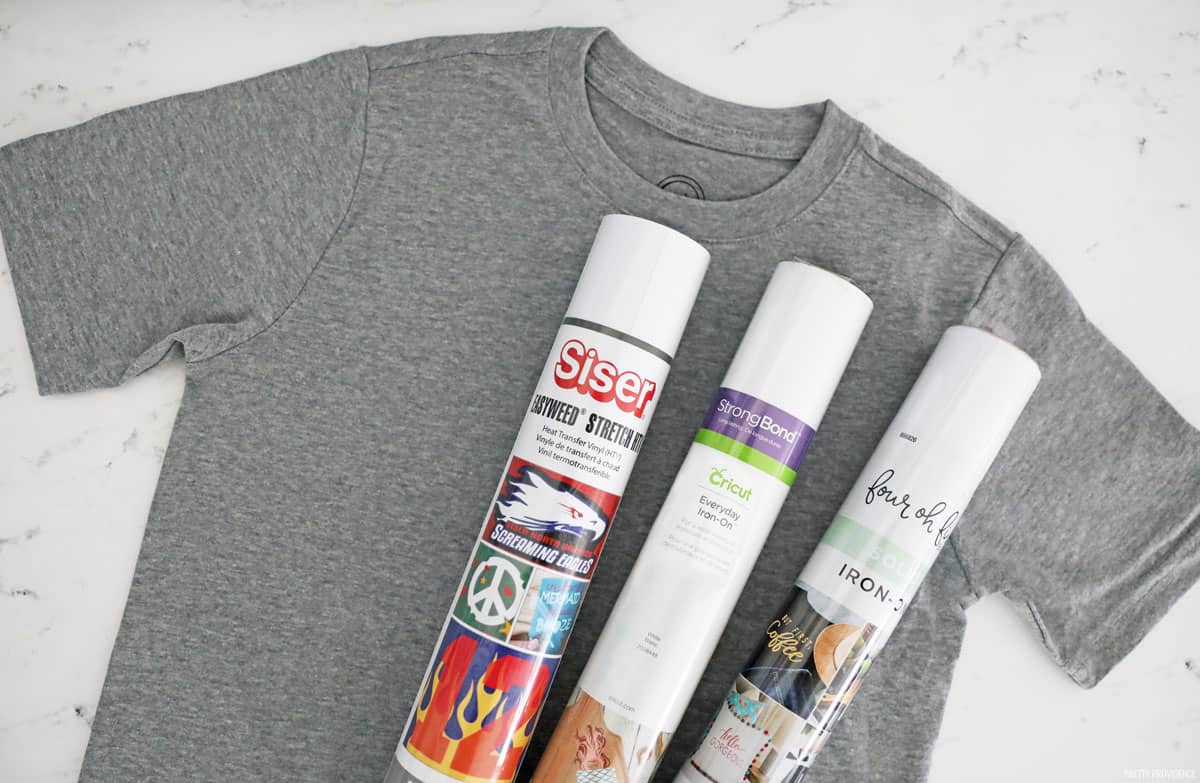 For these shirts, I went with a baseball theme. Our MLB team, the Astros, just won the world series! There's a lot of team pride happening in Houston. I cut the designs out with each type of iron-on and made sure to label which was which.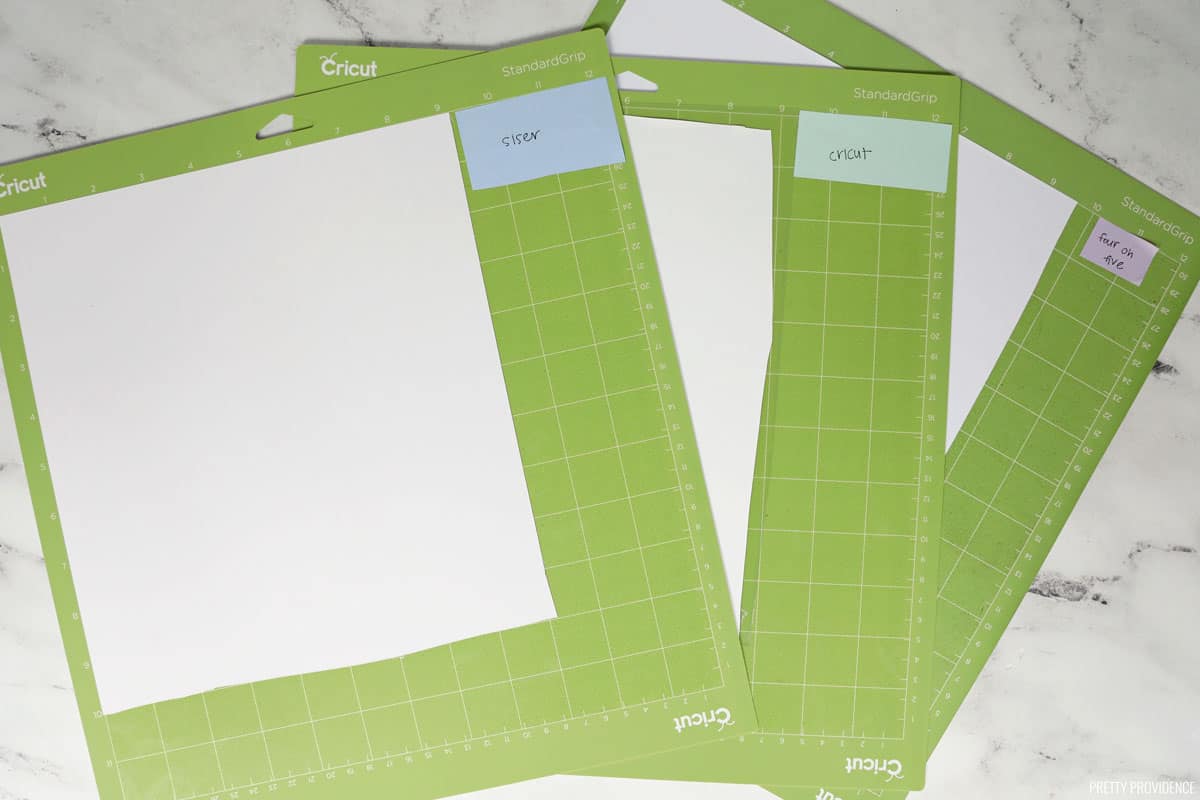 Weeding was easy with all three types of iron-on.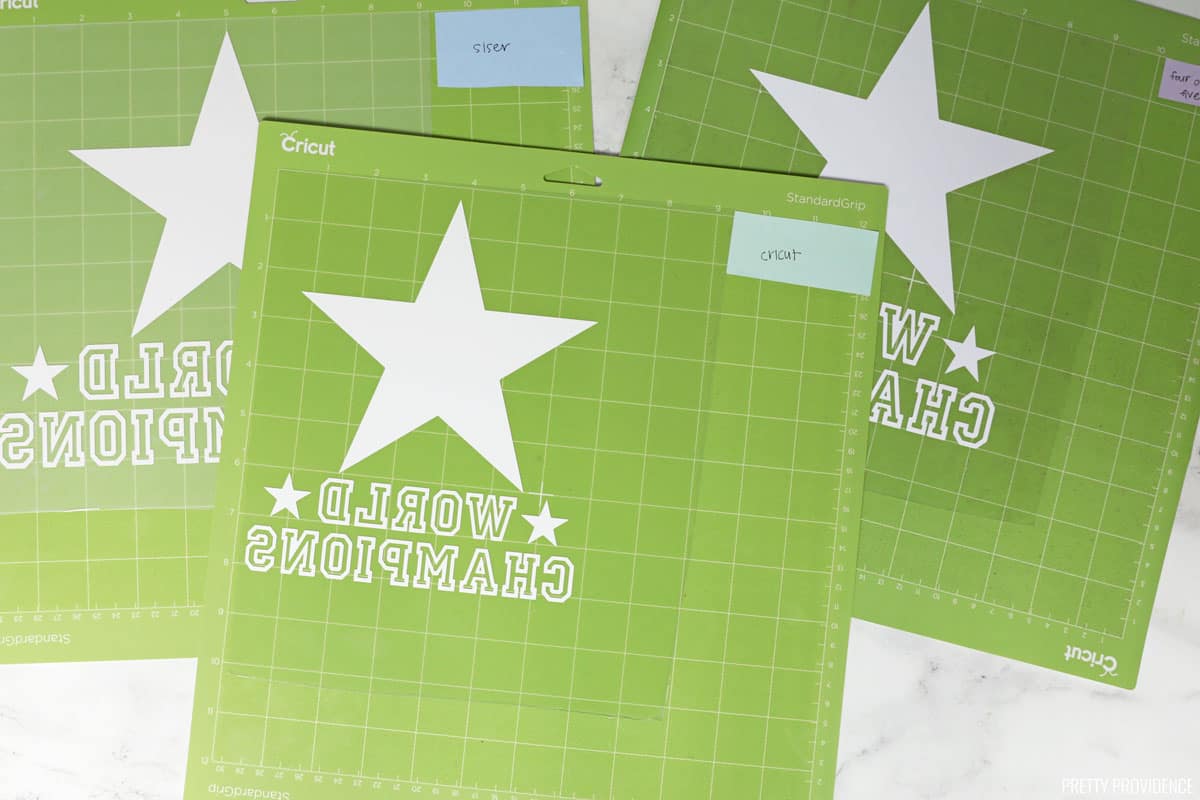 After weeding I wanted to see how well they applied to the shirts. That went smoothly too. They all applied easily in about 30 seconds with my EasyPress 2.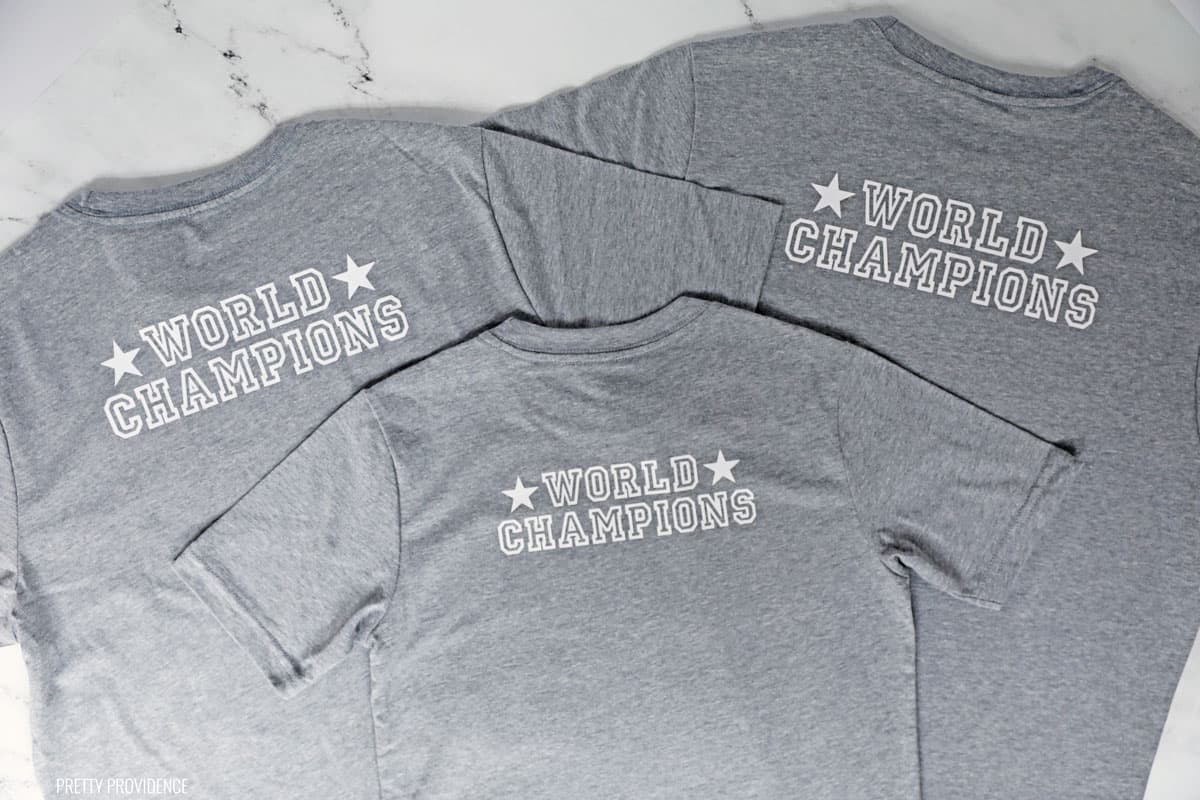 Verdict: They are very similar and cut beautifully with my Maker 3.
Cricut Holographic Sparkle Iron-On vs. Siser Holographic HTV
Holographic Sparkle Iron-On is a favorite with my daughters. It's similar to Everyday Iron-On but shiny and sparkly. I tested Cricut Holographic Sparkle Iron-On against Siser Holographic HTV.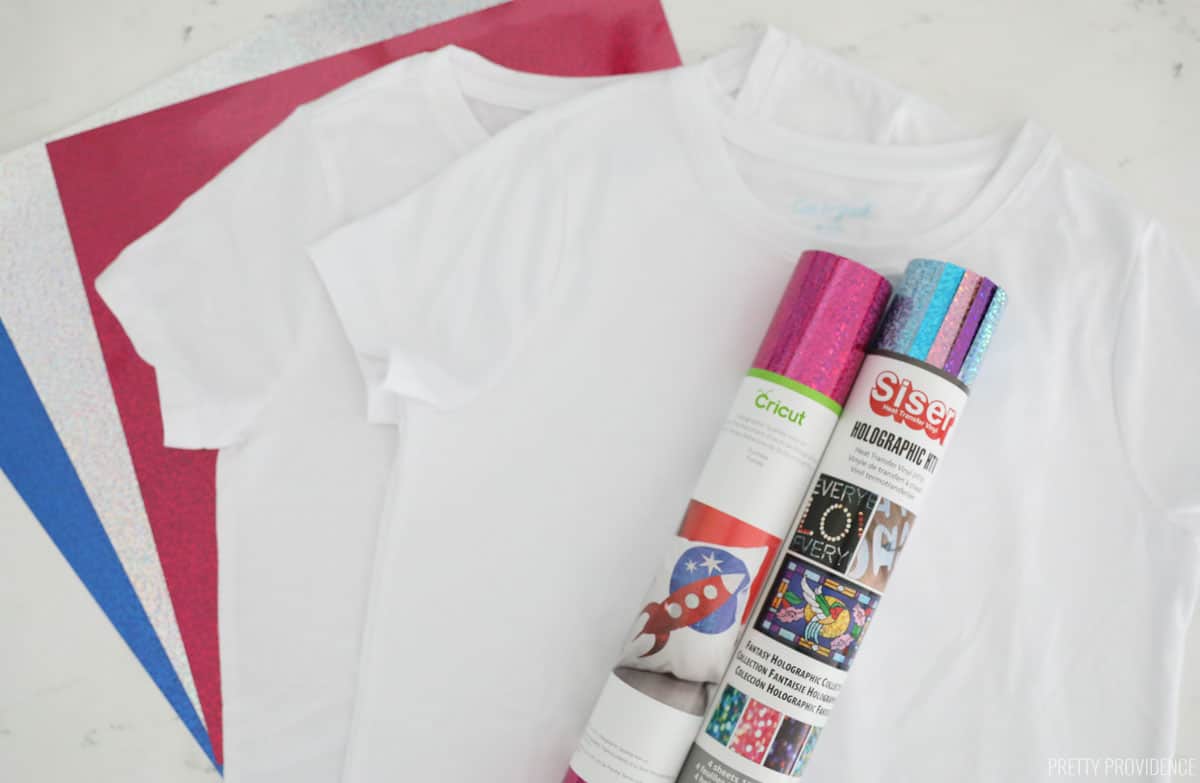 I created a design for a lego inspired shirt that says "Eat Sleep Build Repeat" and has little bricks on it.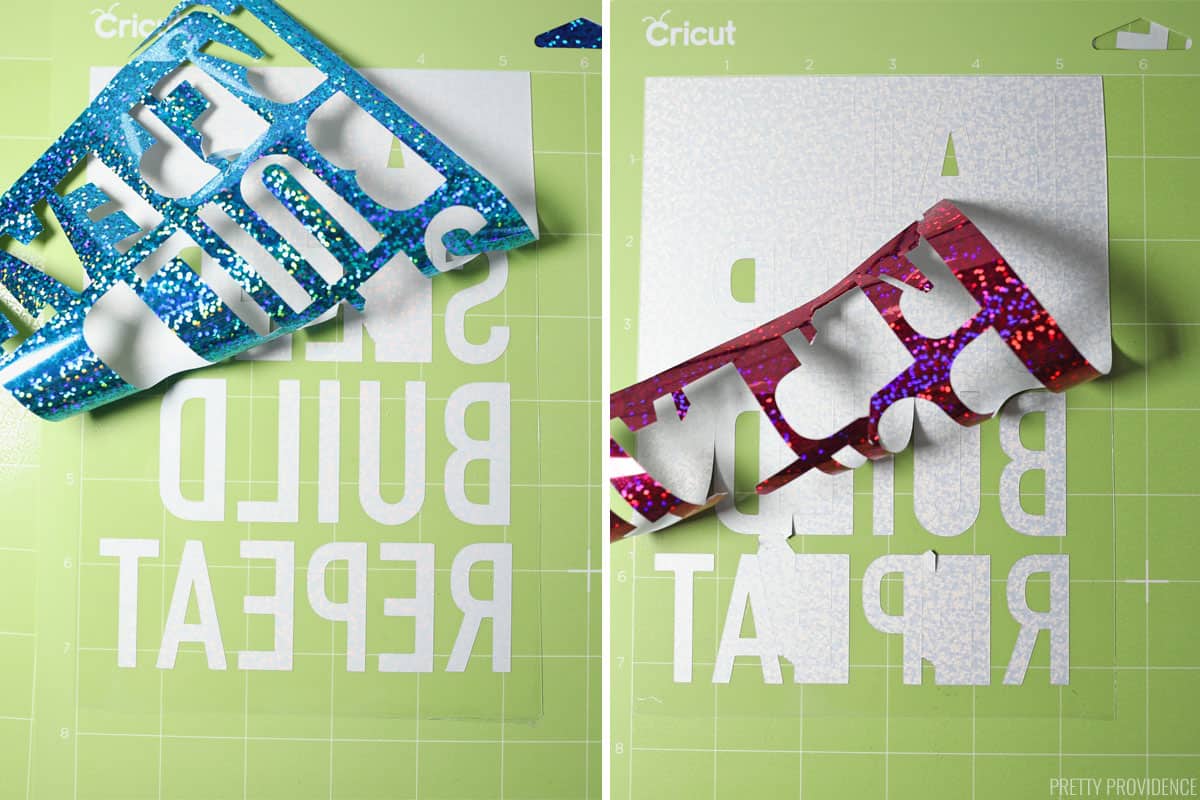 Siser is on the left, and the Cricut iron-on is on the right. It was slightly less smooth to weed but that is the only difference. As you can see below, they weeded beautifully.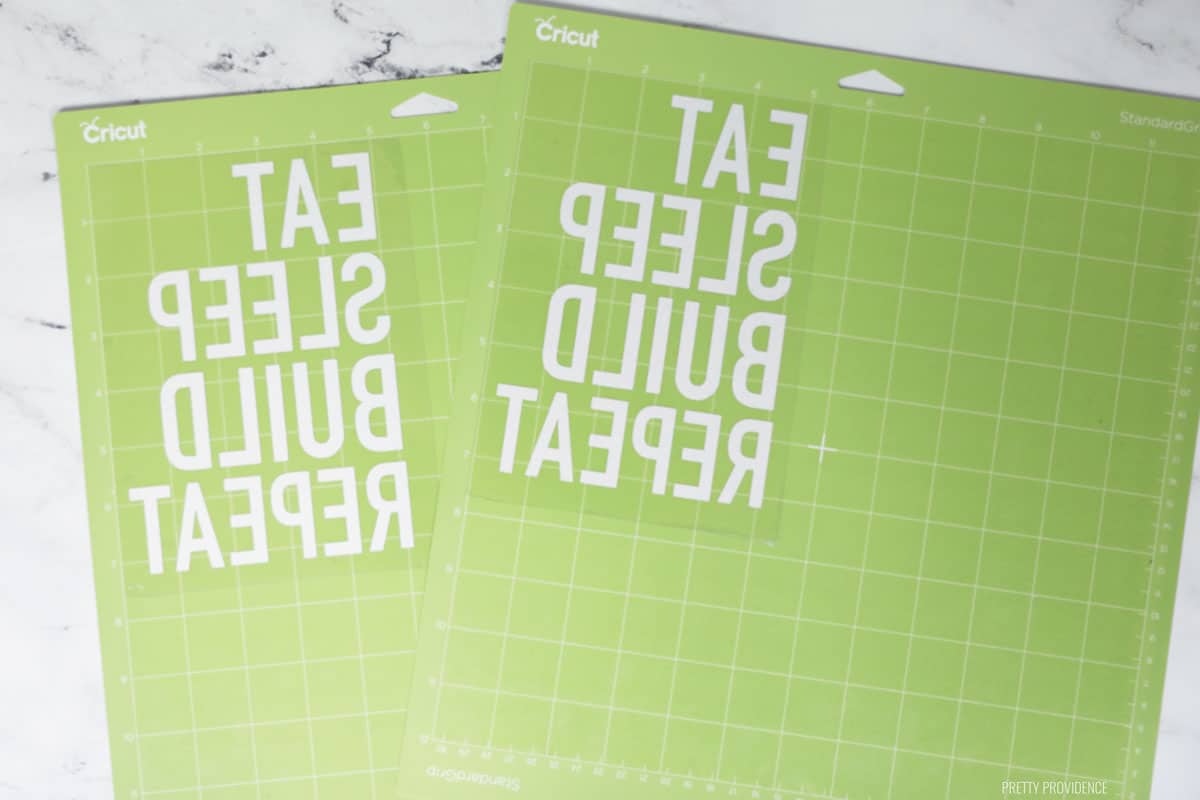 After applying the iron-on to the shirts, here is what they look like.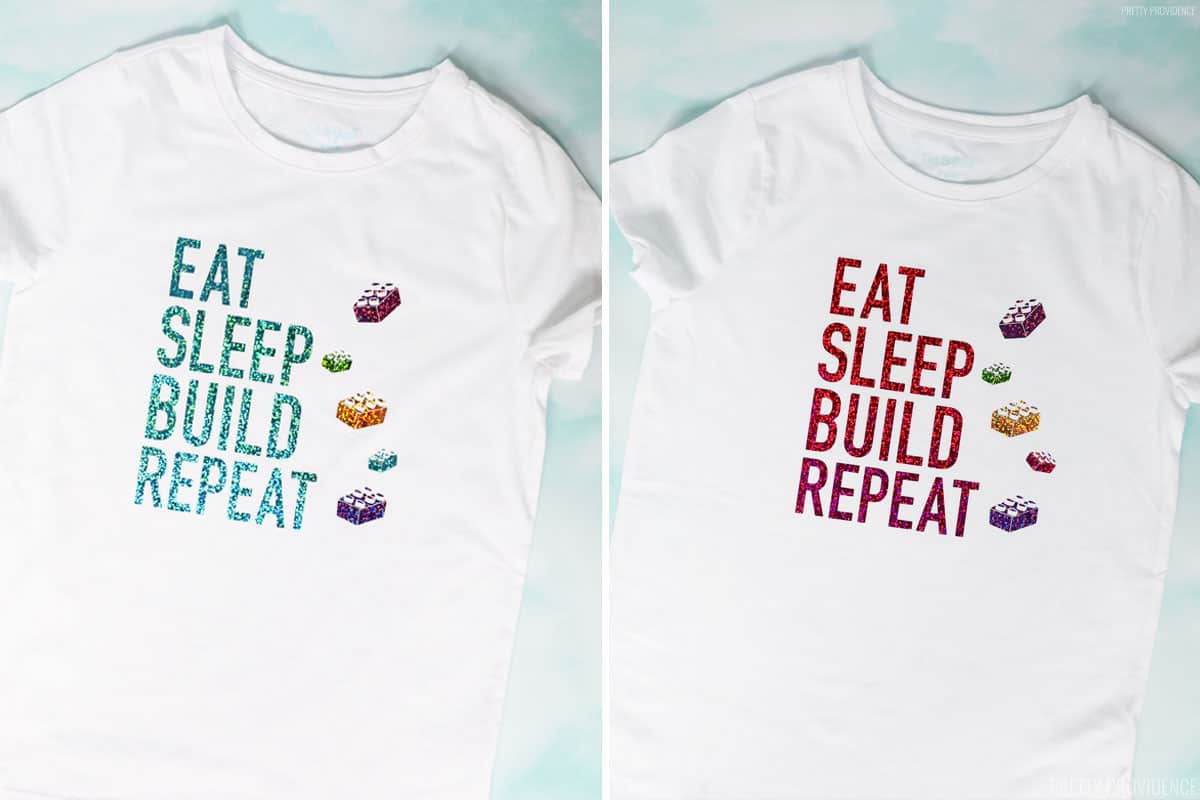 I love the results and more importantly, my daughters love the shirts! They are going to wear these over and over.
Verdict: They are both good products and worked great with my Maker 3 and EasyPress 2.
How to use Iron on Vinyl
How to cut iron-on vinyl
Place iron on vinyl shiny side down on your mat.
Next, choose the material.
If you're using a Cricut Maker or Cricut Joy, select Everyday Iron-On from the materials drop-down menu. [right image]
Then click 'Cut'
Click 'Mirror image for Iron-On' before hitting 'Go.' That's an important and easy-to-miss step.
Follow the prompts and let the machine cut the design.
When it is finished, unload the mat.
Remove the excess vinyl around the edges. If you have a weeding tool, it will be easier to take out the little pieces inside the letters.
Once your design is cut and weeded, you can iron it on!
How to apply iron-on to a T-shirt
Set your iron to 'Cotton' or the hottest setting it has. Make sure steam is turned OFF.
Start by getting the material warm. Press the iron onto the shirt for about 15 seconds.
Place your iron-on vinyl where you'd like it. Put a press cloth, or plain cotton cloth, on top of the plastic iron-on sheet. This is important & will reduce the risk of plastic melting onto your shirt.
Press the iron on top of the press cloth for about 30 seconds. Flip your shirt over, and do the same thing on the opposite side of the shirt.
Now you will peel the plastic sheet diagonally to separate it from the iron-on vinyl. Do this while it's still warm!
Best Removable Cricut Vinyl
The last test I did was with Removable Vinyl. We use removable vinyl for organizing projects, faux wallpaper, wall decals, and more. This time I labeled some pantry storage containers.
Cricut Premium Removable Vinyl vs. Oracal 631 Removable vs. The Paper Studio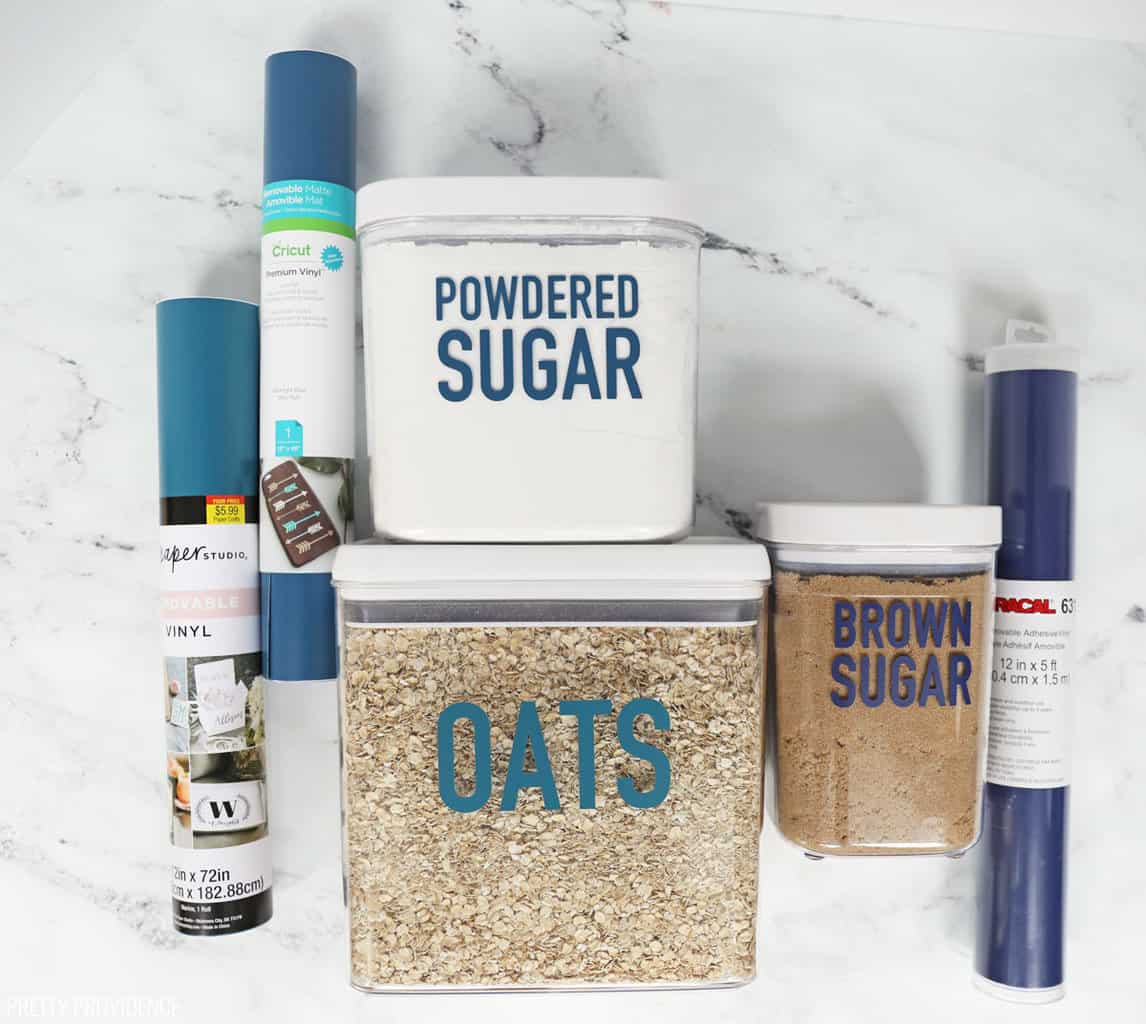 I cut all three and used Transfer Tape to apply. Similar to the Iron-On tests, these all worked great. Buying the same color vinyl for this test (navy) I thought it was fun that each brand had slightly different hues!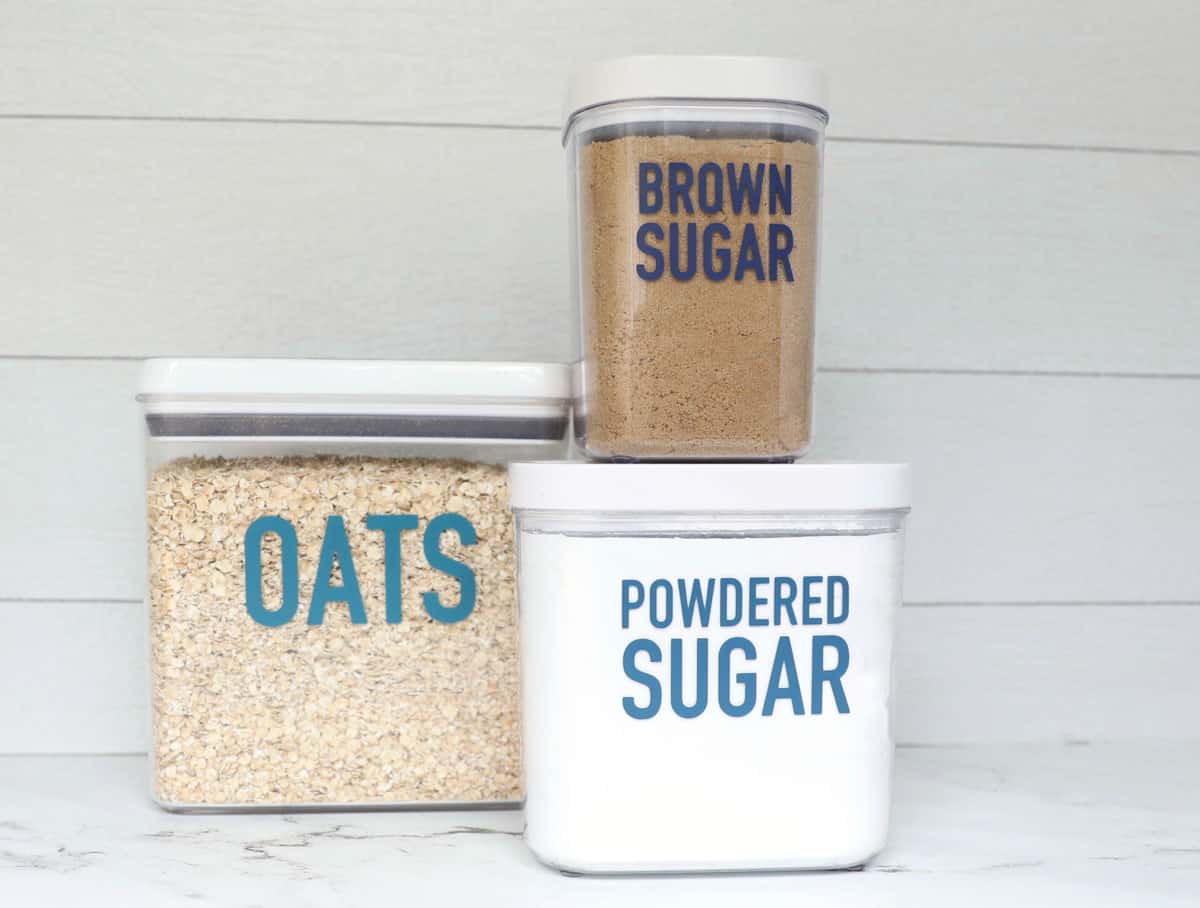 I LOVE that with Cricut machines and accessories, you can use any material you find at the store, including other brands. I typically just stick with Cricut since they offer a huge selection of materials and are constantly coming up with new types of materials to try out!
We use Everyday Iron-On vinyl for Cricut tote bags, shirts, hats, blankets, cloth napkins - basically anything made of fabric.
We choose Sportflex Iron-On for stretchy things like socks, athletic wear, tight-fitting t-shirts, etc. See: DIY Funny Socks.
My next project will be to use Gold Removable Smart Vinyl. Smart Materials are specially designed for easier making, you don't need a mat, and you can make extra-long cuts up to 12 feet long! I want to make something for the walls in my girls' bedroom.