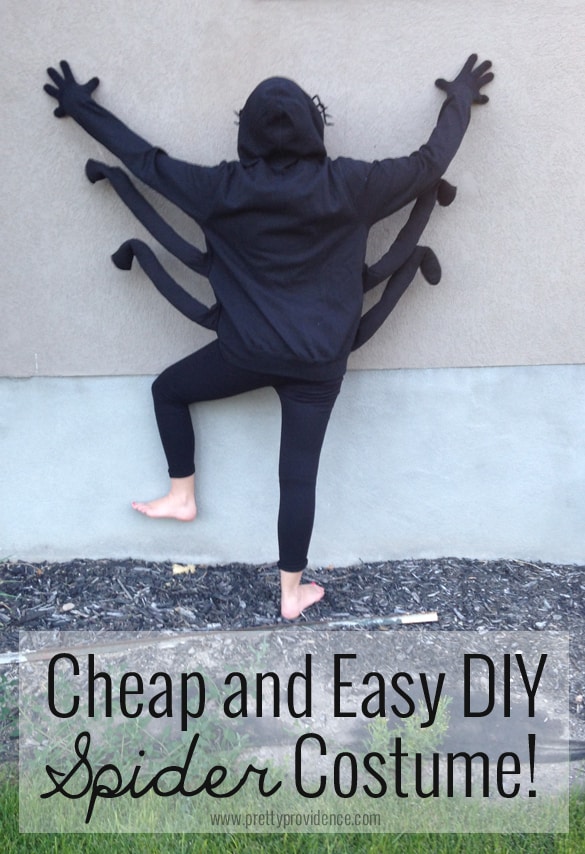 I love Halloween and I basically love celebrating anything and everything but just like with any holiday, things can add up fast! For this reason, we usually always try to DIY our costumes. It actually turns out way more fun this way, because no one else's costume will ever be the same as yours (even if you are the same thing, haha). I love this easy DIY spider costume because it is so customizable! You can make it for babies, adults, anyone in any size! I am considering making one for the whole family this year, and then making our garage into a web or something!
Along with my cheap and easy DIY spider costume, I'm sharing 88+ more really awesome handmade costume ideas from my talented blogger friends! I'm teaming up with Jamie Dorobek and her handmade Halloween costume site, Really Awesome Costumes to bring y'all tons of easy ideas to craft up DIY Halloween costumes for everyone including your pets, family costumes, and even a trunk or treat idea!
Our Latest Videos
Okay, are you ready to make a really cute and easy spider costume??? Let's do this thing. 
Okay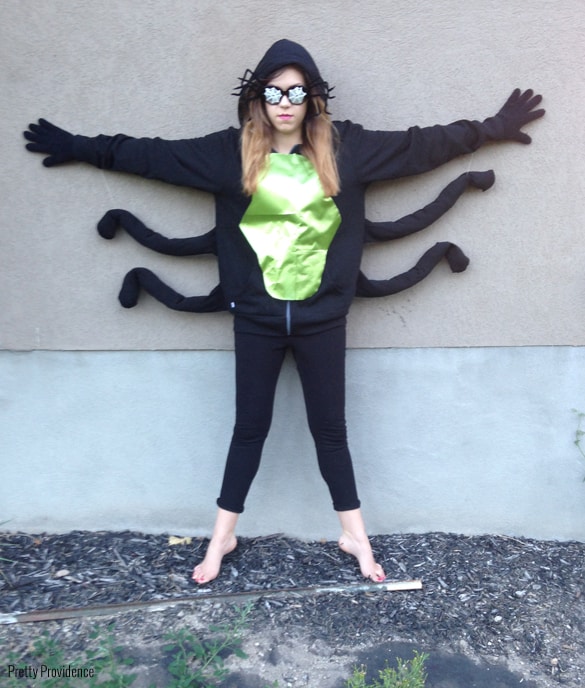 , here's what you need:
-a black sweatshirt (the sweatshirt pictured above is a zip up because that is the cheapest we could find, but any black sweatshirt will do! This one is only $9.50!)
-2 pairs black trouser socks (I got mine at the dollar store)
-1 pair black gloves
-Clear thread and needle
-cheap black sunglasses
-black pipe cleaners
-white paint pen
-hot glue
-plastic grocery bags
-red, purple or green fabric for the tummy *optional*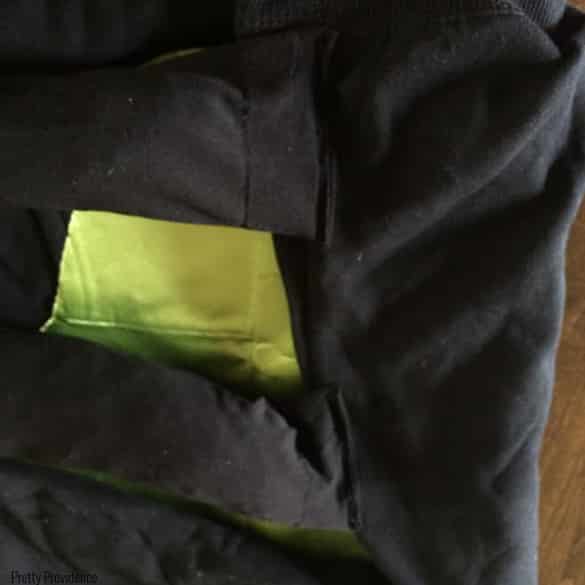 First things first, take your trouser socks and stuff them with your empty grocery bags. Once they are stuffed pinch the end closed and sew (you can use a machine or hand stitch) onto the sides of the sweatshirt. You should have two socks on each side, right under each sleeve.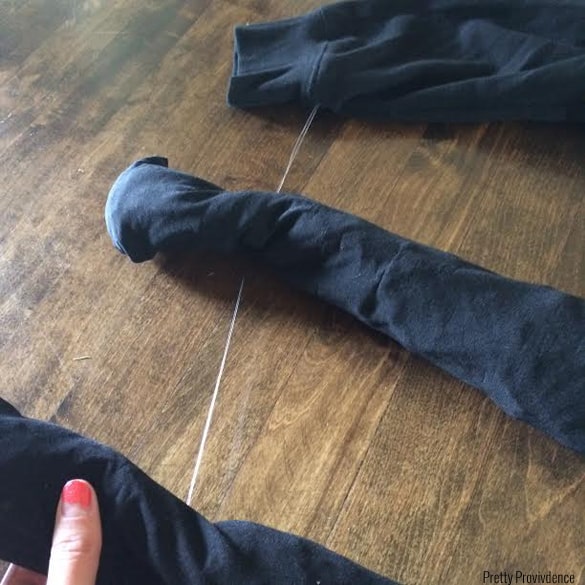 After sleeves are stuffed and attached to the sides of the sweatshirt, take your clear thread and attach the arms to eachother. Start at the top on the inside of each sleeve, and tie a big knot. Pull strait down and put needle through each leg so that when the wearer lifts their arm, all the arms lift in unison. If you are opting to have a tummy patch, cut your desired shape out of your fabric and sew it onto the tummy  of your sweatshirt at this point.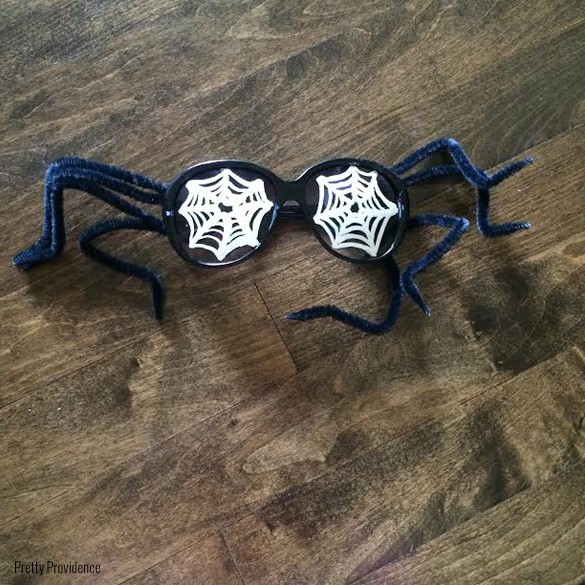 Last but not least, our "eye" glasses! Hot glue your pipe cleaner "legs" onto the inside corners of your glasses, and use the paint pen to draw your little webs!
I mean… easy enough a kid could do this… right?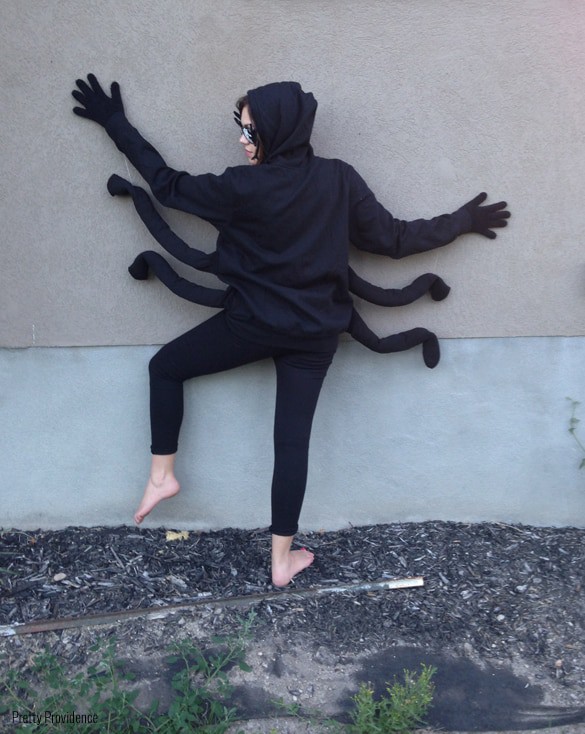 I hope you love your spider costumes as much as we love ours!
And now it's time for tons more DIY Halloween costume inspiration! Click on the links below each collage to get the detailed instructions about how to make the costume pictured, just like mine above.
1. Handmade Baby Hamburger Costume
2. DIY Baby Game Boy Costume
3. DIY Minecraft Steve Costume
4. Football Brothers Halloween Costumes with DIY Pads and Onesie
5. Star Trek Halloween Costume for Kids
6. A Bee and Her Keeper
7. No Sew Magician Costume
8. Flint Lockwood Costume
9. Pinocchio
10. Marty McFly
11. Princess Wedding Dress Costume
12. Handmade Lalaloopsy Doll Costume
13. Homemade Toothless Costume
14. DIY Mermaid For Less Than $20 (No-Sew Option)
15. Easy Tinker Bell Costume
16. Mario and Luigi Go Kart Costumes
17. Dog The Bounty Hunter and Beth
18. Family Monsters University Costumes
19. Scooby Doo family costumes
20. DIY Storm Cloud Costume

21. Cheap and Easy DIY Spider Costume
22. Easy Tin Man Costume
23. No Sew Bee Costume
24. Planet Halloween Costumes
25. DIY Cheshire Cat Costume
26. DIY Instagram Board
27. Elsa crown
28. Dog Collar Ruffles
29. DIY Pineapple Baby Costume
30. DIY Lego Movie Costume
31. Weeping Angel Costume
32. Disney Planes Costume: Dipper
33. Easy Pirate Costume
34. Easy Costume Idea – Renaissance Girl
35. 10 Minute Homemade Jellyfish Costume
36. DIY Cat Costume
37. Lucy And Ricky Costumes
38. Easy Frozen Costumes (Carrisa!!)
39. Easy Greek Goddess Costume
40. DIY Family Willy Wonka Costumes

41. DIY No Sew Maleficent Costume
42. No Sew Pineapple Halloween Costume
43. Graveyard Bean Bag Toss: Trunk or Treat Car Costume
44. DIY Teenage Mutant Ninja Turtles Costumes
45. DIY Raccoon Costume with Printable Mask
46. Easy WildStyle Lego Movie Costume
47. Simple Hello Kitty Costume
48. No Sew Minnie Mouse Costume
49. DIY Inspector Gadget and Penny Costumes
50. DIY Frozen Elsa Dress Baby Edition
51. Fairy Princess Dog Costume
52. DIY Hashtag Halloween Costume
53. Toddler or Baby Egg Costume
54. Easy No Sew Olaf Costume
55. DIY Baymax Costume
56. DIY Tooth Fairy Costume
57. Baby Short Stack Pancake Costume
58. Elephant and Piggie Halloween Costumes
59. Instagram Halloween Costume
60. Peter Pan & Mr. Smee Halloween Costume

61. Wildstyle Costume from the Lego Movie
62. Fred and Wilma Couples Costume
63. Viking Family Costume
64. DIY Cruella de Vil Costume for a child
65. Disney Frozen Olaf Halloween Treat Bucket
66. How to Make a Minecraft Steve Head
67. DIY Harry Potter Costume
68. DIY Duck Dynasty Costumes
69. No Sew Cupcake Baker Halloween Costume
70. DIY Skunk Mask
71. Ghostbusters Proton Pack DIY
72. Frozen Anna Costume Tutorial
73. Candy Corn Costume
74. Paw Patrol Halloween Costume
75. No Sew Toothless Dragon Costume
76. DIY Robot Costume
77. Wonder Woman Costume
78. Reese's Peanut Butter Cup Costume
79. Thrifted Gentleman Spy DIY Halloween Costume
80. DIY Boy Garden Gnome Costume
81. Group Costume: Bob Ross, Happy Tree, & Squirrel
82. DIY Blues Brothers Costumes
83. Snow White Costume
84. Peacock Princess Costume
85. Scarecrow Costume
86. Easy Teenage Mutant Ninja Turtle Costume
87. Handmade Teddy Bear Costume
88. Princess Elsa and the Spy Kid
89. DIY Baby Koala costume
Amazing ideas am I right?? Which costume did you love the most?! Also, you can follow the Handmade Halloween Costume board on Pinterest if you want continued costume inspiration!

xo,


If you can't get enough of the DIY costumes be sure to check out these 18 easy DIY costumes or make this awesome DIY Mummy Wreath!