This easy DIY Flamingo costume requires no-sewing! This is the perfect quick and easy halloween costume tutorial!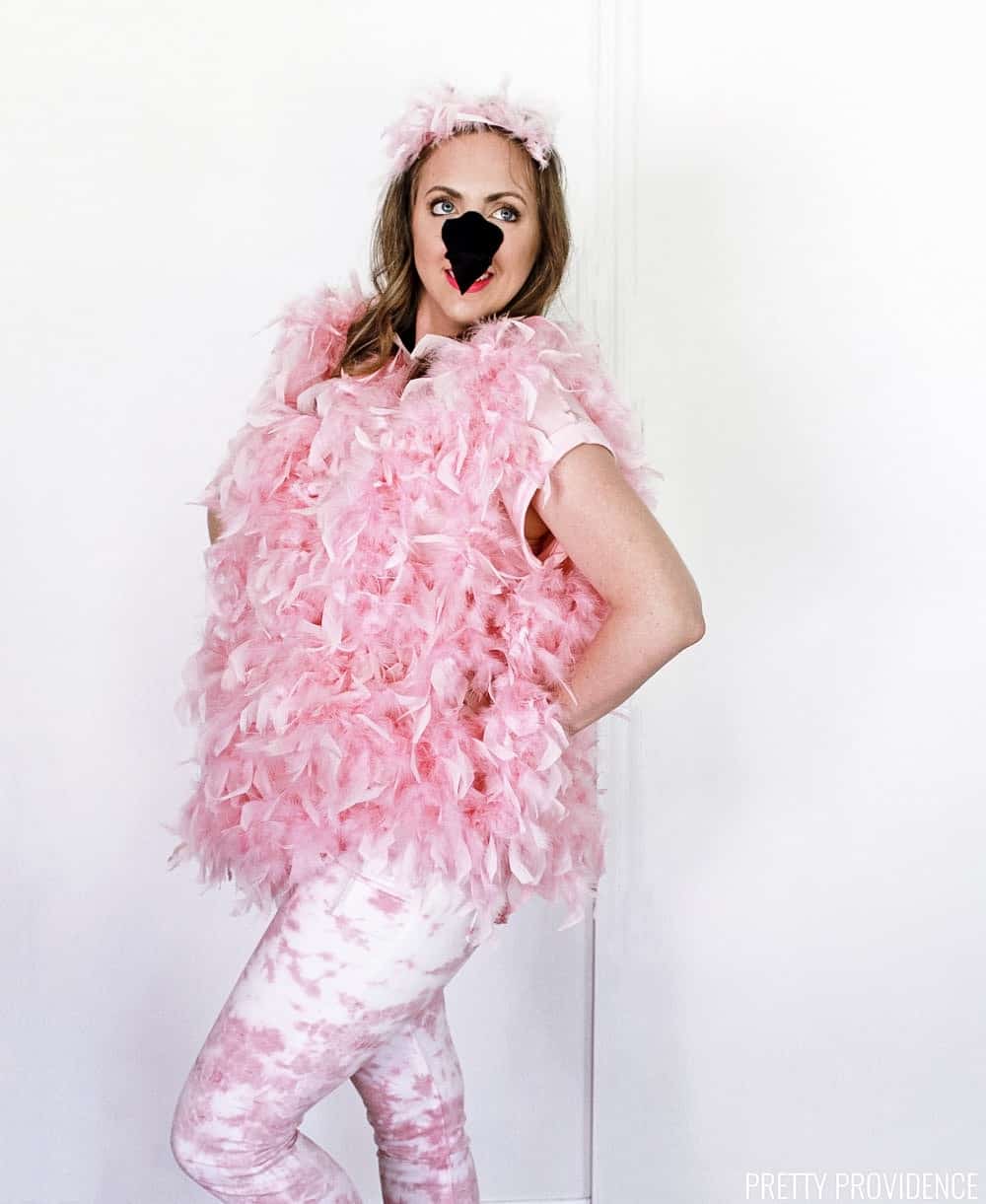 Halloween is coming! Do you know what you're going to dress up as yet? Do you dress up? I love it, and I only wear DIY costumes! Some of the other costumes I've made recently: a DIY Pirate Costume, Easy Sailor Costume, and this Bunny Costume for toddlers!
This DIY Flamingo costume is a simple one to put together, there is no sewing involved, and you will likely have at least some of the base clothing in your closet.
You can put this fast Halloween costume together in an hour once you have gathered the clothing, safety pins, pink boas & felt.
*This post contains affiliate links.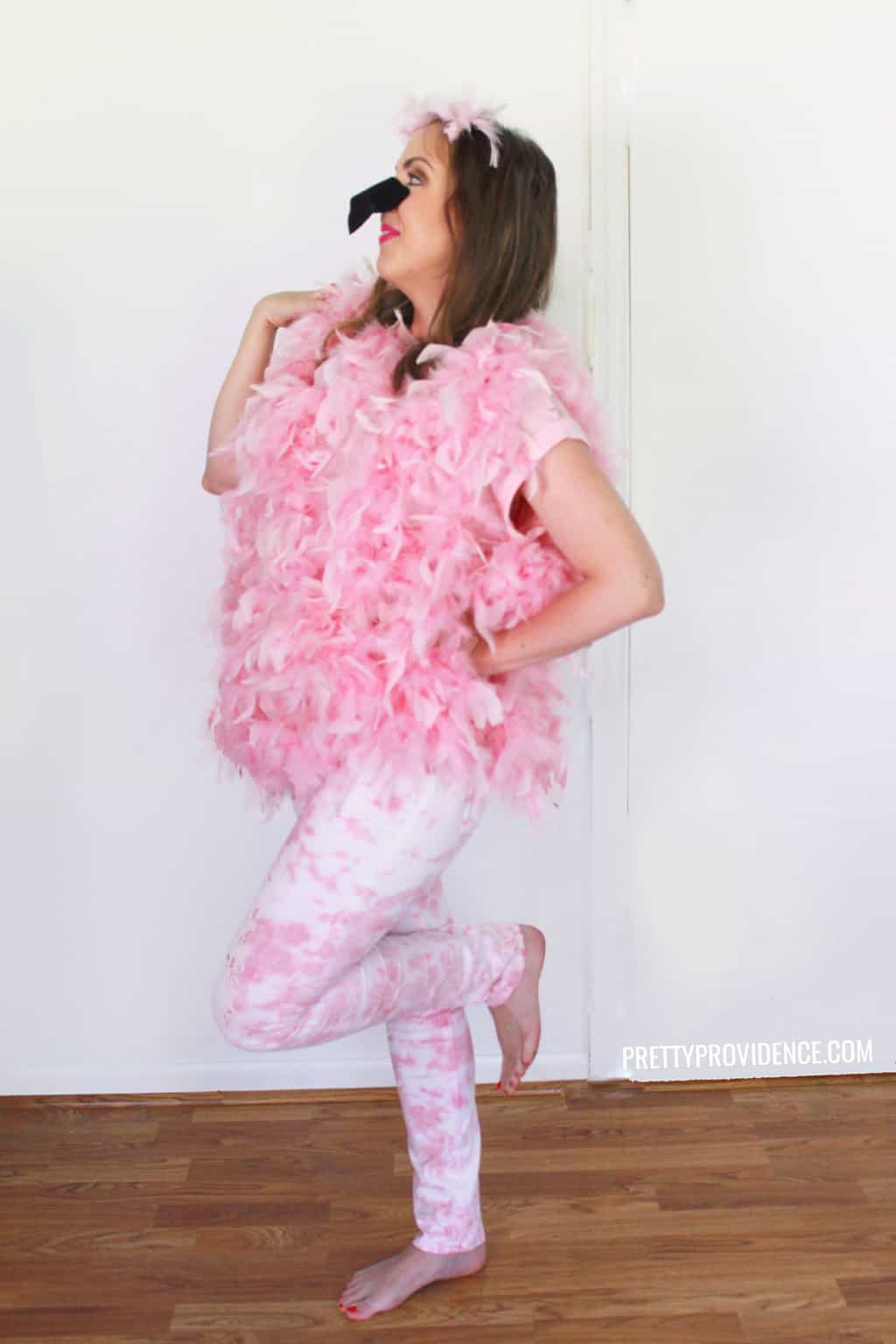 How to Make this Flamingo costume:
Materials:
Black Felt
Scissors
Safety Pins (and lots of them…)
Bobby Pins
Double Sided Tape
How to make it:
Safety pin boas to your pink shirt. Start by lining the neckline of the shirt all the way around, securing with safety pins where you see fit. (This is not an exact science!)
You can cut your boas into smaller pieces or keep them all in one piece. Keep adding boas and pinning them until your shirt is pretty well covered on the front. This is easiest to do when you are wearing the shirt so you can see how the boas hang.
Then add boas to the back of the shirt as well
Notes:
I didn't tie dye these pants, I bought them that way, but if you want to re-create them you can buy a tie dye kit or use Rit dye in petal pink to tie dye some white jeans or just get some pink leggings!
As an afterthought, my friend suggested that we bobby pin some of the extra feathers that had fallen off the boas to the front of her hair. So easy!
How to Make a DIY Flamingo Beak for the Flamingo Costume
Materials:
Black Felt
Scissors
Glue Gun
Double-sided tape
How to make it:
Fold the front part down on the corners about half way up, kind of like you fold wrapping paper when you're wrapping a present.
Hot glue the folds so it stays in place.
Add double sided tape to the top and attach to your nose.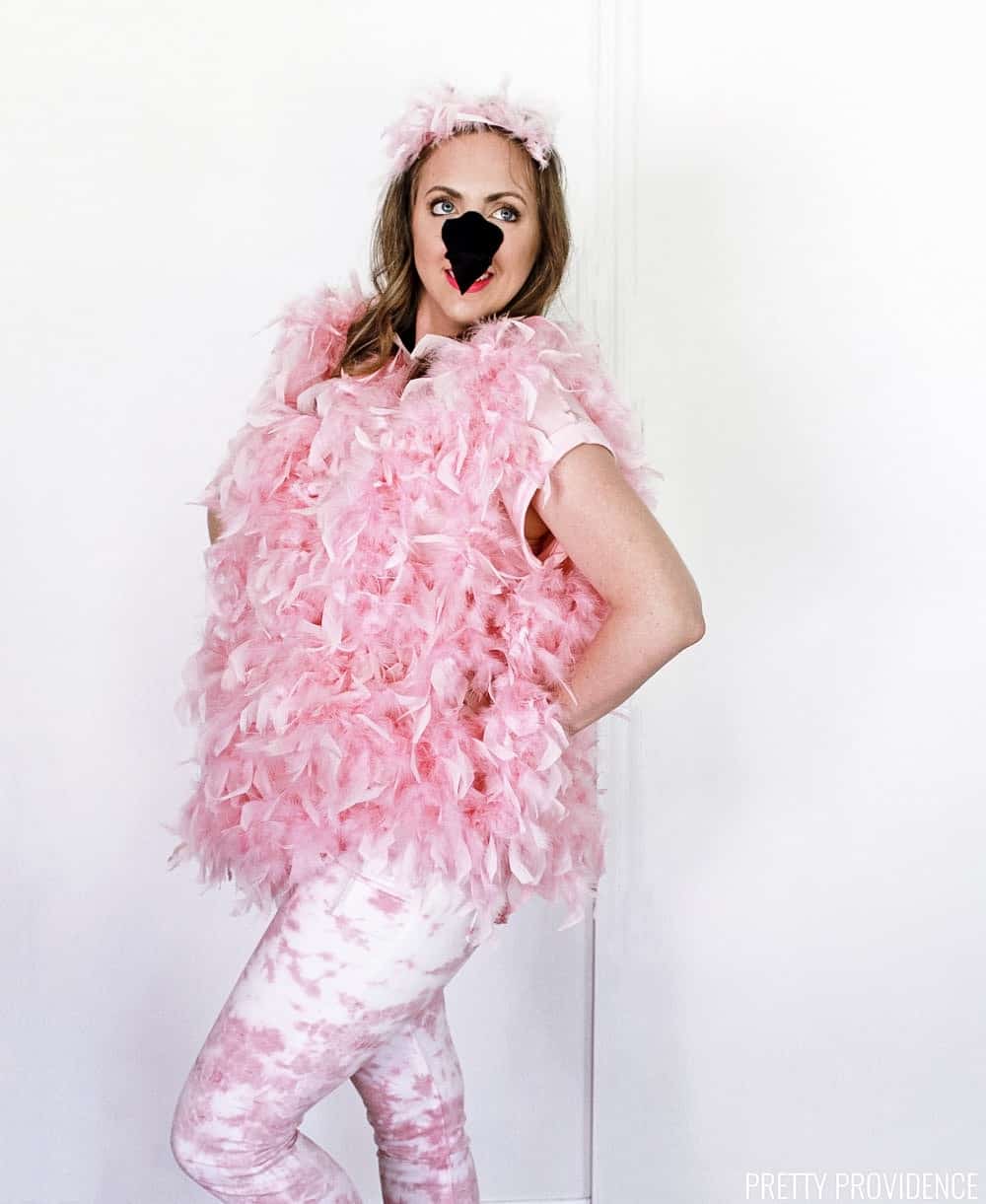 See! Super easy flamingo costume! With any Halloween costume, the hardest part is just gathering up what you need. In this case as long as you have pink clothing you can get the rest on Amazon or at the craft store.
Now if you are looking for more Halloween inspiration, make sure to check out our Halloween costumes, decorations and recipes page.
Also, I would like to thank my adorable friend Meg O. on the Go for modeling this costume for me! She is the best.

This post was originally published in October 2015 and has been updated with more detailed information.