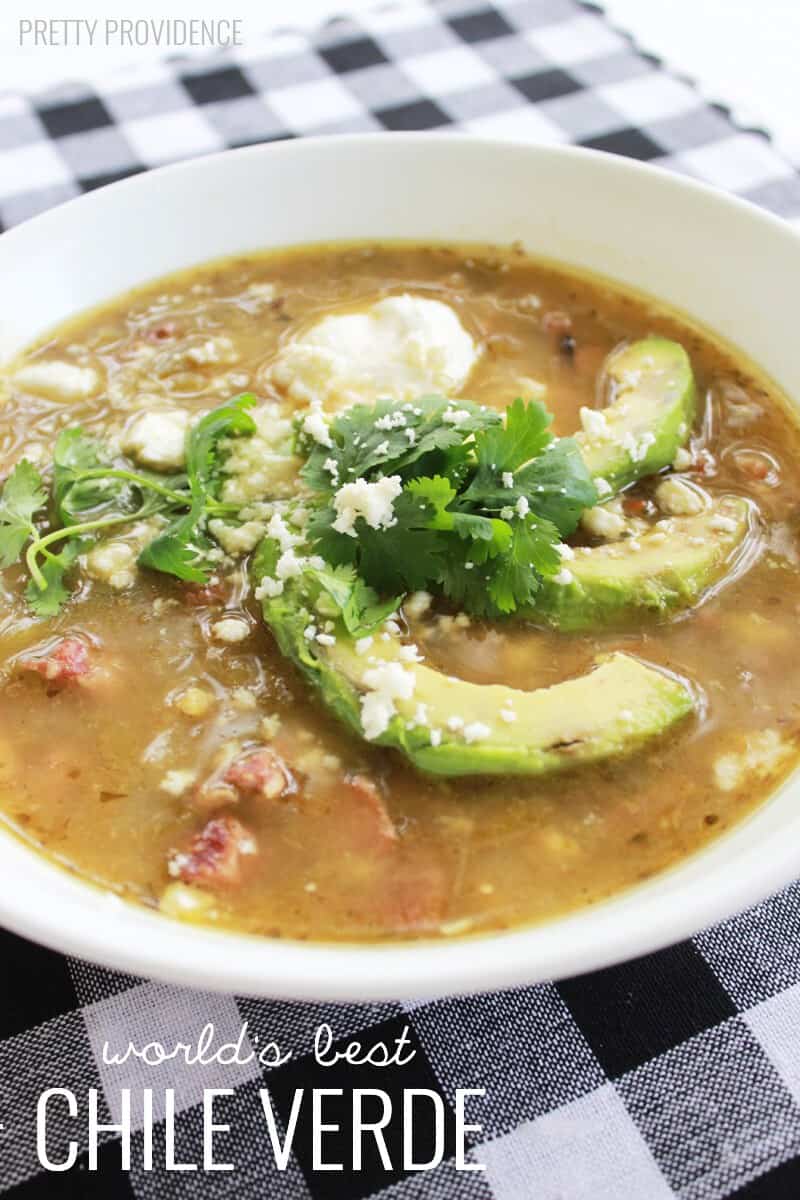 I have one of those Dads that cooks, which I think is more common in this day and age but when I was a kid people were amazed when I would talk about it, haha! He makes amazing food and I am a food snob because of him, as well as my mom and my stepmom. They all have amazing capabilities in the kitchen. Since I grew up eating such fantastic meals at both of my houses, I now can't please myself in the kitchen very often, my standards are too high! Haha… so when I cook I stick to simple, tried and true recipes. (You might notice that most of my recipes on this blog are desserts. I am confident in my baking skills.) Anyway, when my Dad comes to visit he cooks all the meals and last time he made his famous Chile Verde. Then he asked me if I wanted to take pictures so that I could blog the recipe. YES! So you should all just know that this recipe is courtesy of a very good blog-Dad and also that it is the most delicious Chile Verde that you will ever, ever eat.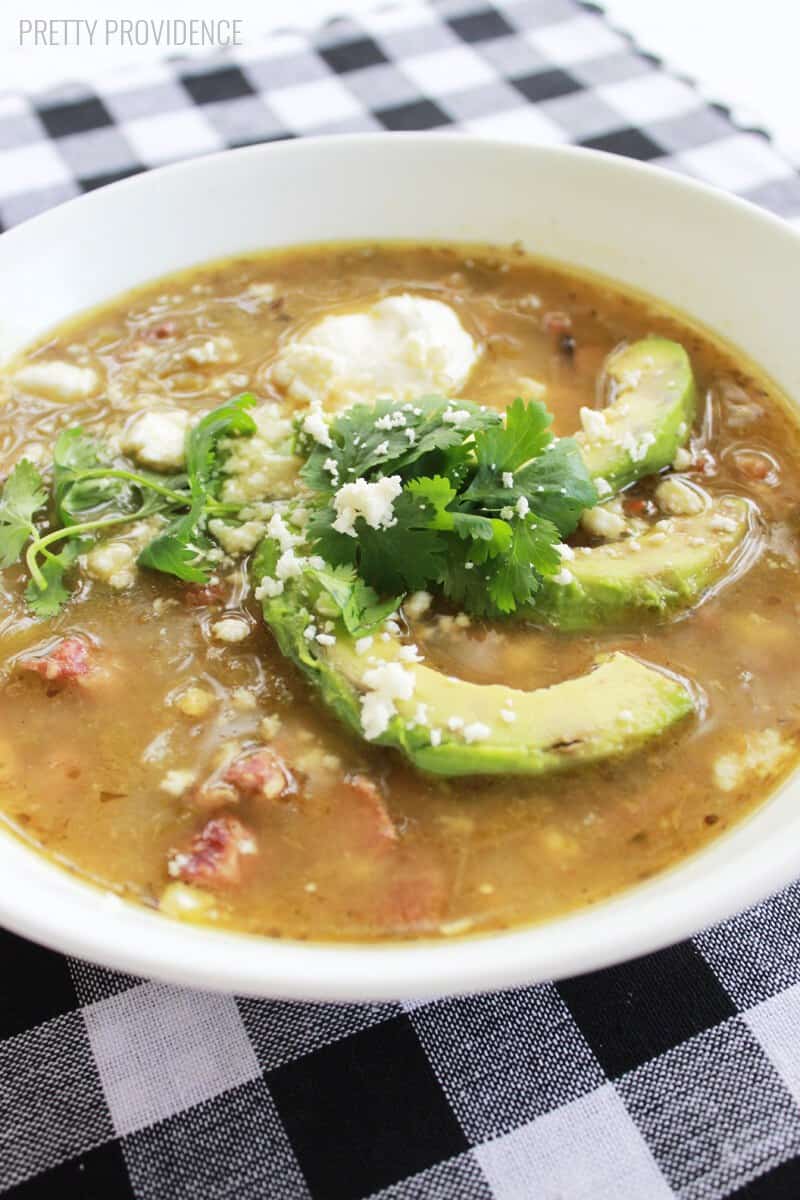 He roasted fresh chiles and tomatillos himself before making the Chile, but you can also take a shortcut and use canned chiles and tomatillos – the Chile will be delicious either way.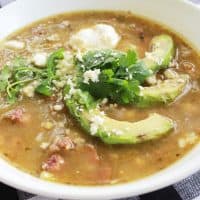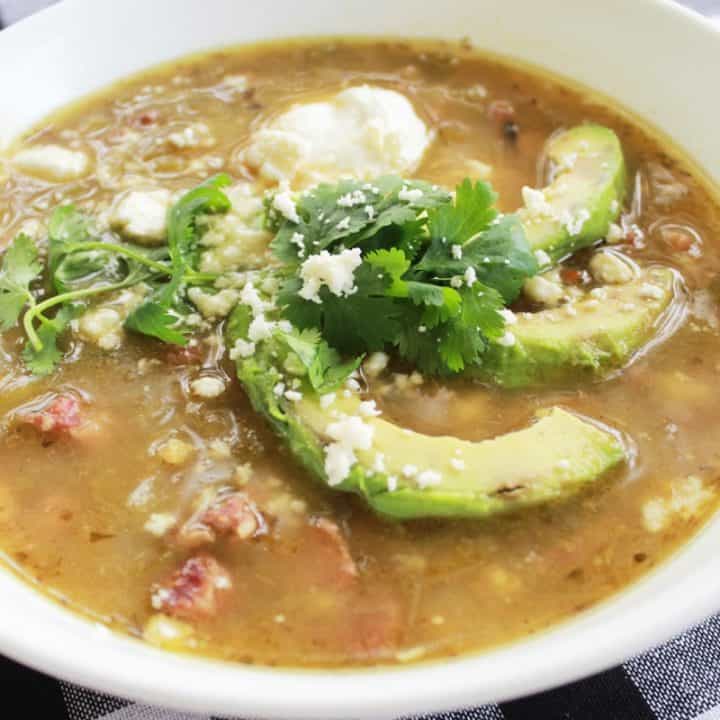 Chile Verde
The easiest and most delicious chili verde!
Print
Pin
Rate
Ingredients
2

lbs

pork shoulder cut into bite-sized cubes

pork butt

2.5

lbs

fresh Anaheim or New Mexico green chiles

1

large onion

chopped

4

cloves

fresh garlic

minced

3

T

Olive Oil

6

fresh tomatillos roasted

optional, see directions below

48

Oz

chicken stock

1

Qt

water

2

T

kosher salt

2

T

ground coriander

2

T

ground cumin

1

T

dried oregano

1-3

T

masa for thickening
Instructions
Prepare Chiles
Sear chiles under oven broiler on highest heat setting on top shelf of oven until outer skin of chiles begins to turn brown/black and blisters away from flesh of chiles; turn chiles during searing process to blister skin evenly

Once chiles are seared, and while chiles are still hot, place chiles in a paper or plastic Ziploc bag and allow to steam for approximately 10-15 minutes

Peel skin off roasted chiles (if properly seared, most skin should separate from flesh of chiles)

Trim away veins and seeds from inside portion of each chile

Chop skinned and cleaned chiles roughly into bite-size pieces
Alternative:
Substitute 2 lbs. canned green chiles instead of roasting, peeling, and cleaning fresh chiles
Prepare Roasted Tomatillos
Peel fresh tomatillos of outer skin

Roast tomatillos in oven on bake at 400 F for about 20-25 minutes

Remove roasted tomatillos, allow to cool 15 minutes

Place roasted tomatillos in blender or food processor and puree
Chile:
Place 1 T. of Olive Oil in sauté pan and brown pork chunks on medium-high on stove top; OR, brown in oven on sheet pan on bake, 450 F until lightly browned; reserve juices

In a large pot, place remaining 2 T. of Olive Oil in pot; at medium heat, sauté onion and garlic about 3-5 minutes until onions are translucent

Add pork to pot along with juices from browning

Add cumin, coriander, and oregano; stir in

Add chicken stock and water; adjust to make sure all other ingredients are completely submerged by at least 1-2 inches

Add chopped green chiles

Add roasted, pureed tomatillos

Add kosher salt; adjust throughout cooking process to taste

Increase heat to high until Chile comes to a boil

Lower heat and simmer Chile at least 1 hour over low heat

Thicken Chile by adding 1-3 T. masa and stir in thoroughly making sure to eliminate all clumps

Serve with favorite garnishes! Ideas: sour cream, jack cheese, fresh chopped cilantro, lime juice, diced tomatoes and onions, diced avocado, guacamole, etc.
Notes
Store leftovers in the fridge in an airtight container for 5-7 days. 
Nutrition
Calories:
368
kcal
|
Carbohydrates:
27
g
|
Protein:
25
g
|
Fat:
17
g
|
Saturated Fat:
4
g
|
Cholesterol:
69
mg
|
Sodium:
3362
mg
|
Potassium:
727
mg
|
Fiber:
8
g
|
Sugar:
12
g
|
Vitamin A:
65
IU
|
Vitamin C:
29.7
mg
|
Calcium:
64
mg
|
Iron:
3.6
mg
MMMM. Doesn't this look like the best dinner for a cold evening?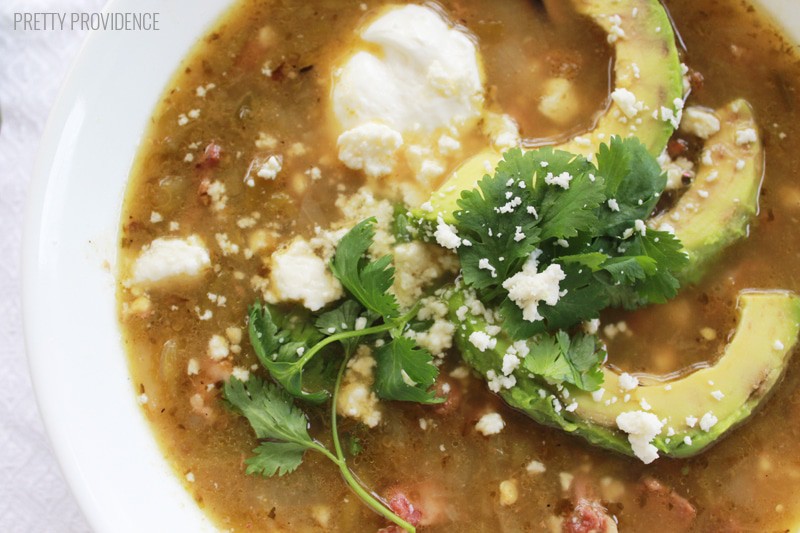 I hope you will try it- I know it you'll love it if you do!