You will love this Halloween Snack Board – it's perfect for a Halloween party filled with all kinds of sweet and salty treats on it!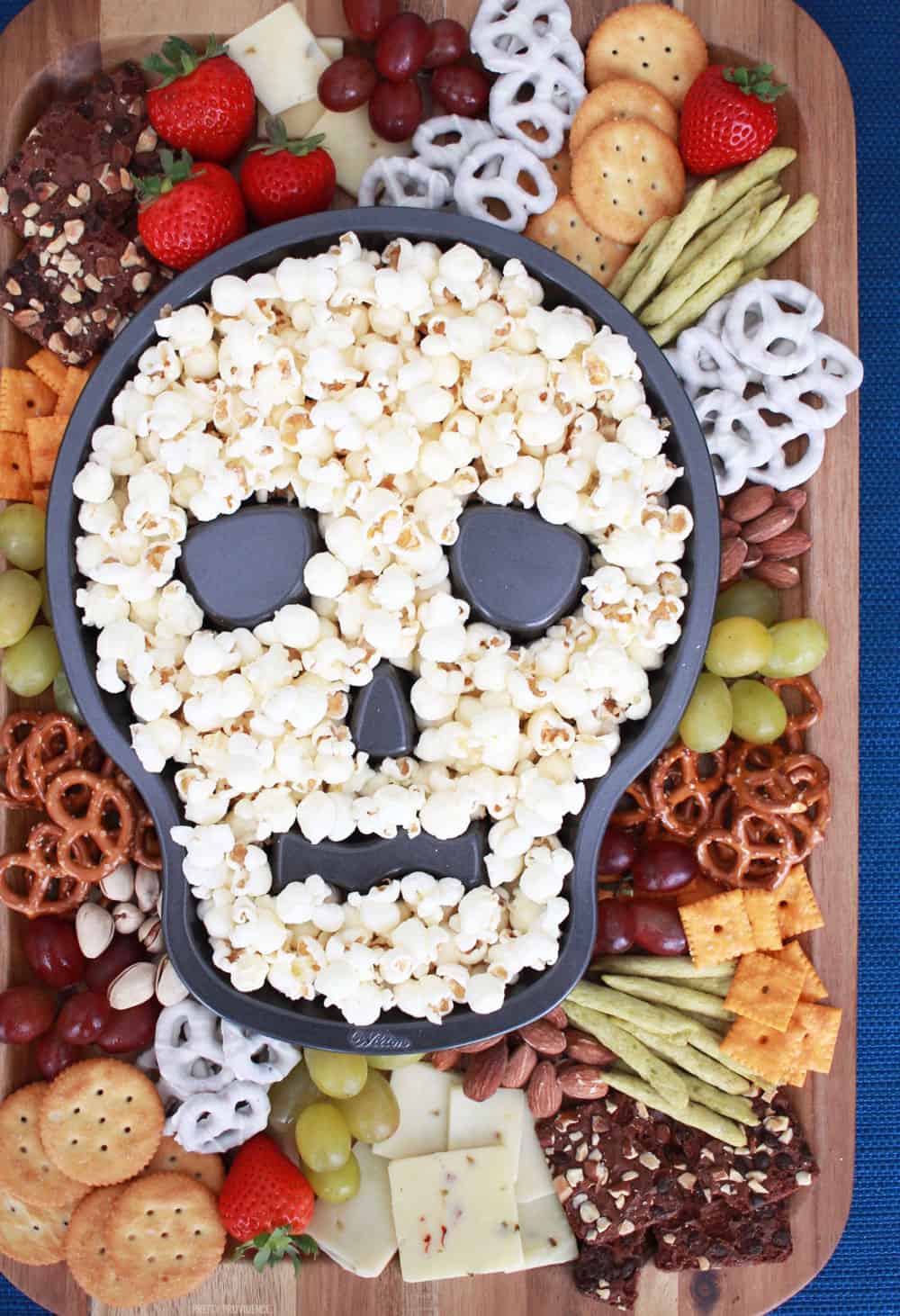 *this post contains affiliate links
Halloween is coming up and I am so happy about it! You may have noticed already that I get really into the costumes – I think I get even more into the food! After this weekend, snack boards are my new favorite thing to make. I have always loved a good charcuterie or cheese tray, but this took snack time to another level.
Plus, it's really kid-friendly this way. With a skull in the middle this Halloween snack board would be great for a party or for a Hocus Pocus movie night! Oh, and the best part? The whole thing can be thrown together in just a few minutes and doesn't require any fancy decorating skills! If you are interested in more Halloween fun with your kids check out our favorite Halloween traditions!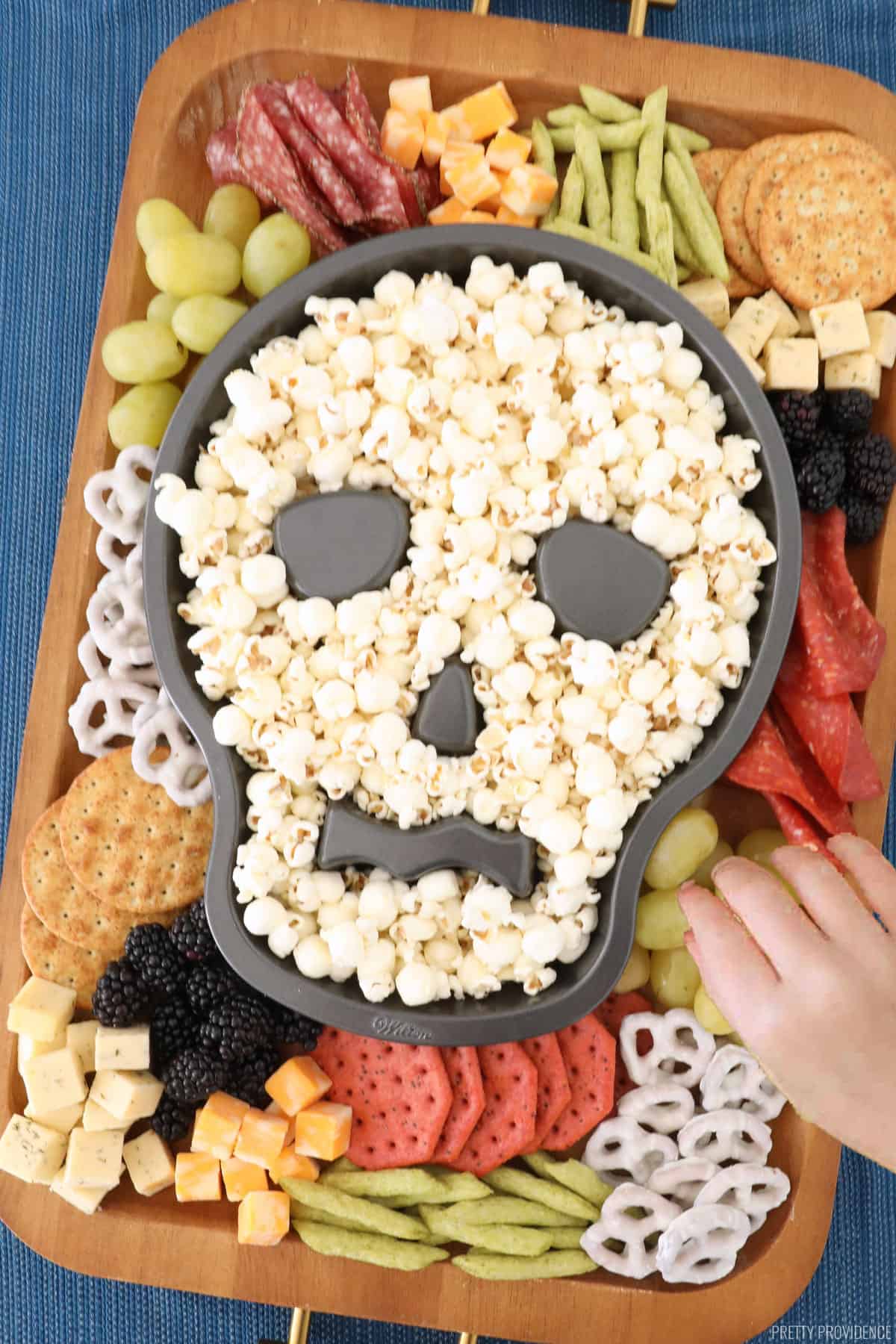 How to Make a Halloween Snack Board
You will need a skull cake pan, large serving tray, and assortment of sweet and salty snacks. The serving tray I used is from Walmart and it was under $20. I am kind of obsessed with it!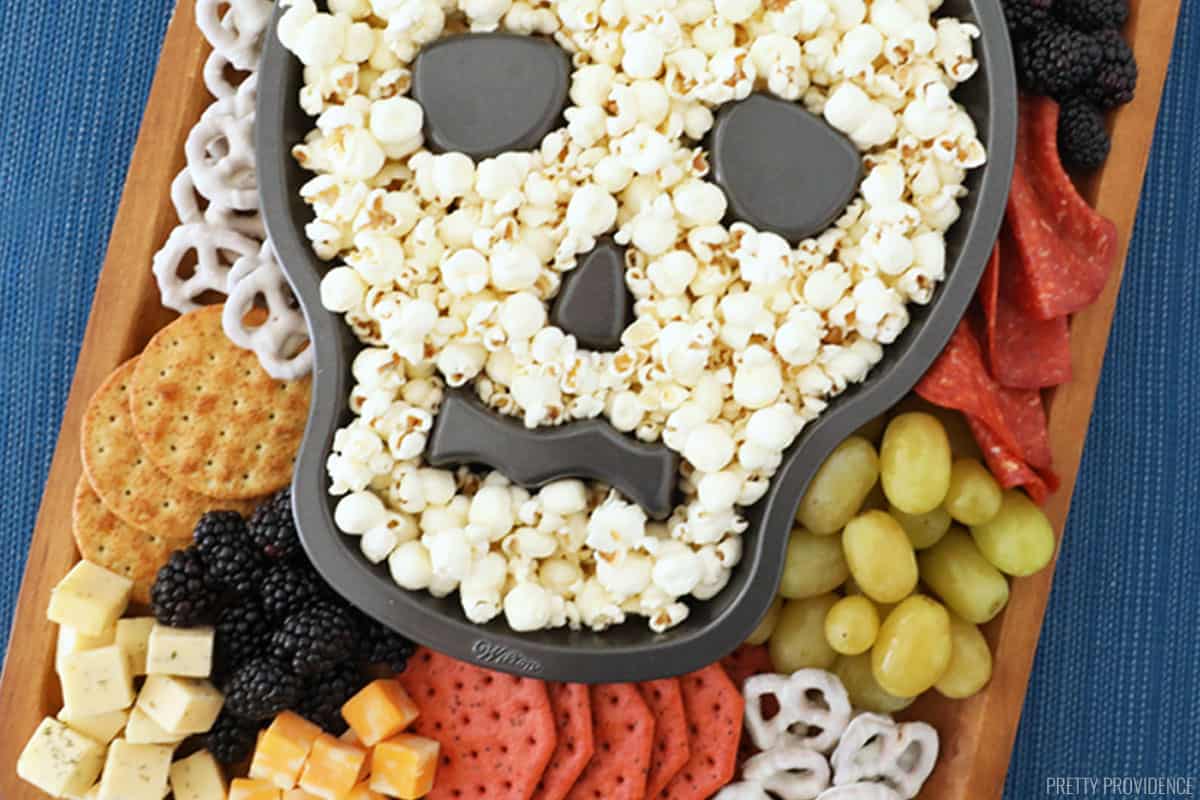 Awesome large serving trays:
Snack Ideas for your Halloween Party:
Choose a variety of flavors in your snacks, and think about how you can make it colorful! I think if you wanted to make something homemade to go along with this, mummy brownies or monster pretzel hugs would be a perfect addition!
Here is the list of what I had on my board:
Salty snacks:
Pretzels
Ritz crackers
Cheese crackers
Snap pea crisps
Pistachios
Almonds
Cheese – Cheddar or Jack
Sweet snacks:
Brownie Brittle
White Chocolate Covered Pretzels
Grapes (red and green)
Strawberries
I will pretty much use any excuse to buy a whole mess of snack foods. You can also do this for any holiday, party, book club, whatever! It's so fun and a total crowd-pleaser.
Check out these other Halloween treat ideas too:
Halloween Dirt Cups
Easy Spider Halloween Cookies
Monster Pretzel Hugs
Easy Mummy Brownies
Monster Marshmallow Popcorn
Frankenstein Rice Krispie Treats