You will love this Halloween Snack Board – it's perfect food for a Halloween party filled with all kinds of sweet and salty treats on it!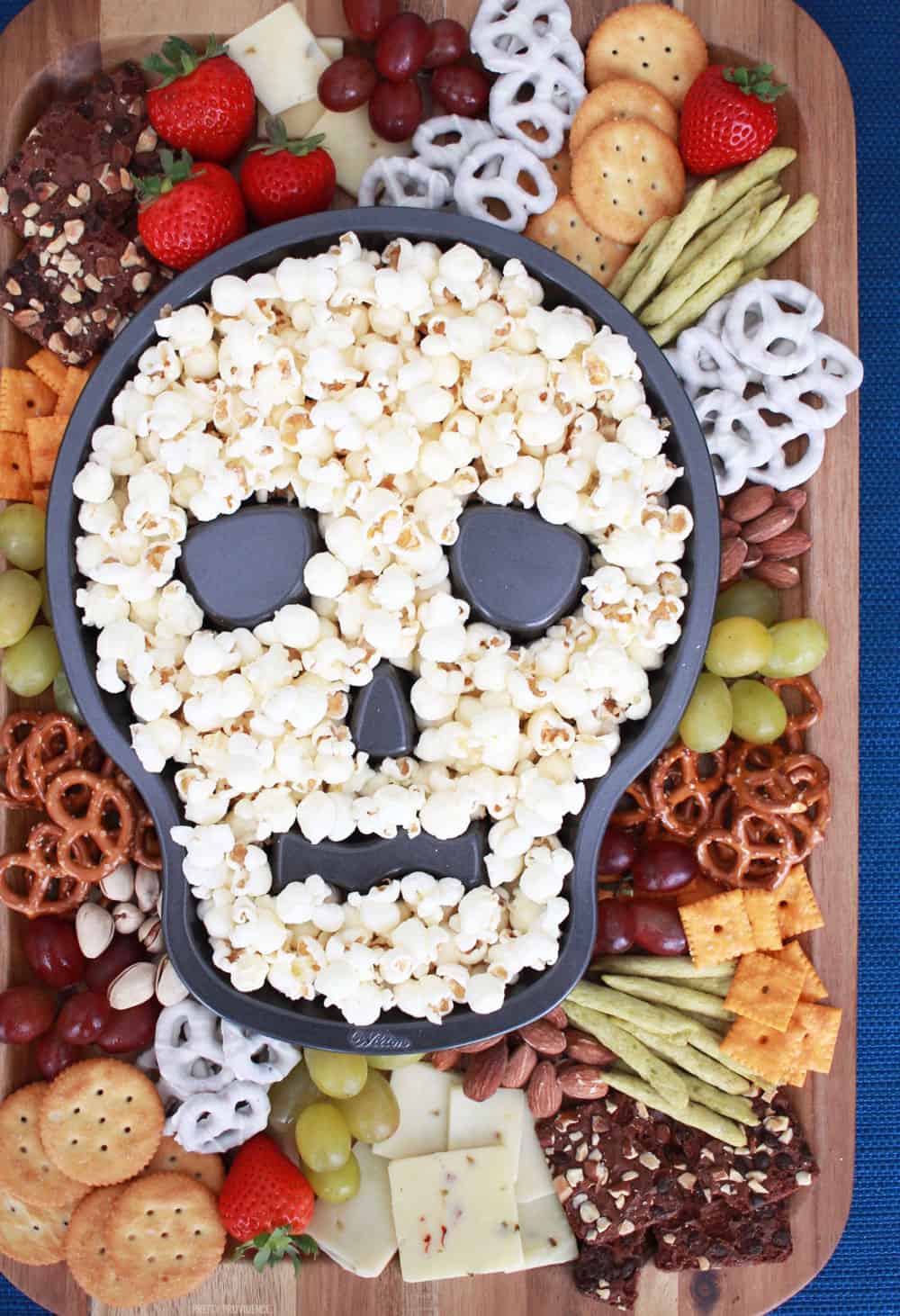 *This post contains affiliate links.
Halloween is coming up and I am so happy about it! You may have noticed already that I get really into Halloween I think I get excited about the food most of all. Aunt Val's Caramel, Mummy Brownies and Frankenstein Rice Krispie Treats are some of our favorite Halloween Traditions.
After this weekend, snack boards are my new favorite thing to make.
I have always loved a good charcuterie or cheese tray, but this took snack time to another level.
Halloween Snack Board
This Halloween Snack Board is a really kid-friendly way to serve snacks. With a skull in the middle this Halloween snack would be great for a party or for a Hocus Pocus movie night!
Oh, and the best part? The whole thing can be thrown together in just a few minutes and doesn't require any fancy decorating skills!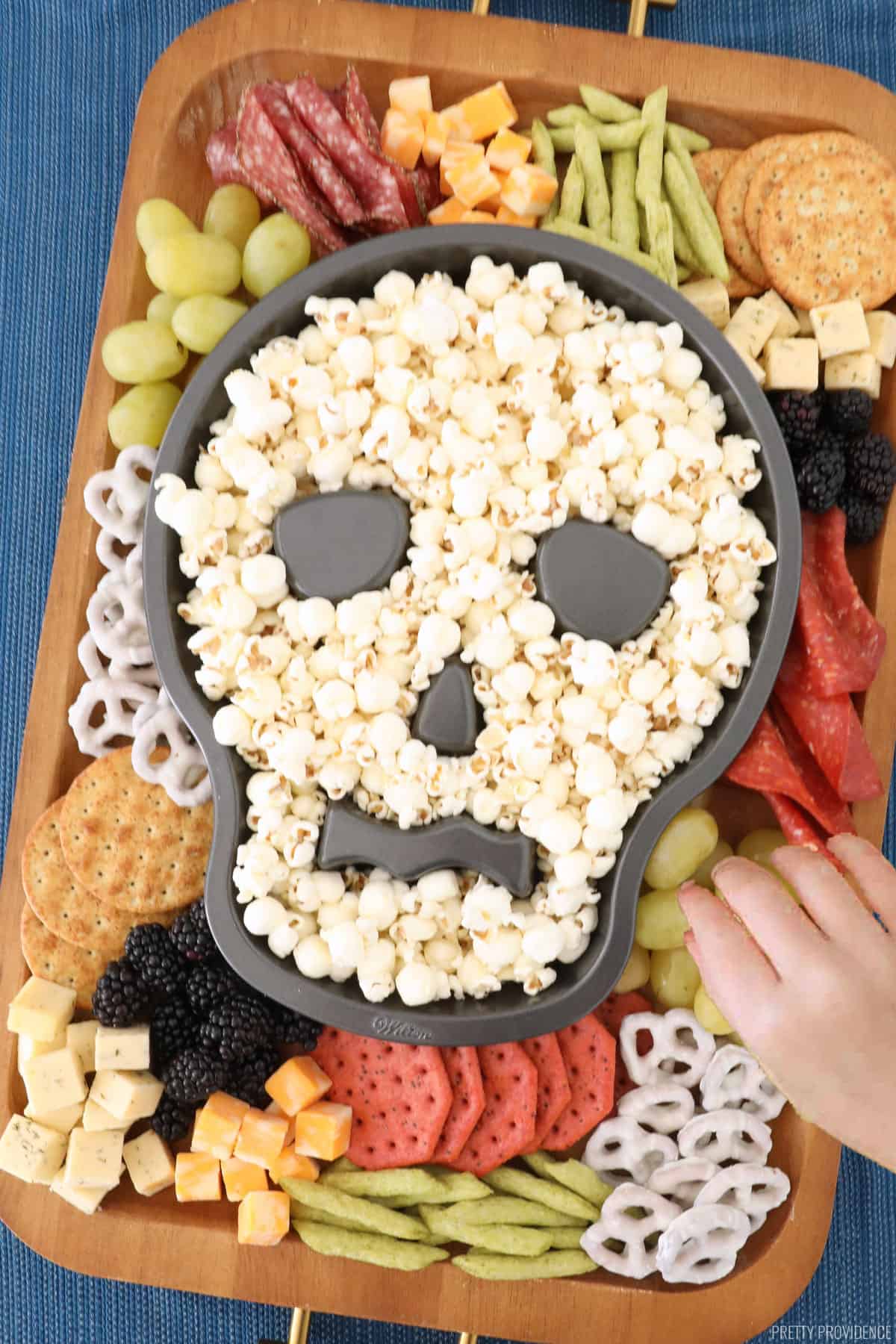 How to Make a Halloween Snack Board
You will need a skull cake pan, large serving tray, and assortment of sweet and salty snacks. The serving tray I used is from Walmart and it was under $20. I am kind of obsessed with it!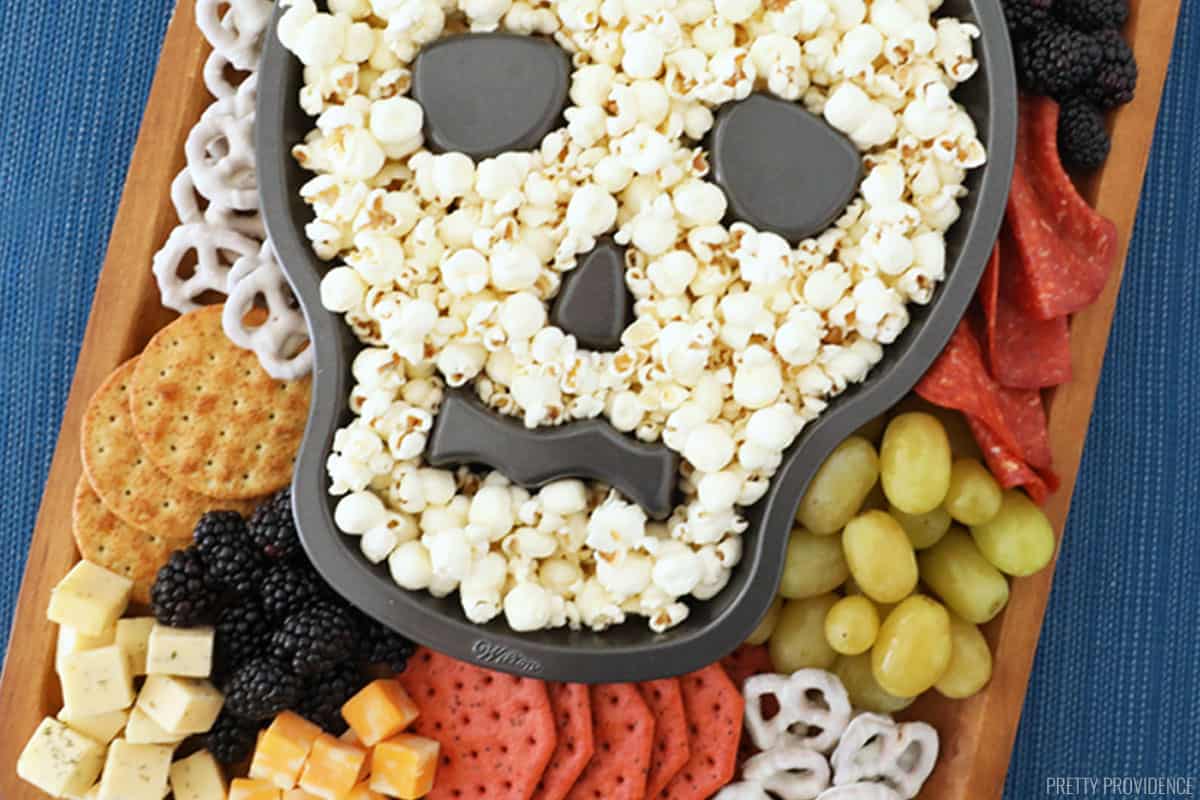 Awesome large serving trays:
Snack Ideas for your Halloween Party:
Choose a variety of flavors in your snacks, and think about how you can make it colorful! I think if you wanted to make something homemade to go along with this, mummy brownies or monster pretzel hugs would be a perfect addition!
Here is the list of what I had on my board:
Salty snacks:
Pretzels
Ritz crackers
Cheese crackers
Snap pea crisps
Pistachios
Almonds
Cheese – Cheddar or Jack
Sweet snacks:
Brownie Brittle
White Chocolate Covered Pretzels
Grapes (red and green)
Strawberries
I will pretty much use any excuse to buy a whole mess of snack foods. You can also do this for any holiday, party, book club, whatever! It's so fun and a total crowd-pleaser.
Check out these other Halloween treat ideas too:
Halloween Dirt Cups
Easy Spider Halloween Cookies
Monster Pretzel Hugs
Easy Mummy Brownies
Monster Marshmallow Popcorn
Frankenstein Rice Krispie Treats