We could not be more excited about the release of the new Cricut Mug Press! This machine is amazing and so fun to create with. Below you will find all the answers to your frequently asked questions about the mug press. This post is sponsored by Cricut, but all thoughts and opinions are 100% our own.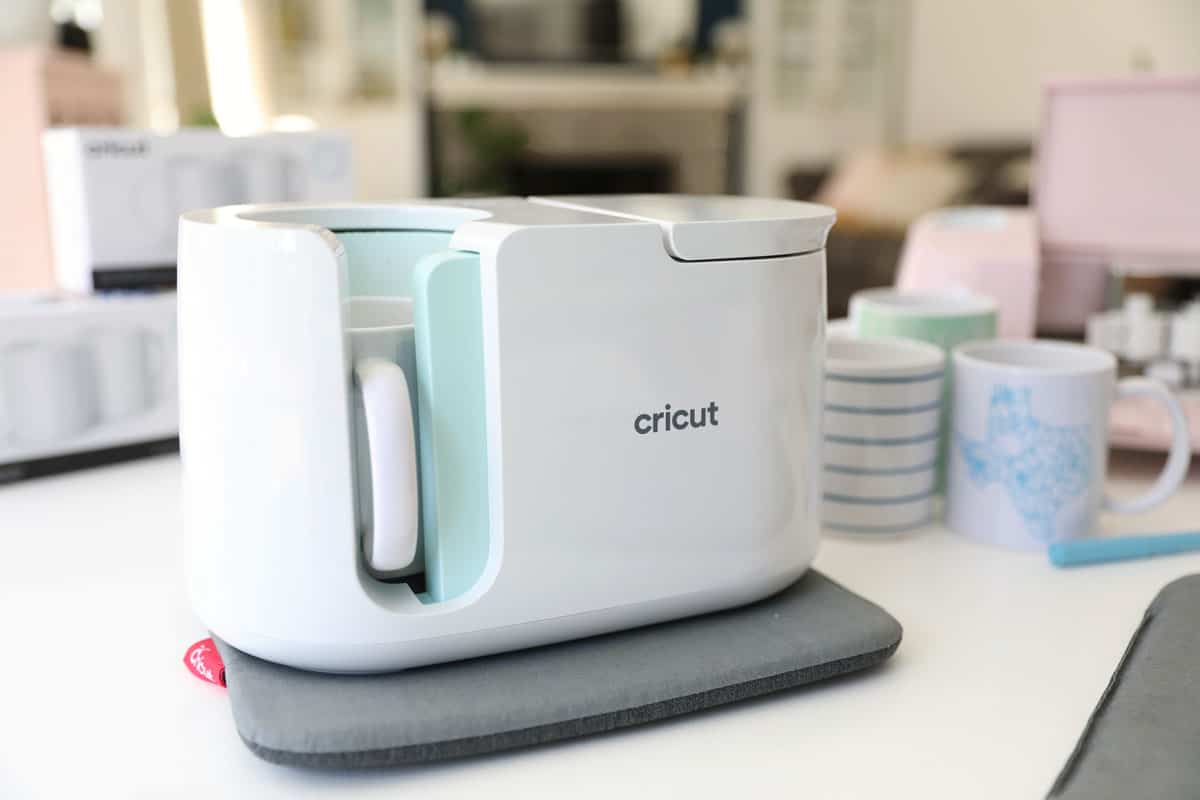 We have been anxiously waiting for the day we got to share with you our new favorite Cricut product, the Cricut Mug Press! This has been such a hard secret to keep, and we can't wait to tell you all our favorite things about this new product.
If you are interested in more informational Cricut posts you will probably like our Maker review or our Cricut Joy review as well!
Cricut Mug Press
Alright, you ready for all the details about the mug press?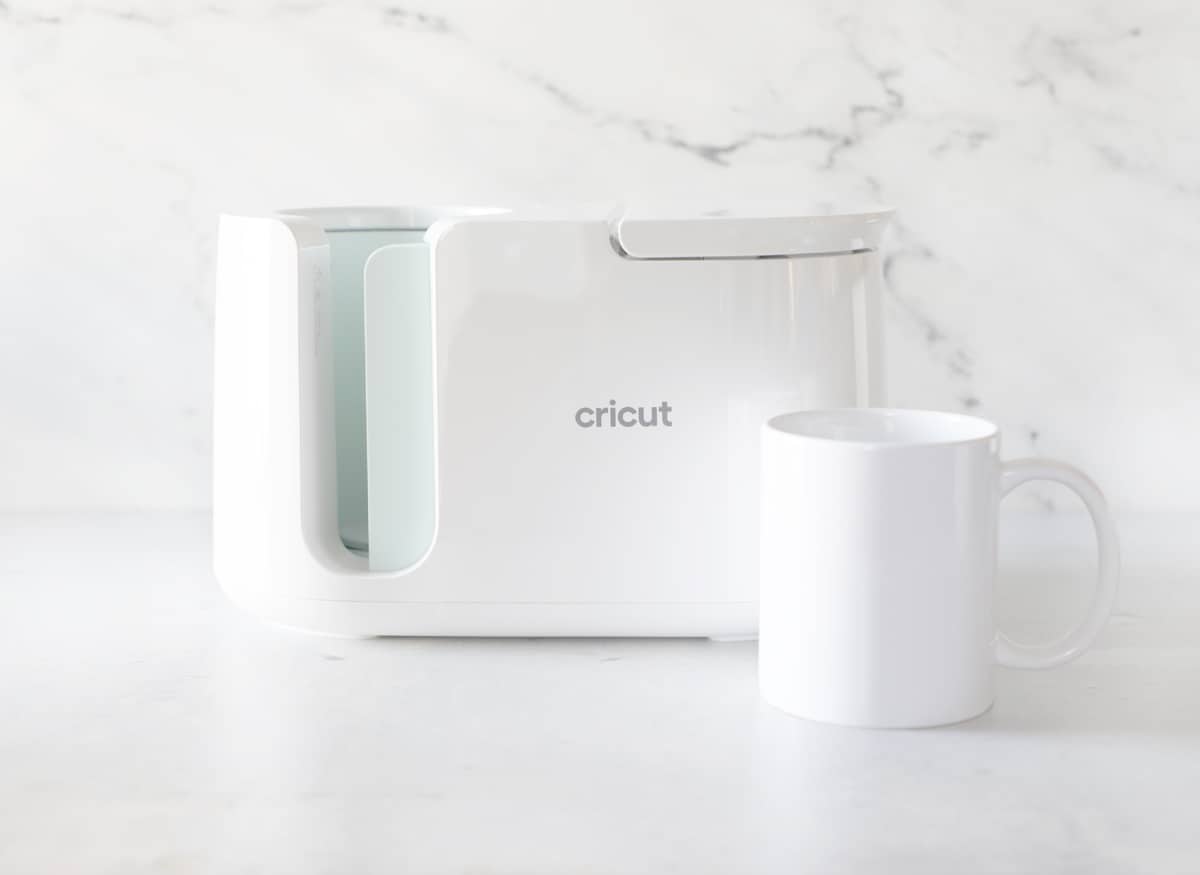 The mug press is in the EasyPress family in that it is a heat press, not a cutting machine. You create designs in design space and then cut them using your Maker, Joy or Explore, apply them to your mug, and insert in the mug press to apply the design using heat.
The mug press is SO EASY to use, in fact it has only one button and regulates temperature and pressure all by itself.
The mug press works with straight-walled Infusible Ink compatible mugs ranging from 11 oz – 16 oz without need for manual adjustment.
The mugs made using the Cricut mug press are permanent, machine washable, and meant to last a lifetime.
The machine has a very safety conscious design, including an auto-off setting so you never need to worry if you forgot to turn it off.
Cricut Mug Press Review
Before we get to a fun and easy mug tutorial I wanted to answer a few more frequently asked questions about the mug press.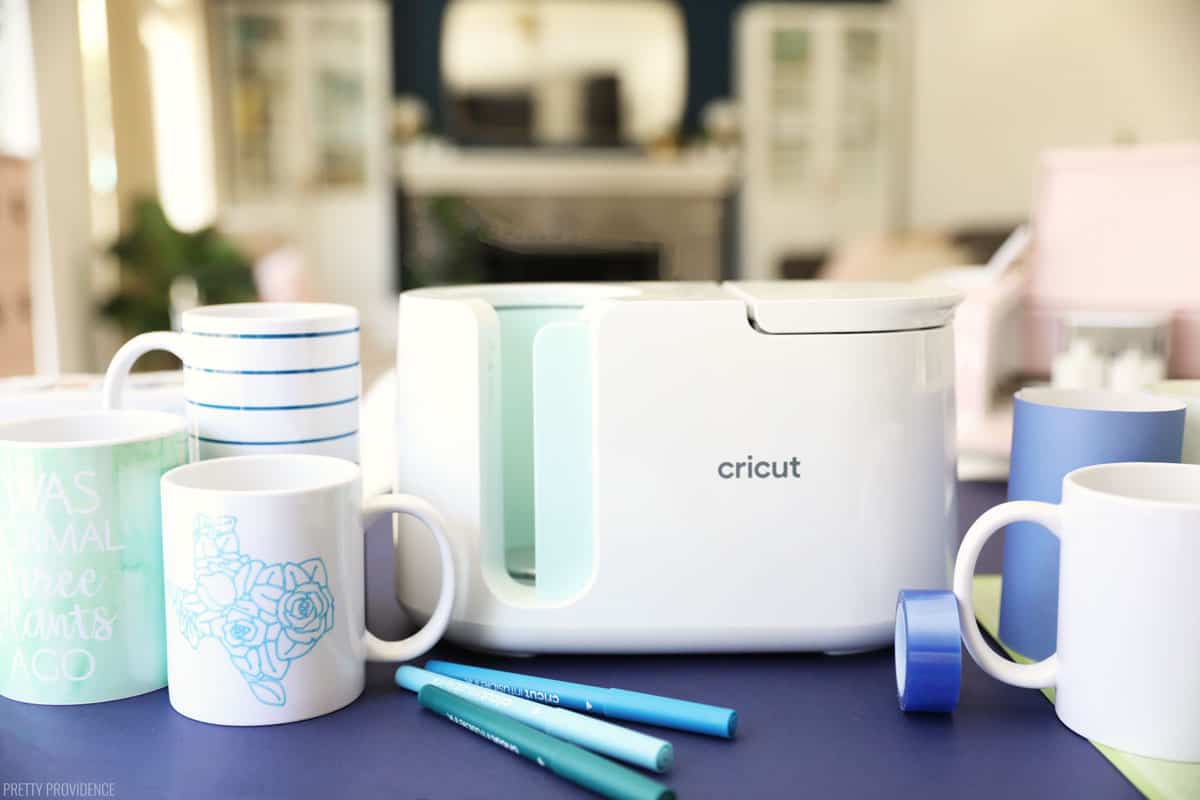 How much does the Cricut Mug Press Cost? It retails for $199.
Where can you buy the mug press? You can buy your own mug press on Cricut.com, Amazon, Target, Walmart, Michaels, Joann, HSN and Hobby Lobby.
Does it have its own unique products? Yes! You can now find new Infusible Ink transfer sheets sized specifically for use with the Cricut Mug Press.
Do you have to use Cricut blanks? No! The press will work with any straight edged sublimation mugs between 11 and 15oz. However, the Cricut blanks are really reasonably priced and are made specifically for use with this machine, so we prefer them.
Can you use vinyl with the mug press? No. The mug press is made to be used with Infusible Ink exclusively.
Are there already designs in design space? Yes! There are multiple template options with different fun edges, as well as tons of designs to get you started! Here are a few of the fun mugs we have already made in the last few weeks to give you some ideas!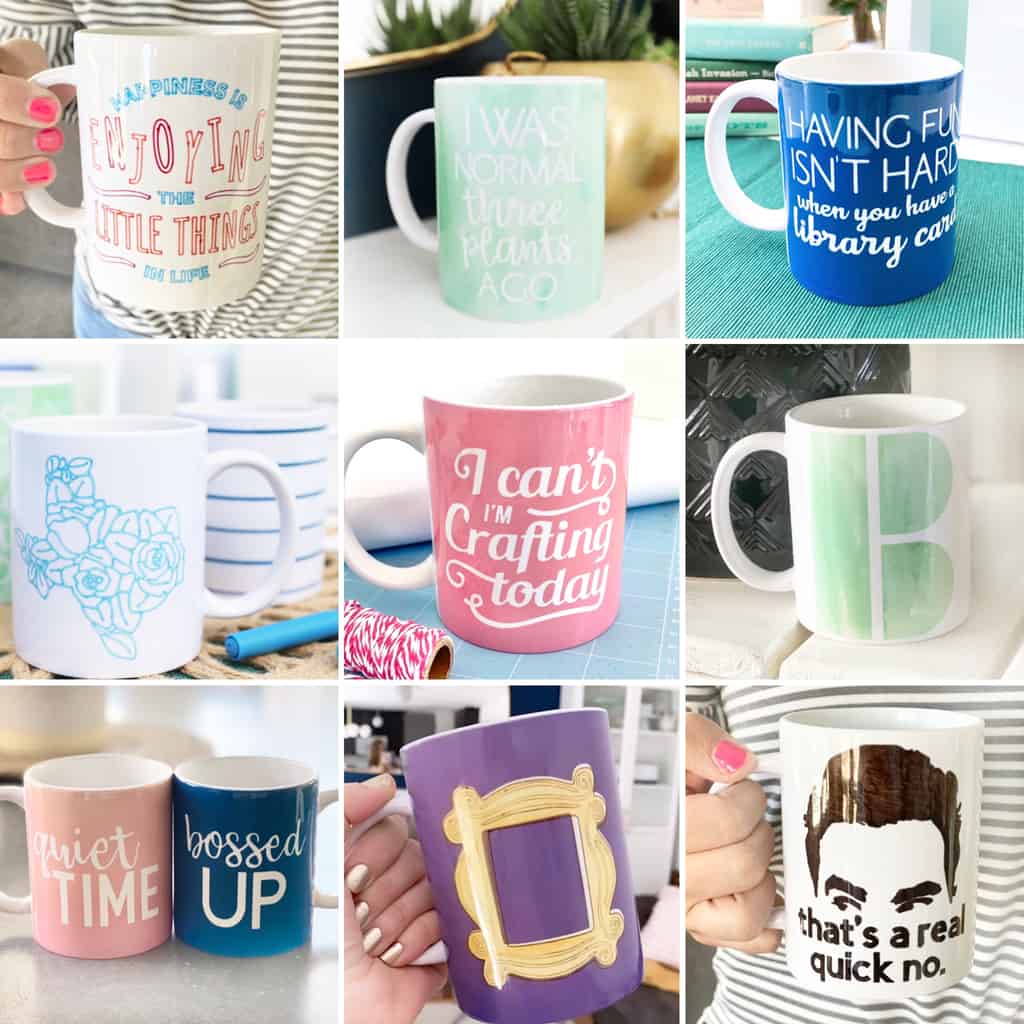 Which one is your favorite?
Mug Press Project
For my first project using the mug press I wanted to do a simple but fun design, and use the new Infusible Ink transfer sheets made specifically sized for the mug press. Here's what I came up with!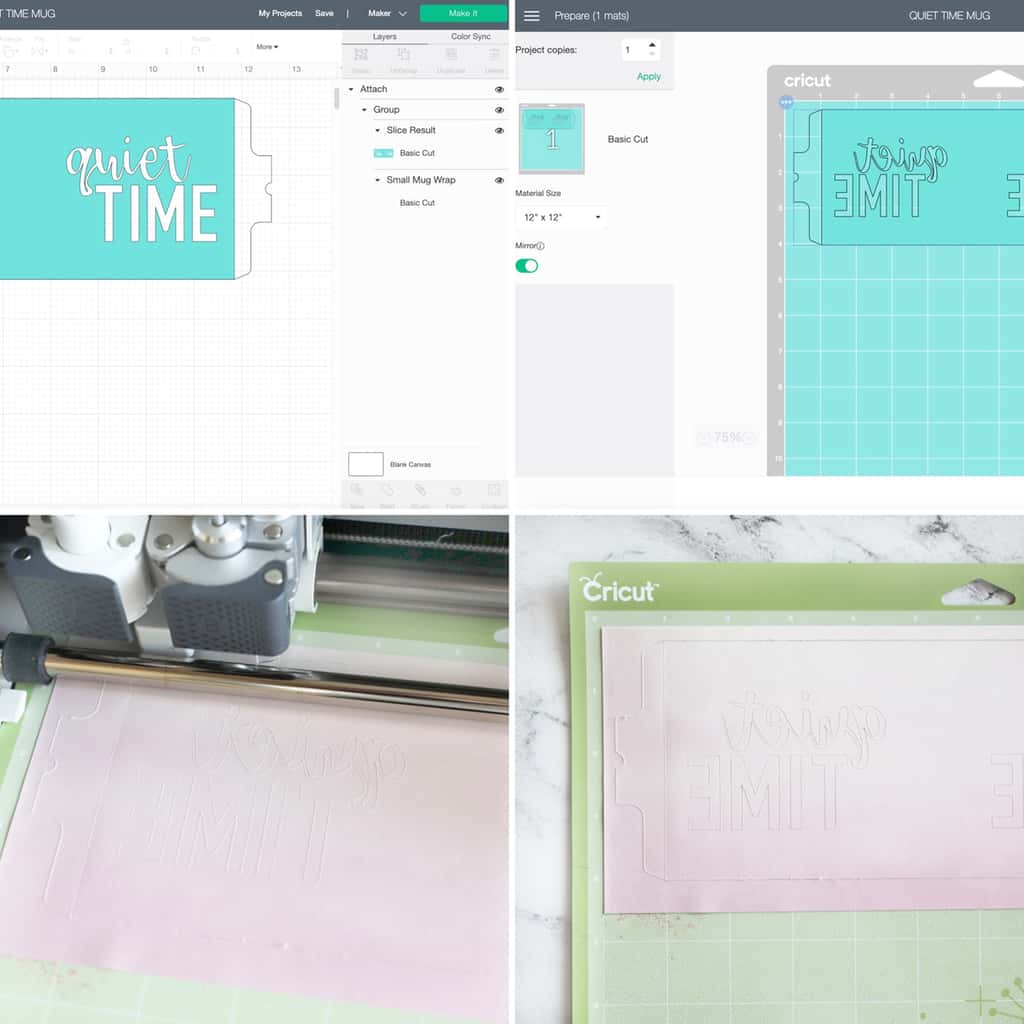 Top Left – Create your design in Cricut Design Space, or find our design linked here. To create this design I simply opened up the mug template I wanted to use, added the text (check out this post to see a list of our favorite fonts), and used the splice tool to remove the text from the design.
Top Right – Once you have your design ready, click make it. Make sure your design looks correct on the preview screen and don't forget to mirror your image, then click continue. Select "Infusible Ink transfer Sheet" from your materials list, load your machine and press go.
Bottom Left – Allow your machine to cut your design.
Bottom Right – Unload from machine.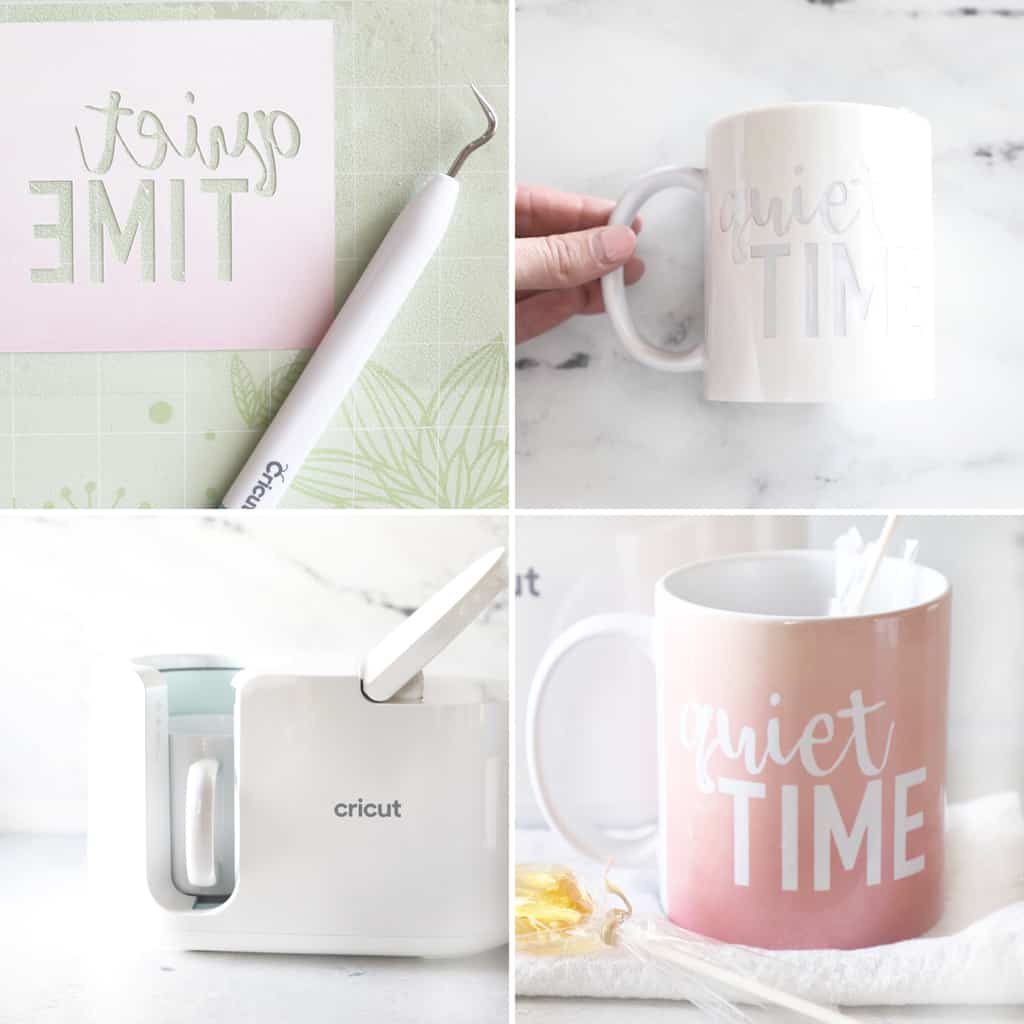 Top Left – Weed your design.
Top Right – Apply your design to one of your sublimation mugs. Make sure it is secured tightly with heat resistant tape and there are no bubbles in your design.
Bottom Left – Insert your mug into the mug press and push down on the lever to secure your mug in place.
Bottom Right – Press go and allow the mug press to do the rest! It will regulate heat and pressure all on it's own. The machine will make a sound to notify you that the mug is finished.
Make sure you are careful removing the mug and that you keep your press away from little hands, as it gets very hot.
So easy right?!
If I missed any of your question let me know in the comments! What do you think about the new Cricut Mug Press so far?
xo,