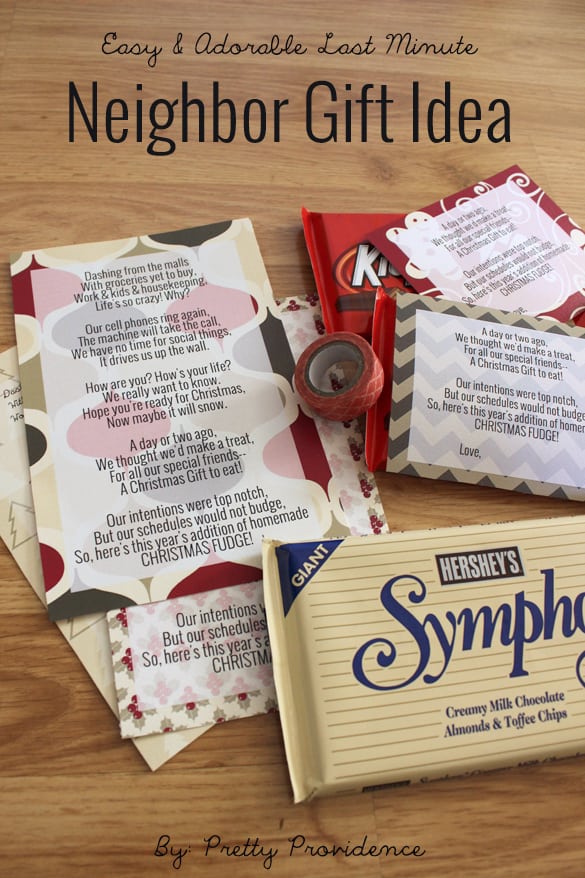 As you all know by now, I am a gift giver. I love it, I love it, I love it. However, sometimes this time of year just slips away so quickly and it is easy to get overwhemed/busy/distracted. Enter >> my super easy neighbor gift idea. My mom actually used this idea for our neighbors years ago when I was in middle school, and we had so much fun running them around to our neighbors. Even now, I can remember how everyone laughed over the poem and how many comments we got on them! It was a fun way to see our neighbors and spread a little Christmas cheer without going crazy baking a million brownies. Thankfully, after all that time, my mom still had the poem! So, I made a few slight alterations and whipped up some cute, Christmas printables to make this that much easier for you!
In case it's hard to read on the photos, here is the full poem for you:
Dashing from the malls
With groceries yet to buy,
Work & kids & housekeeping,
Life's so crazy! Why?
Our cell phones ring again,
The machine will take the call,
We have no time for social things,
It drives us up the wall.
How are you?
How's your life?
We really want to know.
Hope you're ready for Christmas,
Now maybe it will snow.
A day or two ago,
We thought we'd make a treat,
For all our special friends–
A Christmas gift to eat!
Our intentions were top notch,
But our schedules would not budge,
So, here's this year's edition of
homemade CHRISTMAS FUDGE!
Fun huh? I made three different two to a page printables of the whole poem, and four different options for a four to a page shortened version (see below).
**Also, as a side note, the green ink in my printer was running low, so the images below are not exactly what yours will look like (yours will be cuter, haha) click the download link for each print to see actual color quality!**
***Another side note, in the photos, I accidentally used "addition" instead of "edition" but the downloadable printables have all been updated to the correct version! Thanks for your patience!**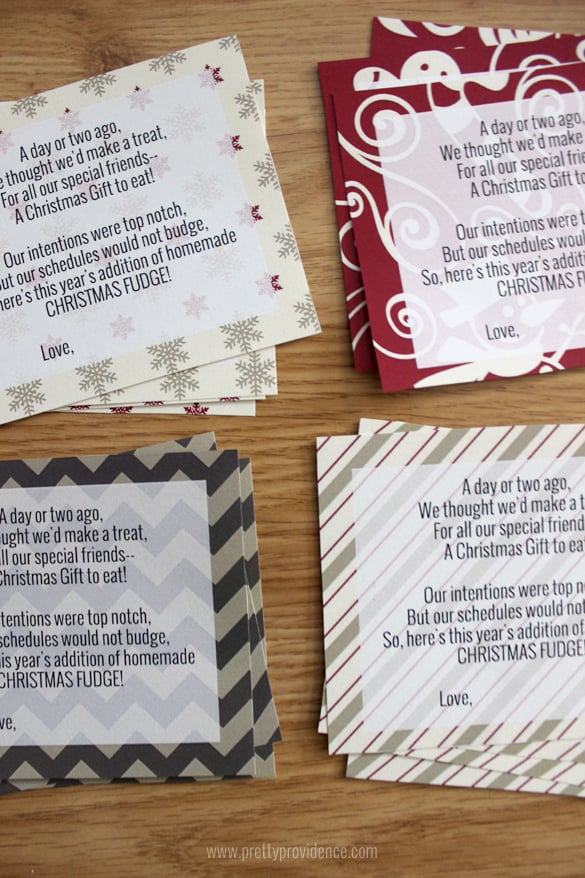 Snowflake Mini Poem
Red Gingerbread Mini Poem
Green Chevron Mini Poem
Striped Mini Poem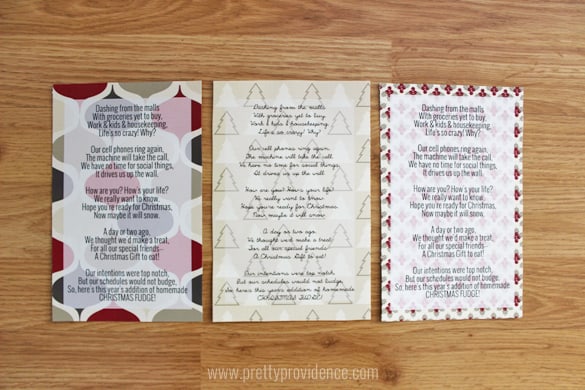 Christmas Ornament Full Sized Print
Christmas Trees Full Sized Print
Holly Berries Full Sized Print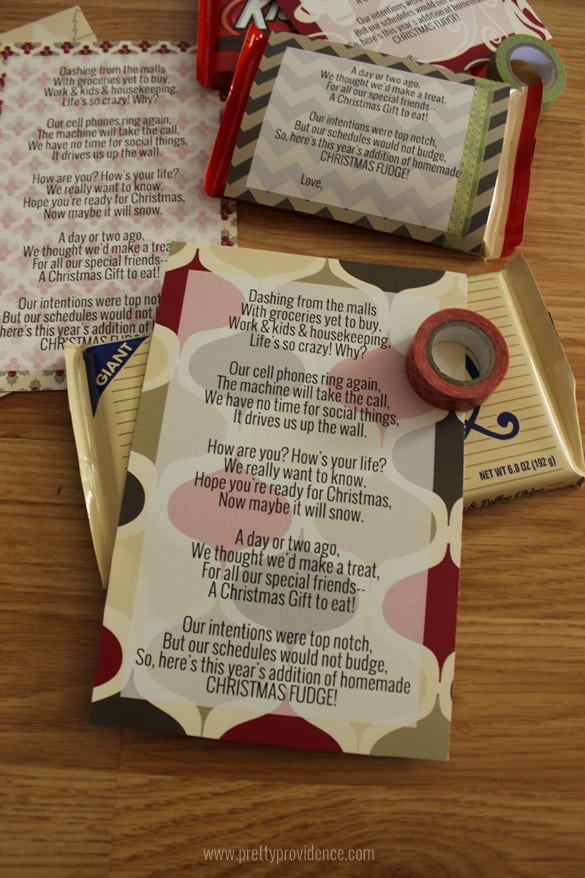 So all you have to do is print as many copies as you need of your favorite print, trim them to size, and attach them to your candy bars using some Christmas colored washi tape.. voila! Then have a blast delivering them to your friends.
We used blue Symphony bars (because they are my favorite candy bars) and King sized Kit Kats because I thought the red seemed festive, but you could use any candy bar you want! The boxes of candy bars at Costco are typically a great deal!
So.. did your Christmas to-do list just get a tiny bit easier? I sure hope so!
xo,


P.S. If you want to make real Christmas fudge, check out my awesome recipe here! Or click through our entire Christmas Gallery for tons of recipes and ideas!
Pin it for later: