This 'Homemade' Christmas Fudge poem along with a candy bar makes a perfect neighbor gift! Grab our free printable tag and give this fun neighbor Christmas gift a try!
*This printable was created from a poem written by Sherrie Coombs-Larsen. Thank you Sherrie for your creativity.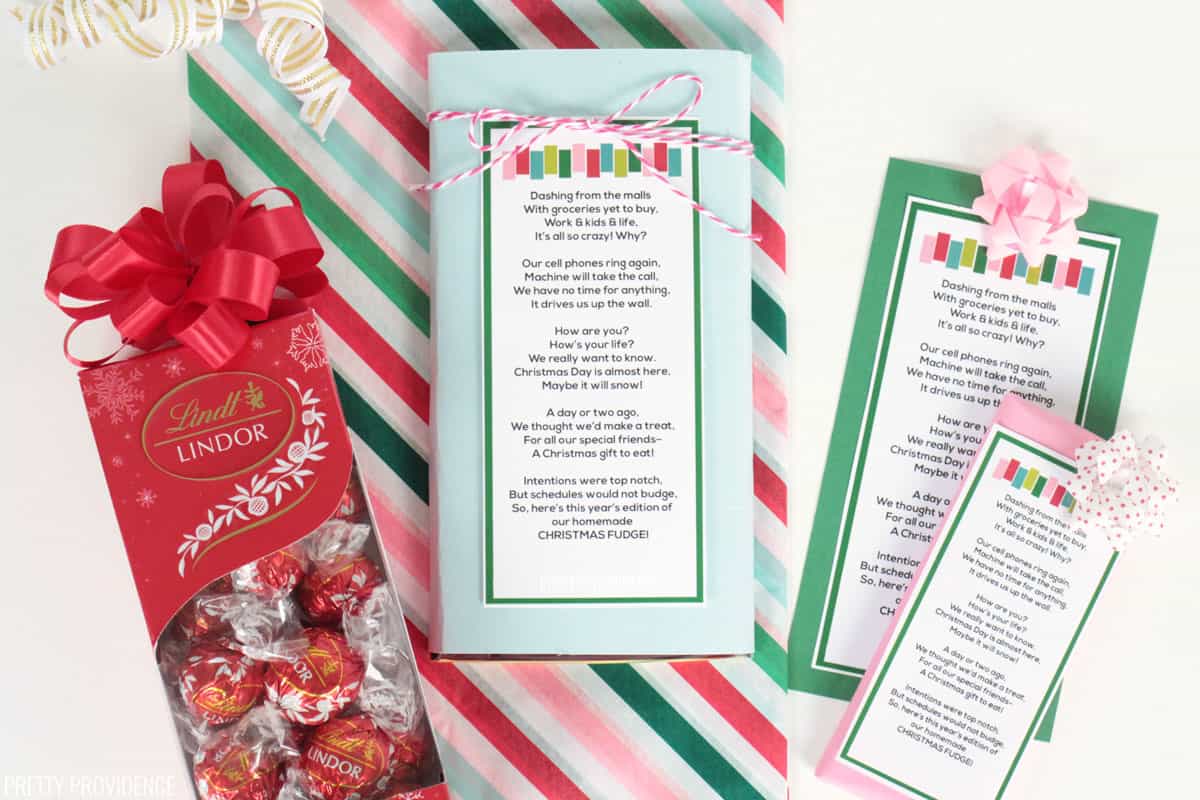 I am a gift giver. I love it, I love it, I love it. December slips away so quickly though, and it is easy to get overwhelmed/busy/distracted. Enter, my super easy neighbor gift idea. It's a poem about how I had intentions to make homemade fudge, but ended up too busy, so I bought something instead!
It's SO relatable.
Print this cute tag, and wrap up your favorite candy bar or tape it onto bag of truffles! I've done White Chocolate Covered Oreo cookies before too. This tag works for any treat you might want to give your neighbors as long as it isn't actually homemade. ;)
If, by any chance, you want to make real Christmas fudge, check out our recipe here! Or click through our entire Christmas Gallery for tons of recipes and ideas. You may also like these fun Christmas Ornament Cookies.
*This post contains affiliate links.
Easy Christmas Neighbor Gift
My mom actually used this idea for our neighbor Christmas gifts years ago when I was in middle school, and we had so much fun running them around to everyone on our street. I remember everyone laughing over the poem and how many comments we got on them!
It was a fun way to see our neighbors and spread a little Christmas cheer without slaving in the kitchen all day.
Thankfully, after all this time, my mom still had the poem. I made a few changes and whipped up some cute, printable gift tags to make this that much easier for you!
Homemade Christmas Fudge Poem
Dashing from the malls
With groceries yet to buy,
Work & kids & life,
It's all so crazy! Why?
Our cell phones ring again,
The machine will take the call,
We have no time for anything,
It drives us up the wall.
How are you?
How's your life?
We really want to know.
Christmas Day is almost here,
Maybe it will snow!
A day or two ago,
We thought we'd make a treat,
For all our special friends–
A Christmas gift to eat!
Intentions were top notch,
But schedules would not budge,
So, here's this year's edition of
our homemade
CHRISTMAS FUDGE!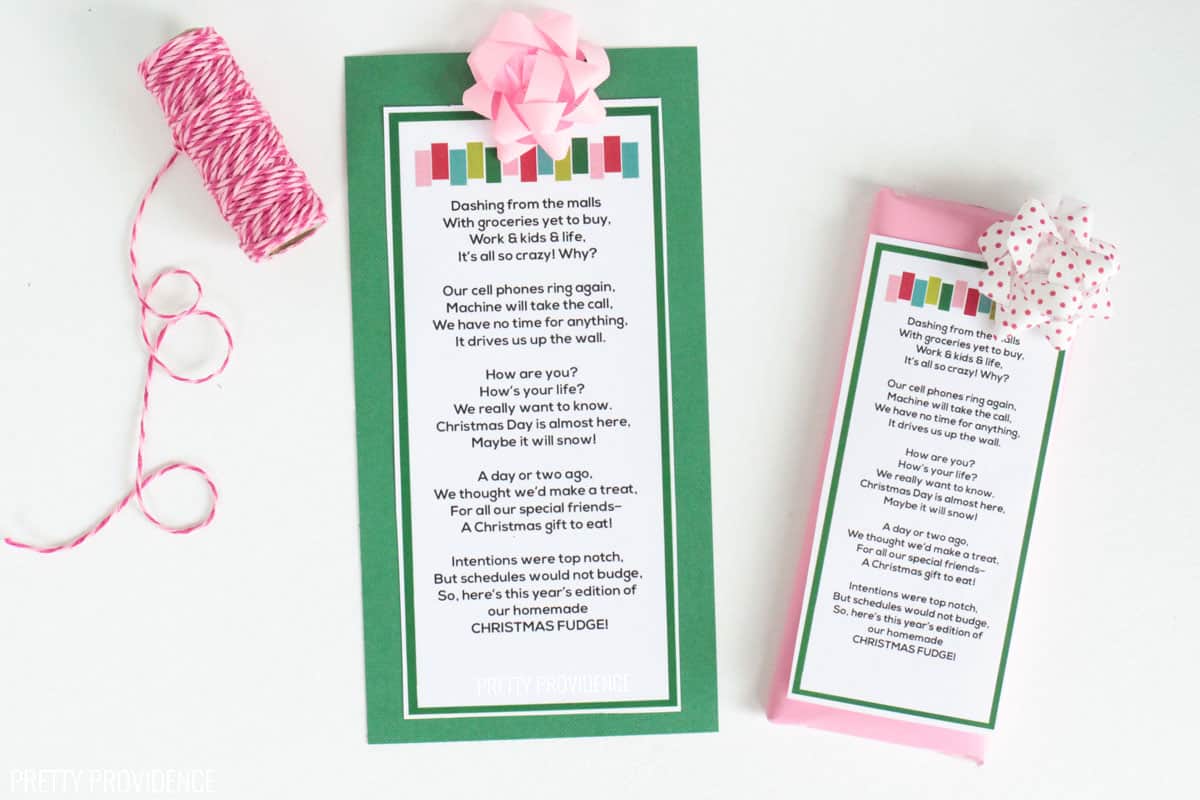 Candy to Use for Neighbor Gifts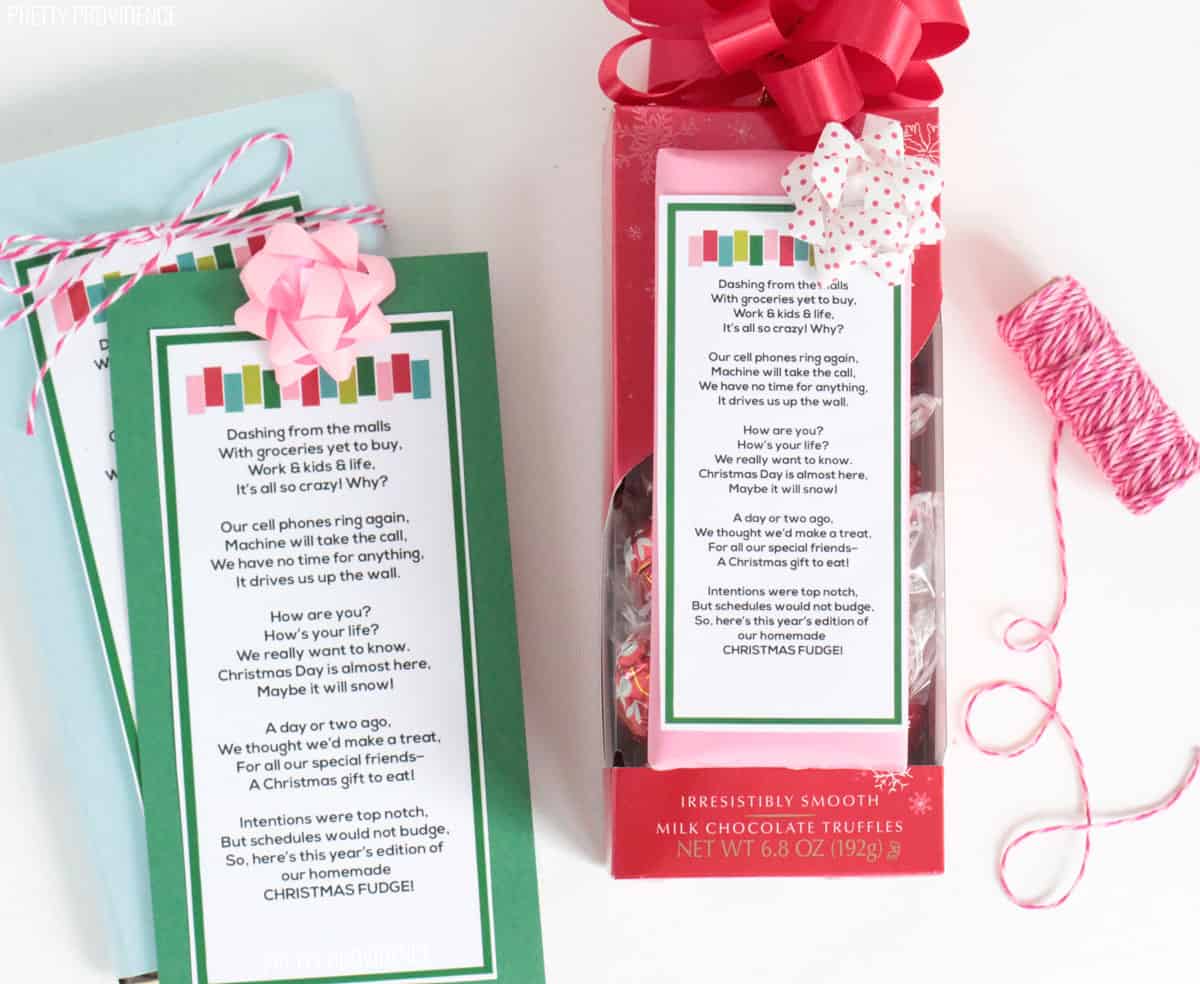 Directions:
Subscribe to our newsletter using the form below. Check your email. Once you have confirmed your subscription, the file will open and you can save it or print it immediately.
Print as many copies as you need. I recommend printing on card stock or a high-quality printer paper.
Trim them to size, and attach each tag to a candy bar or bag of chocolates with scotch tape.
If you want to, you can wrap the candy bar in card stock or wrapping paper. Add some baker's twine, maybe a bow, and voila!

These printable tags are for PERSONAL use only. They are not for commercial use. If you'd like to share this idea or the printable, please share the link to this page. Copyright © 2019 Pretty Providence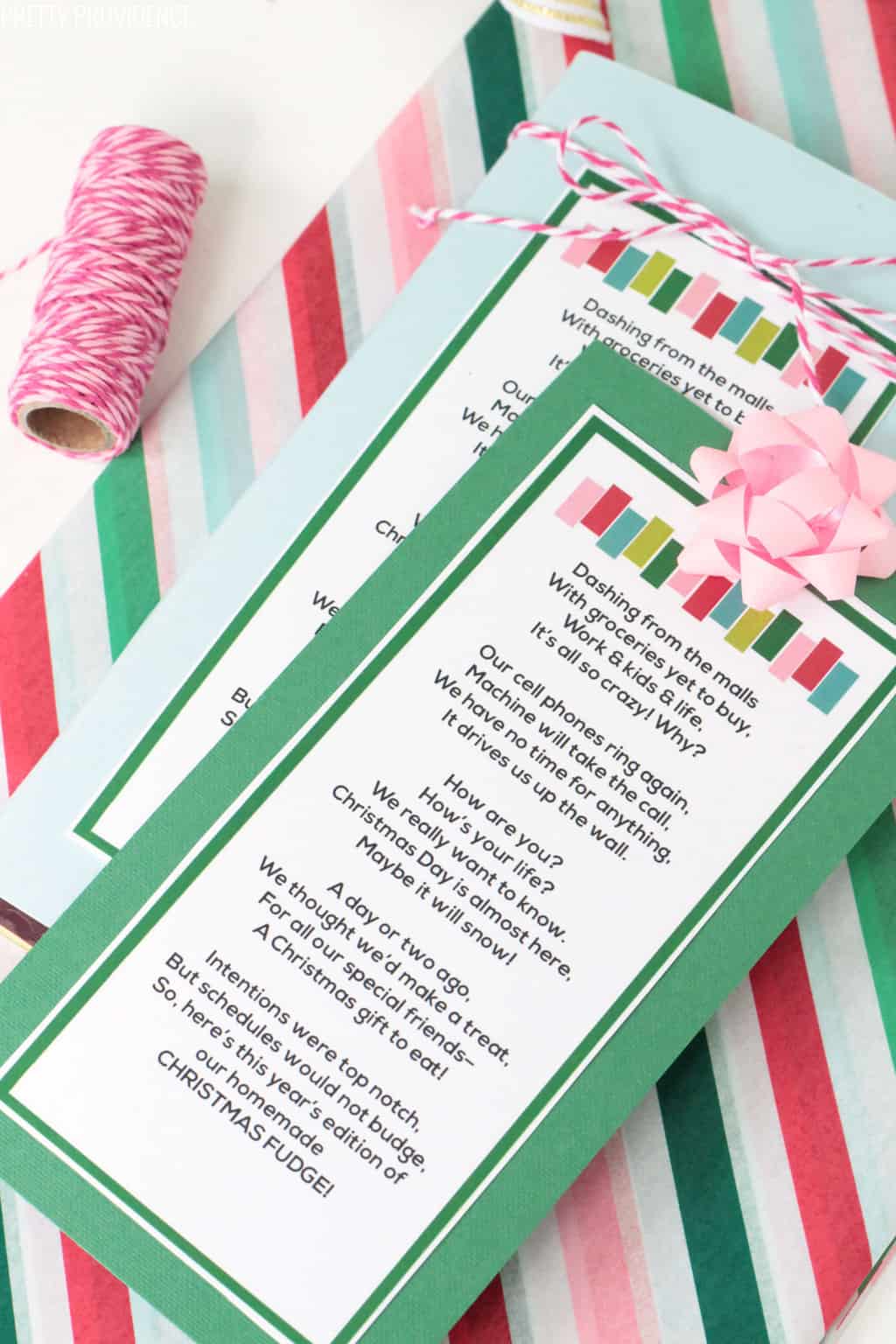 If you came here looking for the old tags (maybe you found them on Pinterest?) here are links to download those:
Snowflake Mini Poem
Red Gingerbread Mini Poem
Green Chevron Mini Poem
Striped Mini Poem
Christmas Ornament Full Sized Print
Christmas Trees Full Sized Print
Holly Berries Full Sized Print
So.. did your Christmas neighbor gifts to-do list just get a tiny bit easier? I hope so!
Merry Christmas,

If you liked this idea you will also love our free printable "The Snuggle is Real" Blanket Gift Tags!
This post was originally published in December 2014 and has been updated with a brand-new printable tag, new photos and more detailed information.