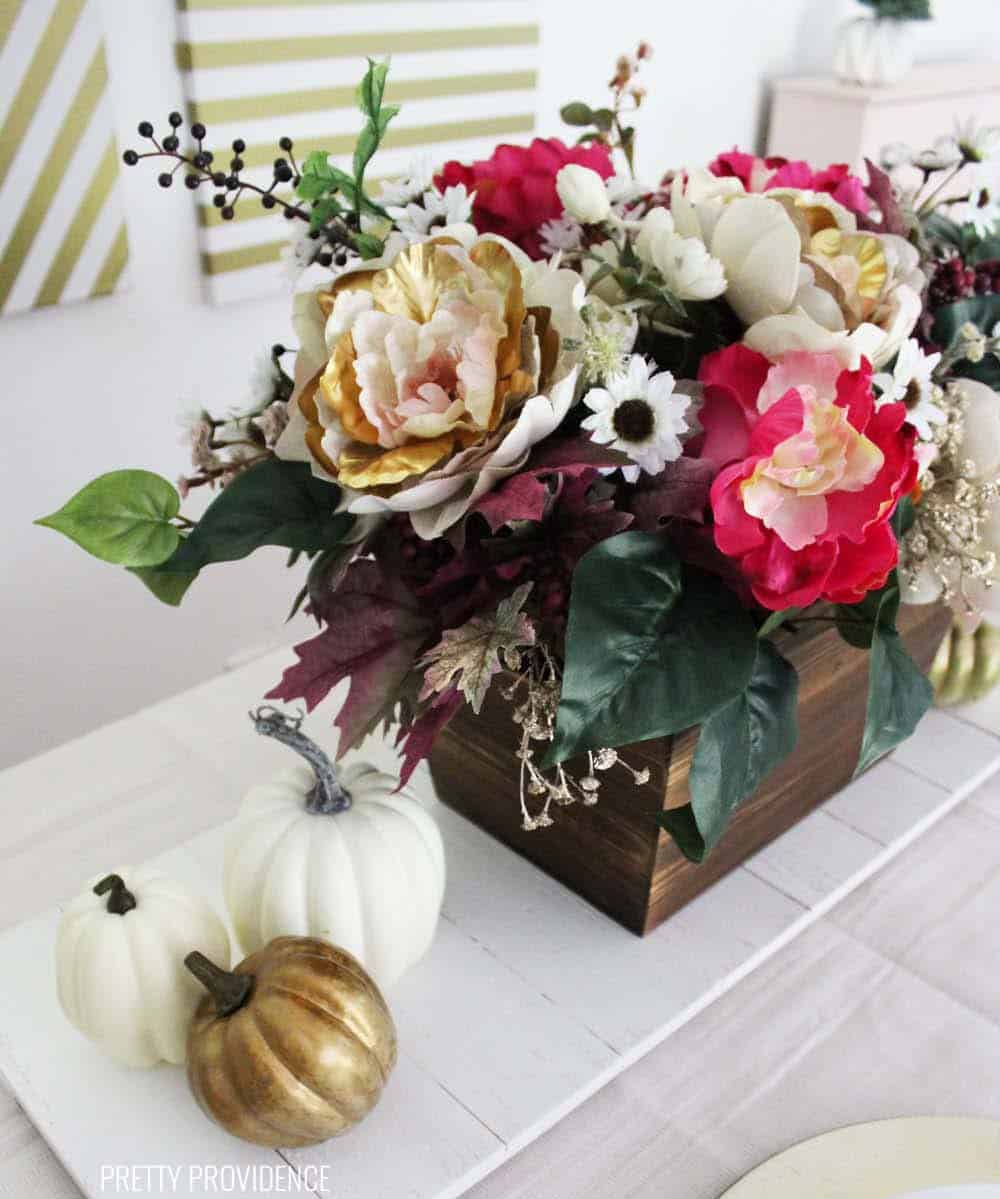 Happy fall everyone! I am absolutely in LOVE with the fall table decorations I put together this year and I couldn't wait to share them. For a long time, I've been wanting a BIG floral arrangement to put on my table. Something that can make a statement and basically scream "FALL IS HERE!" I finally had a chance to make my dream happen. I also got some accessories so that it issn't just a floral arrangement but a table scape. This will be perfect for when I host thanksgiving this year as well as the fall season leading up to that.
I got all of the florals and the accessories for it at Joann. They had everything from the actual florals, to the little gold and white pumpkins (LOVE) and the wood table runner. The table runner was actually a natural, unfinished wood plank that I found on clearance. I think it's meant to be hung on a wall because it has a string attached to it for hanging, but I knew it would make a perfect table runner. I painted it with just one coat of chalk paint and I think it looks amazing and definitely adds a lot of depth to the setup.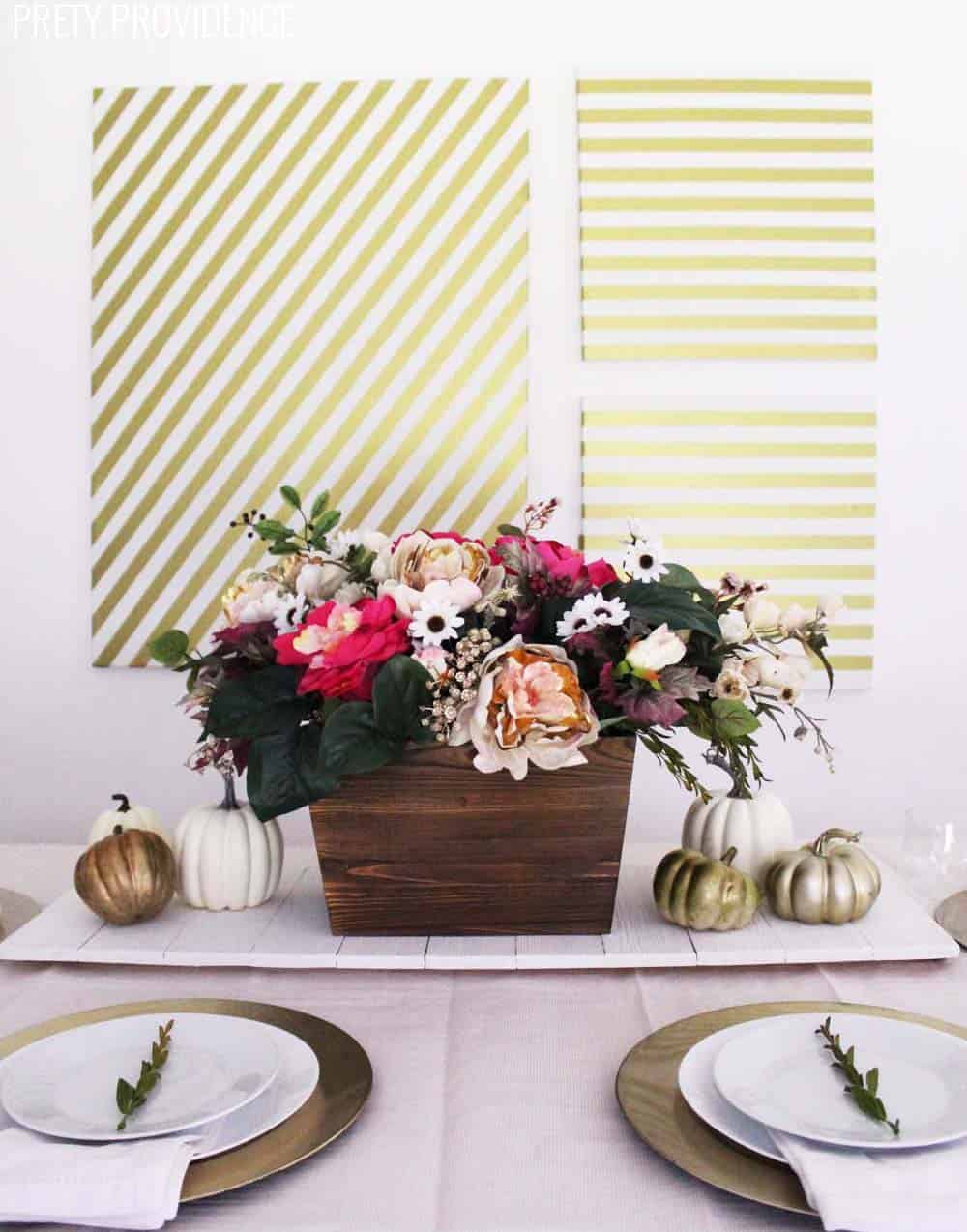 When it comes to picking faux flowers for an arrangement – my motto is "more is more!" There's a place for minimalism, like the actual place settings I put together with leftover sprigs, but for a big arrangement like this I knew I wanted a lot of complexity and texture. So I made sure to pick 3 or 5 of each thing I loved. I gathered greenery, berries, peonies and some other blossom-y flowers. I'm not a florist so I do not know all of the correct names for what I used!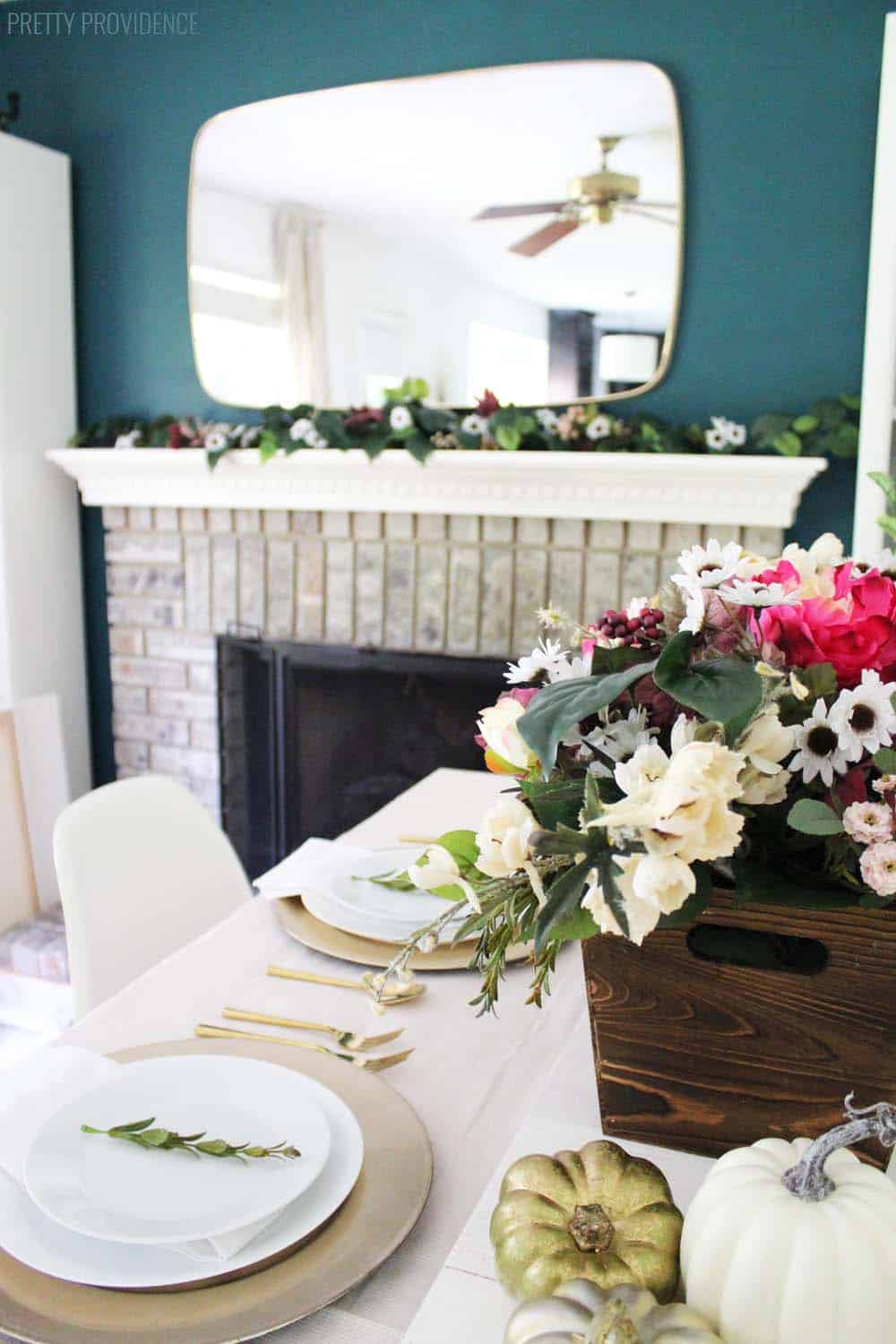 To make it, I simply filled my box with floral foam (I had to cut some of it to make it fit correctly) and then started snipping and stuffing the flowers into the box. There wasn't a ton of method there, I just placed things randomly until I liked how it looked.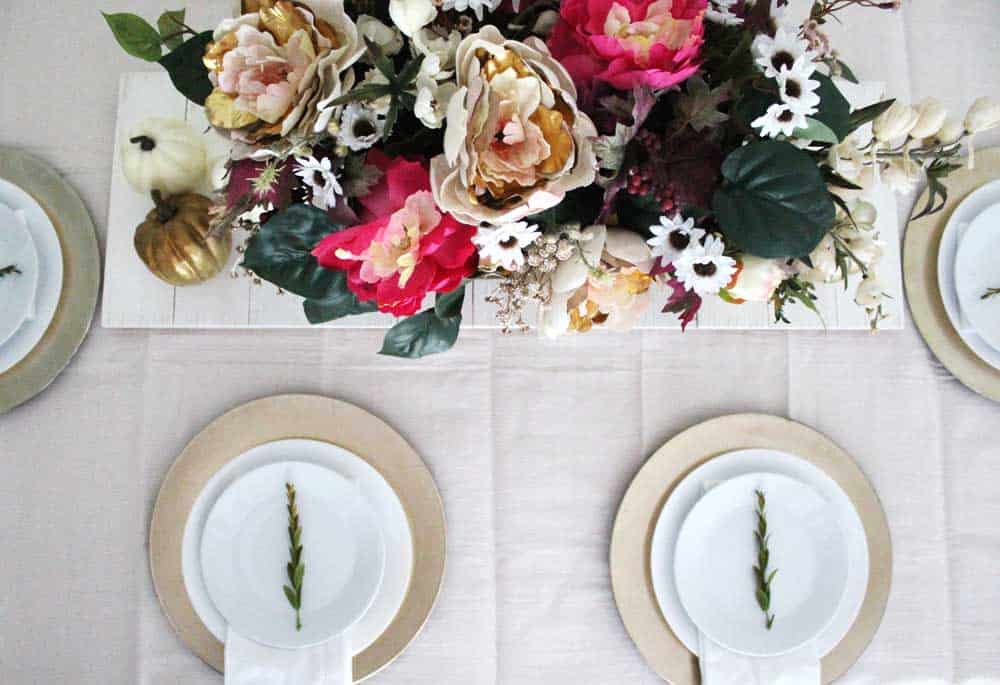 After I finished I realized I had so much  philo garland and flowers leftover that I could make an extra garland, so I put it all together on my mantel. Waste not, want not! Right?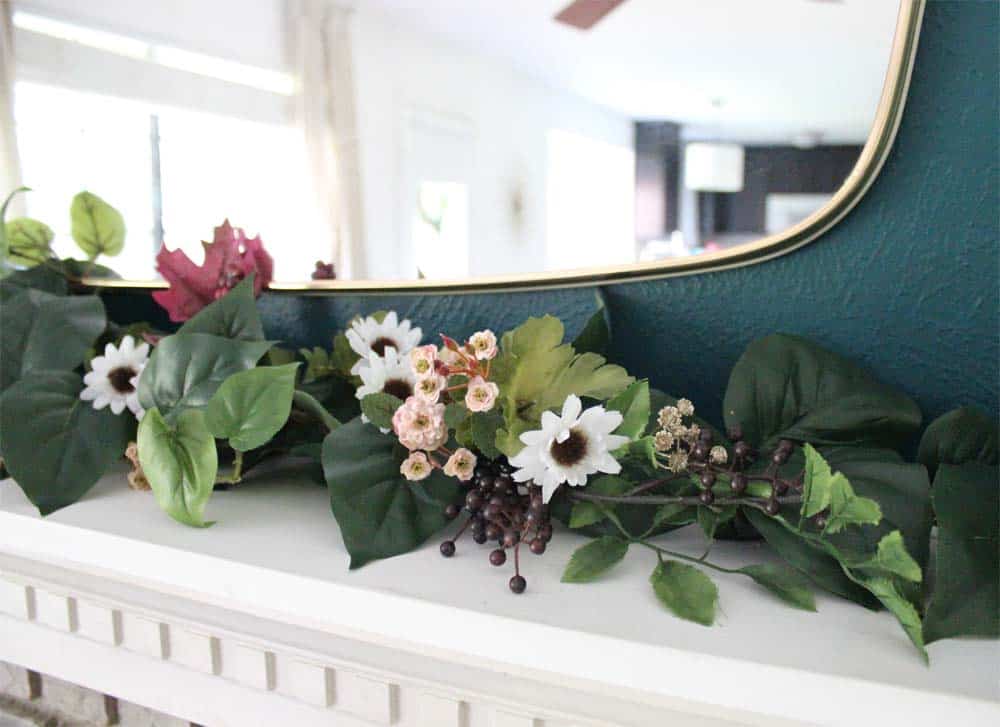 I absolutely love how this turned out and I am sooo excited for Thanksgiving now, even though I know it is still going to be a while. With a table scape like this, how could I not be?
Here are some links to the specific flowers I used if you want to get the same ones: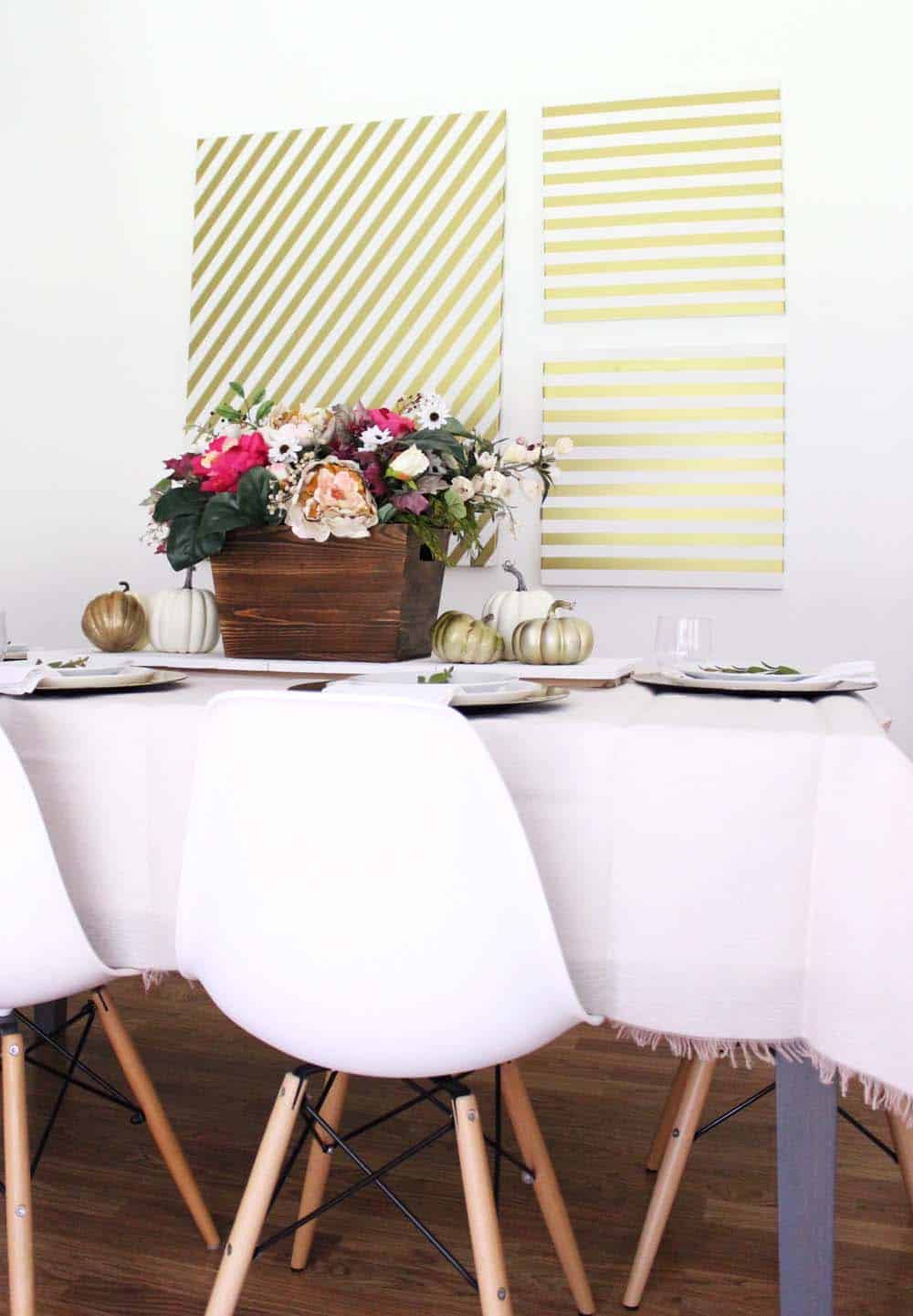 Do you decorate for fall specifically or do you stick to regular all-season decor? I think I'm going to have to make a Christmas arrangement next. This is too fun!
If you love this, make sure to pin it!