Homemade kids bath paint is so easy to make with only 3 simple ingredients in 10 minutes! Your kids and toddlers will have tons of fun with this DIY bath paint.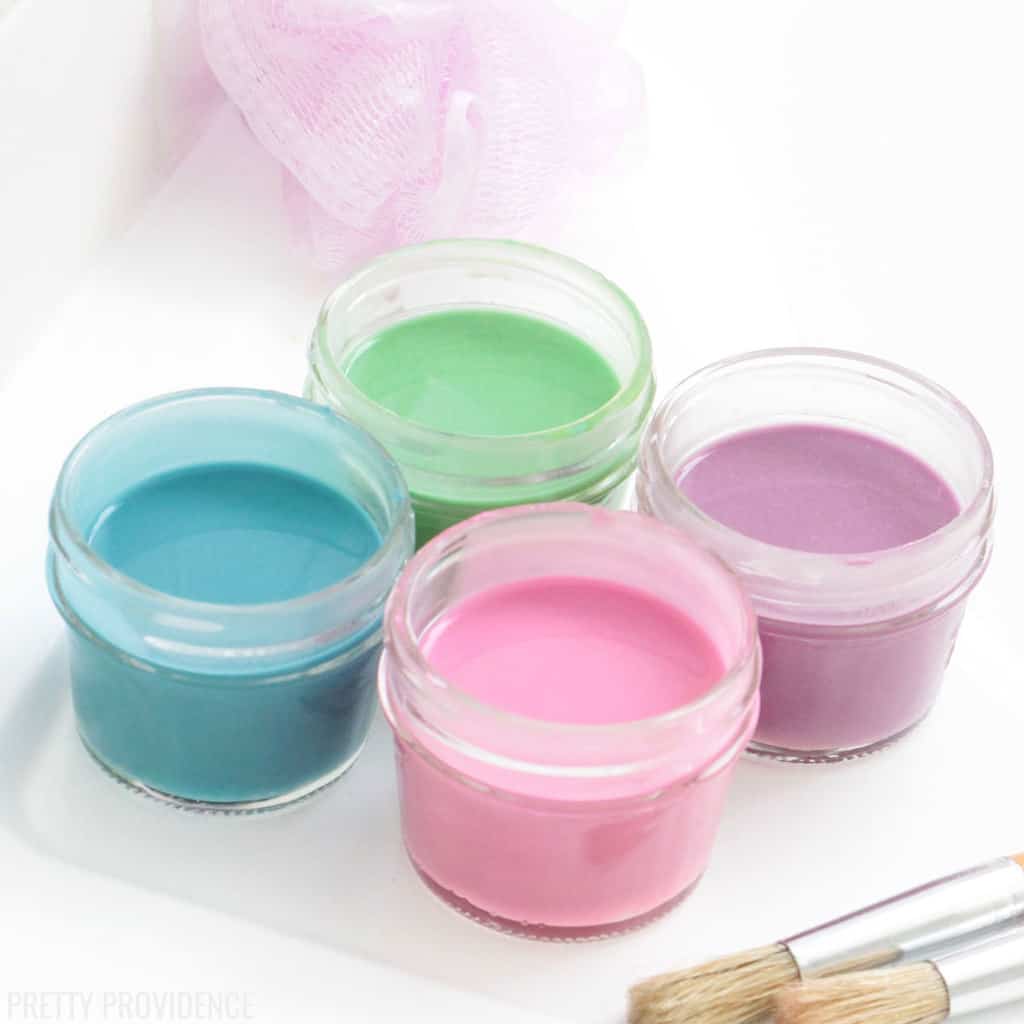 Do you have kids or toddlers at home that could use a little bath time entertainment? I made DIY bath paint this week and it has been so much fun. We have bought our toddlers bath paint before, but I never knew how easy it was to make. Not only that, but I was able to make a lot of it for a fraction of the price of buying it from the store! The best part? It only takes 3 ingredients and I bet you have all of them in your cupboards.
If you are hungry for even more ways to keep those kids busy, try our DIY Craft Foam Bath Toys, Homemade Play Dough recipe, DIY Lava Lamps, or Homemade Bubble Solution! Browse all of our kids activities here.
*This post contains affiliate links.
DIY Bath Paint
Corn starch
Gentle Baby Shampoo or Body Wash
Food Coloring
Those are the three simple ingredients you need to make some bath paint!
My absolute favorite shampoo/body wash for my kids right now is this Hello Bello Vanilla Apricot scent so that's what I used for the base of the paint. The smell is divine and my girls have very sensitive skin so I am picky about what bath products I will use. You can use any tear-free kids body wash or shampoo!
I decided to put mine into small baby-food sized jars that have lids so that we can store it easier. Don't have jars on hand? You can mix this up in plastic cups, a muffin tin, or food storage containers. Anything you feel comfortable putting in the bath tub.
Directions: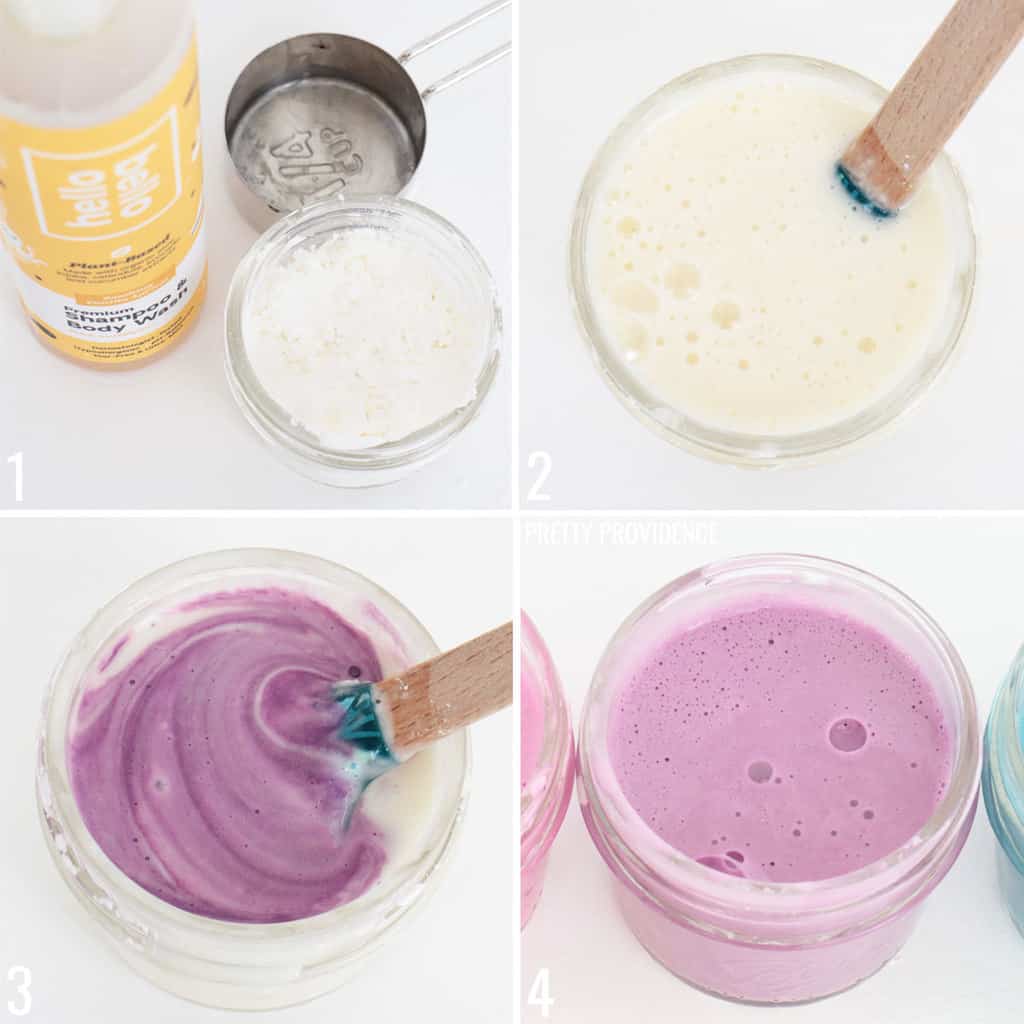 Add corn starch to a small jar.
Mix baby wash with corn starch and stir until the corn starch is dissolved.
Add a few drops of food coloring to the mixture and stir until it is well-mixed.
Add more food coloring if you want the color to be darker or brighter.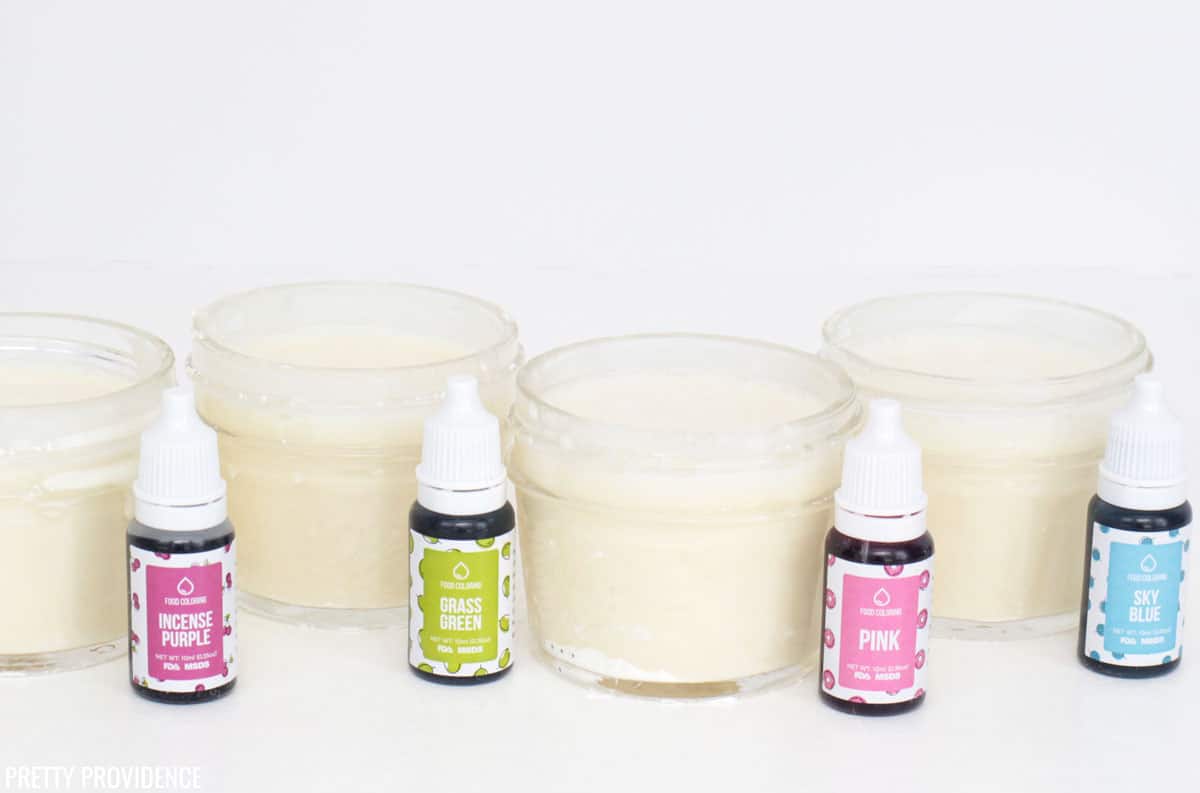 I found this great set of 10 different food coloring colors and I am loving making things with it! I added a little drop of black into each jar to make them a little bit less bright. It was fun to play around until I felt the colors were just right.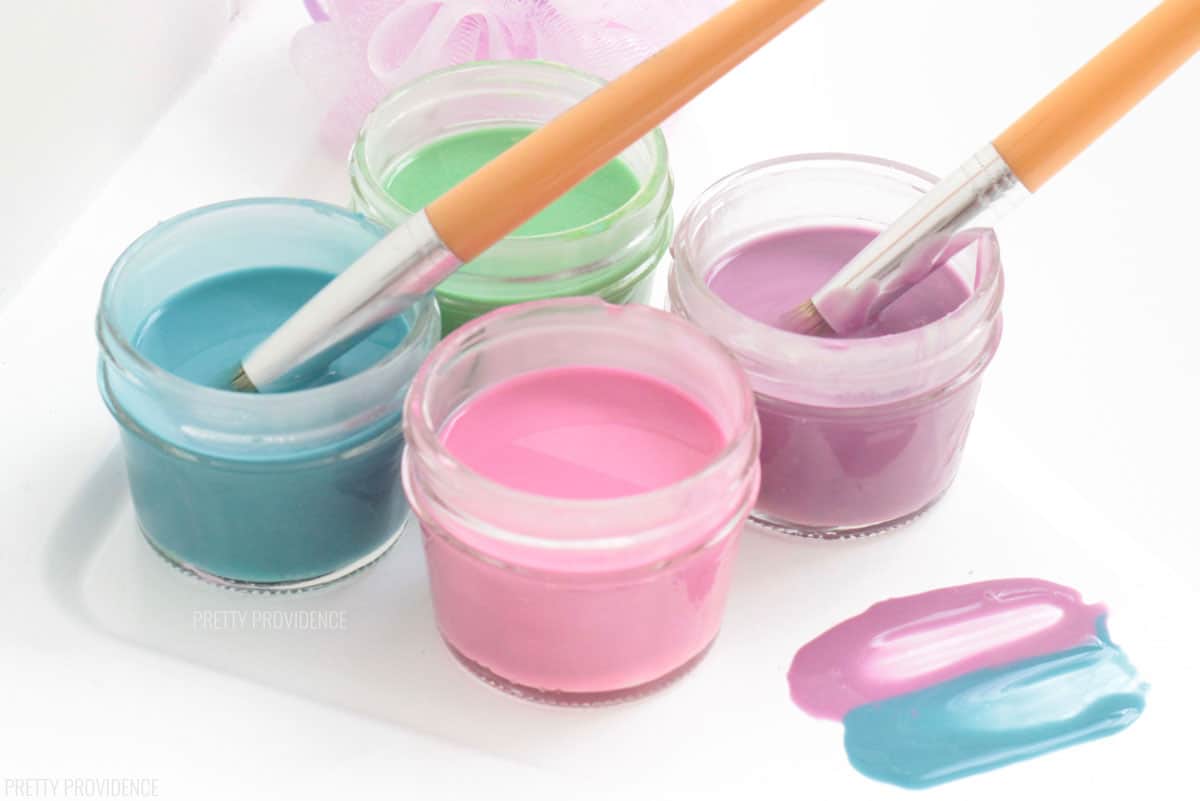 One of the reasons I like to keep the paint in these little jars is because the lids can be closed tightly! As much fun as this paint is in the bath tub, I would not want to find it on my carpet or clothing. I store these jars on a high shelf in the bathroom while we aren't using it.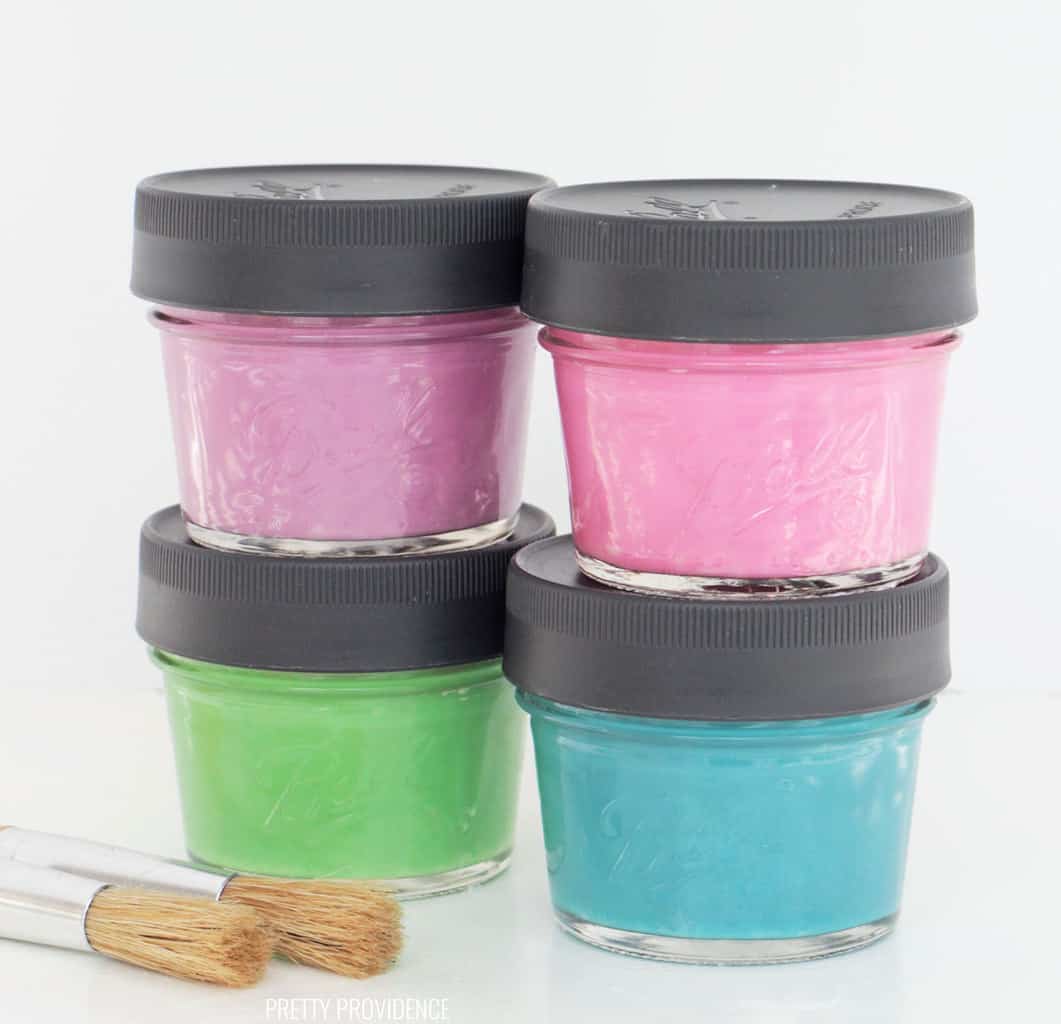 If you make this bath paint, we would love if you would leave us a comment and positive review. They mean a lot to us!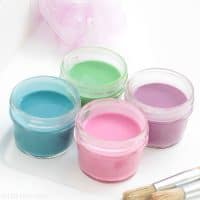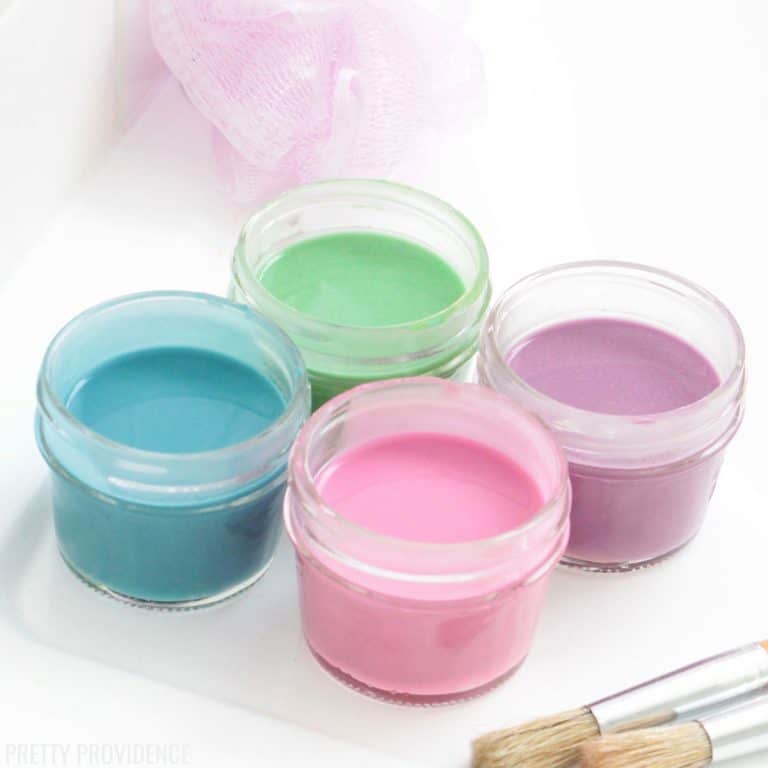 Kids Bath Paint
Easy three ingredient bath paints you can DIY in a few minutes. Kids and toddlers will have a blast painting during bath time and they'll even get clean in the process!
Print
Pin
Rate
Equipment
4 small jars or plastic containers
Materials
1

cup

corn starch

1

cup

gentle baby wash

or kids shampoo

4

colors

food coloring
Instructions
Put 1/4 cup baby wash into each small jar or container.

Next, add 1/4 cup corn starch into each container and stir with a rubber spatula until the corn starch is dissolved.

Add a few drops of food coloring into each jar and mix well. Add a little more if you want brighter colors.
Notes
Pro Tips:
This recipe makes four 4 oz. portions of bath paint. For each color paint you want to make, you need 1/4 cup baby wash and 1/4 cup corn starch. 
Store bath paint in jars or plastic containers with lids on tight.
This gentle bath paint is great for toddlers, but keep it up high when you aren't using it to avoid finding any 'art work' outside of the bath tub!