Check out this before and after of a real kitchen makeover on a budget. Small changes like lighting and cabinets can make a big impact without having to do a full kitchen renovation!
I'm so excited to share my kitchen makeover with y'all today. It has been a work in progress ever since we bought this house six years ago, and now I am really happy with it! We just got some updated lighting from Hunter Fan Company that I am so in love with. It really makes a huge difference in making this room feel modern and cohesive. As I was taking pictures of the new lights, I decided to look at the photos from when we bought our home and couldn't believe the difference! This does not look like the same kitchen.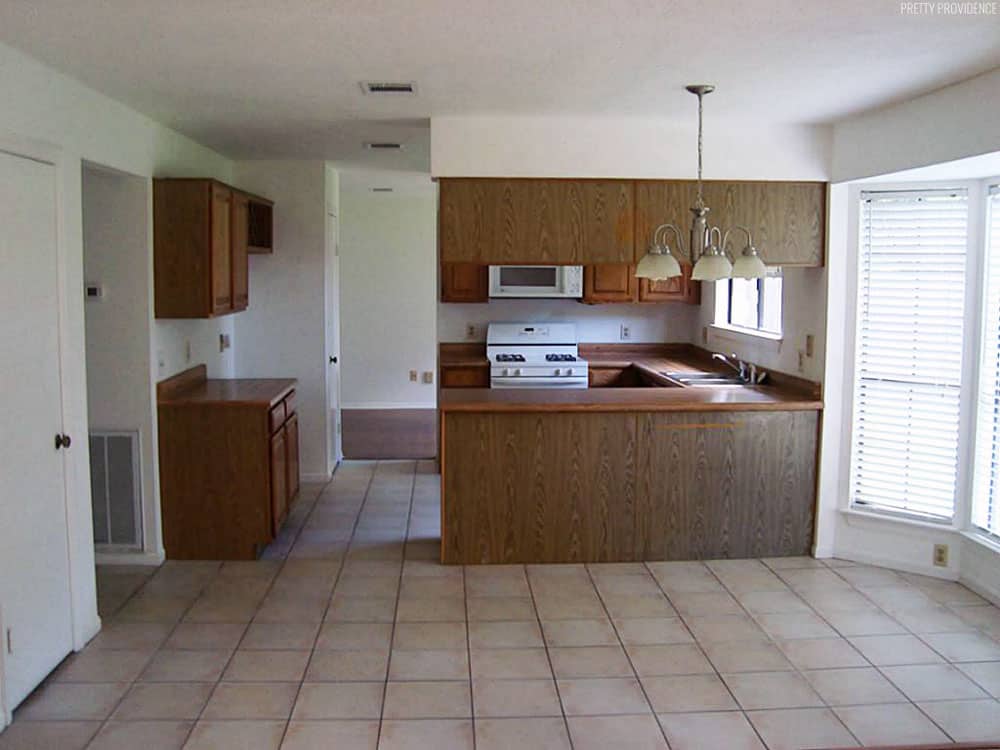 Kitchen Makeover
When we moved into this home, it needed a lot of work. The cabinets were outdated and rotting. The bathrooms had tan marble seashell sinks. Every single light switch cover was different – some were yellow, some were blue, others were made of wood. The light fixtures were all over the place, too! We knew that the kitchen would be our first priority. We did not have any room in our budget for a full kitchen renovation so we decided we would take the kitchen makeover one step at a time. I am going to share the full breakdown on what we have done and how, in case you are looking for ideas for a kitchen makeover of your own.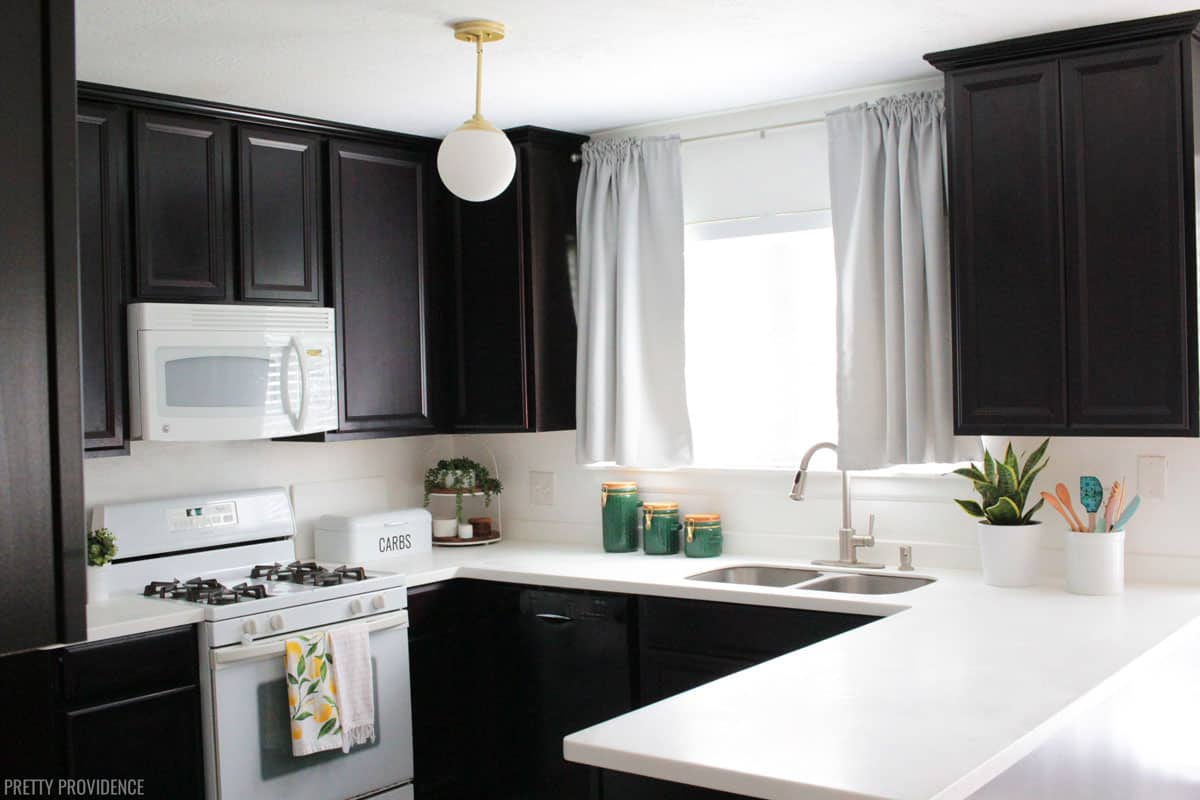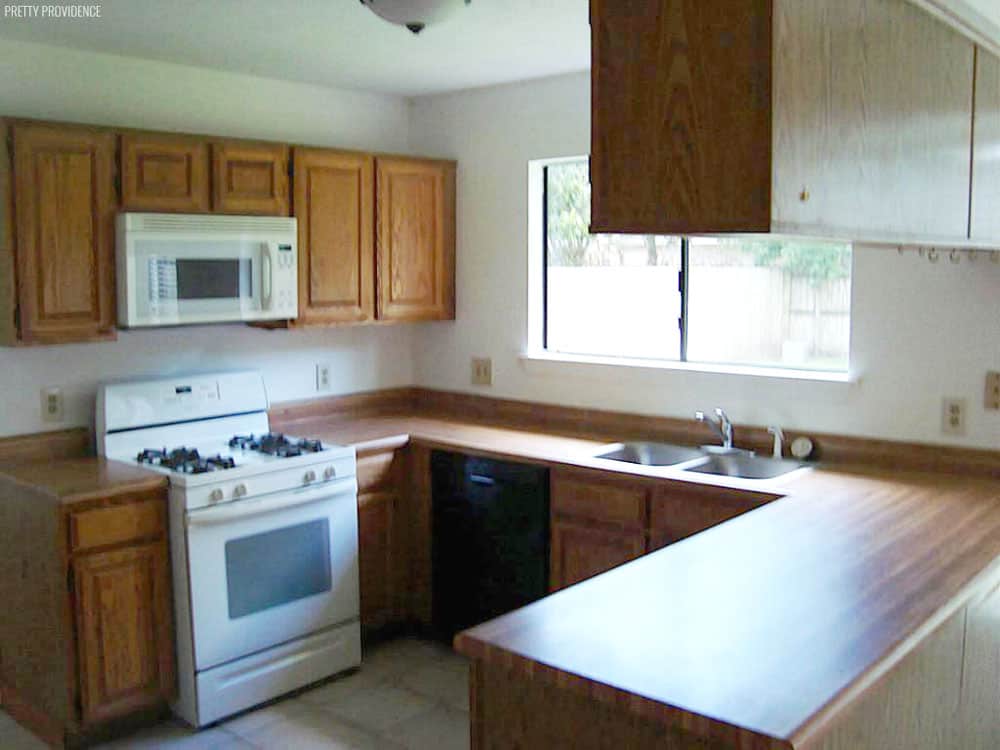 Cabinets
First, we had to replace cabinets. My husband found our new cabinets on Craigslist. They were a great deal and we loved that they went all the way to the ceiling! Since he had experience with cabinets and carpentry, he offered to remove our cabinets himself and help the guy install the new ones. They negotiated the price and it came down to $1300. Yes, $1300 for brand new cabinets.
He also removed the soffit (the overhang and cabinets coming from the ceiling) which really opened up the space and made the kitchen feel bigger. I could never have reached anything in those top cabinets anyway!
Countertops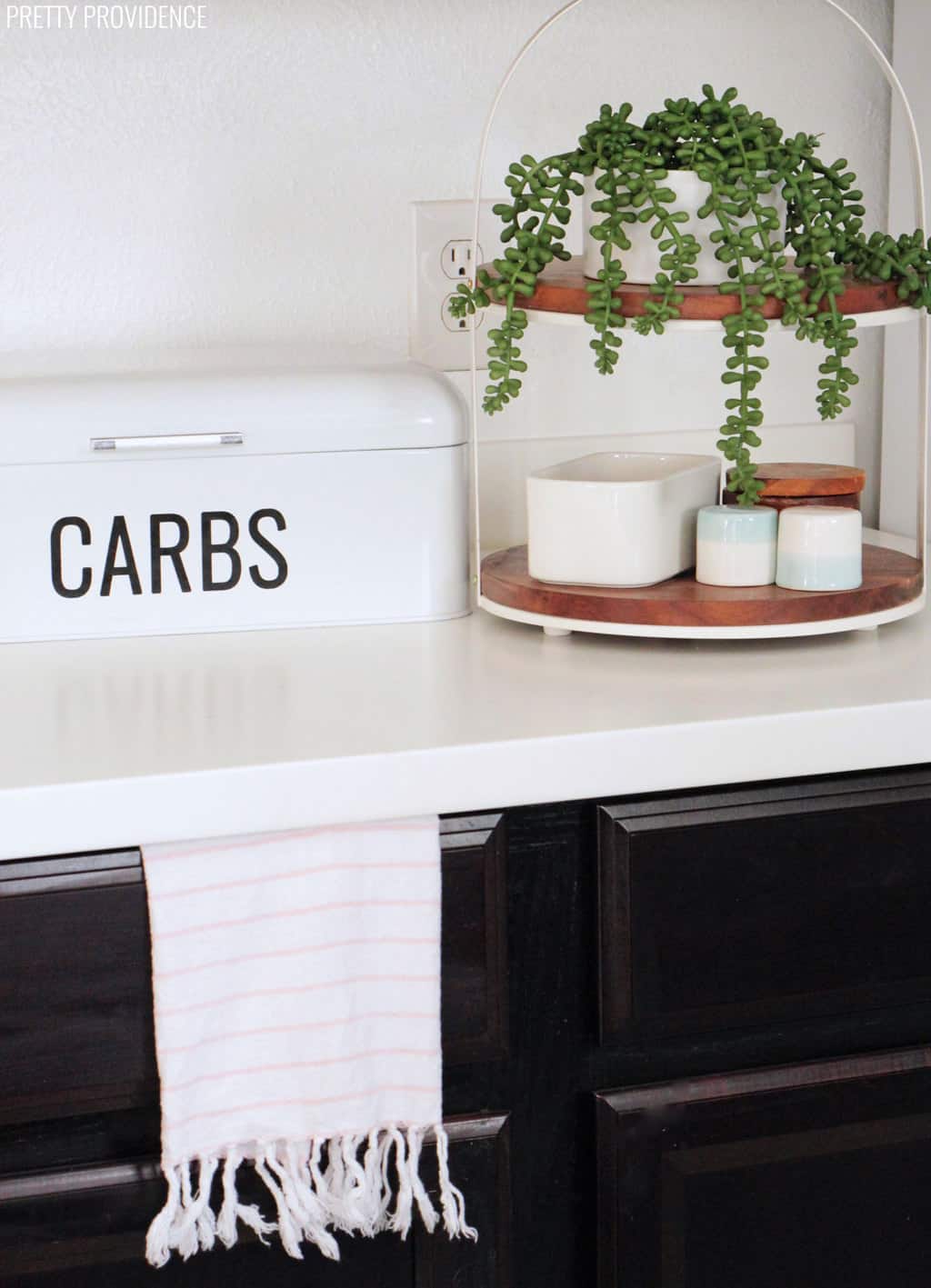 After that, we couldn't get new countertops right away, so we placed the old faux-wood laminate countertop back onto the cabinets and left it like that for about 8 months. They didn't fit perfectly but we made it work while we saved up. (This would not have been a good plan if we had little kids running around like we do now!) When we were ready to buy countertops, we went with an inexpensive Solid Surface countertop in white. Not everyone is a fan of white counters, but we like them! It was the best option in our price range at the time. Solid surface is very easy to clean and it is a nice contrast with our dark Espresso cabinets.
Fresh Coat of Paint
We had to give the kitchen a fresh coat of paint a few years ago. While I am still hoping to do a backsplash in here, for now, some fresh paint has really done a lot of good. We used Behr Paint – Polar Bear which is one of my favorite shades of white.
Lighting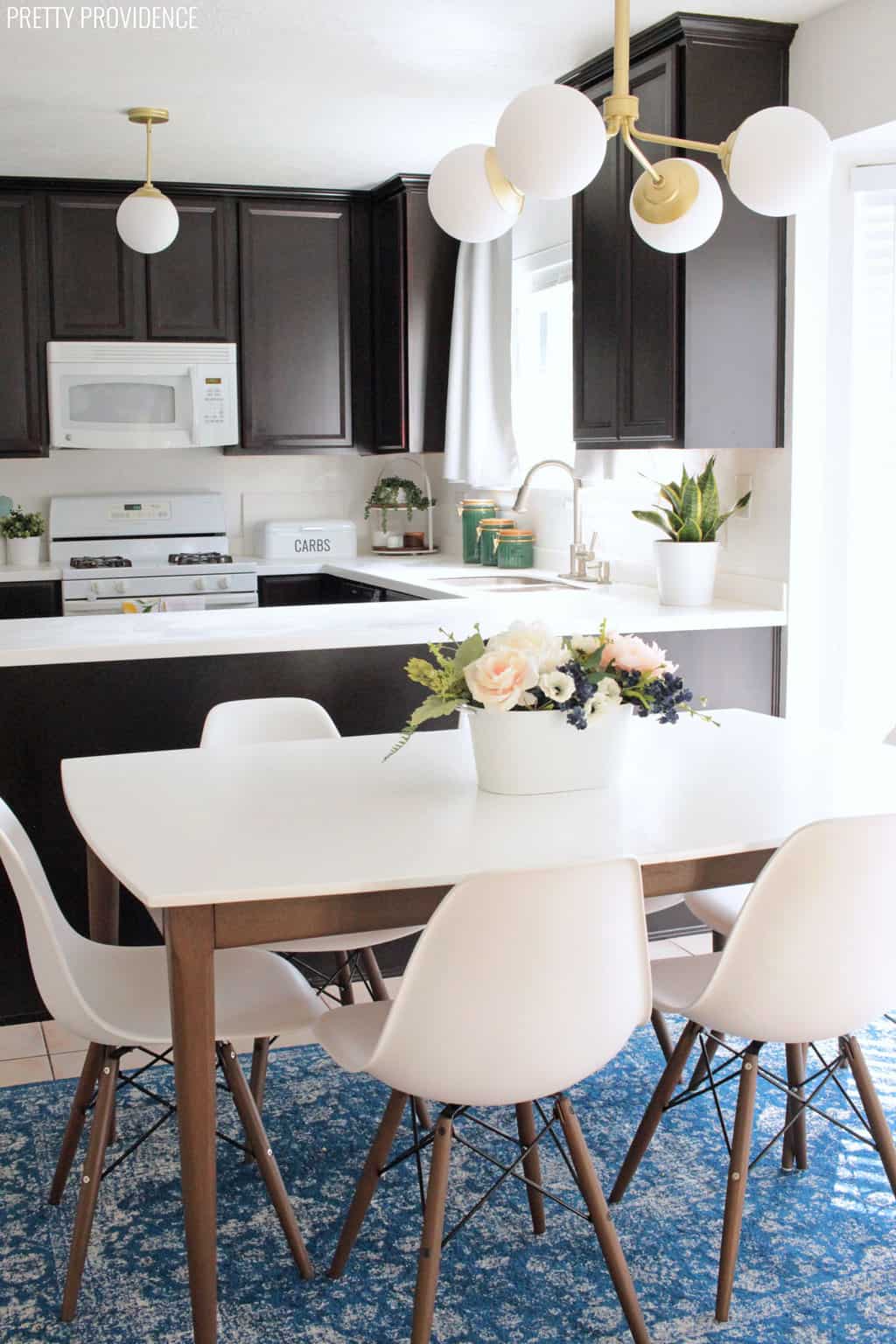 This lighting is obviously the newest and PRETTIEST update we have made to our kitchen. Hunter has just come out with lighting that matches some of their most popular fan designs. The Hepburn chandelier and matching Hepburn pendant light in the kitchen and breakfast nook are so gorgeous. I love mid-century modern design and they go perfectly with my dining table and Eames style chairs. Not only that, but we have a Hepburn fan in the adjoined living room as well. They all three look so pretty together! I'm hoping to replace our upstairs fans with Hepburns as well. After we do that, you might not be able to tell that his home was built in the 80's!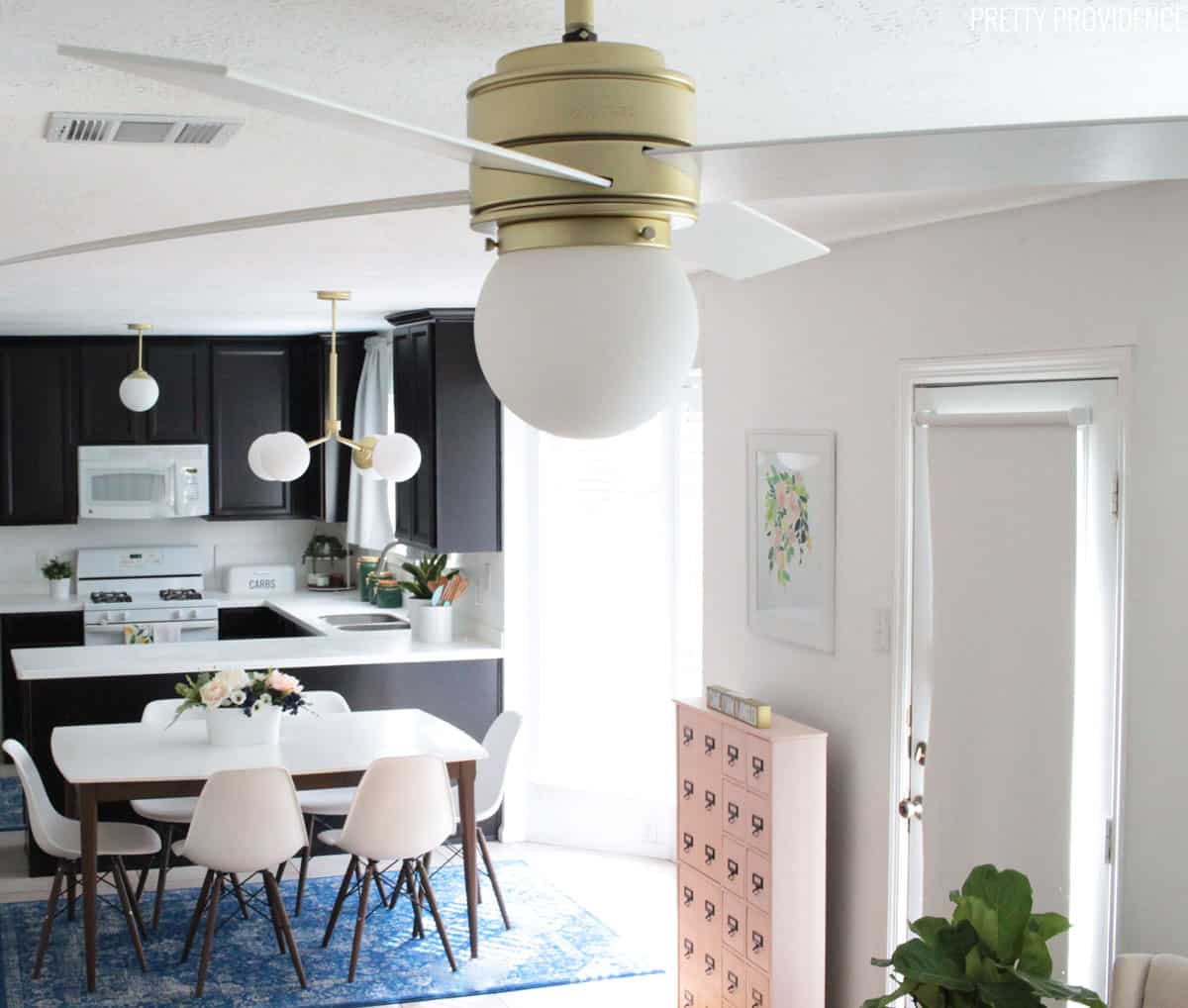 Furniture and Rugs
Vintage Dining Table and Chairs
The last thing is our kitchen table and chairs. We found this solid wood mid-century table at the Re-store and paid $50 for it. My husband refinished it which cost about $25 more for stain and supplies.
Paint Used: Behr Ultra Stain Blocking Paint & Primer in One (Semi Gloss)
Stain Used: Minwax Walnut Stain Cloths (these are the BEST! we don't stain any other way after discovering these stain cloths.) Then, we bought inexpensive Eames style dining chairs and he stained the legs to match our table legs. I love how it looks like a matching set, and it all cost around $325.00 total!
Decor
We have this blue rug in the kitchen as well as in the breakfast nook. I love this color and can't get enough of it. Apparently neither can the color experts, it is very close to Pantone's Color of the Year for 2020 – Classic Blue! The rugs, along with accessories like my teal toaster and retro bread box make my kitchen feel fun, colorful and very 'me.'
Total Cost of Kitchen Makeover: $3267.00
Cabinets – $1300.00 Countertops – $1500.00
Paint and Stain – $32.00
Light Fixtures – $300.00
Rugs – $160.00
Table – $50.00
Chairs – $250.00
While that is still not a small number, we have done this over six years time. In the first two years we spent about $2800 on the cabinets and countertops. The rest has been a few hundred dollars here and there when we have had room in the budget!
Things We'd Still Like to Do in our Kitchen:
A backsplash and hardware are next on the to-do list for this kitchen. I really want brass hardware that would match our Hunter Hepburn lighting! I have been pretty content with it how it is though, so other projects like our three bathroom makeovers have been a priority over those finishing touches.
Check out my kids bathroom makeover, and our master bathroom makeover to see how far those rooms have come too!

How to Revamp a Kitchen on a Budget
Paint: The first and most obvious way to update any room is with paint!
New Lighting: imagine a cohesive space where your ceiling fan and your home lighting complement each other! Choosing the right lighting and fans can give a very intentional style to your home.
Cabinets: If cabinets are outdated but in good condition, consider rolling up your sleeves and doing a DIY project. Re-staining your cabinets or painting them takes time but it's really inexpensive compared to replacing them!
Jess re-stained all the cabinets in her house for under $200. The results can be amazing.
Hardware: Adding new knobs or pulls to your cabinets makes a huge difference.
Backsplash: So many cool peel and stick tile options, or temporary wallpapers that make great backsplashes. Check out my friend Amy's kitchen makeover on a budget– her backsplash is to-die-for.
Appliances and fixtures: New appliances and fixtures can be pricy, but if you know what you want and watch for sales, you can get them one by one and save a lot of money!