I love the blue accent wall and the large scale wall photo collage in this master bedroom makeover!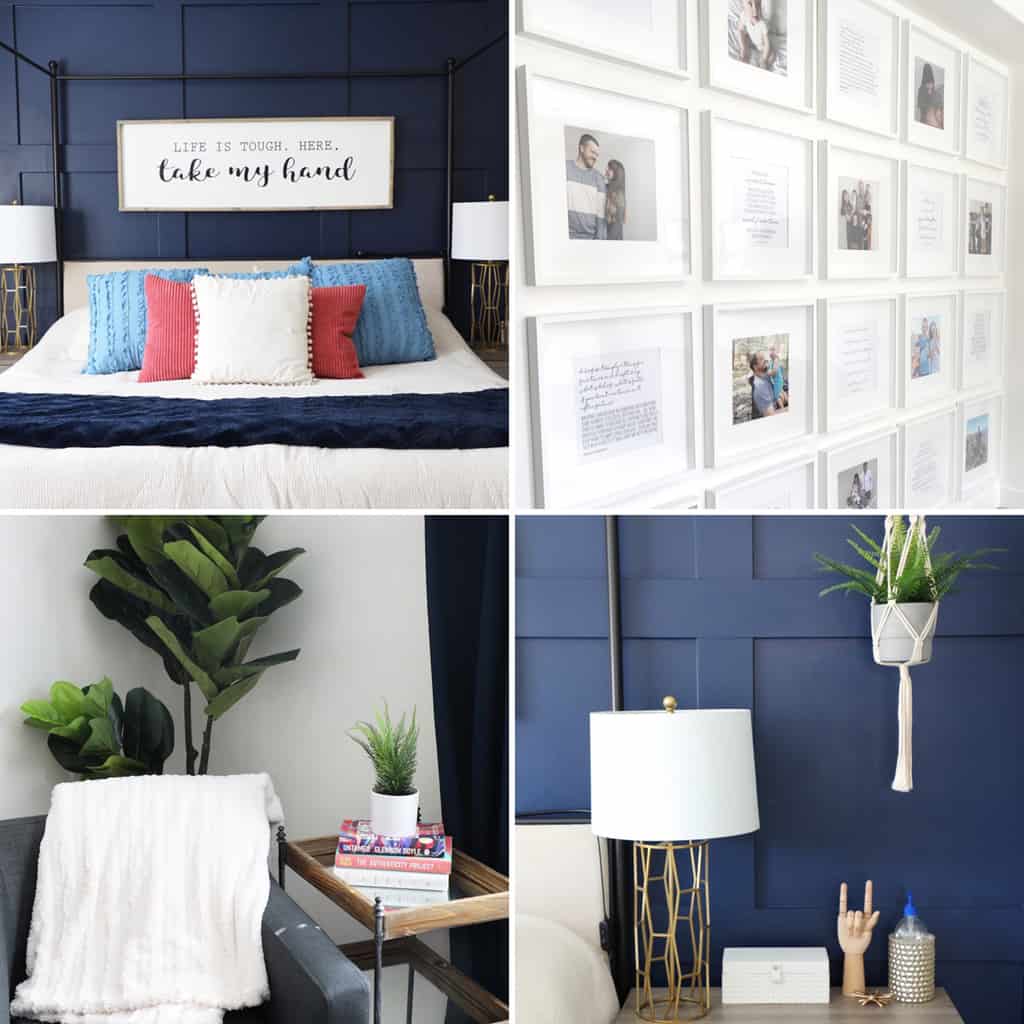 Hello! I'm excited to finally be sharing the details for our master bedroom makeover. The blue accent wall and the large scale gallery wall were my favorite components of this room, but I'm excited to hear what you think.
Master Bedroom
If you're anything like me then the master bedroom is one of the last places to get attention in a house. In fact, I never got around to fixing this room up until we decided to sell our house. Since we were leaving I didn't want to spend a lot of money on things we wouldn't be able to take with us, but I knew that a focal wall could make a big impact.
If you want to see a few of our other favorite spaces from my old house don't miss these: Whimsical Girl's Bedroom, Adventure Themed Boy's Room, Blue and Grey Nursery, Cozy Home Library or Family Room Makeover!
Master Bedroom Decor
Sometimes the details of the decor in a room are the hardest for me to decide on. I immediately knew that I wanted a blue accent wall, a large photo gallery wall, and a four poster bed. It was the filling everything else in that was the hardest.
*This post contains affiliate links.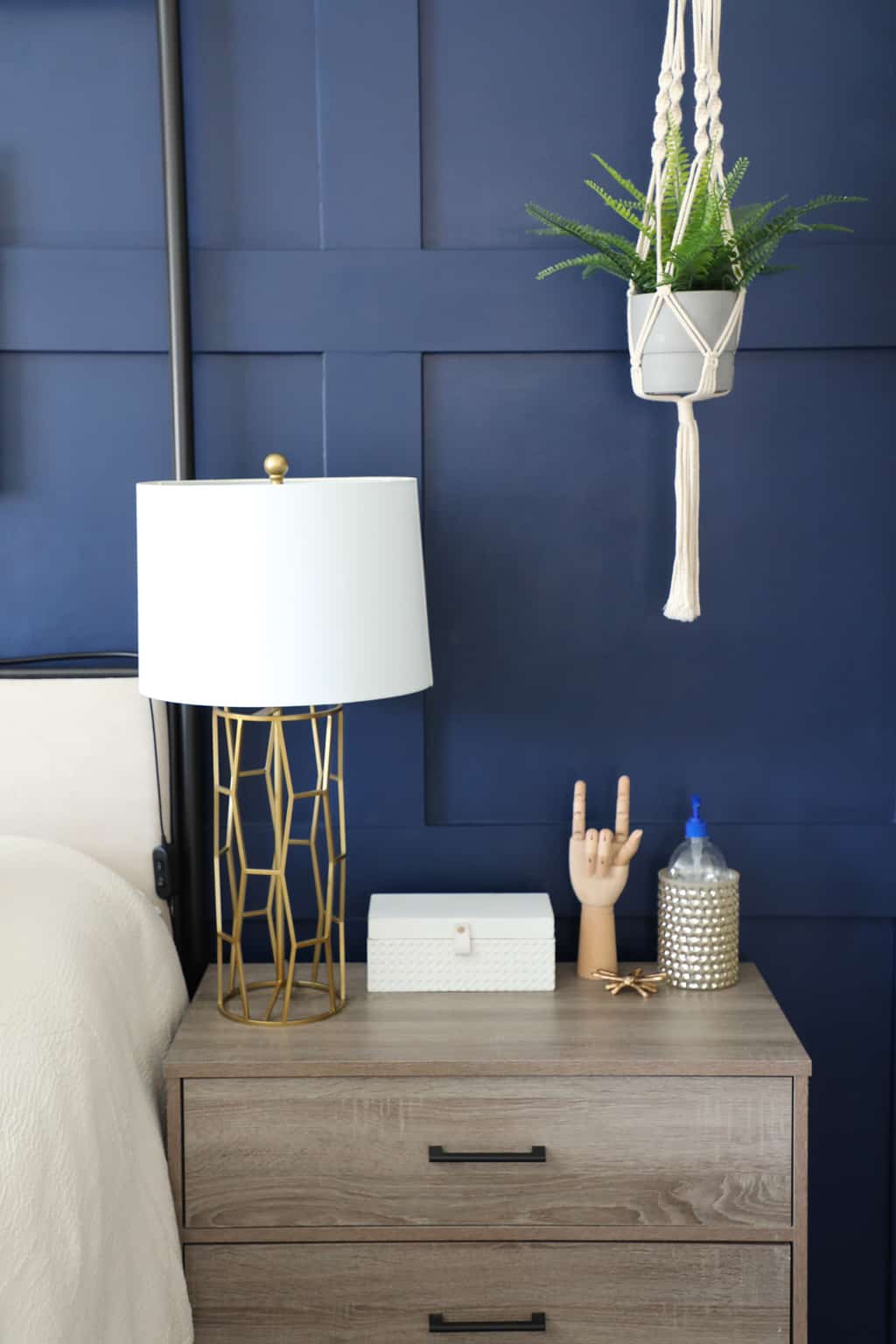 I found these fun macrame hanging planters and I loved the softer boho element they added to a room with lots of straight lines.
I found most of the nightstand decor at Hobby Lobby, but the wooden hand and faux plant are from IKEA. Here is a similar bold gold table lamp, if you want to buy one online.
The cute three drawer dressers are from Target and they have held up really well.
Blue Accent Wall
The blue grid wall is definitely a focal point in this room. Most of our house had white walls so this was a fun change up.
The Color is Behr Ultra, Very Navy.
Here is a tutorial for how to make your own DIY grid wall if you'd like.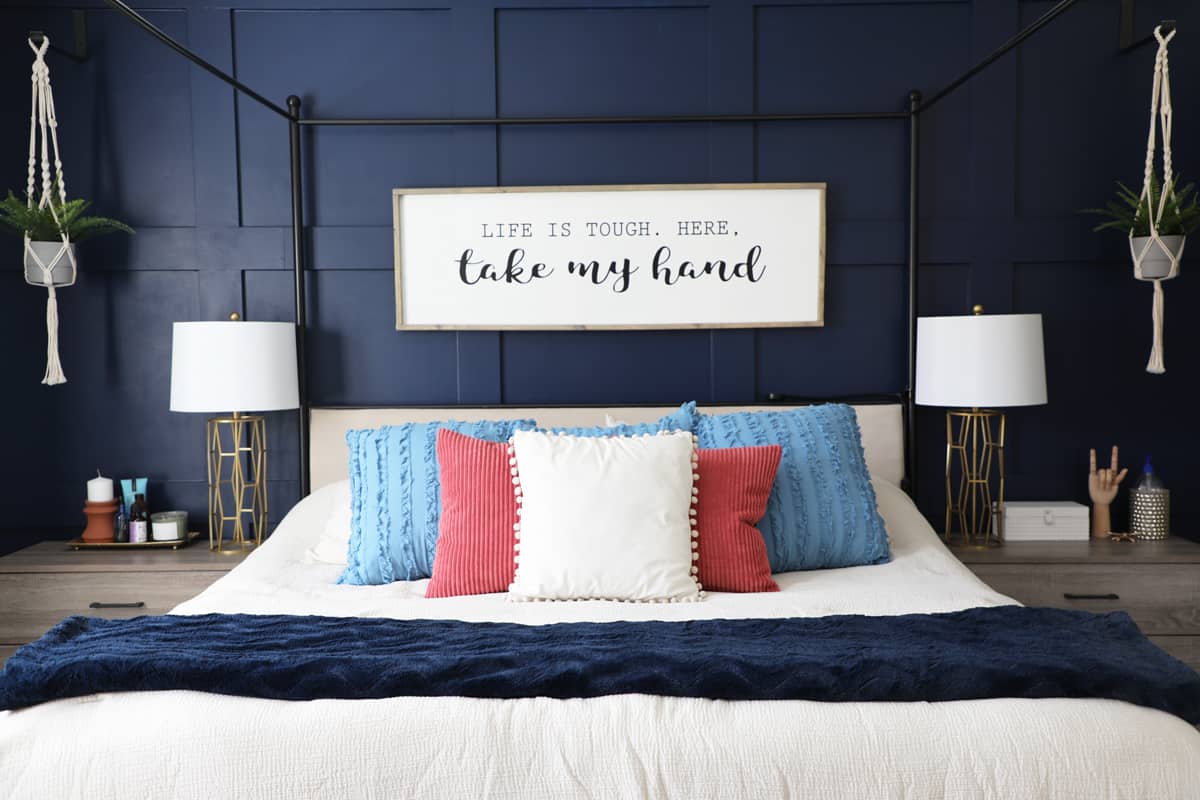 The metal four poster bed frames are actually quite inexpensive, and can make a big impact in a space! My friend Becky built the sign hanging over the bed, and I love it so much. The bedding is from Target and the pillows covers were from amazon.
Wall Photo Collage
I am obsessed with my floor to ceiling gallery wall! I have wanted to do this forever and it was so fun to finally see my vision come to life.
See our full detailed post about this gallery wall here.
I used white square frames from IKEA, and then filled them with some of my favorite family photos (candid and staged) and quotes that are meaningful to me. I alternated every other between photos and quotes and it was really visually appealing that way.
Other Master Bedroom Decor Ideas
A reading corner is always a good idea! We moved the blue chair, blanket, and wood and metal side table from elsewhere in our house. The faux fiddle leaf fig is from amazon, and the books are from around the house as well.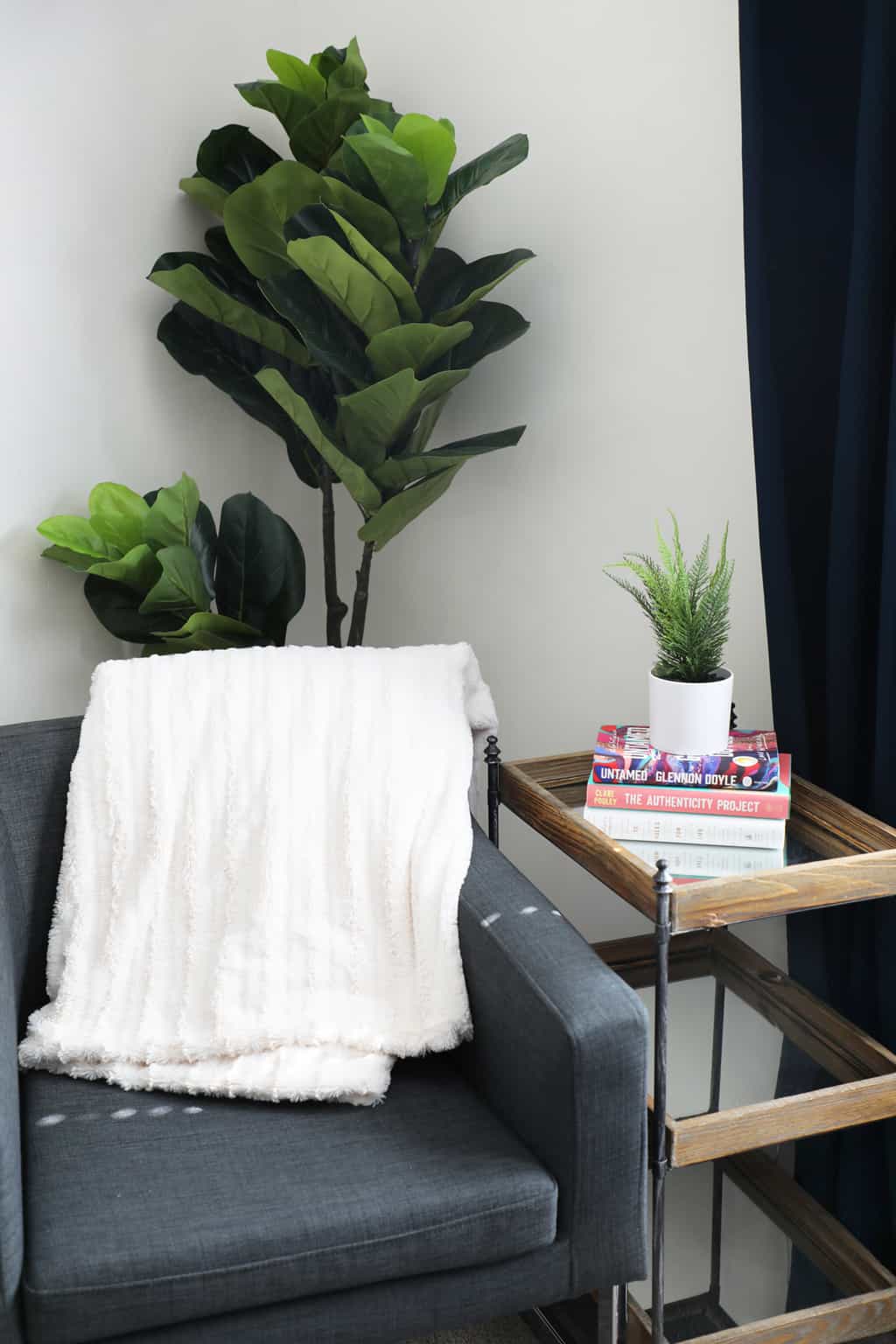 The deep blue blackout curtains are from IKEA, and the rug is from Rugs USA! I love the fun colors that the rug brings into the room, it ties the wall, the pillows and the bedding in so well.
If you use this tutorial and enjoy it we'd love for you to leave us a positive comment and review, they mean so much to us.
How to Hang a Gallery Wall
Need to know how to hang a gallery wall? It is actually very simple. Find all the easy details on our Photo Gallery Wall below, including links to our favorite frames.
Print
Pin
Rate
Materials
Measuring Tape

Laser Level

Nails

Hammer

Frames
Instructions
The first thing you are going to do is measure the space where your gallery wall will hang. In this case, it was the entire wall from the archway to the end of the wall. Then, from the ceiling to the top of the baseboard. Next, you will measure your frame, and multiply by the number of frames you are using in each horizontal row (so in this case 5). Take the width of your space, and subtract the total inches of frame in a horizontal row. Then take your remaining inches and divide that number by how many frames you have in each row, plus one (for the opposite edge, so in this case 6 because there are six gaps between the frames counting the edges). This will tell you how many inches you need between each frame. Repeat this process but for your vertical lines. 

This entire process is essentially to help you deduce where to hang your first frame. Use your nails and hammer to hang the frame however the back of your specific frame indicates. After the top left corner frame is hung the correct number of inches from your "edges", it is easy to use a laser level and ruler to hang the rest. 
Notes
Gallery Wall Frames
I bought these frames from Ikea (white Hemnes frames) years ago and have used them over and over again. Unfortunately for all of us, they stopped stocking them, and last I checked they were still not available. 
In good news though, I found some really similar options on amazon with really great reviews and an even better price point. 
You literally cannot beat this price. This comes in a set of 9 square 12x12 frames and has four different color options to choose from. They are matted for an 8x8 photo window, or you can remove the mat and use the 12x12 opening. 
If you are looking for a metal frame these are so beautiful. Several color options as well. You get 12 frames for $125, and there is an $8 off coupon right now as well. Almost perfect five star reviews. 
If you want a little bit larger frame this is an option for a 16x16 inch square. They are sold individually so you can buy only as many as you need, but several color options here as well.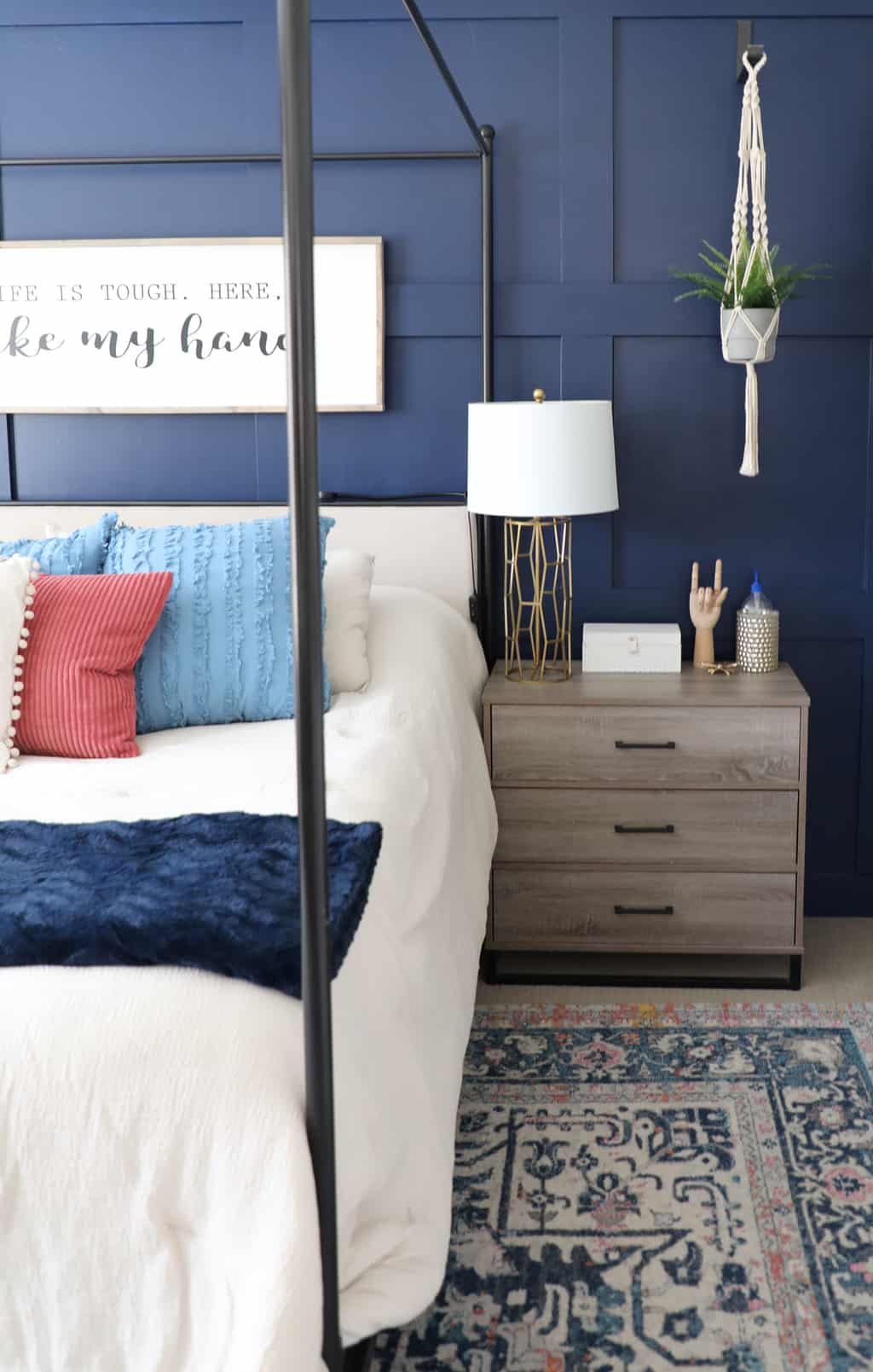 Well, what do you think? What is your favorite room element? I still think mine is the blue accent wall!
Happy decorating friends!
xo,