If you are looking for beautiful and functional girl's room ideas look no further! Not only is this room beautiful, but it can grow with a toddler all the way into teenage years.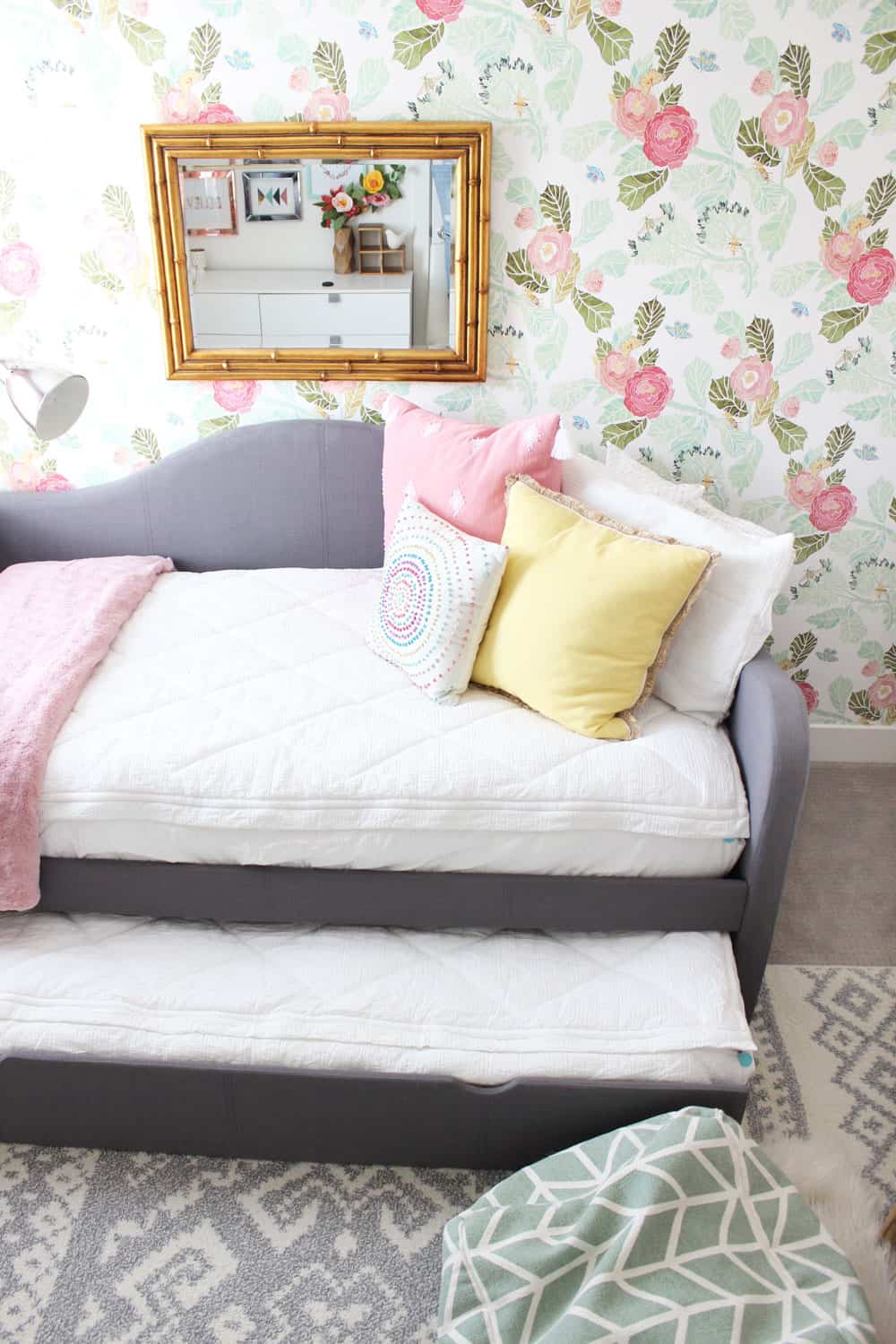 I originally shared this room with you guys almost five years ago, and I am happy to report that not only has everything held up SO well, but Nora still loves it so much. If that isn't winning in girl's room design, I don't know what is!
*This post contains affiliate links.
Over the years we updated a few things just to make the function of the room better. First we switched her light to this gorgeous fan. Then we added these amazing blackout curtains (because sleep is everything).
We also moved to Beddy's Zipper Bedding (use code PRETTYPROVIDENCE for 20% off) because after we got them in Luke's room Nora begged and begged. Last but not least, we added a bunch of hooks on the walls for her purses and bags!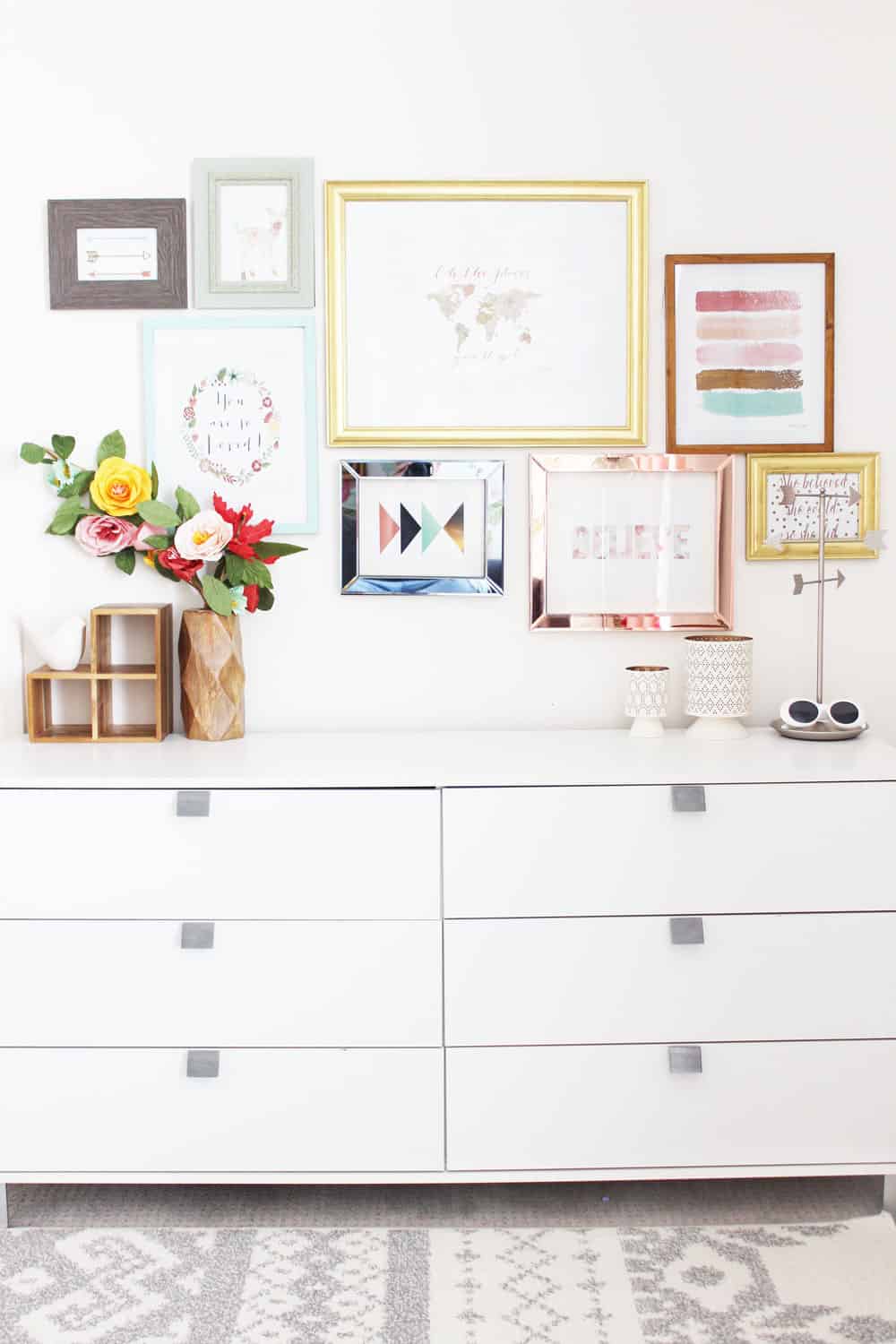 Girl's Room
Words cannot express how much I truly love this room. It was a dream for so long, then a plan, then it began to come together, and now it has stood the test of time. When my sister Kelsey and I designed this room Nora was barely 2. We dreamed about her growing up in it. Now, i've been able to witness her live and grow in this room for 4 years.
Every night when I lay in her bed with her and put her to sleep I'm filled with such a peace and gratitude. It is such a blessing to have a beautiful space that is just yours and I'm so grateful I've been able to give that to my sweet Nora in this room.
If you want to see all of our home decor ideas click here.
You ready to dive in to this space? Let's do this!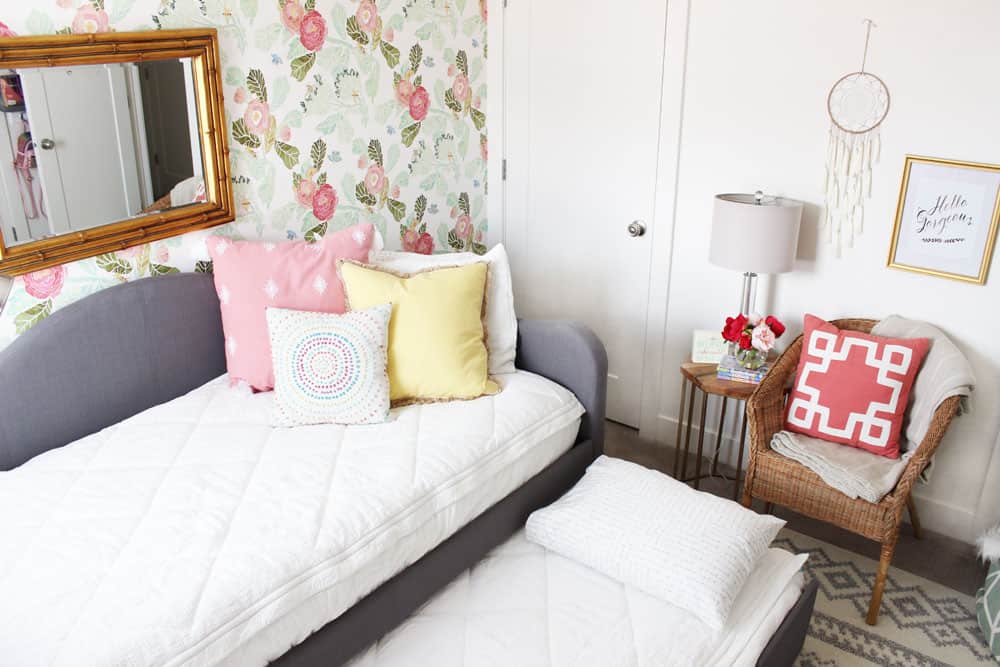 Zipper Bedding
A major highlight of this girl's room is the grey trundle against the floral wallpaper with the beautiful white Beddy's Bedding.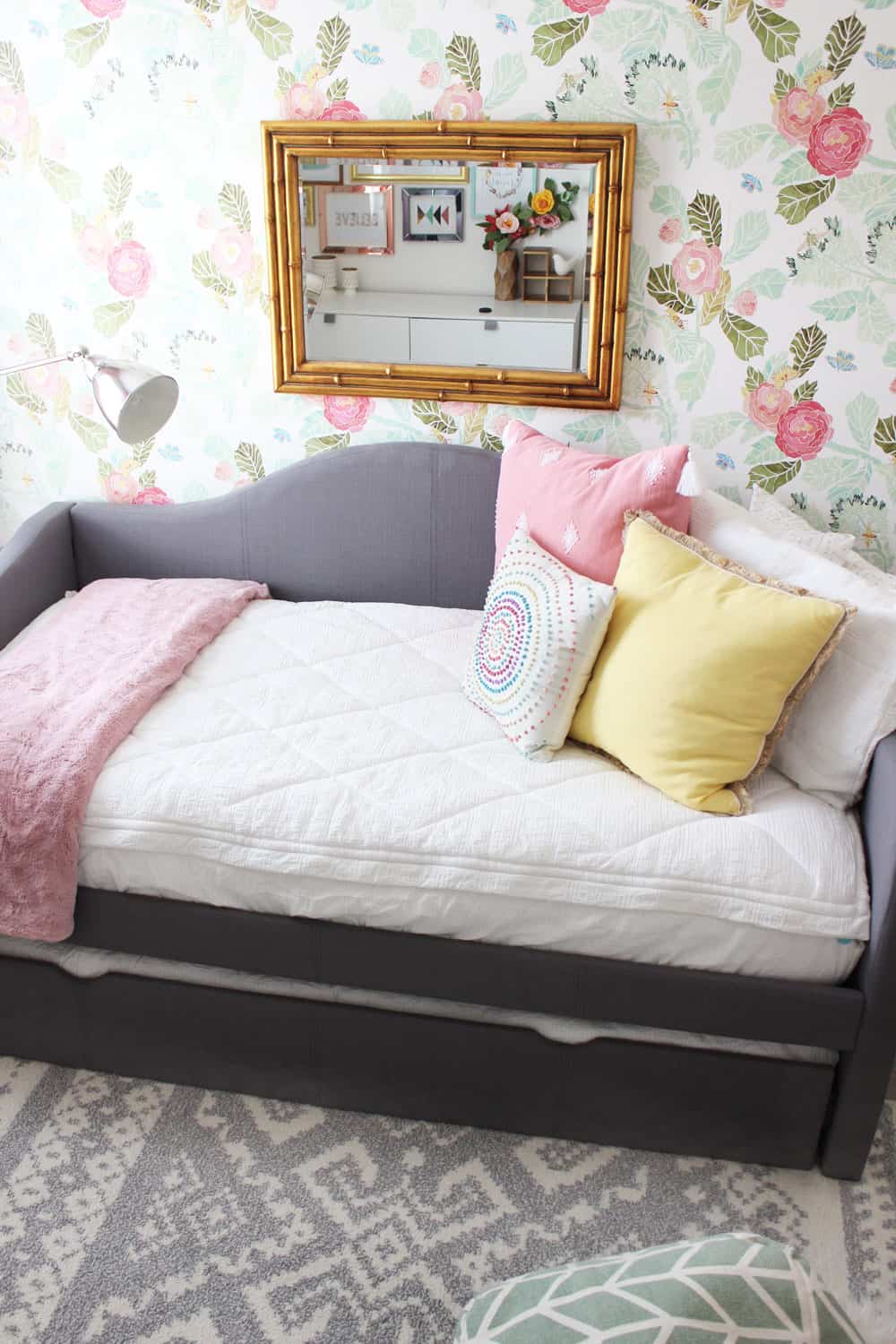 This bedding is called Love at First White and I am obsessed with it. The white really helps the room to feel bright and open, and the texture adds interest and helps to mask any marks between washes.
Speaking of which, one of the most common questions I get about Beddy's is weather or not they wash easily and the answer is YES! If you are new to zipper bedding or want to read more about our experience with it check out this post for all our common Beddy's FAQ's answered!
Plus, if you do decide to order make sure you use code PRETTYPROVIDENCE for 20% off your entire purchase!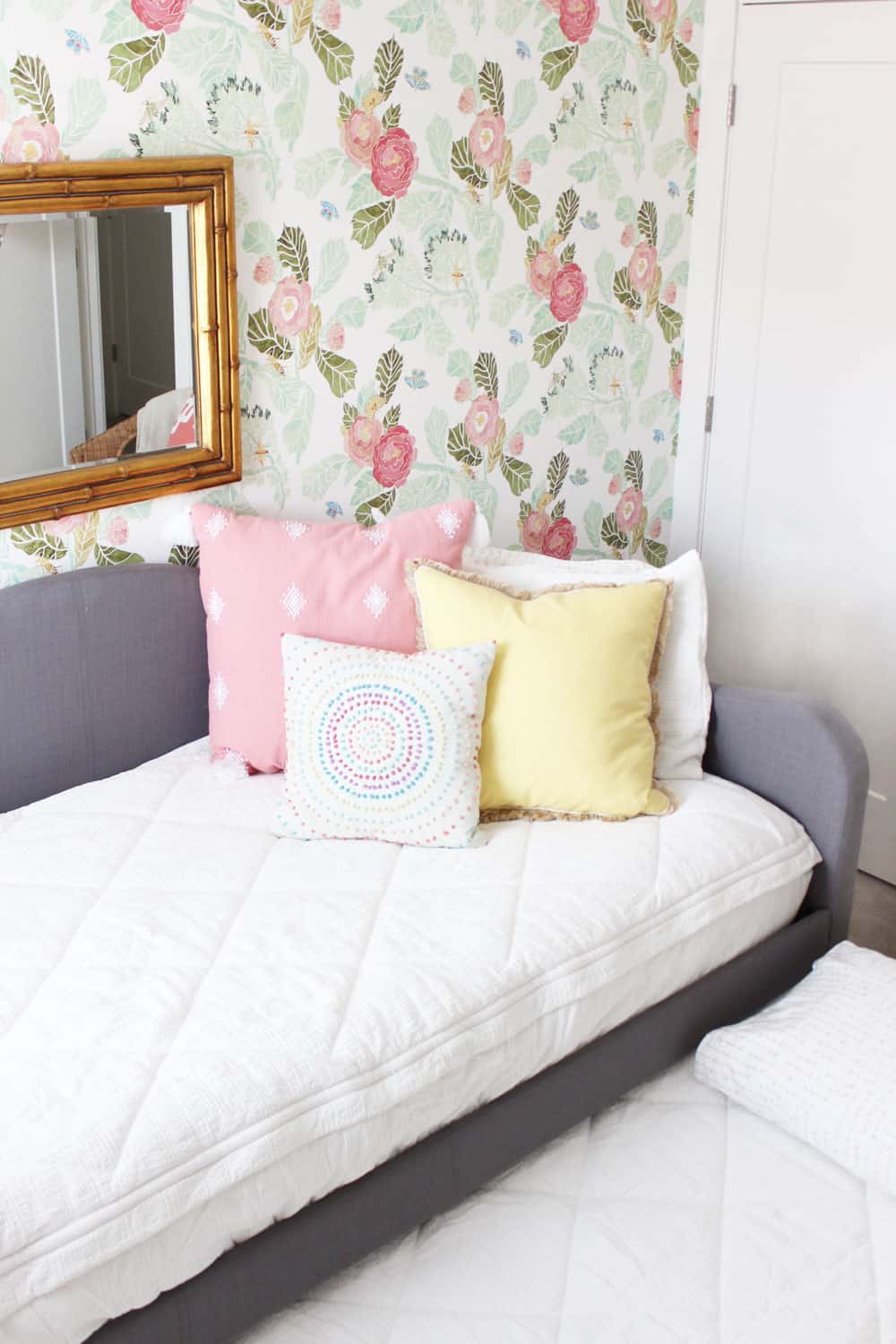 Floral Wallpaper
Wallpaper – As you all know, I am a pretty frugal girl. Well, this wallpaper was the major major splurge for this space. It helped that we got deals on literally everything else, and I had some gift cards hoarded.
We looked at other options for hours but ultimately just couldn't find anything that tied the space together nearly as well! So we opted for a focal wall rather than the whole room to save big $$$, and it definitely helps make the space.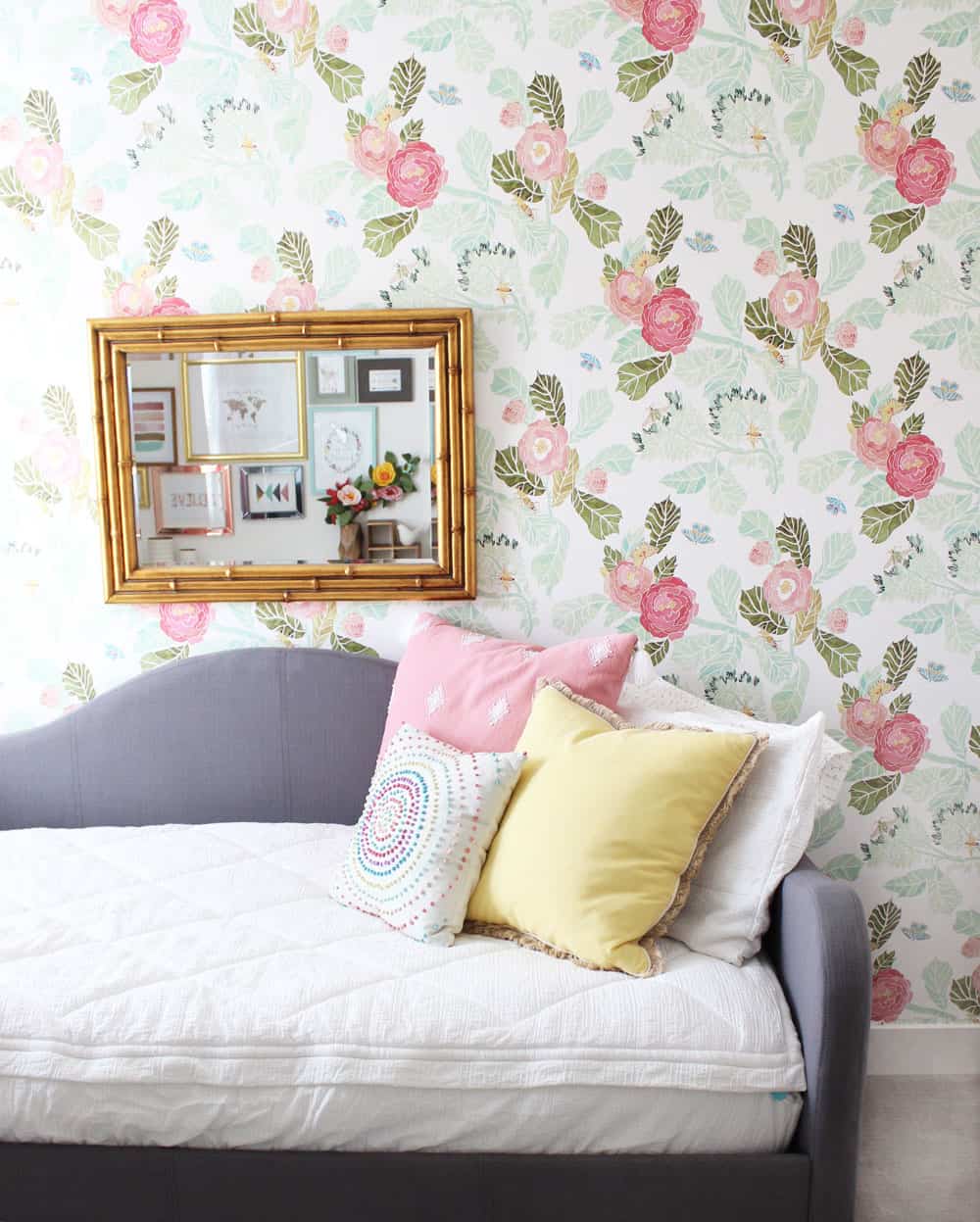 Gorgeous White and Gold Fan
Hepburn Modern Brass Fan – Although I love the look of chandeliers in a space, when you live in the heat of the dessert they just aren't functional. It wasn't too long ago that a beautiful fan didn't even exist, but now there are so many fun options! I am obsessed with this white and gold beauty from Hunter Fan!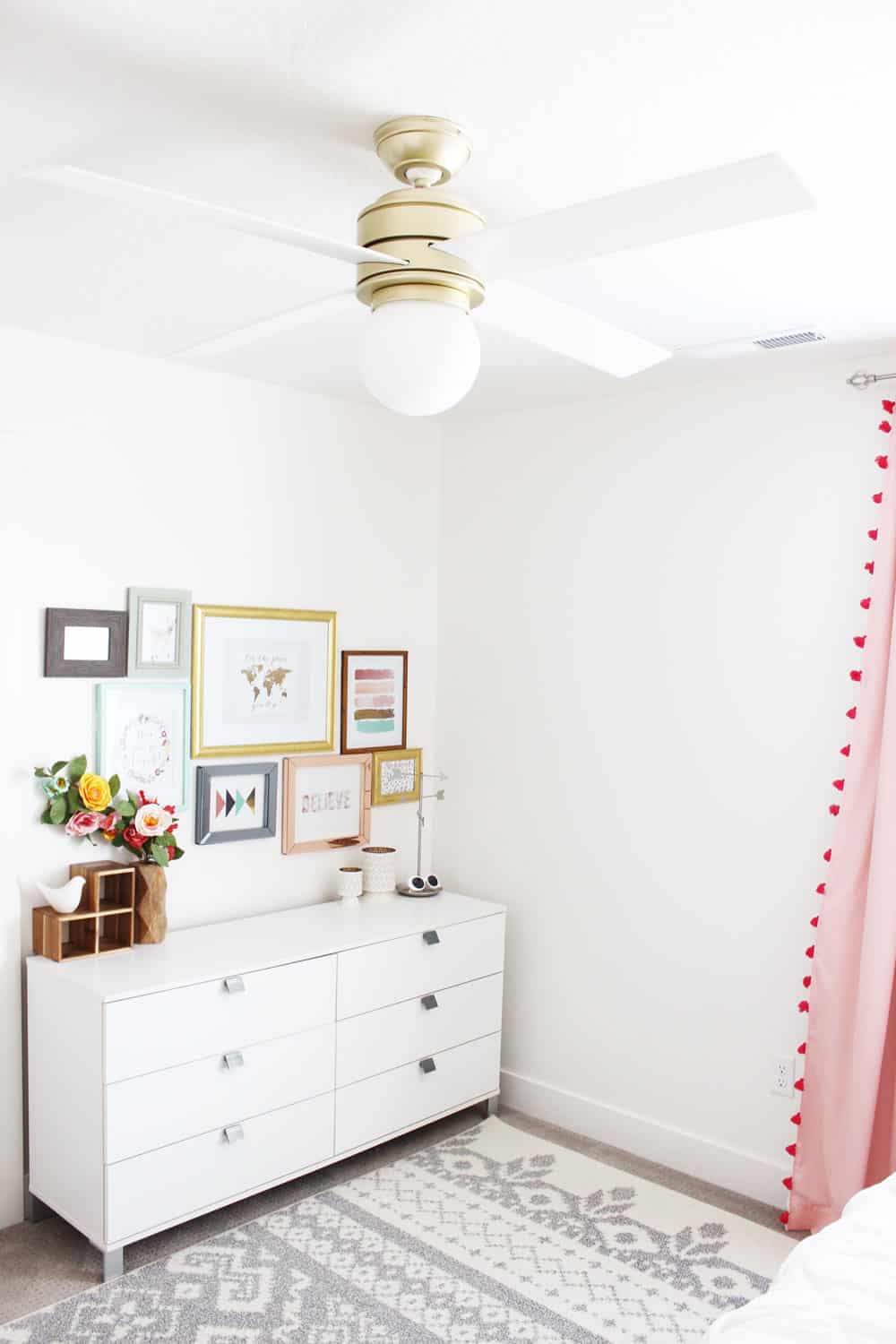 Grey Linen Trundle Bed and Pink Blackout Curtains
Trundle Bed (the original bed is no longer for sale, this is the closest one I could find) – Because of the small space I knew I wanted a daybed and because Nora may eventually be sharing this room I wanted it to be a trundle.
If you are looking for the same things RUN DON'T WALK to buy this bed. Seriously screamin' deal. Oh and that grey linen upholstery?! I'm in love!
Pink Blackout Curtains – Target for the win! I am obsessed with Target's new Pillowfort line of blackout curtains! Parent's around the world are now rejoicing that we don't have to sacrifice style for an extra hour of sleep every morning. I love these cute pink tassels!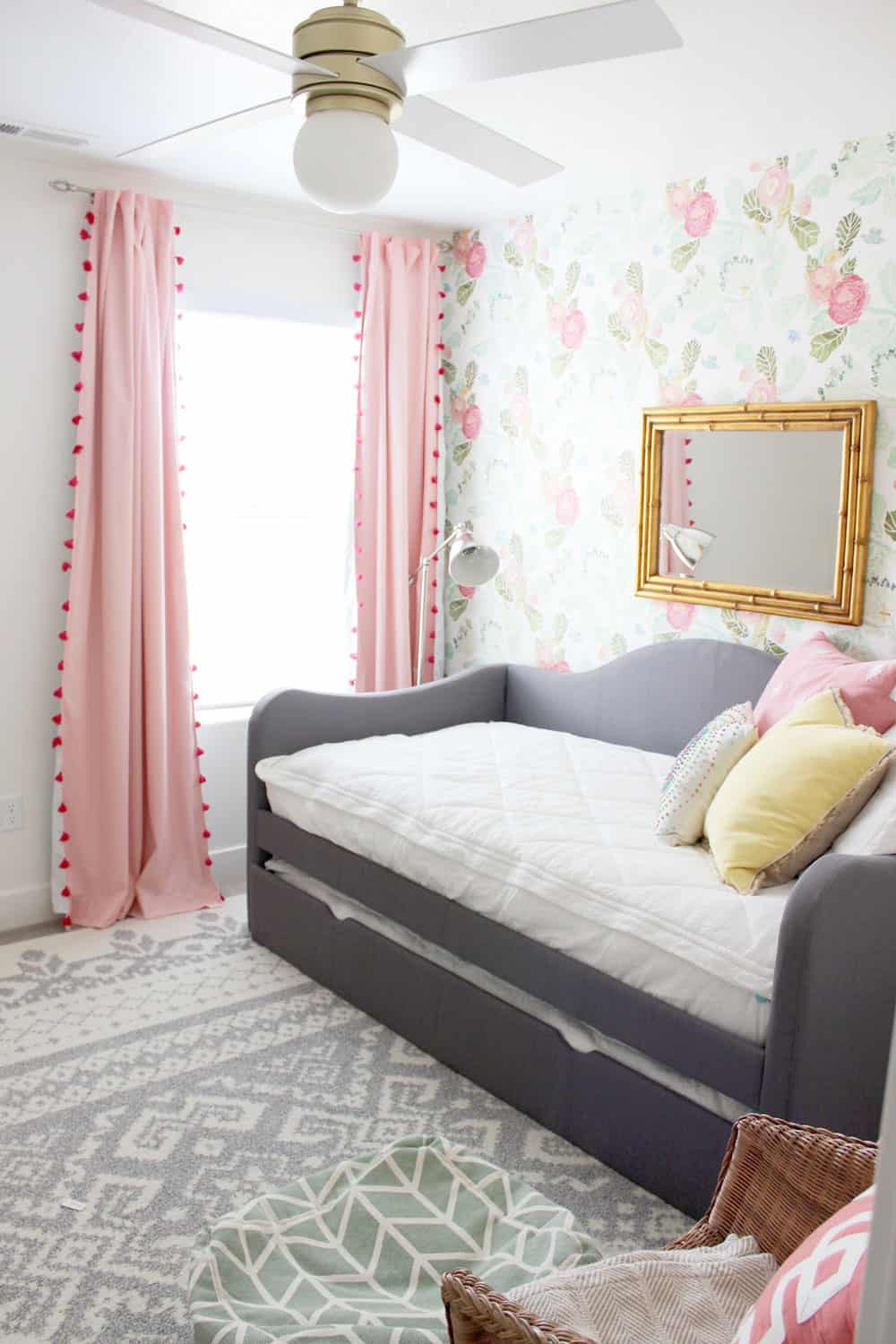 Modern White Dresser and Gallery Wall
Dresser (original is no longer available, this is the closest I've found) – I love the look of this dresser! It is clean and simple and affordable; exactly what we needed in this space.
The gallery wall is a major focal point in the room and some people's favorite vignette. We purchased all the frames from various TJMaxx and Homegoods locations. They were all on clearance, too! The wool rug under the chair and the big yellow accent pillow on the bed were as well!
You just can't beat Homegoods when it comes to frames! They typically have an abundant clearance frame section, I think the most we paid was $12 for the big gold one!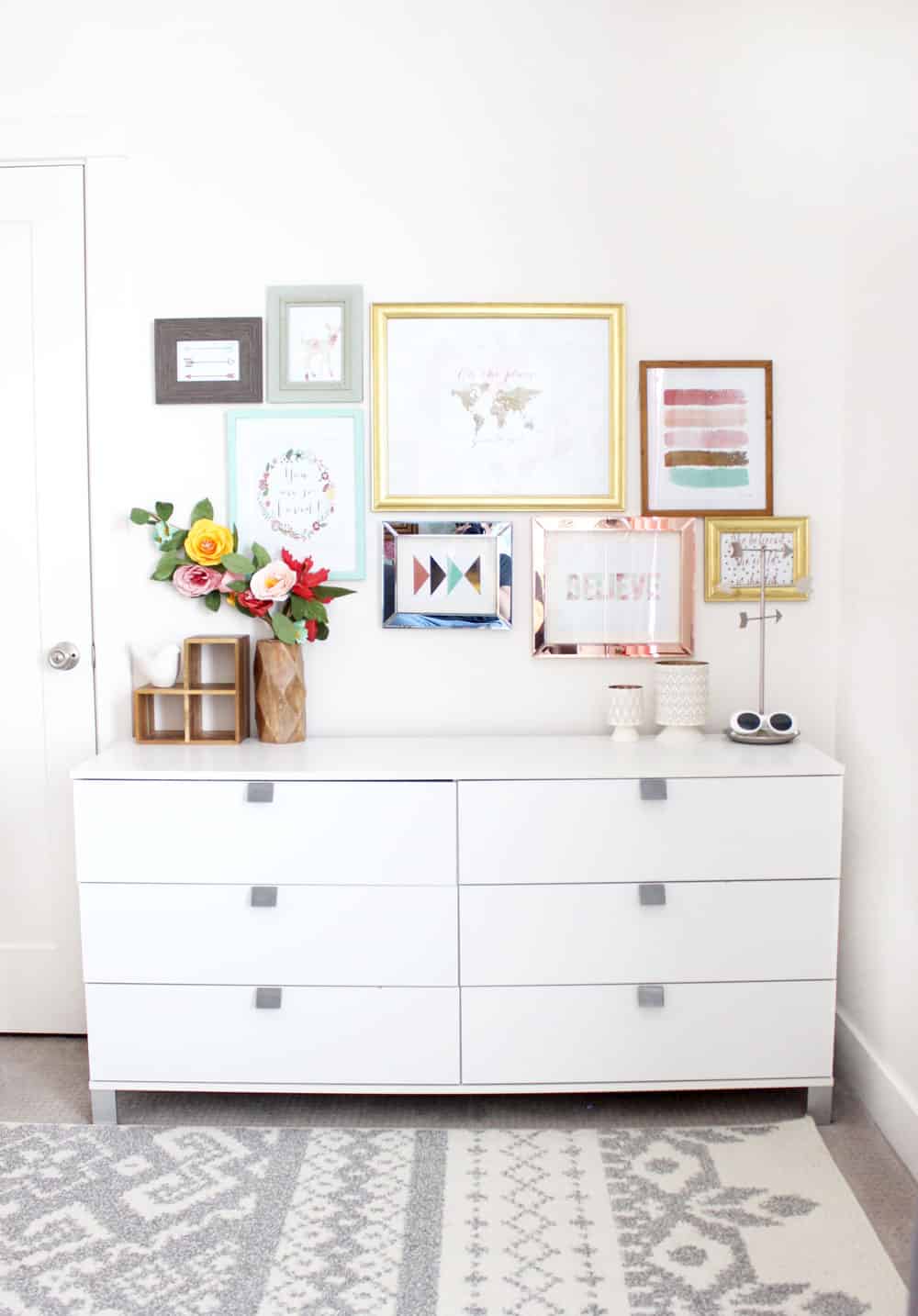 We bought all the artwork for the gallery wall from Penny Jane Designs shop. Typically art is something that Kelsey or I would design ourselves. However, we were at a time crunch at this point so we just went for it.
Wicker Chair and Side Table
Woven Chair (Similar on Amazon) – I love the texture that the wicker chair adds to this space! The throw pillow and blanket as well as the cozy wool rug make it a comfortable place to sit while still adding contrast!
Metal Accent Table (similar to original) – You gotta love Target too, I mean, is it just me or have they seriously upped their home decor game in recent years?
Dream Catcher – All my kids have dream catchers in their rooms and I think they are so fun! These ones are our favorites and there are so many fun colors and styles!
The Crystal lamp, circle frame on the side table and sweet floral arrangement were also TJMAxx finds!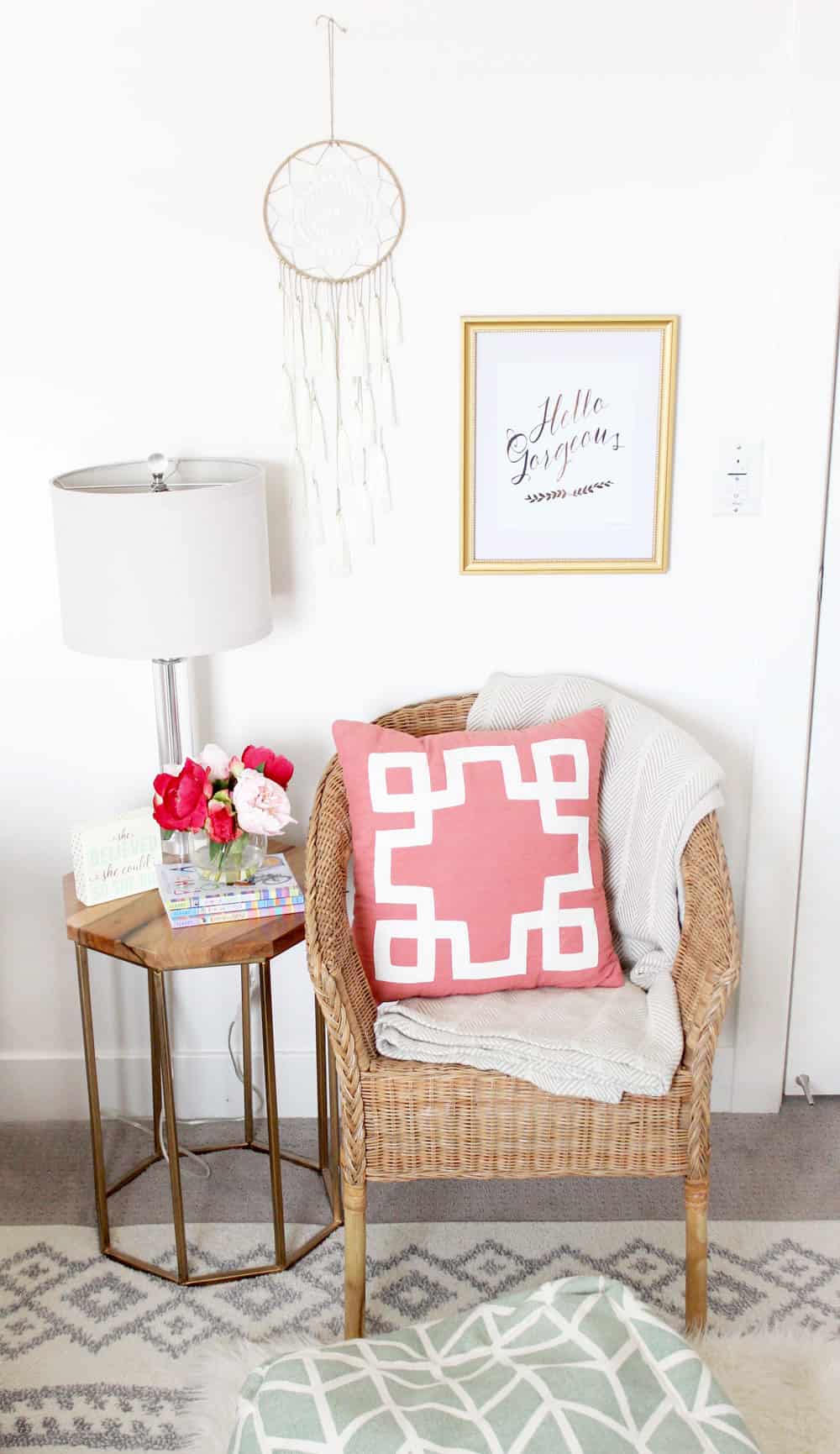 Girl's Room Ideas and Accessories
Moroccan Rug – Just love. Amazing price for a rug of really nice quality! I feel like I could literally use this rug in any space in my house; beautiful, neutral palate.
Wooden Vase, Green Pouf, Polka Dot Pillow, Wooden Blocks, Silver Arrow Stand, White Candle Holders, Flowers for the Vase – All Target finds! A couple of them were on clearance at my store, too! Always check the clearance first ppl.
The flowers were actually a seasonal item (an Easter garland) and we just hacked it up to stick in the vase! They turned out to be one of my favorite accents to the room, so bright and cheerful.
White Purse Hooks – Nora has a habit of accumulating purses, bags and backpacks and I was so tired of not having a place for them! This little spot of wall behind her door turned out to be the perfect place. We hung two rows of these hooks and they are working out so well.
Nickel Floor Reading Lamp – (Similar to Original) – Love what Kelsey did in the room with the contrasting metals and textures. She's a genius.
Mattress – These are the mattresses we have in all our kids rooms and we LOVE them! I especially love the price tag too ;).
Gold Bamboo Mirror – No longer in stock. This one has a similar vibe, unfortunately not a similar price tag.
*Note* I didn't put pricing next to links because the prices on all these deal sites keep changing! Some things cost more than when I bought them and some cost less. I just thought I'd leave the links and you could check for yourself if you are interested!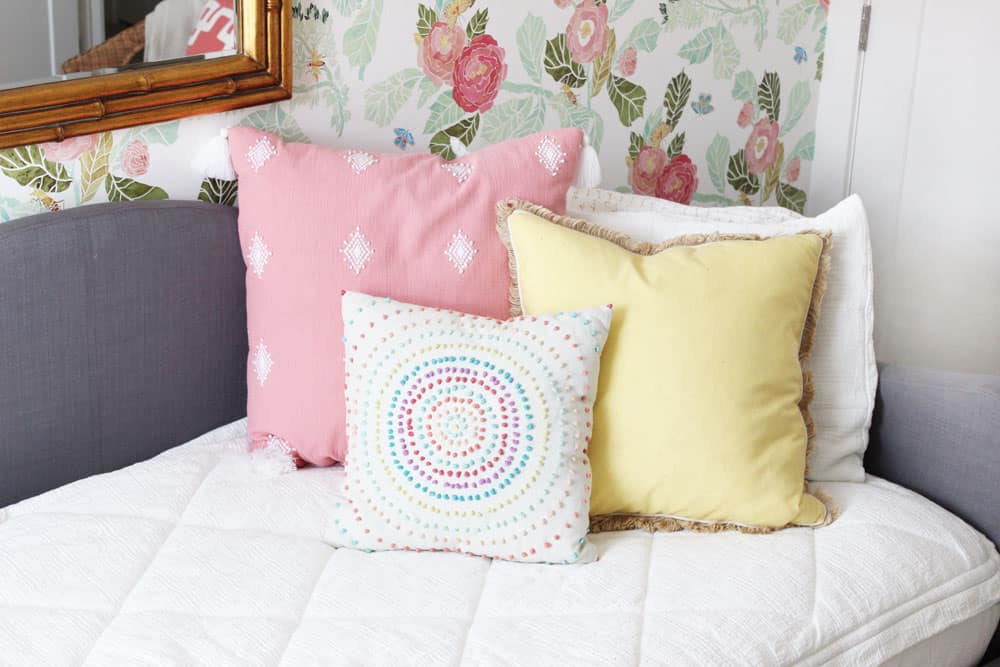 In the past I have always decorated my home (and all the rooms in it) piece by piece, little by little, which is probably typical for most people. This time was different because instead of spending money a little at a time for months, I decided to reverse the process and save up for months and then buy everything at once… and it was so fun.
It was super hard being patient and leaving the money alone while I was waiting, but it was actually really fun and easy to be able to do things all at once, and see the real progress being made! However you do it, I hope you love your girl's room when it's finished.
xo,


This post was originally published April 13th, 2015 and has been updated with new photos, and more detailed information.