If you need boys bedroom ideas you will love this awesome adventure themed modern boys bedroom!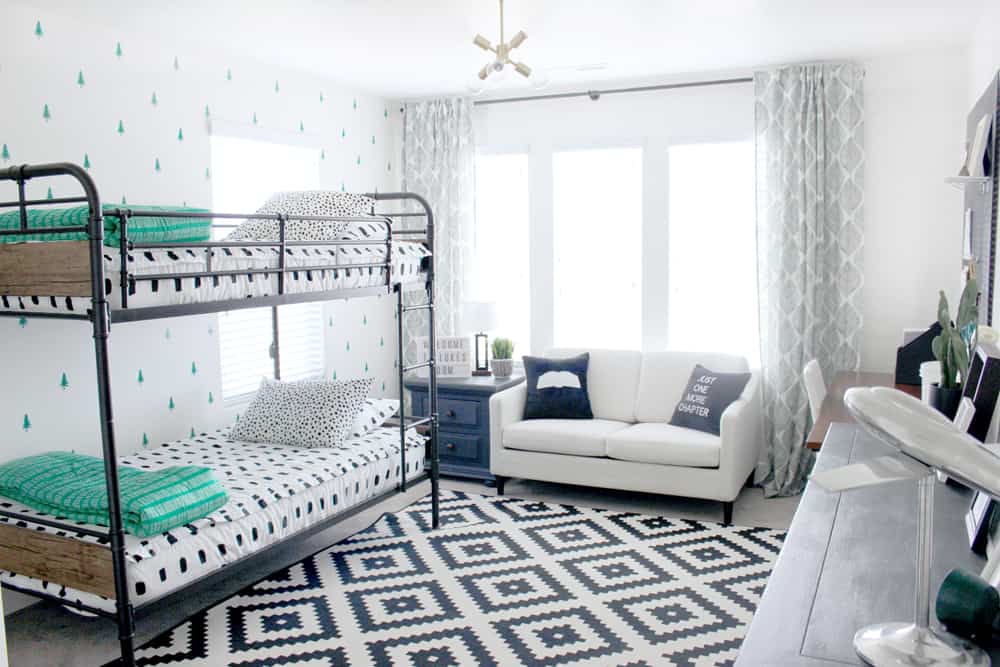 I am so excited today to be finally posting my oldest son Luke's big boy bedroom! I can't even express what a labor of love this room was to put together. My husband and I decided to give Luke his own room for this birthday, so this project started out by moving our office/craft room into a big storage closet. That's love I tell you ;).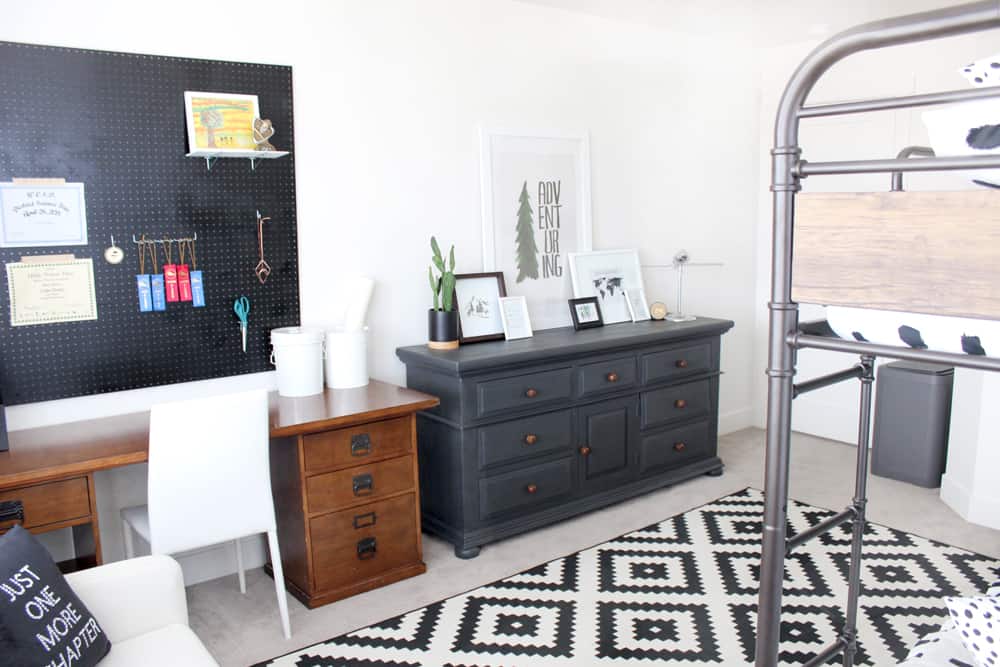 What to think about when designing a boys bedroom:
I really wanted this to be a room that Luke could grow up in. When I am spending time and money on decor I want it to be pieces that will have a long life. Typically this means that they are good enough quality to last, could transition easily into another space, or are cheap and easy to replace (like pillow covers).
I also wanted the room to reflect Luke's personality without being overly cheesy or themed. Luke loves learning, adventuring, being outside, reading, and sports. I really worked hard to incorporate all of these things in tasteful, subtle ways. You can also check out our Shared Girls Room and Nora's Whimsical Bedroom to see how we've used Beddys in our girls' rooms.

Boys Bunk Beds
I knew I wanted a bunk bed because eventually he may have to share this room again. Also, we live away from family so I wanted room for cousins to sleep when they come visit etc. Plus, bunk beds give more space for play!
I fell in love with this bunk bed immediately. The bunkbed and our bedding was the biggest investment we made into the room. Almost everything else was either repurposed, DIY'd or thrifted!
I loved the mixing of metal and wood on this bunkbed, and it has held up so well!
Beddy's Bedding
For the bedding I used Beddy's Zipper bedding and I am honestly obsessed. We got the twin size Kennedy bedding set, and then put the turf throw blankets on the ends of each bed.
If you have questions about Beddy's Bedding I wrote a whole post answering FAQ's about Luke's Bedding here, but read on for a discount code if you would like to buy zipper bedding too #lifechanging.
BEDDY'S COUPON CODE
Beddy's is generously offering all our readers a 20% off discount code off your entire purchase! All you have to do is use the code PRETTYPROVIDENCE at checkout. That is a pretty significant savings right there!!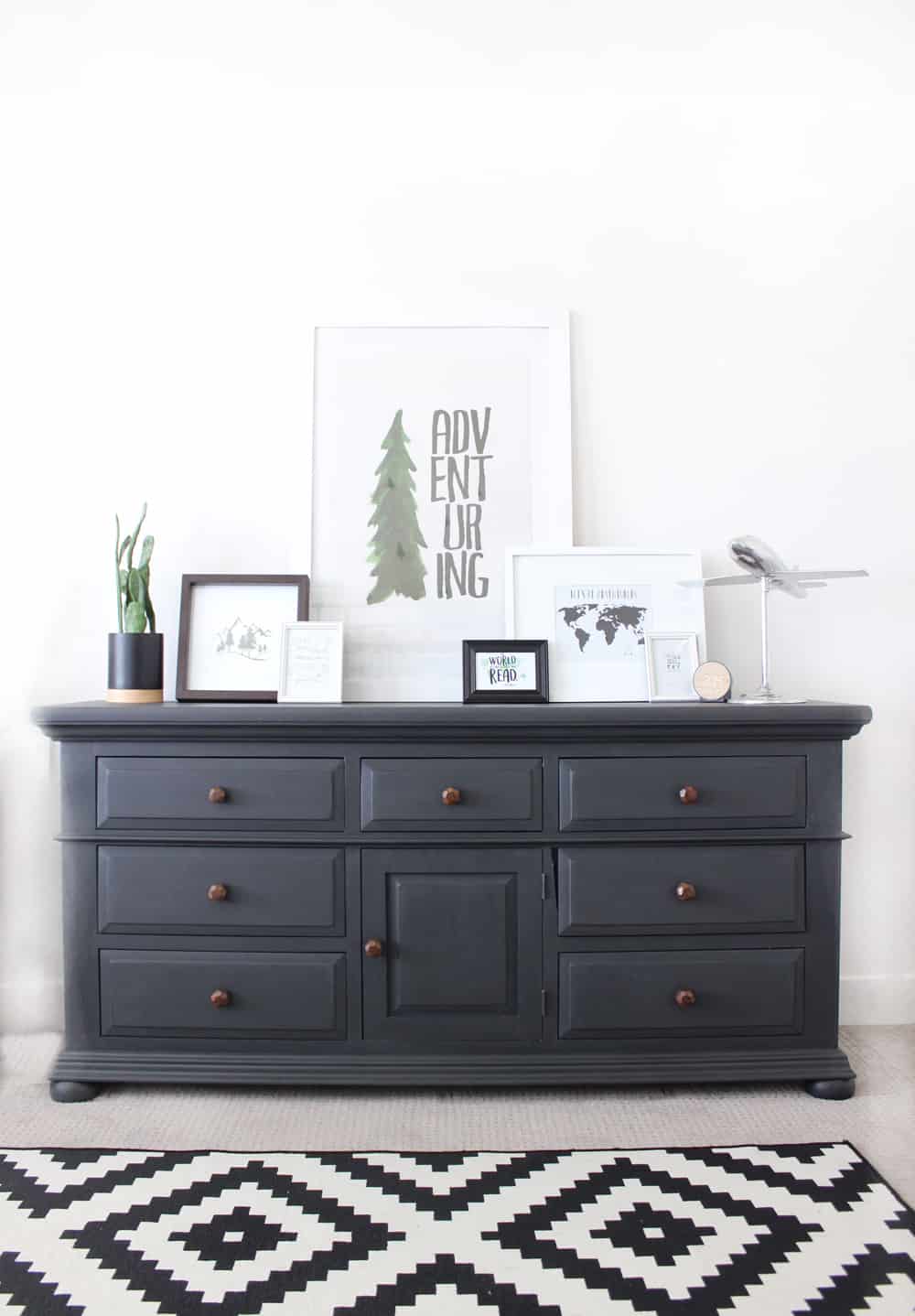 How to refinish furniture with paint:
This dresser was mine since I was about 12 years old! It is a really good, solid piece of furniture, but it was definitely outdated. I refinished the dresser (and nightstand) using Rustoleum Chalk paint and then added new hardware from hobby lobby. For details on how to refinish furniture with paint check out this post!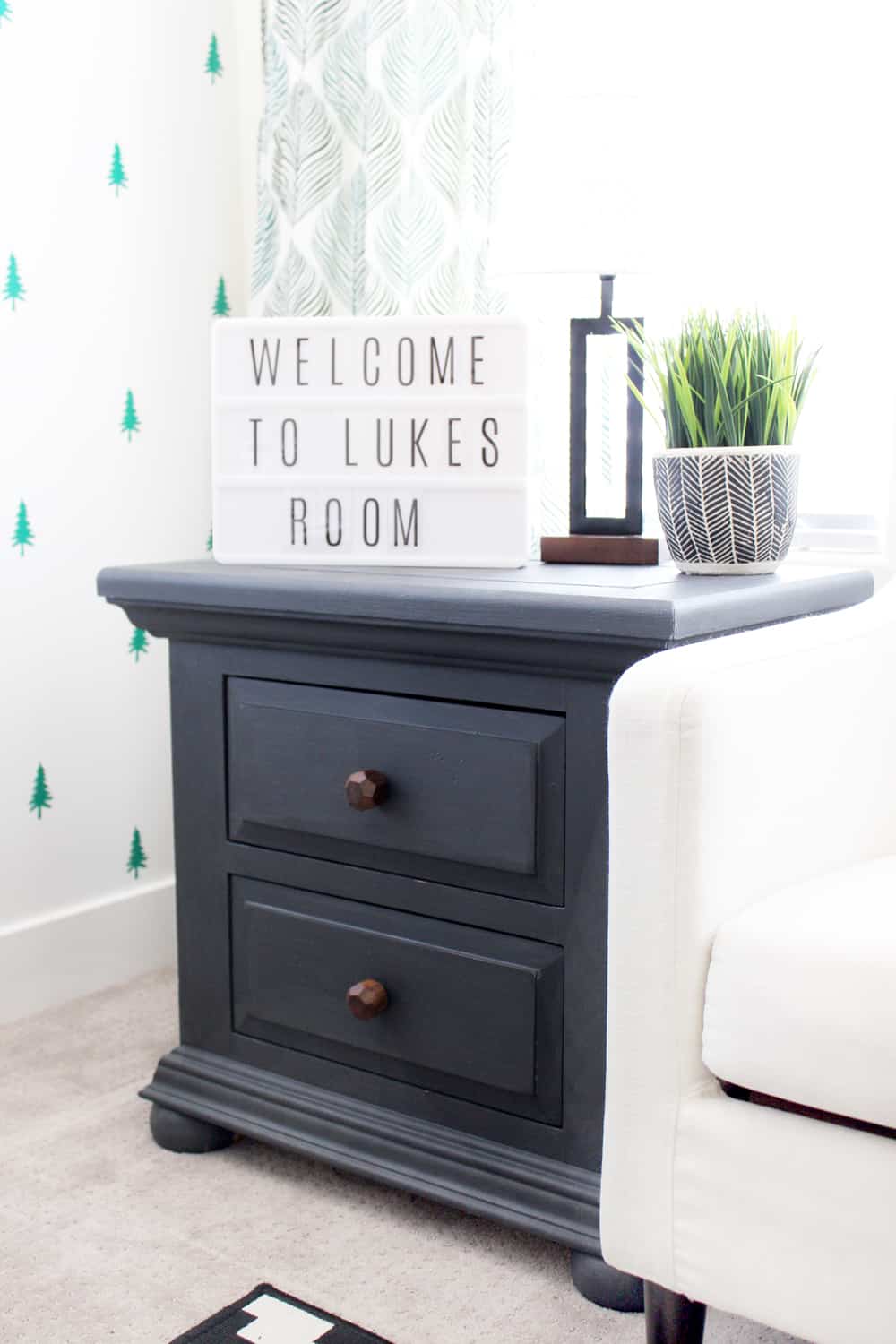 I used the nightstand as a side table next to Luke's little reading couch!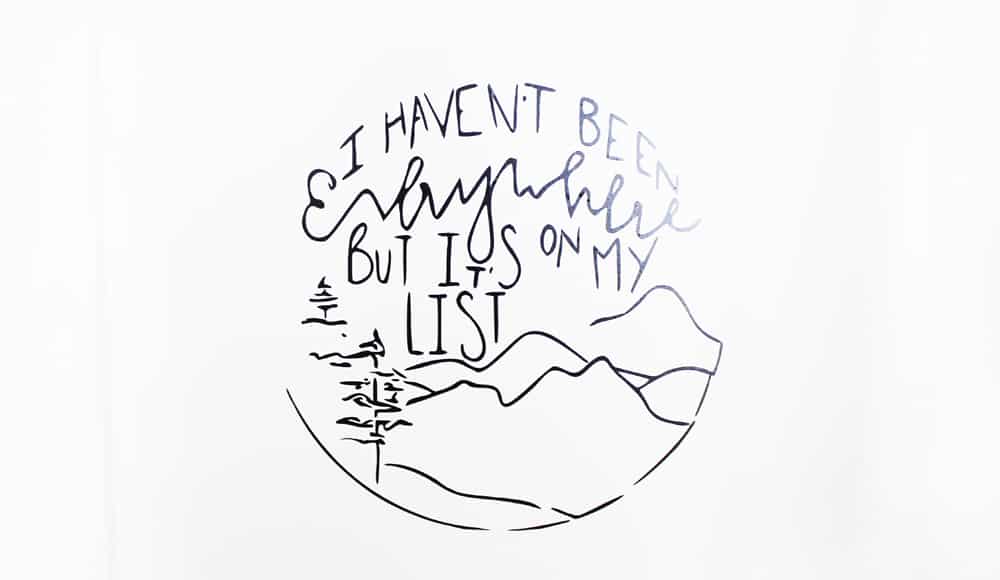 I found this cute image on pinterest (no source sadly- let me know if you know who the designer was) and I uploaded it onto Cricut Design Space and cut the vinyl out to go above Luke's light switch.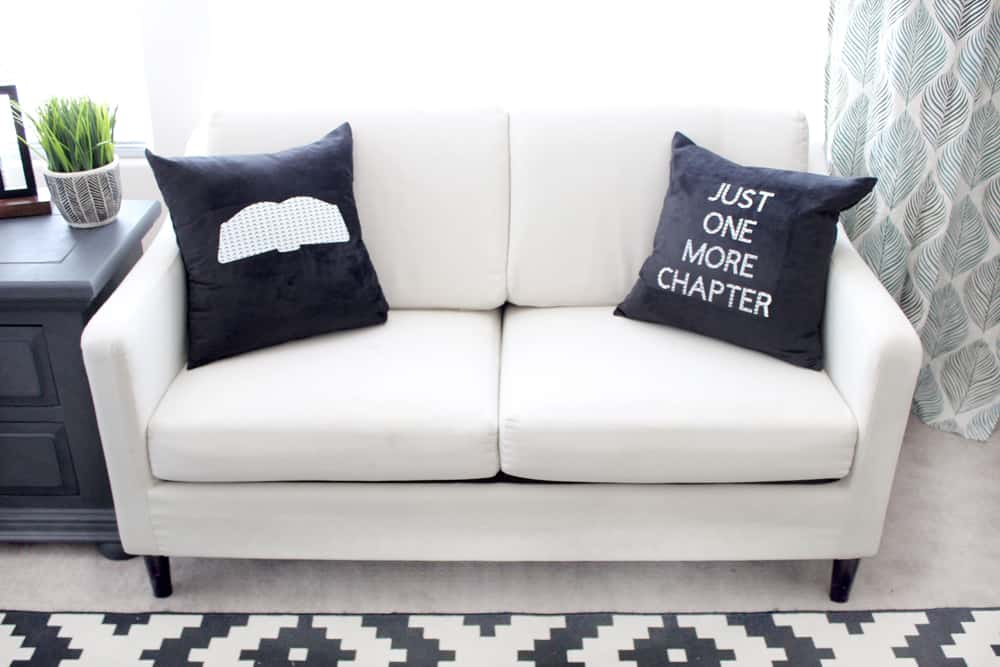 Reading Pillows
I got these two black velvet pillow covers on amazon for $12.99 and used my Cricut to embellish them for Luke's reading couch. He LOVES them! If you want the images and tutorial for the pillows see this post!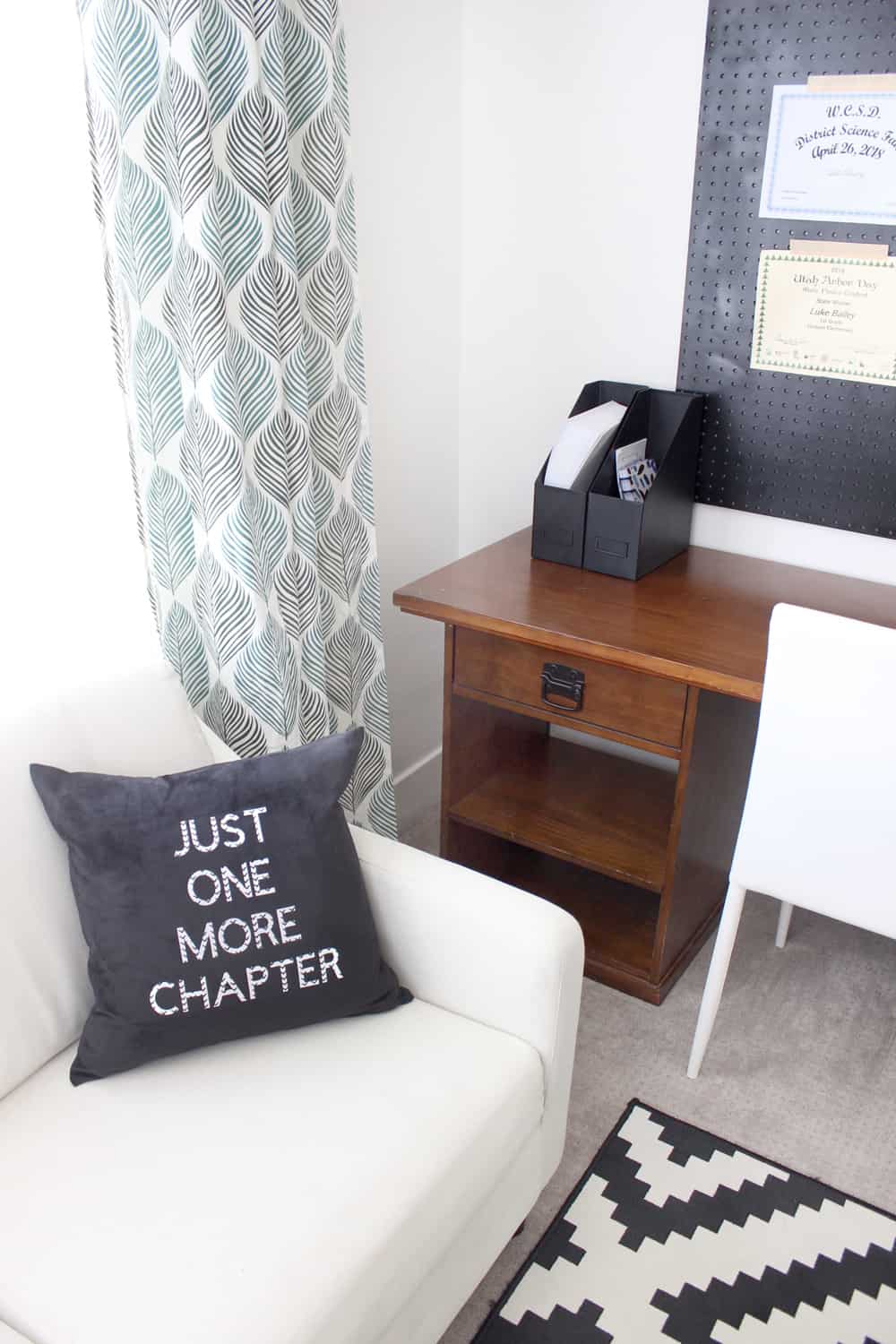 I love this snapshot of Luke's boy bedroom because you can see all the elements in one little corner. When I started on this room I knew I wanted it to be black and white with pops of green and natural walnut color.
Black and White Trellis Rug
The black and white trellis rug helps bring the whole room together! The best thing about it is how affordable it is!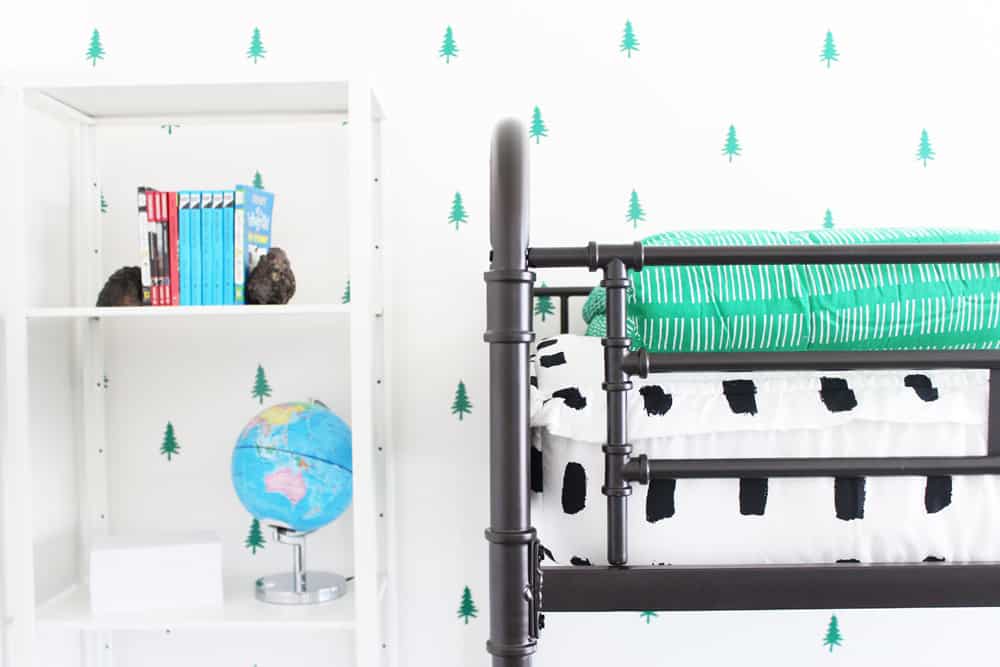 DIY Wallpaper
My most FAVORITE part of Luke's room and a great boys bedroom idea for any theme of boys bedroom is to make your own DIY wallpaper! Because I wanted a nature/adventure type theme I found a tree I loved in Cricut Design Space and copied it to make a super cute and easy DIY, removable wallpaper!
For all the details on how to do this, see this post!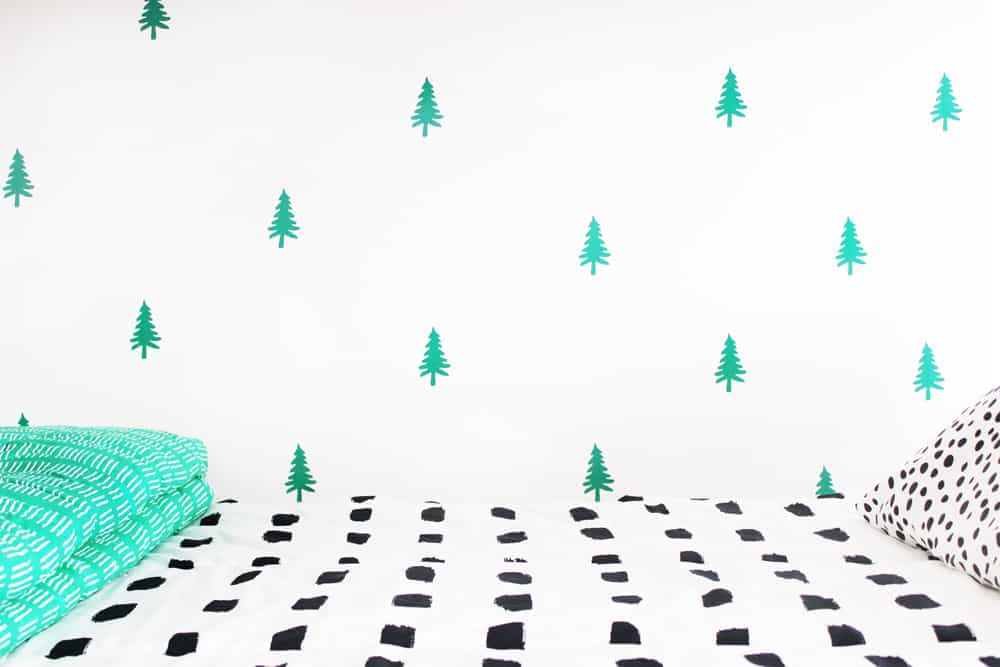 It was so easy and so much fun to make - and you could do the same thing with cars, a simple diamond shape, lego figures, really anything!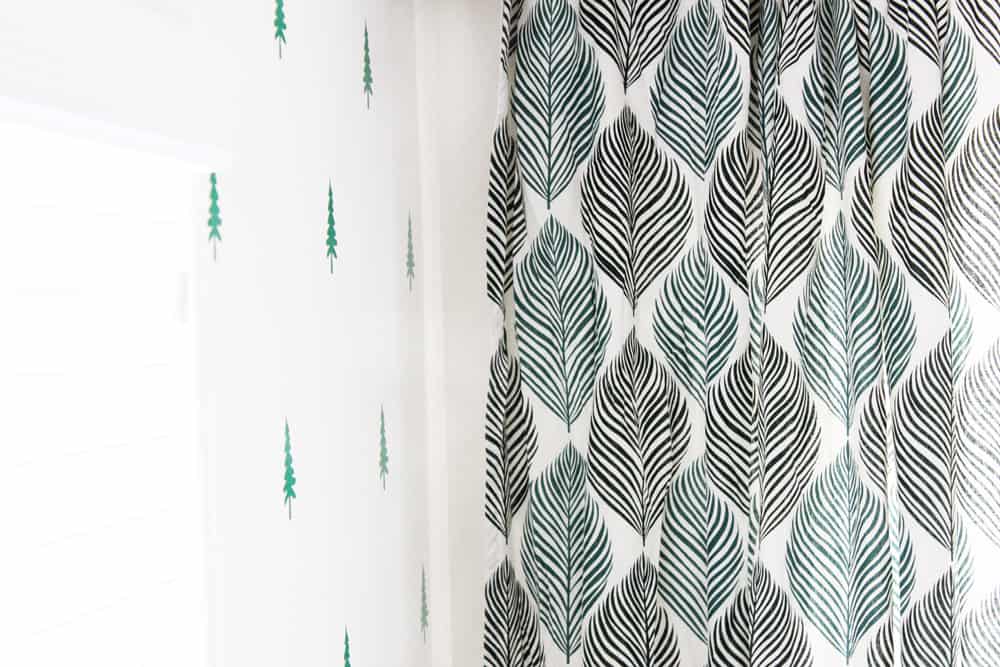 I found the leafy curtains at IKEA but I can't find the link online!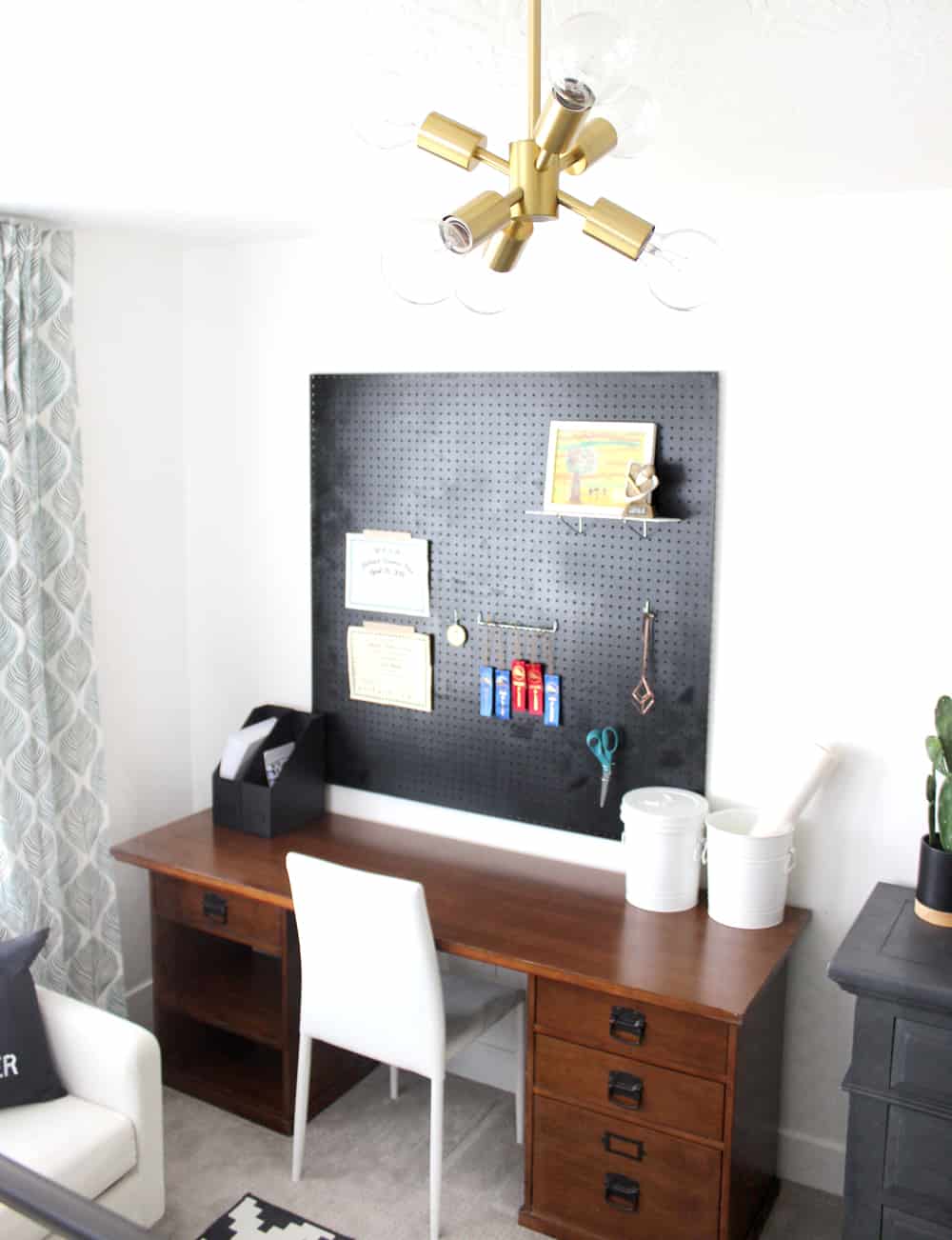 Boy's Bedroom Details:
I totally love this small gold sputnik light fixture! We bought the giant pegboard at Lowe's and painted it black, and this desk we bought on Craigslist for about $60 and then I touched up a few nicks and dents using this walnut stain marker.
We hung Luke's ribbons and awards on the pegboard and made a little shelf on it for his trophies. I also bought a full ream of paper and put it on his desk in a paper holder and I swear he was more excited about that than almost anything else, haha!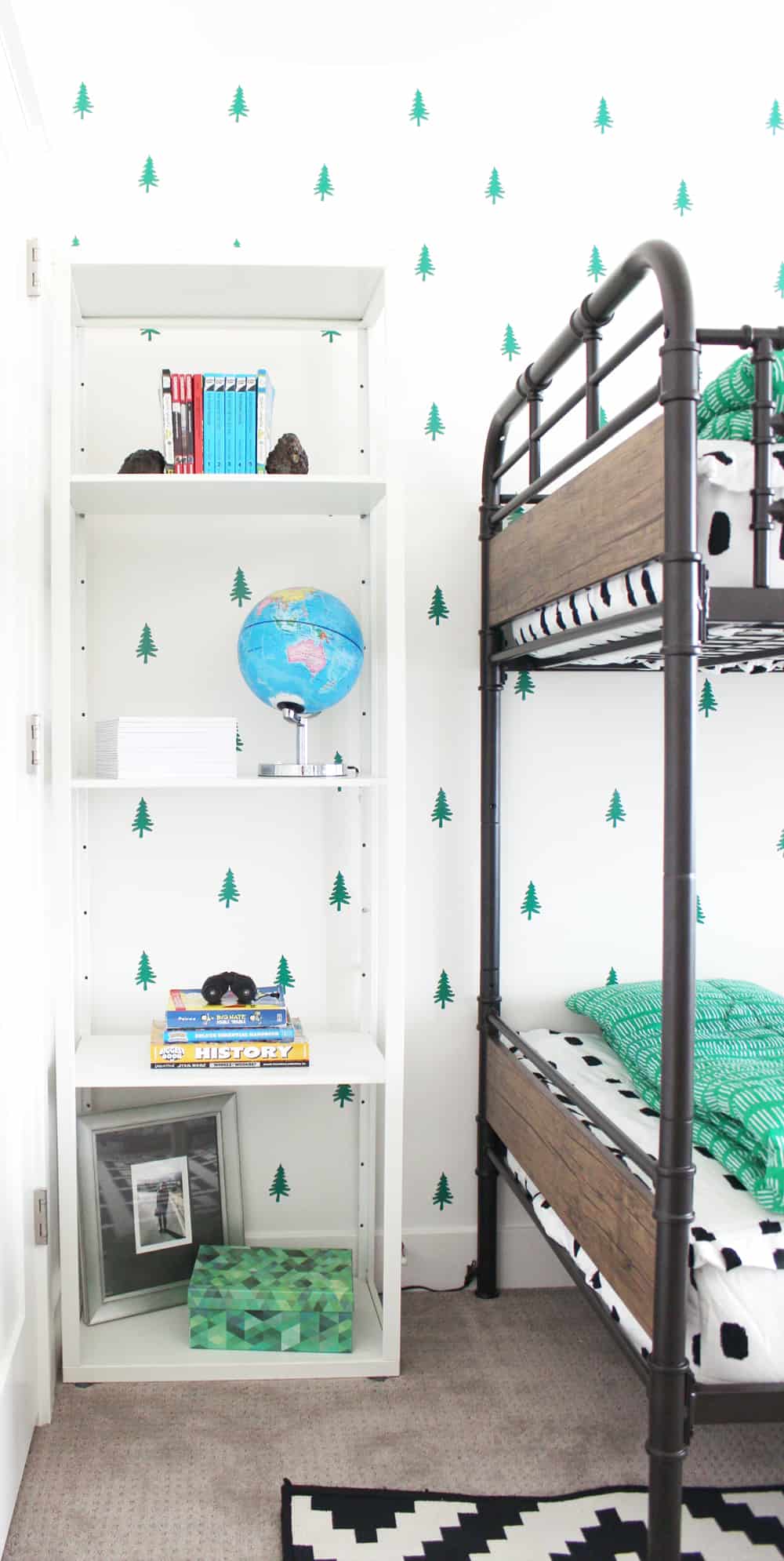 This white bookshelf was just gathering dust in another room so we moved it in here and decorated with Luke's favorite things... books!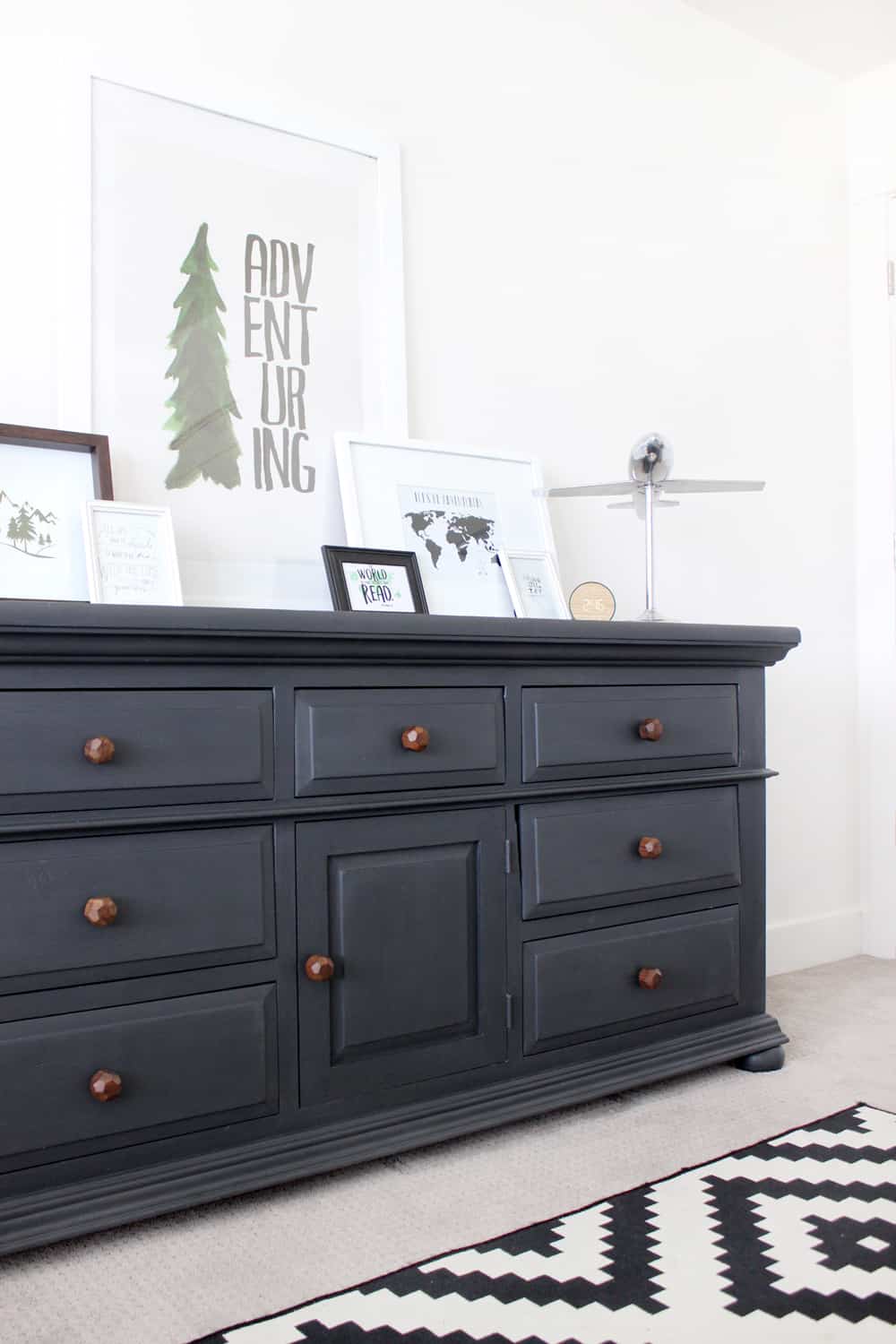 All the art in the gallery on his dresser were free printable that I found on Pinterest and printed on my printer! I blew up the big "Adventuring" print and had it printed at Costco! It was so fun to find pieces that I knew would mean something to him- and even better it was so affordable!
I love to find cheap frames on clearance at Ross or TJ Maxx.
Well, I hope you got some good boys bedroom ideas from this green and black adventure themed boys bedroom!
If you want to see something super adorable, check out this video of Luke seeing his room for the first time... So often in parenting you do not get the reactions you are looking for from your kids, but this is one of those moments I never want to forget!
Happy decorating friends!
xo,

Other Posts about Luke's Room:
How to Refinish Furniture with Paint
Shop this Post:
| | | |
| --- | --- | --- |
| | | Turf Blanket |
| | | |
| | | |