This post was created in partnership with Michael's – as always, all opinions are my own!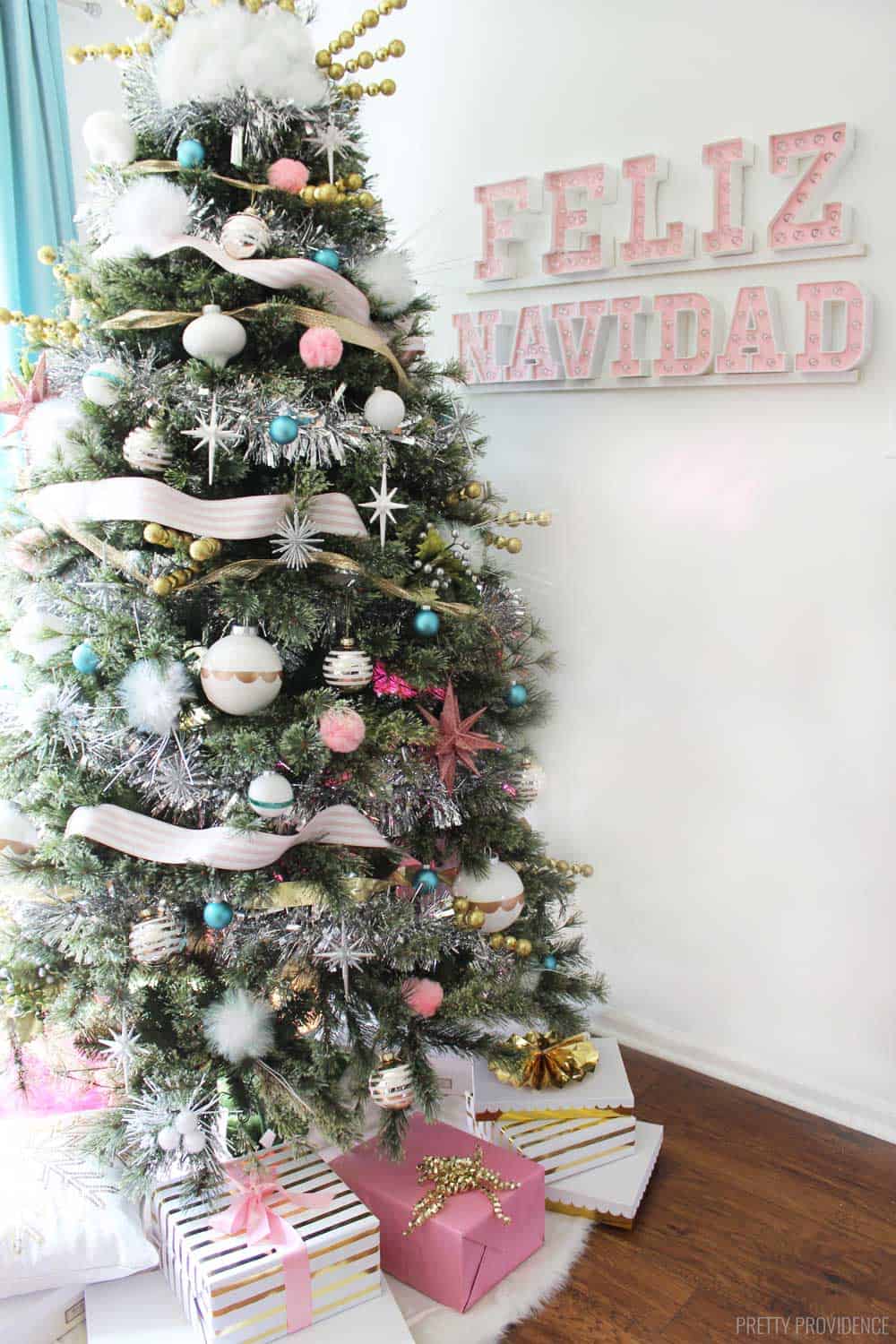 Are you all feeling the Christmas spirit yet!? I am, thanks to the early set-up of my Christmas tree! This is the first year that I have gone 'all out' on decorating my tree exactly how I want to, thanks to the Michael's Makers dream tree challenge, and I am LOVING it. I knew I wanted to make it sort of mid-century modern in style, and that a lot of white and pink would be involved. I am flat-out obsessed with using pink in Christmas decorating.
Last year, I looked everywhere for pink and white candy-striped ribbon. I just HAD to have it, and yet, it was nowhere to be found! Then in the spring I found some at Michael's and I literally bought like five rolls and saved it until now. (The good news is they are still carrying it!) Michaels has their largest tree assortment this year – including colored and flocked trees! I am very tempted to buy a white tree the next time they have a 20% off sale items coupon… I've always wanted one!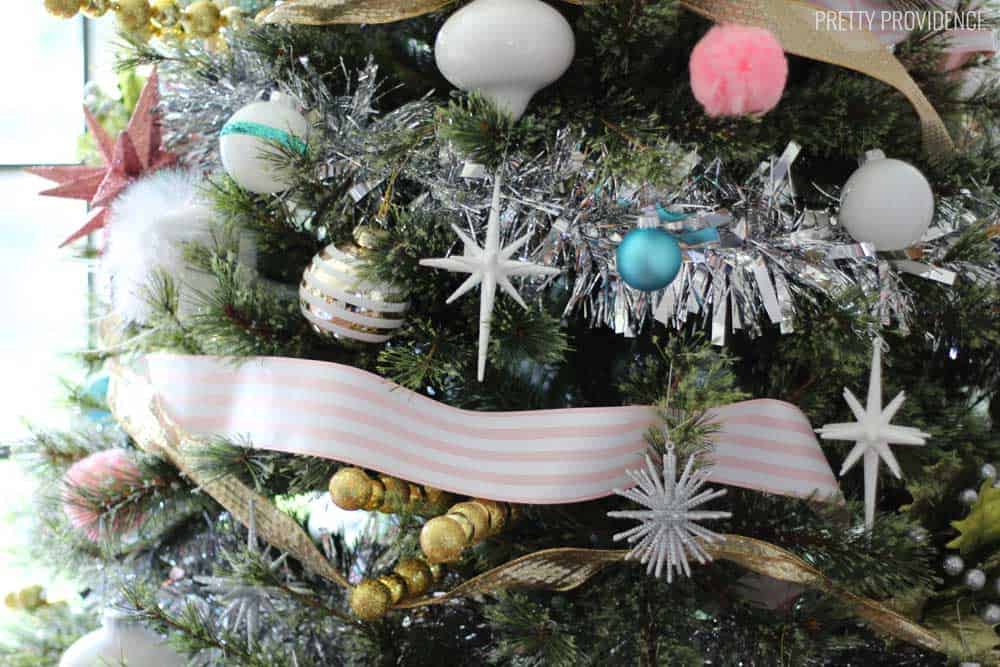 In addition to the ribbon, I found literally everything you see on this tree at Michael's or made myself. I am especially OBSESSED with the gold and white striped ornaments and the white stars. I feel like those are really what make this tree stand out!
We should probably talk about my big FELIZ NAVIDAD marquee. I actually made it last year but I never got it up on the blog! I bought the Heidi Swapp marquee letters that you can customize yourself, and added the pink paper to them. In my head it was going to be so easy you guys. Haha! Actually, it's not hard, but doing 12 of these is really time-consuming. I do love how they look though and I'm happy I did it. Are you singing the song in your head yet?! To adhere them to the wall temporarily, my husband hung square dowels up for them to sit on, and then I just used sticky tack to make them stay where I want them to.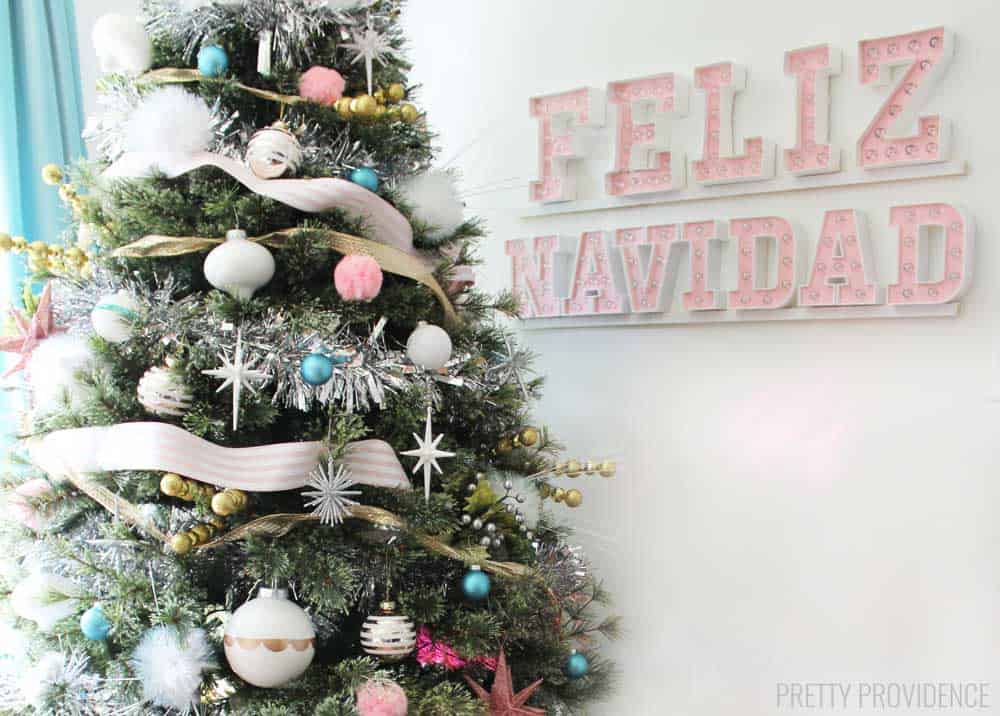 Oh, and the thing I'm most proud of about this tree? None of it is breakable!!! I have a two-year old so I feel like glass ornaments are not an option for me right now. I felt like that was going to limit me a lot, but I was able to find tons of toddler-safe things.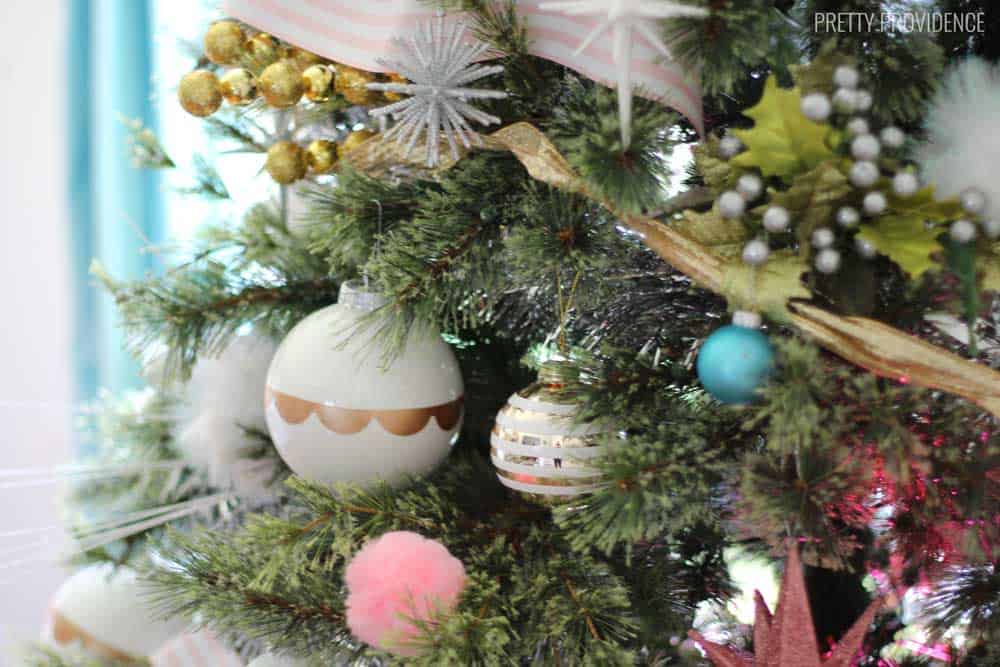 As you can see I used some pom poms, got shatter-proof ornaments in the light blue color and then I bought clear plastic ornaments and painted them white. I painted gold scallops onto some of the bigger ones and I'm really loving them. Now I want to scallop all the things!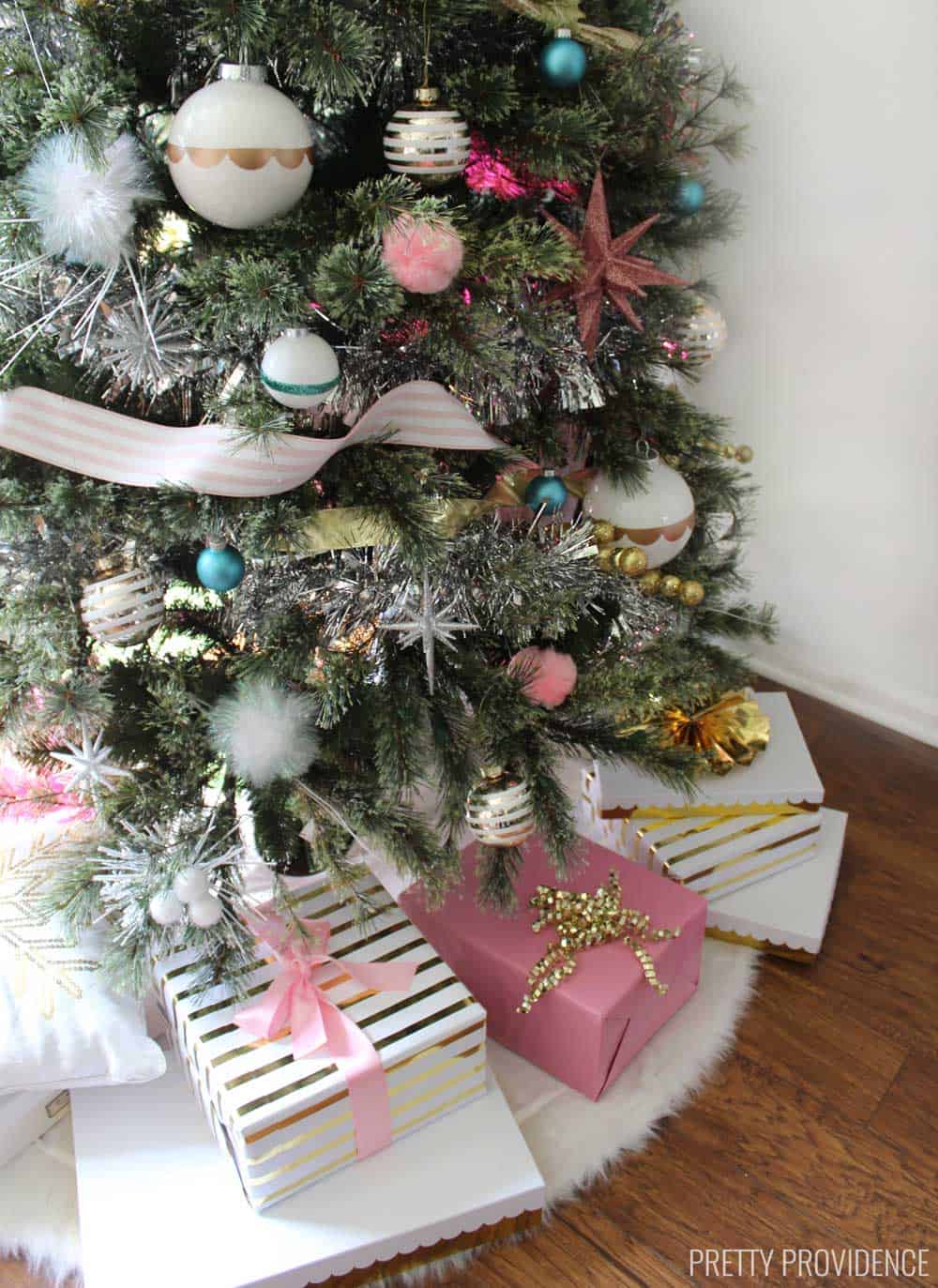 I really am so happy with how this turned out. I know that if I were to put this tree up year after year I would probably love it forever! But I especially love that with most of the ornaments being white, I could totally just switch the blue and pink out for other colors if I wanted. But have you seen my house? Let's face it, those colors are my jam and I'm not sure it's possible for me to get tired of them!

I hope we've inspired you to start decorating your own tree! In case you missed it, Jessica revealed her Winter Wonderland tree last night, and you should probably take a look at her precious metals tree from last year too.