This is a sponsored post written by me on behalf of Dairy MAX, your local dairy council. All opinions are 100% mine.
Planning a dinner party? You'll love this simple dinner party menu with a delicious Appetizer Board, Browned Butter Pasta dish and Mini Pies for dessert! These dinner party recipes are easy and lots of it can be made ahead of time!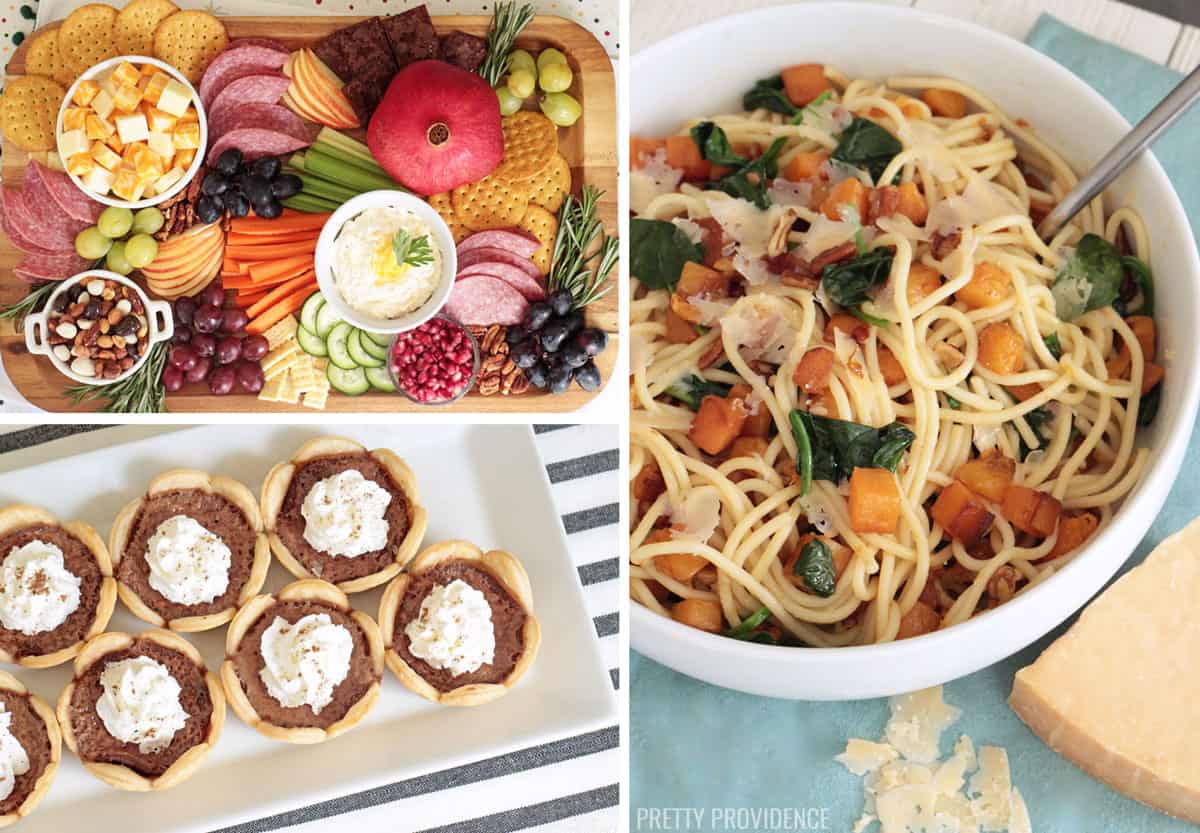 This time of year we like to gather with friends and family to enjoy a meal and spend some actual time together. A dinner party is the perfect way to slow down for an evening. Over great food you can talk, laugh and catch up with friends!
Simple Dinner Party Menu
I came up with a casual dinner party menu for 8. The menu of a Charcuterie Board, Browned Butter Pasta and Mini Pies felt perfect. It's all so delicious, different from the everyday weeknight dinner, but still easy to prepare!
I almost always opt for a lighter appetizer board as a starter. The cheeses and veggie dip are the perfect complement to the apples and grapes! Plus, you can feel good about partaking.
Studies show that three servings of milk, cheese or yogurt each day is a delicious way to help build stronger bones and healthier bodies with a powerful package of nutrients.
Pro Tips for Hosting a Dinner Party
Many parts of this meal can be made or prepped ahead of time.
You can cook pasta the night before or earlier in the day. Then, pull it out just before dinner and add to the pan with the other ingredients until it's all heated through and ready to serve!
Mini Pies can be made a day or two ahead.
Veggie dip for the appetizer board can be made up to 2 days ahead.
You can also cube cheese, or wash and prepare grapes, carrots and celery the day before.
Appetizer Board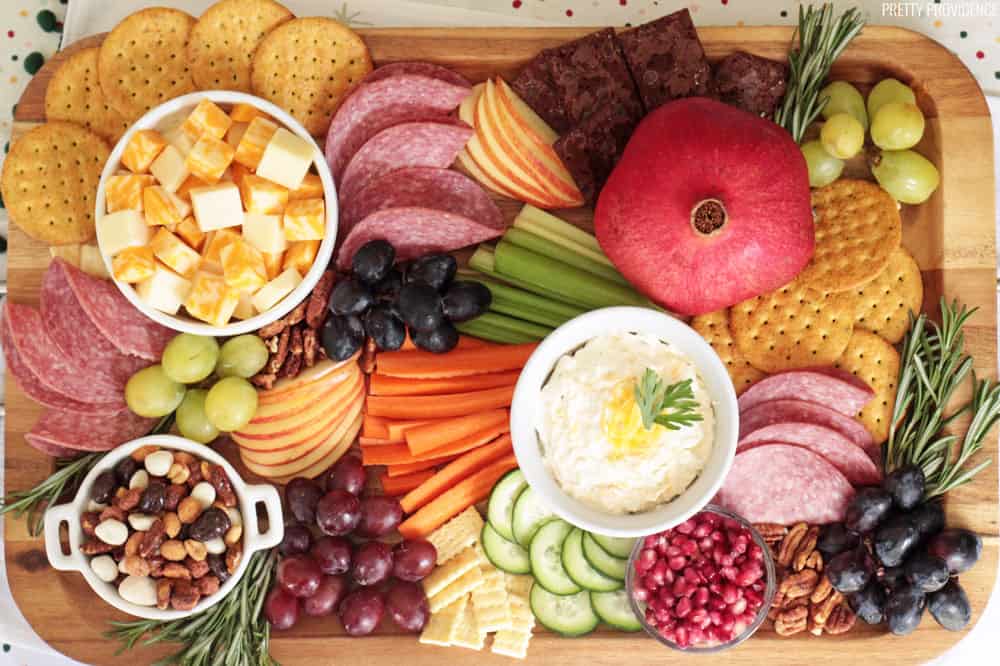 I love making appetizer boards. They are so easy, everyone loves them and you can change it up for each occasion. Not to mention, cheese. Perfect for a simple dinner party menu.
For this, I made a fresh veggie dip made with cream cheese and added some good cubed Cheddar cheese to a small bowl. Aside from those, on the board we've got grapes, thinly sliced Honey Crisp apples, carrots, celery, crackers, pomegranate seeds, salami, etc.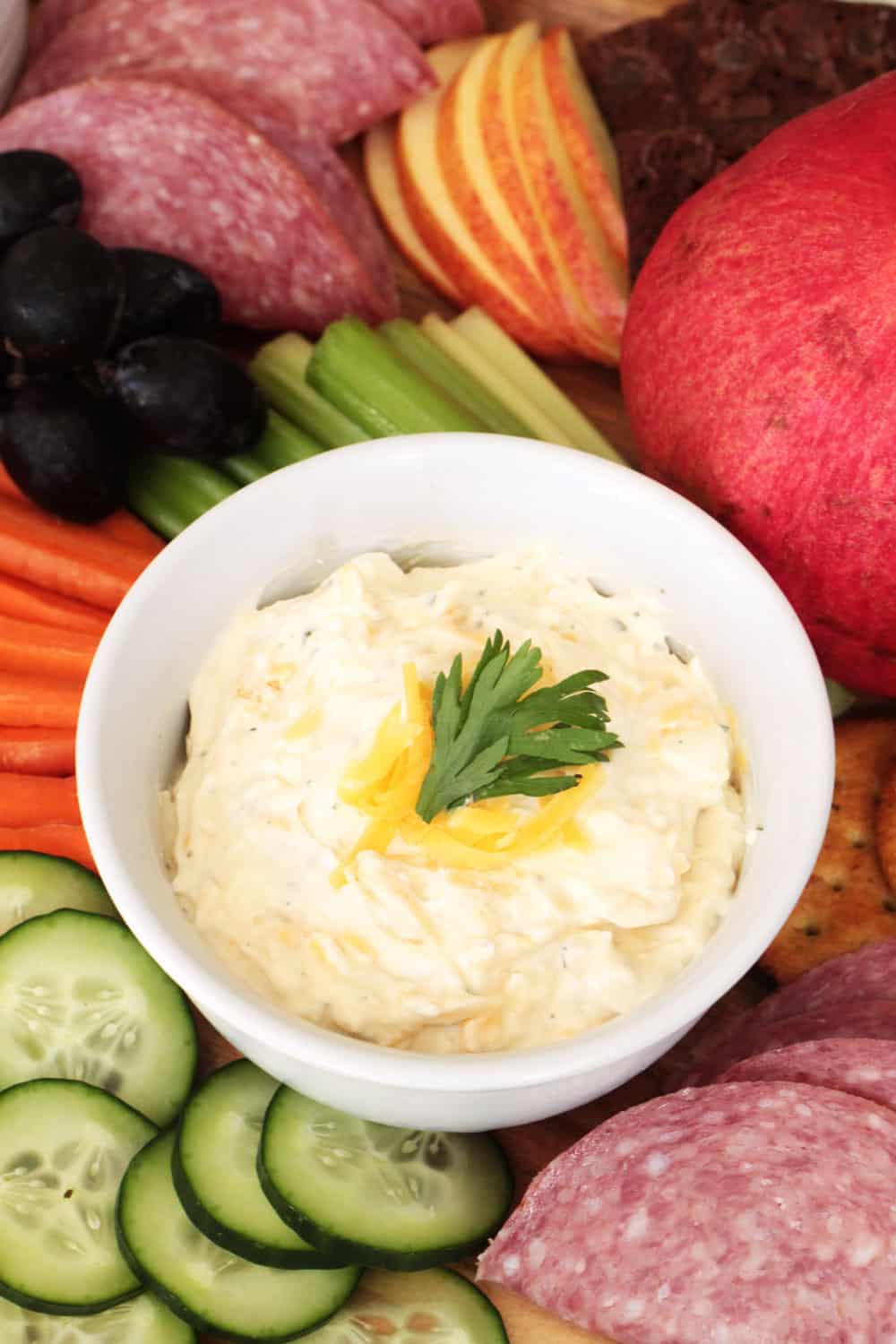 Ingredients:
Veggie Dip
Cheddar Cheese
Honey Crisp Apples
Grapes
Carrots
Pomegranate Seeds
Salami
Crackers
To Prepare the Appetizer Board:
Mix up the veggie dip (recipe below) and store in the fridge until time to serve. Cut White Cheddar Cheese and Monterrey Jack into small cubes. Mix the two together in a small bowl.
Slice Honey Crisp Apples thinly. Slice cucumbers, carrots, and celery. Wash grapes, and remove seeds from a pomegranate into a small bowl.
Arrange crackers, salami, small bowls and fruits and veggies around the board until you like how they look.
Add nuts or trail mix to the board as well to fill out any small gaps.
See, this appetizer is truly so easy making it perfect for a simple dinner party menu!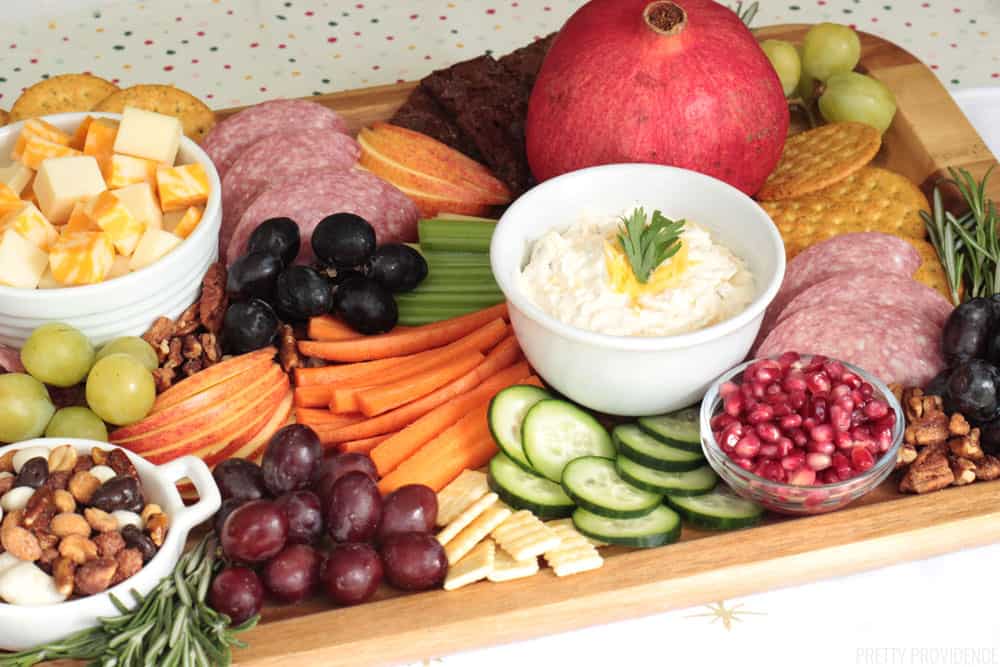 Here is the recipe for our favorite Cream Cheese Veggie Dip.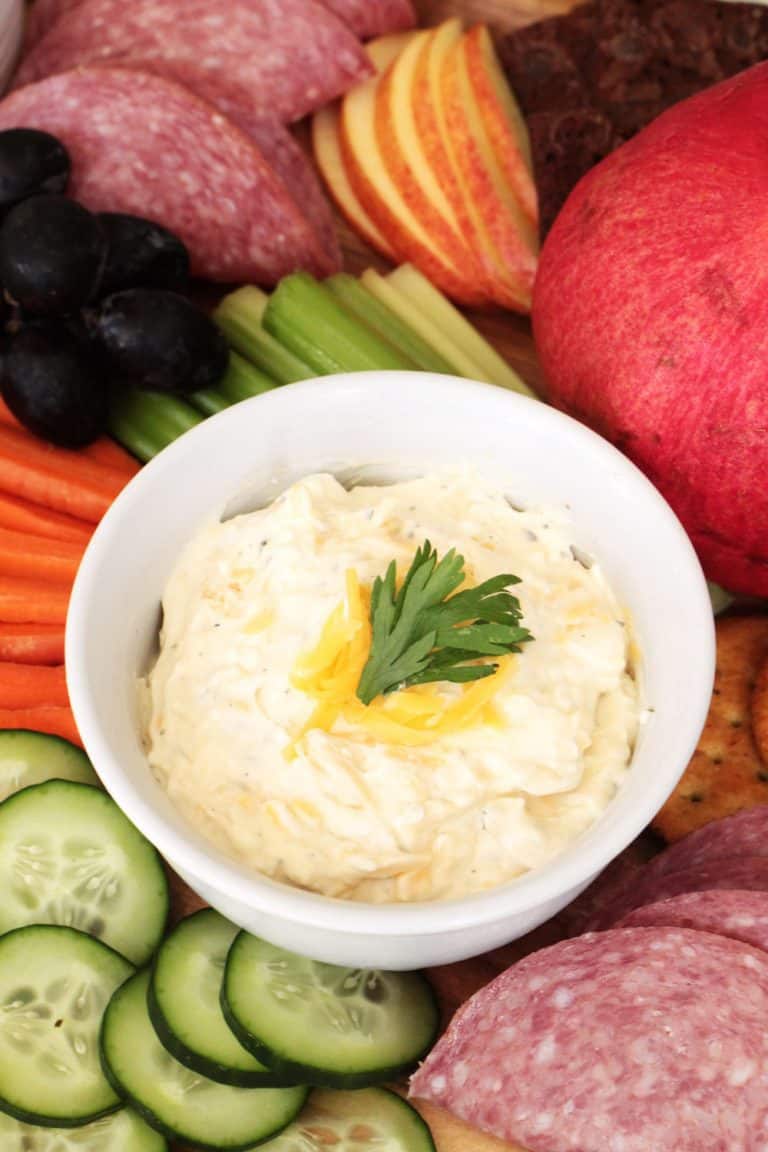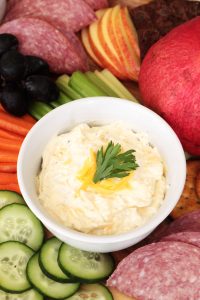 Print
Cream Cheese Veggie Dip
This delicious and sinful Cream Cheese Veggie Dip is always a crowd-pleaser! It's the perfect ranch veggie dip for parties, and ideal dip for a veggie tray.
Ingredients
4

oz

Cream Cheese

1/4

cup

Mayonnaise

1/8

cup

Milk

2

Tbsp

Ranch Dip Mix

1/2

cup

Cheddar Cheese

shredded
Instructions
Mix all ingredients together.

If you like a smoother dip, use a hand mixer on medium speed for 30 seconds to 1 minute, just to whip everything together.

Garnish with shredded cheese and fresh parsley.
Nutrition
Serving:
2
Tbsp
|
Calories:
137
kcal
|
Carbohydrates:
3
g
|
Protein:
3
g
|
Fat:
12
g
|
Saturated Fat:
5
g
|
Cholesterol:
26
mg
|
Sodium:
417
mg
|
Potassium:
32
mg
|
Sugar:
1
g
|
Vitamin A:
268
IU
|
Calcium:
69
mg
|
Iron:
1
mg
Browned Butter Pasta with Butternut Squash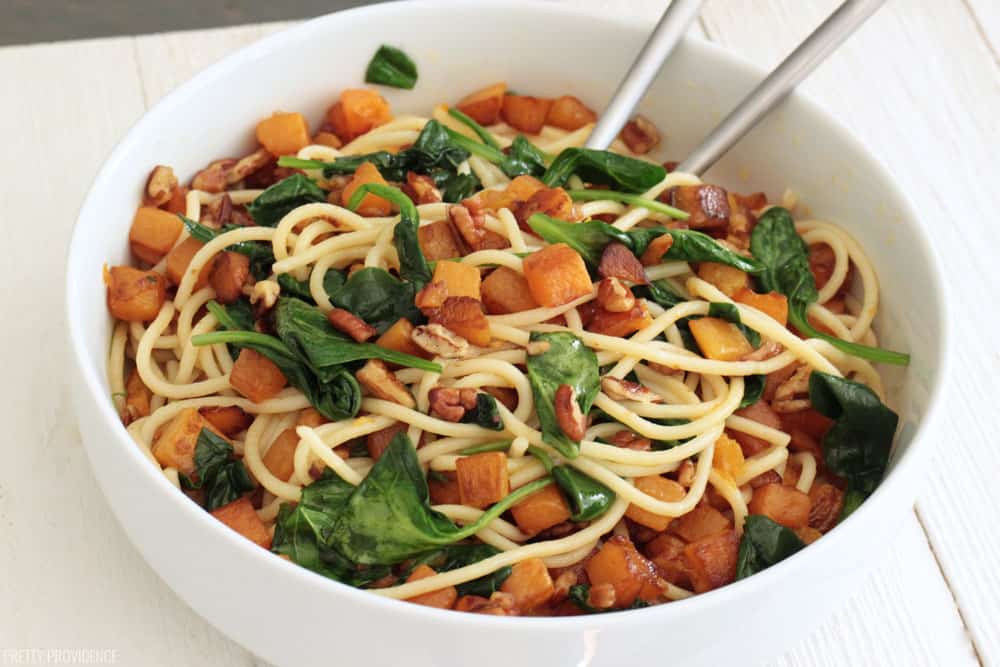 As I'm sure you know, when you're getting ready to entertain guests, easy dinner party recipes are a must. Browned Butter Pasta seems fancy but is deceptively easy to make!
You just cook some spaghetti like you would normally, then it only takes about 15 minutes to whip up the brown butter sauce and the butternut squash, spinach and pecans that go into the dish.
Ingredients:
Spaghetti
Butter
Garlic
Salt
Spinach
Butternut Squash
Chopped Pecans
How to Brown Butter:
Heat butter over medium heat.
Stir constantly until it starts to turn golden brown and then remove it from the heat.
Keep an eye on it because it can go from brown to burned pretty quickly!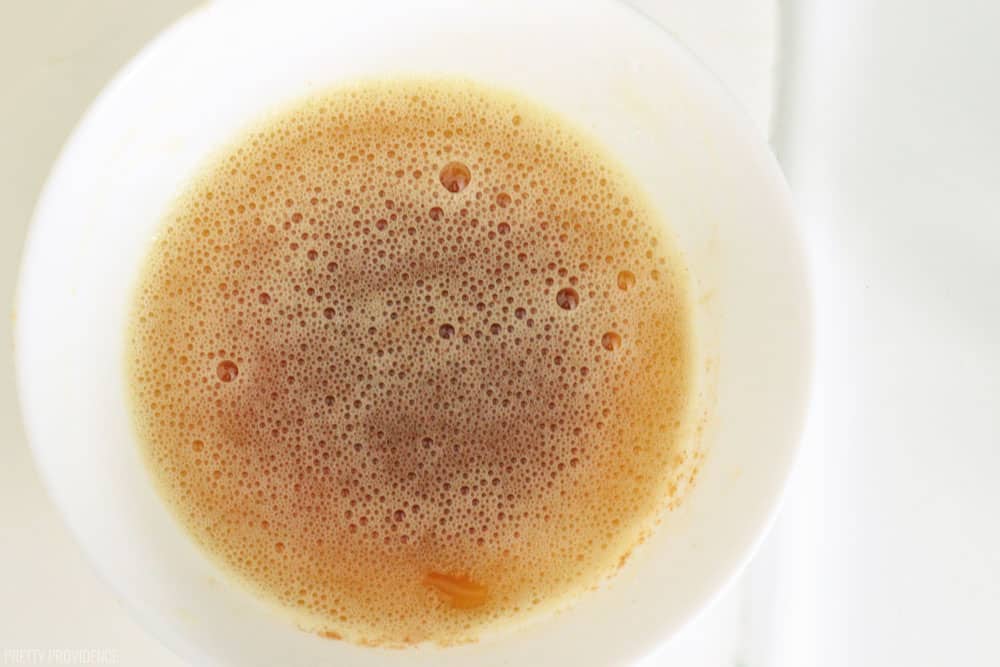 Once butter is browned, I pour it into a different bowl. Then, add the butternut squash to the same pan and add garlic. Cook that for about 15 minutes until it is soft and browned on the outside.
Add spinach and chopped pecans just til spinach is wilted and then add the pasta and half of browned butter into the pan and mix it all together. Add more browned butter if desired.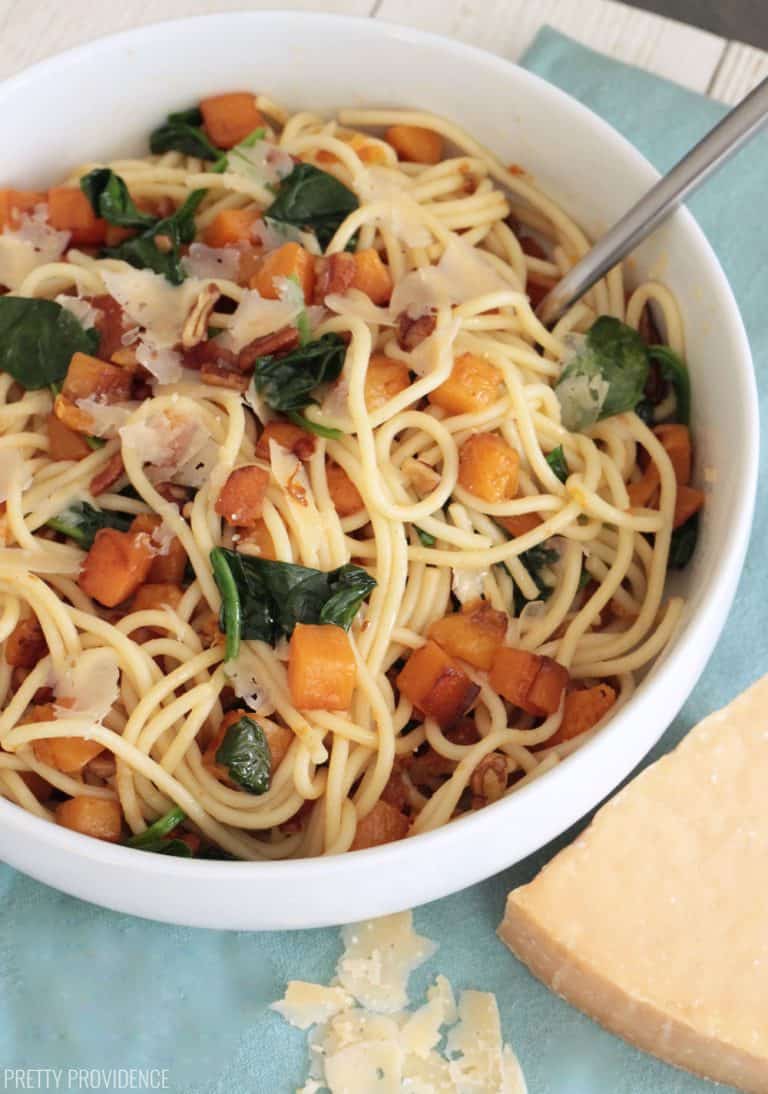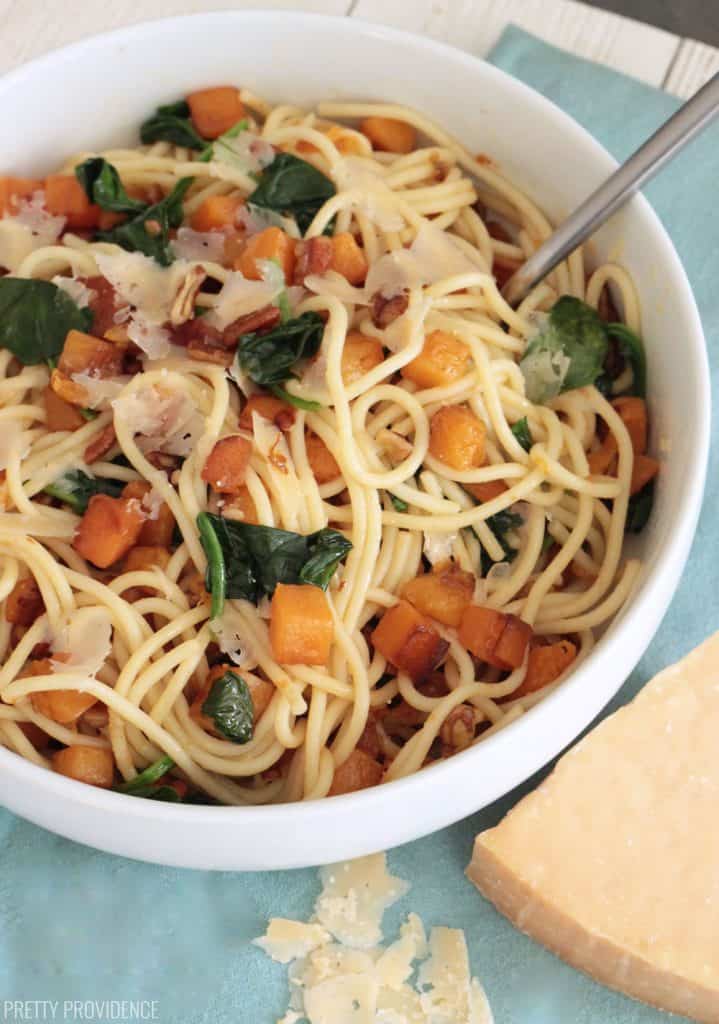 Shave fresh parmesan on top of pasta. The flavor of the browned butter with butternut squash and parmesan cheese is just so delicious!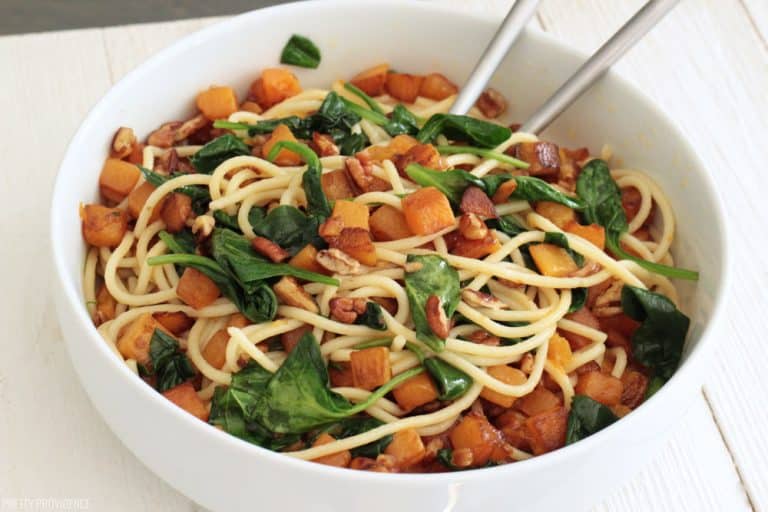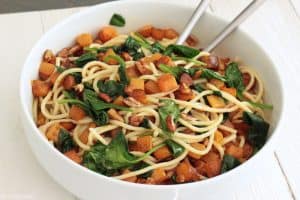 Print
Browned Butter Pasta
You will love this browned butter pasta with butternut squash, spinach and pecans! Perfect for an easy weeknight dinner or for a dinner party!
Ingredients
3/4

cup

butter

16

oz

spaghetti

1

tsp

garlic

4

handfuls

baby spinach

4

cups

butternut squash

cubed

pecans

chopped

½

cup

parmesan

shaved

fresh parsley

for garnish
Instructions
In a large pot of boiling salted water, cook pasta according to package instructions; drain well.

Run cold water over the pasta to remove starches so it doesn't get stuck together while you cook the rest of the dish.

Melt 6 tablespoons butter in the skillet over low heat, until the butter starts to foam. Pour browned butter into a small bowl and set aside.

Melt 2 tablespoons butter in the skillet over medium heat. Add butternut squash and cook, stirring occasionally, until golden brown and tender, about 12 minutes.

Add pecans and spinach and cook until spinach is wilted. (2-3 more minutes.)

Add garlic to the skillet, and cook, stirring until fragrant. Stir in pasta, butternut squash, spinach and pecans, and the browned butter. Stir until well combined.

Serve immediately, garnished with Parmesan and chopped fresh parsley, if desired.
Nutrition
Calories:
420
kcal
|
Carbohydrates:
51
g
|
Protein:
11
g
|
Fat:
20
g
|
Saturated Fat:
12
g
|
Cholesterol:
50
mg
|
Sodium:
259
mg
|
Potassium:
384
mg
|
Fiber:
3
g
|
Sugar:
3
g
|
Vitamin A:
8069
IU
|
Vitamin C:
15
mg
|
Calcium:
125
mg
|
Iron:
1
mg
Mini Chocolate Chess Pies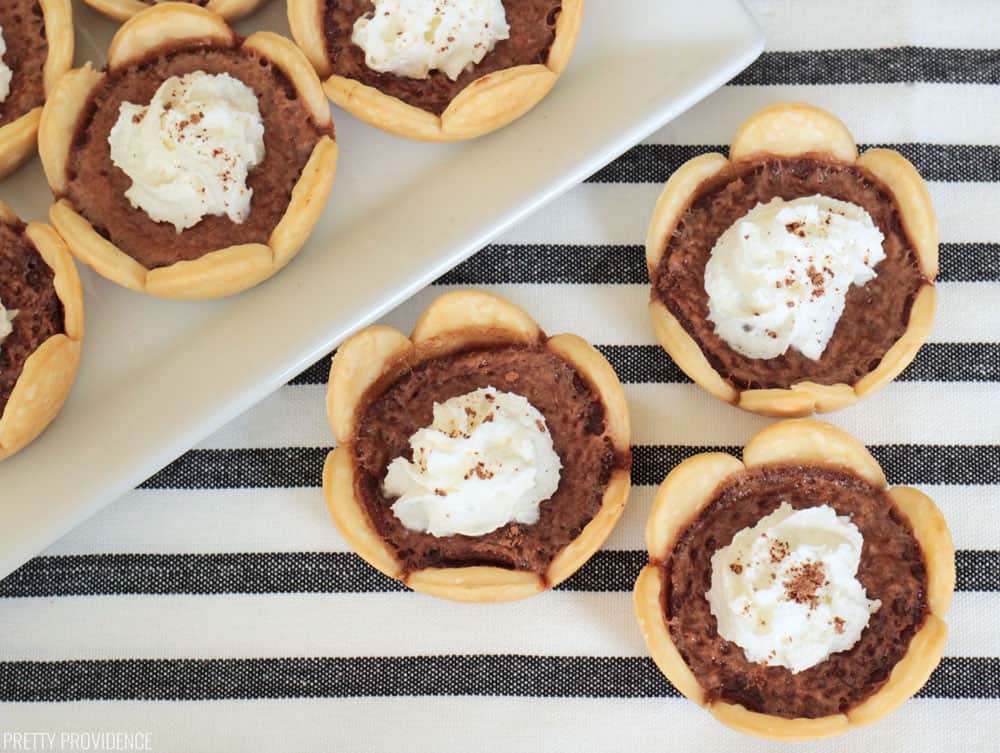 Chocolate Chess Pie is one of my favorite desserts of all time. Taking that recipe and adapting to make mini pies is a guaranteed crowd-pleaser! They are super easy to make but look impressive with little scalloped pie crusts.
Ingredients:
Sugar
Cocoa Powder
Flour
Salt
Butter
Evaporated Milk
Vanilla
Eggs
Pie Crust (store-bought or homemade)
Materials:
How to Make Mini Pies
First, you need to thaw pie crust, if you're using frozen. Ideally the pie crust should be thawed but still cold. Not room temperature. Roll the pie crust out on a clean surface, and use the cookie cutter to cut mini pie crusts out.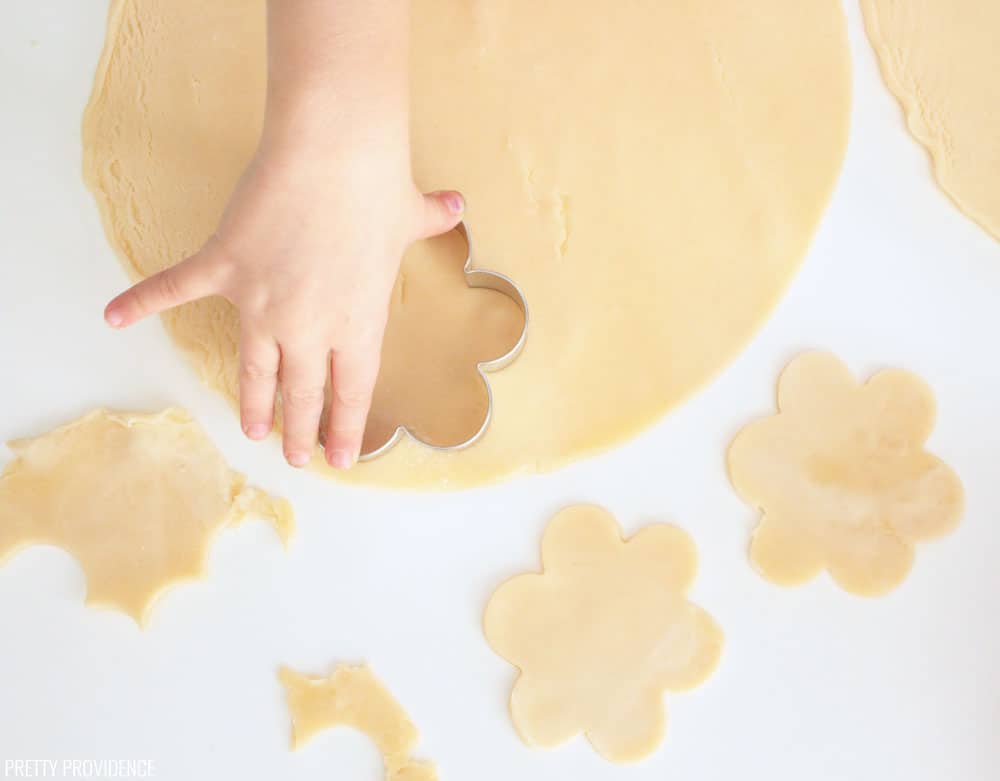 Put each mini pie crust into a greased muffin pan. Spread each crust with an egg wash, then add pie filling.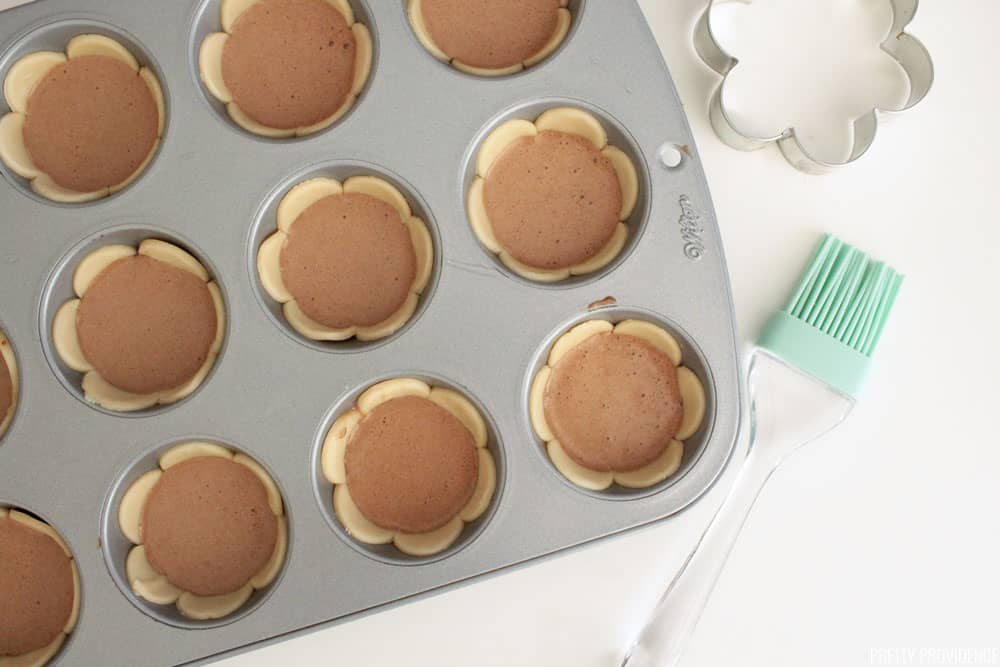 Bake for 15 to 20 minutes and allow mini pies to cool completely.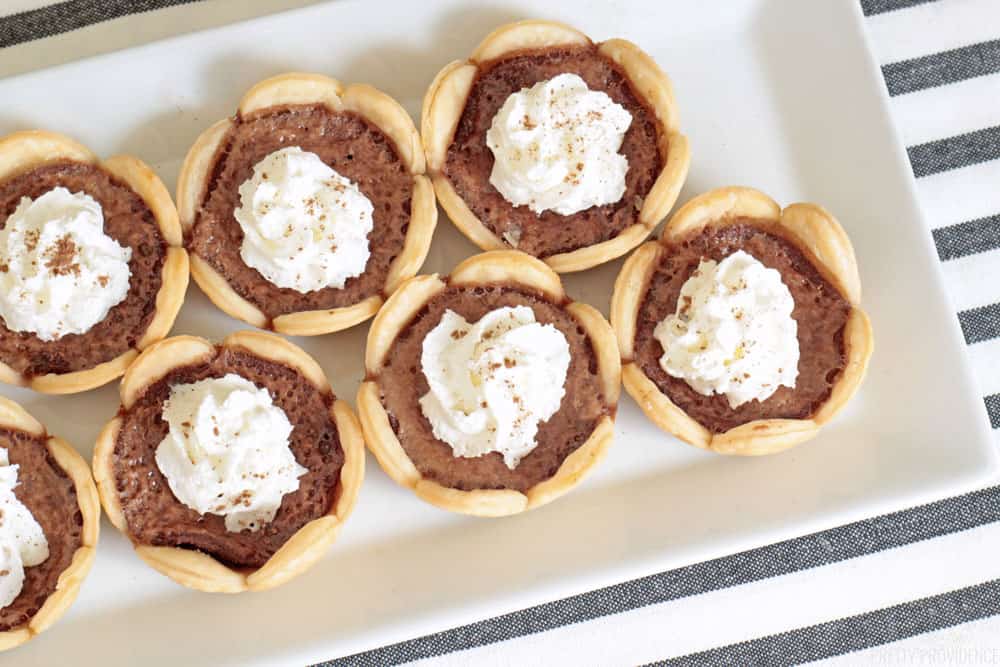 Top mini pies with whipped cream and a dusting of cocoa powder for presentation!
Here is the full recipe for Chocolate Chess Mini Pies: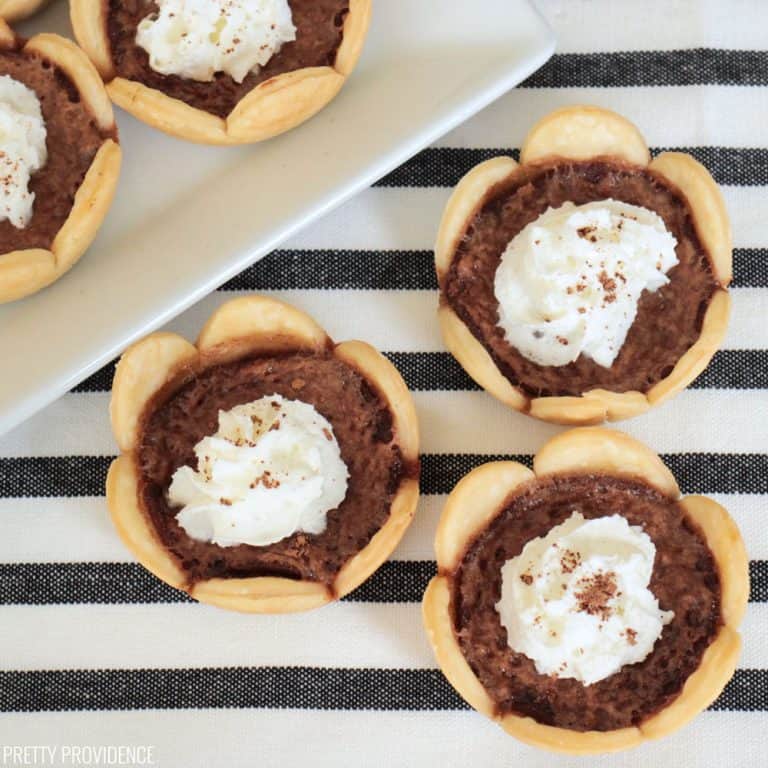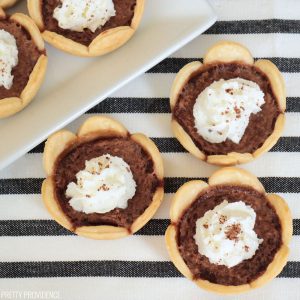 Print
Mini Pies
These Mini Pies with scalloped pie crusts are made in a muffin tin. They are super easy and turn out delicious every time!
Ingredients
2

pie crusts

frozen

3/4

cup

sugar

2

Tbsp

unsweetened cocoa powder

1

Tbsp

all-purpose flour

pinch

of salt

2

Tbsp

butter

melted and slightly cooled

2.5

oz

evaporated milk

1/2

tsp

vanilla

2

large eggs

lightly beaten
Instructions
Scalloped Mini Pie Crust
Thaw pie crusts until they are no longer frozen but not room temperature.

Use a scalloped cookie cutter to cut pie crust into smaller pieces.

Put each small mini pie crust into a greased muffin pan.

Dip a silicone brush into lightly beaten eggs and spread it over each mini pie crust.
Chocolate Chess Pie Filling
Whisk sugar, cocoa, flour, and salt together. Pour butter and evaporated milk into sugar and cocoa mixture and beat on high speed.

Add vanilla and eggs. With mixer speed on high speed, mix for approximately 2-3 minutes to lighten.

Pour ⅛ cup of the pie filling into each pie crust. Bake for 15-20 minutes, or until the top looks crackly.

Allow pies to cool before removing each mini pie carefully out of the muffin tin.
Nutrition
Calories:
153
kcal
|
Carbohydrates:
21
g
|
Protein:
2
g
|
Fat:
7
g
|
Saturated Fat:
3
g
|
Cholesterol:
34
mg
|
Sodium:
92
mg
|
Potassium:
54
mg
|
Fiber:
1
g
|
Sugar:
13
g
|
Vitamin A:
112
IU
|
Vitamin C:
1
mg
|
Calcium:
23
mg
|
Iron:
1
mg
Leading nutrition authorities, such as MyPlate, recommend that all Americans over 9 years of age enjoy 3 daily servings of dairy. Doing this can help build stronger bones and healthier bodies. These recipes are a delicious way to enjoy dairy and are perfect for sharing with friends.
You can find even more delicious dairy recipes here!
Now, armed with this simple dinner party menu and recipes, you can totally host a perfect dinner party. I hope you have a blast!