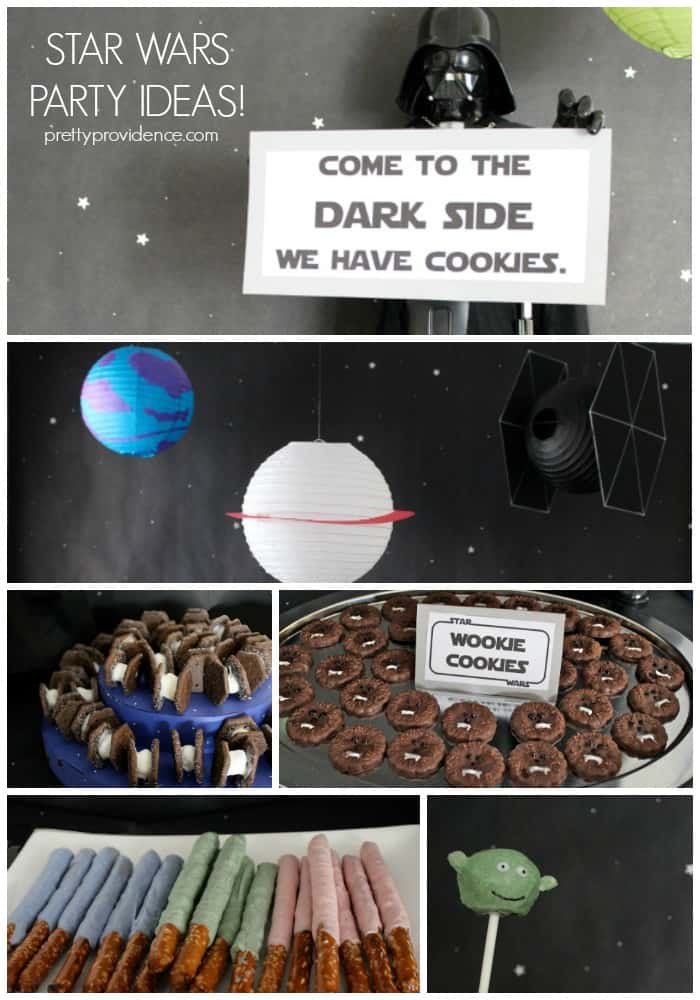 My nephew turned five last week and he requested a Star Wars themed birthday party. I know almost nothing about Star Wars, but I was eager to jump on board anyway. I love a good party, and like I mentioned here, most of my husband's family is kind of obsessed with Star Wars, so I'm slowly picking up on everything. By our 50th anniversary, I'm sure I'll be an expert. Maybe my sis-in-law and I went overboard? Okay, yes, we did. We had fun making everything though, and the party was a blast so it was more than worth it.
Keep reading for all of our Star Wars Party Ideas! There's food, decorations and a fun star wars kids game with pool noodle light sabers.
THE FOOD:
Wookie Cookies. These were Grasshopper cookies, and we used a toothpick to draw the lines so they looked more chewy-esque before drawing the face.
Isn't that silver sugar pretty? We tried drawing on it with black frosting but it was kind of a mess, and they were so nice just like that. So, take our word for it, they're Death Stars.
Yoda's ears were made out of mini marshmallow.
Pretzel rods dipped in candy melt.
Tie Fighter Treats: mini marshmallows dipped in melting candy and sandwiched between two Oreo crisps.
Since the treats were so elaborate we decided to keep the other food more simple. We had Boba-Que chips and Vader Tater Chips, Jabba the (pizza) Hutt, and sadly I forgot to take pictures of the Obie Wan Kabobies (fruit kabobs) and Yoda Soda. They are here in spirit.
THE DECOR:
We got the giant Darth Vader as a gift for my nephew and decided it had to be displayed on the table. It really is a giant action figure though. We thought it was neat.
For the table backgrounds, I got some black butcher paper. The kind teachers use to cover their bulletin boards. In Utah I used to get this at the party store, they had big rolls of it and you coud pay by the yard. Here in Houston I had to track down an actual teacher supply store, and I got one roll 4ft x 12 ft for $7. Not bad but not as good as Utah. Moving on… I used a white paint marker to make little star dots on it and then slapped some silver star shaped stickers on too.
Then we made paper lanterns into planets and ships. My husband made that huge Death Star you see above. The black tie fighter and the death star were both brightly colored lanterns but we just spray painted them, which worked surprisingly well even with the thin paper. FYI: we had to use mod podge and hot glue to glue other paper to the lanterns because a glue stick wasn't strong enough.
Our food labels and signs were all typed up in word by downloading this free Star Jedi font. I got the idea for the invitations my nephew gave to his friends from this blogger. I loved the simple design, so I decided to use it as a template for the labels too. This little area you see above ended up being a perfect photo backdrop too. Before the party started I took some really cute shots of the birthday boy.
THE GAME:
We only planned one real game with the kids and it was a hit. We made these light sabers out of pool noodles and they each got a balloon. They had to keep the balloon in the air using their light saber only. The three who could keep theirs in the air the longest won a prize.
The light sabers are just pool noodles sawed in half. We used Duck tape in silver and black to make them look legit. Very inexpensive! Pool noodles cost $1 or $2 each depending on the season. They doubled as a party favor.