This is the mother load of Star Wars themed party ideas! There's food ideas, decorations and a fun star wars party game with pool noodle light sabers.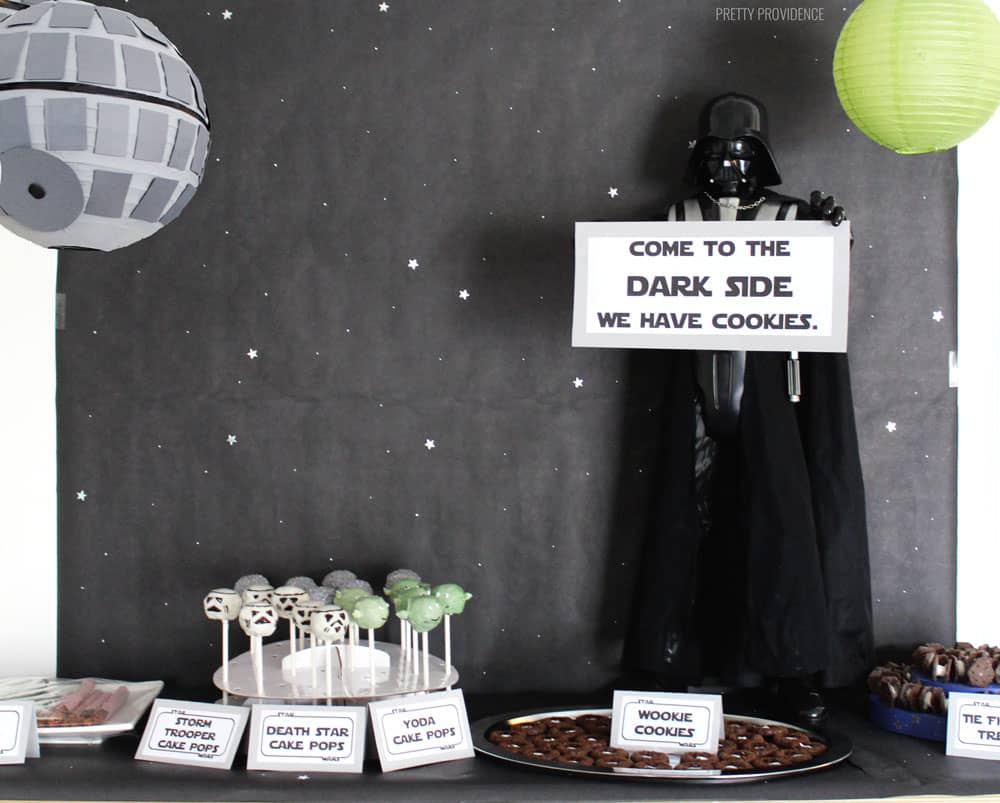 When my nephew turned five, he requested a Star Wars themed party. I knew almost nothing about Star Wars, but I was eager to jump on board help throw this party anyway. My husband's family is obsessed with Star Wars, so I'm slowly learning all the references and details. By our 50th anniversary, I'm sure I'll be an expert. Maybe my sister and I went overboard planning this party. Okay, yes, we did. We had fun making everything though, and it was a blast, so it was more than worth it.
*This post contains affiliate links.
Star Wars Party Ideas
Star Wars Party Decorations
For the backdrops, I got some black butcher paper. This is the kind of paper teachers use to cover their bulletin boards. This can be found at some party stores, or Hobby Lobby sells rolls of it. I got one roll 4ft x 12 ft for $7. I used a white paint marker to make little star dots on it and then slapped some silver star stickers on too.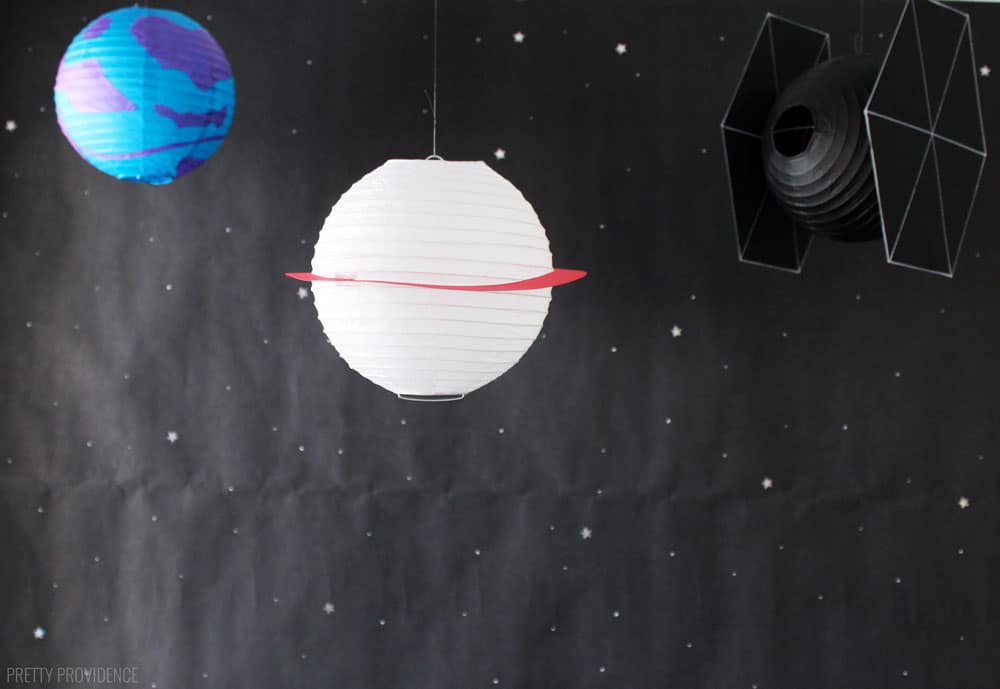 We made paper lanterns into planets and ships. My husband made the huge Death Star you see below. The black tie fighter and the death star were both brightly colored lanterns but we spray painted them. The spray paint worked surprisingly well, even with the thin paper. We used mod podge and hot glue to glue paper to the lanterns.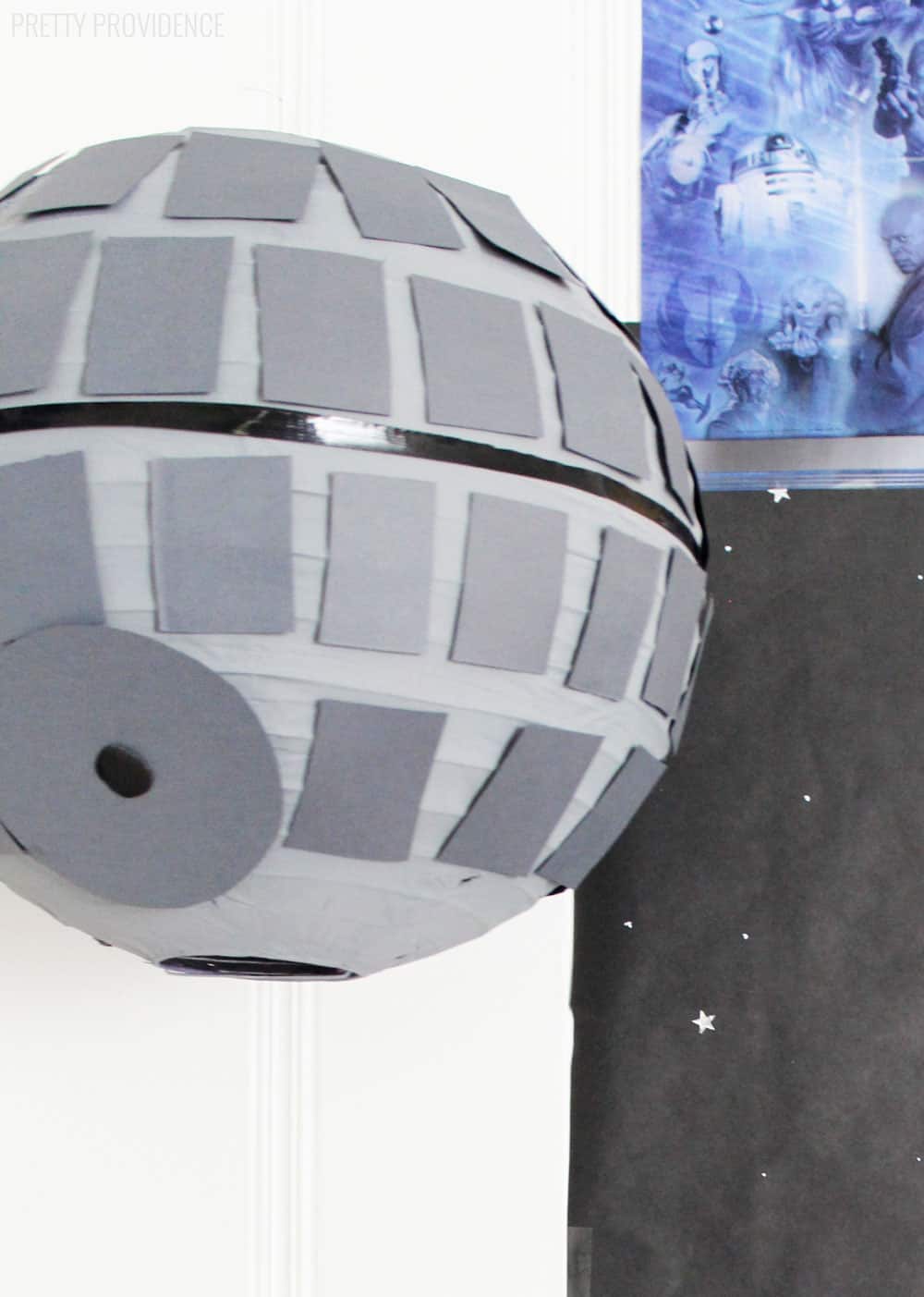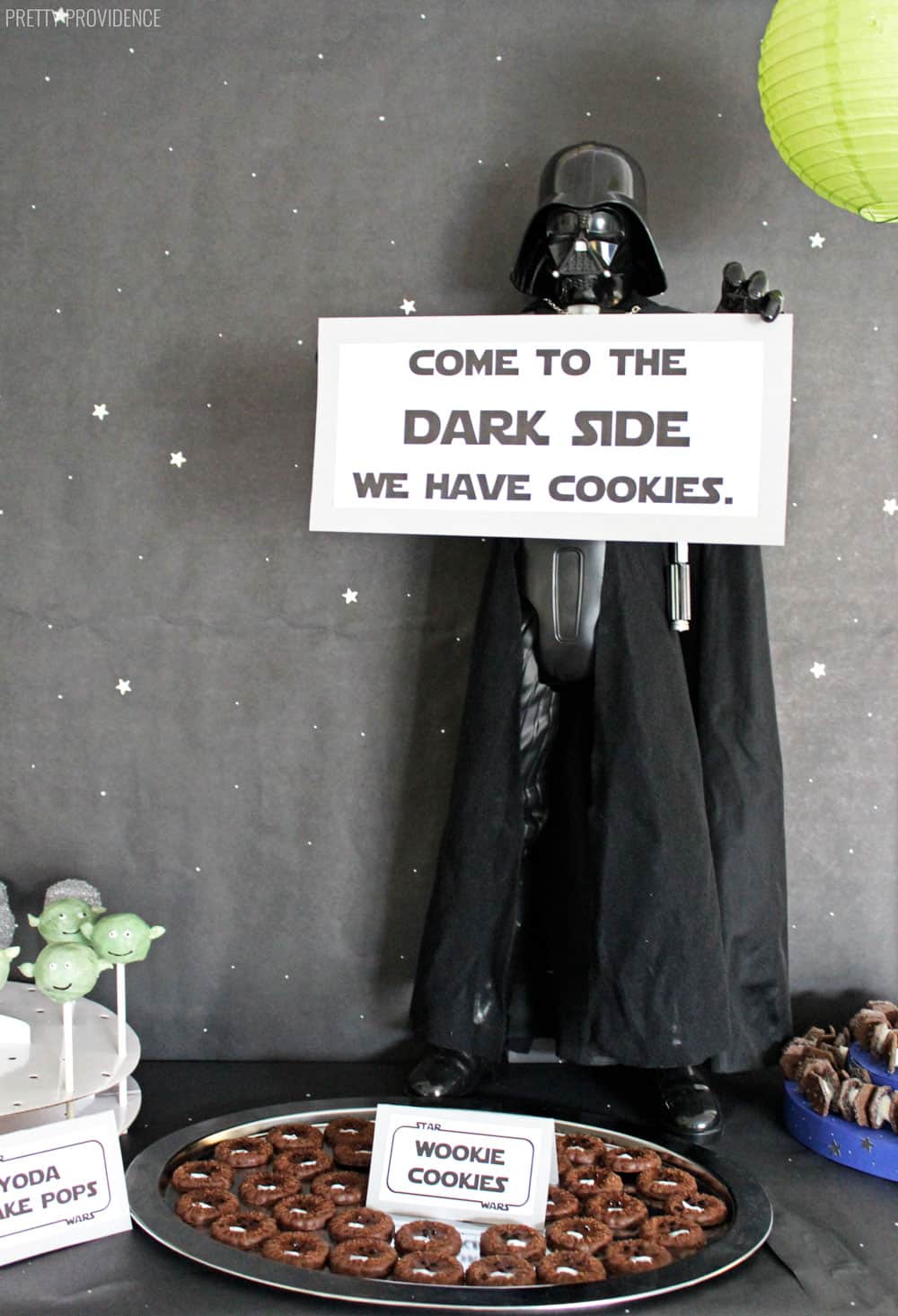 We got this giant Darth Vader as a gift for my nephew and decided it had to be displayed on the table. I made a quick sign for him to hold. It really is just a big action figure... we thought he was neat.
Star Wars Food
The Star Wars food was our most time-consuming project, but also the most fun. My sister and I made three different star wars themed cake pops, Pretzel Light Sabers, Tie Fighter treats, Wookie Cookies, and a cake. We also had some simpler food items with labels to keep them on-theme, like Jabba the Hutt pizza, Obie Wan Kabob-ies, Yoda Soda, and Boba-Que Chips.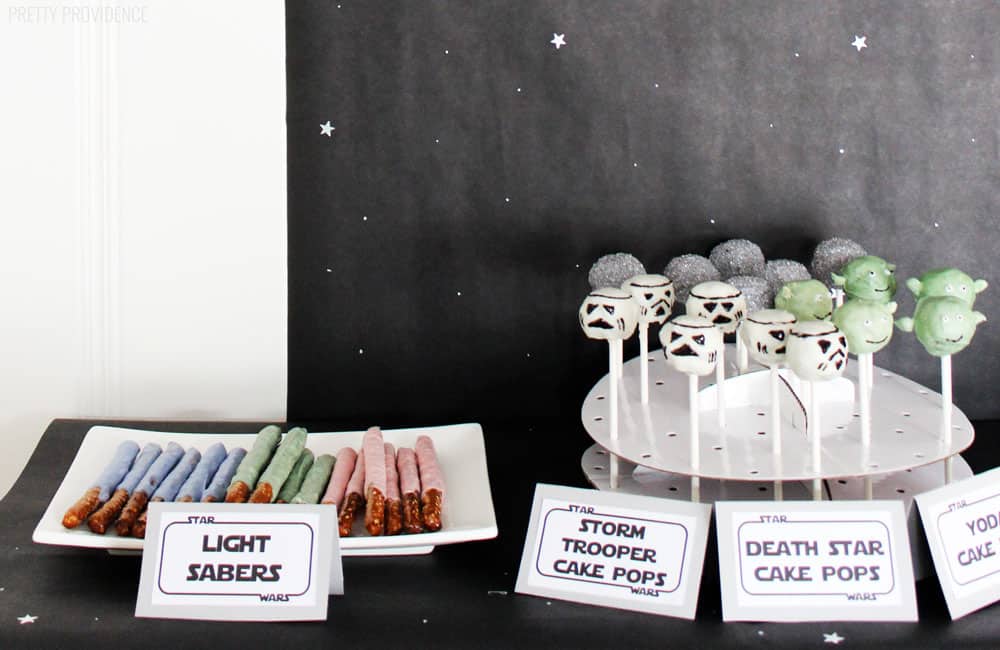 Cake Pops - Death Star, Storm Troopers and Yoda
Isn't that silver sugar pretty? We tried drawing on it with black frosting but it was kind of a mess, and they were so nice just like that. So, take our word for it, they're Death Stars.
Yoda's ears were made out of mini marshmallow.
Pretzel Light Sabers
These pretzels dipped in candy melt were the easiest to make, and a total hit!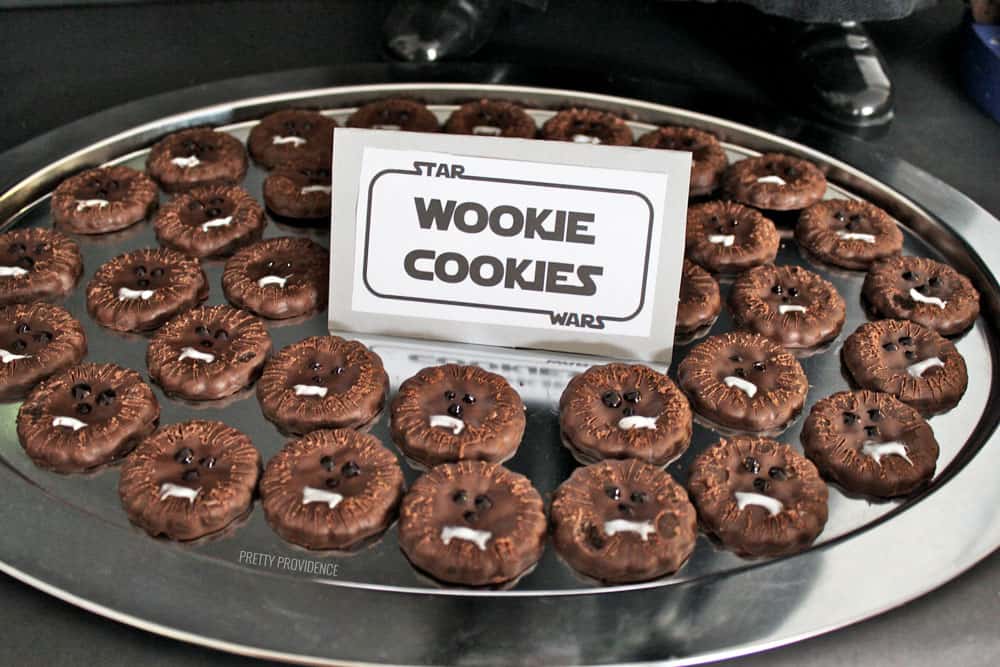 Wookie Cookies
These were Grasshopper cookies. We used a toothpick to draw the lines so they looked more like chewbacca before drawing the face with icing.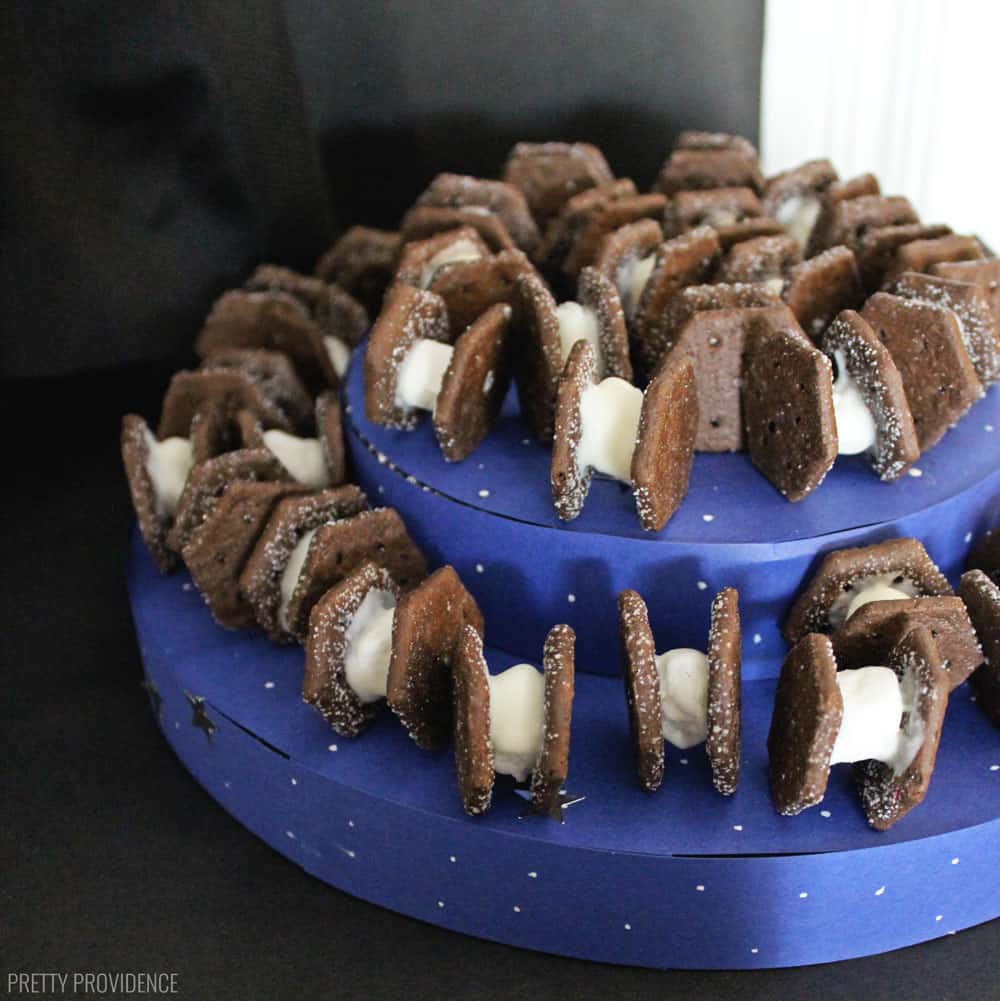 Tie Fighter Treats
Our tie fighter cookies were made with mini marshmallows dipped in melting candy, then sandwiched between two Oreo crisps.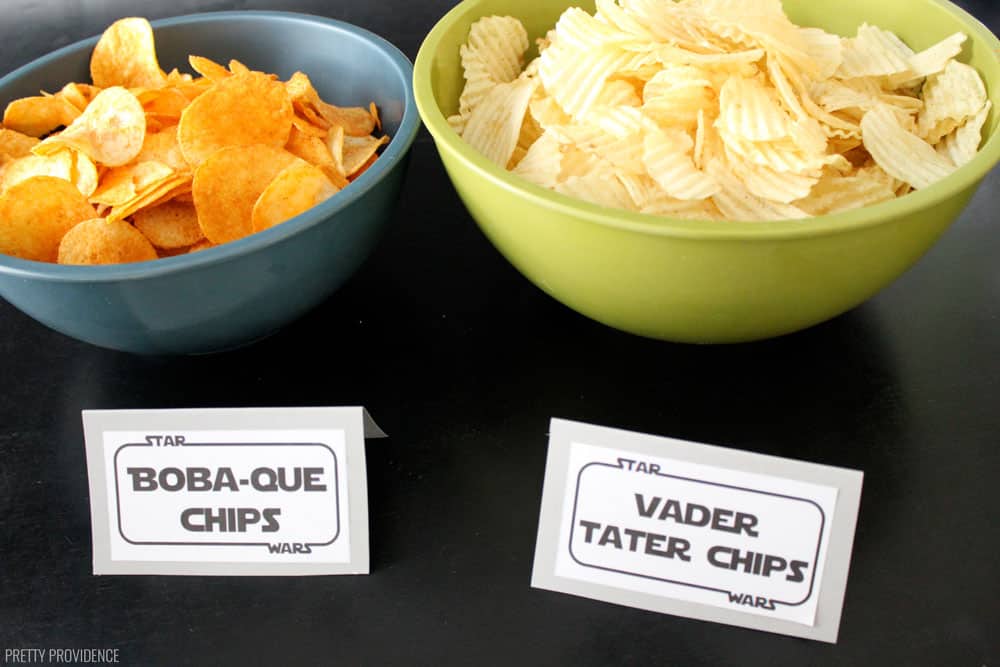 Since the treats were elaborate we decided to keep the other food easy.
Boba-Que chips and Vader Tater chips
Jabba the Pizza Hutt - pizza from Pizza Hut
Obie Wan Kabobies - Fruit kabobs
Yoda Soda - this was just a general assortment of soda
Star Wars Food Labels
Our food labels and signs were all typed up in word by downloading this free Star Wars font. I originally made the labels with a template I found. This has been such a popular idea, that I went ahead and made my own version so that I could offer it to y'all as a free printable!
Download the Star Wars Printable Labels
Star Wars Party Game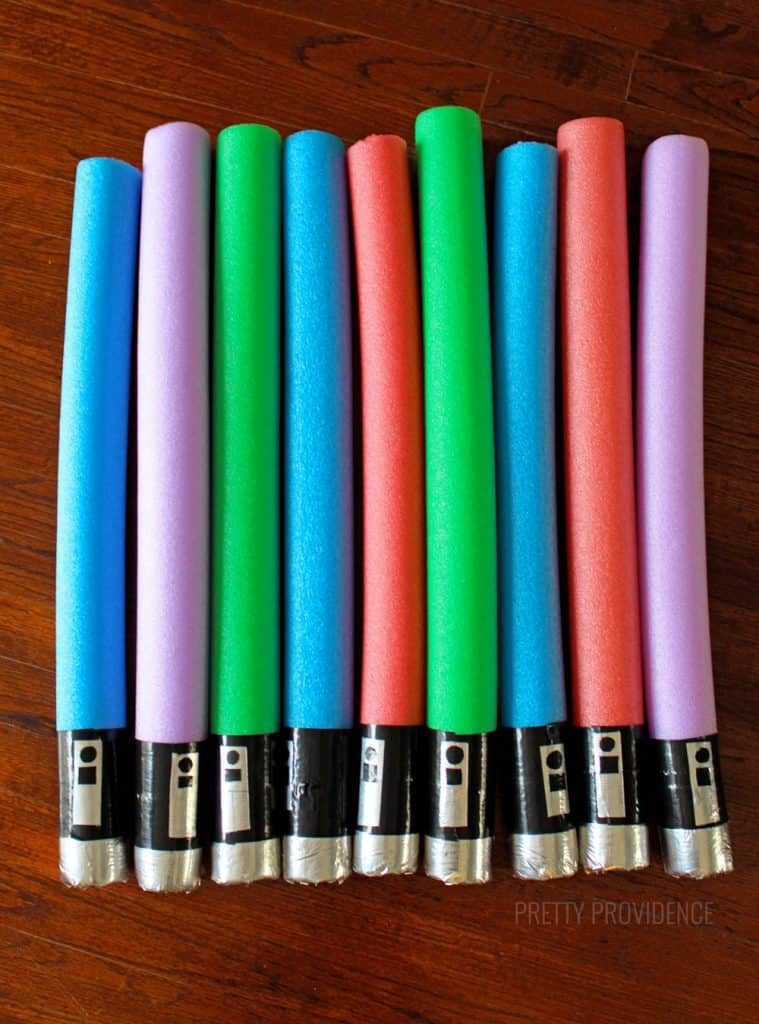 Pool Noodle Light Sabers
We only planned one real game for the kids and it was a hit. We made light sabers out of pool noodles sawed in half. All it took was some duct tape in silver and black to make the light sabers look legit. They doubled as a party favor!
This was a really fun and inexpensive craft. I think it would make the perfect May the 4th craft for kids.
How to Play:
Give each kid a light saber and a balloon.
Tell them to try to keep the balloon in the air using their light saber only. (No hands!)
The person (or people) who can keep their balloon in the air the longest, wins a prize.
This post was originally published September 10th, 2013.