These baby shower games with music are fun, easy and perfect for any baby shower crowd! Games like name that tune (music trivia) and listing songs with baby in the title always get people talking and having fun!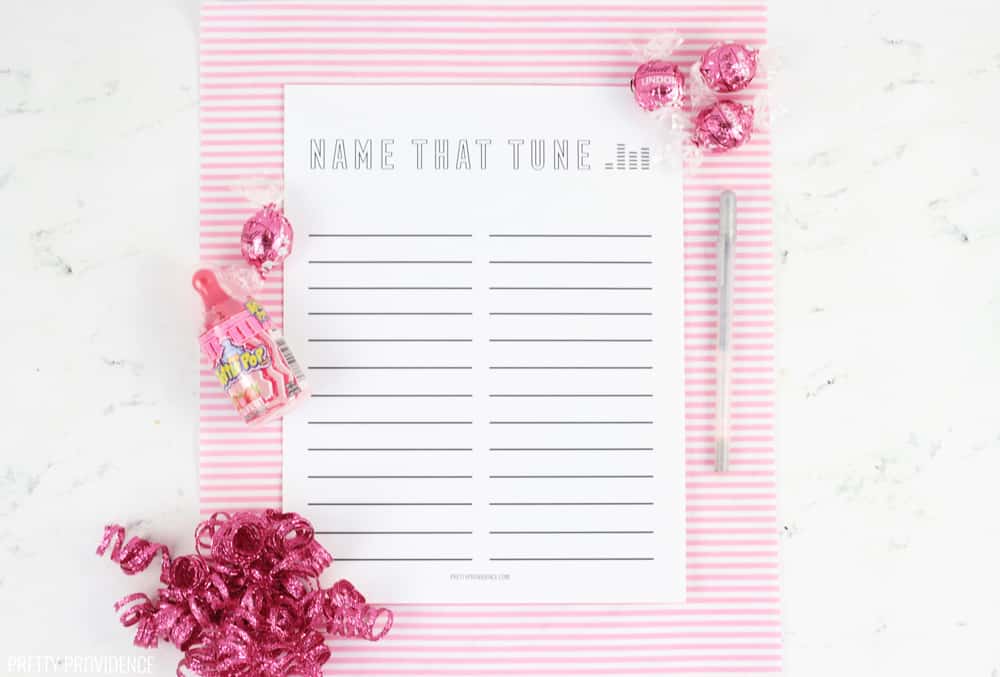 One of our favorite things about throwing baby showers is thinking of fun baby shower games to play. I know, some people don't like baby shower games, but these are fun and I think almost anyone loves to play music games like "name that tune!" This one is perfect for any crowd. It is especially great to play at the start of a shower as an ice breaker, music always gets people talking!
*This post contains affiliate links.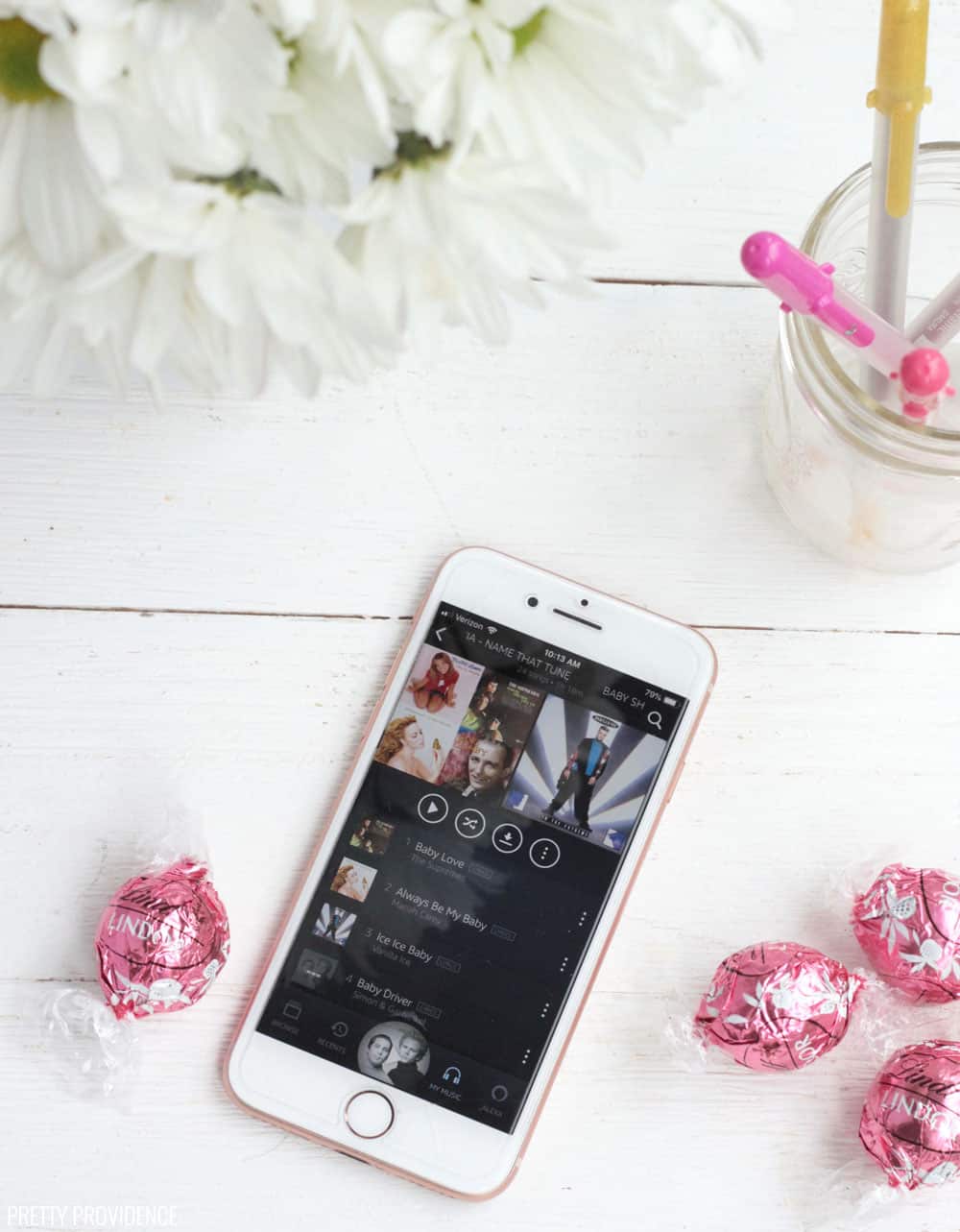 Baby Shower Game – Name That Tune
Materials Needed:
Playlist on a Phone or Tablet (my playlist can be found below!)
Bluetooth Speaker
Printable Name That Tune Game (click to print)
List of songs to use as a key (click to print)
Pens
Prizes
How to play:
Tip: Make sure your bluetooth speaker and phone (or whatever device you're using to play music) are set up and working before you announce that it's time to start the game.
Hand out a game card and a pen to each guest.
Play the first few seconds of each song, without giving away the title.
Encourage guests to write both the correct title and artist, if they can remember.
Allow time for people write down their guesses, then move on and play a clip from the next song.
After you've done all of the songs, read the answers and let guests score their own cards. If they guessed the song correctly, that's one point. If they also wrote the artist down correctly, that's another point.
The player with the most points wins!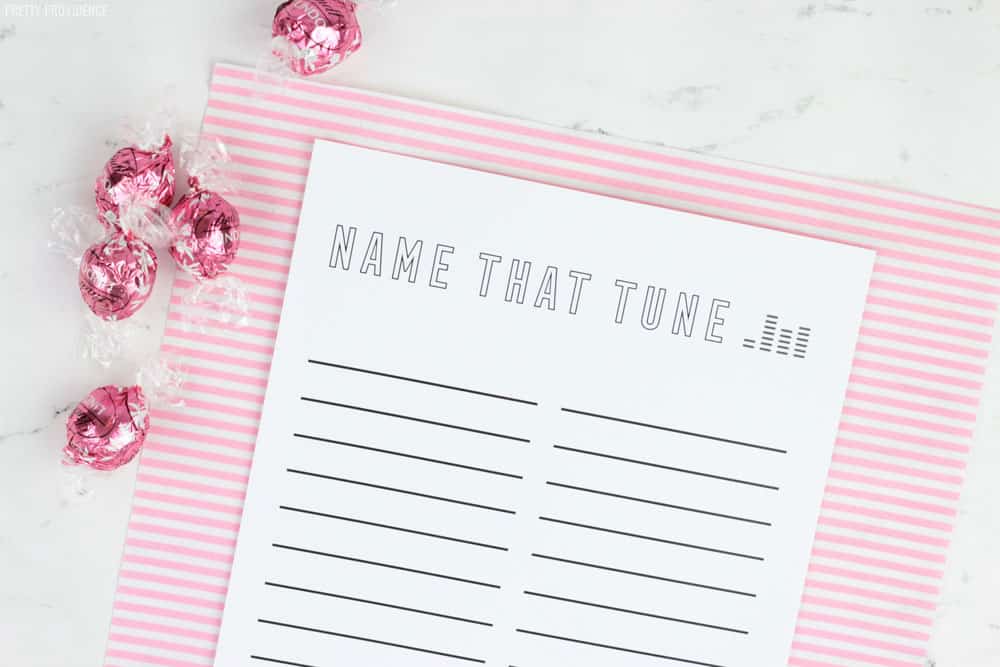 Songs with Baby in the title:
Baby Driver – Simon & Garfunkel
Maybe Baby – Buddy Holly
You Must've Been a Beautiful Baby – Perry Como

Get songs with the word baby in them:
I made a playlist of songs with baby in the title, totally ready for you to use for Name that Tune! Print the corresponding song list here to use as your answer key. You can also make your own playlist if you prefer to. I like to use Amazon music to make playlists since it's included with Amazon Prime. If you don't have Prime, you can get a 30-day free trial with this link. Download the Amazon music app on your phone to make it super easy to start and stop the songs as you lead the game!
Items we use for this game:
| | | | |
| --- | --- | --- | --- |
| Bluetooth Speaker | | | |
Another Easy Baby Shower Music Game
An even simpler music game to play at a baby shower is just to have guests list as many songs with the word baby in the title as they can, in a certain amount of time! It's kind of like Scattergories for a baby shower!
Materials Needed:
Paper
Pens
Prizes
How to Play:
Hand out paper and a pen to each guest.
Set a timer for five minutes, and let guests write down as many songs with the word baby in them that they can think of in the allotted time.
Encourage them to write both the correct title and artist, if they can remember.
Then, have guests list the songs they wrote down. Each song title is one point, and if they wrote down the artist correctly they get another point.
Whoever gets the most points wins!
Even more baby shower games:
Baby Shower Gift Bingo
Candy Bar Matching Baby Shower Game
Baby Stats Guessing Game
Guess the Candy Bar Diaper Game
We love baby showers!
So, in case you didn't know, we consider ourselves baby shower experts. Between the two of us, Jess and I have thrown A LOT of showers. Here are some of our favorite baby shower themes and ideas as of late:
Hot Air Balloon Baby Shower
Where the Wild Things Are Baby Shower
Ready to Pop Baby Shower
How to Throw a Baby Shower on a Budget
Boy Baby Shower Ideas
Don't miss our baby shower gift ideas:
Best Books to Give as Baby Shower Gifts
Board Books for Babies and Toddlers
The Best Baby Shower Gifts
Diaper Baby Shower Gift Basket
I hope these ideas will help you throw an awesome baby shower for your favorite mom-to-be!