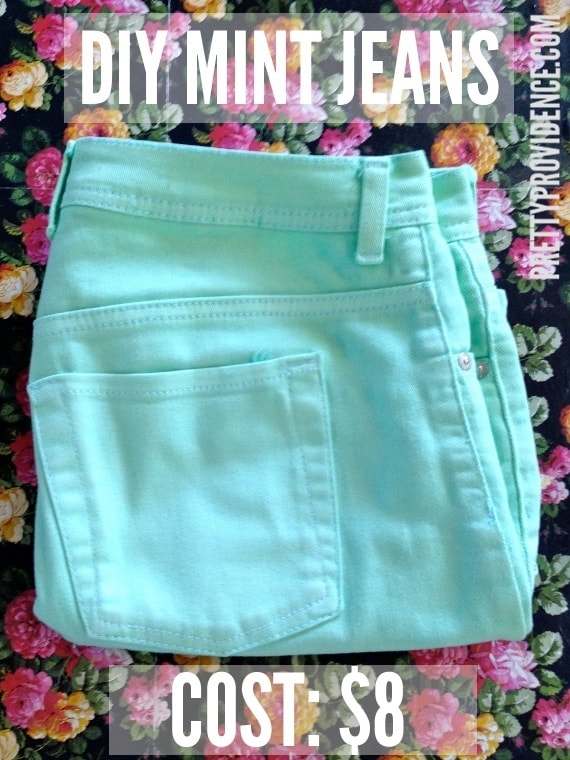 Never miss a post! We share tons of cute & cheap fashion here at Pretty Providence, so follow us on GFC (right sidebar) or
Feedburner
,
Twitter,
FB
,
Bloglovin'
,
G+
, etc. and save $ while you update your wardrobe!
Yes! I am so happy with how this re-fashion turned out. I have been longing for mint jeans (along with the rest of the English speaking-world) all spring. So I decided to do something about it. And that something was not spending $60 on up for the available options. See my tutorial below!
First I bought a pair of white jeans for $6 at Savers. They weren't skinny jeans, just plain old straight leg.

So I quickly fixed that problem with seriously basic sewing. Which I'll explain:
I bought them because they fit in the waist and that's about all I cared about. To be clear: I did not alter the waist at all. Just the legs from mid-thigh down to the bottom.
All I did was turn the white pants inside-out, lay a pair of skinny jeans I had that fit well on top of them. I pinned the white ones right on the line of the inside where I wanted to sew them up. I sewed the straight line along where I had pinned. Then cut the excess fabric off, and they were skinny.
After that was done I used Tulip brand dye in the shade 'Green Vert' to turn them mint green.
The dye was $2 after coupon at Hobby Lobby. Just follow the directions on the package… Instead of putting in a sink or bucket like the package told me, I soaked them in my washing machine. No mess! I opted for a lighter mint so I only kept mine in for about 15 mins, but you can go pretty dark if you want to, just by leaving it in longer. And, no, nothing else turned green after that – the washing machine rinsed out on it's own.
Cue angels singing.
Here I am, uneasily taking pictures of myself with self-timer so that I can show this to you all. I am truly happy to do it. I just don't know what faces to make? Where should I put my arms? Etc.
If you loved this post, you will also love DIY Tie & Suspenders Wedding Onesie and Thrifted Sweatshirt Refashion
Update: This doesn't seem to work exactly the same for everyone. Some people report having their jeans turn lime green, and some of them have countered that by re-dying with a small amount of teal blue dye. I have not tried this personally but hopefully that helps if yours do not turn out as minty! :) Also, I am happy to answer questions, but if the answer is written in the post above I will not answer it in the comments. Please read the entire post before asking questions.