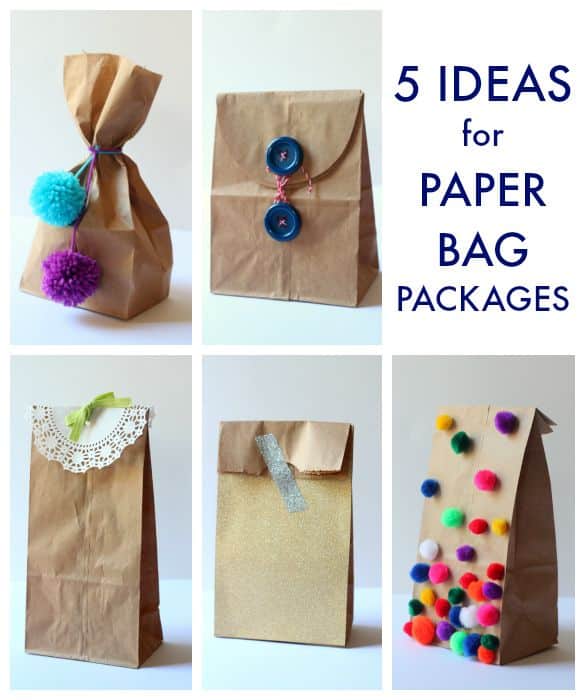 Hi there! This is Louisa from Ice Cream Off Paper Plates.
Brown paper bags are an inexpensive, simple way to package favors for your party guests. Not only are they easy on the wallet, they are also on trend with their Kraft paper style.
But a bunch of plain brown lunch bags can look a bit dull at your party. Here are five ways to easily elevate your favor packages from bland to chic. No matter what you put inside the bags — popcorn, candy, candles — your guests will feel like they're leaving with something extra special.
These five ideas can work for any bridal or baby shower, birthday celebration, dinner party, or holiday gathering — just change the colors to go with your theme.
1. Washi Tape and Scrapbook Paper
Decorate brown paper bags with coordinating scrapbook paper and washi tape to take your favor packages to the next level. You can find almost any pattern and color of scrapbook paper and washi tape, so the possibilities for this are endless. Simply cut a piece of scrapbook paper to cover the front of a brown lunch bag and then attach with glue. Fill the bags with the favors, fold down the top edge and hold in place with a strip of washi tape. Glitter paper and tape looks glamorous for a wedding shower or holiday party.
2. Polka Dot Pom Poms
Glue craft pom poms in assorted colors to the front of the paper bags. The pom pom decorations look like polka dots and make the plain bags cheerful and stylish with little effort.
3. Button Closures
Buttons added to brown paper bags can make them look cute or elegant. All you have to do is glue one button to the folded over top of the bag and one button to the bottom front of the bag. Then use yarn, string or twine to connect the two buttons, wrapping it around the top and bottom. Use big bright buttons for a baby shower or child's party. Use fancy buttons for a sophisticated affair.
4. Doilies and Ribbon
Doilies can make almost anything look pretty — brown paper bags are no exception. For favor bags, just fold a doily in half and then place over the top edge of the bag. Use a hole puncher to make a hole through the center of the doily and the paper bag. Pull ribbon through the hole and tie into a bow. Voila! The brown paper bags look beautiful for any bridal shower or tea party.
5. Yarn Pom Poms
Purchase small yarn pom poms or make your own using yarn and scissors. Tie a piece of yarn around the tops of the favor bags and attach the pom poms so that they hang down the sides at varying lengths. This look couldn't be cuter and it works for gift wrapping too!
Happy wrapping everybody!