Creamy 7 layer dip is a crowd-pleasing appetizer with layers of tasty refried beans, sour cream, guacamole, and more. It's easy to make in just a few minutes, travels well, and it is colorful and visually appealing!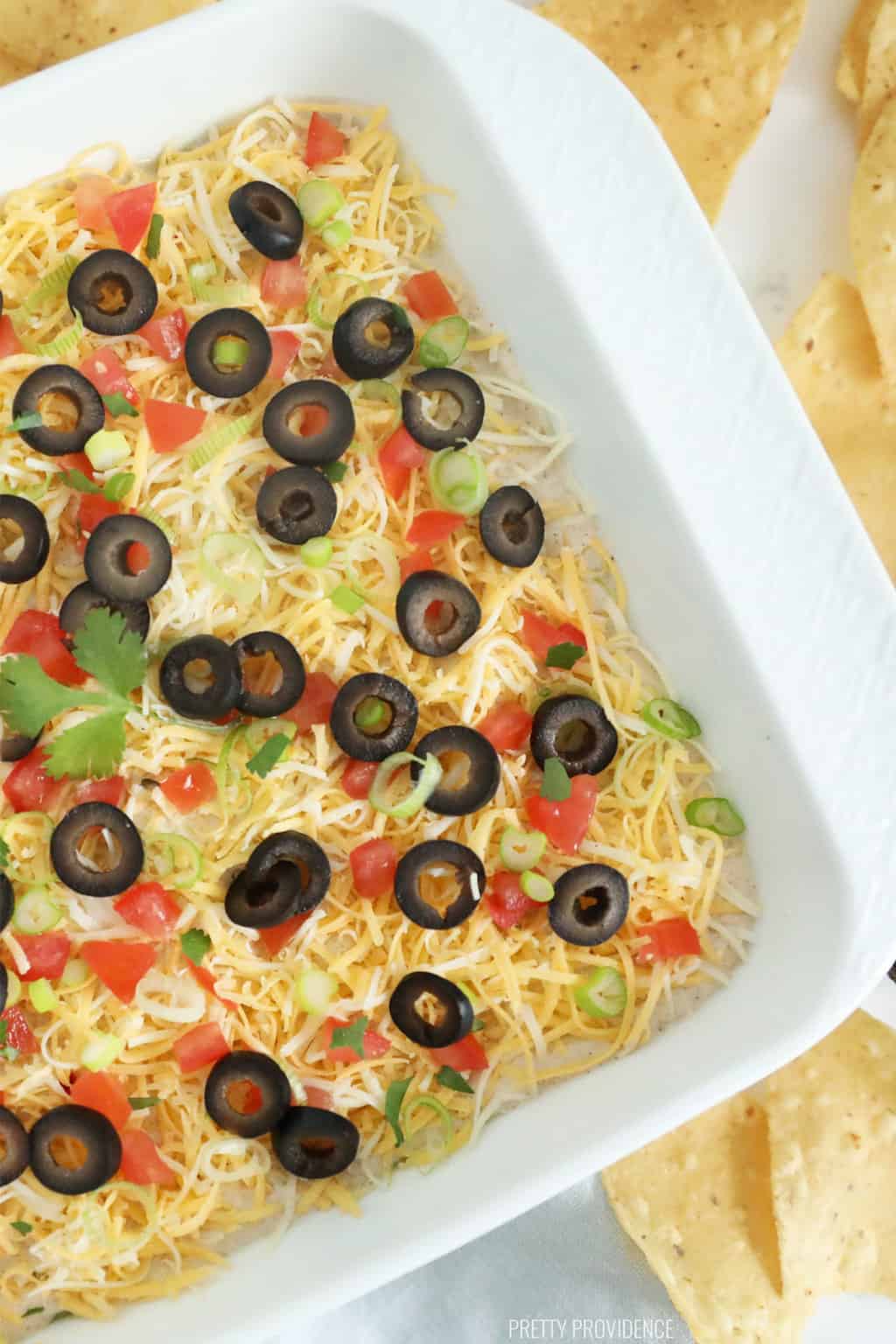 The Best 7 Layer Bean Dip You'll Ever Have
Because of the secret ingredient that takes this dip to the next level, this is BEST Seven Layer Bean dip recipe ever.
This dip is a go-to appetizer for game day, BBQs, or anytime we need a snack to contribute to a potluck!
Say goodbye to brown guacamole and runny sour cream. You can avoid all of that and make a perfect seven-layer dip every time!
My Seven Layer Dip Recipe secret ingredient
There is actually a ""secret"" ingredient that just takes this Seven Layer Dip to another level. Can you spot it in the pic below?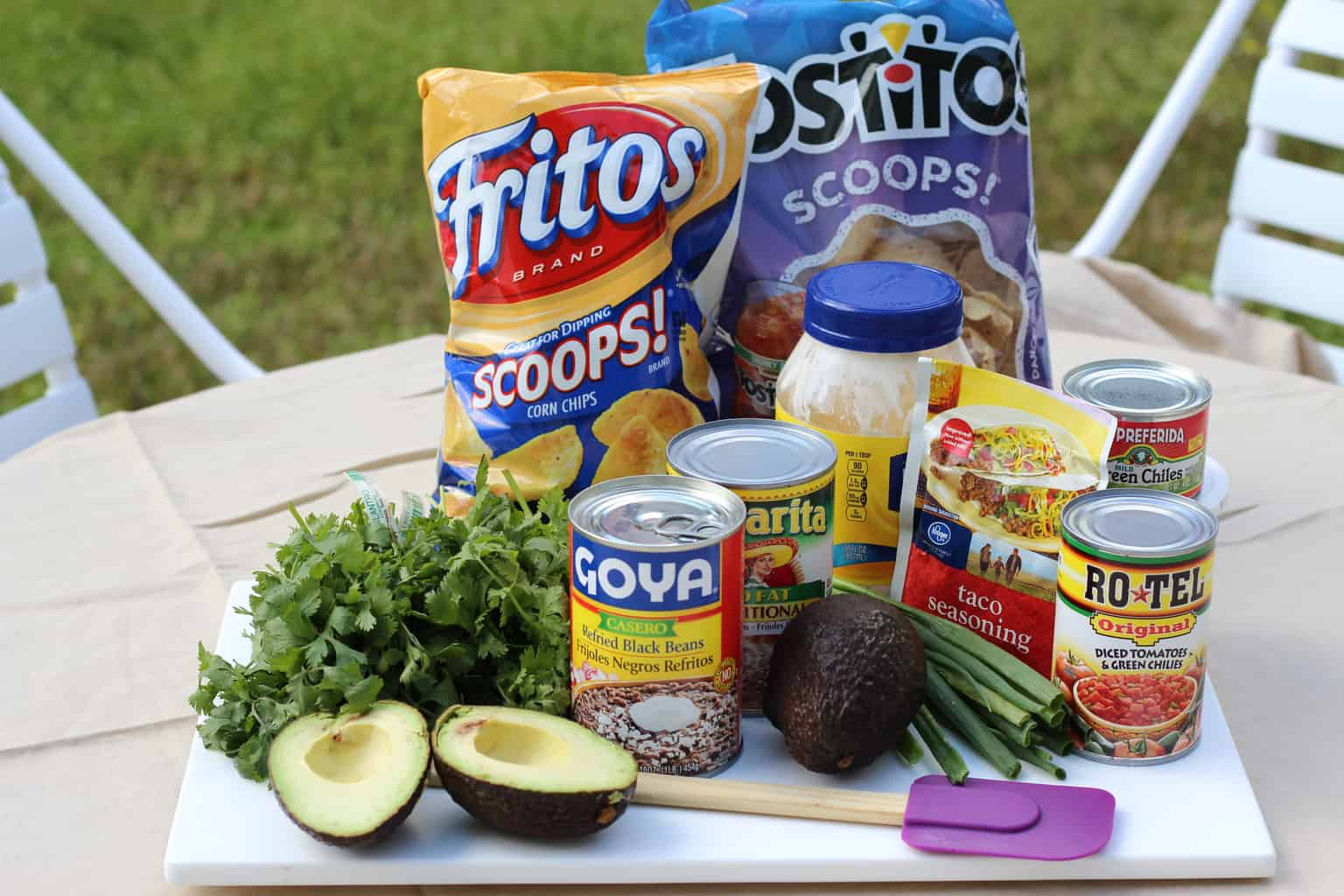 If you guessed mayo, you're right. Mayonnaise and taco seasoning make the sour cream layer EXTRA good! I also prefer to use refried black beans for this recipe. Because, yum.
You're going to want to file this one for your next bean dip occasion. It's so easy to make, and you can make this ahead of time too if you're making it for a party. I love it, I love it, I love it.
*This post contains affiliate links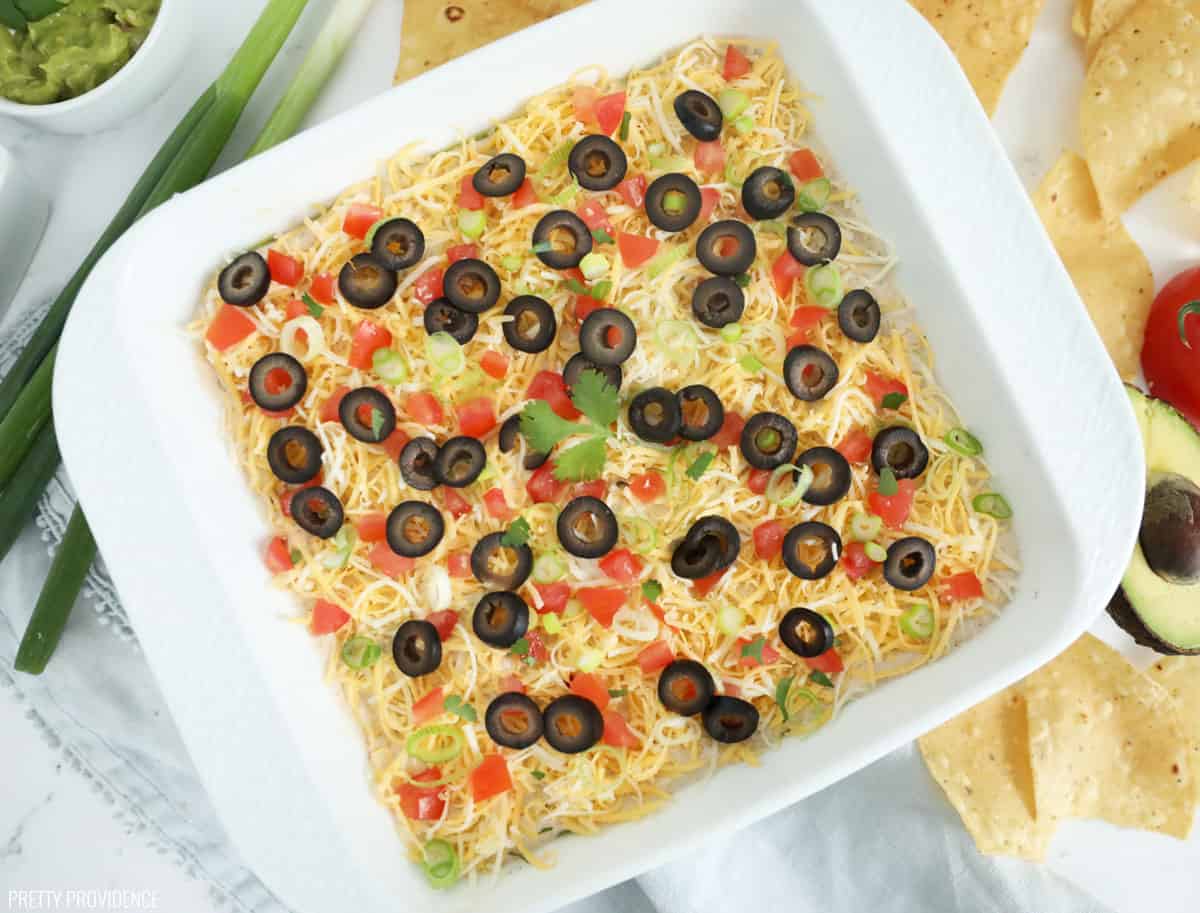 7 Layer Dip Recipe Ingredients
Refried Beans - I like use black refried beans, but you can also use traditional (pinto.)
Guacamole
Sour Cream, Mayonnaise and Taco Seasoning
Cheese – Cheddar, Monterrey Jack or Pepper Jack
Tomato
Black Olives
Green onions
Seven-Layer Dip Prep
Make Guacamole (try this easy recipe.)
Mix sour cream with mayonnaise and taco seasoning.
Finely chop tomatoes and green onions.
Shred cheese.
How to make Seven Layer Dip
Spread the refried black beans on the bottom of a baking dish.
Next, spread guacamole in an even layer on top of the beans.
After that, spread the sour cream mixture evenly.
Top that with shredded cheese.
Finally, sprinkle the chopped tomatoes, green onions and sliced olives on top of the cheese.
7 Layer Dip Recipe Variations:
Mediterranean Seven-Layer Dip:
Hummus, Tzatziki sauce, Feta cheese, Chopped cucumbers, Cherry tomatoes, Kalamata olives, Chopped fresh mint or parsley
Vegetarian Seven-Layer Dip:
Substitute refried beans with vegetarian refried beans. Add layers of corn, diced bell peppers, or other favorite vegetables.
Spicy Seven-Layer Dip:
Mix hot sauce or diced jalapeños into the sour cream layer for added heat. Use pepper jack cheese for an extra kick.
Tex-Mex Seven-Layer Dip:
Refried beans, Guacamole, Sour cream mixed with taco seasoning, Shredded pepper jack cheese, Corn and black bean salsa, Jalapeños, Chopped cilantro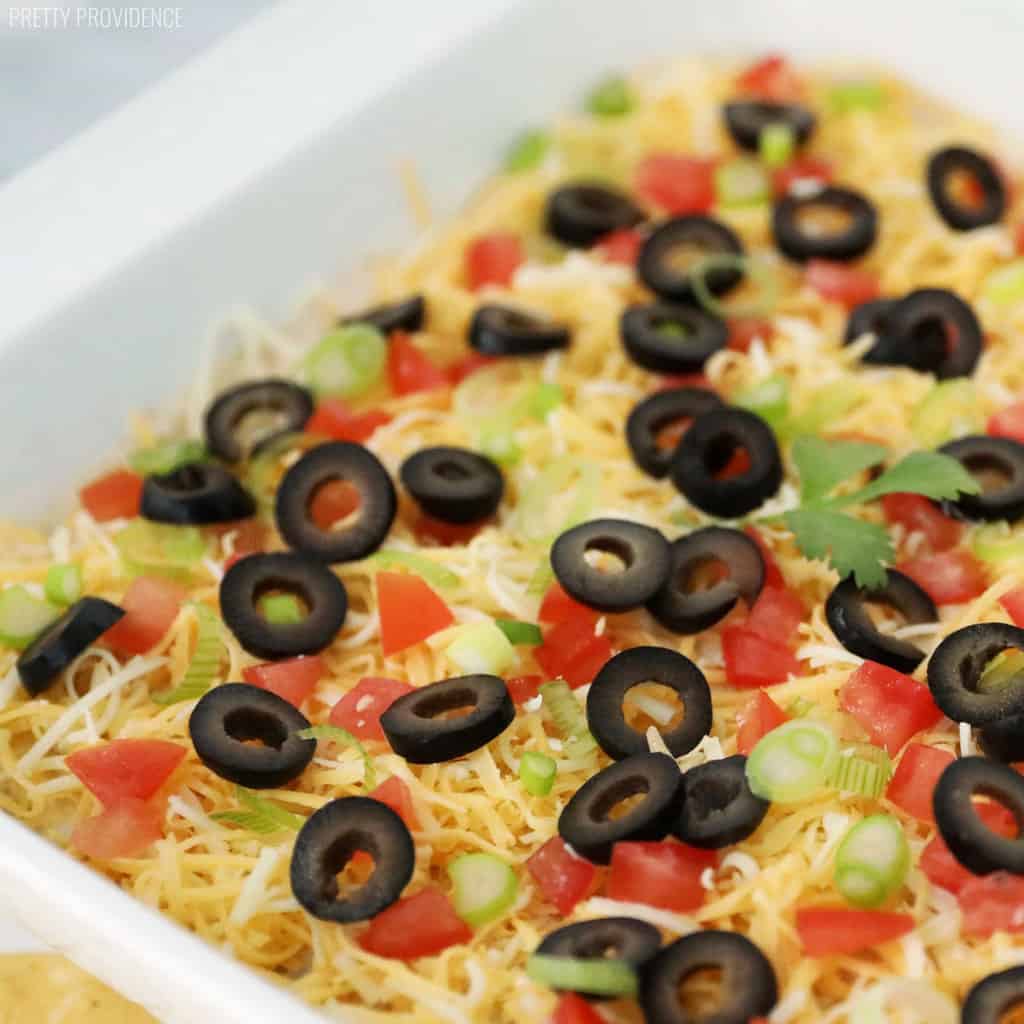 How to serve Mexican 7 Layer Dip
Tortilla chips are a classic and delicious choice to serve with seven-layer dip, but there are plenty of other options too. Here are some alternative snacks that complement the flavors of this dip:
Pita Chips or Pita Bread, Tortilla Scoops, Fritos or Corn Chips, Crackers, Baguette Slices, Pretzels, Rice Cakes, Crostini
Vegetable Sticks: carrot, celery, cucumber, and bell pepper are crunchy and crisp providing a nice contrast to creamy bean dip.
Tostadas: Lightly toast or bake small tostada shells. They are similar to tortilla chips but provide a different shape and texture.
Jicama Slices: Jicama has a crisp, slightly sweet texture that pairs well with the dip. Cut it into thin slices for a refreshing and unique dipper.
This recipe makes enough dip to fill a 9x13 dish. If you don't need that much, make a half-batch in a 9x9 square dish.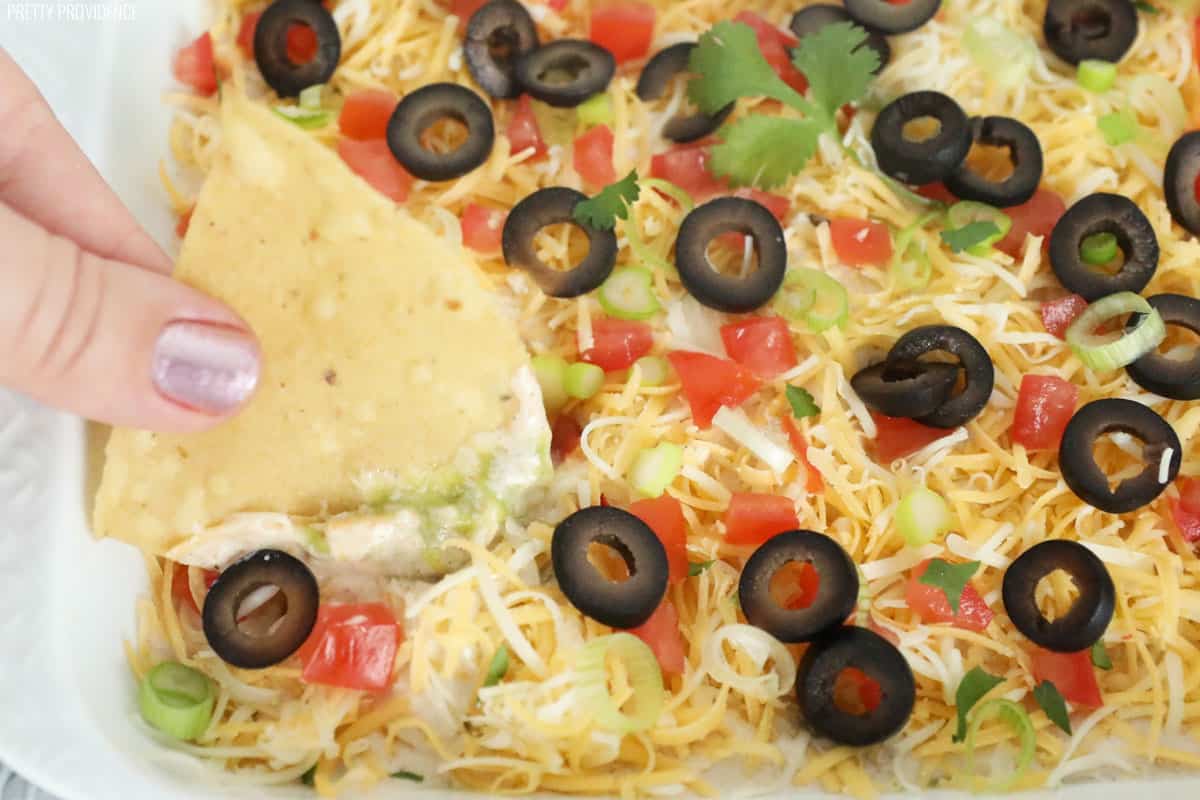 Storing Leftover Seven Layer Dip
Refrigerate. Seven-layer dip contains perishable ingredients like sour cream and guacamole, so it's important to store it in the refrigerator. Cover the dip tightly with plastic wrap or transfer it to an airtight container.
Press a piece of plastic wrap directly onto the surface of the dipbefore sealing the container. This helps prevent exposure to air, which can cause the ingredients to brown and the dip to lose its freshness.
Use Within a Few Days: For the best quality, consume the leftover seven-layer dip within 2-3 days of preparation. Over time, the texture and flavor of the ingredients may change, and freshness can be compromised.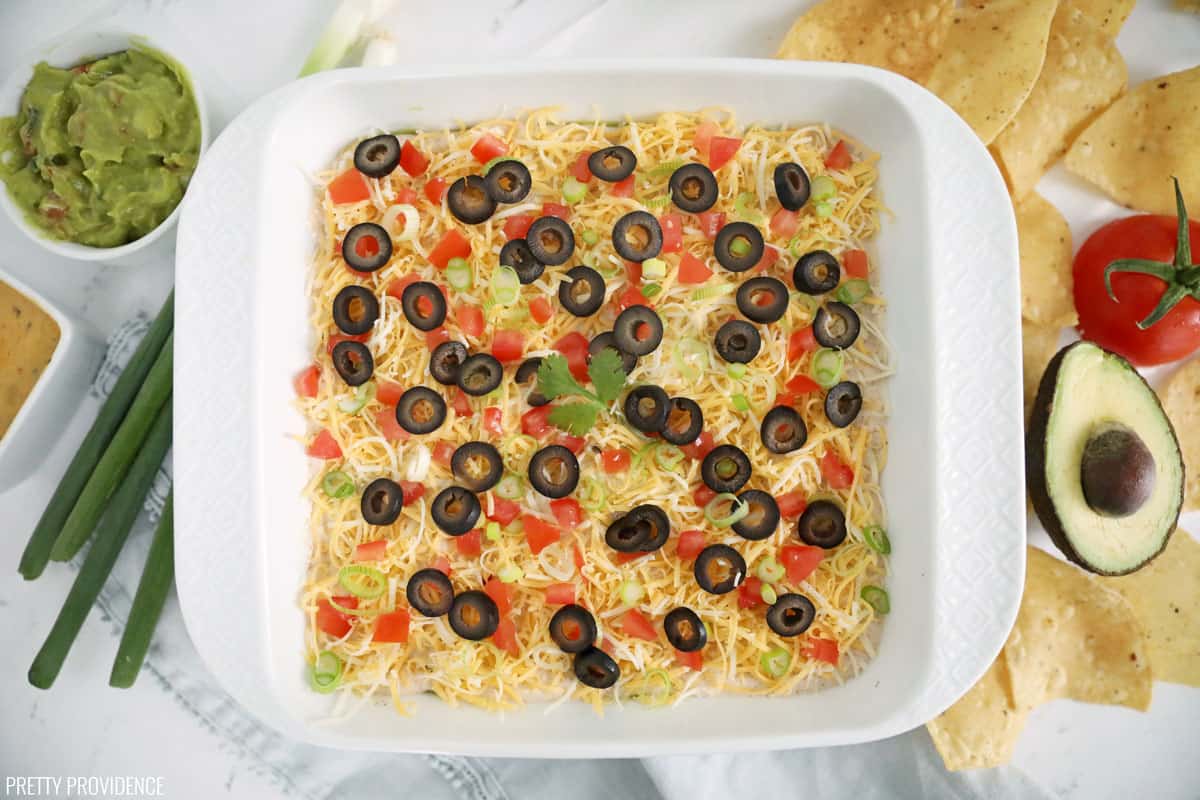 If you try this recipe, please leave us a comment and positive review! They mean a lot to us!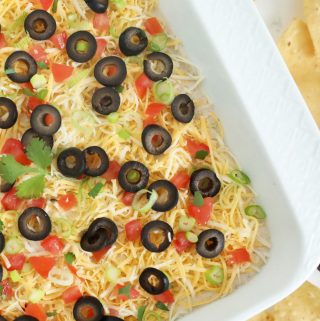 The Best Seven Layer Dip Recipe
The best 7 layer dip recipe ever, made with refried beans, guac, mayo and sour cream, and more. This layer dip is perfect for the Super Bowl, any game day, or cinco de mayo!
Print
Pin
Rate
Instructions
Mix sour cream, mayonnaise and taco seasoning together in a small bowl.

Spread refried black beans into the bottom of a 9x13 dish.

Spread guacamole over beans.

Spread seasoned sour cream mixture over guacamole.

Sprinkle cheese, ro-tel, olives and green onions over the top of those layers.

Serve with your favorite chips.
Notes
Cover tightly with plastic wrap and store in the refrigerator before serving.
Nutrition
Serving:
0.5
cup
|
Calories:
272
kcal
|
Carbohydrates:
17
g
|
Protein:
11
g
|
Fat:
19
g
|
Saturated Fat:
6
g
|
Trans Fat:
1
g
|
Cholesterol:
25
mg
|
Sodium:
883
mg
|
Potassium:
460
mg
|
Fiber:
8
g
|
Sugar:
1
g
|
Vitamin A:
402
IU
|
Vitamin C:
7
mg
|
Calcium:
208
mg
|
Iron:
2
mg