Hey there! Mandy here from Mandy's Recipe Box and I have such a delicious recipe for you. It has bacon. That's really all you need to know. I say it all the time, but when bacon is involved you really can't go wrong. This Bubble Up Carbonara is so easy to throw together. It'll make people think you spent loads of time making it when it only takes about 10 minutes to prepare.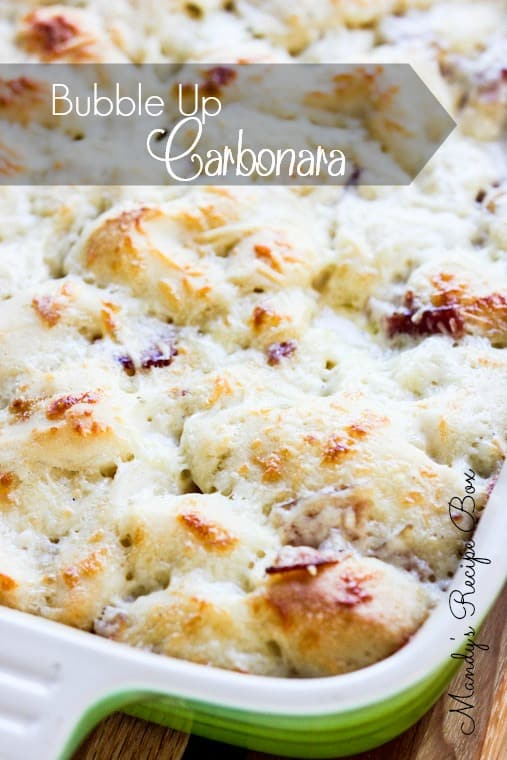 I made this when my 12-year-old daughter had a friend over and she just loved this. All my family loved it, but the friend even wanted more later on before they went to sleep. I had a silent "yes!" go through my mind. That's the best compliment when people can't get enough of something you made. Make sure to try this because everyone needs to try it. Next time I may add some chicken to it. Just cook it first and toss it in with the bacon.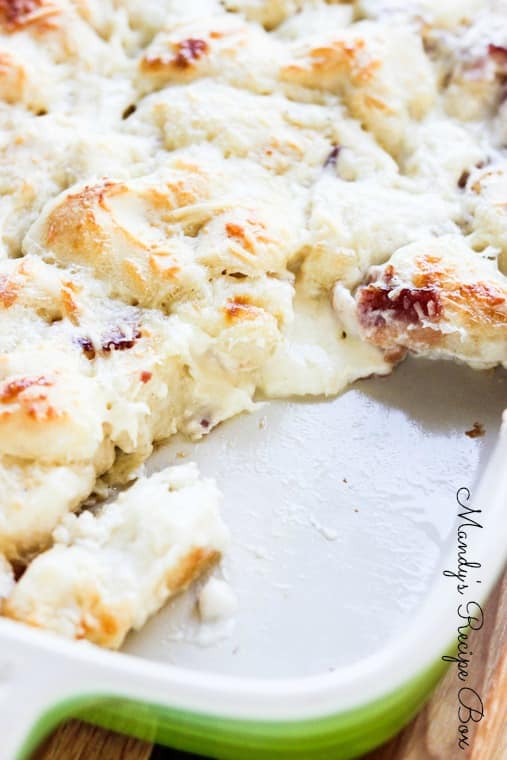 Ingredients
2 cans of refrigerated biscuits (jumbo or regular)
2 cloves garlic, minced
1 jar of Alfredo sauce
1/2 cup shredded Parmesan cheese
8 pieces of bacon, cooked crisp and chopped
1 cup Mozzarella cheese, shredded
Directions
Preheat oven to 375 degrees F.
Cut each biscuit into fourths and place in a large mixing bowl.
Toss with Alfredo sauce, garlic, bacon and Mozzarella cheese.
Place mixture into a greased 9×13 dish. Sprinkle Parmesan cheese over all.
Cover with foil and bake 25 minutes. Uncover and bake 10 minutes more until golden.
Make sure the biscuits are cooked through.
You may also like these recipes: