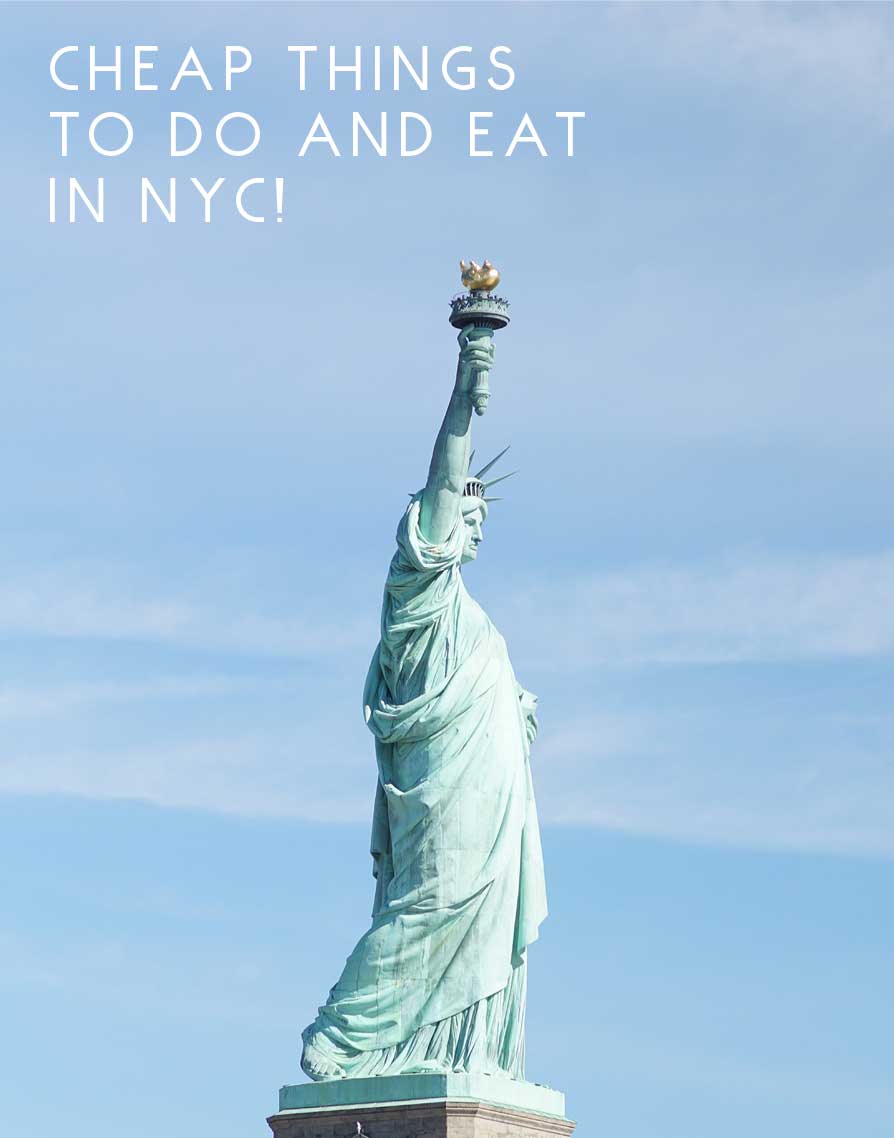 My husband and I went on a really fun trip to New York City last November. We wanted to go on a vacation together before our Millie arrived (she was born in March) and originally we had planned to go somewhere with a beach, but with the Zika virus complicating things (and flights to other non-zika having islands being too expensive) we went a completely different direction. I decided that if I couldn't sit on a beach, I wanted to eat all the things! It was so fun being in New York in the fall and I'm really glad we did this.
While New York City is famously not cheap, we were able to have a lot of fun and eat a lot of things without spending a ton of money. Our flights were free with Southwest points (holla) we got a good deal on a hotel in Queens – the Boro Hotel which we really liked. It was nice and super close to the subway, which is what really mattered to us. Then we found really inexpensive things to do in between nicer meals. It was really great. So while I would like to talk your ear off about literally everything we did, I won't. I want to share the really budget friendly meals and activities we did in case you are looking for that kind of inspiration!
New York pizza is a must, and while I do recommend trying one or two of the 'BEST EVER' pizza places (Juliana's, Di Fara) you can also get an amazing slice for .99 cents at none other than 99 CENT PIZZA – or it's rival 2 Bros Pizza. (They can be found allll over town.) This is a really good way to subsidize food costs on your trip, and it's really an integral part of the whole NYC experience! I also really liked Joe's Pizza in Greenwich Village and it's around $3 a slice!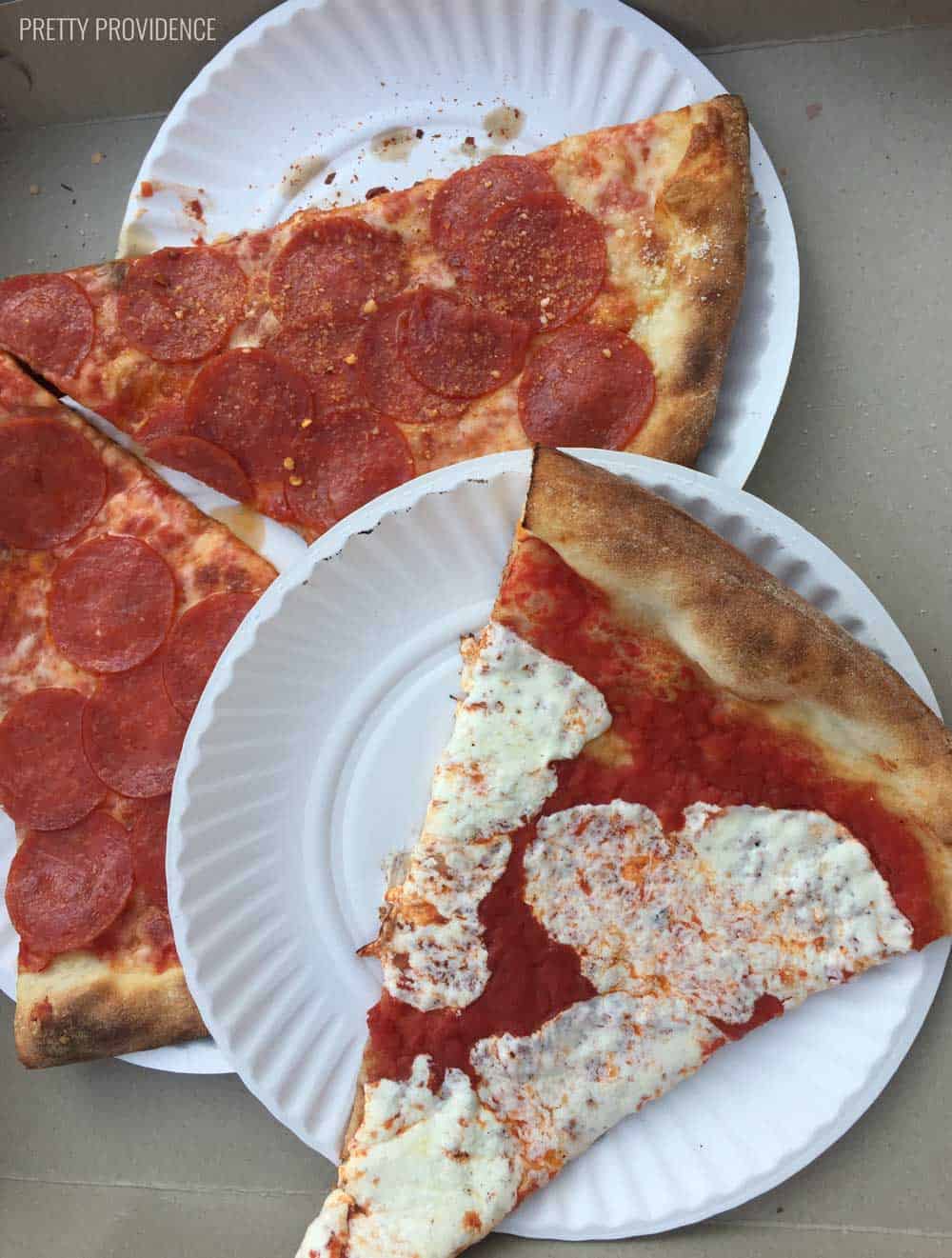 Next, for things to do. Did you know that being in the audience for a lot of shows is FREE? You just have to put your name in for tickets a few weeks ahead of time. We were lucky enough to go to Stephen Colbert and Conan – he normally films in LA but was in NYC at the Apollo that week! Both of these tickets were free, and the shows were both amazing!
It's not just the fun of being in the audience for a show, but these guys are comedians and are entertaining you when the cameras are off too. Don't just take it from me, reviews on Trip Advisor give Stephen Colbert tapings five stars. Colbert did a Q&A before the show with us and my husband asked him what to name our baby. (He said Stephanie or Arwen.) We also got to see Tig Notaro, Patton Oswalt, and the highlight guest for me – Eddie Redmayne. The band was absolutely incredible, too.
At Conan, Ryan Reynolds came. You guys, Ryan REYNOLDS. Also, don't underestimate how hilarious Conan is. Just everything about him is funny.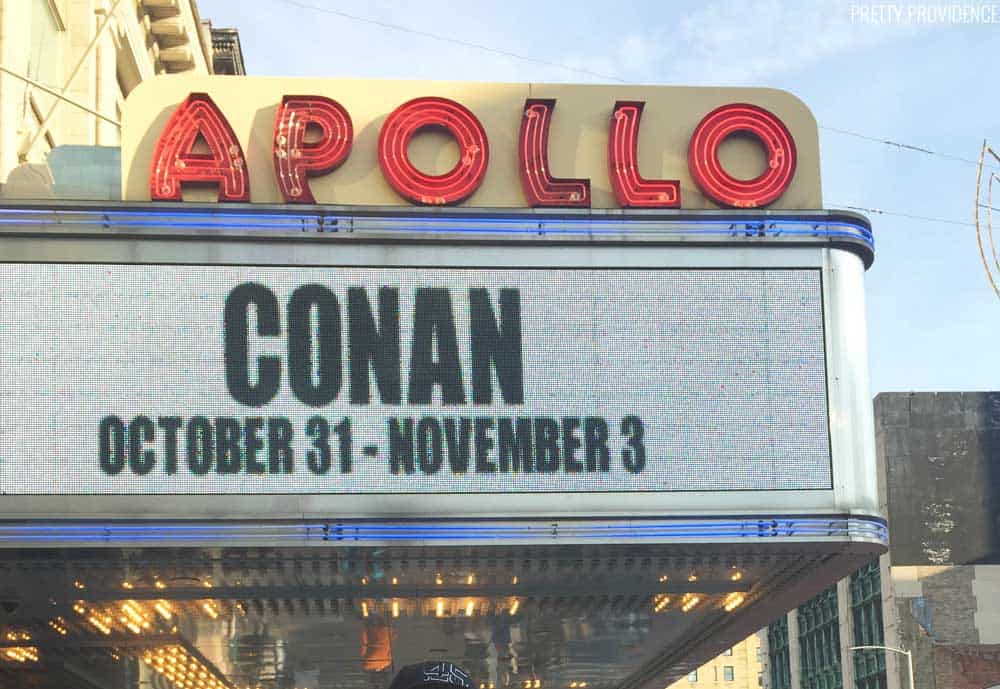 Another good way to spend less $ on food is not to sit down at a restaurant for each meal. Grabbing a bagel (everything) or a donut or a cookie from one of the AMAZING bakeries NYC has is the way to go sometimes. You're spending a lot less than if you sit down at a restaurant with drinks and tipping waiters and all of that. My FAVORITE cookie in New York is the chocolate chip cookie from Levain Bakery. It's absolutely HUGE and amazing, and it's $4. It can replace breakfast or lunch, or just be a big snack, haha. The bakery is really close to Central Park so it's the perfect treat to take with you on a walk.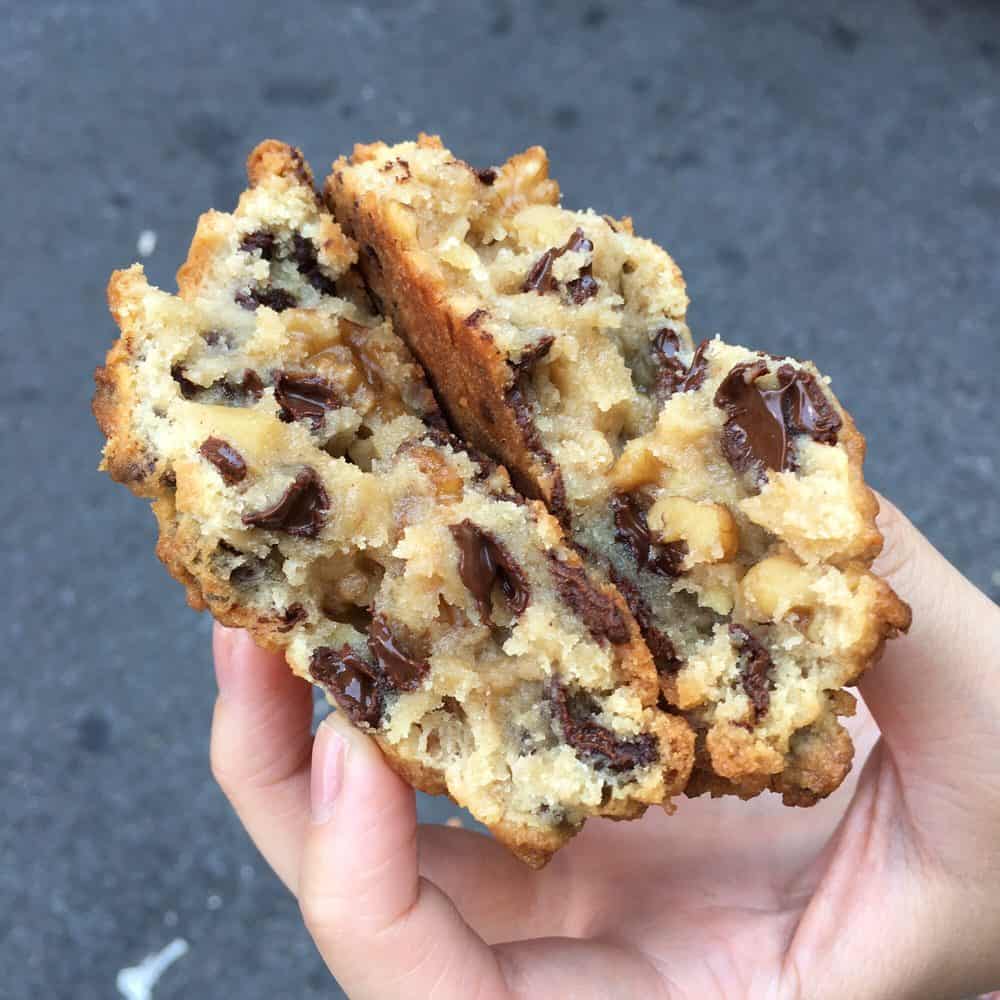 Then, obviously walking around to explore the neighborhoods is a cheap activity! I know a lot of people like to go to the Top of the Rock or to see NYC from the Empire State Building, but both of those things are pricy. You can see amazing views of the city walking the Brooklyn Bridge (FREE) the High Line Park (FREE) and the Staten Island Ferry (FREE.) I'm sure there are more, too! But I'm just saying, you don't have to spend money to see the beauty that is NYC.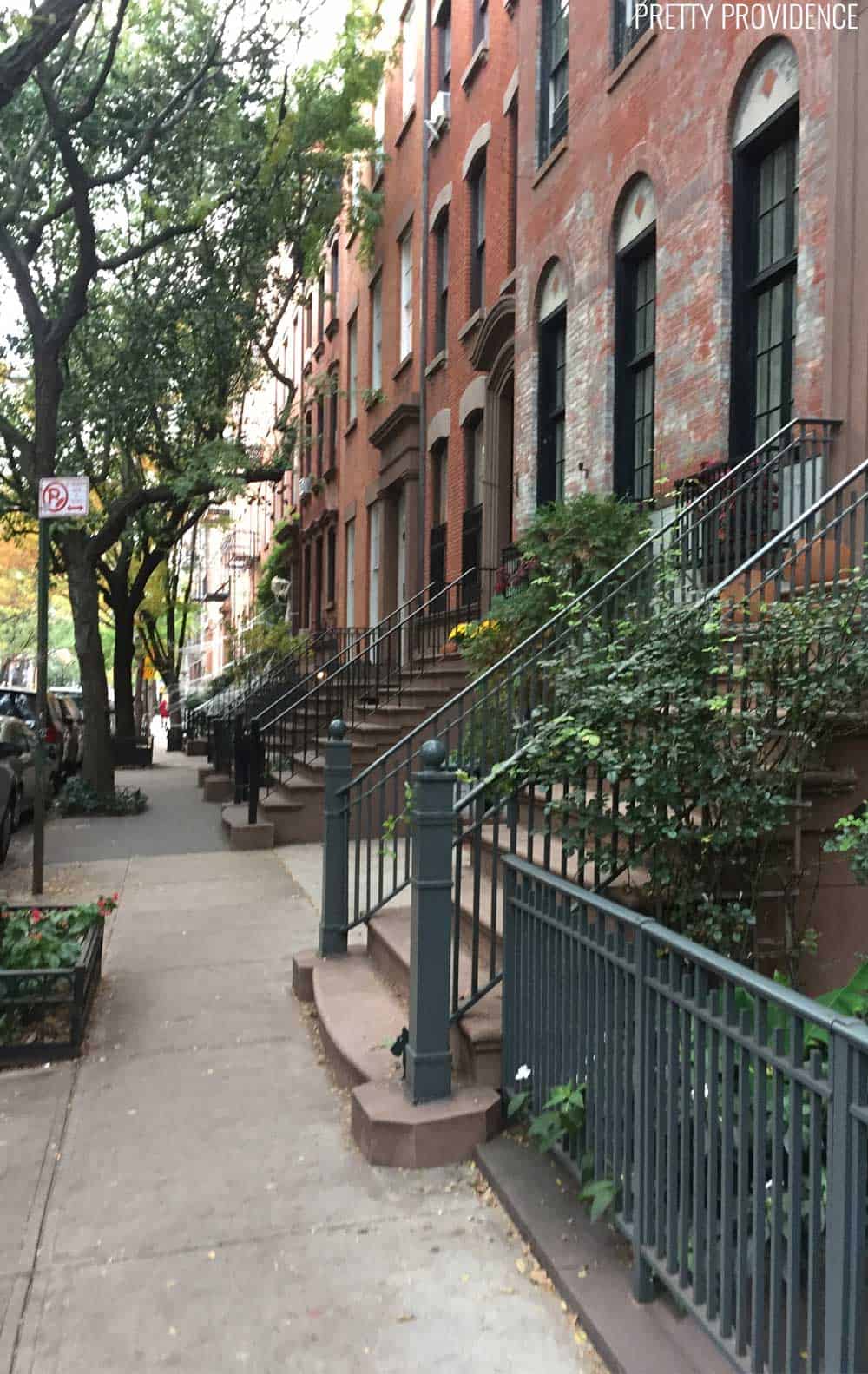 One fun thing that I'm really glad I did was keep a list of everything we did and every place we ate while we were there. Now, even a year later, I can look at this list and remember every fun thing! I know that some people don't place a lot of focus on food when they travel but for me, that is the main priority so I never want to forget a great meal or treat I have. I used Google Keep to make this list, because I use it for a lot of other lists too. But you can use Notes or any other list app.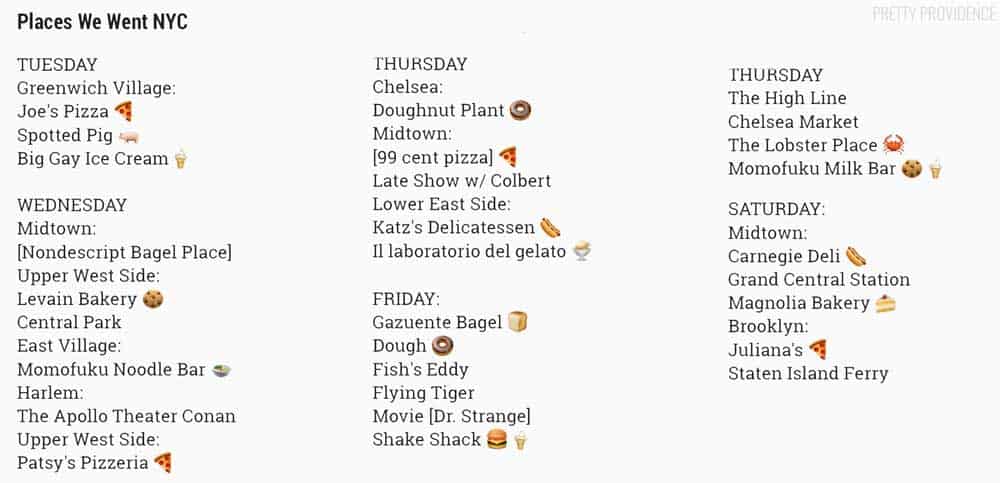 I really hope you have found some good ideas here for fun things to do, and things to eat on a budget! You should also read our sister post from a few years ago 'How to Experience NYC on a Budget' – still relevant!