The best lemon sour cream pie you will ever taste! If I can make it you can too- and I promise it will please any crowd! It's even won a few competitions!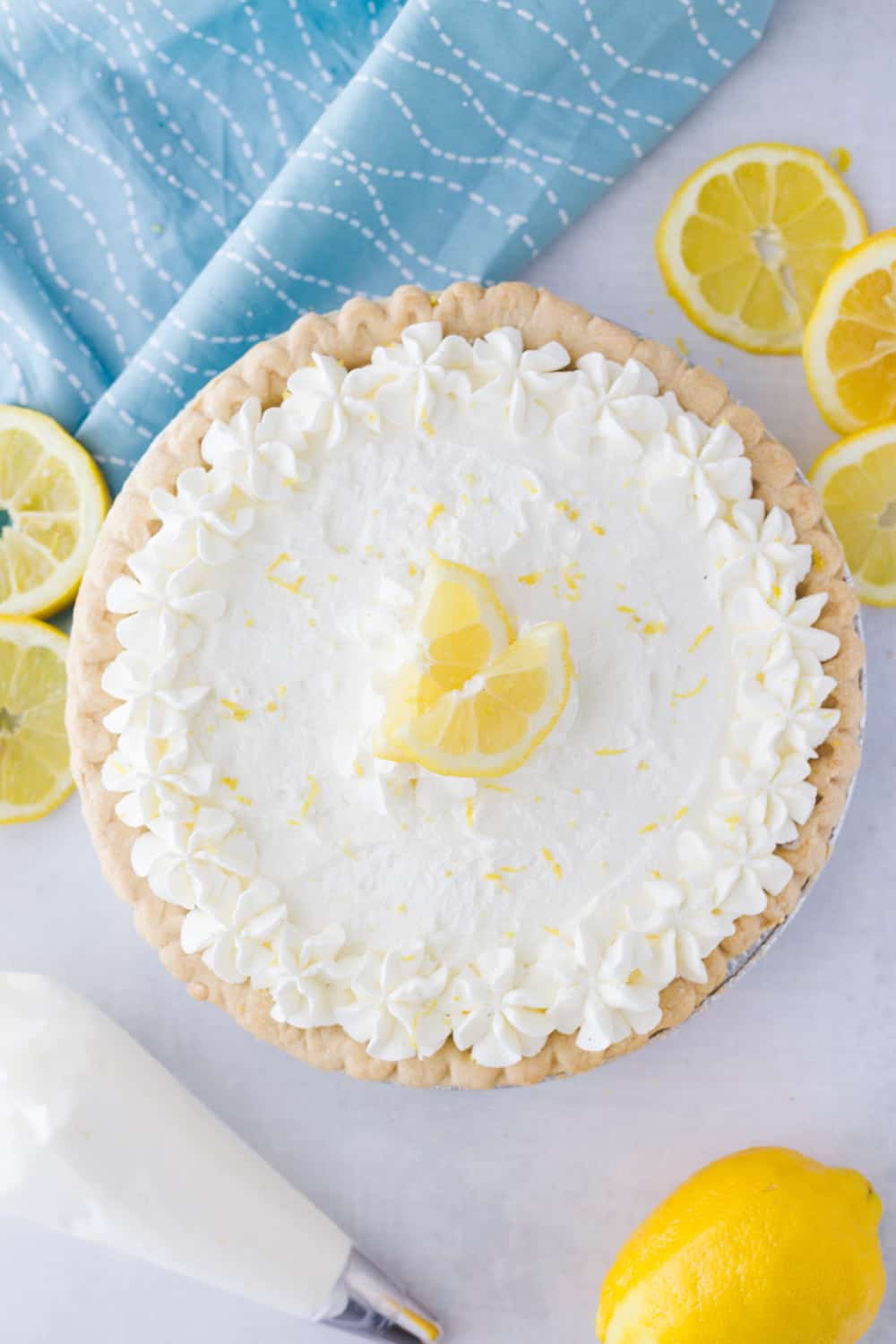 I have mentioned before that my husband is a major pie lover, especially lemon pies. So much so, that on his birthday's growing up he would request lemon pie instead of cake! In the town where we live there is an amazing little shop called Croshaw's Pies (if you are ever in the Southern Utah area, you must go!) and they serve an absolutely amazing lemon sour cream pie. It quickly became Bryce's new favorite, and my go to for any special occasion.
Then, something dreadful occurred. I missed the deadline to order his special pie for Thanksgiving one year (unfortunately, Croshaw's is not our little secret, everybody loves them). Bryce is never one to make a big deal out of things, but I could tell he was disappointed. So, I set about trying to find the perfect lemon sour cream pie recipe.
Lucky for you, I found it! Let me tell you from my own experience that first Thanksgiving.. everyone will like this pie. Even if they "don't like lemon" even if they "don't like pie" even if they think to themselves "sour cream? That's weird." They are gonna love it. So make two. You've been warned!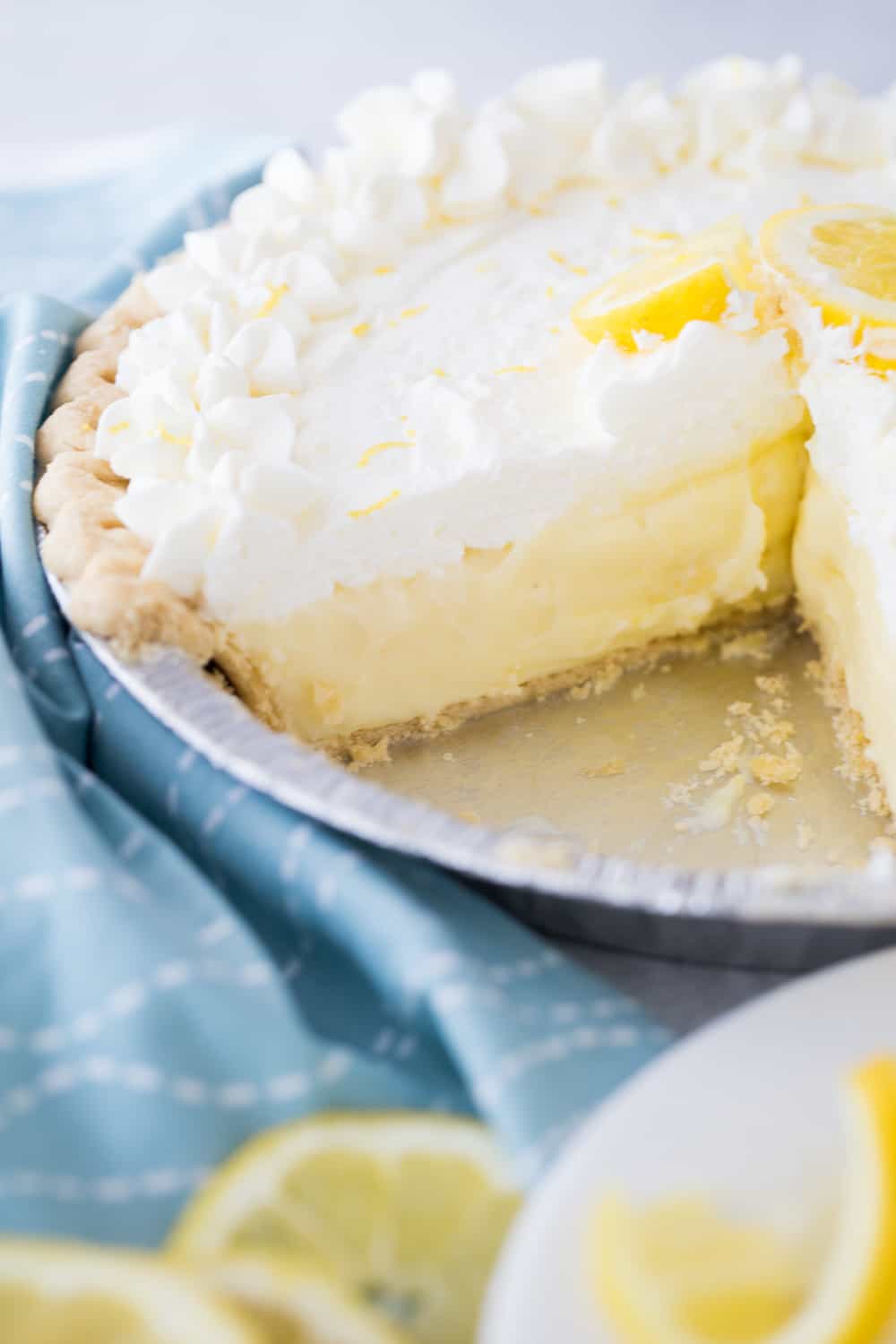 If making a sour cream lemon pie from scratch sounds intimidating to you, I promise you can do it! I'm not quite sure why, but making pies used to be so intimidating for me! Once you've made one though, it's all downhill from there! So you might as well start with the best lemon pie recipe ever, right?!
HOW TO MAKE LEMON SOUR CREAM PIE
Here is a little pictorial to help you see all the simple steps together in one image! Or, if you really want to see the whole process start-to-finish, watch the video in the recipe card – it's at the bottom of the post. :)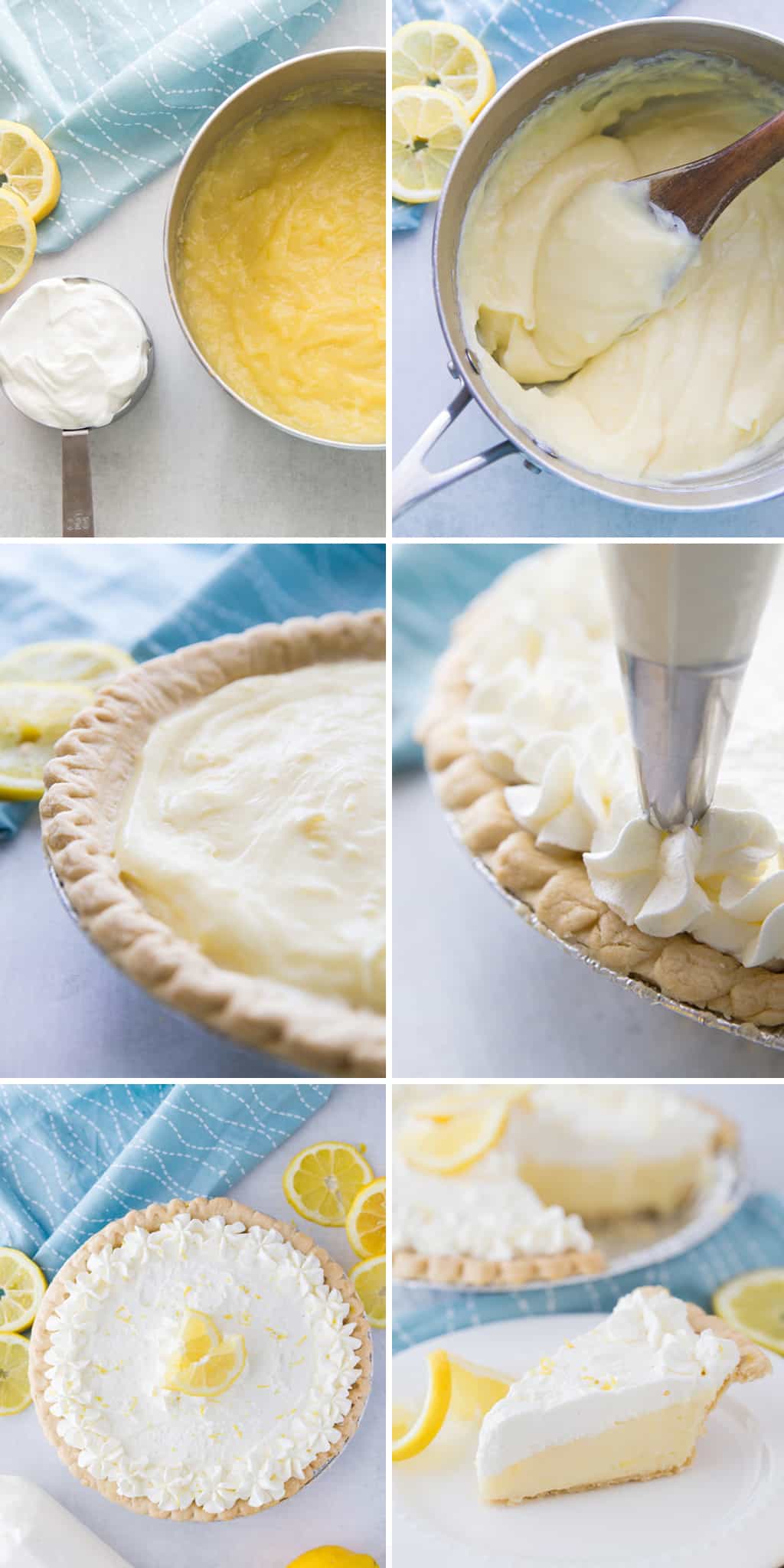 Okay you guys I'm gonna tell you a dirty little secret. If I am low on time, I love to use Marie Callender's frozen pie crusts! Making your own pie crust is pretty easy, but I honestly think these ones taste really good and you can find them in the frozen dessert aisle for super cheap! Do what you want to, but if you are making a bunch or are intimidated by pie crust there is no shame in using a pre-made crust!
My favorite Pie Serving Ware:
*affiliate links

OTHER PIE RECIPES YOU MIGHT ENJOY: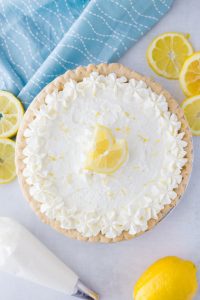 Print
Sour Cream Lemon Pie
The best lemon sour cream pie you will ever taste! If I can make it you can too- and I promise it will please any crowd! It's even won a few competitions!

Ingredients
1

pie crust

1

cup

sugar

3

tablespoons

cornstarch

1 1/2

teaspoons

cornstarch

1

cup

milk

1/2

cup

lemon juice

3

egg yolks

lightly beaten

1/4

cup

butter

slightly melted

1/2

tablespoon

grated lemon peel

1

cup

sour cream

1

cup

heavy whipping cream

whipped

2

tablespoons

sugar
Instructions
Bake your pie crust according to package/recipe directions and set aside.


Crack eggs in a small bowl, beat slightly with a fork and set aside. In a large saucepan combine sugar and cornstarch (yes, there are two cornstarch's listed in the ingredients on purpose, it's a weird amount so I thought breaking it down like that would be easiest). Whisk in milk and lemon juice until well combined. Cook over medium high heat, stirring constantly, until mixture is thick and bubbling. Reduce heat to low and cook for two more minutes.


Whisk a small amount of hot mixture into your egg yolks. Pour egg mixture into pan, stirring constantly. Bring mixture to a gentle boil and cook and stir for two minutes (yes, your arm will be hot by now). Stir in butter and lemon peel and remove from heat.


Once mixture has cooled stir in sour cream and add your filling to your crust. Top with whipped cream and refrigerate until ready to serve. If you are going to garnish your pie with additional whipped cream, wait until right before serving to yield best results!

Notes
You cannot substitute cool whip or pre-whipped cream if you want this pie to taste like it should. I let my bosch whip the cream for me while I make the pie. Also, I add about 2 tablespoons of regular sugar to the cream once it is whipped to sweeten it up just a little. Make sure the sugar combines evenly.
Nutrition
Calories:
364
kcal
|
Carbohydrates:
37
g
|
Protein:
4
g
|
Fat:
22
g
|
Saturated Fat:
12
g
|
Cholesterol:
113
mg
|
Sodium:
149
mg
|
Potassium:
133
mg
|
Sugar:
24
g
|
Vitamin A:
685
IU
|
Vitamin C:
5.4
mg
|
Calcium:
87
mg
|
Iron:
0.6
mg
Now, go eat your heart out!
xo,