These Chocolate Chip Pumpkin Spice Bars are a cinch to make. The secret is using a cake mix! That wonderful fall flavor of pumpkin spice comes right through!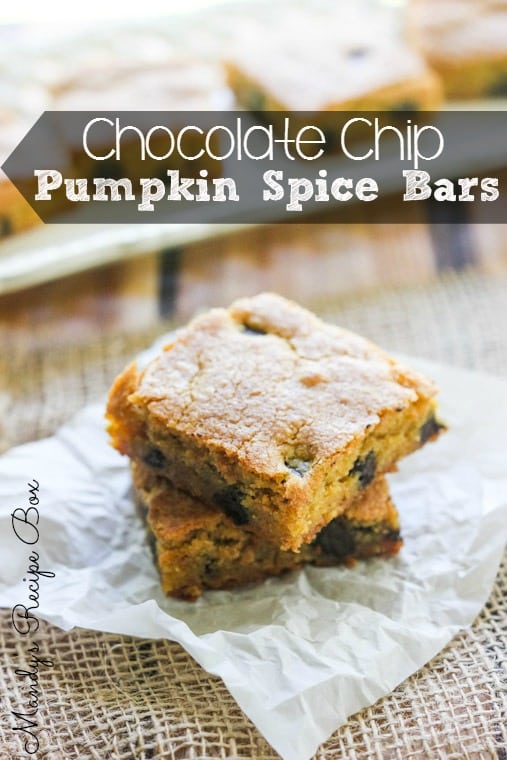 It's Mandy from Mandy's Recipe Box back with another frugal recipe! When I am baking or cooking, my 2 youngest will come into the kitchen and want to sit on the counter to help. Especially if it involves cracking eggs. They all want to do that part. My 6-year-old daughter and 19-month-old son love being in the kitchen the most. When I made these Chocolate Chip Pumpkin Spice Bars, my kids were in school so it was just the baby home to help. He sat right up on the counter next to me and helped make these bars. That's how easy they are! And when they were done (and after I photographed them), he grabbed a fork out of the drawer and asked, "Bite?" How can you resist that?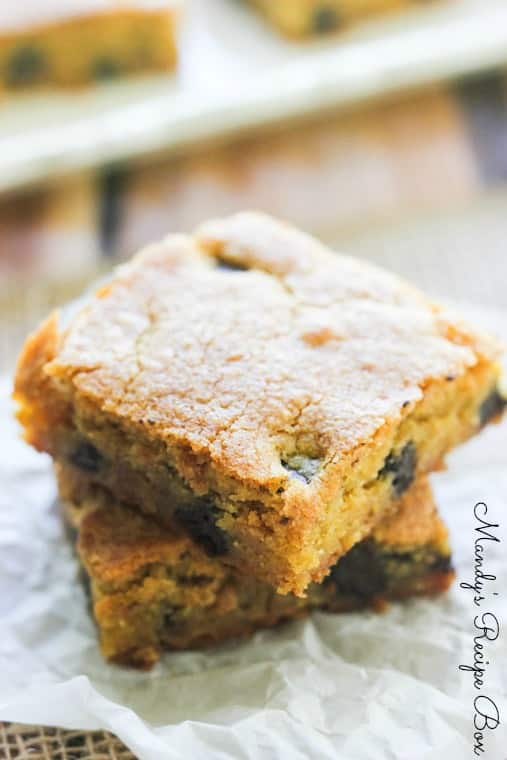 Ingredients
18.5 box yellow cake mix
2 eggs
½ cup oil
2 tsp. pumpkin spice
1 cup semi-sweet chocolate chips
½ cup chopped nuts, optional
Directions

In a bowl, combine cake mix, eggs, oil and pumpkin spice. Stir with wooden spoon until combined. It will be thick.
Add chocolate chips and nuts; stir.
Line a 9x13 or 9x9 pan with foil, leaving some hanging over the edge to make "handles"; spray with non-stick cooking spray.
Spread batter into pan and press with fingers to even it out.
Lift the "handles" to remove bars from pan. Cut into squares.
You may also like these recipes: