Hey y'all! As I promised in my craft room reveal, I am sharing more about the pegboard that is making my wildest organization dreams come true. I wanted to do this for a long time but for some reason I thought that it would be complicated. I could not have been more wrong! It took all of fifteen minutes to hang, and then I got the hooks and organization done pretty quickly too. The best part about this is that nothing is permanent. You can move the hooks all over depending on your needs at any given time. It's just the best thing ever. So, if you are ready to take the life changing plunge and hang your own pegboard, here is the how-to:
Materials:
Pegboard – Home Depot (sized to your preference.) Mine was 4×8 feet but I had them cut it into two 4×4 foot pieces for me, and I hung one here. The other half is going in our garage.
Assorted pegboard hooks
Anchors, Screws
1/4″ Flat Washers
Drill
Spacers
Optional:
Paint
Spice Racks
Jars
Clipboards
Binder clips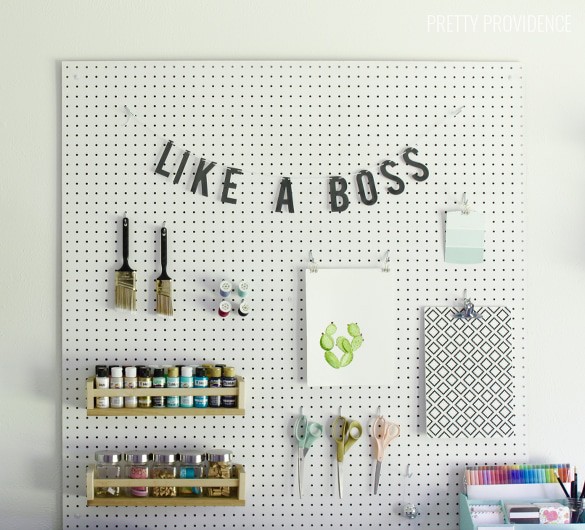 How to hang pegboard:
Line up your pegboard on the wall where you want it and choose which holes you are going to use to hang it. (You probably need more than one person for this step!) I chose four holes about two inches in from the corner and then one in the middle. Use a pencil to mark the wall where you're going to drill into it. Place pegboard somewhere else until ready to hang.
Drill a hole in the wall at each pencil mark. Insert anchors into the holes. Now have someone hold up the pegboard.This is the hardest step because it's near impossible to see where the anchors are behind the pegboard. (But you can do it, I believe in you!) Slide spacers behind pegboard and hold them in place behind your designated holes, Then place washers on the front of the holes as you drill a screw through each designated hole, through the spacers and into the anchors.
You're done! Now for the fun part. I opted give mine a coat of white paint before doing anything else, because the even though it came white, it was dingy looking. I also painted over the washers so that you don't notice them unless you look closely.
How to organize pegboard:

This is up to you, but you'll need pegboard hooks and it's probably good to get a variety pack. I also recommend keeping some mason jars or other small containers around that you can tie string around and hang from the pegboard. This is handy for holding pens or small objects.
I also got a couple $4 spice racks from IKEA and attached them to some of the pegboard hardware. They hold two rows of craft paint on the top rack and five jars of small craft supplies like washi tape and push-pins on the bottom rack. I love these so much I think I might add a few more. The fact that everything is visible but still organized is SO GOOD.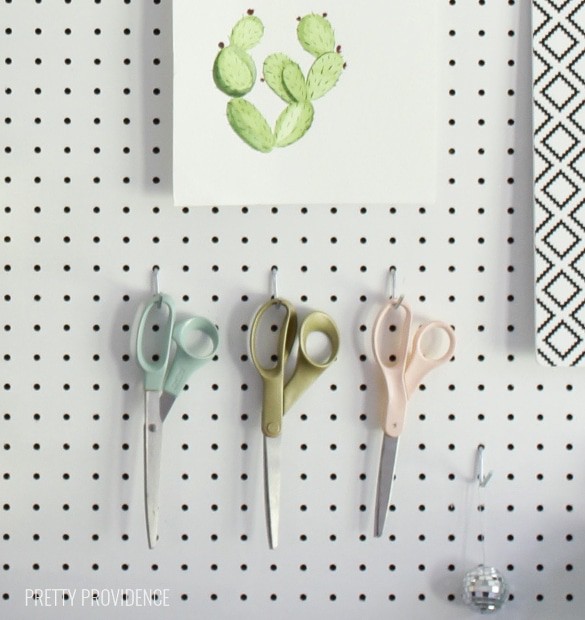 Then to hang papers easily I got some pretty binder clips from Target and a cute clipboard from Hobby Lobby. Last but not least, I made myself a new "like a boss" banner with a banner kit from Target. (The 'like a boss' banner I had before was made out of flimsy printer paper and eventually wore out.)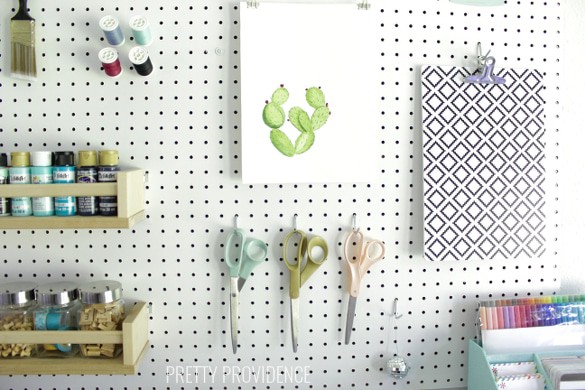 So there it is. I hope you'll try it!