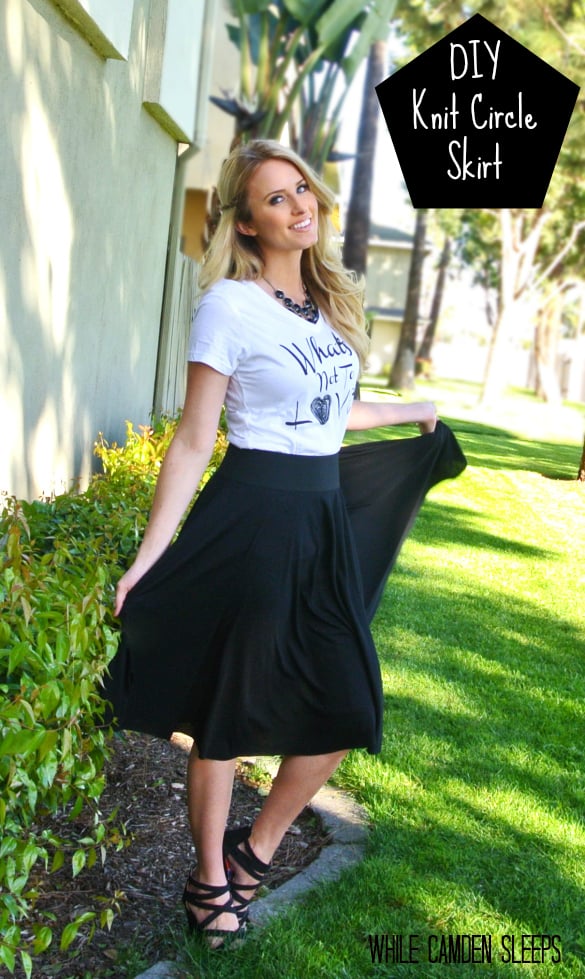 Hello Pretty Providence Readers!
I recently posted a tutorial on my blog about how to make a tulle circle skirt. After making it, I realized that I kind of did it backwards by making multilayer circle skirt first before ever making a basic one. Circle skirts are so easy! In fact, they just might be the easiest skirt to make. All you have to do is cut the fabric and attach a waistband.
If your fabric is wide enough, the only sewing you will have to do will be when you attach the elastic band. Because I used knit fabric, which doesn't fray, I didn't even worry about hemming the skirt. Of course, if you don't have wide enough fabric, you will need to cut two semicircles, sew the seams together, and then attach the waistband–but that's still easy!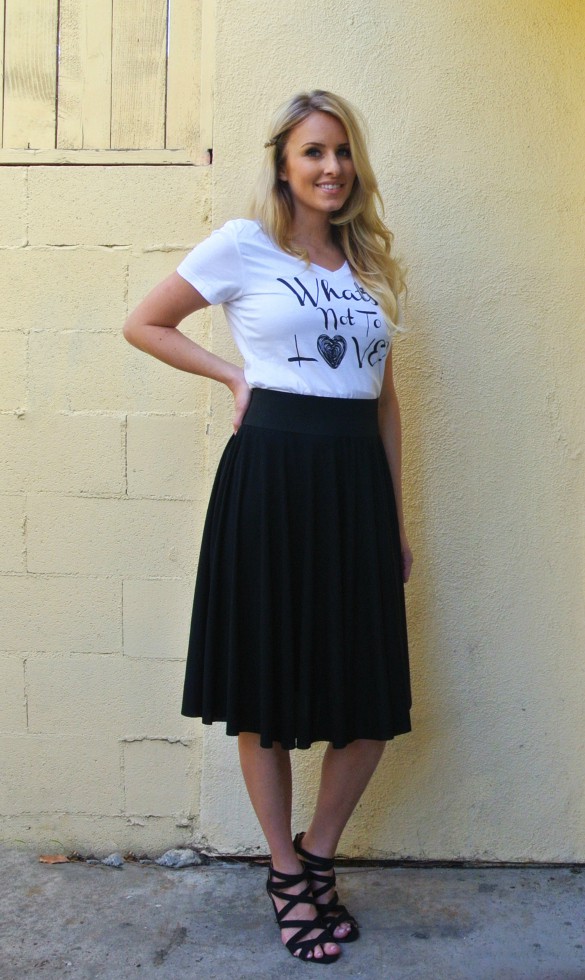 Materials:
-Knit fabric (Mine was leftover from this red carpet style dress)
–Elastic band
-Matching thread
To know what size of fabric you will need, or how you will need to cut your skirt, please see the pictorial below.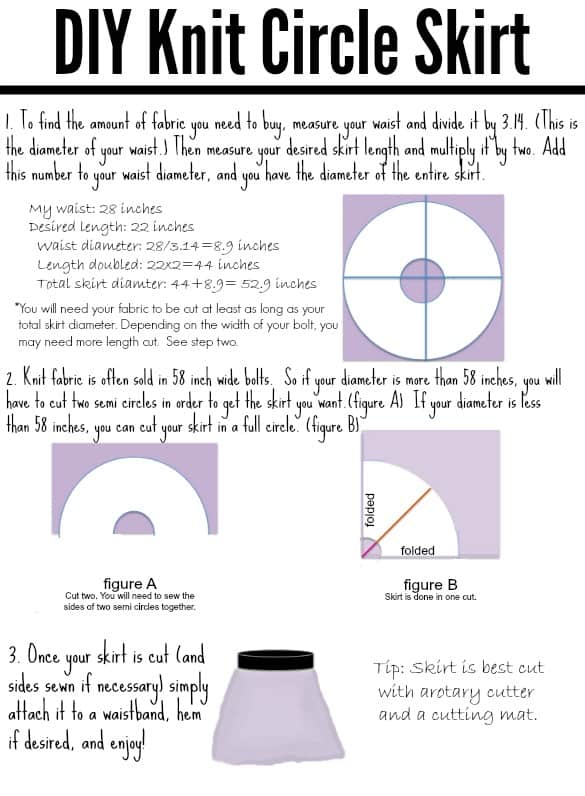 *Note in figure B that the pink line is the radius of your waist, or your waist circumference divided by 6.28. Use that measurement to help you cut the inner circle. The orange line in figure B represents the desired length of the skirt. Also, in figure B, the fabric has been folded in quarters.
I really recommend using a rotary cutter as it will produce a smoother edge.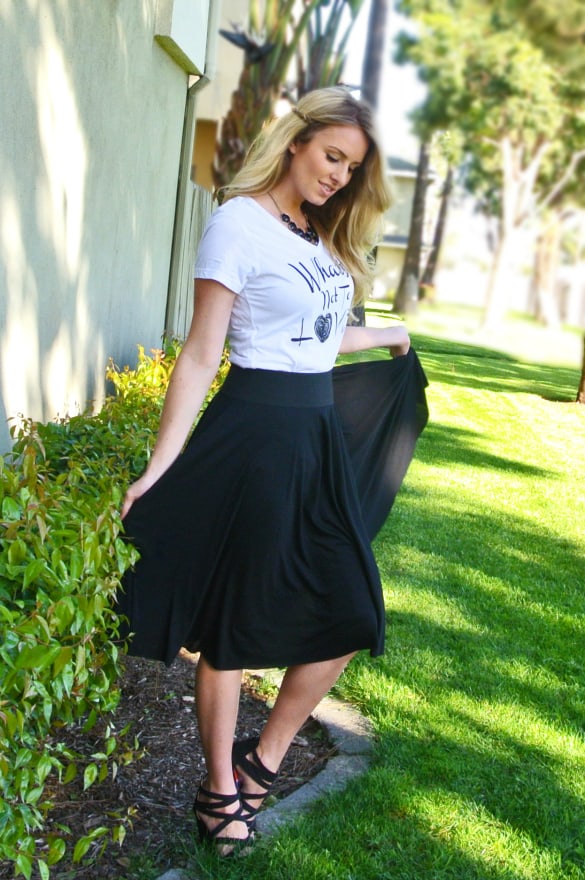 Attaching the waistband:
Wrap the elasticband around your waist until you have the fit you want, cut the band to this size. Mark every 1/8th of the waistband and every 1/8th of the skirt waist. Then, match up the pins on both. This will make it easy for you to know how far you need to be stretching the elastic band as you sew it onto the skirt. Zigzag stitches are great for this, but I actually used a straight stitch because it blends in better.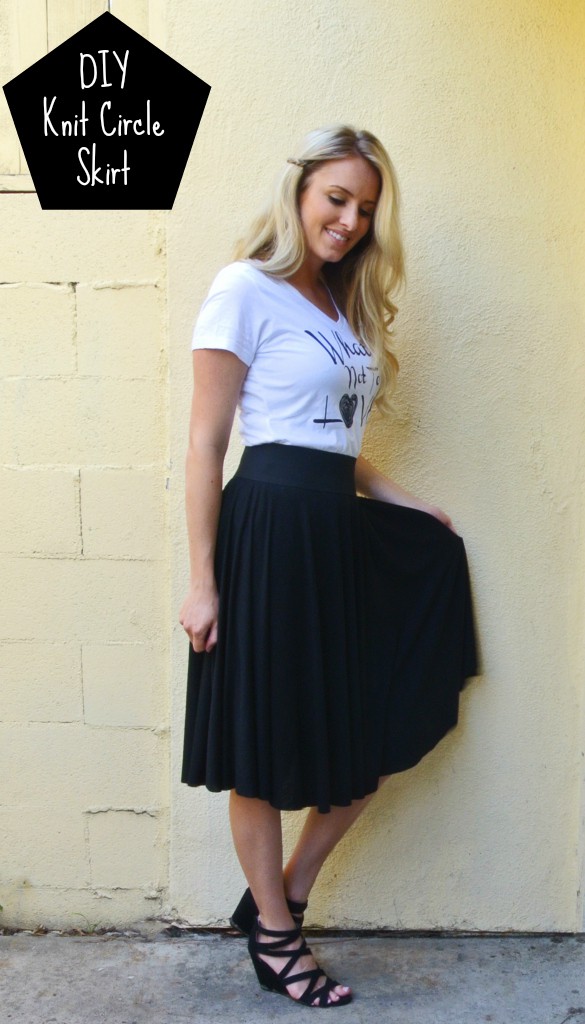 Skirt: Made by me / Top: Bryn Nicholle
-Kara from While Camden Sleeps
PS: Also, what's not to love about that cute graphic tee? My friend has them on her online boutique, Bryn Nicholle.