If you want the best potato salad this easy potato salad recipe is where it's at! Literally the only recipe I will eat anymore, you'll love it!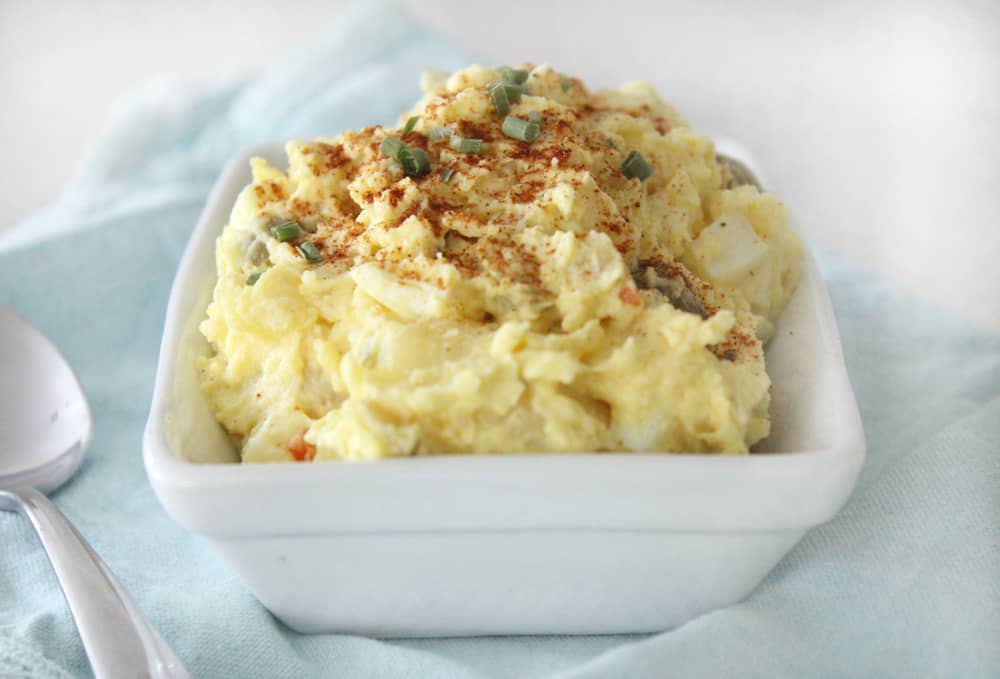 For a really long time I thought I didn't like potato salad. Now, I mourn for all those lost days! It turns out I just needed the best potato salad recipe in my life and I would be immediately converted! It goes into the file of my top favorite summre side dishes, along with Bowtie Pasta Salad, Creamy Tomato and Cucumber Salad | and Creamsicle Fluff! This recipe is chock full of delicious ingredients, without being runny or mushy... both big no-no's for me!
Classic Potato Salad
This recipe reminds me of my Grandma Bickmore, because it is a recipe that she really loves and looks forward to at family gatherings. Please tell me I'm not the only one to have nostalgia surrounding certain recipes! I know that as long as I live, when I eat this recipe I will think of her, and I love that.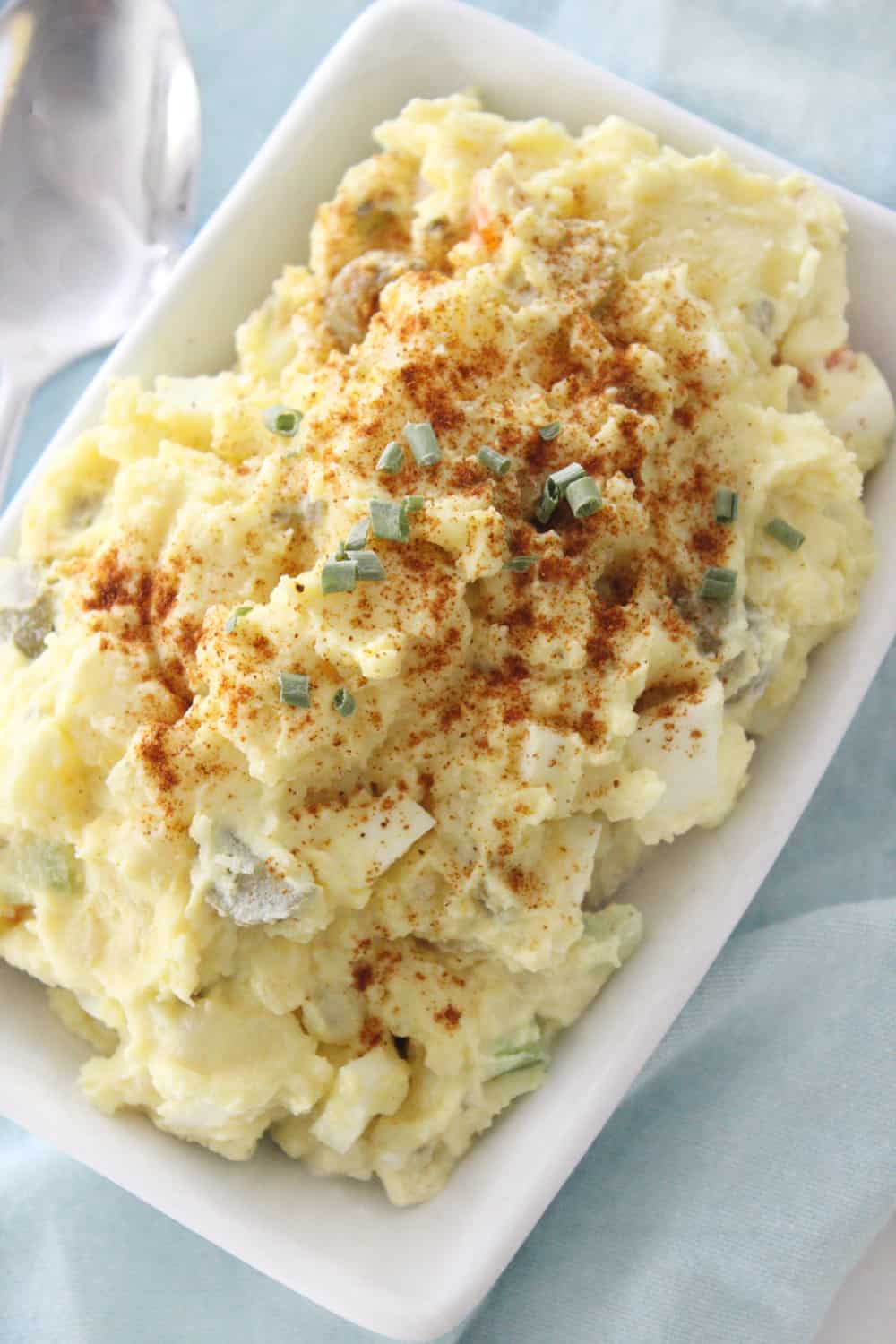 Let's start out by covering a couple commonly asked questions!
When do you serve potato salad?
We typically serve this easy potato salad recipe on big holidays like Easter, Mother's Day, Christmas, and of course all summer long at BBQ's! Creamy potato salad is the perfect BBQ side dish! It's also a great recipe to bring to a pot luck!
What goes with potato salad?
Really anything! As long as you serve with a protein and a vegetable you are pretty much covered! Whether you are having ham, turkey, steak, chicken, hamburgers or really anything else this recipe is a great complimentary dish.
Can you make potato salad the day before?
Yes, absolutely! In fact, I usually do. Since we typically make this dish for parties or special occasions it is really nice to make it the night before and having it already waiting in the fridge! Plus, it is definitely one of those things that get's better with time as the flavors blend a little bit.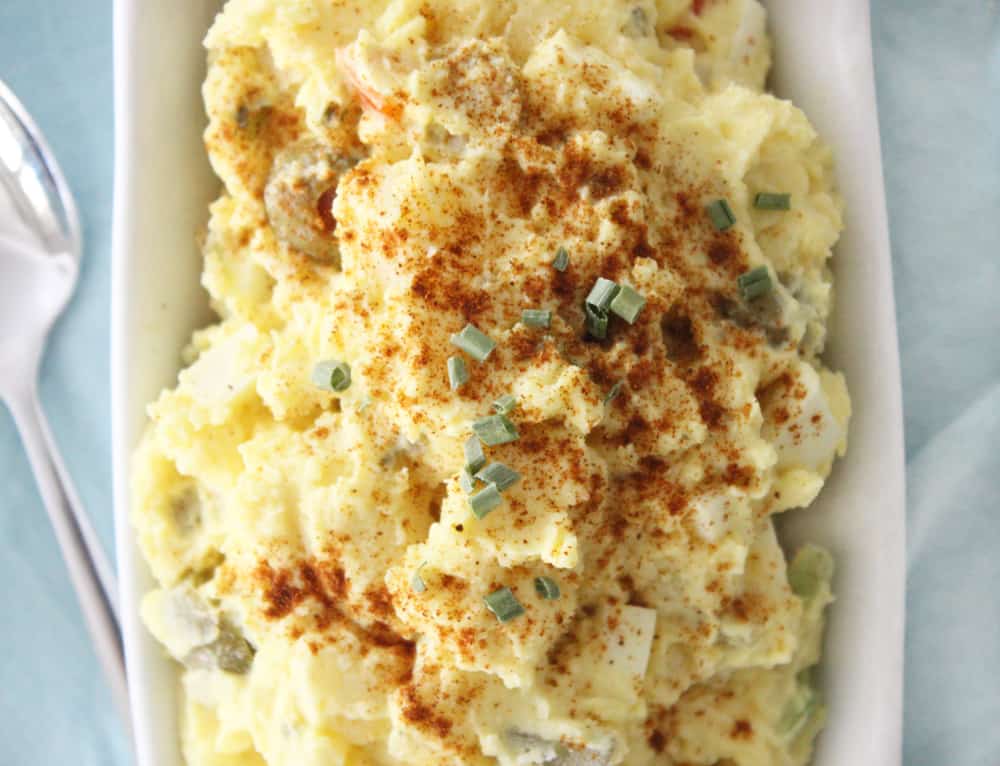 Potato Salad Ingredients
The ingredients in potato salad can be pretty easily adjusted, so if you really don't like something feel free to leave it out. Also, if you do really love something feel free to add more of it! For example, I love green olives, so if I am making this recipe specifically for myself then sometimes I will sneak in a few more than it calls for!
That being said here is what goes into our recipe:
Yukon Gold Potatoes
Hard Boiled Eggs
Celery
Sweet or Dill Pickles
Green Olives
Mayo
Mustard
Garlic Salt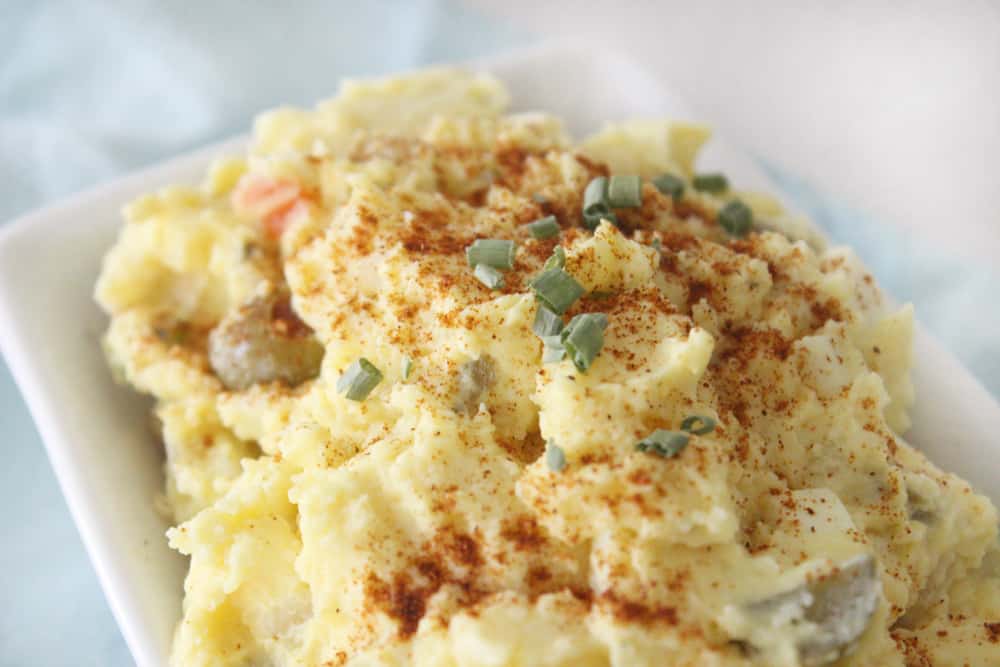 You ready for the recipe? Let's do this! Your bbq life will never be the same!
If you make this we would love if you would leave a positive review for us in the comments! Nothing is as rewarding as hearing that someone made something from our site and loved it, and the time you spend coming back to comment means so much to us!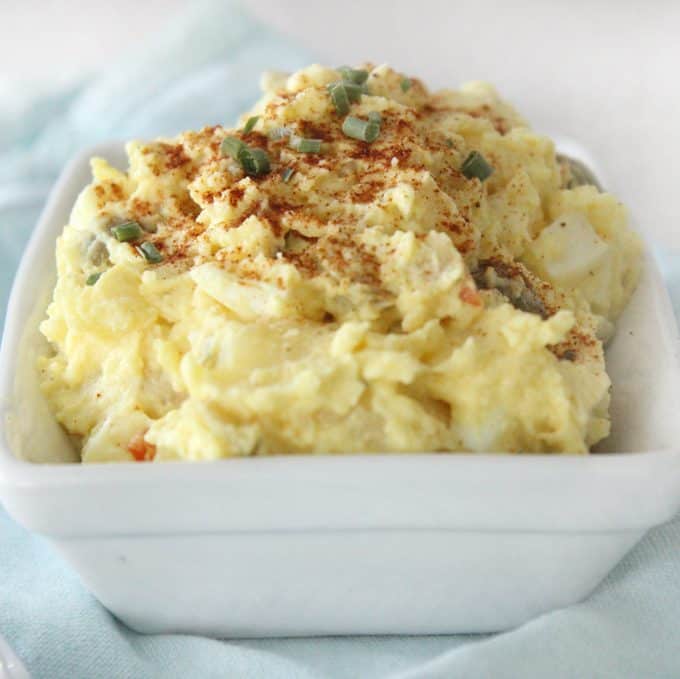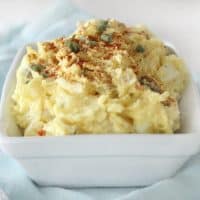 Best Potato Salad
If you want the best potato salad this easy potato salad recipe is where it's at! Literally the only potato salad I will eat anymore, you'll love it!
Print
Pin
Rate
Instructions
Peel and cook your potatoes until tender. To cook potatoes, fill a large pot with water, add your potatoes and bring water to a boil. Reduce heat to medium low and cover. Let potatoes cook in gently boiling water until done. Typically around 15 minutes for small, halved potatoes.

Mix all ingredients together and let sit in the fridge until ready to serve. I typically make the night before and let sit overnight!

Season to taste with salt and pepper and enjoy!
Notes
You may use anywhere between ½ cup to 1 full cup of mayo for this recipe. I tend to start with a half and then see if it needs more, but I don't prefer my salad with too much mayo so I like to start small and add more as needed! 
Nutrition
Calories:
281
kcal
|
Carbohydrates:
29
g
|
Protein:
12
g
|
Fat:
13
g
|
Saturated Fat:
2
g
|
Cholesterol:
190
mg
|
Sodium:
458
mg
|
Potassium:
1006
mg
|
Fiber:
5
g
|
Vitamin A:
280
IU
|
Vitamin C:
25.9
mg
|
Calcium:
98
mg
|
Iron:
8.1
mg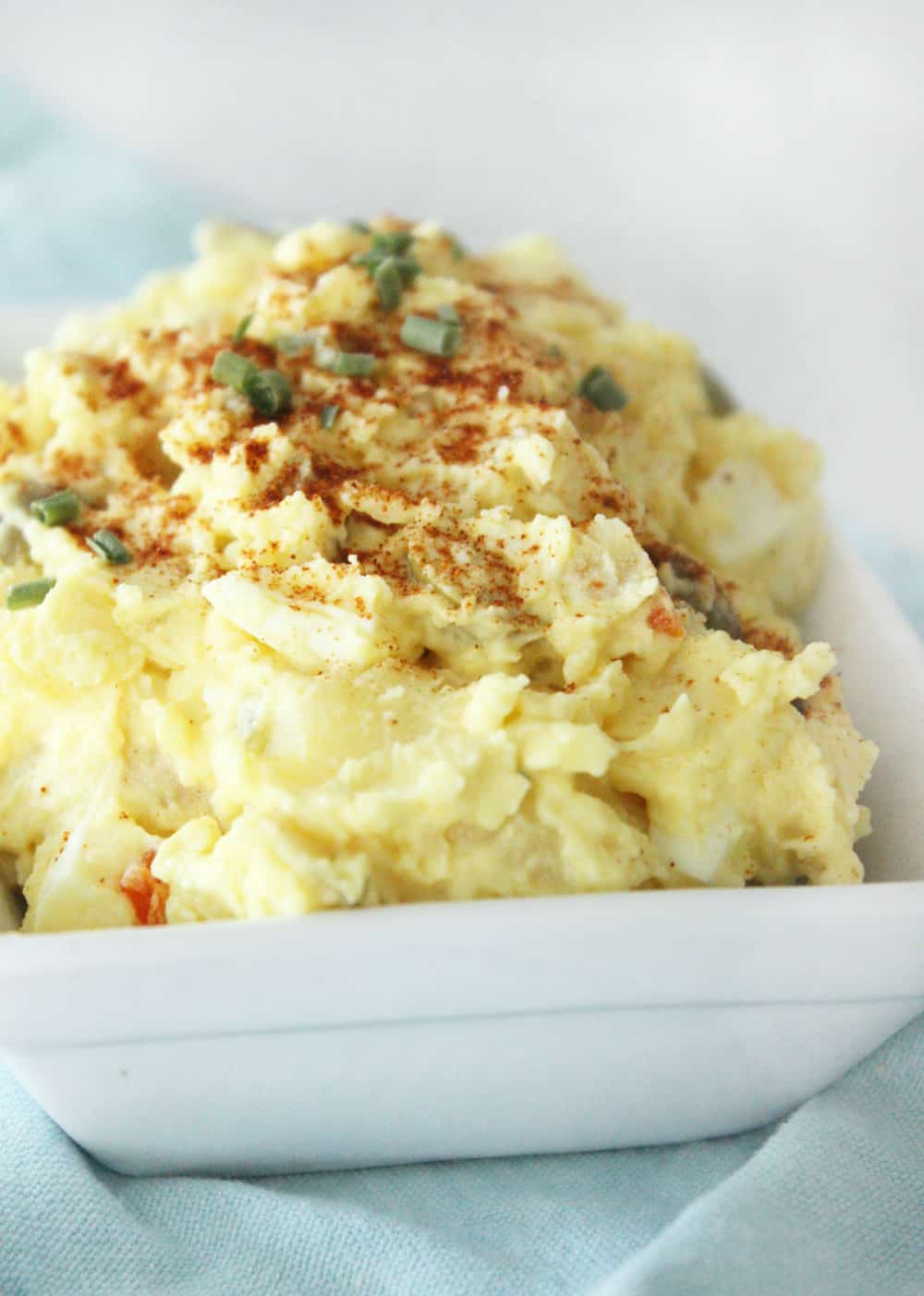 Congratulations friends, your potato salad game just totally leveled up! I hope you love this recipe as much as I do!
xo,

Shop this post:
*This post contains affiliate links!