This post is sponsored as part of a series in partnership with Kimberly-Clark.

As a mom of three kids three and under, you can imagine that we pour through diaper creams, lotions and ointment! My middle child particularly seems to use up a ton of these things. She has eczema and is prone to yeast infections and I guess what I am getting at is that we have tried every ointment under the sun and none has been that effective for her.. only constant vigilance. I finally decided to try an organic DIY variation to test whether or not any of the chemicals, scents etc. that they use in store bought varieties were worsening her condition.
Although it can be a little bit of an investment up front if you don't have all the ingredients, once you have them you will be able to make several batches of this recipe! Also, it works great for other super dry places like behind the ears etc!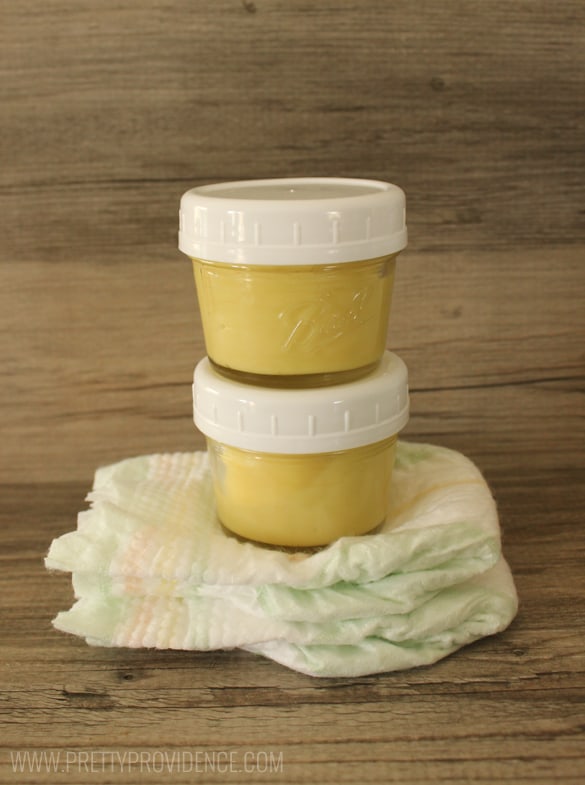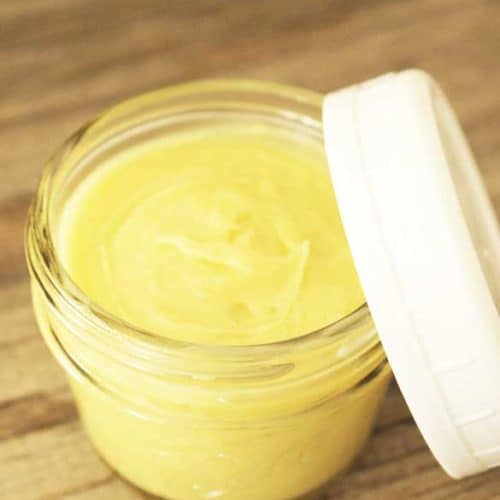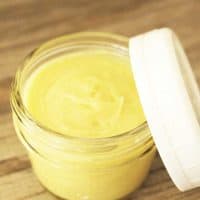 Organic Diaper Cream
This easy homemade organic diaper cream is amazing, and it makes a lot. This stuff will last you forever and you know exactly what is in it!
Print
Pin
Rate
Equipment
saucepan

Baby Food Jars

Cheese Grater
Instructions
Sanitize baby food jars or whatever containers you will be using to store diaper cream in.

Grate beeswax into small pieces with a cheese grater.

Squeeze a few drops out of the Vitamin E capsule into a medium saucepan.

Melt coconut oil, shea butter, beeswax, vitamin E oil and lavender oil over medium low heat until completely melted and combined.

Transfer liquid into a mixing bowl and slowly mix arrowroot powder in with an electric mixer.

Pour diaper cream into baby food jars.

Refrigerate for 5-10 minutes to help solidify the mixture. After it's set, the diaper cream does not need to be refrigerated!
Notes
I use baby food jars to store this diaper cream. 
This recipe filled the two jars pictured!

If you are interested, here are the reasons behind why each item is included:
Arrowroot Powder - Used as a natural thickening agent, to get cream to a smooth spreadable texture.
Beeswax - Used for its anti-bacterial properties to prevent infection.
Shea Butter - Used for its added moisture and anti-inflammatory properties.
Lavender - Used for its skin healing properties as well as it's appealing scent.
Coconut Oil - Used for its anti-yeast, anti-fungal, and anti-viral properties.
Vitamin E - Used as a natural preservative.
Baby Jars - Sterile storage and obvious cute factor ;).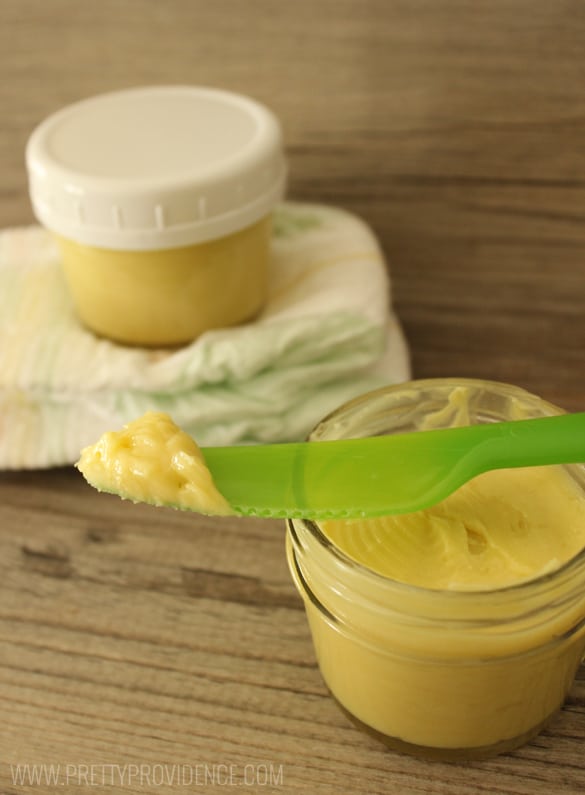 Wouldn't this be cute as a gift for a new mom with that huggies wipes clutch (pictured above) and some diapers?! Don't forget to check out Pick up the Values site for AMAZING coupons on huggies diapers and wipes.. we never buy them without one!
Pretty easy right?!
xo,