This post is sponsored as part of a series in partnership with Kimberly-Clark.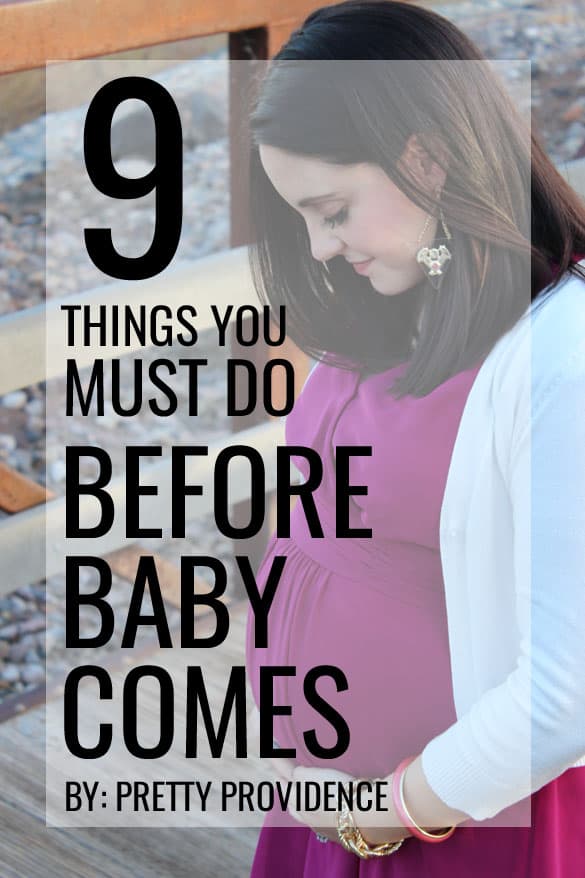 So as some of you may already know, I just had my third little babe. I cannot even count the number of people who said, "three is the hardest" or "that was the worst one" or "how are you gonna handle that?" to me while I was pregnant. First of all, really people? Really??! How about a little encouragement? But secondly, they had me pretty scared. Partially due to peoples super positive remarks (insert sarcasm here) and partially due to my hyper organized ocd nature, I was completely determined to be as prepared for baby number three as I possibly could be.
Our Latest Videos
And guess what…
In lots of ways, this has been the easiest newborn transition we have had. Don't get me wrong, having three kids three and under is hard, but so was having two kids. So is having one.
Every baby is different and everyone's situations are different, but one thing I can promise you is that if you do these 9 things (or even just as many of them as you can) your postpartum baby experience will be 100% easier and more enjoyable than it will be if you don't.
From someone who's done it three times in the last four years.. trust me on this. 
1. Stock Up.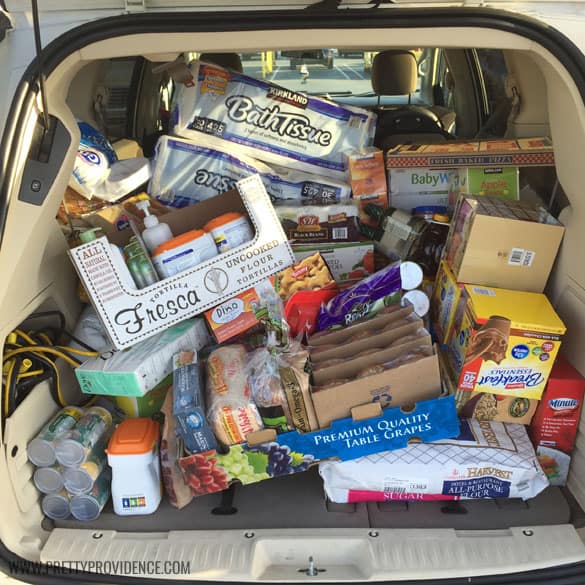 After baby comes you won't want to put on clothes let alone drag a baby grocery shopping in the precious minutes you get between feedings when you are so exhausted you laugh cry twice a day. As soon as I got pregnant we started setting aside a little money each month for our big "stock up". Then, when I was about 36 weeks or so we went to Costco and filled both of our cars. I particularly focused on canned/dry things we use a lot, and things that are quick and easy like protein bars and slim fast shakes. You don't only want to stock up on food, but also toiletries you go through frequently (nothing like being out of deodorant to make you HAVE to go to the store) and of course baby stuff (check out this website for amazing deals on diapers and wipes). I also highly recommend having some baby Tylenol and a thermometer on hand so you don't have to take a 2 a.m. Walgreens run the first time sweet baby is sick.
2. Prep Baby's Stuff.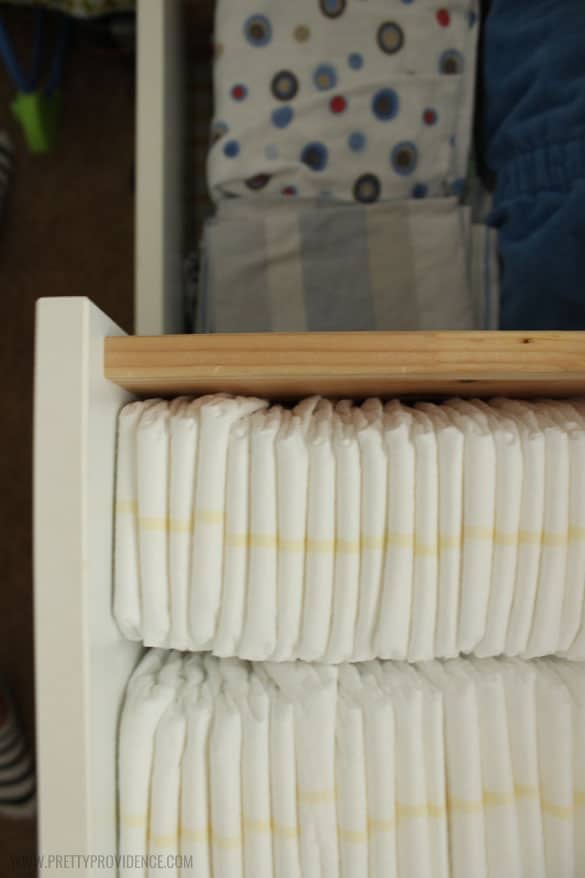 Not only do you want to have plenty of diapers, wipes, formula etc. on hand, but you will want to know where things are and have them organized. I washed and folded baby's clothes and organized the first few months worth in his drawers. I also washed our carseat inserts, swing insert and baby bedding. Pull out the baby toys and send them through an empty dishwasher. Stock your changing table with ointment, and other baby toiletries. The Nose Frida is a freakin' miracle worker (you can thank me later.) If you are into organic stuff you may should try making our DIY diaper cream, too!
3. Freezer Meals.
Going hand in hand with not wanting to go to the grocery store is not wanting to cook dinner (please, come back and tell me I'm not alone in this). I can totally remember before we had kids saying things to my husband like, "once we have kids and I'm staying at home I'll be able to cook a lot more" or "I'll be better at cleaning" HAHAHA! With babies two and three I got smart and had my freezer stocked full of meals (breakfast options, too) and it saved me so much time, stress and money. Plus, it kept us healthier since I wasn't having husband swing through a drive through on his way home from work every day. Find a few awesome freezer meal compilations here, here or here to get you started.
4. Padsicles.
Guys, it's not pretty but it's reality. Just in case you didn't know this already, you will have all nine periods that you missed in the few weeks after babies delivery. Furthermore, you will be in quite a bit of pain down there from, you know, pushing a baby out. Sarah informed me about these padsicles when I was pregnant this last time around and *cue heavenly angels singing* let's just say I'm a big fan. Find recipe and instructions here.
5. Get Ahead.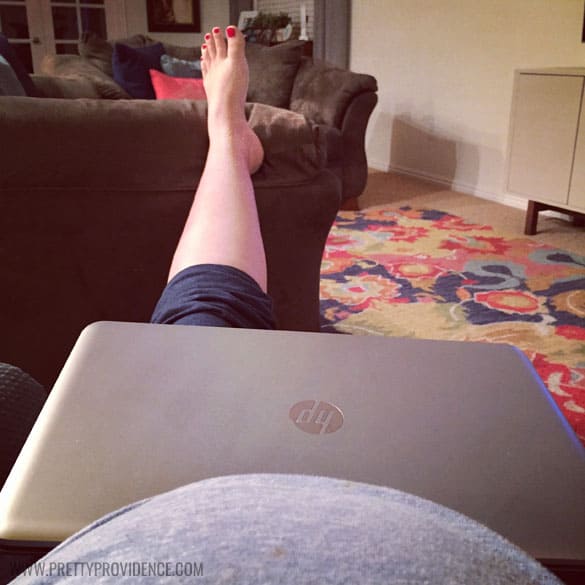 Because I am self employed and work from home, taking any kind of a break just means I have to work overtime in that amount in advance, so I worked my tail off while I was pregnant to get ahead as much as I could work-wise so that I could have a bit of "maternity leave". Whether or not you are planning on working after baby, get ahead means prep for anything you can in advance. I knew that I would have Liam a few weeks before Mother's day, so I bought gifts and wrote cards for the lovely ladies in my life ahead of time. Even little things like that can take a huge load off and your postpartum self will thank you. Also, because I have two other little ones and I knew we would be cooped up at home a lot more than they are used to, I tried to prep some fun toddler activities so that I had a trick or two up my sleeve when somebody was about to go postal.
6. Pack Your Bags.
Get your hospital bag and diaper bag packed and ready early! My first babe came 5+ weeks early for no apparent reason. You never know when they're gonna come.. so be prepared! You can find our free printable hospital bag checklist here, and our diaper bag essentials listed here (or see video below) if you are interested!
7. Clean and De-Junk.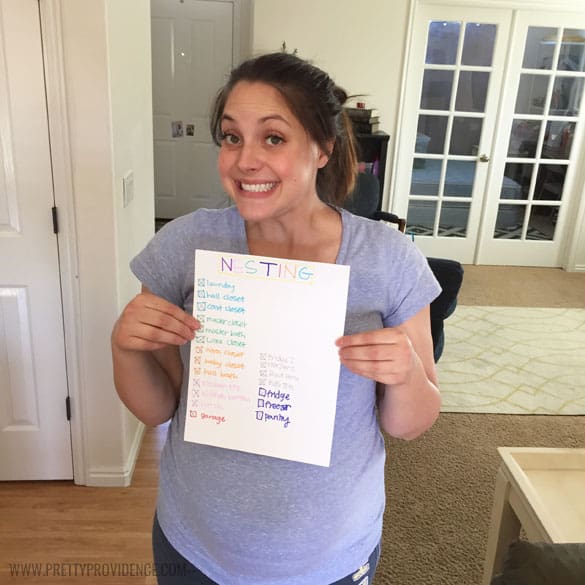 When the nesting urge kicks in for me I usually just want to buy a bunch of baby things, but this time around we were trying to save money and we already had plenty of baby things, so I channeled all of that energy into getting rid of all the extra crap we already had. I made a nesting checklist and after many late nights/Saturdays we cleaned out every single drawer, cupboard, closet and room in our entire house. I may or may not have sobbed like a child after I checked that last box.. BEST. FEELING. EVER. Also, even if you aren't OCD like me and don't want to take 17 trips to the D.I. to donate your old stuff, give your house a good deep clean before baby comes. Every Saturday close to my due date we would do this, because once again after baby comes you will not have the time/energy to scrub your toilet for awhile and it will bring you peace of mind to think that it was cleaned well not that long ago.
This kind of depends on your personality. Some people are more go with the flow and that is totally fine! But if you are nervous about bringing baby home there are tons of books/articles etc. that can bring peace of mind! New moms tend to over worry and for me it was nice to flip through this book to my child's age and see that whatever I was worried about was totally normal! Also, prenatal classes can be helpful whether or not you are planning on going natural. Most hospitals have them for free, so what have you got to lose? Also, I talk about a couple of things I learned after my first baby in this article.
9. Relax.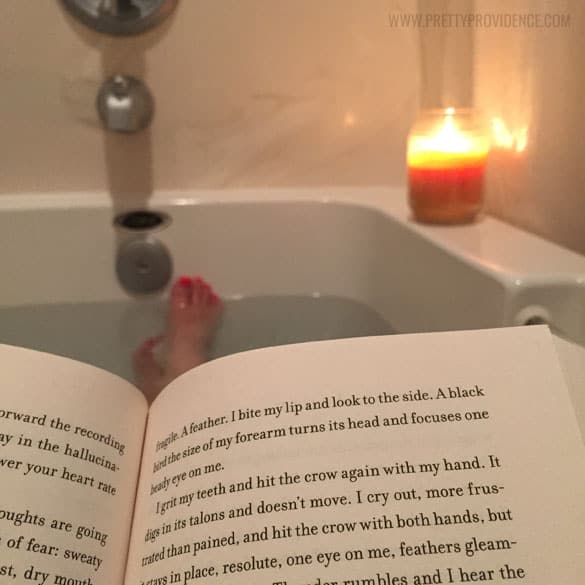 After you have done all of the above things, relax. Seriously, you've earned it. Take a bath, read a book, then go to sleep. Take time off. Sleep in. Get a pedicure. Take lots of naps. Did I mention sleep?
Nothing in life is better than newborn baby snuggles… nothing. So do everything you can now so that you have plenty of time to enjoy that babe, it goes by crazy fast.
xo,

Also check out:
How to Organize and Store Baby Clothes