You are probably all going to laugh when I tell you this, but we are bffs so I will tell you anyway. Every year growing up my mother let us choose our favorite meal for dinner on our birthdays. So every year when my big day rolled around I chose this scrumptious dish.. and my whole family makes fun of me about it. Don't get me wrong, they all like it, but they just think "a casserole on your birthday?" every year they try and convince me what I really want for my birthday is salmon, steaks, to go out, whatever. Still, I always insist that what I want is what I want, and what I want is Chicken Divan. It kinda reminds me of the movie Ratatouille, how at the end the critic is taken back to his childhood with the simple meal..yada yada. The bottom line is, this dish is not only one of my all time favorite foods ever, but it is happy and nostalgic for me. So you just aren't allowed to do anything except love it.. capeesh?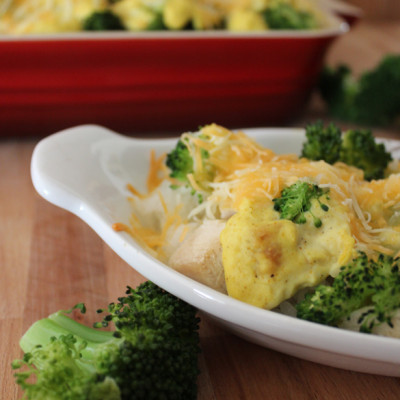 Easy Chicken Divan

Ingredients
4-5 cups cooked rice
4-5 chicken breasts cooked
2 heads of broccoli chopped
1 cup shredded cheese any kind
1 14 oz . can cream of chicken soup
1 cup sour cream
1-2 TBS . lemon juice
1 1/2 TBS curry powder
1/2 tsp garlic powder
salt and pepper to taste
Instructions
Preheat oven to 350 degrees.

Cook rice and layer on the bottom of a 9x13 casserole dish.

Cook and cube chicken and layer over rice.

Barely steam broccoli florets, stop just as soon as a fork will go in easily and spread over chicken layer.

Mix chicken soup, sour cream, lemon juice, curry, garlic powder and salt and pepper together and layer over broccoli.

Sprinkle with cheese.

Bake until heated through and cheese is bubbly (about 30 minutes).

Enjoy!
Chicken divan also makes great leftovers, sometimes I make extra so I can eat it for lunch all week! I hope you love it as much as I do!
xo,



If you liked this post you will love our easy chicken and stuffing bake or these 11 unique chicken crockpot meals!