Hey you guys! Today you get the pleasure of meeting our second frugal food contributor pair, Liz and Lauren from Tastes Better From Scratch! I have never made anything of theirs I haven't absolutely loved.. you guys are in for a treat!
Hey guys! We're so excited to be sharing our first frugal recipe as contributors on Pretty Providence!
In Park City, Utah where we grew up we could always count on there being snow on the ground by the time Halloween rolled around. October was usually bitter cold and most of our memories of trick-or-treating include covering our cute costumes with big coats, hats and gloves. We'd never leave the house without filling up on warm soup, which was always a family tradition on Halloween night. My mom makes some killer Chili and cornbread but this year we'll be making some yummy Corn Chowder with Chilis in these amazing homemade bread bowls! They are basically giant, fluffy and delicious rolls filled with soup! My mouth is watering already!
And, like so many great comfort foods, homemade bread is extremely budget friendly!
Hope you enjoy this recipe and some hot soup with bread bowls on Halloween night!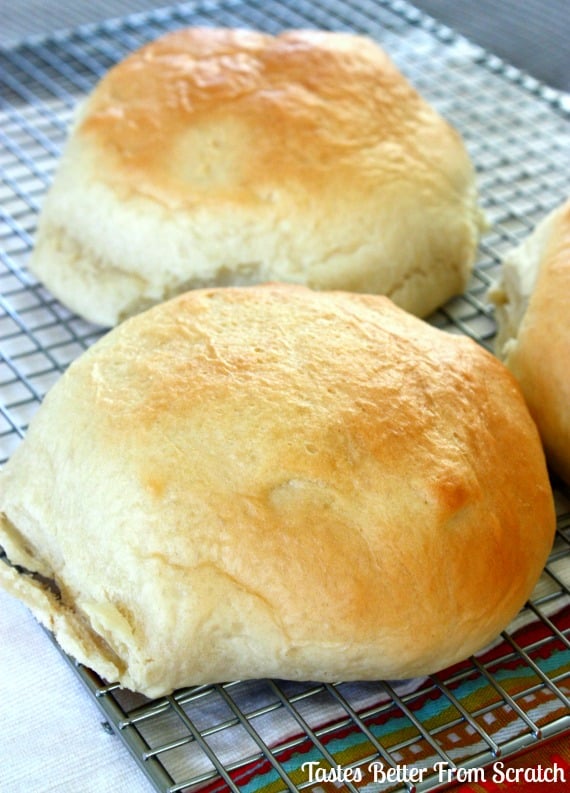 Ingredients:
2 cups + 4 Tbsp warm water
2 packages of active dry yeast (about 2 Tbsp)
6 1/2 cups all-purpose flour
In a large bowl add warm water and sprinkle in yeast. Set aside to "proof" or get foamy, about 10 minutes. Add melted butter, sugar and salt and mix until combined. Gradually add flour. Knead with your mixer or by hand for about 5 minutes until dough is smooth and elastic. (you could do this by hand if you weren't using a mixer, but it may get a little tiring!). Place in a large greased bowl. Cover, place in warm place and allow to rise until doubled, (about 45 minutes). After first rise punch dough down and form into 6 equal sized balls. Place dough balls on a greased cookie sheet and lightly cover with plastic wrap. Let rise once more for about 20-30 minutes. DO NOT touch the dough at all during this time. Preheat oven to 425 degrees F and bake for 20-25 minutes, or until golden brown. Let cool and then cut off the top, remove some of the bread from the inside and fill with your favorite soup!
Recipe adapted from The Six Sisters.