How to dye a quilt using Rit dye and hot water! It only cost about $10 to refresh an old quilt into something that feels new!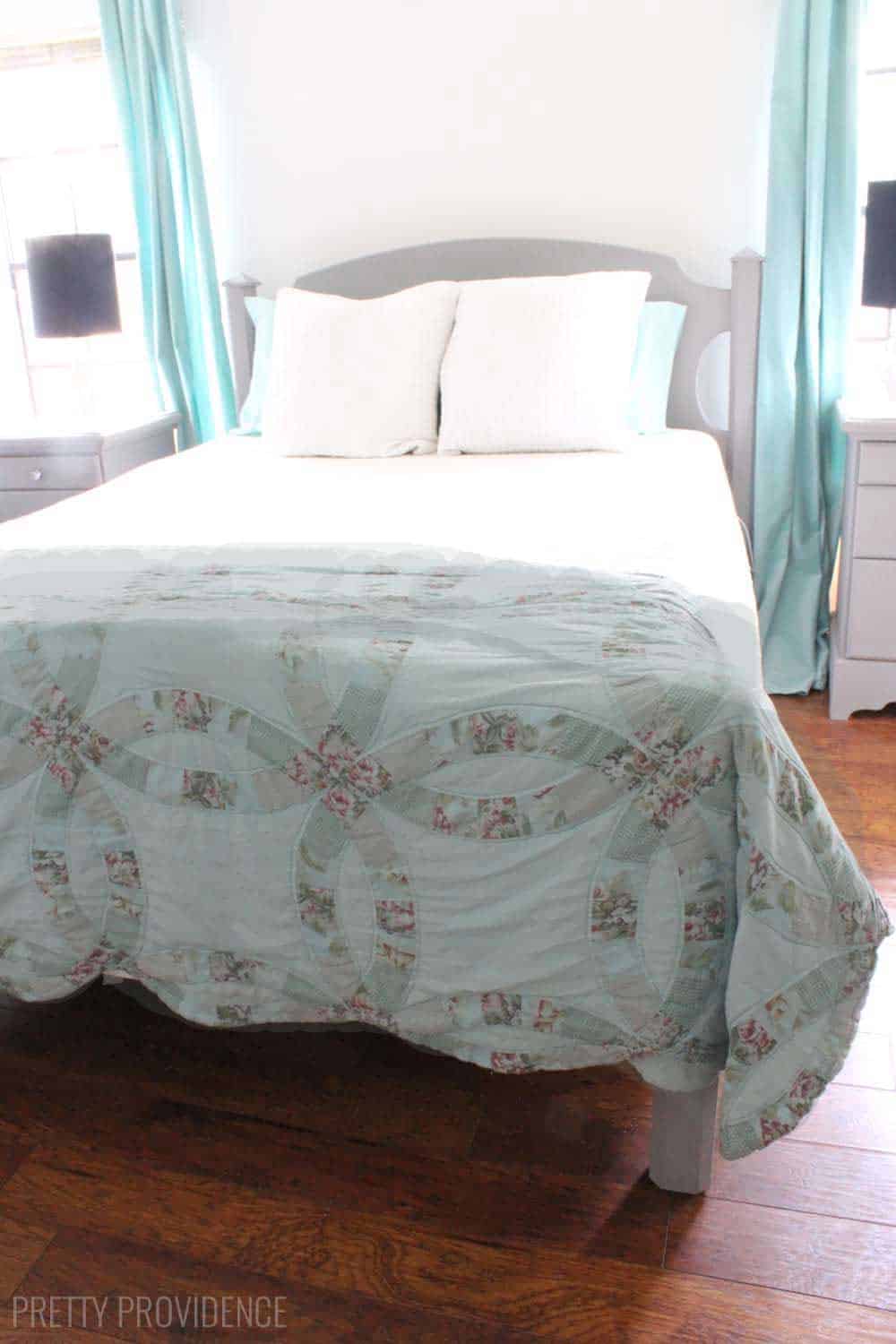 Do you guys have any quilts laying around your house that have seen better days? You know that one that is SO soft, and the perfect weight, that you just love using more than any other blanket, but it's kinda *too* well loved? I had one of those.
My quilt was originally cream colored, there were stains on it, and it was just dingy from so many years of being used all the time. I would be embarrassed if it was left out in plain sight when people came over! But, there is no way I'd get rid of this quilt. It's amazing. So I decided that something needed to be done.
I decided to dye my quilt at home, using Rit Dye.
I looked up 'how to dye a quilt.' I didn't get a lot of results, but I had dyed a few things before, so I thought I would just go for it and pray for the best. Thankfully it dyed really well and I'm super happy with the results! It's looking so much better!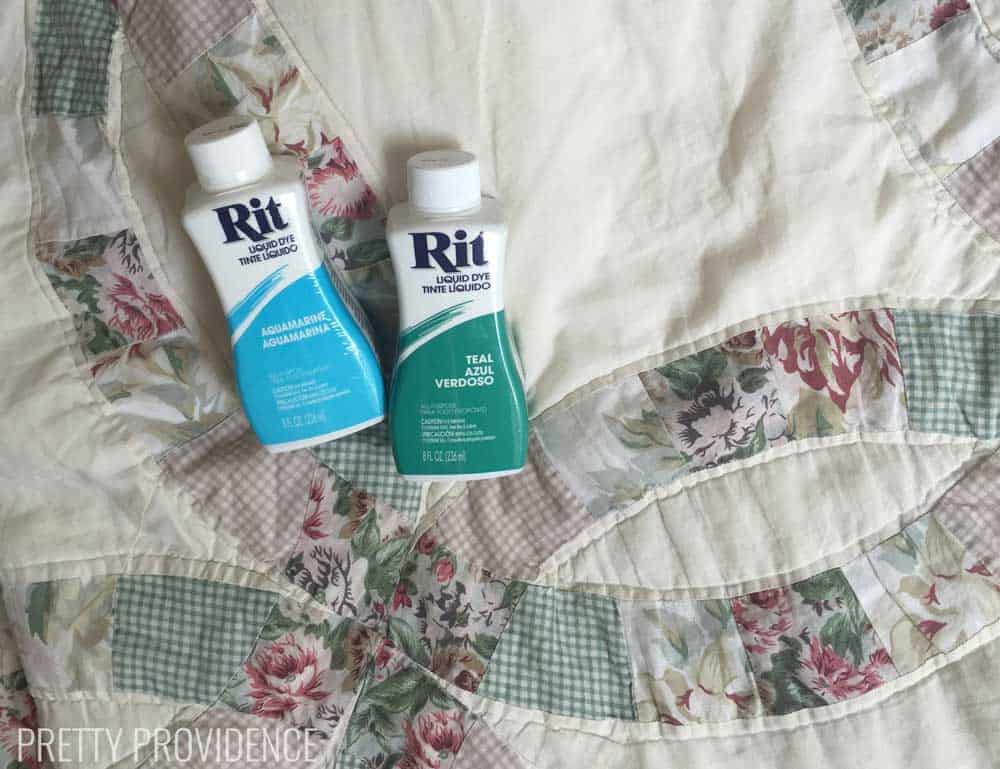 Rit Liquid Dye
I used Rit liquid dye to dye my quilt. I've used Rit in the past and always had a good experience. After some thinking, I decided I wanted a turquoise color so I consulted Rit's 'Color Library' and then from there kind of made up my own formula for it as I went. The two colors I mixed were Aquamarine and Teal.
This is what the quilt looked like before. As you can see, it was beautifully made. I honestly don't even know where this thing originally came from, I just have had it for a long time, it was at my parents house before I had it, and it's kind of a mystery. Anyway, all this thing needed was some TLC.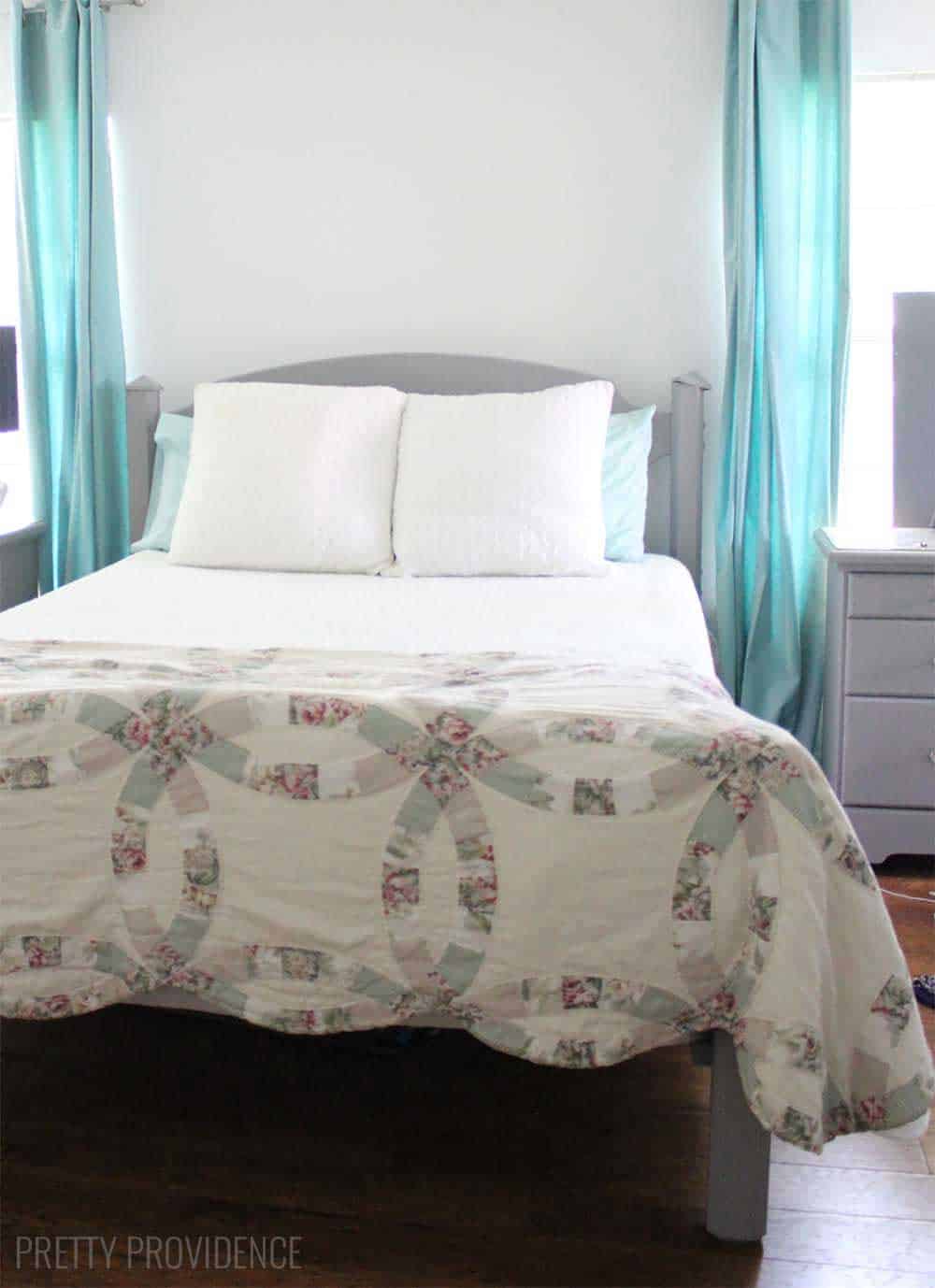 This quilt is big, I knew it wouldn't work to do it in my washing machine like you can do with smaller items. I thought about using our bath tub, but it made me a little nervous to put so much dye in a bright white tub. Ultimately I decided I would use my daughter's $10 kiddie pool. Worst case scenario, I buy a new one.
This worked really well! The only hard part was getting hot water out to the backyard. I did quite a few laps from the kitchen sink to the backyard to fill this up with hot water. Then, I found the biggest stirring stick I could find and went for it.
How to Dye a Quilt Tutorial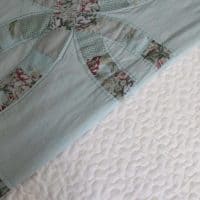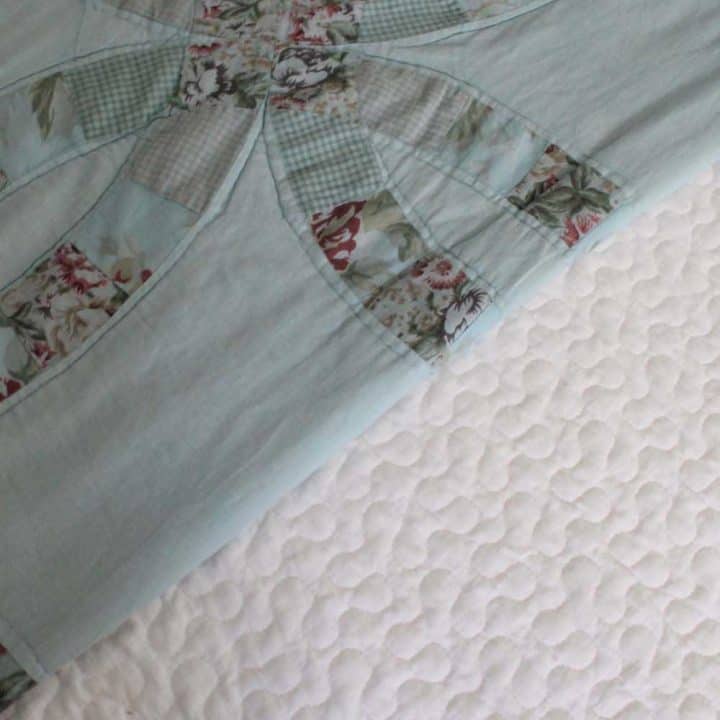 How to Dye a Quilt
Instructions for how to dye a quilt using rit dye.
Print
Pin
Rate
Equipment
Kiddie Pool

Paint Stirring Stick
Materials
2

bottles

Rit Dye

6

gallons

Hot Water
Instructions
Choose dye colors and decide what you will dye your quilt in. You can do this in a bathtub, a washing machine, a kiddie pool, etc. (I used a kiddie pool.)

Follow directions on bottle of dye to decide your ratio of dye to water.

To dye a large quilt, you will need a lot of water. Fill buckets or pots with hot water from your sink or bath tub, and pour them into the kiddie pool with Rit dye.

Submerge quilt in water and stir often.

Continue process until you feel your dye has saturated your quilt well enough. I kept mine in for about two hours, because I knew I wanted mine to be really blue, and it just kept seeming like it needed more time.

Rinse quilt in washing machine. (I did two full wash cycles without soap.)

Dry quilt, tada!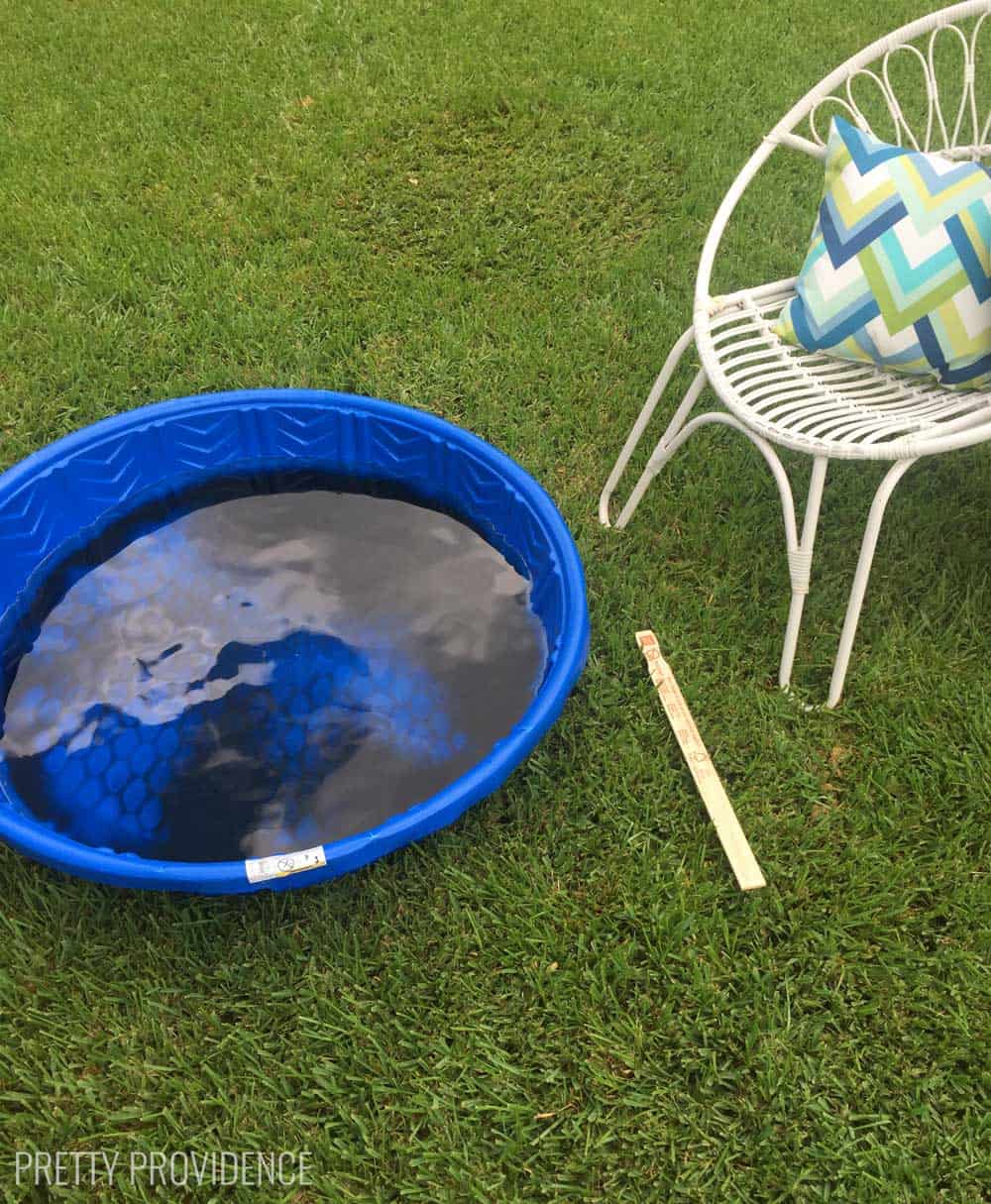 I am very happy with how this quilt turned out! There are a few spots that are not perfectly even but it doesn't bother me. It's better than the stains on the cream color that we had going on before. Generally though, it dyed evenly and it looks great. It totally feels new again.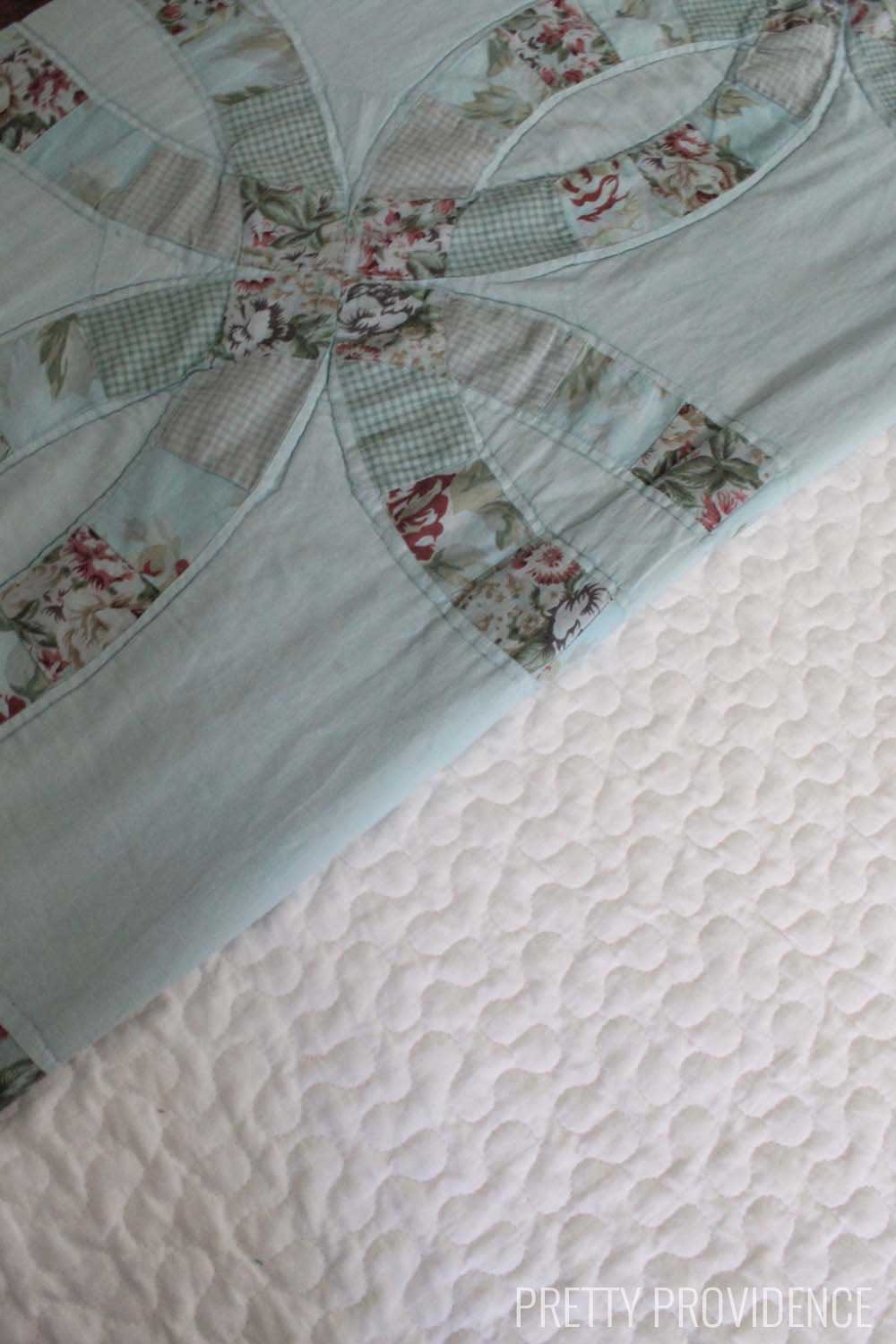 If you are embarking on a quilt dying adventure, I hope this has helped you! You might want to also check out our 3 Reasons to Try Fabric Dye and one of my first ever projects learning how to dye clothes with Rit – DIY Mint Jeans.
Your results can vary when using fabric dye, so I wouldn't try this on a precious family heirloom that can't be replaced. This is perfect to try with a quilt that just needs some TLC though, or one you find from a thrift store or something!