These Minnie Mouse Cupcakes are easy to make with Oreo minis and pink frosting, and fun for kids to help with too!

OUR LATEST VIDEOS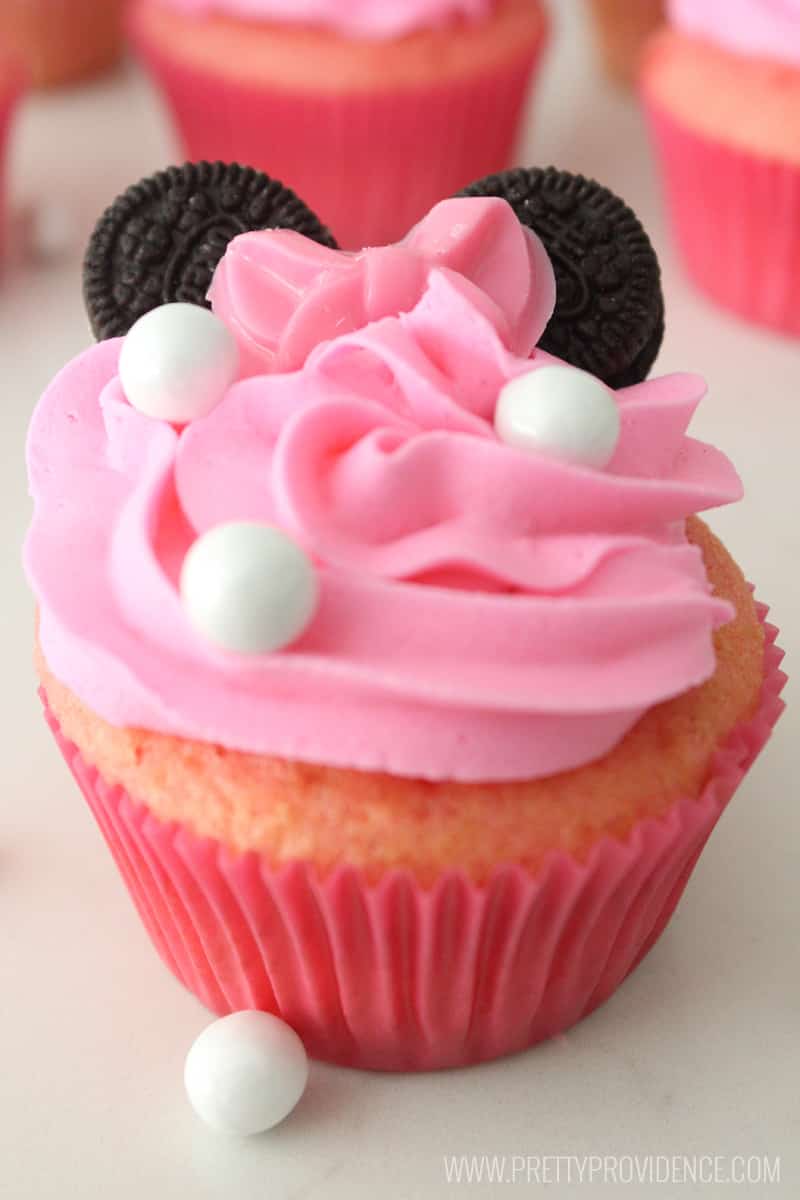 Good morning friends! I am so excited to share these Minnie Mouse cupcakes with you, they have come to have such a special place in my heart! For those of you who don't know, my Nora girl is three years old, and she is my middle child sandwiched between two brothers! She is my easy going one, and unfortunately sometimes that means she gets overlooked. To top it all off, her birthday is the week before Christmas, so you can imagine how that goes.
For awhile now, I have been wanting to do something special just for her,  so she knows how much I love her. My parents were really good at making me feel special and loved, they always made an effort to cultivate interests that matched mine, and we have such a strong friendship now because of that. I thought about what Nora is loving, and Mickey Mouse Clubhouse came to mind, but to make things a bit more fun and girly I decided to focus in on Minnie Mouse!
HOW TO MAKE MINNIE MOUSE CUPCAKES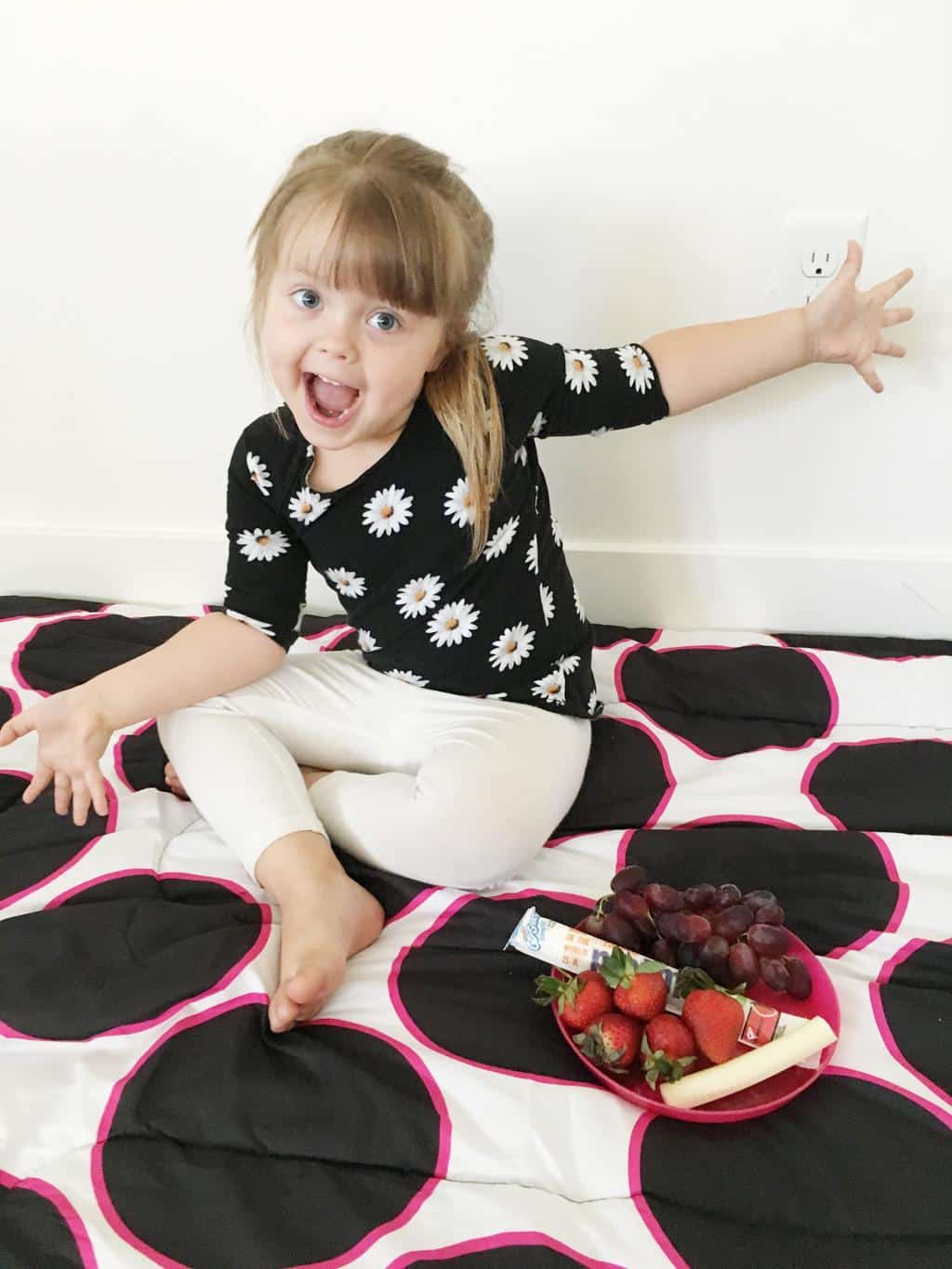 We started off our special day with a healthy picnic on a new Minnie Mouse blanket! We got to get those nutrients in before we get to baking!
Nora loves to help me cook and bake, and I try not to let my kids eat sugary treats too often, so I knew that having a treat to go along with our Mommy/Daughter time would help make things special! I also wanted to keep it simple, since I didn't want her to get bored and  lose interest! I decided to make the cupcakes and bows the night before and stick them in the freezer and then during our time together we just frosted and assembled and it was so fun and easy!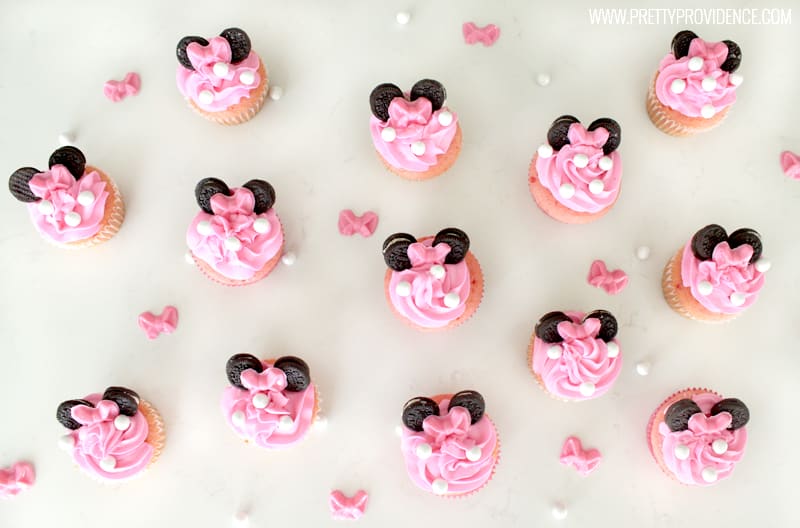 What you need to make the Minnie Cupcakes

1 box Strawberry Cake Mix
1 batch Pink Frosting
24 Pink or White Cupcake Liners
White Sixlets (or large white candy pearls)
48 Oreo Minis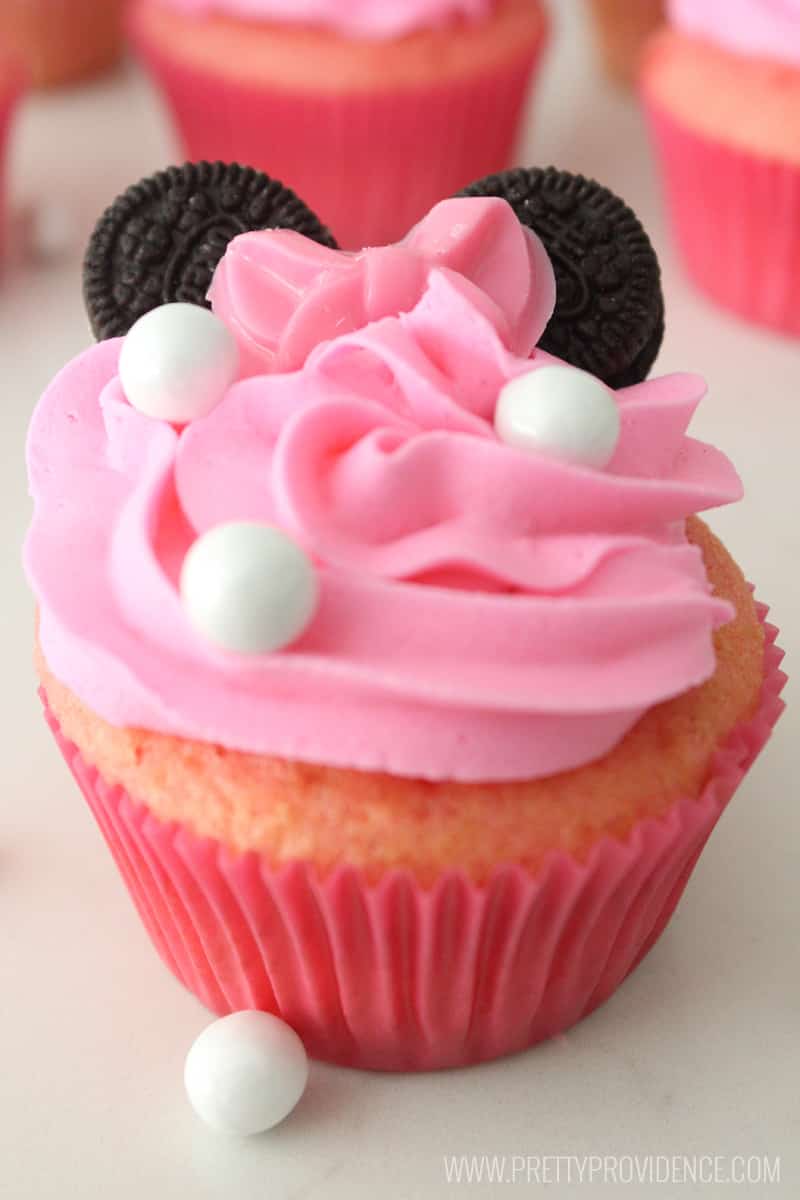 Obviously you could also use any from scratch cake recipe that you love (this Red Velvet cake recipe would be amazing) I am a minimalist, so whenever I am doing fancy garnishes I like to cut out some work for myself by doctoring up a box mix!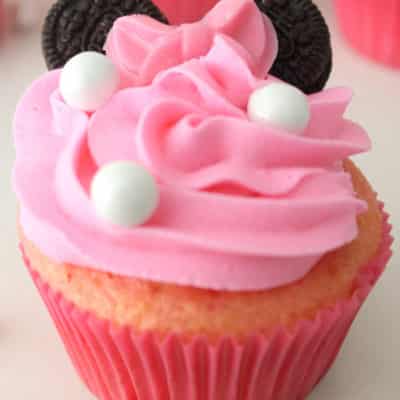 Minnie Mouse Cupcakes
These Minnie Mouse cupcakes using mini oreos are so cute! Perfect for a Minnie Mouse birthday party or just for fun!
Instructions
Fill cupcake pans with liners and mix and bake your cupcakes according to package directions.

Meanwhile, melt your pink candies in the microwave in a small glass dish, mixing with a fork at 20 second intervals. Once candy is melted, use a spoon to fill the bow molds, and refrigerate for 10 minutes or until hardened

When cupcakes are done, stick them in the freezer to cool completely

When cooled, frost cupcakes using a large star shaped tip. Drop on 3-5 sixlets randomly.

Toward the back of the cupcake stick in two Oreo mini's close together for Minnie's ears, then stick your candy bow right between them.
I have to tell you, Nora and I had so much fun making these cupcakes together. She loved helping and she was just beaming with pride and happiness!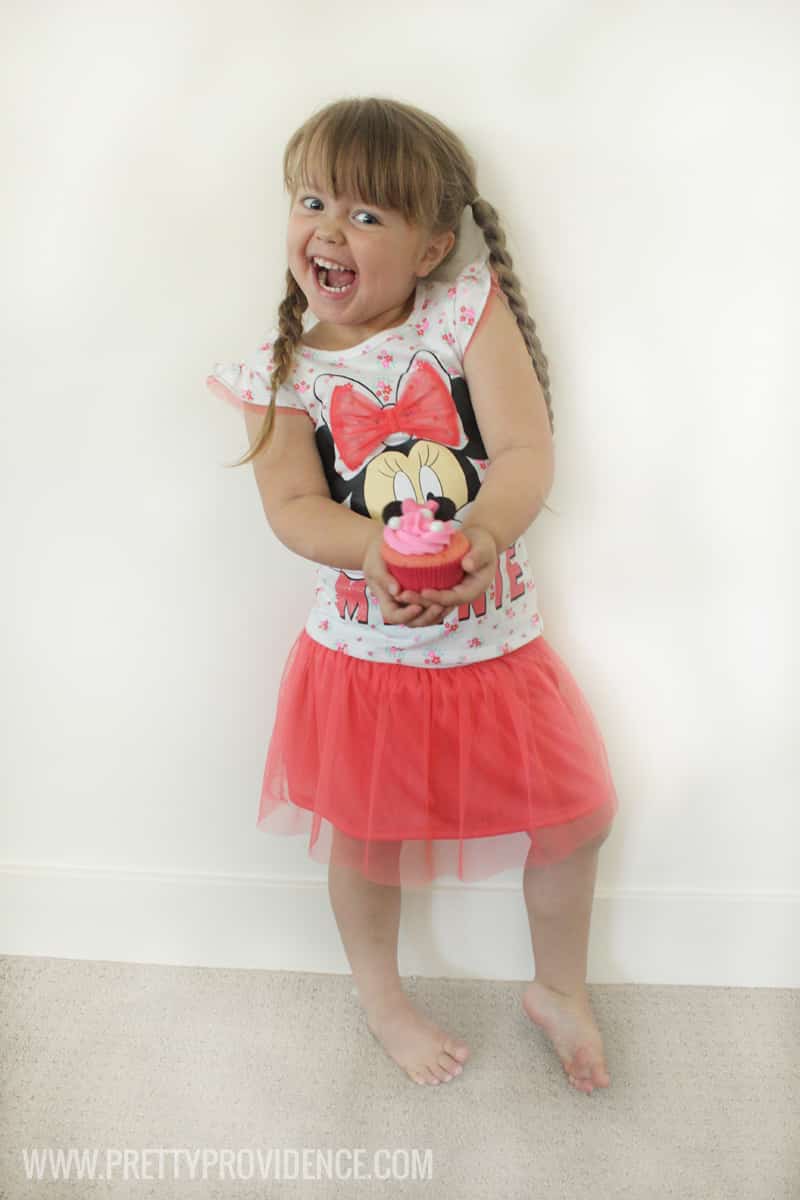 How cute is my mini in her Minnie Mouse t-shirt holding that Minnie cupcake? It was just pure bliss, all afternoon, you guys. I also let her pick out one other thing from Walmart and she was so sweet and excited! I was dying over what she picked (insert laughing face emoji here). Wanna see?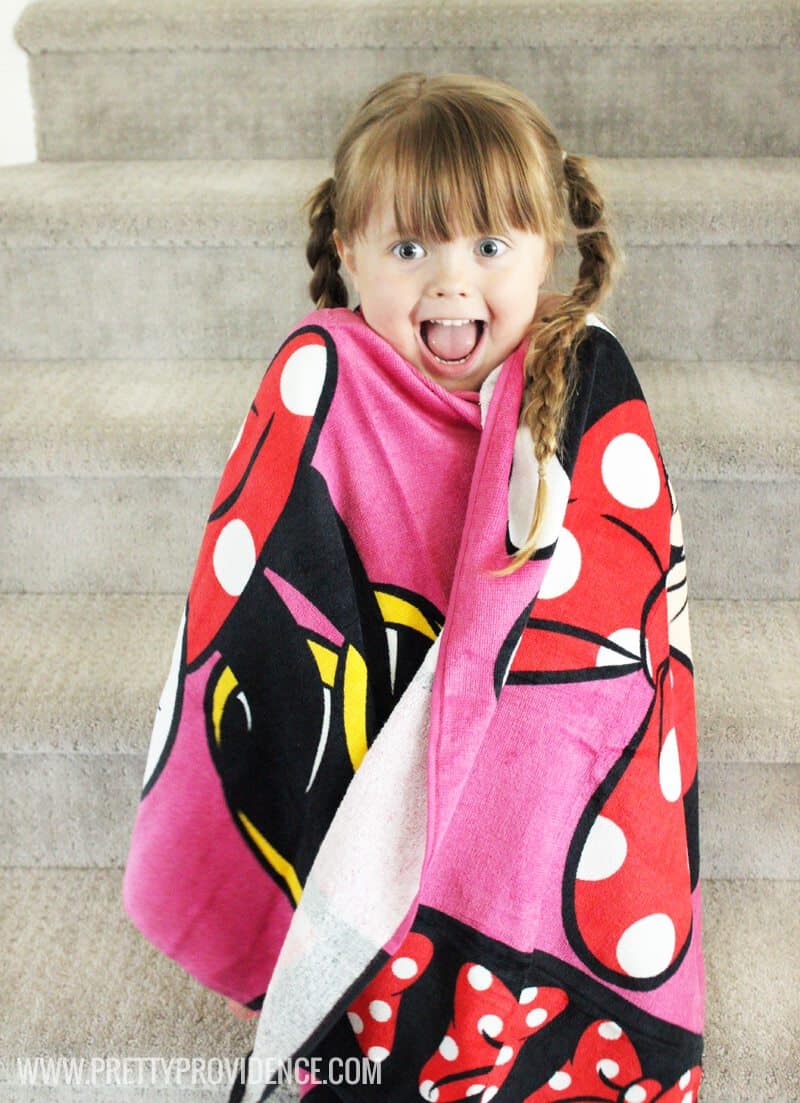 A Minnie Mouse Beach Towel! She loves it because, Minnie Mouse (duh), and I love it because it covers up that whole cute body and keeps her nice and warm!  Plus, with summer coming right up it was perfect timing for that one!
Well, how about one last look at those pretty Minnie cupcakes?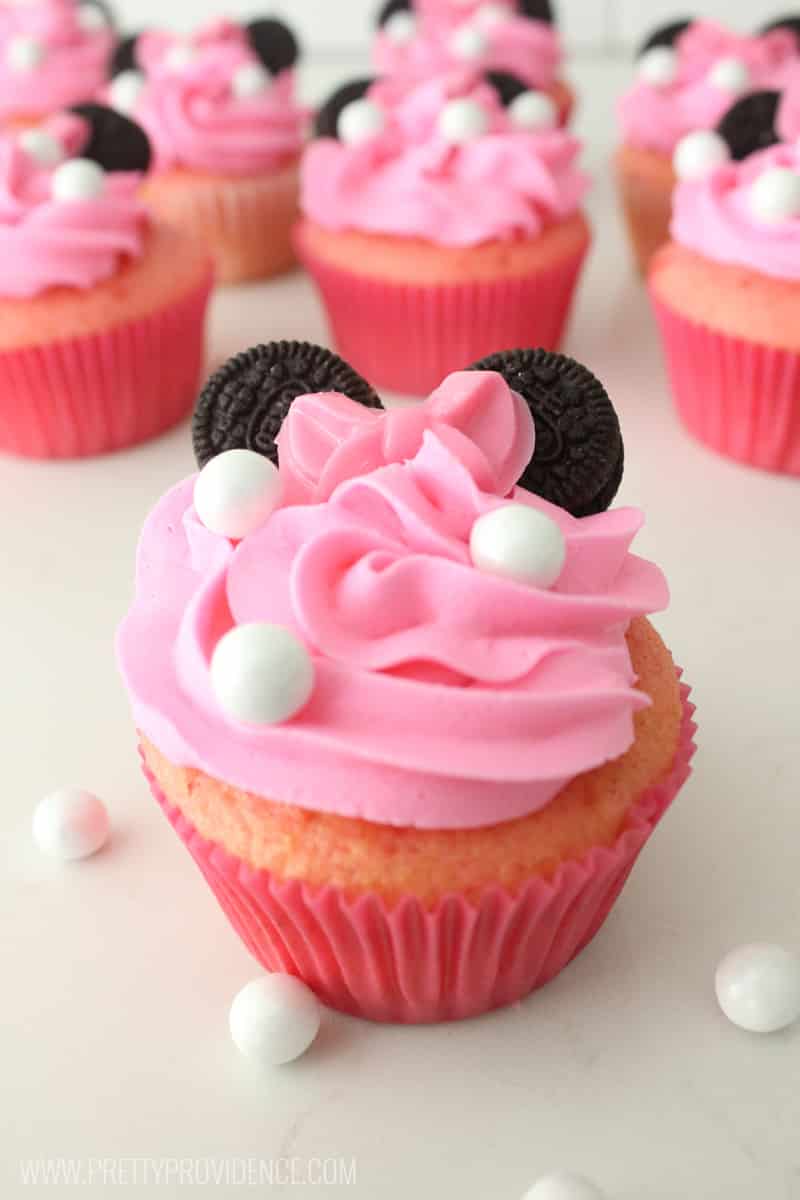 I hope you will you try your hand at your own easy Minnie cupcakes! Whatever you do, snuggle your little ones up close, they get big so fast!