Thank you to Disney Cruise Line for inviting us on what I know will be an incredible experience aboard the Disney Dream! As always, the opinions and text in this post are all mine.
Going on a Disney cruise soon and want to know what to wear?! Here are three adorable DIY Disney cruise shirts that you can make in just a few minutes!
You guys. Jessica and I are getting ready to leave on a Disney Cruise and I'm OVERLY excited. Like, I'm making t-shirts for every day… If you've ever been on a Disney cruise, you know It's MAGICAL. If not, I highly recommend it! But more on that will be coming later! Jess and I have always talked about going on a girls trip. We said we'd do it when our blog turned 3 years old, then 4, then 5. You get the idea. It's been 6.5 years now, and we're finally doing it! We'll be sailing on the Disney Dream for 4 nights and yes, we'll be sharing EVERYTHING on instagram. Today I wanted to share the DIY shirts I made for the cruise, and the free files so that you can make some too!
*The files I'm sharing are free for personal use only!
Making your own Disney shirts is SO easy if you have a Cricut machine. Check out this post on How to make a Custom Shirt with Cricut to see our full in-depth tutorial. You can use that tutorial to create any of the three shirts I'm sharing below. I went with blue and white t-shirts so they all have a nautical feel.
Disney Cruise List Shirt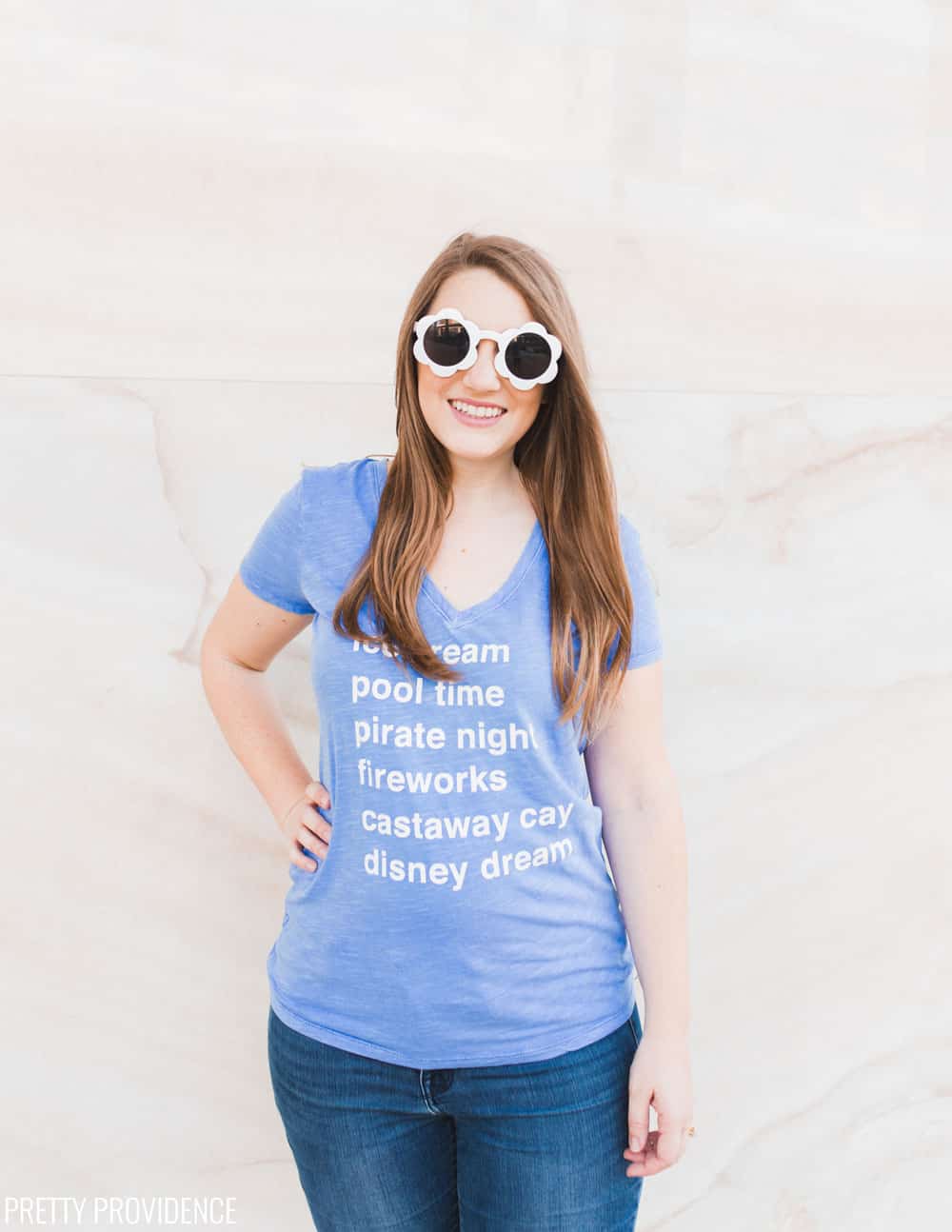 List style t-shirts are my FAVE right now. I made a Disney Snacks list shirt when I went to Disney World last February and it got a lot of attention, so I knew I had to make a Disney Cruise version this time around! I love how it turned out. Some of my favorite parts of a Disney cruise are listed on the shirt. Unfortunately, there isn't room to list EVERYTHING on the shirt. Vanellope's Sweets and Treats is an honorable mention. If you were making one of these shirts for kids, I would totally incorporate 'Oceaneer club' and 'Bibbidi Bobbidi Boutique' into the list!
In case you are wondering, here is my tentative list of the best things about a Disney Cruise:
The AMAZING Service
Ice Cream
Mickey Waffles
All the Food (I can't list everything. It's all delicious.)
Movies at the Buena Vista Theater
Castaway Cay
The AquaDuck
Pool Time
Dole Whip at Frozone Treats
Pub Trivia
Hidden Mickeys
Senses Spa
The Shows
Pirate Night + Fireworks
All the other things. Haha.
When making your DIY t-shirt, feel free to make your own list, or use mine, which I've linked below! The font I used is called Helvetica.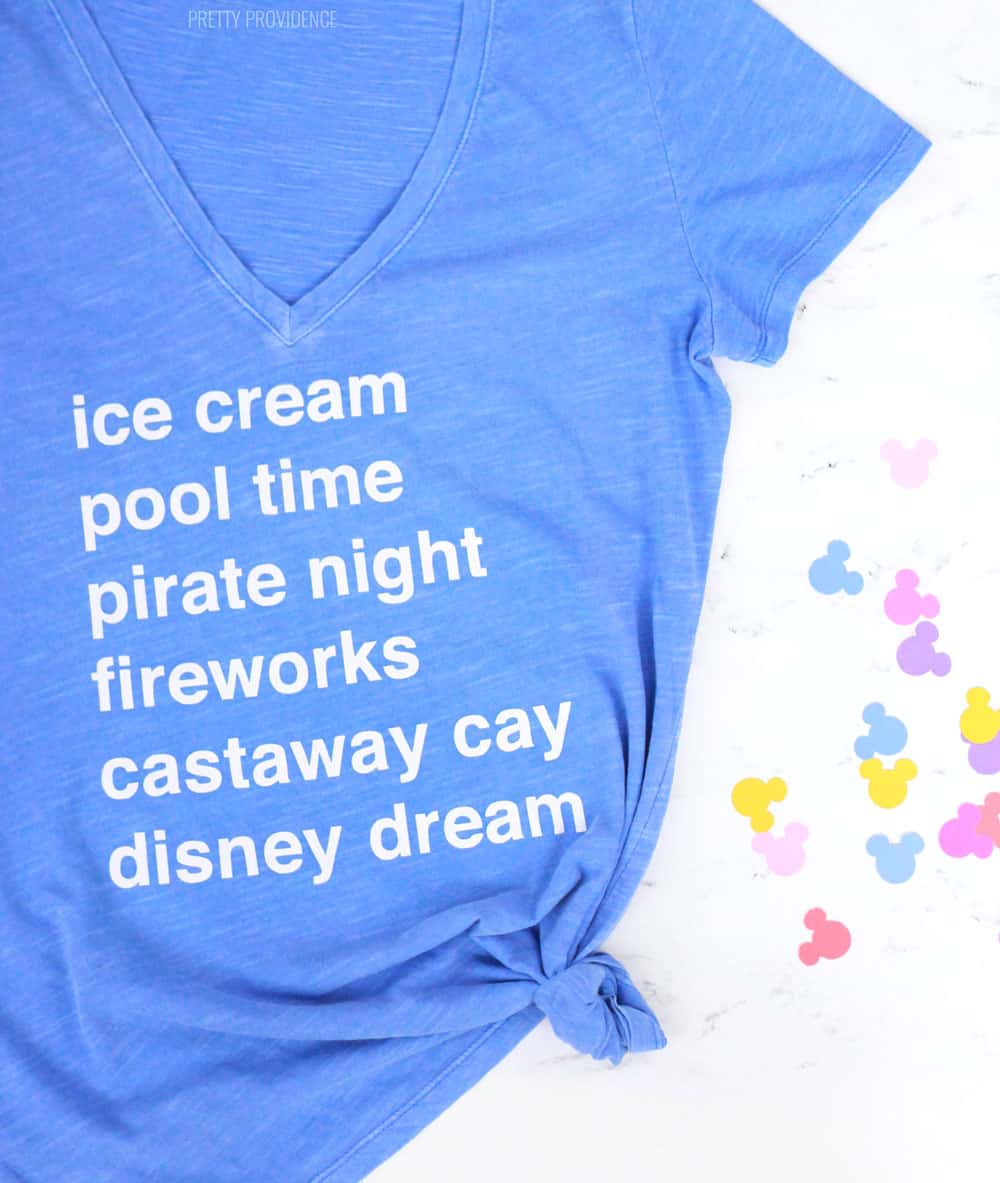 To make the Disney Cruise list style shirt, download the SVG file of the design: CLICK HERE.
Disney Cruise Modern Shirt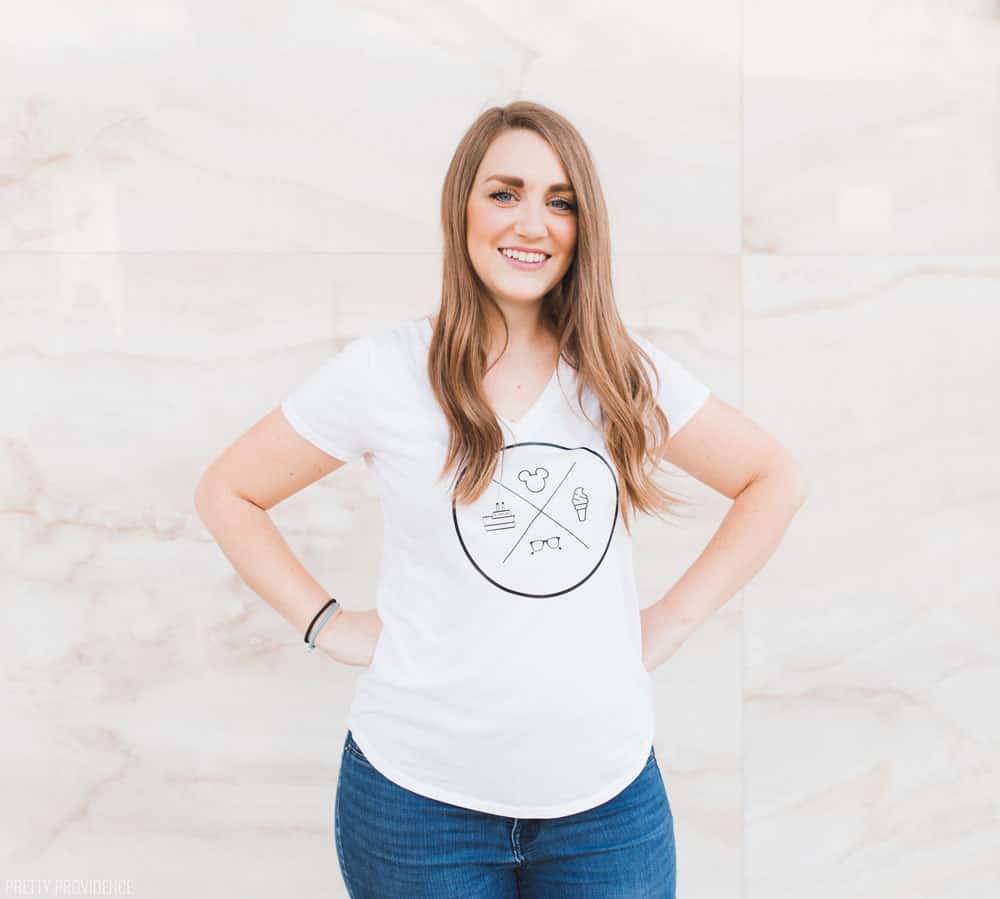 Sometimes I like a subtle shirt design. I feel like this modern look is perfect for a mix of people and would make a great family cruise shirt because it's not too 'out there.' Especially for a big group, like a family reunion. Men, Women and kids will like it!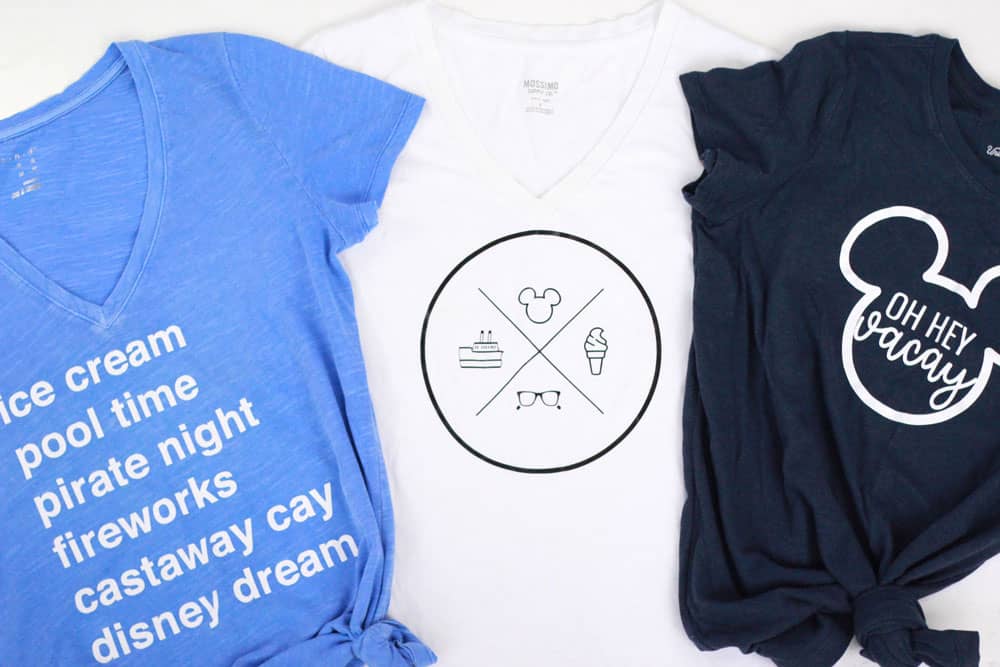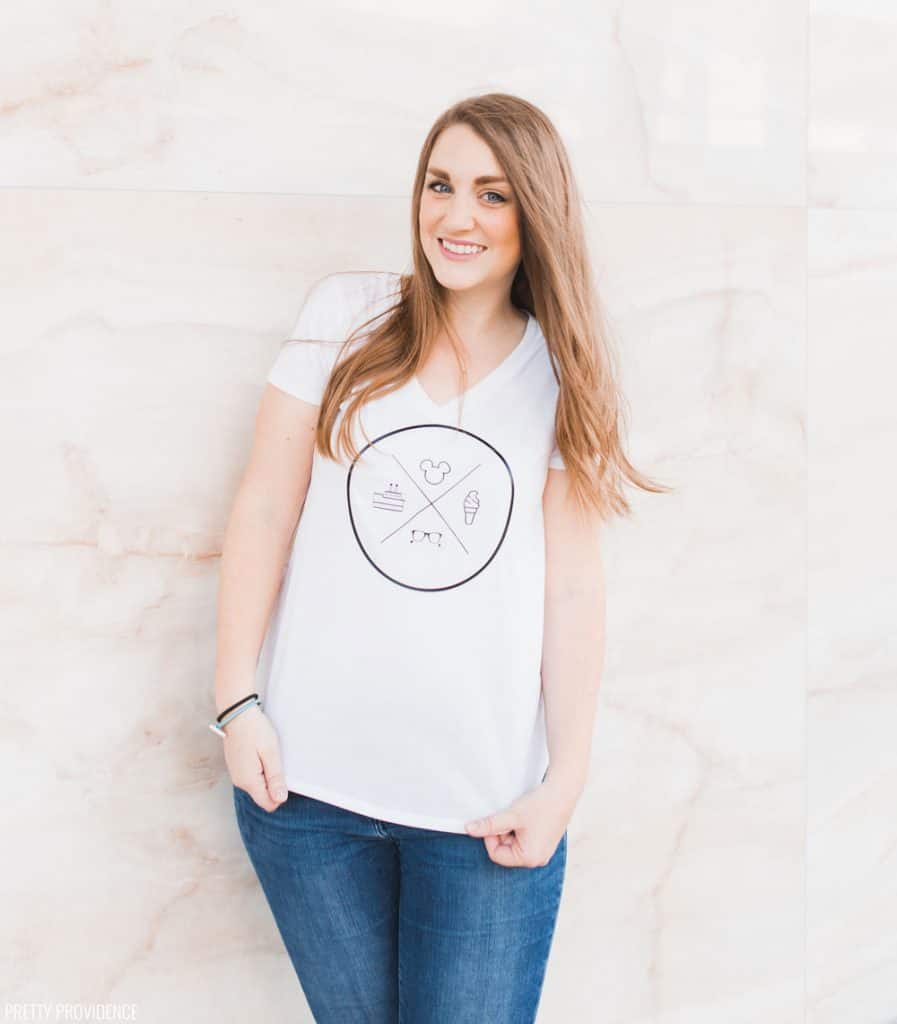 To make the Disney Cruise circle shirt, download the SVG file of the design: CLICK HERE.
'Oh Hey Vacay' Disney Shirt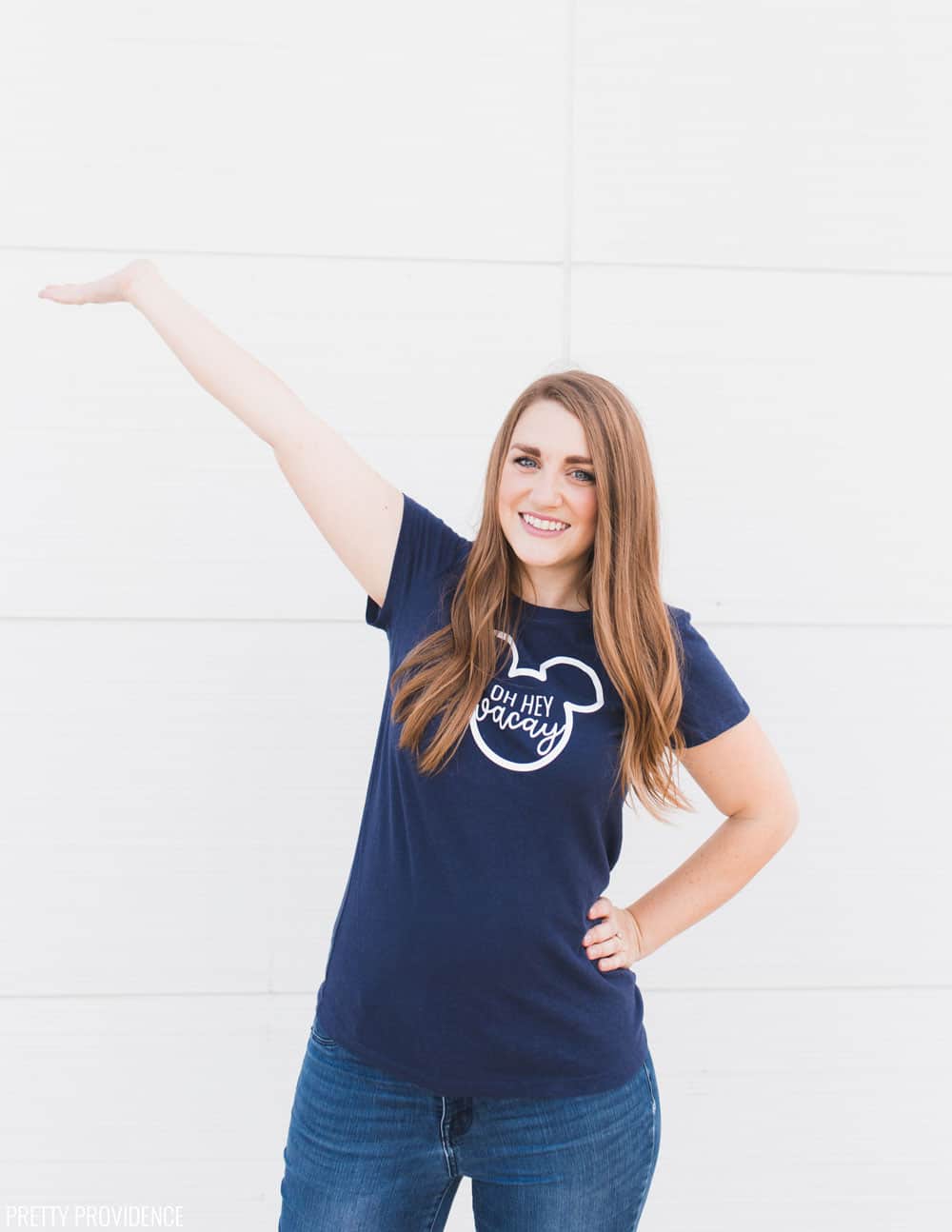 This 'Oh Hey Vacay' shirt idea came from Jessica and I love it because it can work for the cruise, or any Disney trip! Wear it to Disneyland, Walt Disney World, on a Disney Cruise or an Adventures by Disney trip (I'm dying to do one of those!)
To make the Disney 'Oh Hey Vacay' shirt, download the SVG version of the design: CLICK HERE.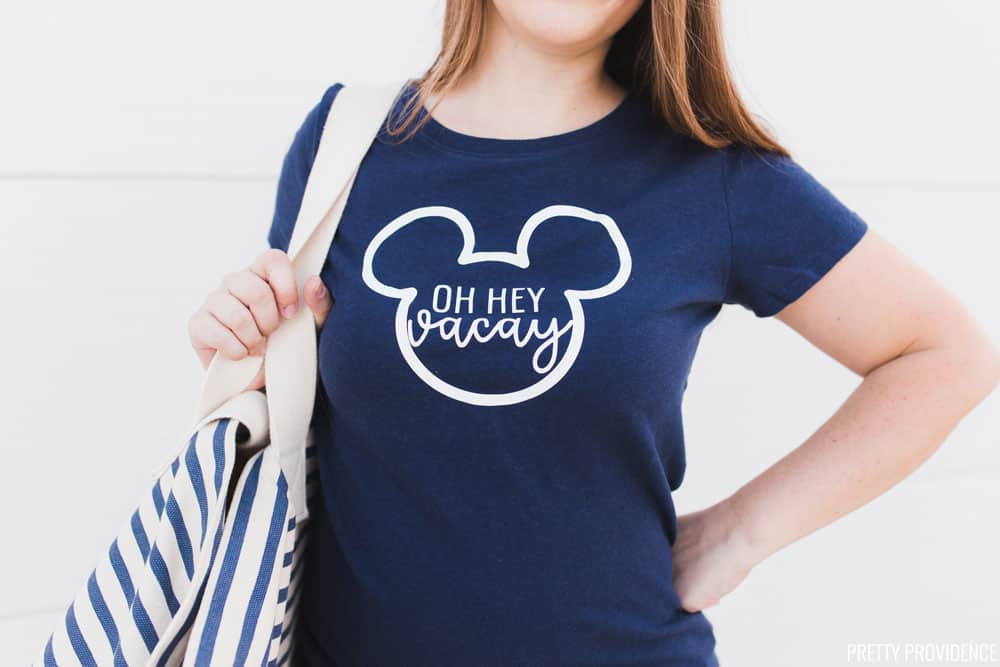 If you like these, make sure you check out our other DIY Disney t-shirt and accessories tutorials:
Disney Shirts for Women
Not Today Cruella
Family Disney Shirts
Disney Snacks T-Shirt

Disney Trip Accessories:
Disney Fanny Packs
DIY No Sew Disney Ears
We're off to the high seas in just a few days! You can follow along with all of our adventures on instagram, you know we'll be sharing all the fun (and delicious food we're eating) on stories!

Pin it for Later: