Hey guys! It's Mandy from Mandy's Recipe Box here to share a delicious treat with you. These Peanut Butter Oatmeal Bars are great to make when you are short on time, but want to make a tasty treat.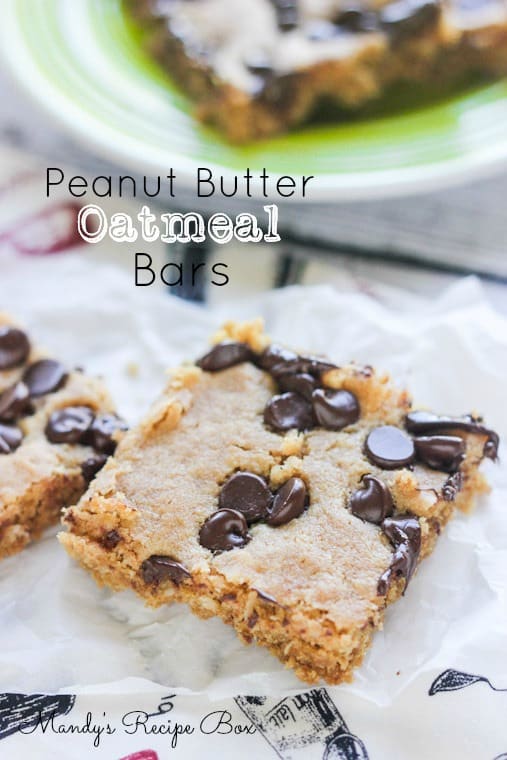 I don't know about you, but there is just something about Sundays that makes me want to bake. Even though I bake and cook all week long for my family and my blog, Sundays just feels different. We are all home together and I just itch to bake some kind of treat. I made these bars in under 30 minutes which is great because I have no patience when it comes to waiting for treats. I need them now! I hope you make these soon. How about on Sunday?
Ingredients
1/2 cup butter, softened
1/2 cup sugar
1/2 cup brown sugar
1/2 cup creamy peanut butter
1 egg
1 tsp. vanilla extract
1 cup flour
1/2 cup quick oats
1 tsp. baking soda
1/4 tsp. salt
1 cup semi sweet chocolate chips
Directions
Cream together the butter, sugars and peanut butter.
Add the egg and vanilla; beat until combined.
Add flour, oats, baking soda and salt; beat until combined.
Spread into a 9×13 pan sprayed with cooking spray.
Sprinkle chocolate chips over the top.
Bake at 350 degrees F for 20 minutes until lightly browned.
Remove from heat and cool before cutting into squares.
You should try these recipes: