Hello Pretty Providence readers! I'm Bethany from Whistle and Ivy, and I am so happy to be starting out the New Year with you. Along with the usual fitness goals, I am hoping to be more organized this year. Organizing is not my strong suit, so this is a hefty goal. I am also hoping to try some new things this year and go out of my comfort zone. I hope you will too, especially if you have been wanting to try crochet. There are so many fun patterns out there, it's hard to know where to start. This quick and easy chunky pom-pom cowl is a perfect beginner project because it only uses one stitch. The chunky yarn allows you to really see what you are doing, and is very forgiving (crochet is very forgiving in general).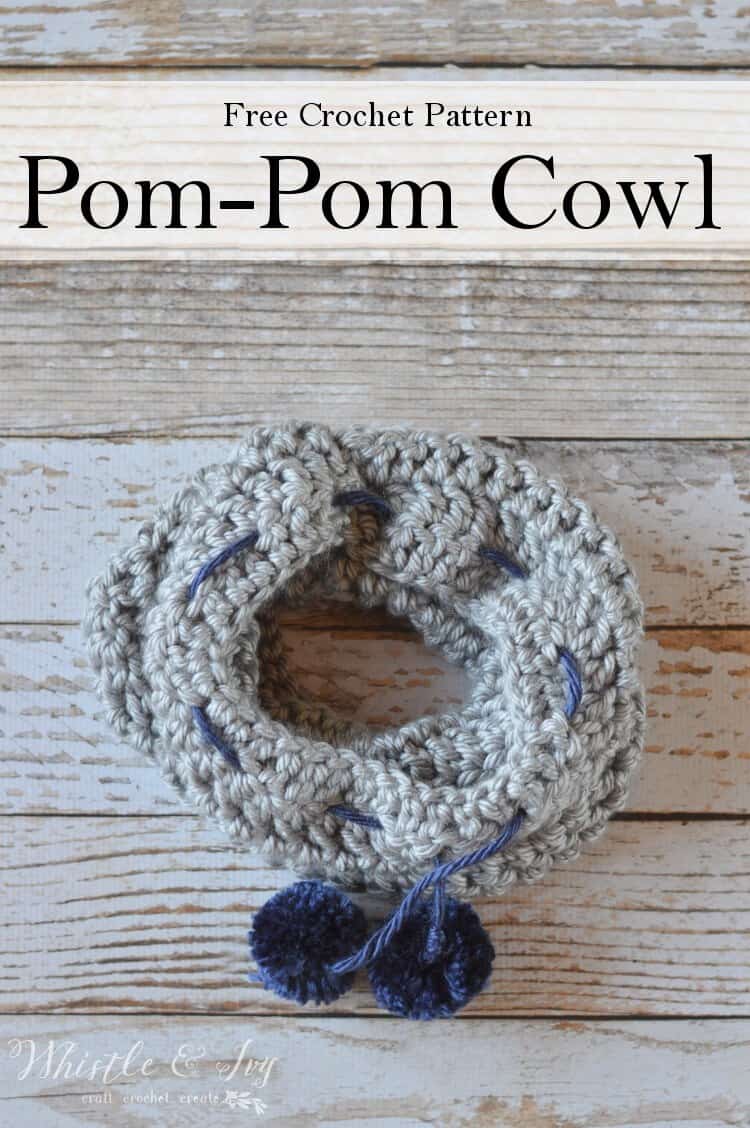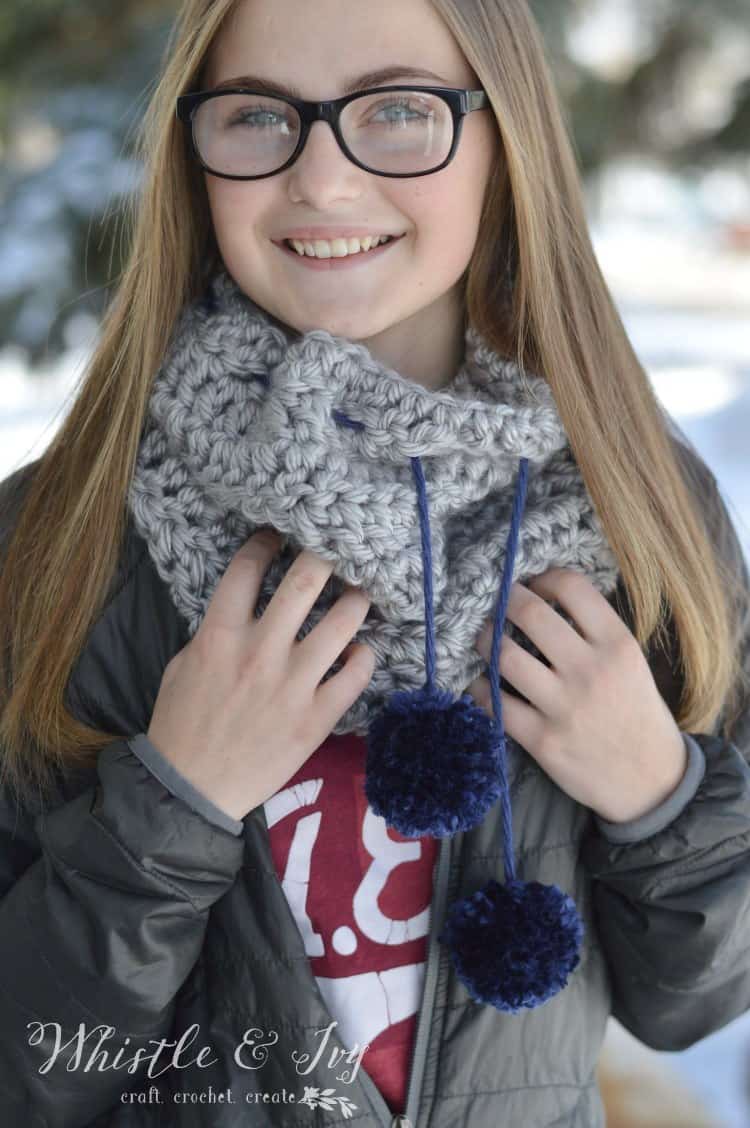 Ready to get started?
If you are familiar with crochet, then you can sally forward. If you need a refresher or a crash course, click here for a video tutorial of how to work a double crochet stitch.
Quick and Easy Pom-Pom Cowl
What you need:
Chunky Yarn in two colors (I recommend Lion Brand Hometown USA)
Size P Hook (large, plastic one)
Abbreviations:
Ch – Chain
Dc – Double Crochet
St – Stitch
Ch 40.
1. Work a dc in the 3rd chain from the hook. Dc in each chain. (38 total dc sts)
Turn your work so you are working with back of the stitches facing you.
2. – 12. Ch 1. Dc in same st (the loops below the chain you just worked)
Dc in each st across. (38 total dc sts)
Repeat this same step until you have a total of 12 rows.
Fold your piece in half, with the rows going horizontally. You can close it a few different ways. If you are amitious enough to learn a new stitch, you can work a row of single crochet stitches (click here for a video), going through both layers of your cowl turning it into a tube. If you would rather, you can get a length of yarn and use your hook to "sew" the cowl ends together by pulling it in and out. Weave in your ends my sewing in and out about 4 stitches to the left, and 4 back. Tug your cowl a bit so it stretches, and pulls your end in. Then trim it off.
Next, make two pom-poms using your second color of yarn. You can use a Clover Pom-Pom maker, or you can make one using your hand and this tutorial. Trim them down so they aren't too bulky. Be sure to leave at least one end of your tie piece long.
Take a length of yarn (longer than you think you will need) and "sew" around the top of the cowl by pulling it in and out with your hook. My stitches are about 2″ long, but you can make them as short or long as you like. Leave the ends long.
You will attach the pom-poms by essentially tying two knots. Tie the first knot using the end of the yarn at the top of the cowl. I used a simple square knot. Tie it around the long string on the pom-pom. Slide it down as far as you can to the pom-pom.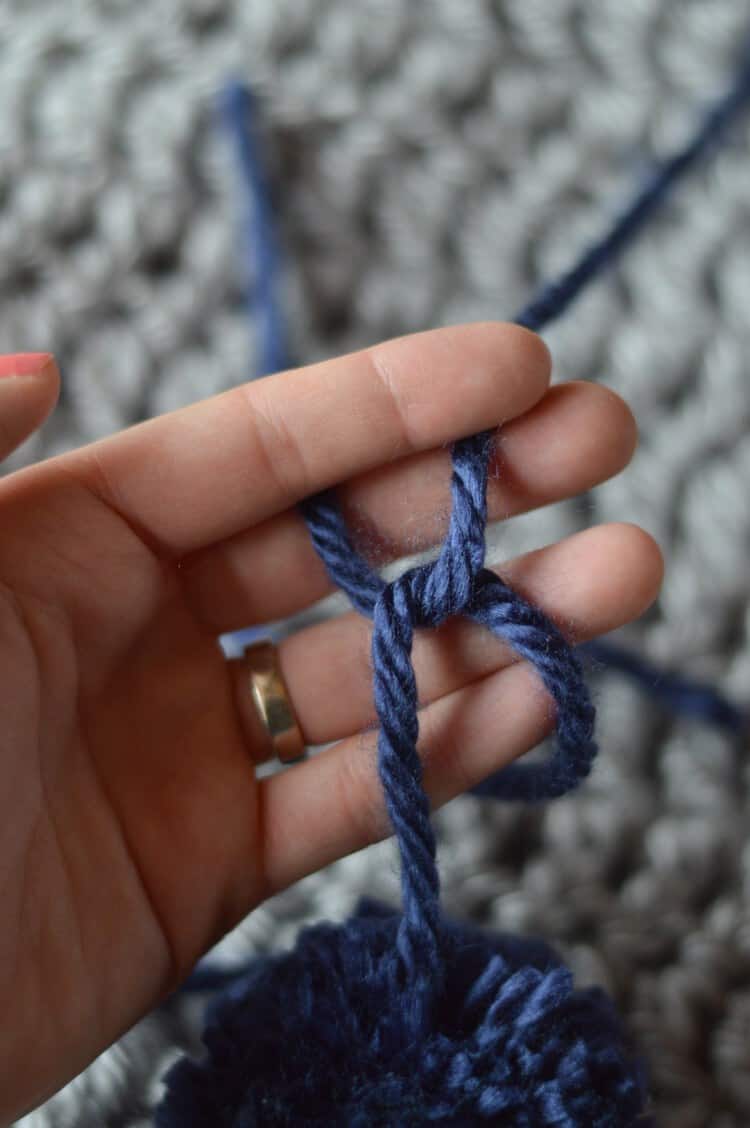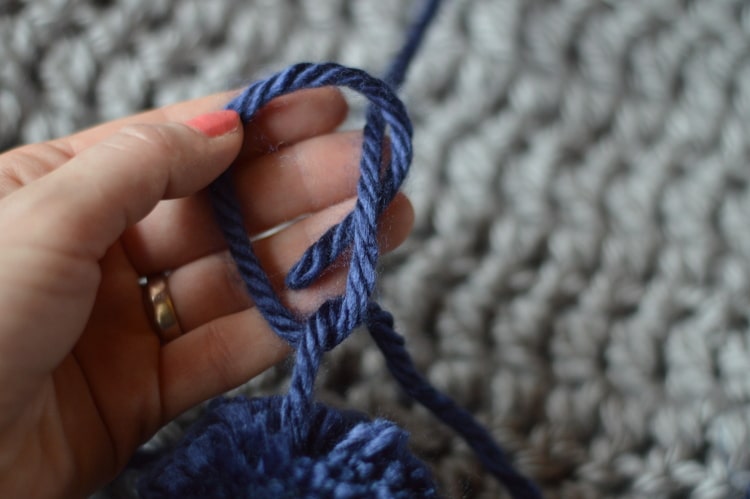 Next, using the tail of the pom-pom, tie a second square knot around the string on the cowl. Slide it down as you tighten it, so it's hidden. Trim the end on the pom-pom. Repeat with the other end and other pom-pom.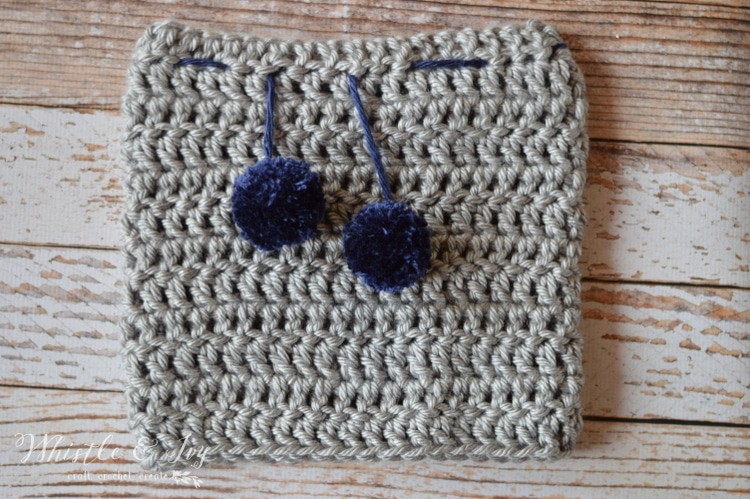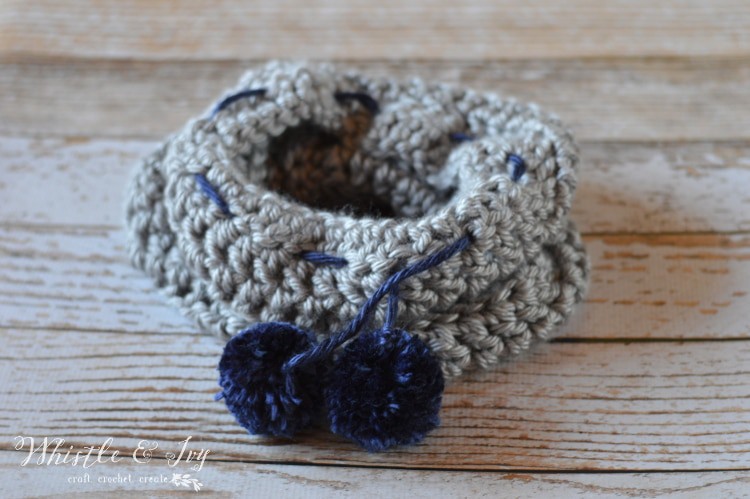 I hope you enjoy this little project! If you are interested in other easy and chunky projects, you might like this Chunky Granny Stitch Hat, or this Chunky Fringe Scarf –both these projects use dc stitches.
For more crochet projects and inspiration, follow me on Instagram and Facebook, and subscribe so you don't miss anything.
Happy New Year!
Beth