Hey you sweet thangs! It's Jessica from Fantabulosity, back with another "must-make," recipe, to add to your entertaining go-to list. This Quick and Easy Cheese Tray, is SURE to impress your guests, when it's your turn to make the appetizer for the get-together.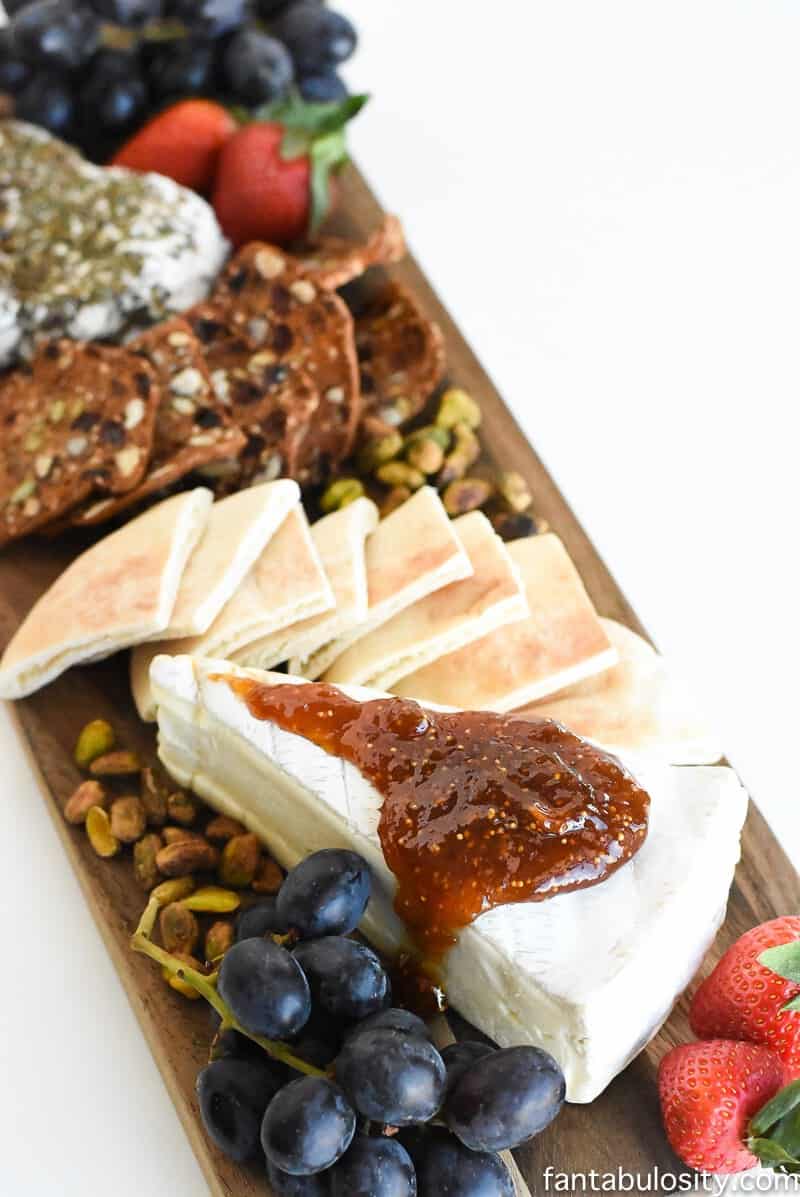 When a friend of ours, asked me to bring along an appetizer to a small-family friendly get-together, I immediately headed to the grocery store, and drooled over the cheese section. I had been craving brie since the last time I had, had it at a local restaurant.
I started by asking the employee which cheese(s) she recommended for a "not-so-adventurous," group of ladies and gents, and she directed me in the right direction of which cheeses were the most popular.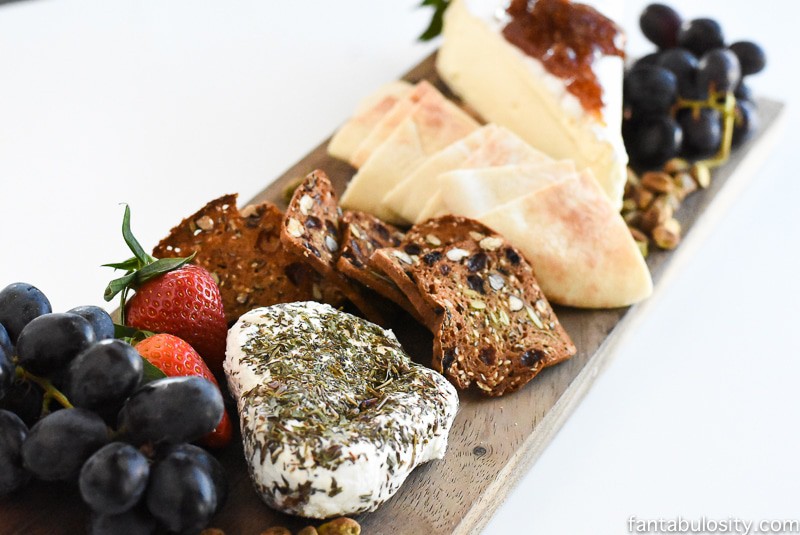 I told her that I wanted a spreadable cheese, and any tips that she had, for crackers, jams, and breads, that would make a nice accompaniment. She did NOT disappoint. When I brought the cheeses, crackers/pitas home, I simply arranged it on a super-cute wooden cutting board, and snagged some fruit out of the fridge, to "color-up," the cheese tray.
So if you're looking to create a cheese tray, that will REALLY impress your guests... let me fill you in how I did it.
Herbed Goat Cheese. (If you're able, ask someone in the cheese department which goat cheese seems to be the most popular. If you have a guest list of the not-so-adventorous type, tell them that you'd like to play it safe.)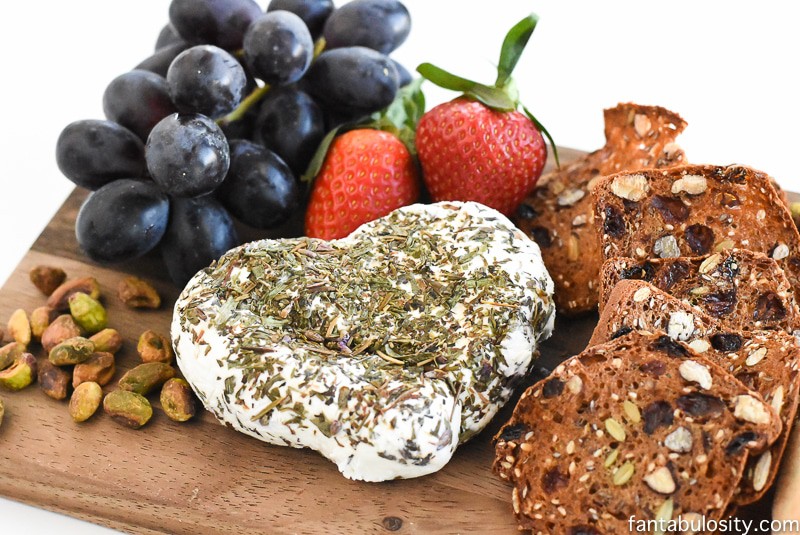 Brie. Again, check to see which brie is the most popular, and crowd-friendly. If your guest lists seems a bit more adventurous, then totally have fun with experimenting with the different cheeses.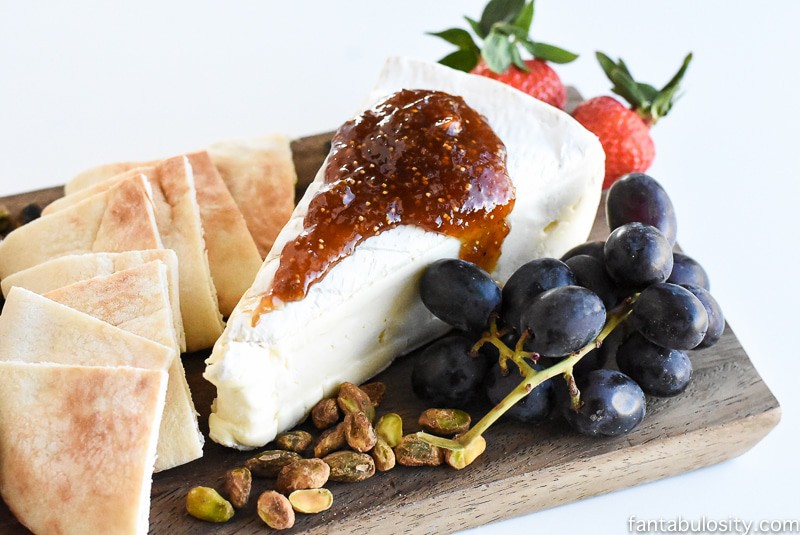 Really, any pita bread, toasts & crackers will do, but if there's a fun-flavored cracker to throw in, go for it!
Adding any additional garnishes, to really brighten up the cheese tray is definitely a must. Bright colored fruits (strawberries, blueberries, grapes, nuts, etc. are always really nice, and EASY, options.)
If there's a jam that you're fond of, adding a spoonful of jam to the brie is usually a nice accompaniment, and yet another way to add a pop of "color," to your cheese tray! For this particular cheese tray, I used a "fig," jam, and it was absolutely TASTY!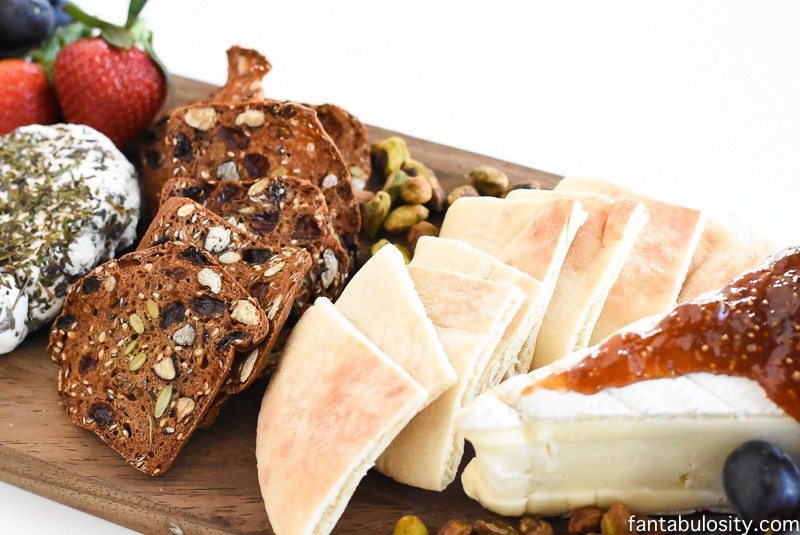 In no time, I had this cheese tray arranged, and ready to head to our friends house. My friends raved about how beautiful the cheese tray looked, and how fun it was to taste the different cheeses, crackers, and jam.
If you love quick and easy recipes, then you MAY just love more of my recipes that I share over on my blog. I believe in keeping every aspect of life, simple if possible, and love sharing it with my readers.
My BEST Guacamole Recipe, is definitely a popular appetizer recipe that has went a bit viral on Pinterest, and others have found to be one of their favorites.