You will love this fun and functional small laundry room makeover! Having a smaller space or budget doesn't mean your laundry room can't be beautiful and fulfill all your needs!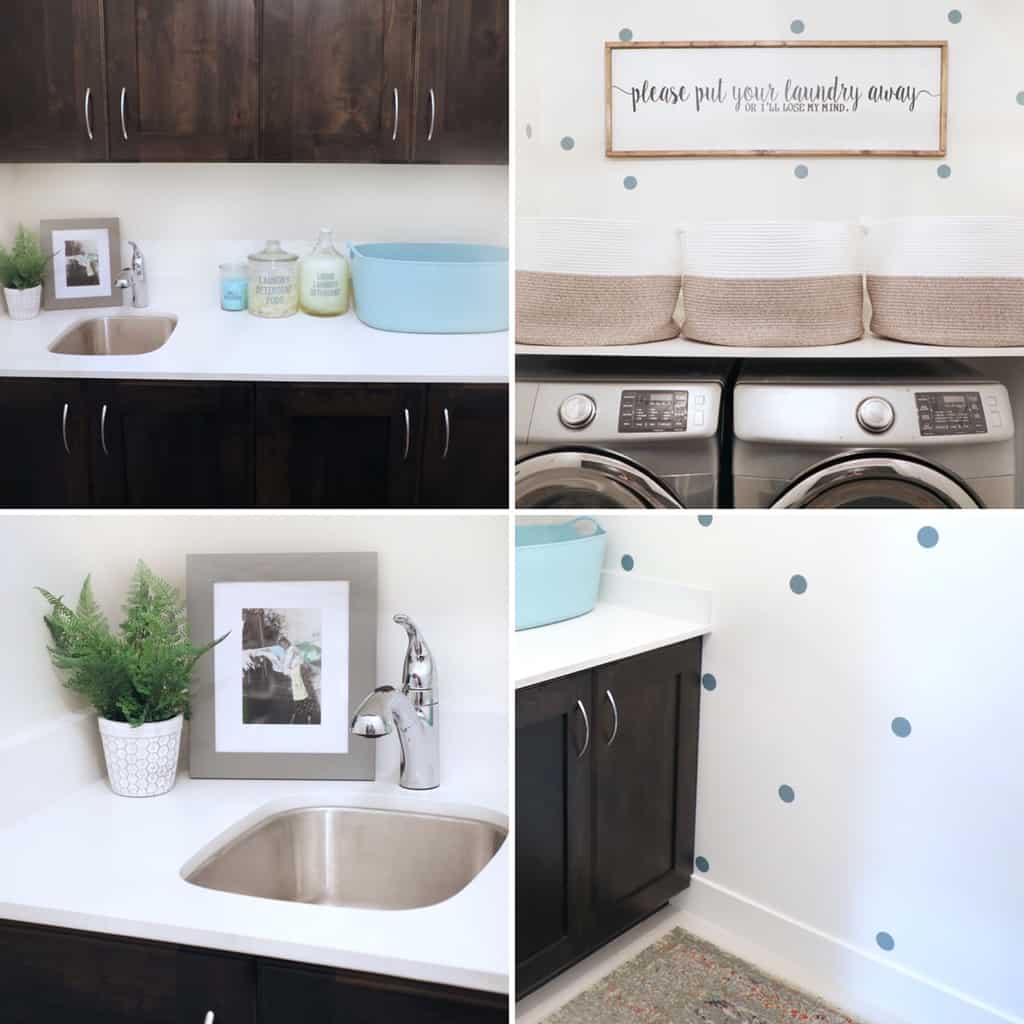 Ah the laundry room! Everyone's favorite place in the house ;). I must admit, the laundry room was the very last space in our main living area I chose to address. It was pretty small, dark and not at all functional. But, now I love it in there!
Small Laundry Room
It's crazy how much difference a few small changes can make to a space. If you have a problem area in your house where you hate spending time, I hope this post can motivate you to make some small but meaningful changes to it. A few other examples of when we did this were with my last house's tiny pantry organization or Sarah's under the stairs closet craft storage!
Okay, are you ready to see what our laundry room looked like before? I am embarrassed to show you because the only picture I have of it is a straight up mess, but it's better than nothing am I right?!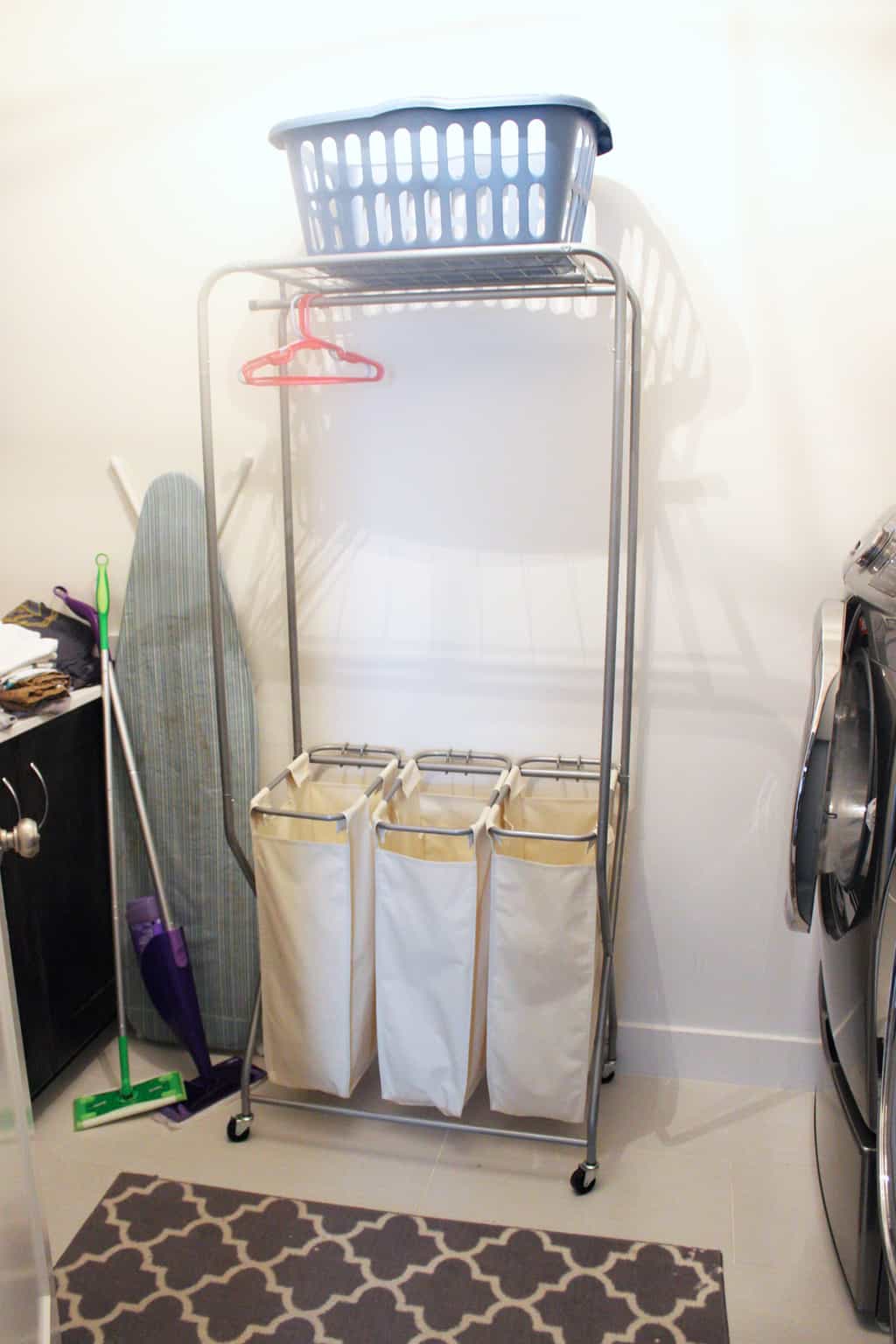 From this angle you can really see how tight the room is. Especially with the door open and the large hamper against the wall.
Small Laundry Room Ideas
If you have a small messy laundry room like I did, here are some simple, frugal ways to turn it into a space you will really love.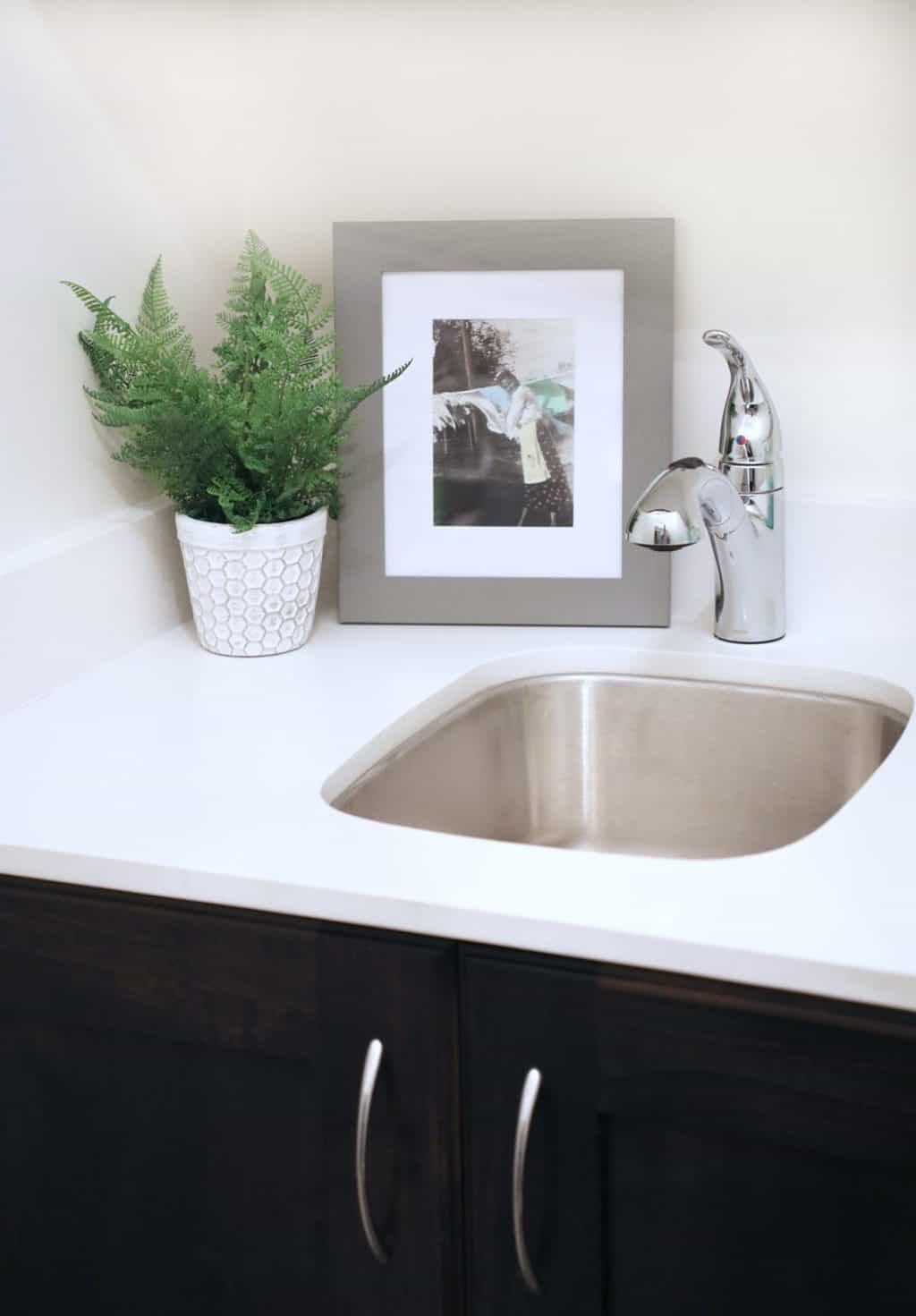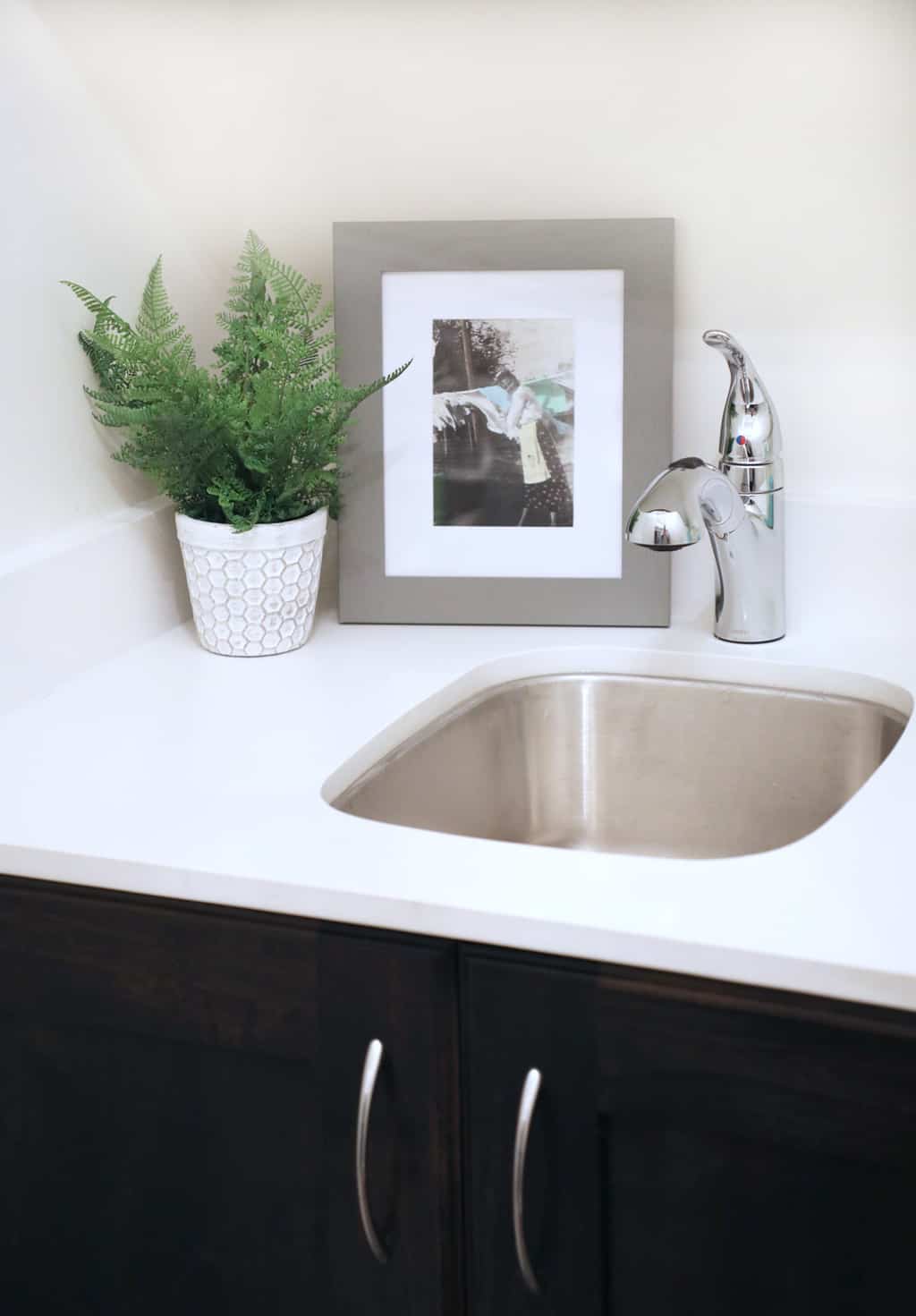 Laundry Room Sink
Even though our space wasn't huge we were lucky to have a little sink in there! I wanted to draw attention to it by adding a pop of color with this faux plant. The picture is of my Grandma Diane, hanging laundry on a clothesline to dry. I love her and I love this picture.
When I look at it it makes me feel gratitude to have a laundry room at all, and immediately makes me feel more joy in this space. Try adding a personal photo or an item with significance to your laundry room to bring happy vibes in.

Funny Laundry Room Sign
*This post contains affiliate links.
Along the same lines, I knew I wanted a funny laundry room sign to make me smile and lighten the mood in there. I had seen some that I liked that said, "please put your laundry away, or I'll punch you in the face" but it felt a little too violent to me so I decided to go with this variation and I really love it.
Here's another funny sign I considered getting!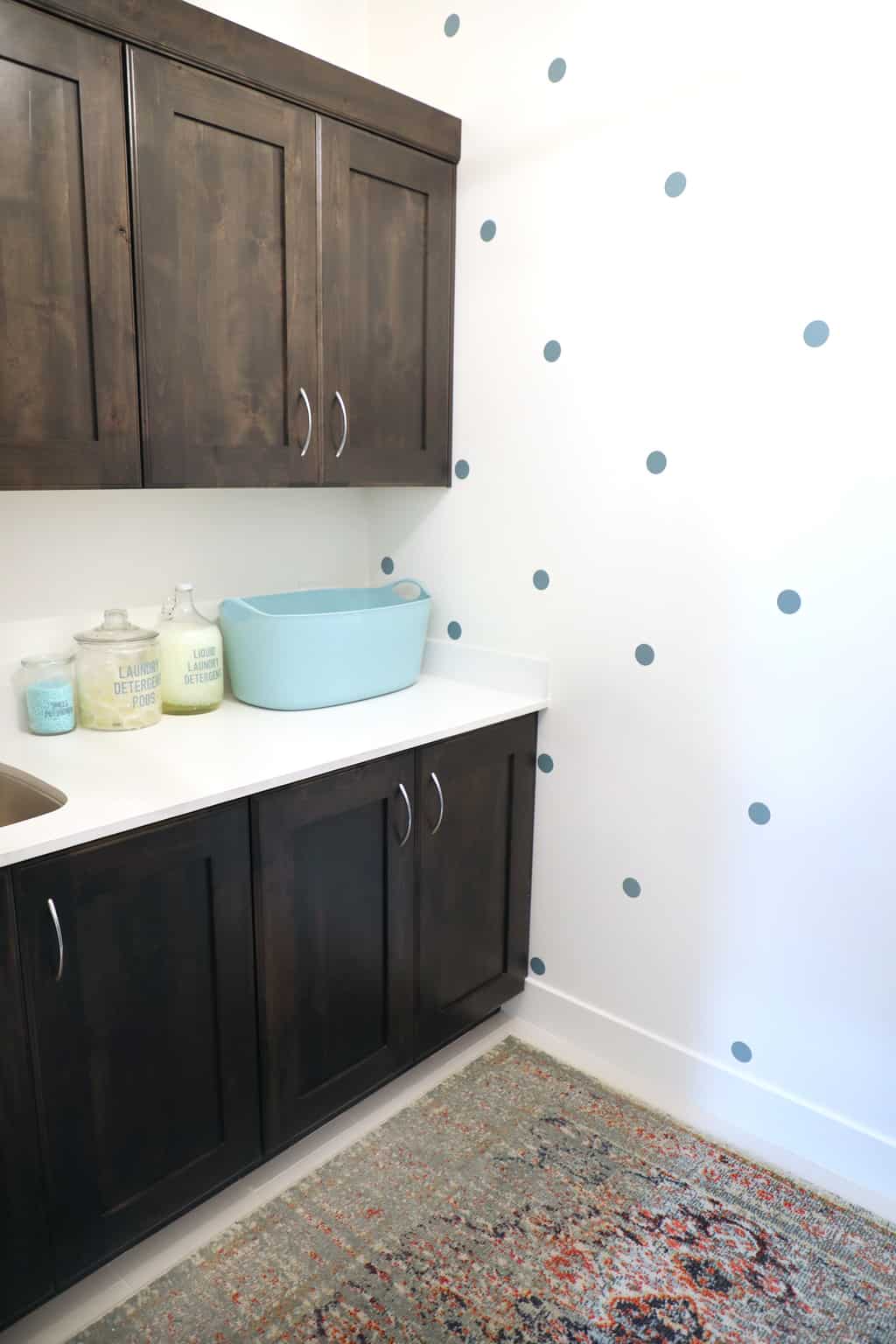 Easy DIY Wallpaper
I used my Cricut to cut out these fun blue polka dots to create a faux wallpaper. They really brought a fun playful feeling to the space and the entire project took me under an hour.
See this post for a step by step tutorial on how I made them. I also used my Cricut to label the jars full of laundry supplies on the counter.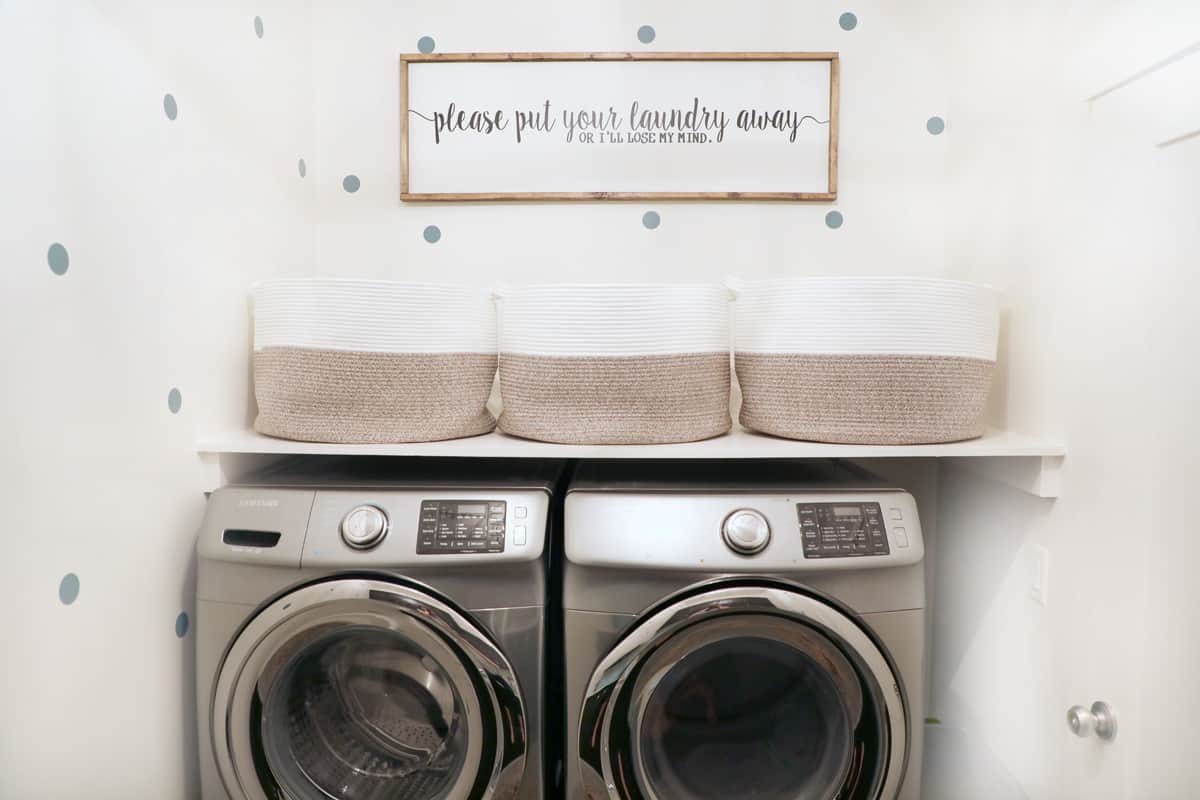 Shelf Over Laundry Machine
I knew right away I needed to get rid of the bulky laundry basket holder taking up the only free wall space I had, but we had nowhere else to put dirty clothes.
We decided to build a shelf/counter over the top of the washer dryer to create a space to hold laundry baskets and I loved how it turned out. Here is a good tutorial you can follow if you want to build your own like we did.
Here are the large laundry hampers we used. I love them so much!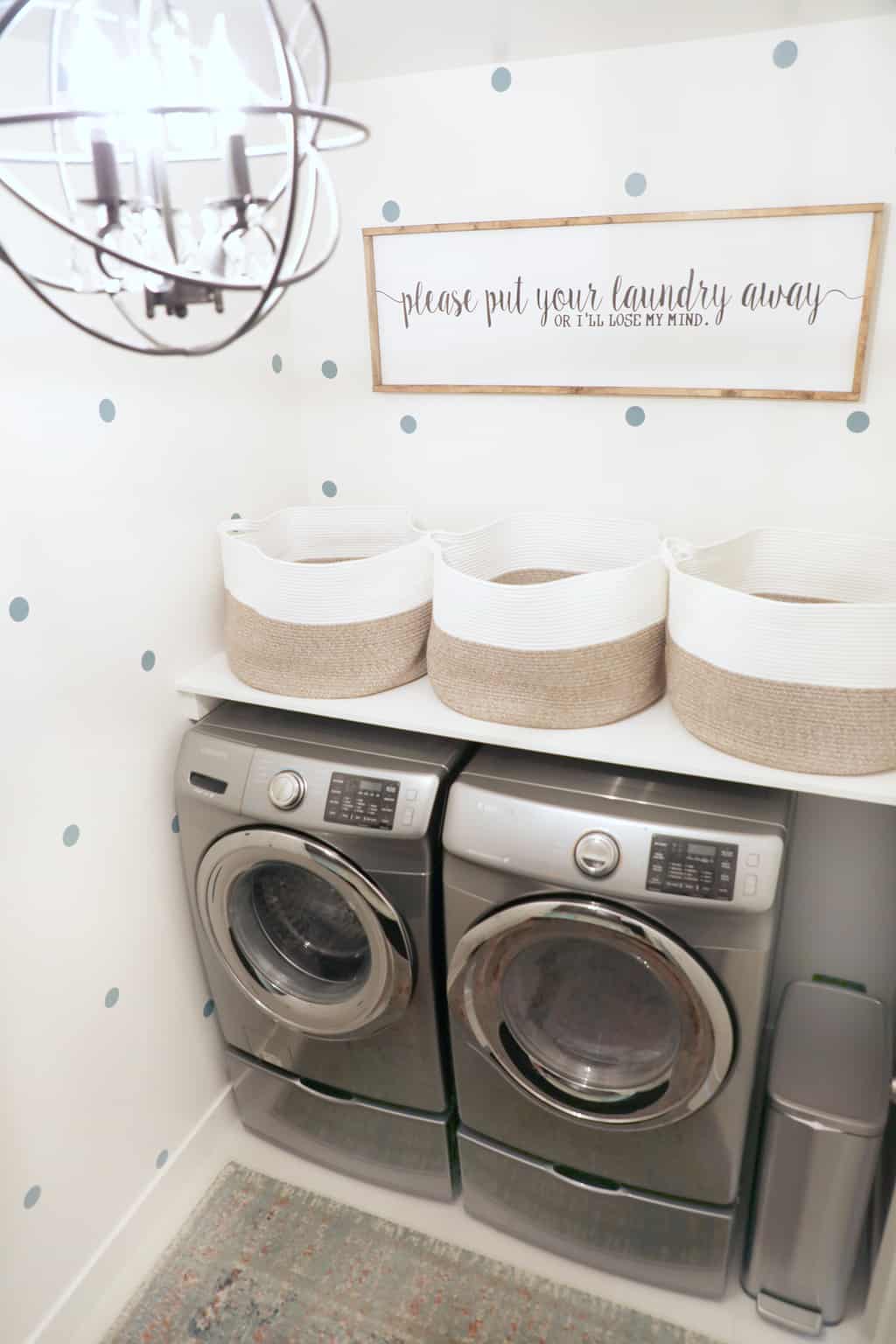 Laundry Room Light
Changing a light fixture is a very easy and inexpensive way to make a bold statement in a small space. We bought this 3 light black metal chandelier and it really completes the fun feel of this room.
I used this rug for the room and I love that too. I feel like it ties the darker cabinets, the fun blue dots and the baskets together really well.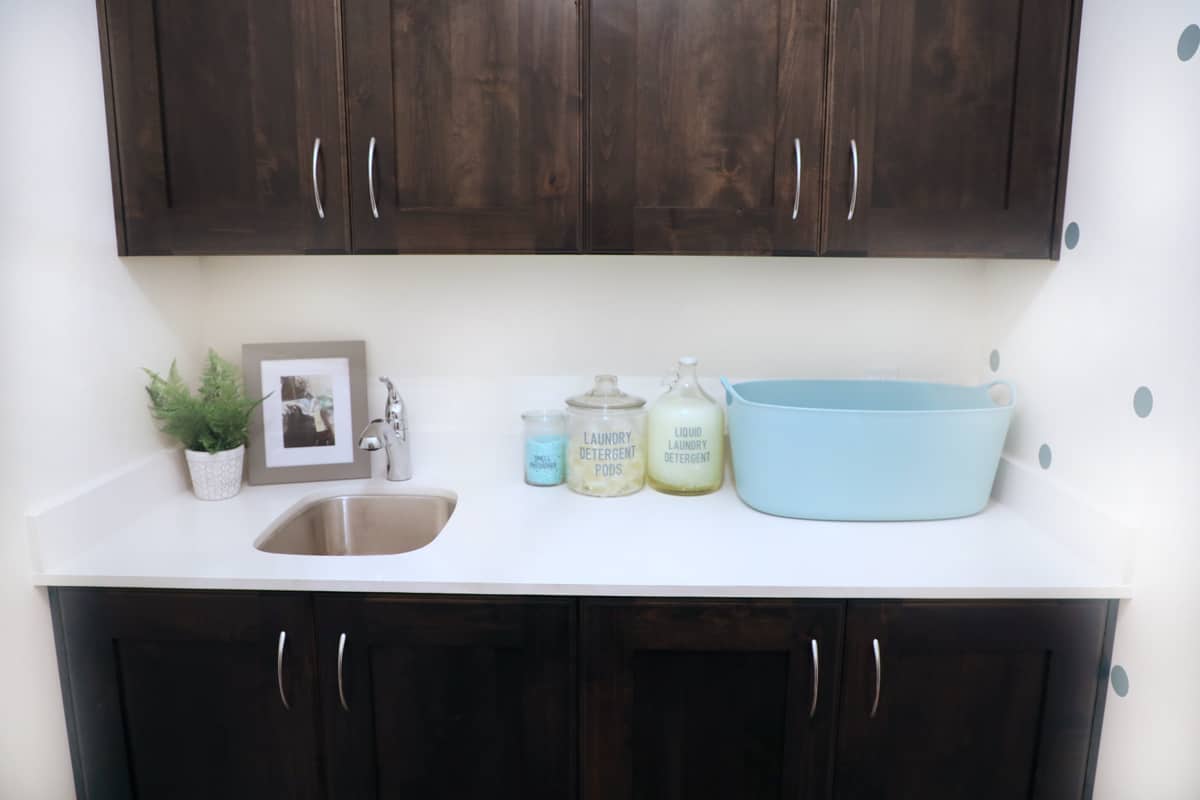 Well there you have it friends! What is your favorite part of this affordable small laundry room makeover?
xo,