Any fan of 'The Office' will love this epic The Office birthday party, complete with food ideas, a stapler in Jello, and Dundie Awards!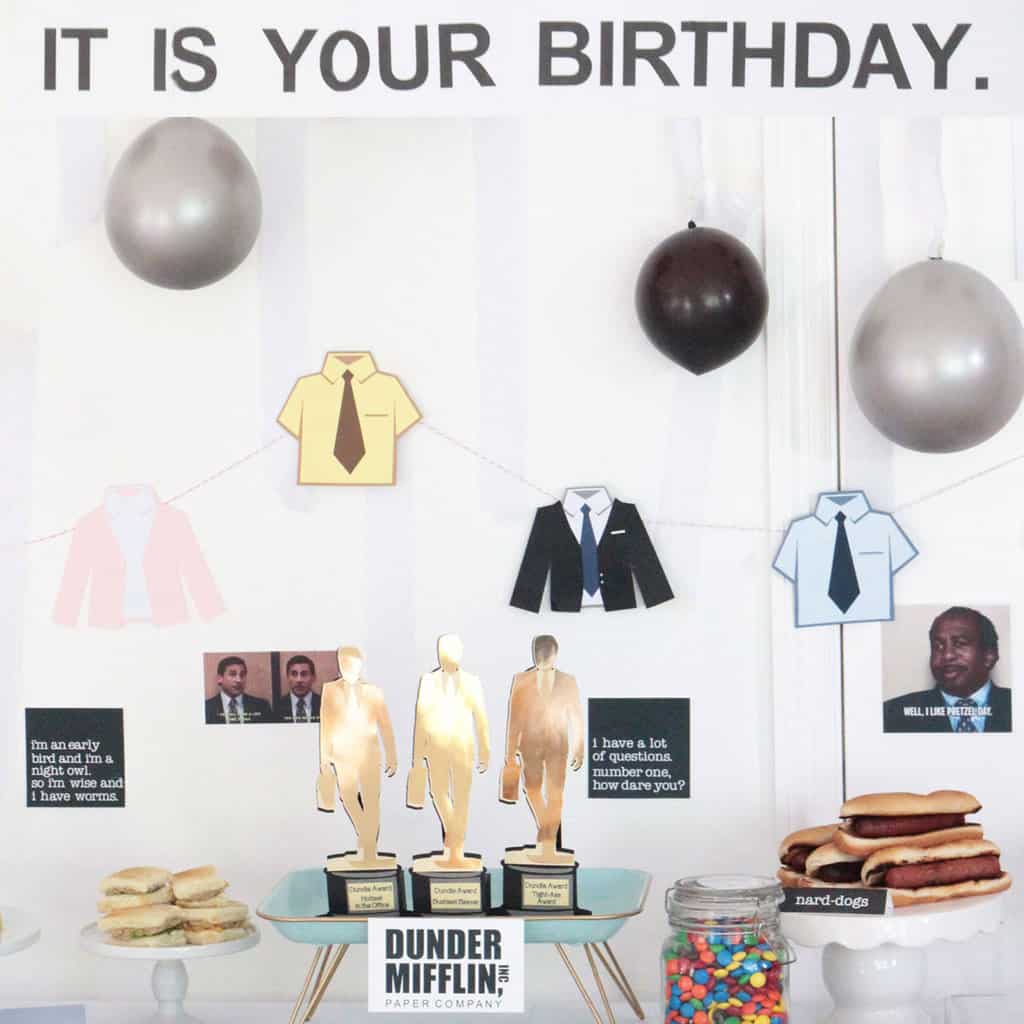 *This post contains affiliate links.
My husband and I both LOVE The Office – the TV show. I think we have watched the series at least 5 times together and he's also watched it once or twice on his own. It somehow never gets old. Lately we have been listening to the Office Ladies podcast and then watching the corresponding episodes on the DVD's with deleted scenes! There are a lot of great gems there.
So, this year while thinking about what to do for his birthday while we were quarantined, I came up with this. To be honest, I could have just done the brown and gray balloons, white streamers and the "It is your birthday" sign and he would have been happy.
However, as Head of the Party Planning Committee I had a good time coming up with the party food ideas and making the Dundie Awards, quote cards, and a vending machine. My friend Anna's The Office Birthday Party inspired me a lot and she helped me brainstorm these ideas! Speaking of being the Party Planning Committee – you should check out all of our party ideas here.
The Stapler in Jello was the biggest hit. My "Michael, Jim, Pam & Dwight" banner was fun to make too. I needed something creative to take my mind off of everything going on and it was awesome to surprise my husband on his birthday with all of this!
The Office Birthday Party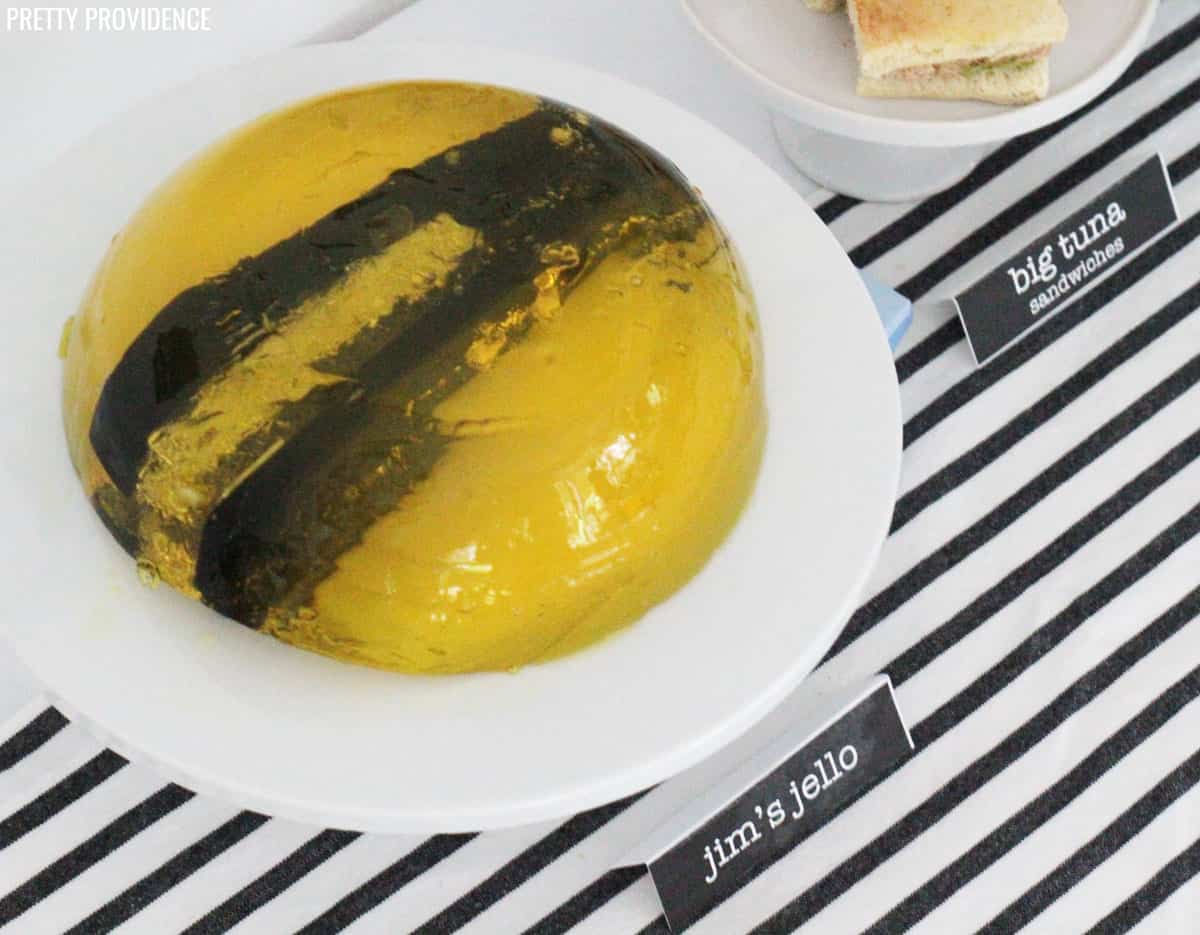 I was determined to make the famous Stapler in Jello and it took me a couple of tries to get it right. When this finally worked out it was epic! I have included full instructions on how to do this at the bottom of the post.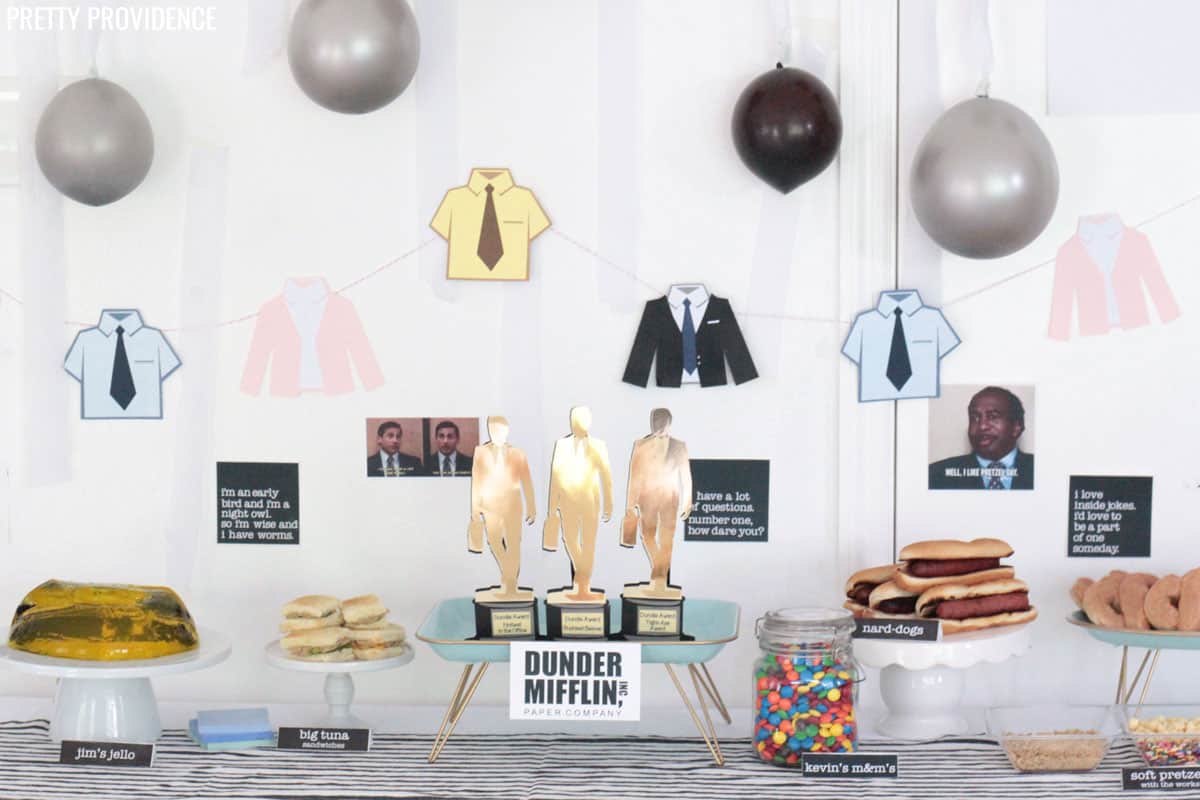 Food Ideas
I made these foods partially because I knew they were the kinds my family would love. There are so many fun themed foods you could do though.
More Ideas Not Shown Here
If you want to use any of the same foods you can download and print my food labels. There are also some blank ones and you could write on them with a white paint marker.

The vending machine was a total last-minute DIY so I don't have a tutorial or photos to go with it, but I used a tri-fold poster board, black wrapping paper, duct tape, and cellophane to make it. Then I used my Cricut machine to cut out the words 'SNACKS' and 'PUSH' at the bottom. Simple push pins are holding up the snacks which are pinned to the board.
I feel I really missed an opportunity here to have Sour Cream & Onion chips – Pam's fave. Shopping was hard in March 2020.
Full List of The Office Party Decorations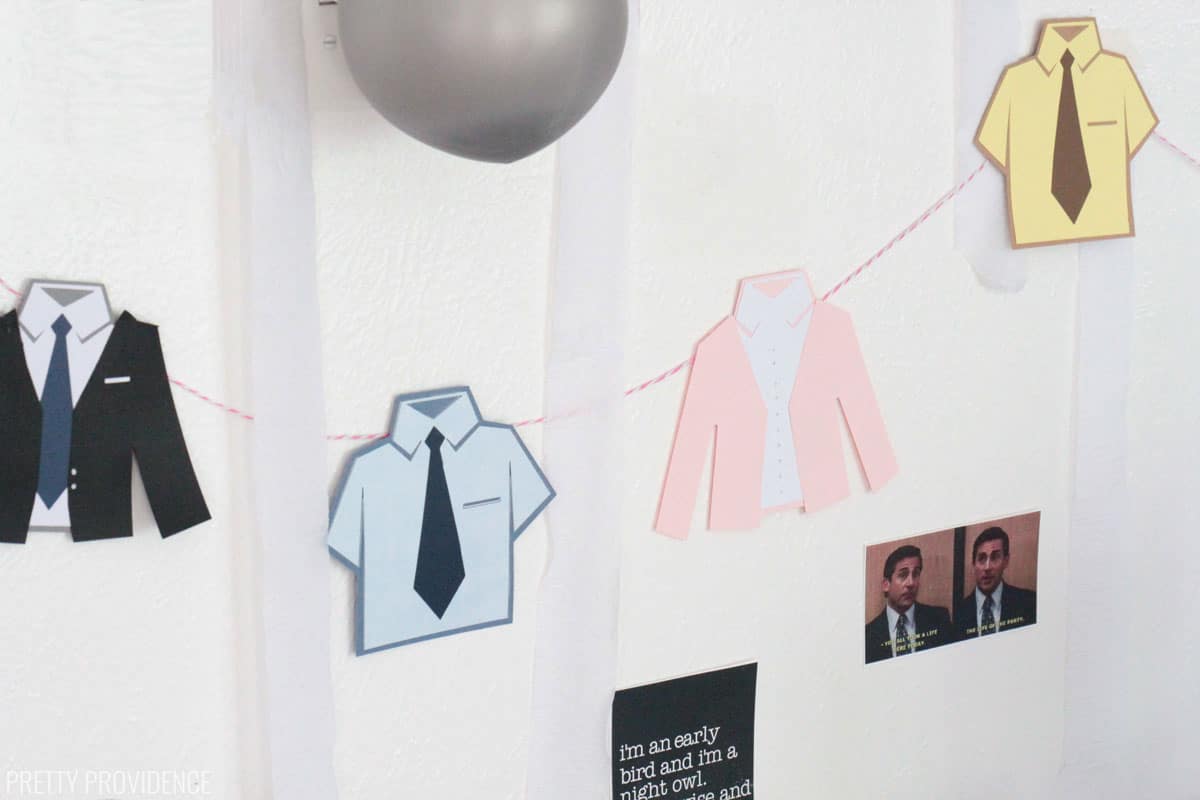 DIY Decorations:
*Note: We offer our printables to you for free, for personal use only. Please review our terms of use for more information on what that means.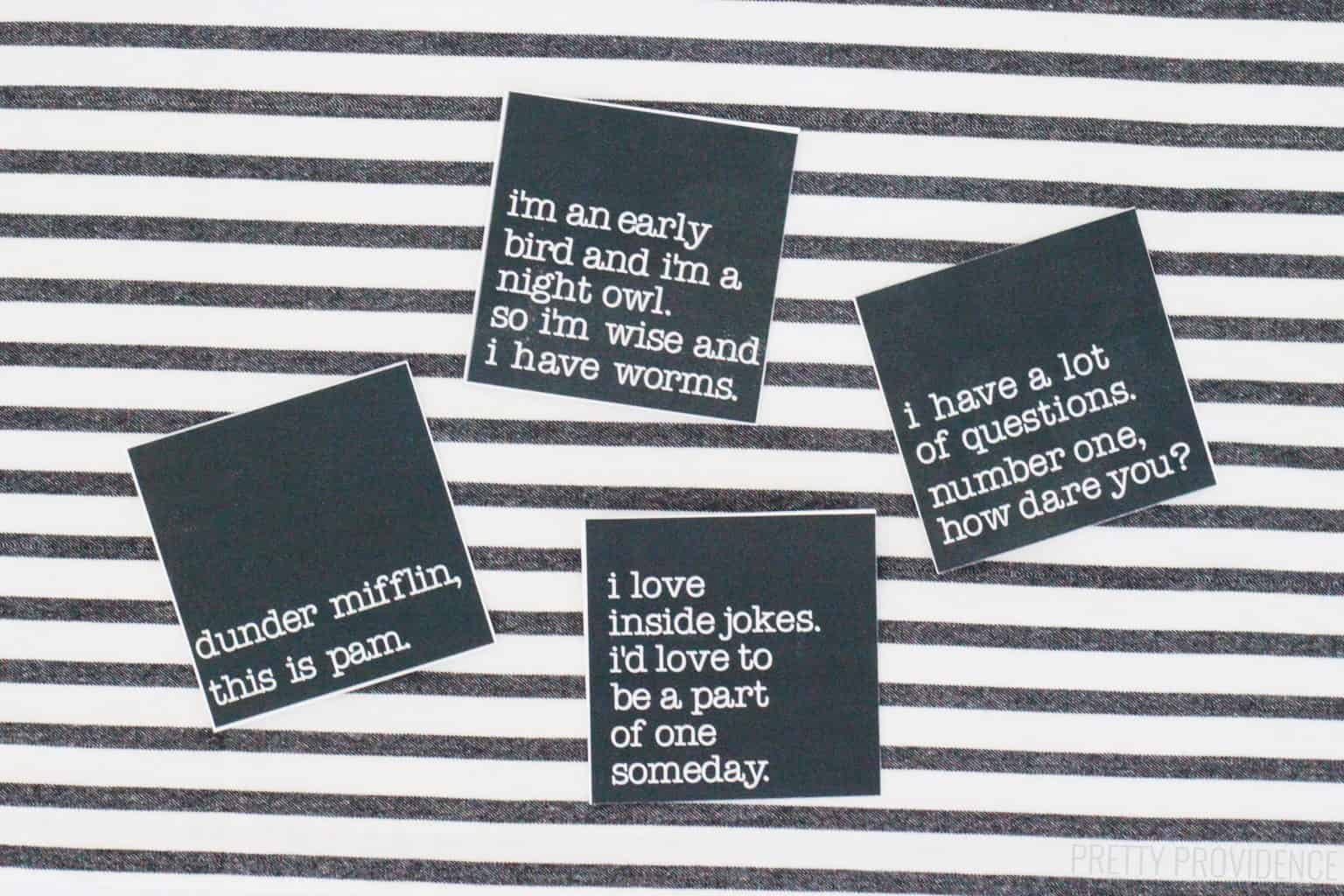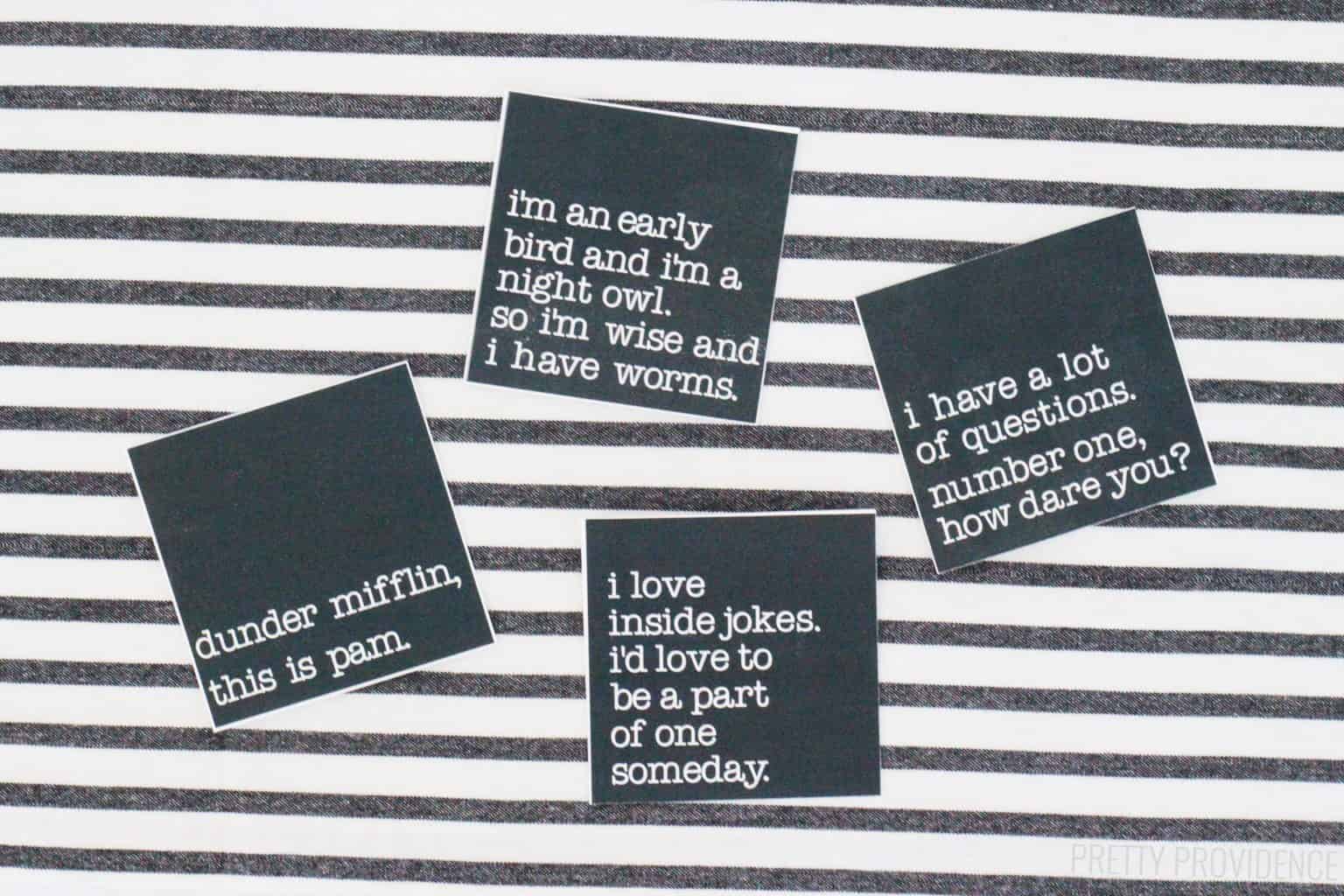 Our Cricut machines really come in clutch when it's time to celebrate birthdays! We love our Happy Birthday banner and use it pretty much every time we celebrate at our house. I was so happy I could make the Dundie Awards and banner come to life with it this time too!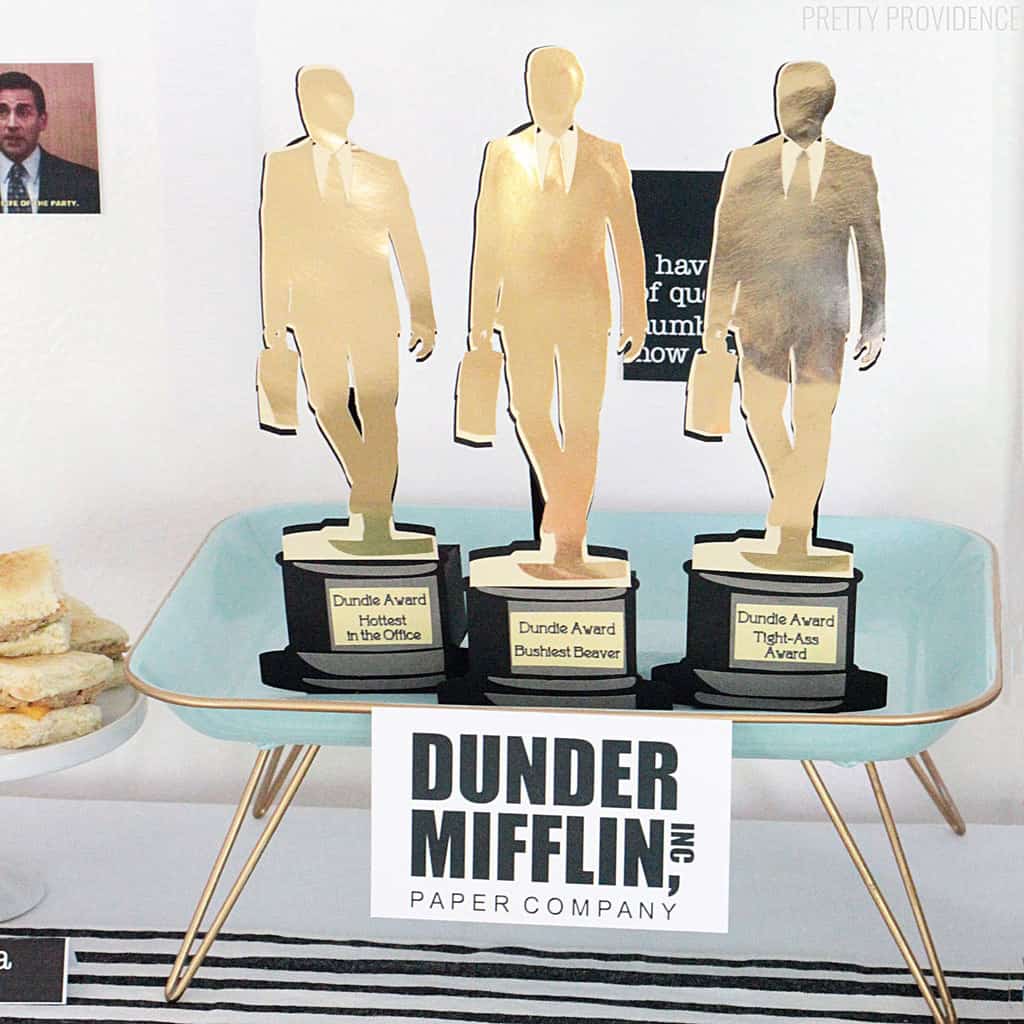 DIY Dundie Awards
For this party, I realized I wanted Dundies so I set out to figure out how to make Dundie Awards from card stock. It was no easy task designing these but now that they are done, I love them. If you want to make some, I've done all the guess-work and you can use my design in Cricut Design Space. Let the Cricut machine do the cutting, they are easy to put together!
Michael, Jim, Pam and Dwight Shirt Banner
This banner is so fun that I kind of just want to keep it up all the time. What do you do with party supplies that you might not use again but that are just SO cute?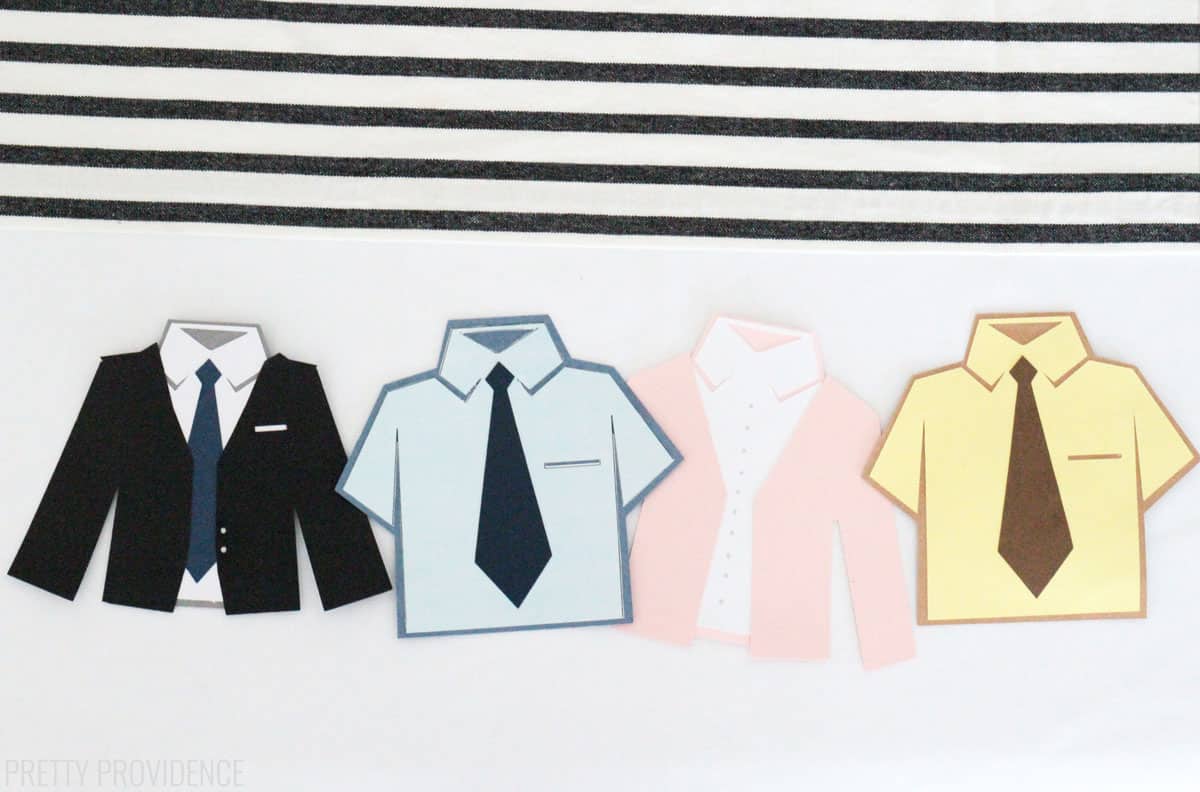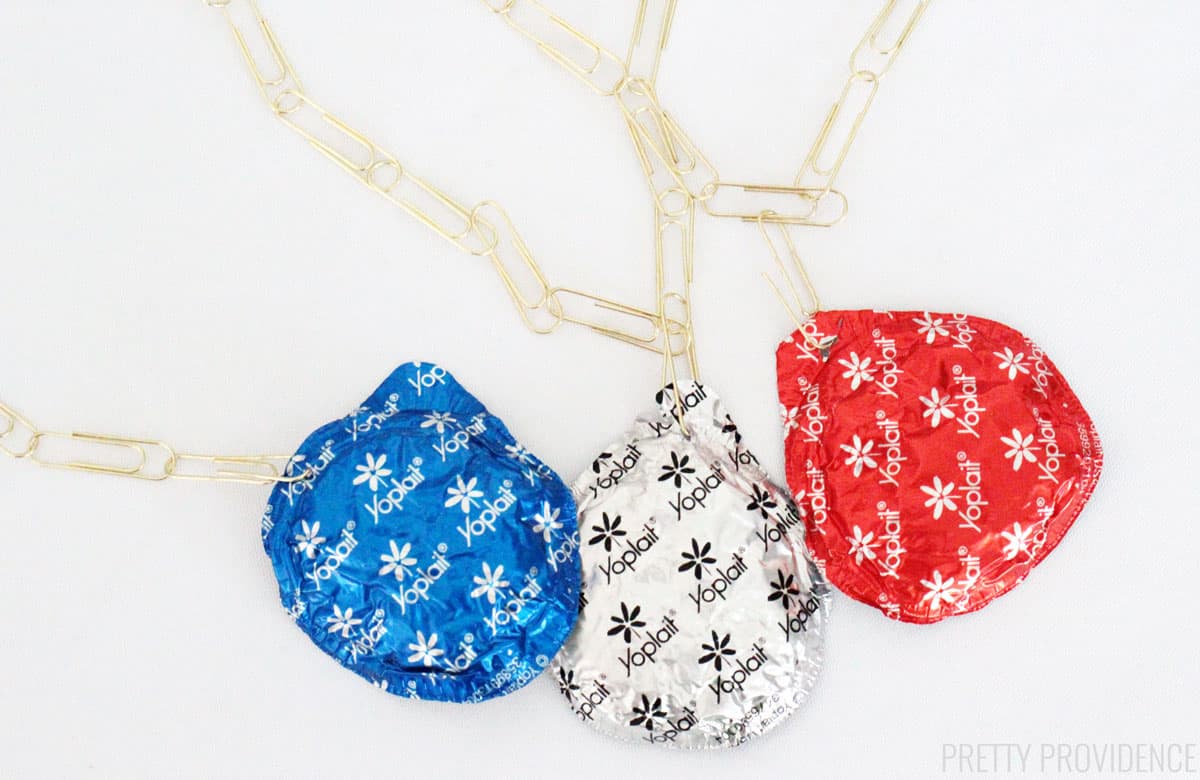 Office Olympics
For after lunch activities we had to have an Office Olympics! My girls and I made the medals together (actually a fun craft for a 5 year old.) We didn't have access to big reams of paper unfortunately, so Flonkerton was out, but we played some Dunderball.
Tutorials
If you try any of these ideas we would LOVE if you'd comment and rate them – and tag us on instagram @prettyprovidenceblog so we can see your awesome parties!!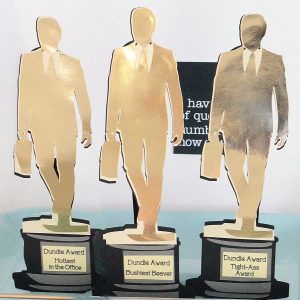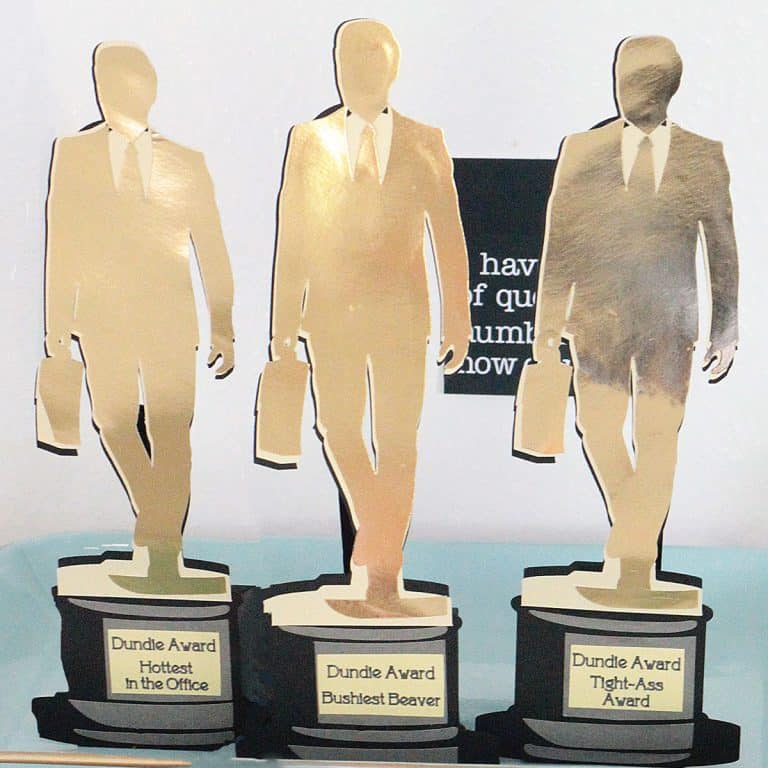 DIY Dundie Awards
Make Michael Scott proud with these DIY gold foil card stock Dundie Awards! Your guests will delight in being awarded "Bushiest Beaver" or "Hottest in the Office."
Print
Pin
Rate
Equipment
Cricut Explore or Cricut Maker

Light grip mat (blue)

Cricut Pen (black)

Scoring Pen

Tacky glue
Materials
3

sheets

Gold foil card stock

6

sheets

Black card stock

3

sheets

Cream or light gold metallic card stock

1

sheet

Dark gray card stock

Hershey Kisses

or similar wrapped candy, for inside boxes
Instructions
Choose 'Make it.' Follow instructions in Design Space for cutting and prepare mats.

Place a 6 inch long x 2 inch tall strip of light gold or cream cardstock onto a mat and insert black Cricut pen into machine.

After the pen step is finished, replace the fine point blade in your machine and cut the rest of the pieces.

You will also need to insert a scoring pen into the machine when prompted to.

While the other pieces are cutting, use scissors or a paper cutter to trim the award name plates down to small rectangles.

Once all pieces are cut, assemble the boxes. Fill the boxes with wrapped candy and use tacky glue to close them at the top.

Assemble the top pieces by layering the business man pieces: black, cream, and then gold foil on top of that.

Add the dark gray accents to the bottom of the statue pieces and then add the name plate pieces last.

Optional: cut small strips of black paper and glue them at an angle, from the top of the box to the top of the business man. This will keep the front from falling forward too much.
Notes
The candy inside the boxes gives some weight to the bottom so that the Dundie Awards don't fall over. It also makes a fun party favor!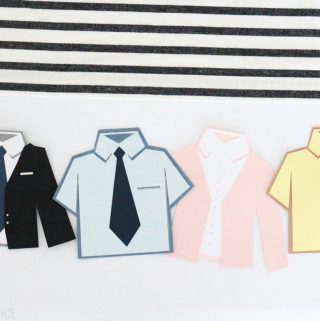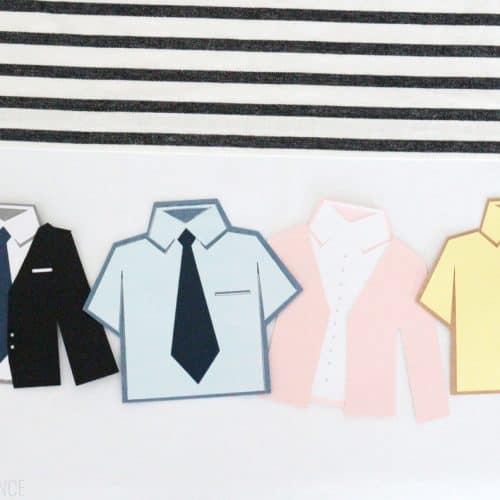 The Office Party Banner
How to make this 'The Office' themed banner inspired by Michael Scott, Jim, Pam and Dwight's signature work clothes. Perfect decoration for an Office themed birthday party!
Print
Pin
Rate
Equipment
Cricut Explore Air 2 or Cricut Maker

LightGrip Cricut Mat (blue)

QuickDry Tacky Glue
Materials
12

pieces

Card stock

light yellow, brown, tan, white, pink, black, navy, light blue

Silver gel pen

for drawing buttons (optional)

Tape
Instructions
Duplicate the shirts if you want more than I have in my canvas, or remove some if you don't want as many. Then, click 'Make it.' Since there are 12 different colors, you will have 12 different papers to cut.

Add paper to the light grip mat and follow instructions in Cricut Design Space to cut all of the pieces for the shirts, ties, and jackets.

Once all pieces are cut, use tacky glue to attach back and front pieces of shirts, jackets, and ties.

Use tape to attach the back of the shirts to baker's twine. Hang banner.
Notes
12x12 paper is easiest to use for this project, but I used smaller pieces since that's what I had on hand. Just make sure to adjust what part of your mat you are cutting on if you are working with smaller paper.
Attach the banner to walls with wall-safe tape, washi tape, command hooks, or removable mounting putty to avoid damage to paint.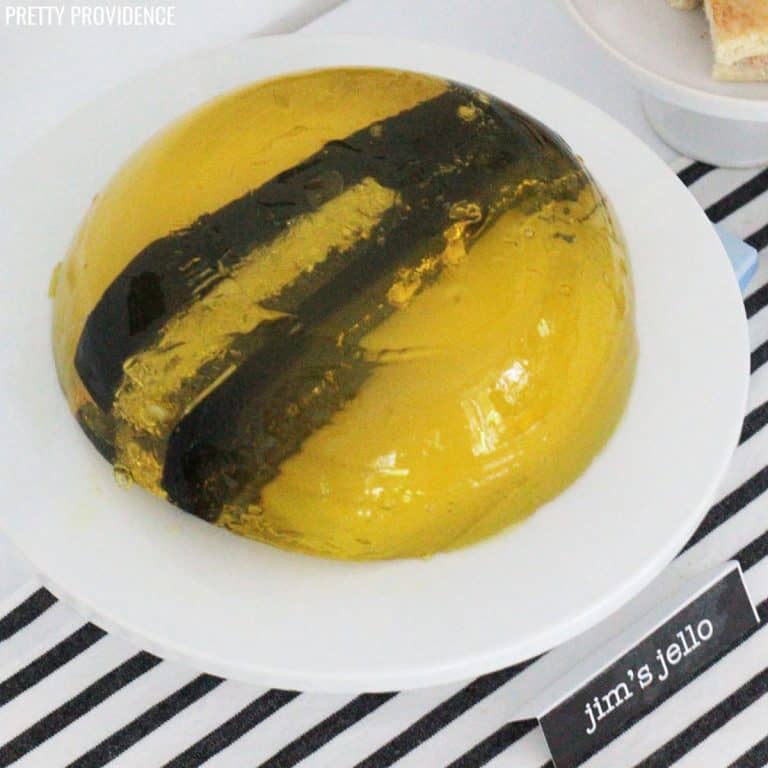 Stapler in Jello
How put a stapler in Jello like Jim did on The Office TV show. Easy and fun detail for a The Office themed party or just to prank your friends.
Print
Pin
Rate
Equipment
Stapler

Deep Medium Mixing Bowl

Refrigerator

Medium Saucepan
Instructions
Boil one cup water in a medium saucepan.

Add one packet unflavored gelatin and one (3 oz.) jello mix packet to the hot water. Stir for at least 2 minutes or until completely dissolved.

Stir in 1 cup cold water and mix.

Clean stapler with hot water and dish soap.

Pour jello mixture into a medium-sized deep mixing bowl, and place in the fridge to set for 3-4 hours.

Add three packets of jello mix (3 oz. each) and three packets unflavored gelatin (1 oz. each) into the hot water. Stir for at least 2 minutes or until completely dissolved.

Stir in 2 cups cold water and mix well.

Remove the mixing bowl with jello from the refrigerator.

Carefully place the stapler upside down on top of the chilled jello.

Pour the second batch of jello mixture onto the stapler. Cover and place it in the fridge to set for 3-4 hours.

Add warm water to a large mixing bowl.

Place bowl of Jello into the larger bowl of warm water for a few minutes to loosen the jello.

After this, you can also use a rubber spatula to loosen the Jello from the sides of the bowl.

Turn Jello over onto ta serving plate.

Display Stapler in Jello proudly, or put it in your co-worker's desk drawer.
Notes
I do not recommend eating jello that has a stapler in it. This is meant to be more of a joke or part of a display.
The stapler will likely be ruined by being set in Jello. The Jello will get into all of the nooks and crannies. Do not use a stapler that you love and cherish for this prank.