Oreo Fluff is an easy no bake dessert that is ready in no time at all. Full of Oreo cookies and pudding, this will be a hit where ever you bring it.
Hey ya'll! Mandy here from Mandy's Recipe Box. I have such an easy and delicious treat for you today! So I am kinda obsessed with Heavenly Oreo Desserts. I have made them in many different varieties and they are super awesome and always get rave reviews. So I decided to throw one together in a big ol' bowl. With marshmallows. It takes just minutes to make and when you use instant pudding, it is ready in about 15 minutes. You can refrigerate it once prepared to thicken it even more, but you can dig in right after you make it. That's the route I took, obviously. Ain't nobody got time to drool on a fridge waiting for dessert to make itself presentable. Play around with different pudding flavors and find your favorite flavor! If you watch for Oreo cookies to go on sale, be sure to stock up so you can make Heavenly Oreo Desserts or this Oreo Fluff any time you want.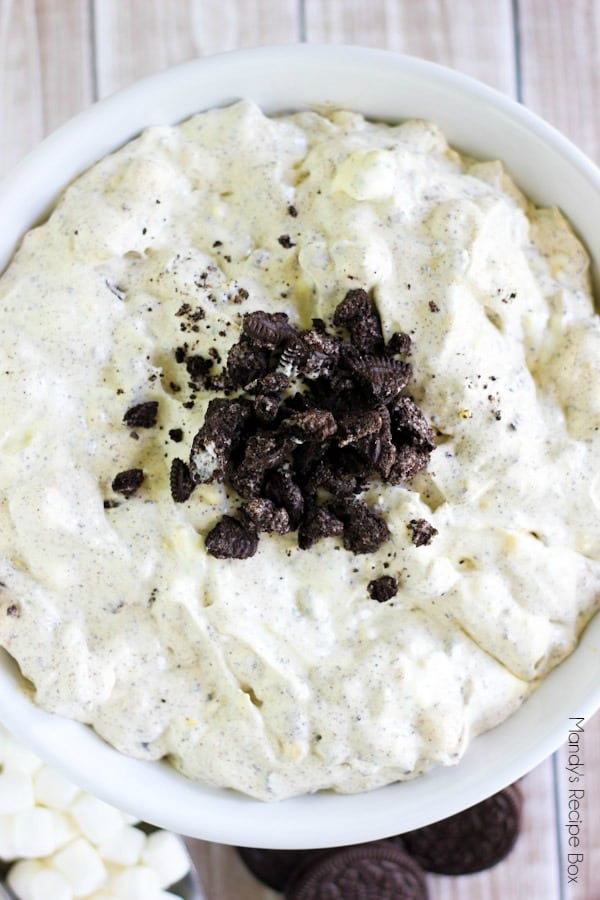 Oreo Fluff
Ingredients
1 pkg (3.4 oz) instant vanilla pudding
8 oz pkg cream cheese, softened to room temp
2 cups milk
8 oz. whipped topping like Cool Whip
2 cups mini marshmallows
1 pkg (14.3 oz) Oreo Cookies, crushed
Directions
In a large mixing bowl or the bowl of your stand mixer, beat together the dry pudding mix and cream cheese until smooth.
Add the milk and mix until thickened, about 3 minutes. It will thicken, it just takes some time.
Stir in the whipped topping and mini marshmallows and crushed Oreo cookies.
Serve or refrigerate until ready to eat.
Be sure to follow Mandy's Recipe Box on social media!
Facebook | Pinterest | Instagram | Twitter
You may also like these recipes: