Before we start I would like to sincerely apologize to all of you. I am sorry for not sharing this perfect Texas sheet cake recipe sooner. I know it was selfish to keep it quiet, but I hope you can forgive me for my oversight. Phew. Now that that's over, put on your apron and pour yourself a glass of milk, because you are not going to want to wait ANY longer to make this Texas sheet cake. It really is THAT good.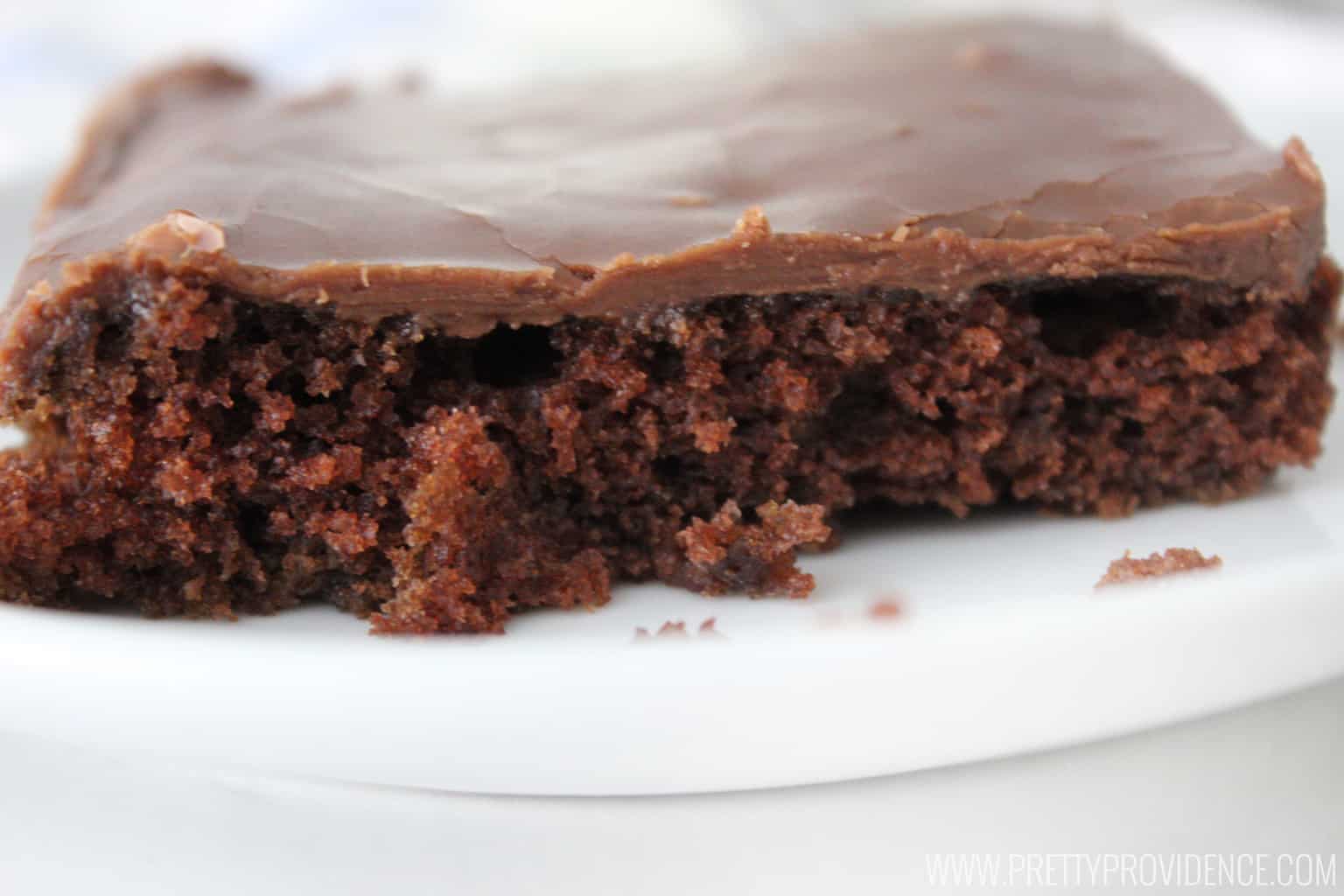 I have mentioned before on the blog that I am not the biggest cake fan. I think the primary reasons for that are two fold. 1) Most cakes really struggle to get the accurate cake/frosting ratio. 2) I cannot handle a dry cake- and they seem to run rampant in society today.
From the above paragraphs you have probably already deduced that this perfect Texas sheet cake is not only moist and delicious, but it has (in my own humble opinion) the perfect cake/frosting ratio! Cue the celebratory bells! The fact that it feeds a crowd, pleases everyone, and is ridiculously easy to whip together is a mere bonus.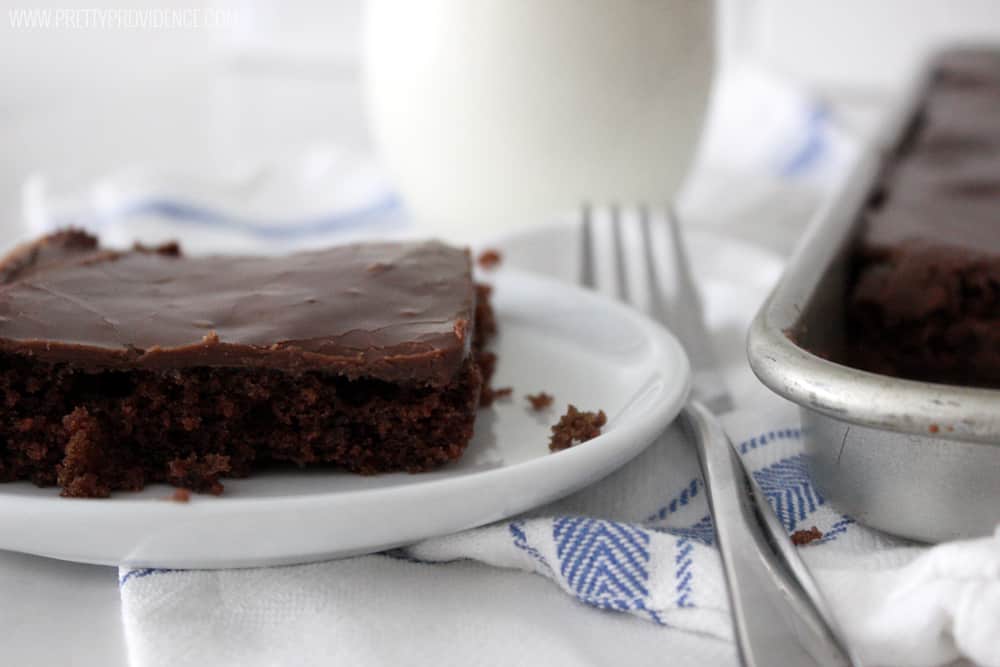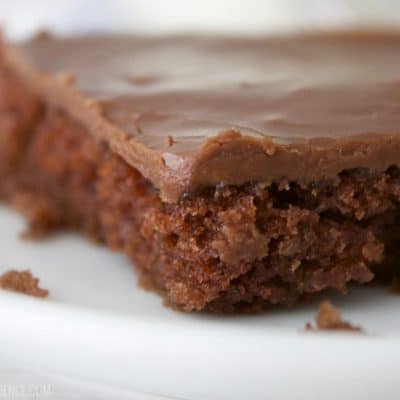 Perfect Texas Sheet Cake
You NEED this texas sheet cake recipe in your life. It is far and away the most perfect Texas sheet cake I've ever had!
Ingredients
For the Cake
1/2

cup

butter

1/3

cup

vegetable oil

1

cup

water

3

tbsp

cocoa

dash

salt

2

cups

flour

1

tsp

baking soda

1

tsp

vanilla

2

cups

sugar

2

large

eggs

beaten

1/2

cup

buttermilk
For the Frosting
1/2

cup

butter

1/4

cup

cocoa

1

lb

powdered sugar

6

tbsp

milk
Instructions
For the Cake
Preheat oven to 375 and grease a jelly roll pan.

Bring 1/2 cup butter, oil, water, 3 tbsp cocoa and a sprinkle of salt to a boil in a medium sized pan. Stirring regularly.

Once mixture is boiling, remove from stove and stir in flour, baking soda, vanilla, sugar, eggs, and buttermilk and pour onto your greased jelly roll pan. Bake for 15 minutes or until cake barely springs back when touched with a finger.
For the Frosting
Bring 1/2 cup butter, 1/4 cup cocoa, powdered sugar and milk to a boil on the stove, stirring regularly. Pour over lightly cooled cake.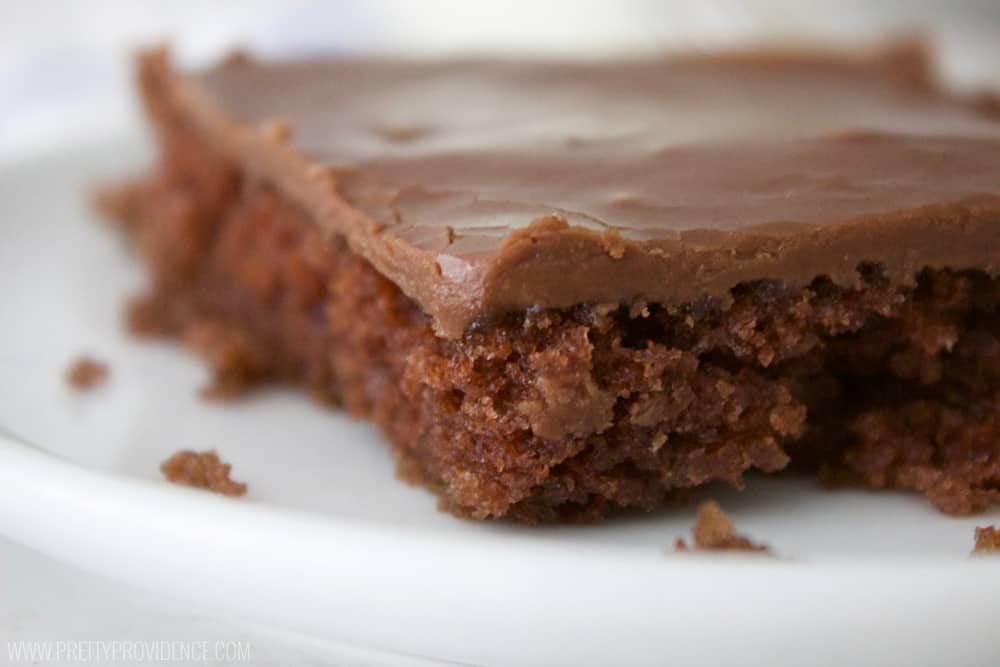 Mouth watering good. Hide the rest of the pan good. Only share with people you reallllly like good.
You're welcome.
xo,

P.S. If you are a sucker for delicious chocolate cake recipes, you need to try our red velvet cake ASAP!