Hey all! Jessica from Fantabulosity here! If you saw the quick and easy cheese tray that I shared here last month, or my bread pudding recipe over on my blog, then you know by now that I love "QUICK and easy," when it comes to preparing food.  This 3 Ingredient Blueberry Trifle is quite possibly one of the easiest dessert recipes in my mental cookbook.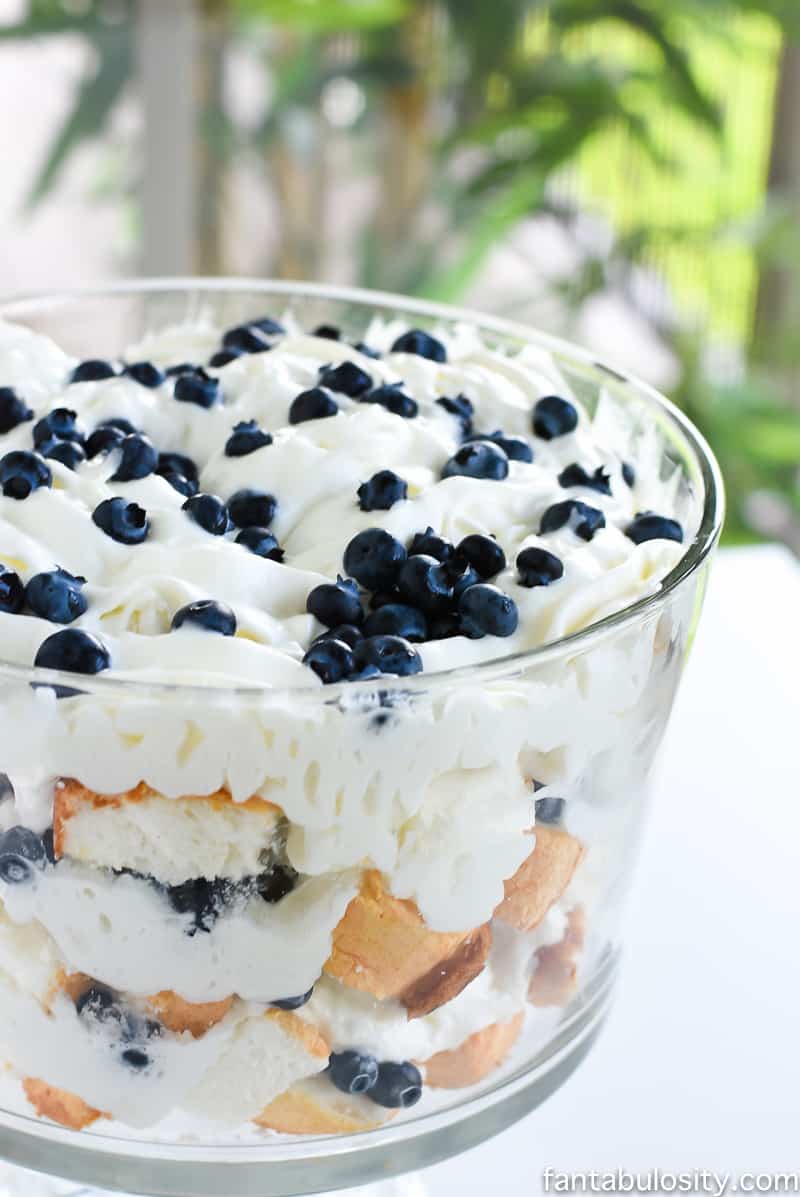 It simply starts with using store-bought angel food cake, blueberries, and whipped cream.  I'll never forget how I was reprimanded, the first time I created and shared a recipe using store-bought whipped cream.
I chuckled… because she must not know me well at all.  If there's a faster way to create something in the kitchen… I'm utilizing it. I'm a mom of two little boys.  There's hardly any time for things such as, "Making your own whipped cream," and "Washing dishes."  So if they sell it in a can at the store, I'm more than likely going to be a great customer.
Blueberry Trifle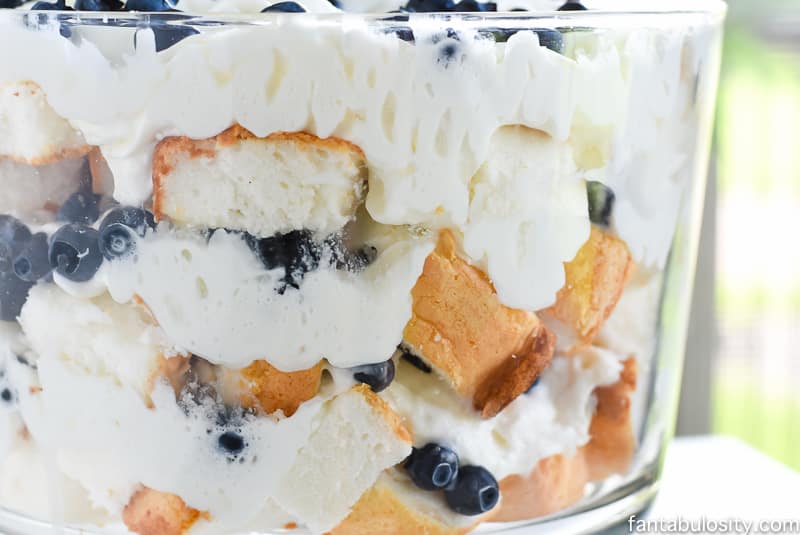 So for all of you others out there that love "quick and easy," then have no fear! Store bought ingredients are here! :) But for those of you who like to, and have the time to, make everything from scratch… I salute you! You're more than welcome to create this 3 Ingredient Blueberry Trifle recipe from scratch! I bet it will be delish!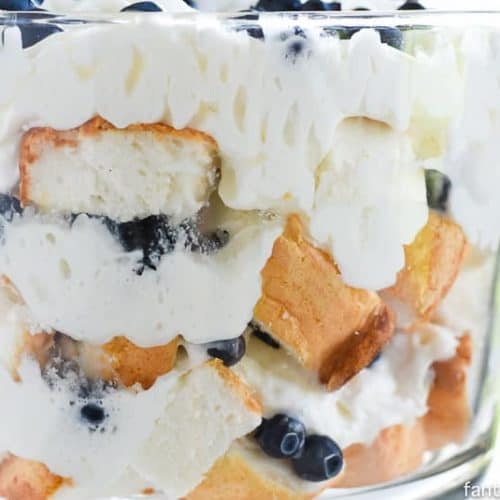 3 Ingredient Blueberry Trifle
Ingredients
Angel Food Cake Loaf

Blueberries

Whipped Cream
Instructions
Prepare RIGHT before serving, or cream will settle.

Simply cut the angel food cake in to cubes

In a trifle bowl, add angel food cubes until bottom is evenly covered.

Add a layer of whipped cream

Sprinkle blueberries over whipped cream.

Add another layer of cubed angel food cake, whipped cream, and blueberries.

Repeat until ingredients are all used, or you've reached the top of the trifle bowl.

I like to fill it, allowing it to "heap," to add an extra "fancy," factor.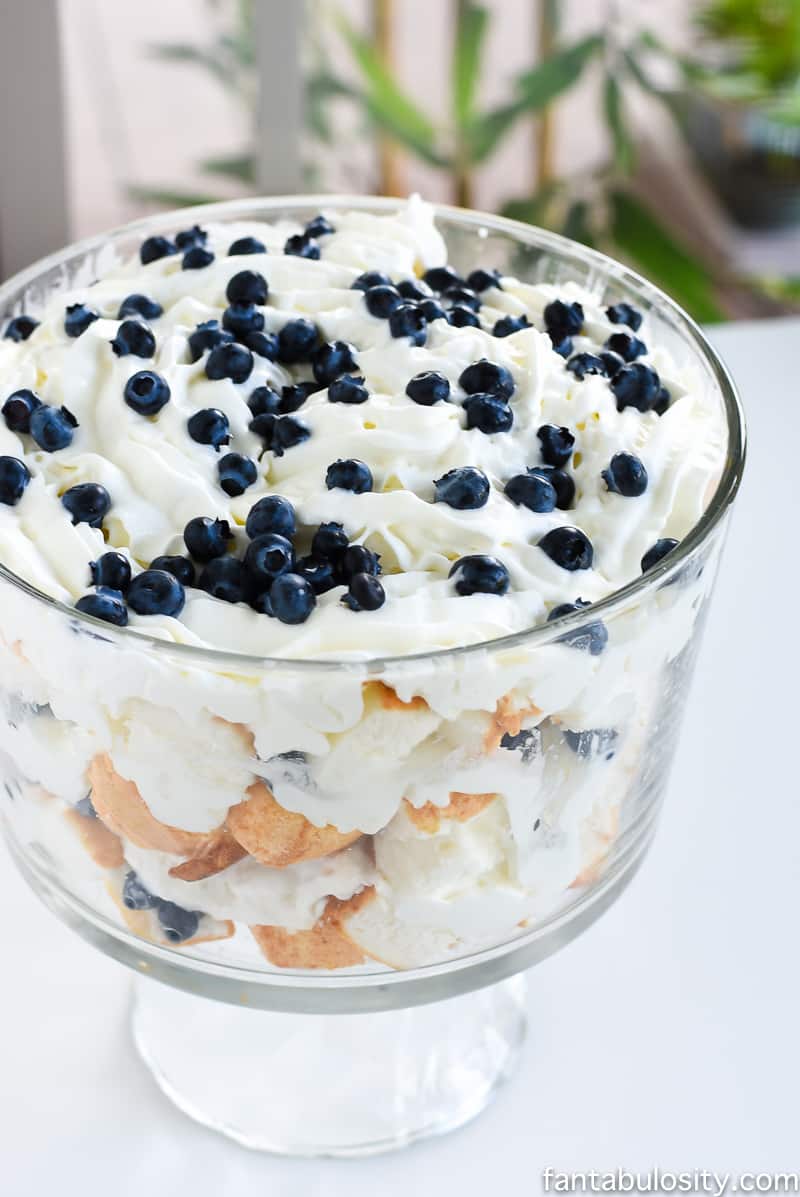 I hope you enjoy this quick blueberry trifle recipe.  Its definitely one of my favorites, and I couldn't wait to share it with you!