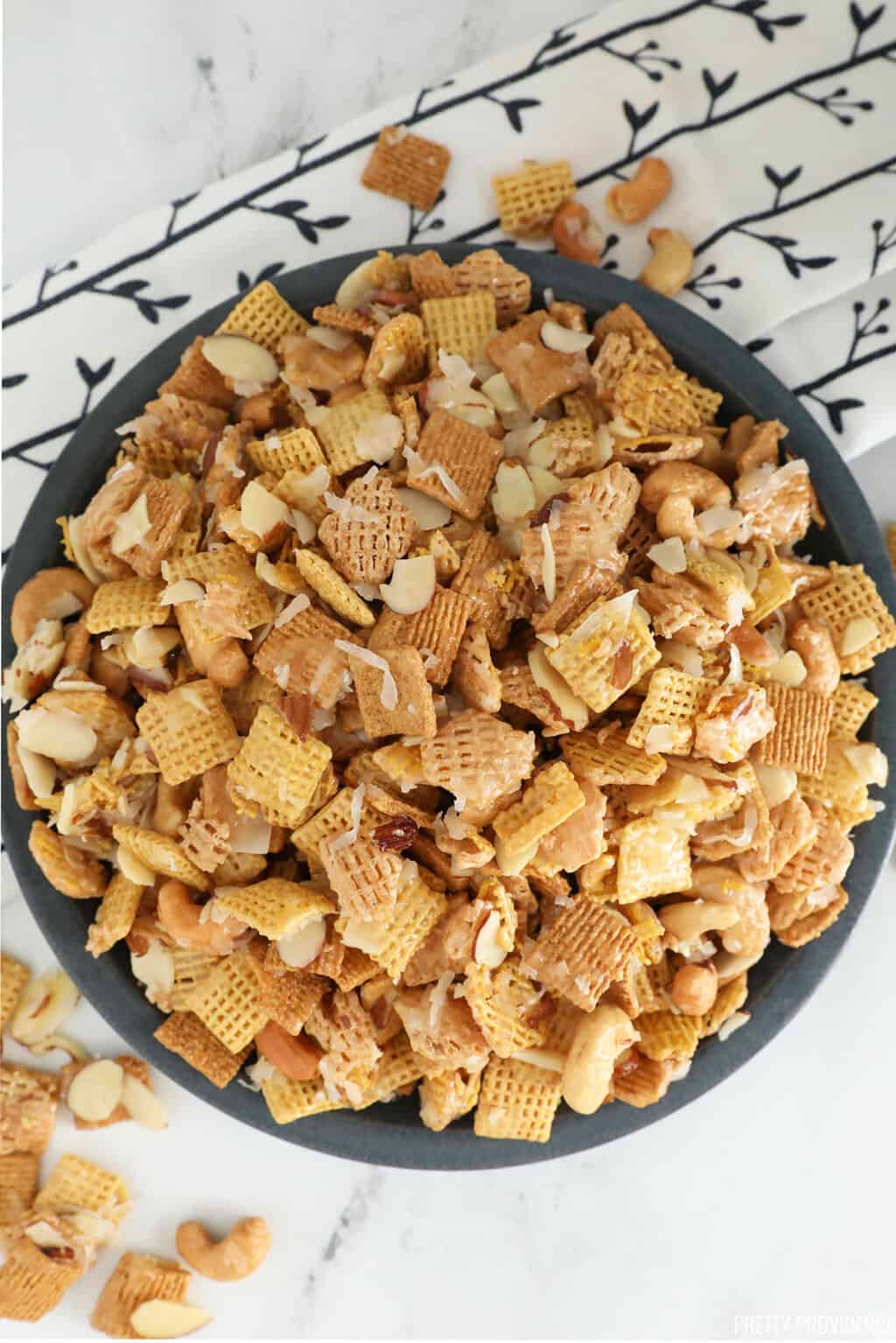 You know those snacks that once you take a bite of them, you literally can't stop shoving more of it into your face? I'm sorry not sorry, but this is one of those. It's one of the most deliciously addictive treats you'll ever taste. Seriously! I had a friend growing up whose mom always made this when we had movie nights or sleepovers at her house, and even as little kids we would devour all of it. She also made it for neighbor gifts at Christmas and my family and I would honestly fight over it. The bag was never big enough! A few years ago after I had moved away from home, I emailed that family friend and asked her for the recipe because I missed it so much. I'm sharing it with you today because it would be a crime not to. Isn't the holiday season about spreading joy? 
To me this snack was always called GORP, but I have come to realize that this recipe isn't very common, and the people that do make it don't call it GORP! Oh well, it will always be GORP to me. It's really easy to make, takes only 5 minutes and you can totally make it your own with add-ins of your choice. Here's how to make it:
GORP – The Best Snack Mix in the World
You'll be addicted to this sugary snack mix-- fair warning! It is so good, perfect treat to bring to any party or gathering!
Print
Pin
Rate
Ingredients
1

cup

butter

1 1/3

light Karo syrup

1 1/3

cup

sugar

Crispix Cereal

Optional Add-ins

see below
Instructions
Lay out wax paper on your counter or on cookie sheets, set aside.

Bring to a boil and cook for 4.5 minutes, stirring frequently.

While you cook that, add 12 oz. Rice Chex and anything else you want to a large bowl. Some ideas: Slivered Almonds, Pecans, Peanuts, Cashews, Shredded Coconut, Peanut M&M's, Pretzel Sticks Etc.

Pour onto wax paper in a single layer and let cool completely before placing back in bowl, ziploc bag or other airtight container.
Notes
Store in an airtight container for 7 days. 
Nutrition
Calories:
222
kcal
|
Carbohydrates:
22
g
|
Protein:
1
g
|
Fat:
15
g
|
Saturated Fat:
10
g
|
Cholesterol:
41
mg
|
Sodium:
135
mg
|
Potassium:
5
mg
|
Sugar:
22
g
|
Vitamin A:
475
IU
|
Calcium:
5
mg
I highly, highly recommend using coconut and shredded almonds. Those two things are non-negotiable to me. The rest is up to you- it will taste amazing even with just those two add-ins.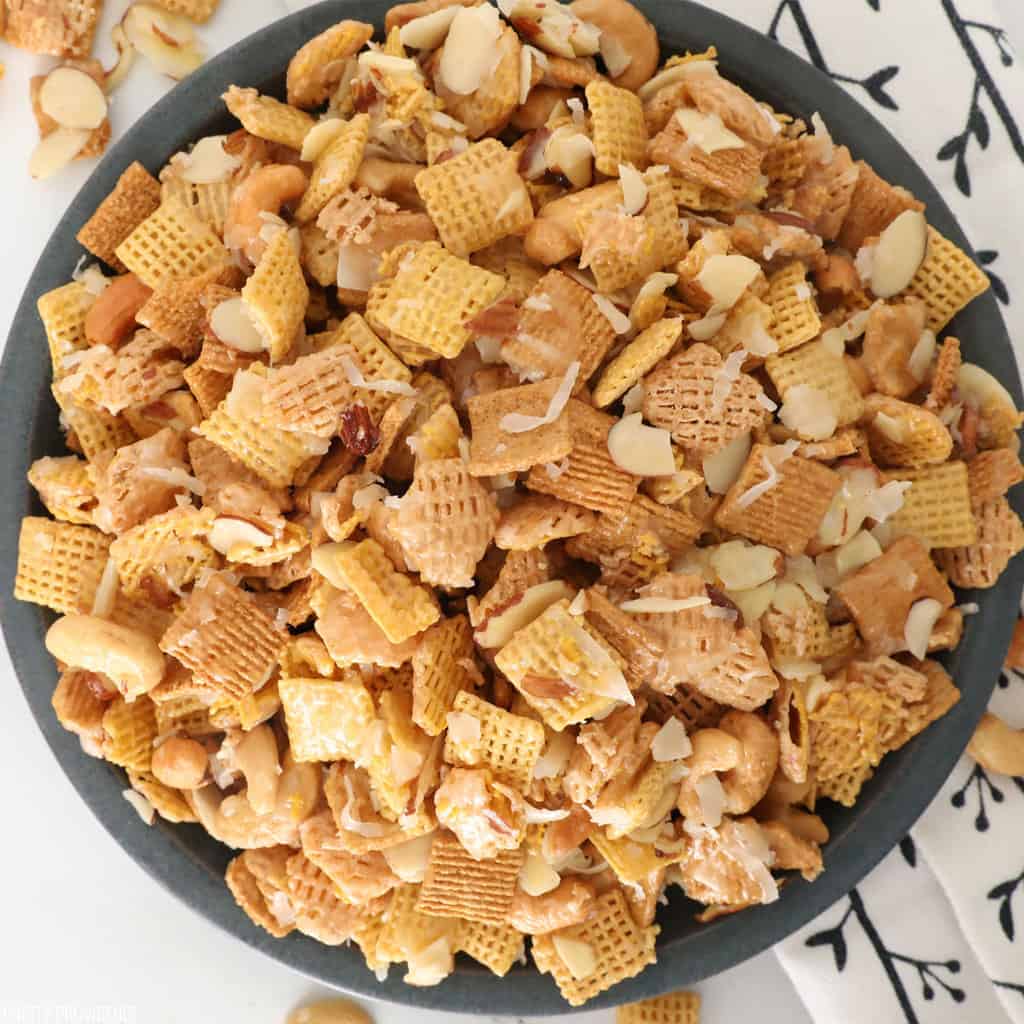 Also, does anyone eat crispix regularly? I have pretty much only ever used it for making GORP. This snack mix will wow your neighbors if you do want to give it away for christmas. Add it to a mason jar with a cute label or a clear bag with some ribbon and you're good to go! I put mine in this cute "paint pail" from Michael's and added fabric to the lid. After I did so, I realized the bottom said "NOT FOR FOOD" or something like that. Oops. So don't use one of these. It looks cute though, right?!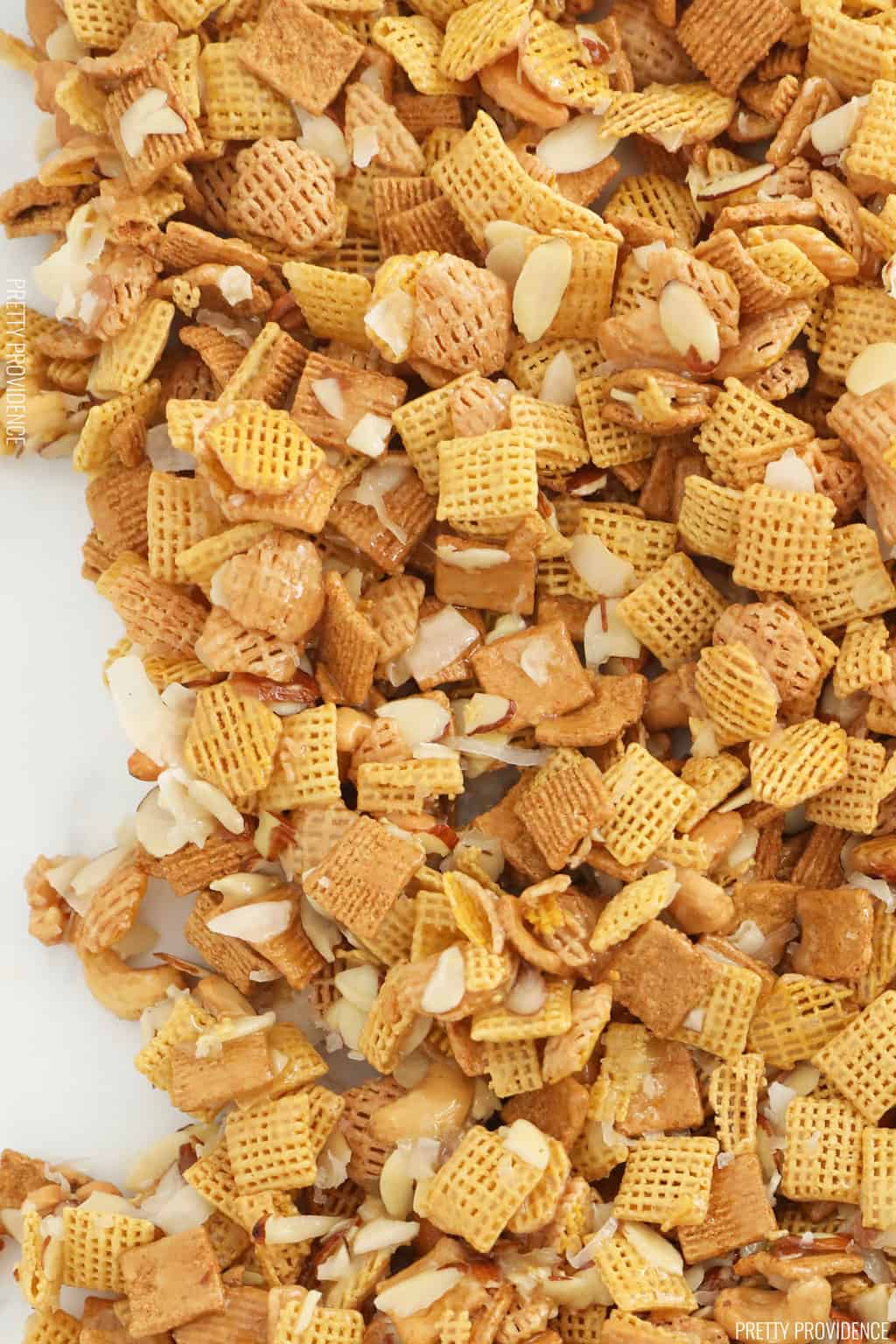 Make sure to try this recipe out soon! It will be a big hit with your family and friends and will be devoured at holiday parties. I know you'll love this recipe as much as I do!