These golden graham s'mores bars are the perfect no-bake dessert! If you love s'mores you will love this indoor version!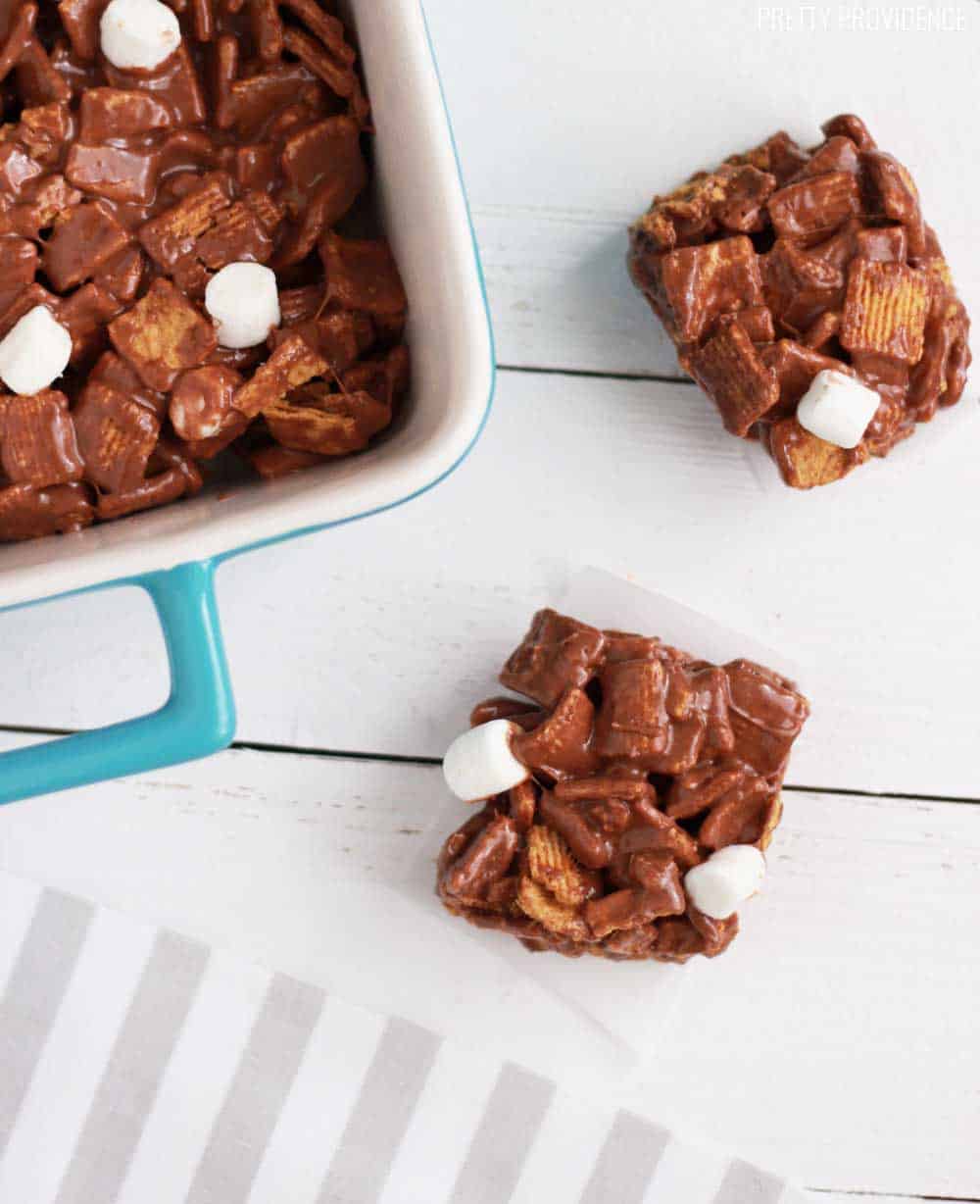 A few years ago I went to a church party and I tried these Golden Grahams S'mores Bars. I was obsessed. I snuck three into my purse to take home "for my husband." He didn't actually end up getting any…
I wanted the recipe so badly but I had no idea who had made them. I googled it and found multiple recipes and I had to tweak them all a little before I got them to taste just the way they did the first time I had them. Today I'm sharing the recipe for my favorite s'mores treat with you! They are made with milk chocolate chips, marshmallows and golden grahams cereal.
[brid autoplay="true" video="436703″ player="18343″ title="Smore's Bars" duration="60″ description="These easy smore's bars will make all your dessert dreams come true!" uploaddate="2019-07-11 06:52:16″ thumbnailurl="https://cdn.brid.tv/live/partners/14236/thumb/436703_t_1562828291.png"]
These S'mores bars are so so good. They're a S'more and Rice Krispie treat hybrid. These are no-bake too! All you have to do is microwave the marshmallow mixture and then mix everything. That's always a bonus! If you like chocolate and marshmallow together, get ready to fall hard for these.
Could you just die? I'm sorry. Maybe I love these too much. Here are the steps in a nutshell:
How to make Golden Grahams S'mores Bars
Add chocolate, marshmallows, butter and light corn syrup together in a big bowl. Microwave in 30 second increments until it's all melted.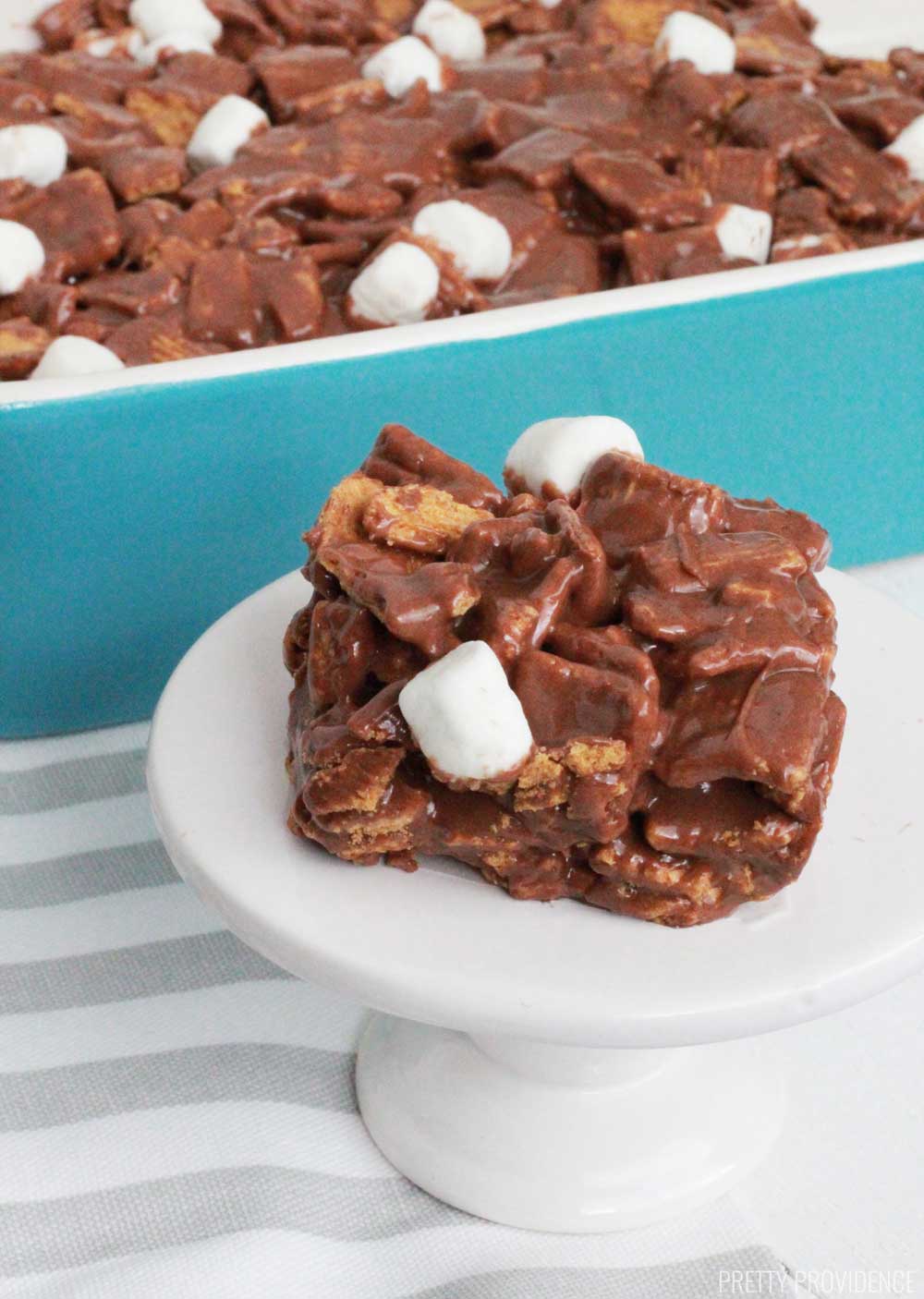 Mix in vanilla and then add the golden grahams cereal. That's seriously all! They are ready in 5 minutes!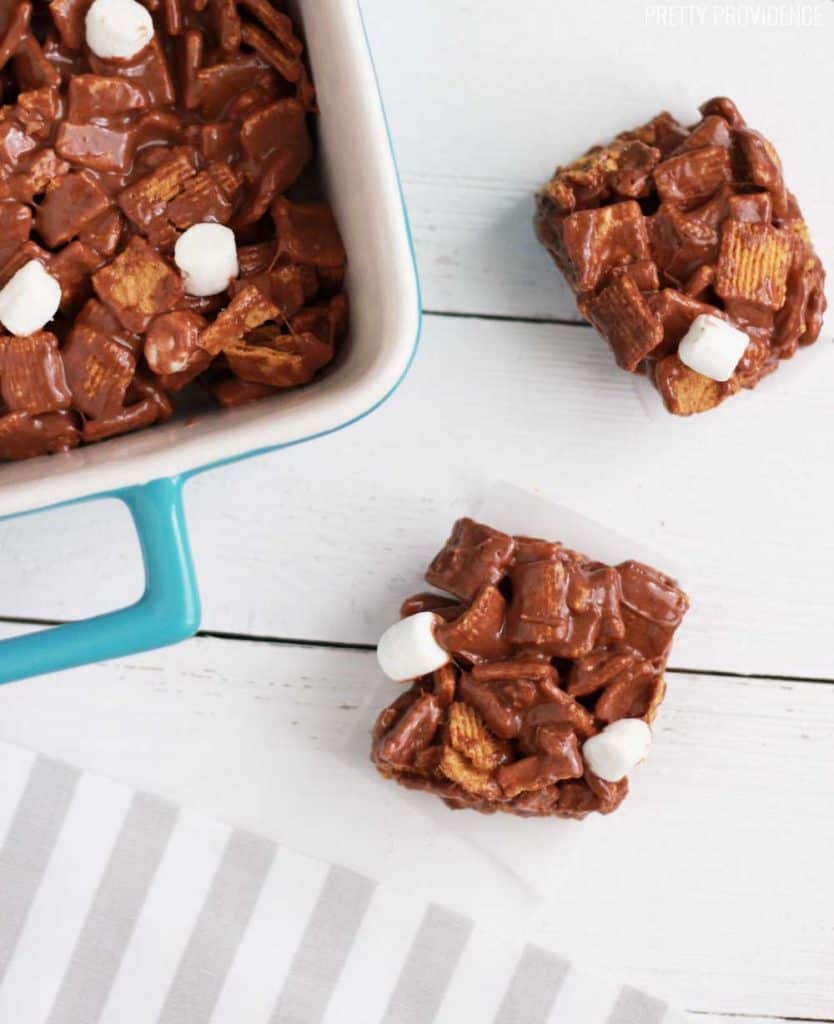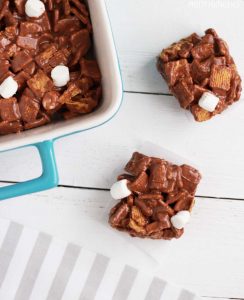 Print
Golden Grahams S'mores Bars
THESE GOLDEN GRAHAM S'MORES BARS ARE THE PERFECT NO-BAKE DESSERT! IF YOU LOVE S'MORES YOU WILL LOVE THIS INDOOR VERSION!

Ingredients
8

cups

Golden Grahams

5

cups

mini marshmallows

1½

cups

chocolate chips or chopped Hershey bars

¼

cup

light corn syrup

5

tablespoons

butter

1

teaspoon

vanilla

1

cup

mini marshmallows
Instructions
Grease a 9x13-inch baking dish.

Place the golden grahams in a large mixing bowl.

In another large bowl, add 5 cups of marshmallows, 1½ cups of chocolate, light corn syrup and butter. Microwave in 30-second increments, stirring after each one until the mixture is totally melted and smooth. Stir in vanilla.

Pour the delicious melted mixture over the grahams, put a little cooking spray on a spatula and gently stir until all of the grahams are coated. Stir in the extra cup of marshmallows.

Turn the mixture out into the prepped baking pan. Use your spatula covered with cooking spray, and press the mixture evenly into the pan, pushing it down into a flat, even layer. Let set at room temperature for at least 1 hour or pop them into the fridge to firm up faster. Store in an airtight container at room temp for up to 2 days.
Nutrition
Calories:
307
kcal
|
Carbohydrates:
51
g
|
Protein:
3
g
|
Fat:
10
g
|
Saturated Fat:
6
g
|
Cholesterol:
15
mg
|
Sodium:
162
mg
|
Potassium:
89
mg
|
Fiber:
1
g
|
Sugar:
34
g
|
Vitamin A:
660
IU
|
Vitamin C:
3.1
mg
|
Calcium:
85
mg
|
Iron:
5
mg