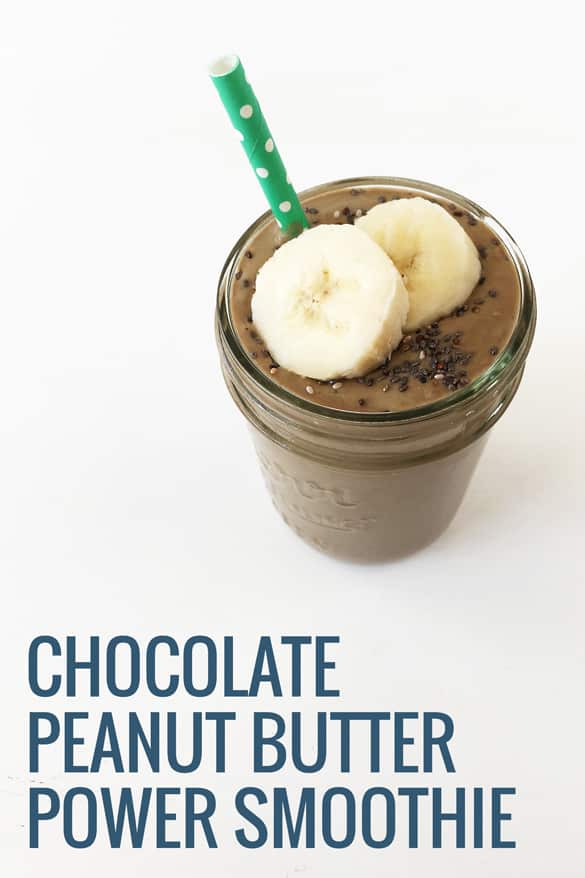 Hi there! This is Susannah from Feast + West! I have an amazing breakfast recipe for you today. I am all about a quick-and-easy breakfast. I am not really a morning person, so anything grab-and-go is amazing for me because I am always rushing out the door. A friend of mine was telling me how she swears by her power smoothies every day, which got me thinking about trying them again. I work from home now, so I have no excuses, really!
Back in college and in the days of my first real job, I used to make a version of these Chocolate Peanut Butter Power Smoothies in the mornings and take them with me in a reusable cup. I love that I can ignore all the healthy, powerful things in this one with the flavors of a peanut butter cup! With all this discussion of back-to-school, I thought it would be fun to share this recipe with you.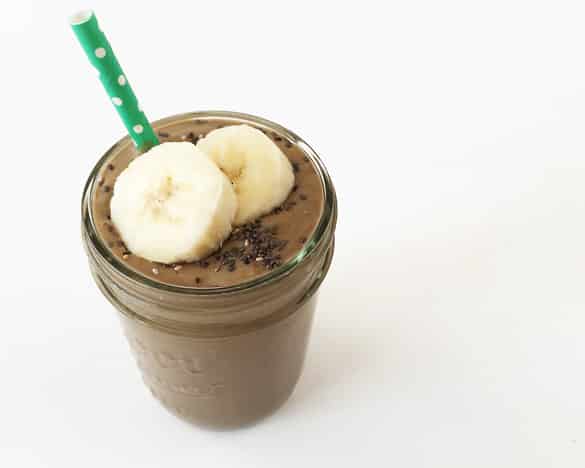 Although you'll need a list of ingredients to make a Chocolate Peanut Butter Power Smoothie, it's probable that you have most or some of them in your pantry and fridge already. Sure, you might feel like you're splurging on all these ingredients, but you can make so many smoothies with them! And for close to the same price as two or three at a smoothie shop! Plus making it yourself is way more delicious.
To make a Chocolate Peanut Butter Power Smoothie, you'll need a banana, milk, Greek yogurt, honey, a block of tofu, a handful of spinach or kale, a spoonful of chia seeds, a spoonful of cocoa powder and a scoop of peanut butter. You can eliminate any of the ingredients, or add others — like protein powder or milled flaxseed. I don't measure out the ingredients when I make a smoothie, I just eyeball them. Once you've made it a few times, you won't need a recipe anymore!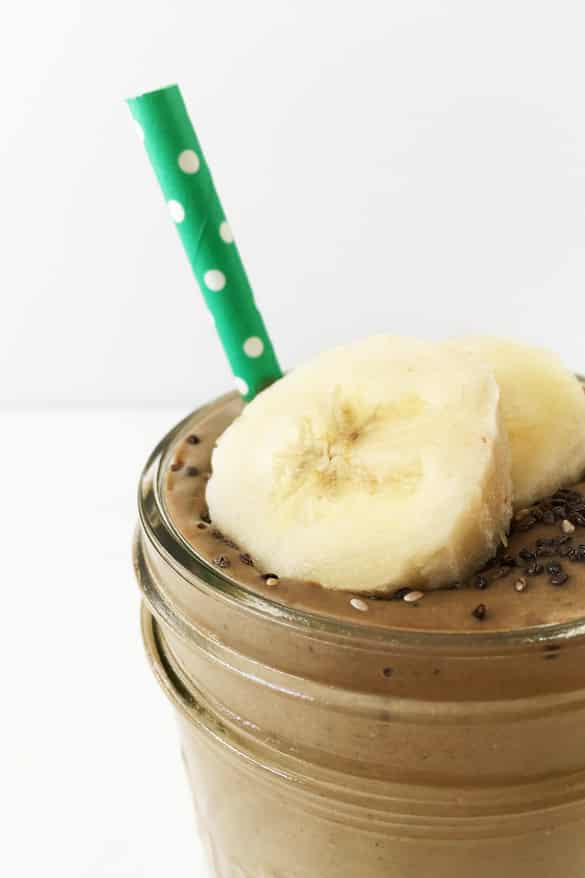 Oh, and if you're balking at the sight of spinach/kale and tofu on the list, don't! Both spinach and kale bring in a ton of vitamins and nutrients. Tofu is tasteless, but it brings in protein and provides a thick, silky smooth texture. Trust me, you won't go back once you've tried it! I'd so much rather drink a peanut butter cup than eat any of these ingredients on their own. Vegans can make this smoothie without the yogurt and honey, and by substituting almond or soy milk.
Peanut butter always makes me think of back-to-school as it was my sandwich of choice as a kid. If you're on a peanut butter kick these days too, you'd probably like this homemade Salty Honey Peanut Butter Ice Cream!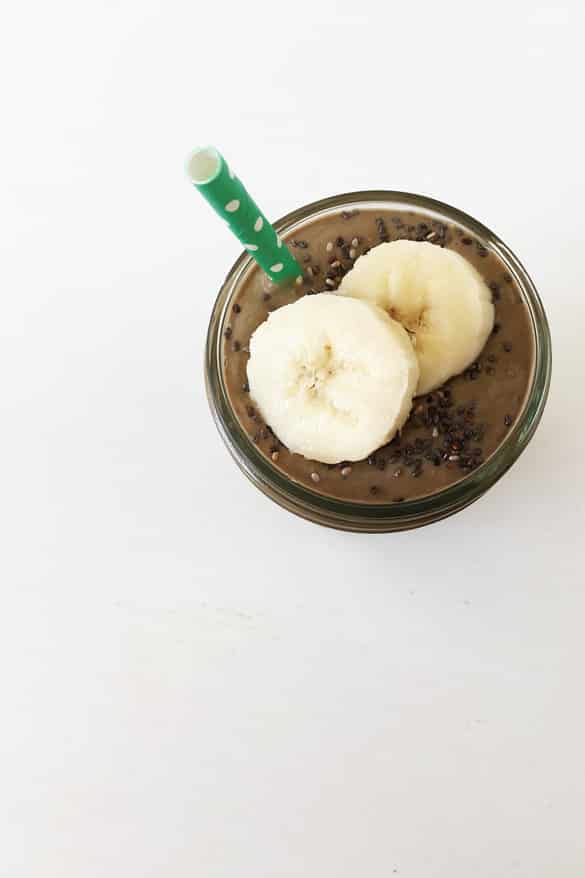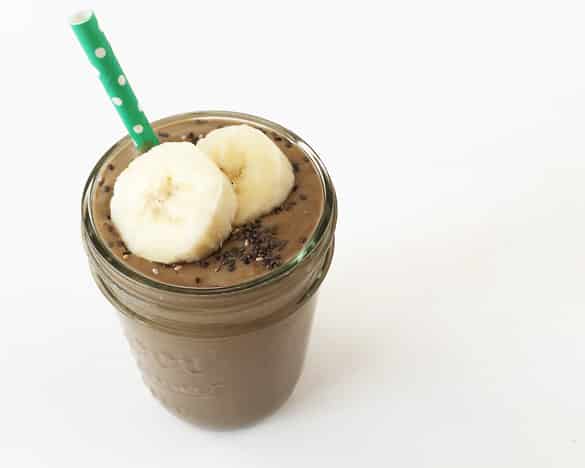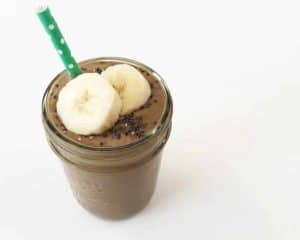 Print
Chocolate Peanut Butter Power Smoothie
A powerful, protein-rich breakfast that tastes like dessert!
Ingredients
1

banana

sliced

1/3

cup

tofu

cut into cubes

1/2

cup

spinach or kale

washed and dried

1/4

to 1/2 cup milk

almond milk or soy milk

1/4

cup

Greek yogurt

1/4

cup

smooth peanut butter

2

teaspoons

honey

1

teaspoon

cocoa powder

1

teaspoon

chia seeds
Instructions
Add banana slices, tofu cubes and spinach to a blender. Top with 1/4 cup of milk of choice and Greek yogurt. Blend on high until smooth.

Add peanut butter, honey, cocoa powder and chia seeds. Blend again until smooth. Add more milk if the mixture is too thick.
Nutrition
Serving:
1
g
|
Calories:
604
kcal
|
Carbohydrates:
67
g
|
Protein:
31
g
|
Fat:
28
g
|
Saturated Fat:
5
g
|
Cholesterol:
3
mg
|
Sodium:
372
mg
|
Potassium:
924
mg
|
Fiber:
9
g
|
Sugar:
34
g
|
Vitamin A:
1.5
%
|
Vitamin C:
12.4
%
|
Calcium:
20.6
%
|
Iron:
15.7
%