Need a cute but easy Christmas gift idea? Our tumbler gift is perfect for you! It comes with free printable Christmas candy bar wrappers and could work for literally anyone on your list this year!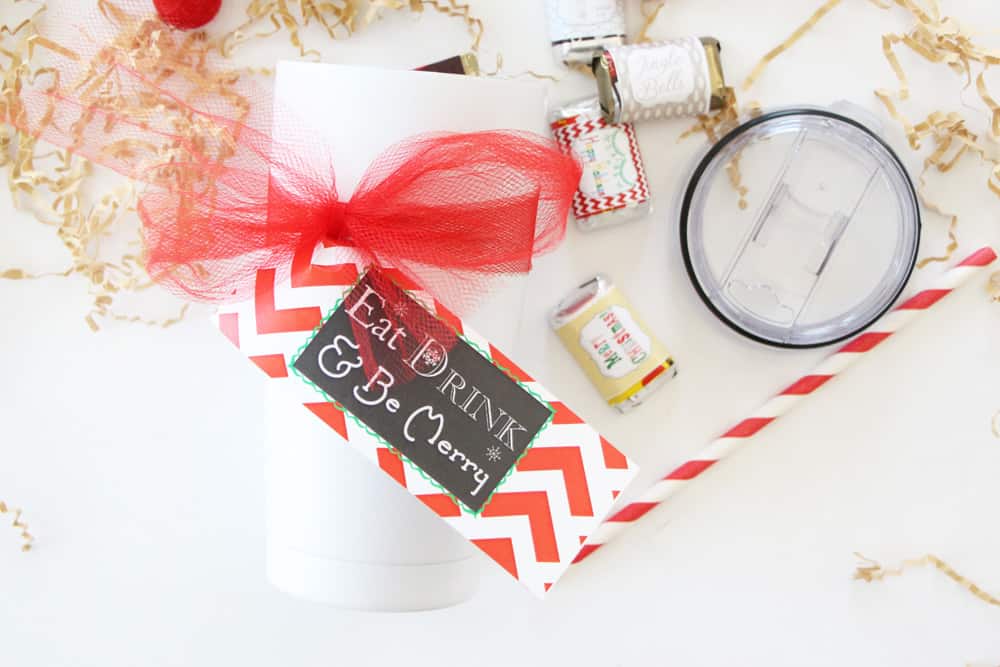 Hey guys, Vanessa from Our Thrifty Ideas here to share a fun Christmas printable. I love planning my neighbor or friend gifts for the holidays. Who wouldn't love to be given a new tumbler gift full of chocolate and maybe a gift card to their favorite gas station to go get a Dr. Pepper or two?
If you love fun and easy gift ideas, you will also love our treat filled slippers, our funny socks tutorial and our adorable free printable Christmas gift card holders!
Tumbler Gift
The best part of this gift is how easy it is to throw together! Just order this cute tumbler from Amazon, grab a bag of mini candy bars, print out the printables and you are good to go!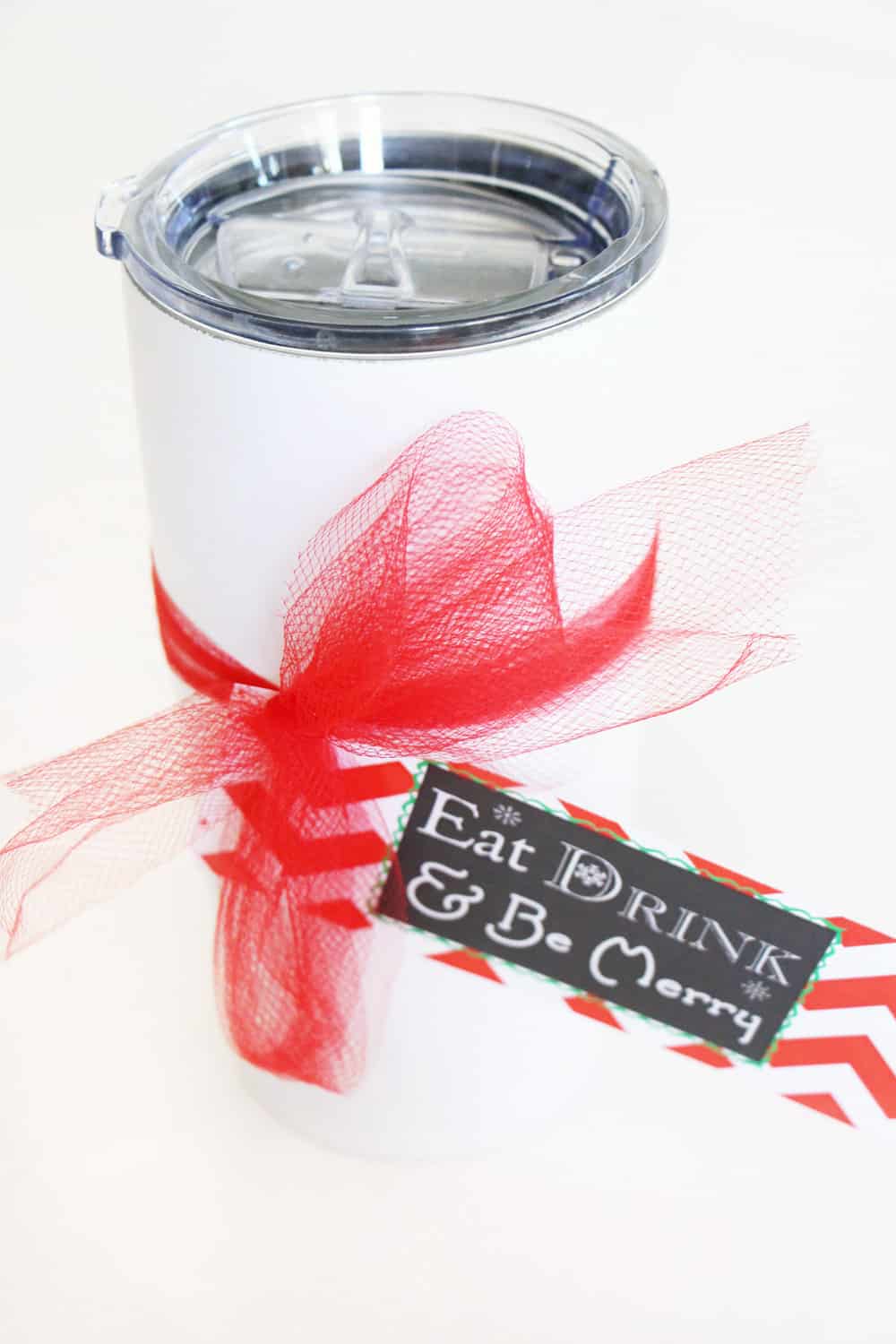 If you don't want to use the candy bars to go inside, look how cute the tumbler is on it's own with just the tag? It's perfect! If you are wanting to gift something to eat as well you could fill the tumbler with anything! You could do popcorn, cookies, really anything you like!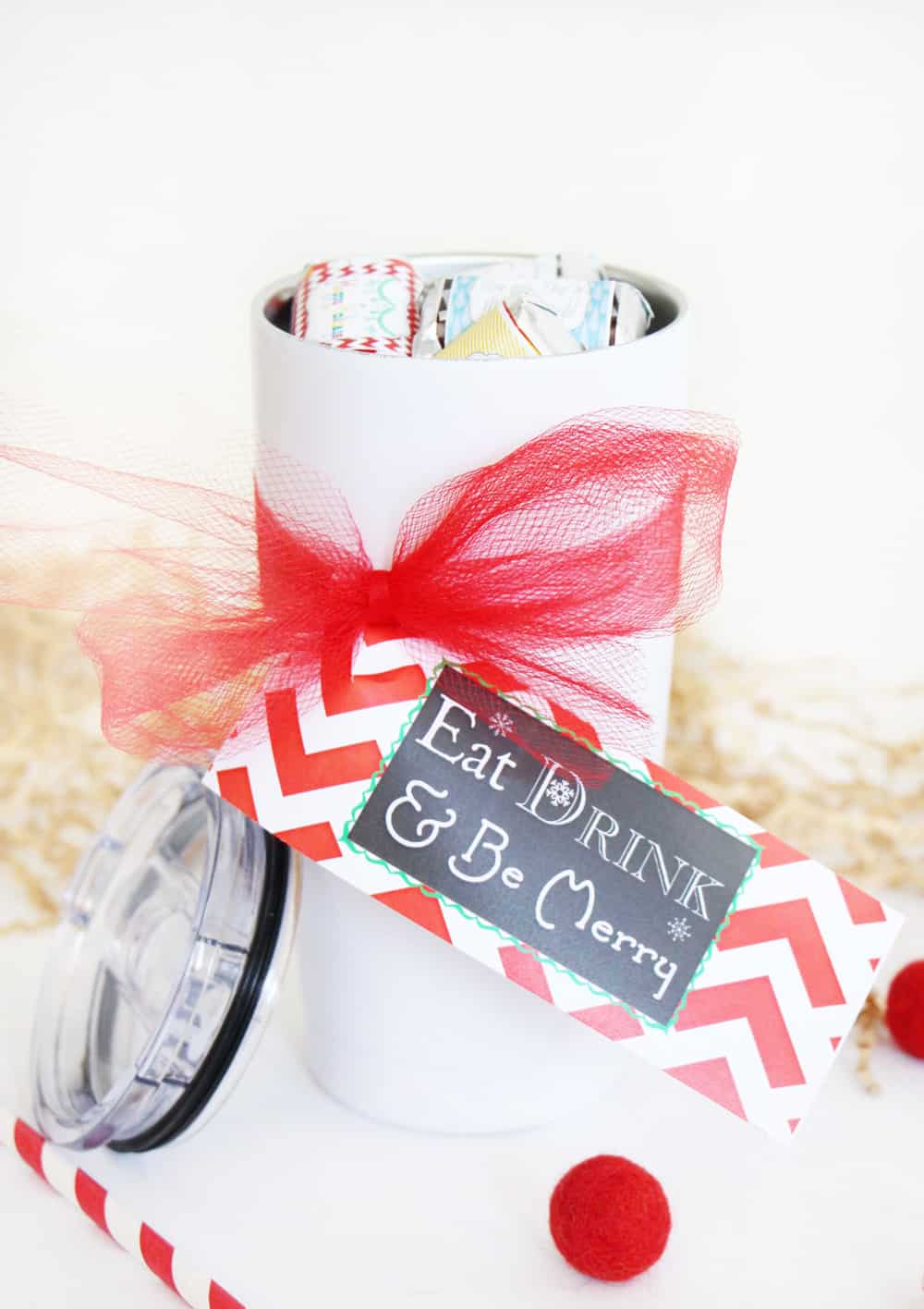 I filled my cup with the Christmas wrapped mini candy bars!
Christmas Candy Bar Wrappers
I am giving a free printable of mini candy bar wrappers. Use the mini Hershey candy bars (especially Krackle) to fill your cup! They are super cute; the perfect size for gift giving.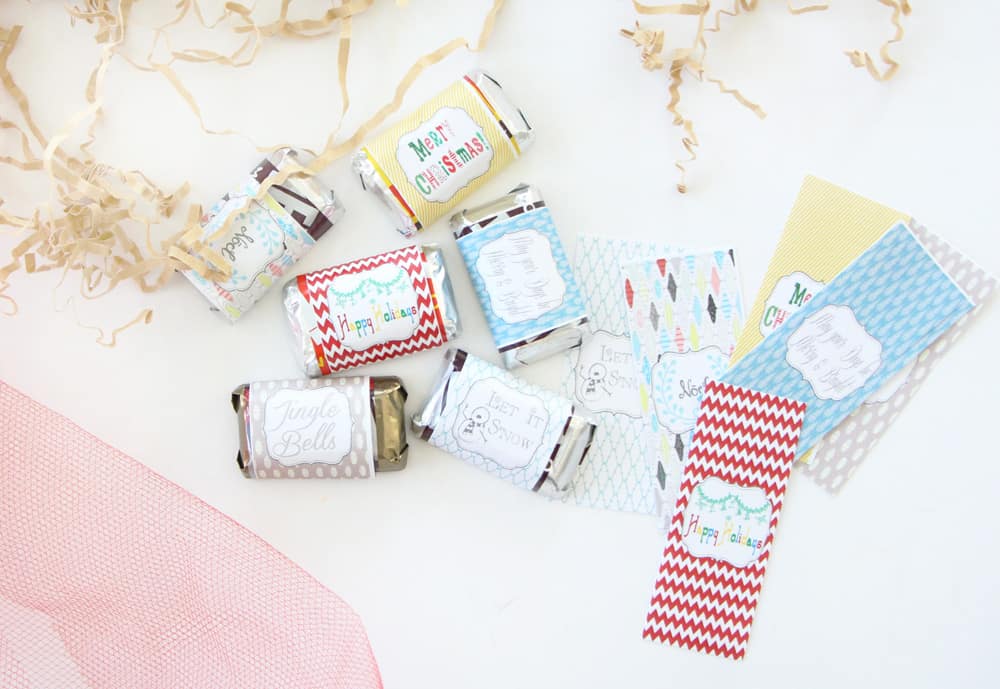 Just download the wrappers here, then cut them out and wrap around either the holiday themed ones (for red, green, gold and silver wrappers showing) or a traditional bag and tape in place. The kids have fun helping with this, I just had to adjust them a bit after they taped them.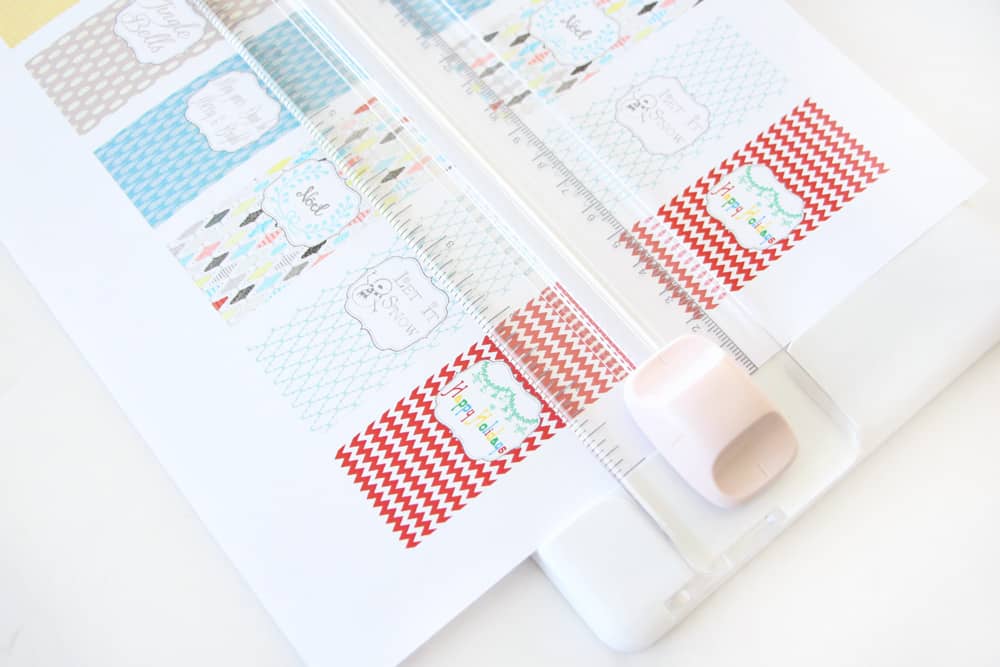 After I wrapped all the candy bars, I put them inside a cute white tumbler, put a gift card inside, and put the cute "Eat Drink & Be Merry" tag (download it here) on the front of the cup with a cute red ribbon.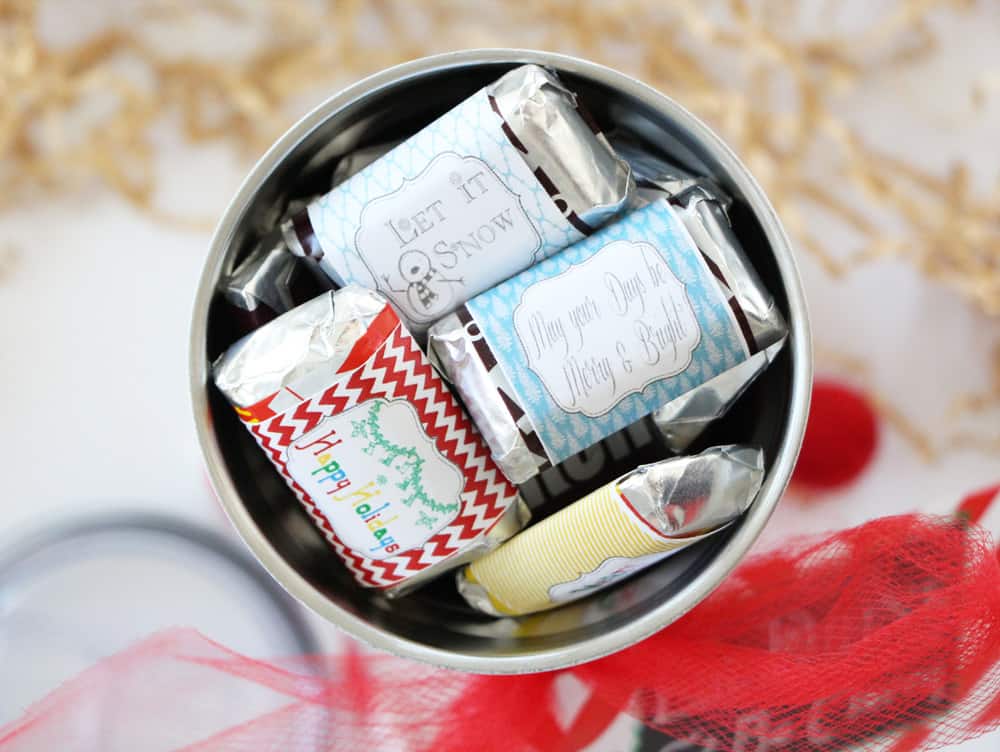 I hope that you enjoy the gift idea, and make sure to head over here to get both of the free printables for it.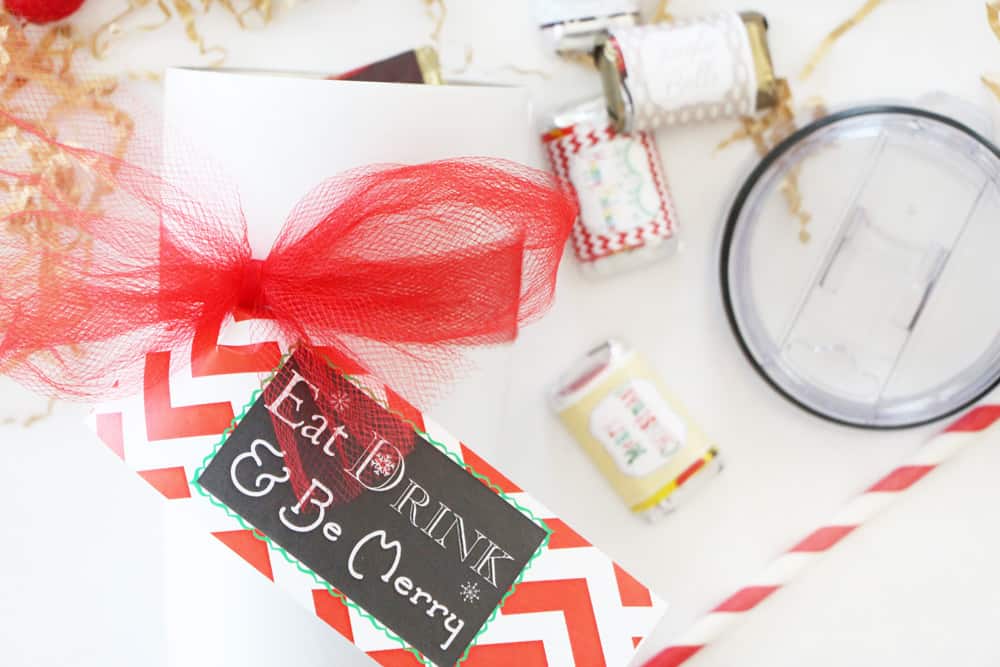 And check out these other fun posts on my site that you may love: DIY Christmas decorations, DIY Christmas Advent Calendar plus printable Christmas activity ideas, DIY Faux Spring Christmas Tree Plaque.
This post was originally published on November 20th, 2014 and has been updated with new photos and more detail.